Hilton Honors loyalists, families and lovers of the sun and sea, Aruba is calling — and there's a brand-new, totally affordable Embassy Suites waiting for you to visit.
Now open, the charming new Embassy Suites by Hilton Aruba Resort is a fresh take on the much-loved brand. If you didn't know, Embassy Suites has a number of resort properties in the U.S. already, and the Aruba outpost marks the second in the Caribbean, following the Embassy Suites by Hilton Dorado del Mar Beach Resort.
Great for families, with lots of room to spread out plus perks like easy beach access, free breakfast, on-site restaurants and pools to splash around in, there are a lot of reasons to consider this property for your next tropical vacation.
Here are just a few of the ways that this resort stands out.
You're guaranteed a 2-room suite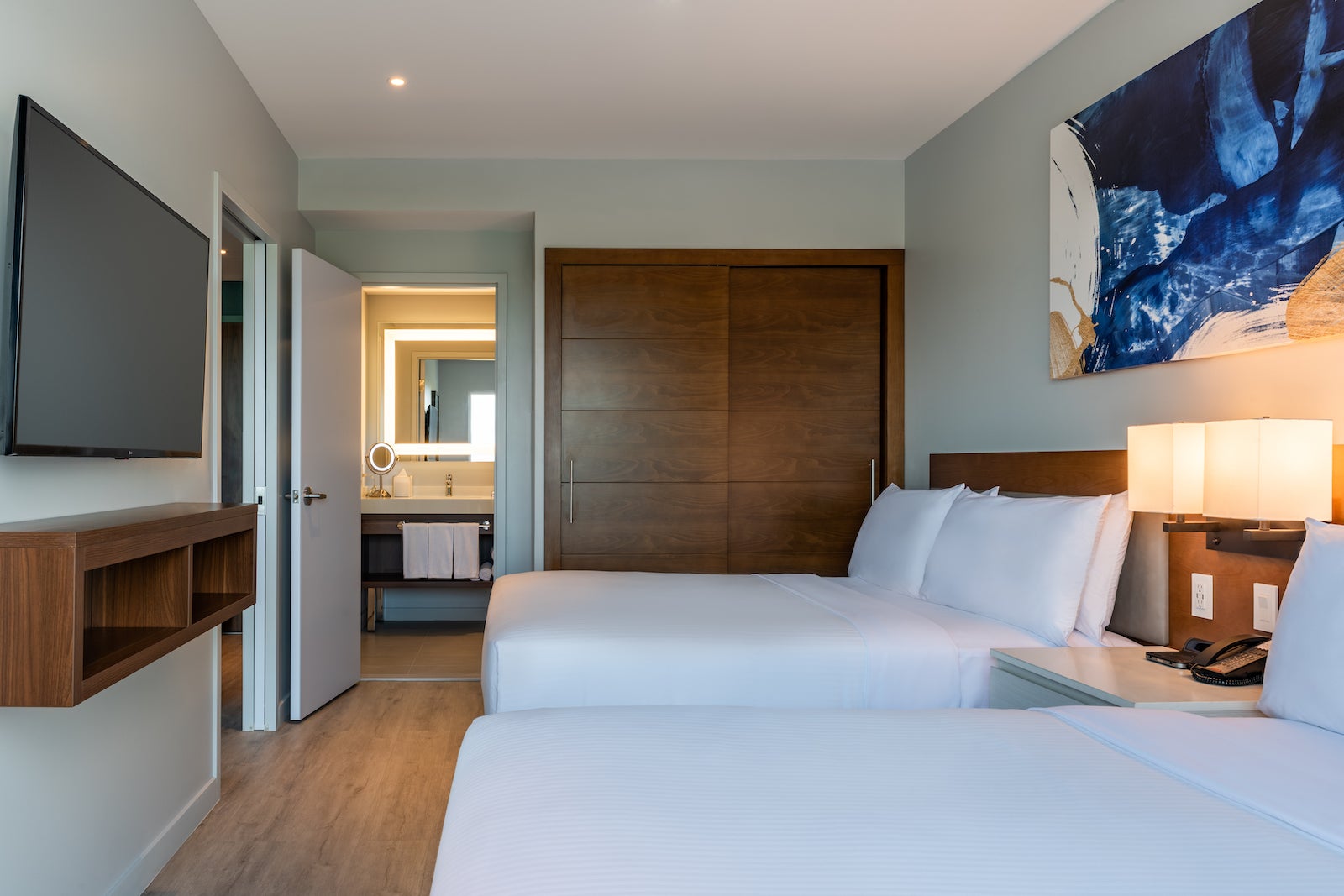 At the resort, all of the 330 accommodations are two-room suites featuring either a king-size bed or two queen-size beds and a living room with a pull-out couch to accommodate more sleepers, a dining table, large TV and a wet bar area with a microwave and minifridge. The bathrooms are bright and modern with glass-enclosed showers, in-mirror lighting and shower amenities. Better yet, most rooms include balconies so you can slide open the doors and let the salty island air flow straight into the room.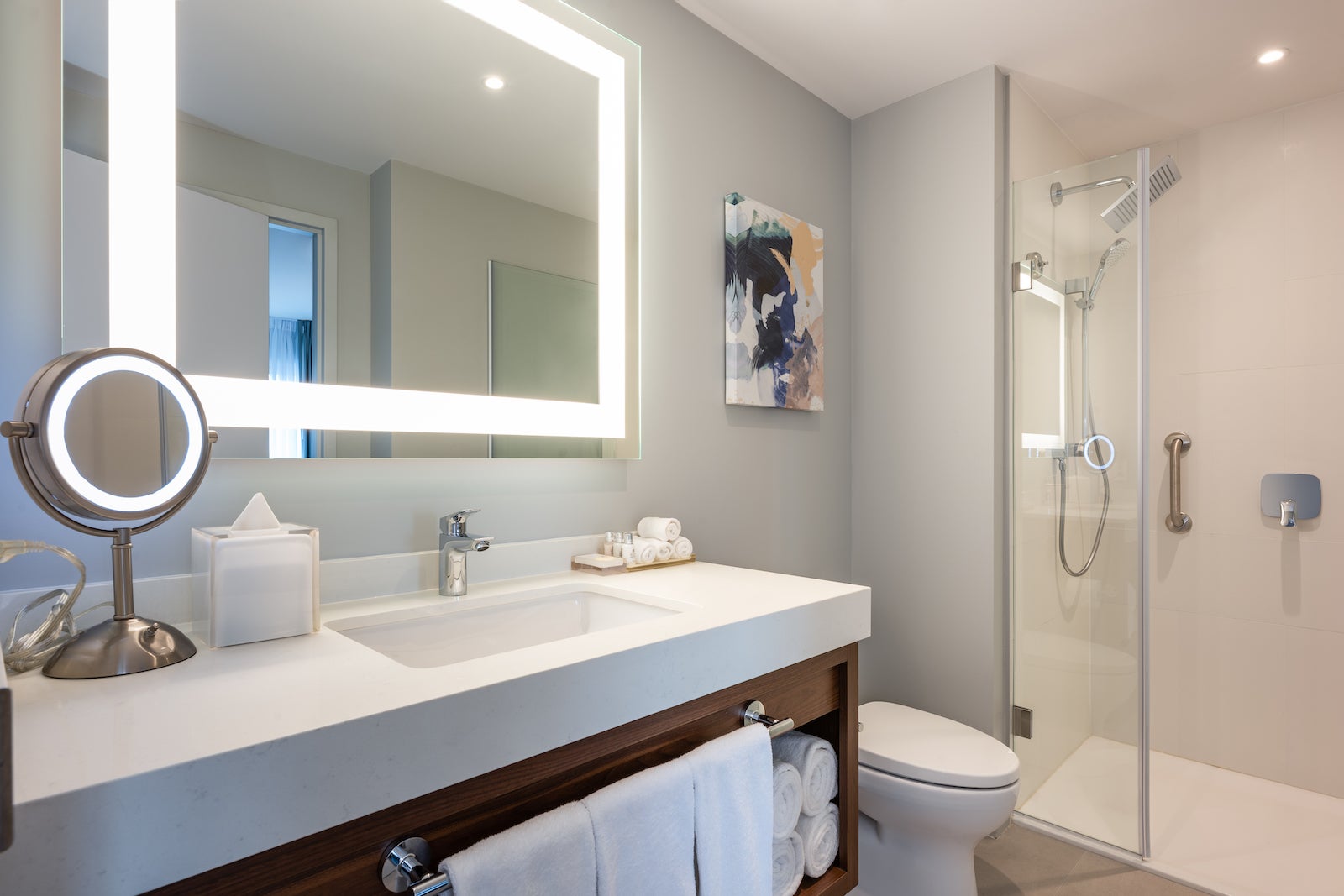 For even more space to spread out, request connecting rooms.
Since it's a new property, expect a fresh design compared to other Embassy Suites you might have visited. This one brings the colors and textures of the island inside with vivid blues and corals, as well as wooden elements and artworks representing the abundant sea life in the nearby waters.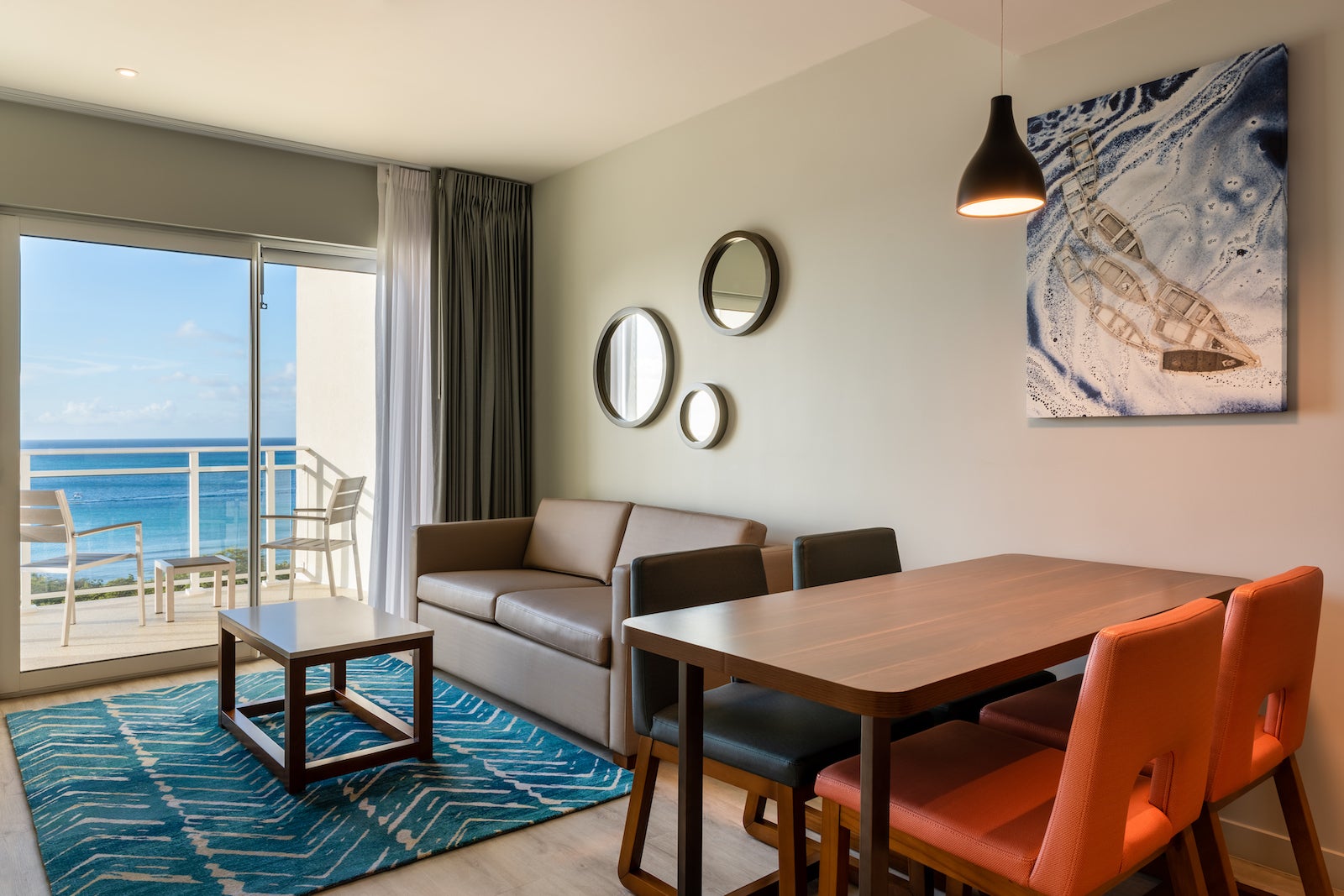 If you're really drawn to the water, reserve a room with direct access to the pool.
There's a tunnel that takes you right to the beach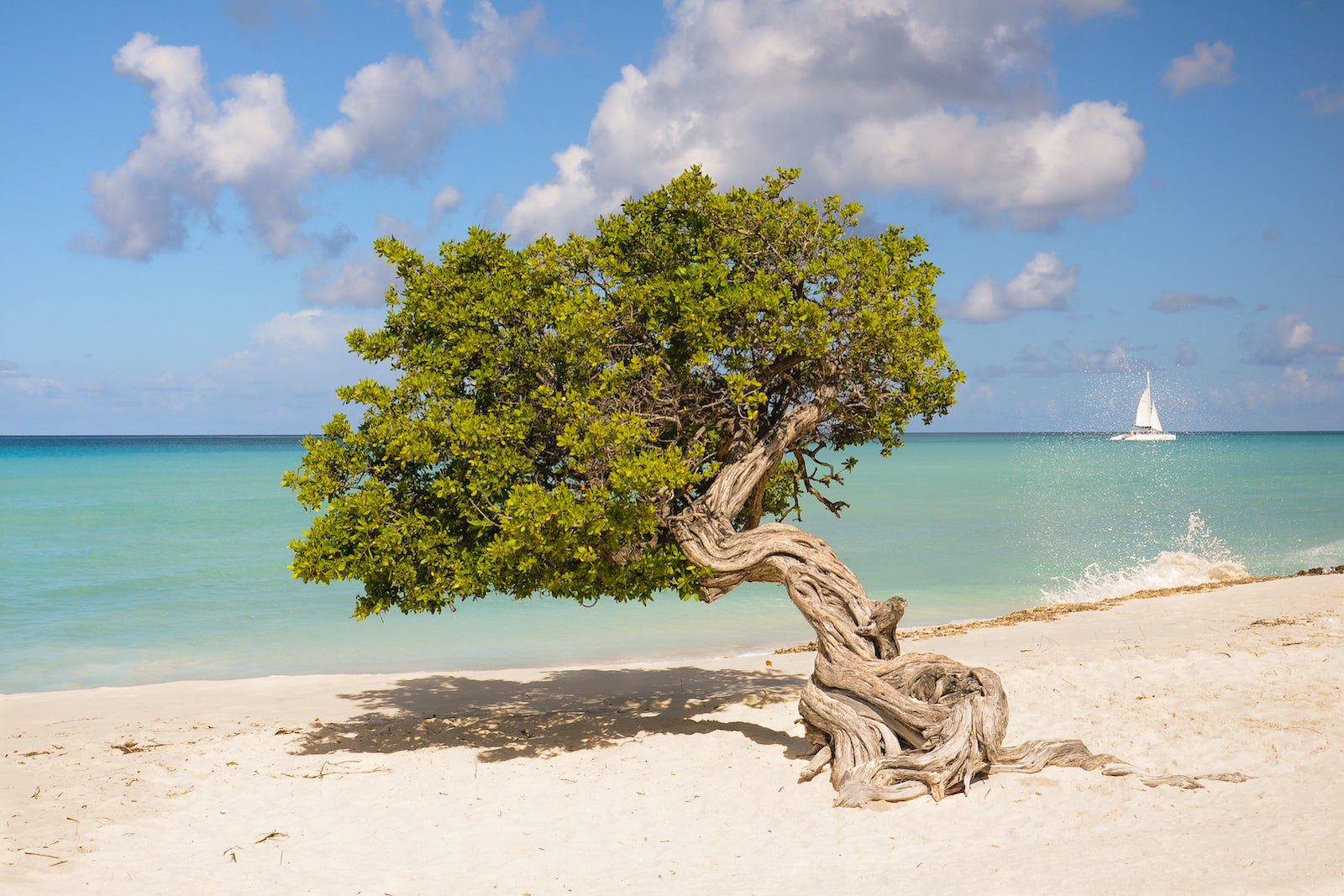 Though the resort is literally across the street from the white sands of the world-famous Eagle Beach, you don't actually have to cross the road to get there, thanks to an underground walkway connecting the two. That means you can easily load up your bags (don't forget the sunscreen!) and get your family and friends playing in the water in no time.
Related: 9 amazing places to use points for a trip to the Caribbean
There are activities for the whole family, especially kids
The Embassy Suites brand is popular with families, thanks to spacious rooms that enable everyone to spread out from each other. At this particular property, there's plenty to do outside of the room, too.
For starters, there's a massive pool with cabanas and lounge chairs perfect for idling away the days. And for the younger ones in the pack, there's a kid-friendly pool, an outdoor playground to monkey around on and even kid-specific activities like scavenger hunts on offer.
Related: 6 fun things to do with kids in Aruba
In addition, there's a 24/7 fitness center with gym equipment to help stay active (if the pool and beach aren't enough) as well as fitness classes like yoga and aerobics.
There are 5 food and beverage outlets to explore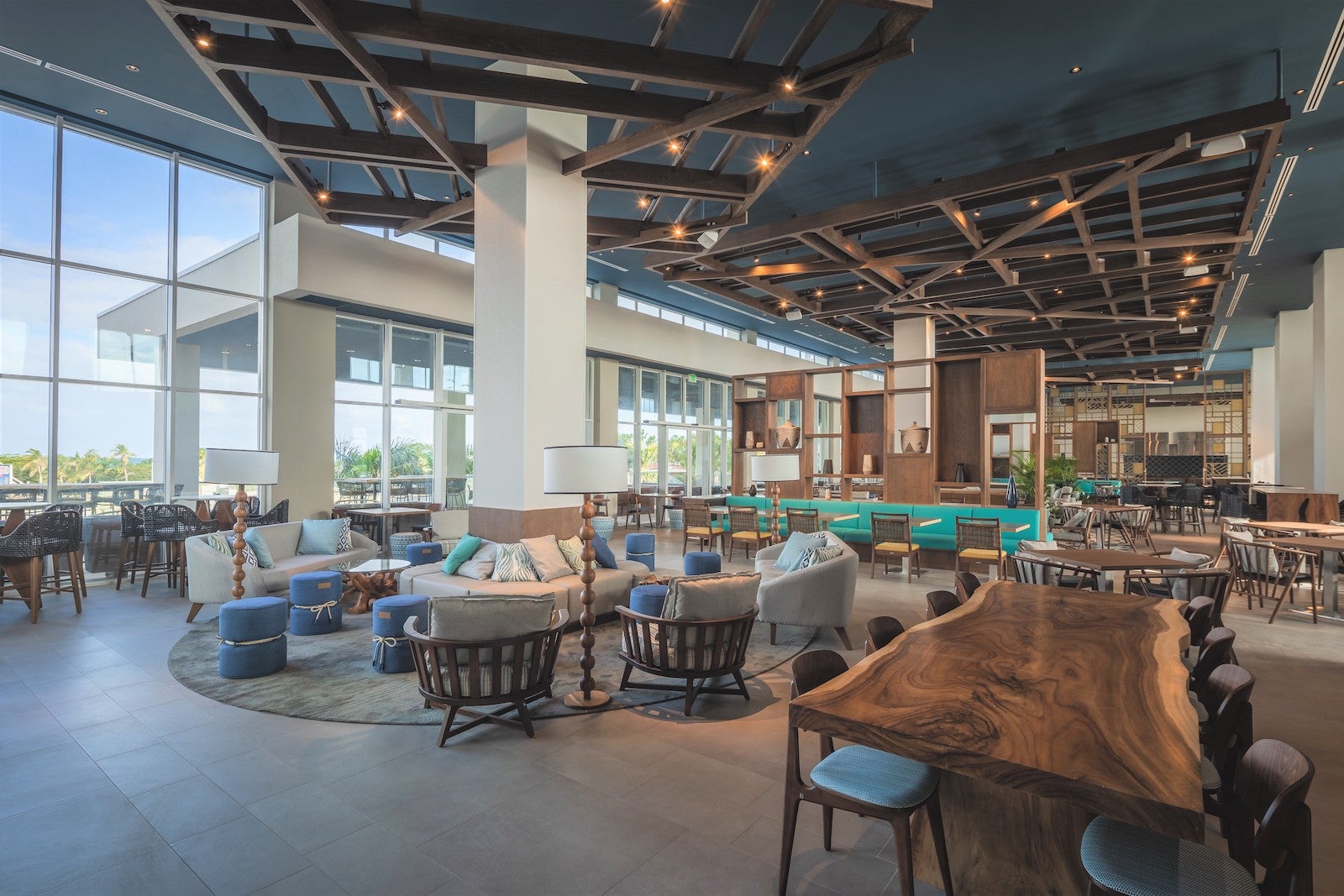 Don't worry about going hungry or getting dehydrated: There are places on the property to sit down for a full meal, have a quick beer or simply grab a snack to take with you to the beach.
Start your morning at the lobby restaurant, where free breakfast is served buffet-style along with views of the Caribbean Sea. A grab-and-go market offers coffee and easy-to-carry snacks and meals like sandwiches, while the lobby bar and cafe is the place for light bites, beer, wine, cocktails and even a complimentary reception each evening.
And by the pool, there's an outdoor bar to grab a drink as well as Splash, a poolside snack bar.
Breakfast is free for everyone
One of the main reasons people love Embassy Suites is its free breakfast buffet that offers hot and cold items, including a made-to-order omelet station, our readers' favorite breakfast item.
Free breakfast at hotels is a huge money saver, especially for large families, considering that breakfast at luxury resorts can easily cost $30 per person, if not more. And at Embassy Suites, free breakfast doesn't mean bad breakfast. Last year when TPG compared 10 different free hotel breakfasts in a head-to-head battle, alongside a food expert, we found that the brand had the best breakfast in the bunch (and the only one with made-to-order omelets).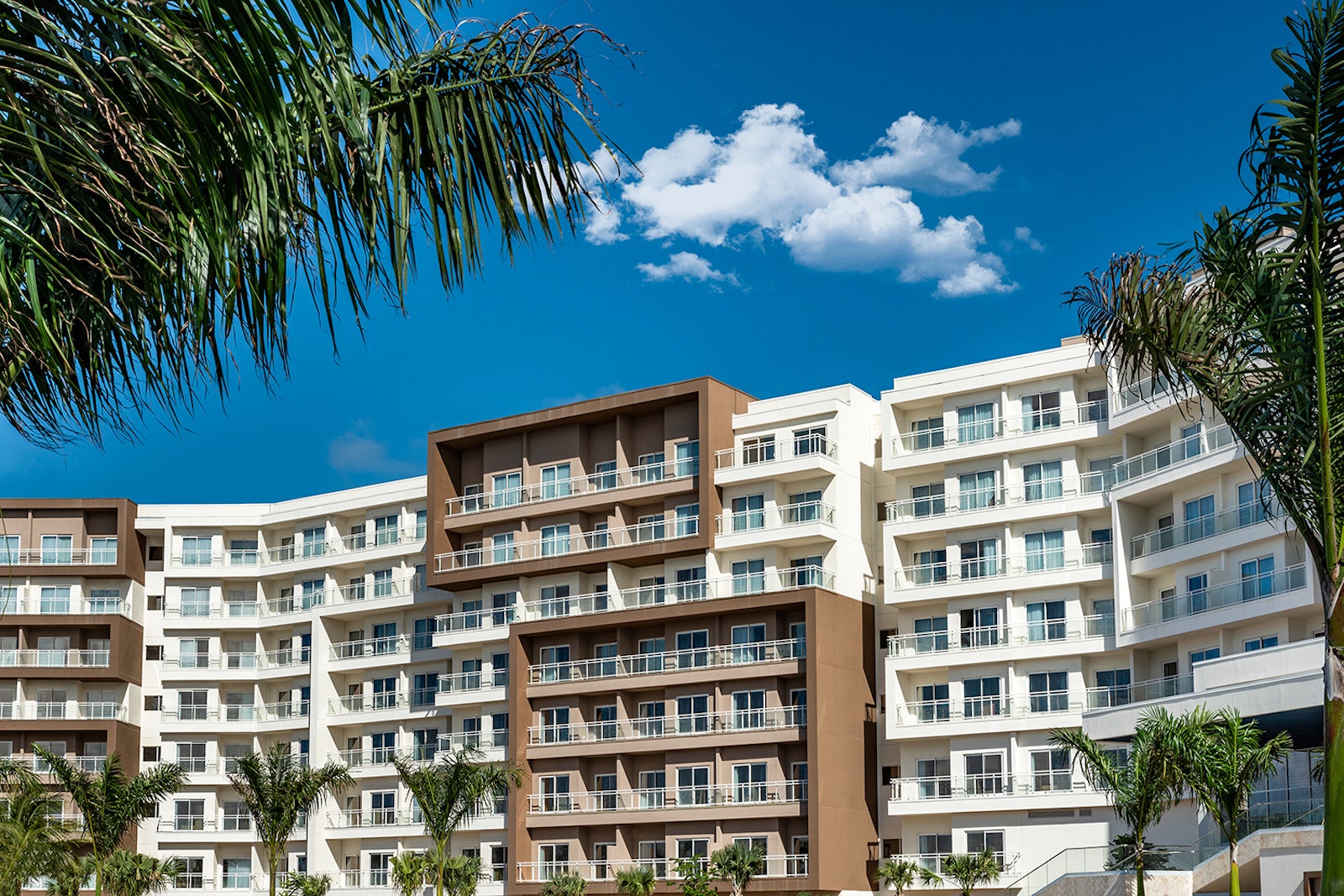 Soon there will even be a spa
Though the details are sparse right now, later this year this resort will open a spa with a sauna as well as five treatment rooms offering massages, facials and other treatments.
There's plenty to explore nearby
Even though beach vacations are often spent relaxing in the sun, everyone should take some time to see what's around, too. Near this Embassy Suites guests can visit the Bubali Bird Sanctuary to spot over 80 species of migratory birds, head to the Butterfly Farm to learn how caterpillars almost magically transform into beautiful winged creatures, or stop by the California Lighthouse for a cute family photo.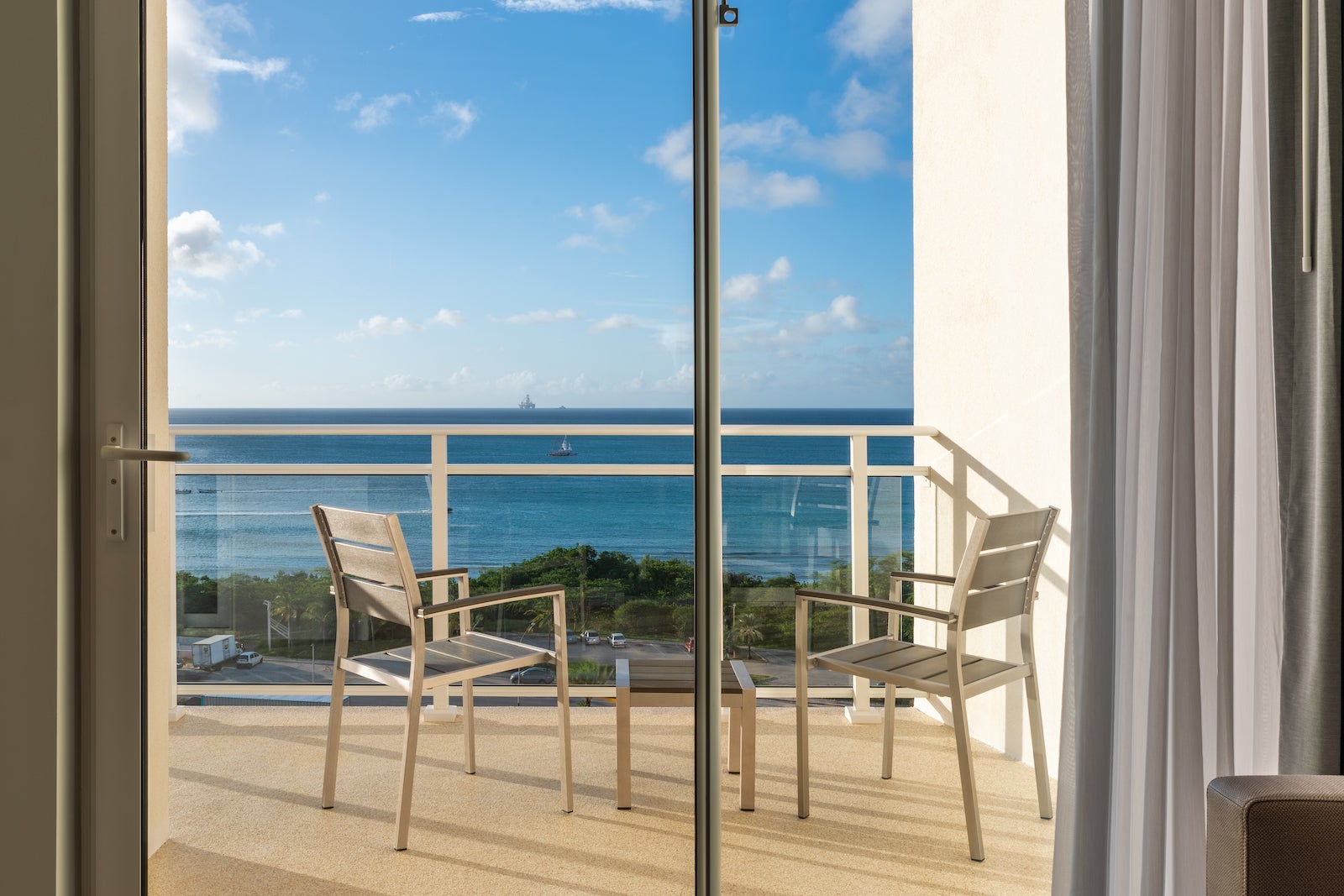 How to book
Rates at the new Embassy Suites by Hilton Aruba Resort start at $399 or 80,000 Hilton Honors points per night. With the Hilton Honors American Express Surpass® Card, you could snag a free night by earning 130,000 Hilton Honors bonus points after you spend $2,000 on purchases on the card within your first three months of cardmembership.
Related reading: