Quick take: Delta offers one of the most comfortable domestic economy experiences in the U.S. On the Airbus A321neo, travelers can enjoy seatback entertainment, free Wi-Fi and diligent flight attendants.
Pros
There are plenty of inflight entertainment options with free headphones.
The mood lighting in the plane created a relaxing boarding experience for an early morning flight.
Large overhead bins meant room for most passengers to store luggage easily.
Cons
I rarely feel cramped in an airplane seat, but my legs nearly touched the seat in front of me.
Bluetooth connectivity is not available for wireless headphones.
As an American Airlines loyalist (thanks to my Texas roots and routes), choosing a Delta flight for a work trip to Las Vegas at the end of the summer was difficult. However, flying Delta made the most sense for me at the time due to having scheduled events early on the day of my arrival, so I went with the Delta option.
Considering American's barebones service on domestic flights, I was excited to enjoy some of the perks I tend to miss on American planes, like screens offering inflight entertainment and a shot at free Wi-Fi.
That's why I was interested in flying Delta's new A321neo from New York to Las Vegas and seeing how a different airline does things. Here's what the experience was like.
Want more airline-specific news? Sign up for TPG's free biweekly Aviation newsletter.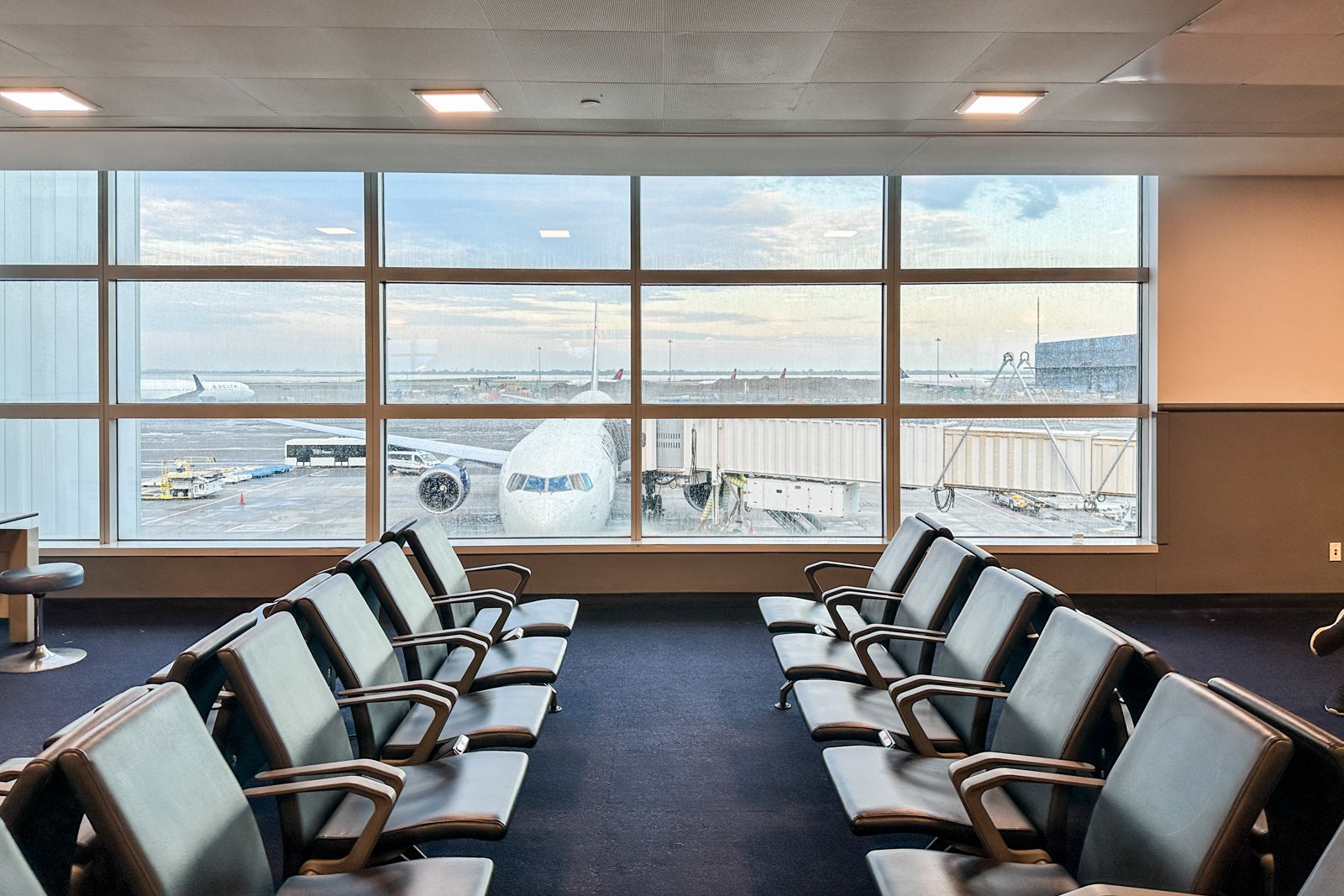 How much does economy class cost to book on Delta Air Lines?
Delta sells three types of economy fares on this route: basic economy, Main Cabin and Comfort+. Here are the inclusions for the three fare types:
| | | | | |
| --- | --- | --- | --- | --- |
| Fare type | Change fees | Checked bag fees | Seat selection | Boarding group |
| Basic economy | No changes allowed (cancelable for partial credit) | $30 for the first checked bag | No seat(s) assigned until after check-in. From seven days to 24 hours before departure, it's possible to pay to select seats on itineraries that are fully domestic. Pricing varies by trip and may be purchased leg by leg. | Basic economy boards last / Zone 9 |
| Main Cabin | No change fees (credit upon cancellation for the ticket value for flights originating in the U.S.) | $30 for the first checked bag | Choose a standard seat at no charge (or pay extra for a Preferred seat) | Main Cabin 2 or 3 / Zone 7 or 8 (depending on fare class) |
| Comfort+ | No change fees (credit upon cancellation for the ticket value for flights originating in the U.S.) | $30 for the first checked bag | Choose a Comfort+ seat at no extra charge | Delta Comfort+ / Zone 4 |
Unlike many other airlines, Delta allows basic economy passengers to bring an overhead carry-on bag aboard for free, as well as a personal item. Basic economy fares do not earn SkyMiles or credit toward SkyMiles Medallion status.
Delta calculates award prices using dynamic pricing, meaning mileage amounts fluctuate just as cash prices do. For folks carrying select cobranded Delta credit cards, the TakeOff 15 feature offers a 15% discount on all award flights.
Here's what you can expect to spend for a round-trip, nonstop itinerary between New York's John F. Kennedy International Airport (JFK) and Las Vegas' Harry Reid International Airport (LAS) over the next year at current prices. (Note that prices can fluctuate widely to and from Las Vegas, depending on events occurring during your trip, such as the upcoming Las Vegas Formula One Grand Prix and next year's Super Bowl LVIII.)
Delta SkyMiles changes: Airline overhauls how you earn Medallion status in biggest change yet
| | | | | |
| --- | --- | --- | --- | --- |
| | Basic economy | Main Cabin | Comfort+ | First |
| Cash price (round trip) | $268 to $728 | $358 to $1,317 | $598 to $1,907 | $1,218 to $3,884 |
| Delta SkyMiles (round trip) | 22,000 to 90,500 (plus $11.20 in taxes and fees) | 31,000 to 90,500 (plus $11.20 in taxes and fees) | 54,000 to 125,000 (plus $11.20 in taxes and fees) | 112,000 to 255,000 (plus $11.20 in taxes and fees) |
My one-way, Main Cabin ticket from New York to Las Vegas cost $258. I earned 2,248 Medallion Qualification Miles, 1 Medallion Qualification Segment and 258 Medallion Qualification Dollars with base miles landing at 1,290; I didn't earn bonus miles since I don't have elite status or a Delta credit card. That same early Sunday flight tends to go for 15,500 SkyMiles one-way.
Here are some of the best cards to book flights with:
The information for the American Express Green Card has been collected independently by The Points Guy. The card details on this page have not been reviewed or provided by the card issuer.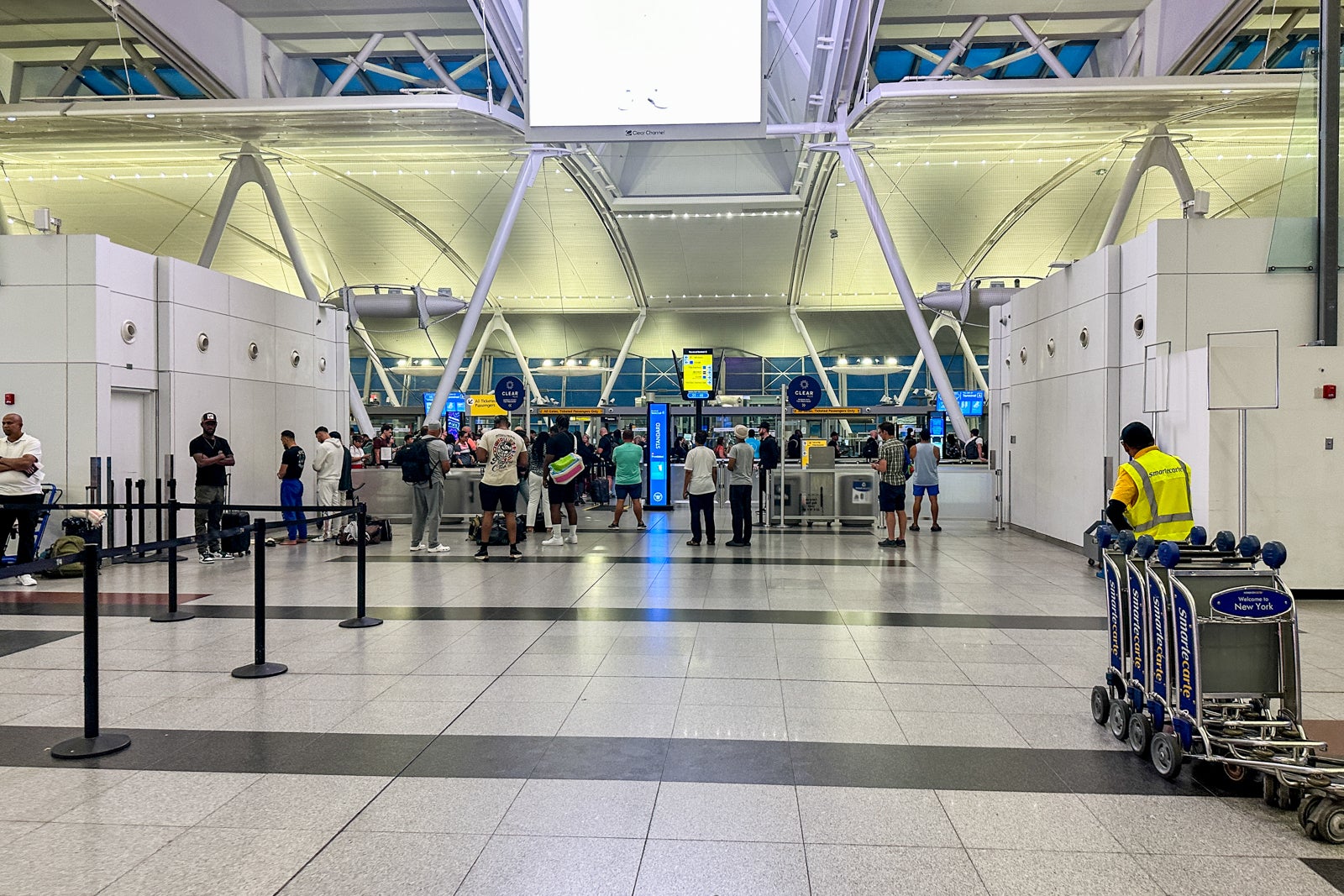 Checking into and boarding economy on Delta Air Lines
As I mentioned above, nearly all New York flights to Las Vegas are from JFK or Newark Liberty International Airport (EWR).
There are no regular weekday options from LaGuardia Airport (LGA) thanks to what's known as the perimeter rule. That rule essentially bans flights 1,500 miles and more from flying out of LaGuardia — except on Saturdays. Delta does fly nonstop from LGA to LAS, but unless you're flying on Saturday, you'll have to pick one of New York's other airports to go nonstop.
While I'd much rather take a domestic flight out of LaGuardia's shiny new Delta terminal, that simply wasn't an option for my travel dates.
I checked into my flight using the Delta app on my iPhone the day before my flight. Knowing I wasn't checking a bag or attempting to upgrade seats, I secured my boarding pass quickly, providing an easy entry into the terminal upon arrival the next day.
On the day of my 7:30 a.m. flight, I arrived at JFK's Terminal 4 about 10 minutes before 6 a.m., and the airport felt as sleepy as I was. I skipped the physical check-in lines thanks to my mobile boarding pass, but they seemed relatively short. Since I have both TSA PreCheck and Clear, I was able to breeze through security in less than five minutes.
Then, I headed to my gate, B42, to make sure it did, in fact, exist. (It did.)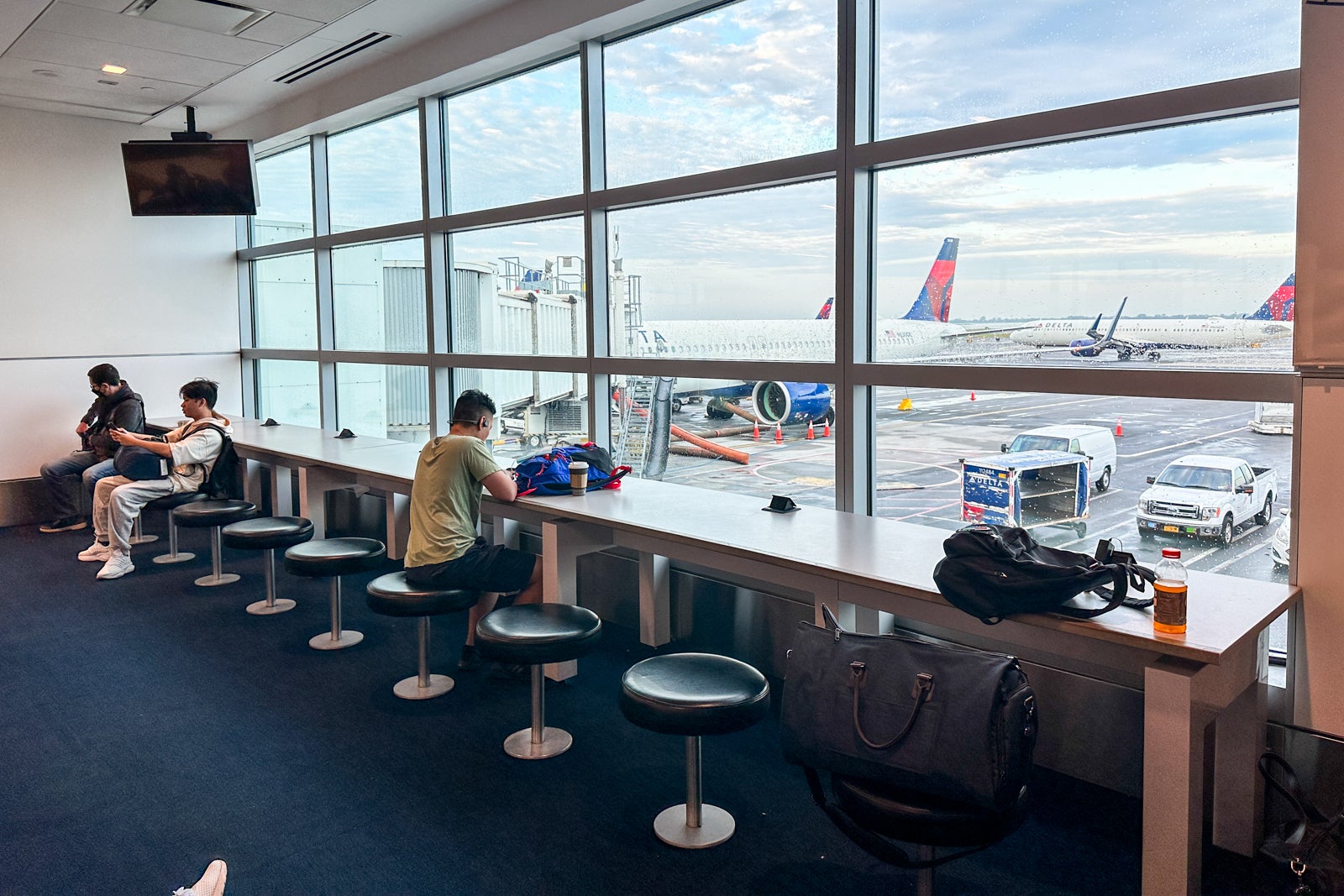 At the gate, things were calm and running smoothly. There were plenty of open seats and even counter and desk areas to sit at.
I have taken early morning JetBlue flights to Las Vegas multiple times before this Delta flight, and I was worried the crowd would be rowdy, rambunctious and drinking early — something I'd previously experienced. Luckily, that was not the case this time around. If you're looking for a quieter travel experience to a city full of partiers, Delta may be your best bet (at least, based on my experience).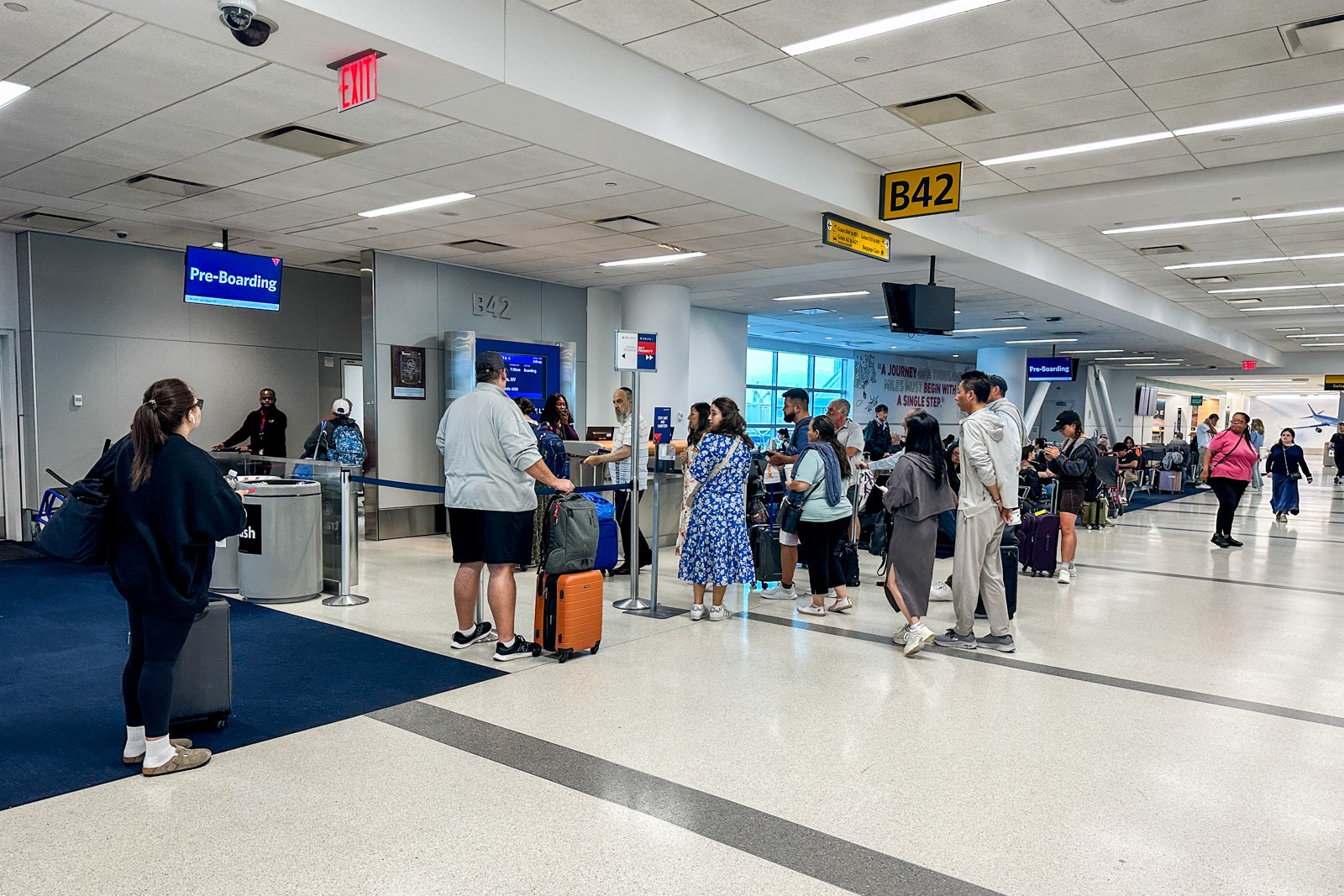 Preboarding began at 6:50 a.m., 40 minutes before departure. This was followed by first class, Diamond Medallion, Comfort+, SkyPriority and then Main Cabin. With a seemingly empty flight, I was on board about 15 minutes after the preboarding announcement.
Related: A review of Delta Air Lines economy on the Boeing 767 from London to New York
While getting to my aisle seat, 27C, I enjoyed the ambient mood lighting considering the early morning hour. I also loved the relaxing music playing, including a song by the country duo Dan + Shay and the Britney Spears remix of Elton John's "Tiny Dancer."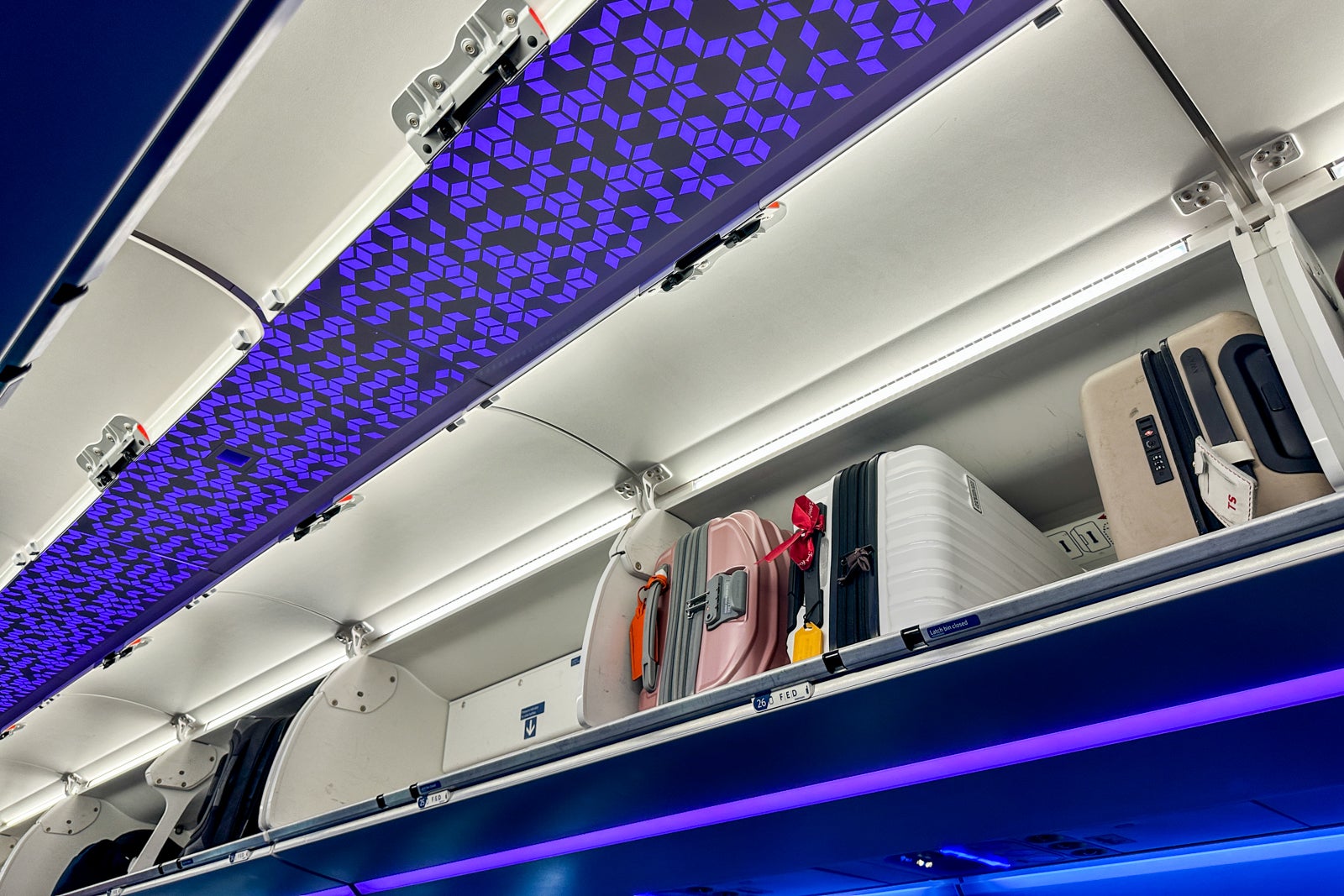 When I got to my seat, I appreciated the large overhead Airspace XL bins with directions for turning your bag sideways to allow more space for other passengers. I easily stowed my trusty Away carry-on bag, tucked my backpack under the seat in front of me and got comfortable for my flight to Sin City.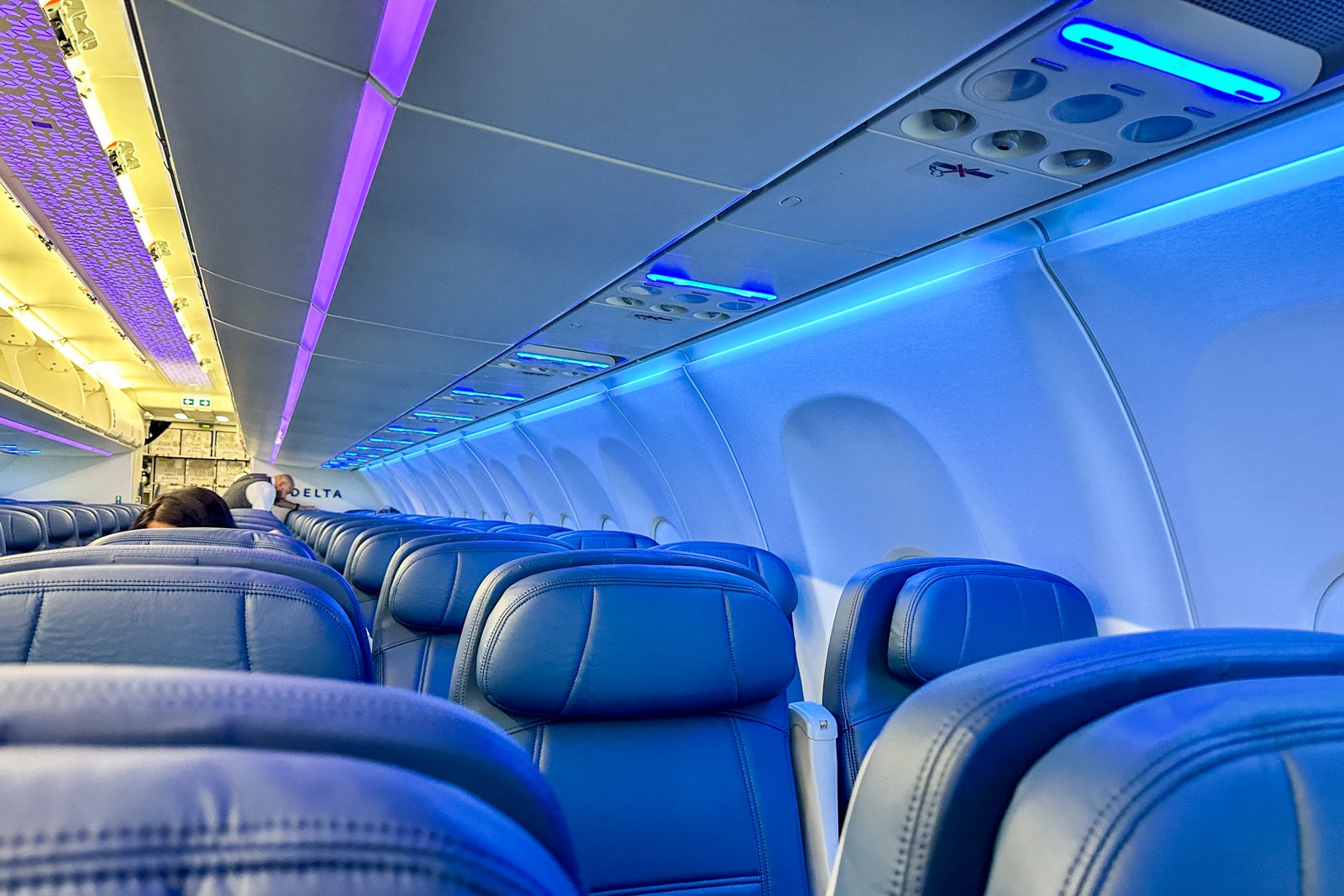 How comfortable was Delta Air Lines' economy class?
The aircraft for my flight was an Airbus A321neo with the following seat count and layout.
| | |
| --- | --- |
| Number of seats |  42 Comfort+, 132 Main Cabin |
| Cabin layout | 3-3 in Comfort+ and Main Cabin |
| Seat pitch | 34 inches in Comfort+, 31 inches in Main Cabin |
| Seat recline | 3 to 4 inches in Comfort+ and Main Cabin |
| Seat width | 18 inches in Comfort+, 18 inches in Main Cabin |
| Screen size | 10 inches |
My aisle seat felt like the best option for what was available in coach. Though I typically prefer a window seat, I tend to gravitate toward aisle seats on longer flights to make it easier to get to the lavatory.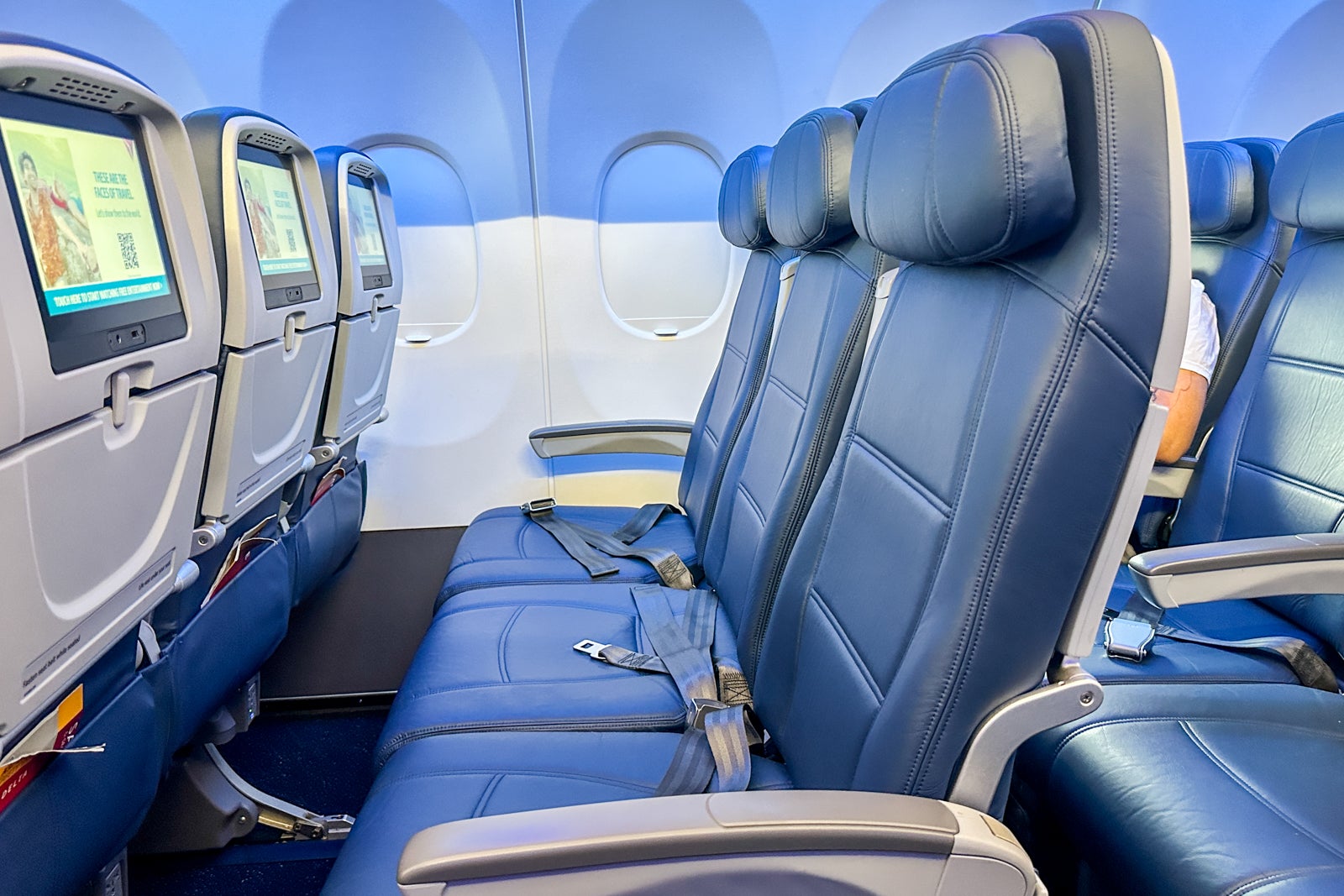 At 5 feet, 7 inches, I'll be the first to admit I'm not a particularly tall person. However, I was shocked at how close my legs felt to the seat in front of me. It wasn't an issue during the flight, but I can imagine that my taller friends might have felt a little cramped in the space — especially if the person in front reclined their seat.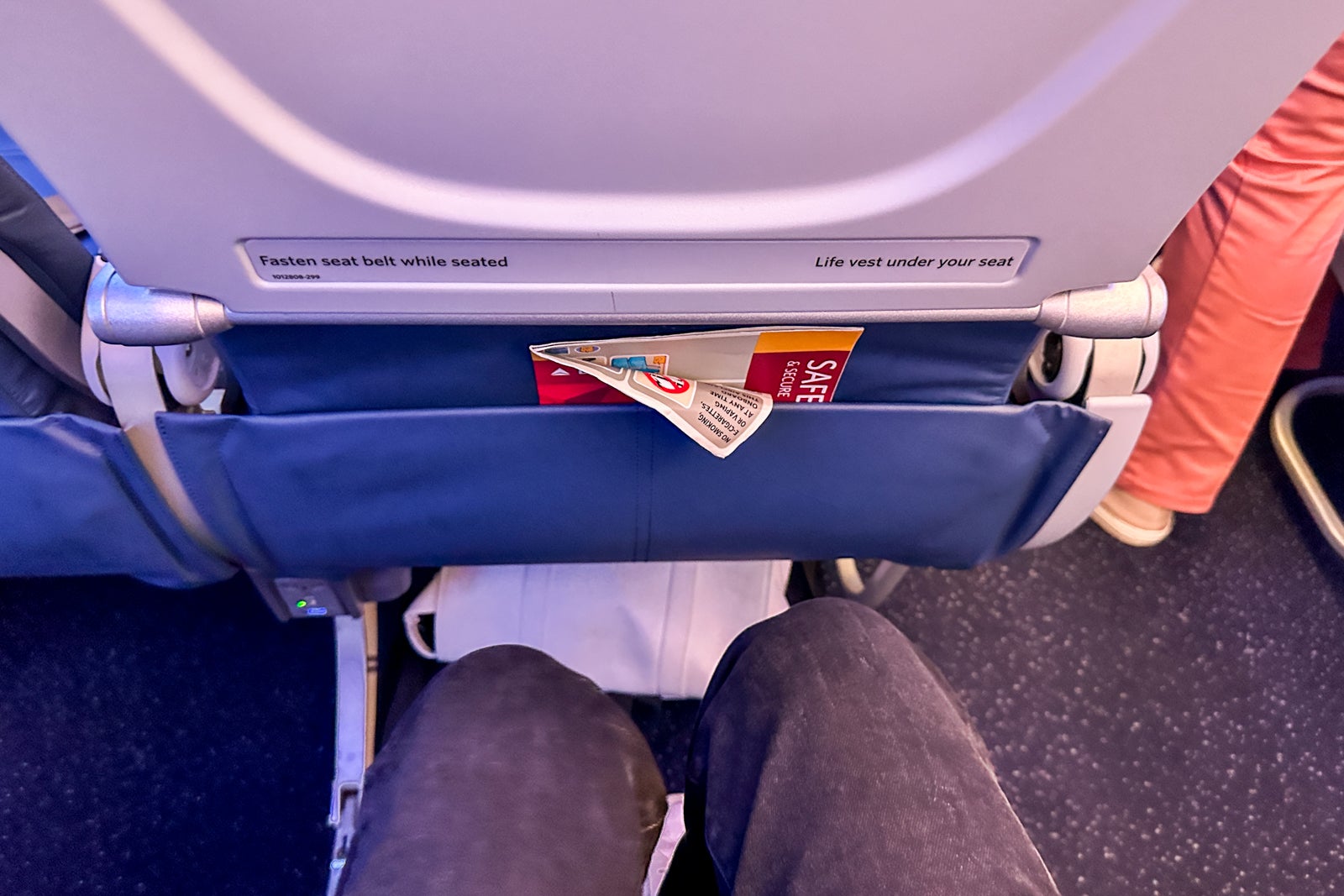 I found the main cabin seats on this Airbus 321neo to be nicely padded and comfortable enough for my five-hour journey. I appreciated that the headrests had curling wings designed to cradle your head, making it easy to rest if you're in the aisle or middle seat and can't lean against the wall like the passenger in the window seat.
Otherwise, the seat featured your typical setup: a fold-down tray, a seatback pocket and armrests, a touchscreen entertainment system with individual headphone jacks and USB-A ports, and two power outlets shared among the three seats on either side of the aisle in each row.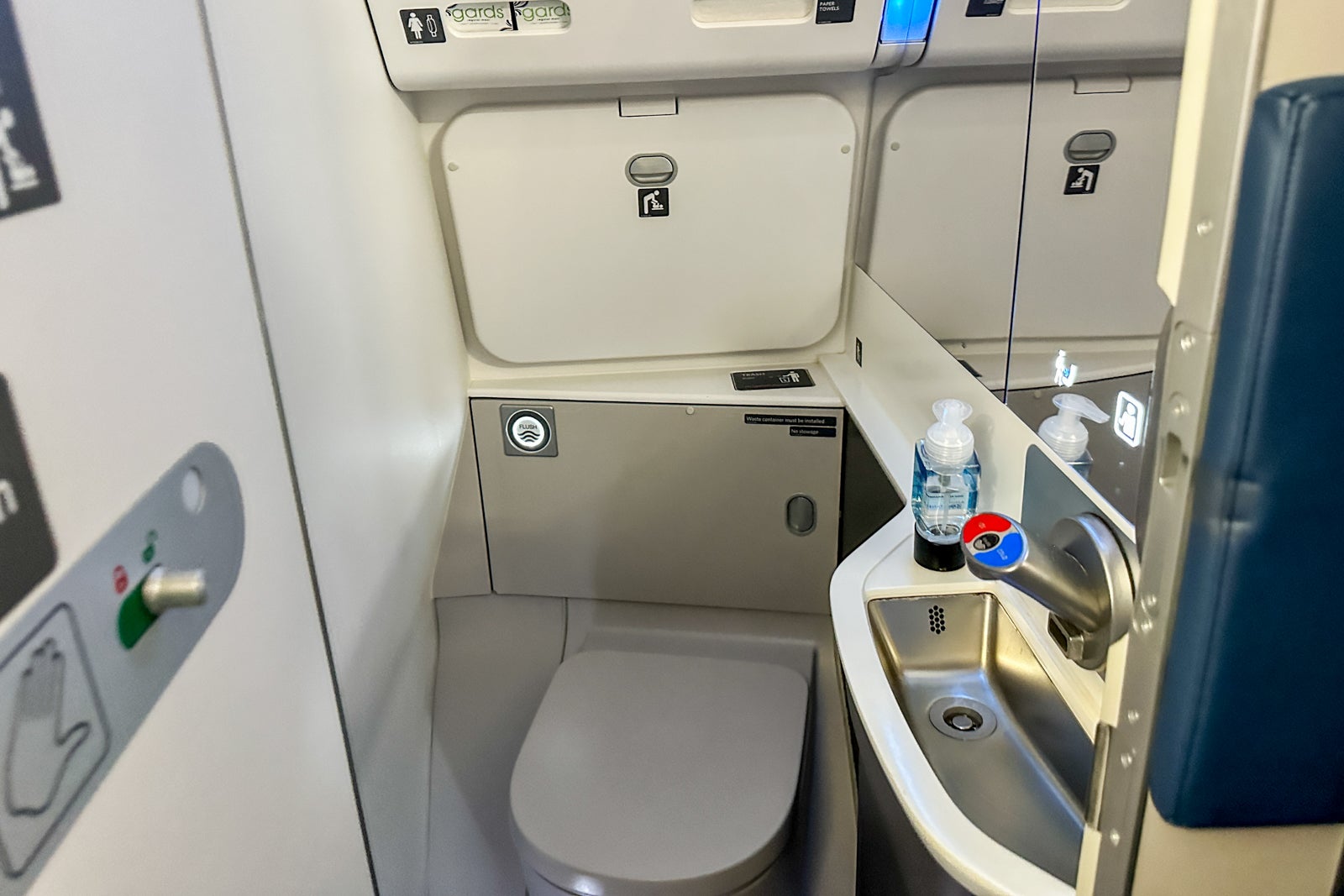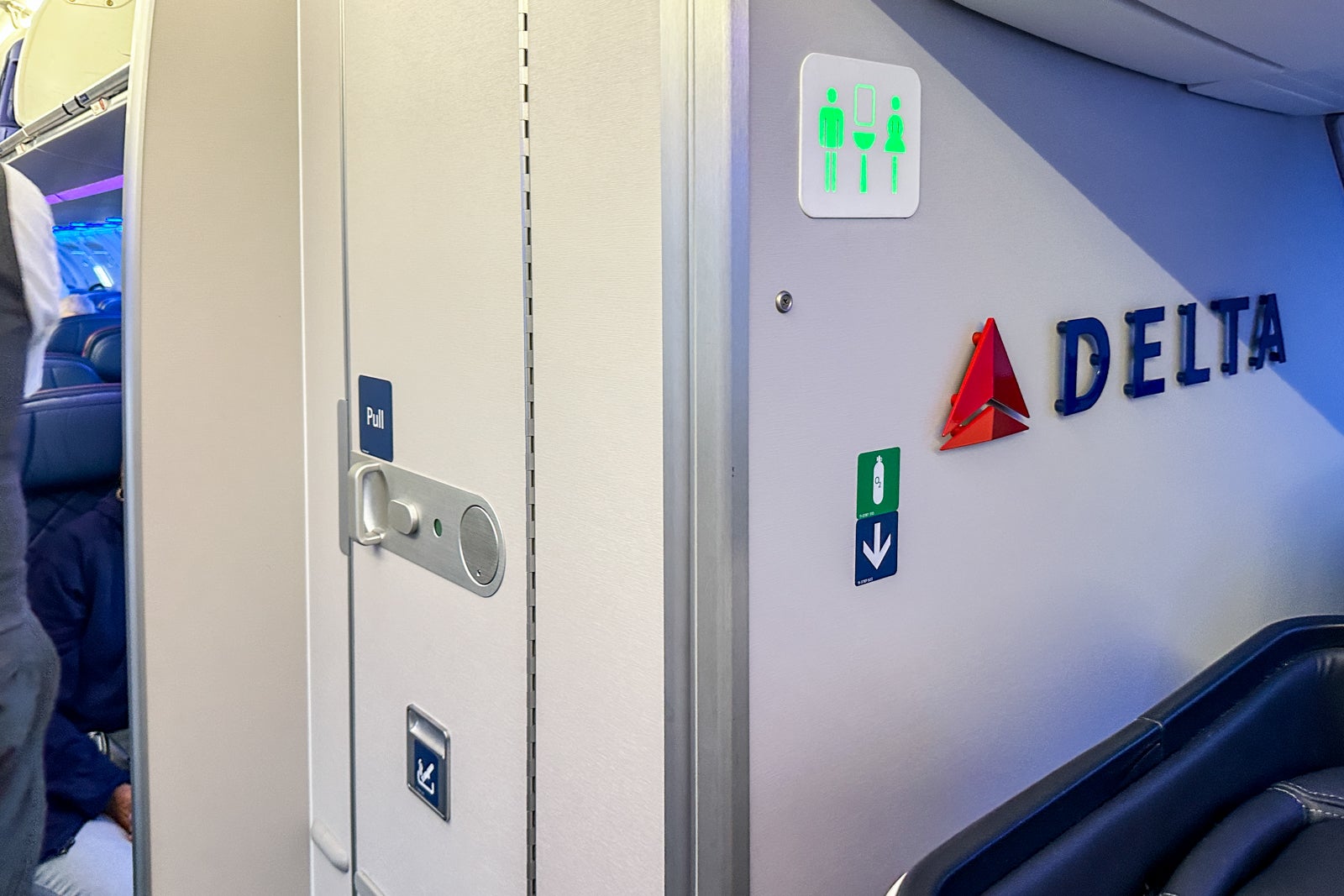 There were four bathrooms on board, including one forward lavatory reserved for first-class passengers, one behind first class at row 10 and two at the rear of the plane. During the flight, I hardly noticed a line for the lavatories, but again, the flight wasn't full, and many people slept for the duration.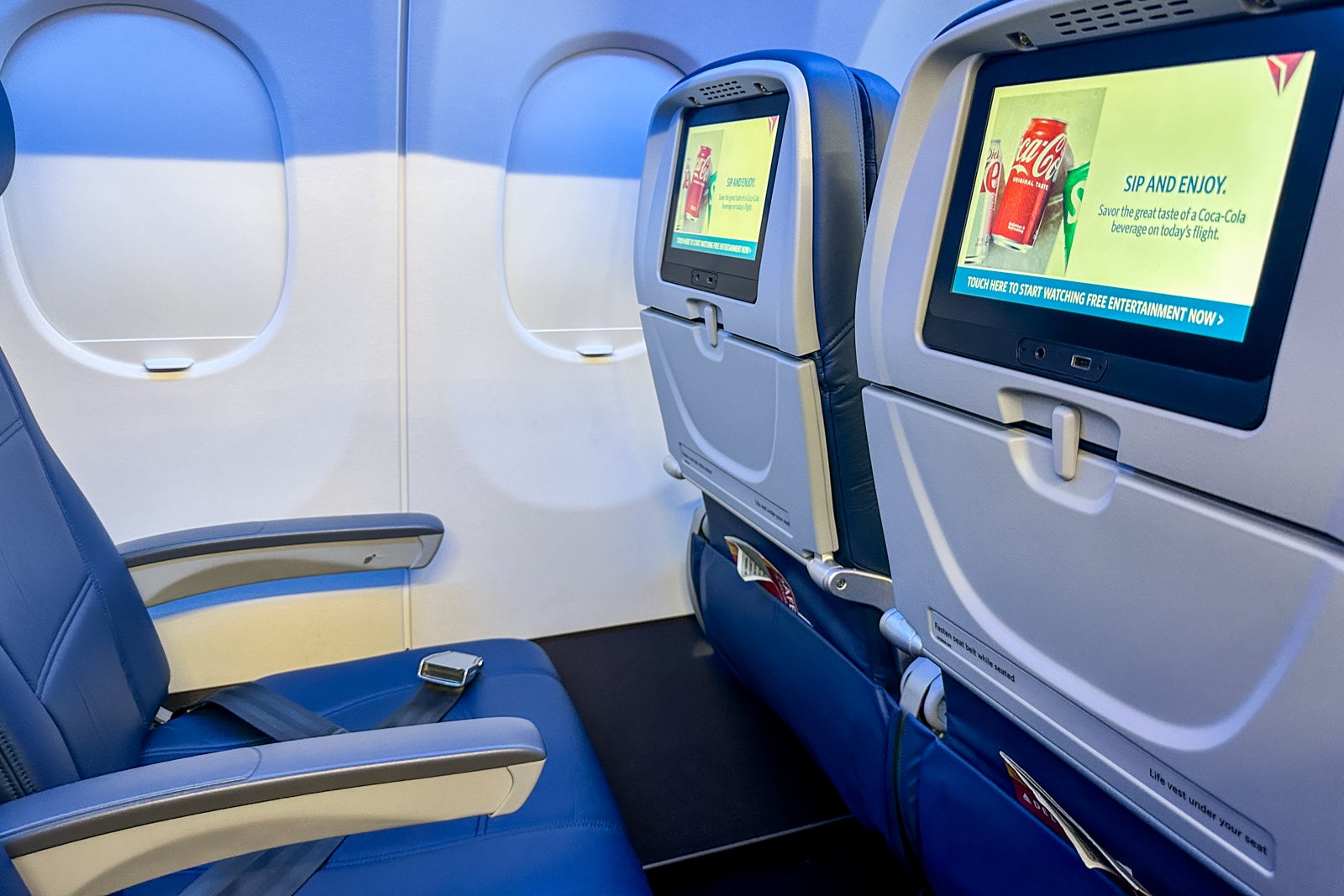 When selecting your seats, I'd avoid rows 10, 11 and 12 in Comfort+ and row 39 in Main Cabin due to their proximity to the lavatories. And beware, row 30 doesn't have a window.
Amenities in Delta Air Lines economy
In terms of amenities like pillows or blankets, you'd better pack your own. But there were other nice features that made the flight enjoyable.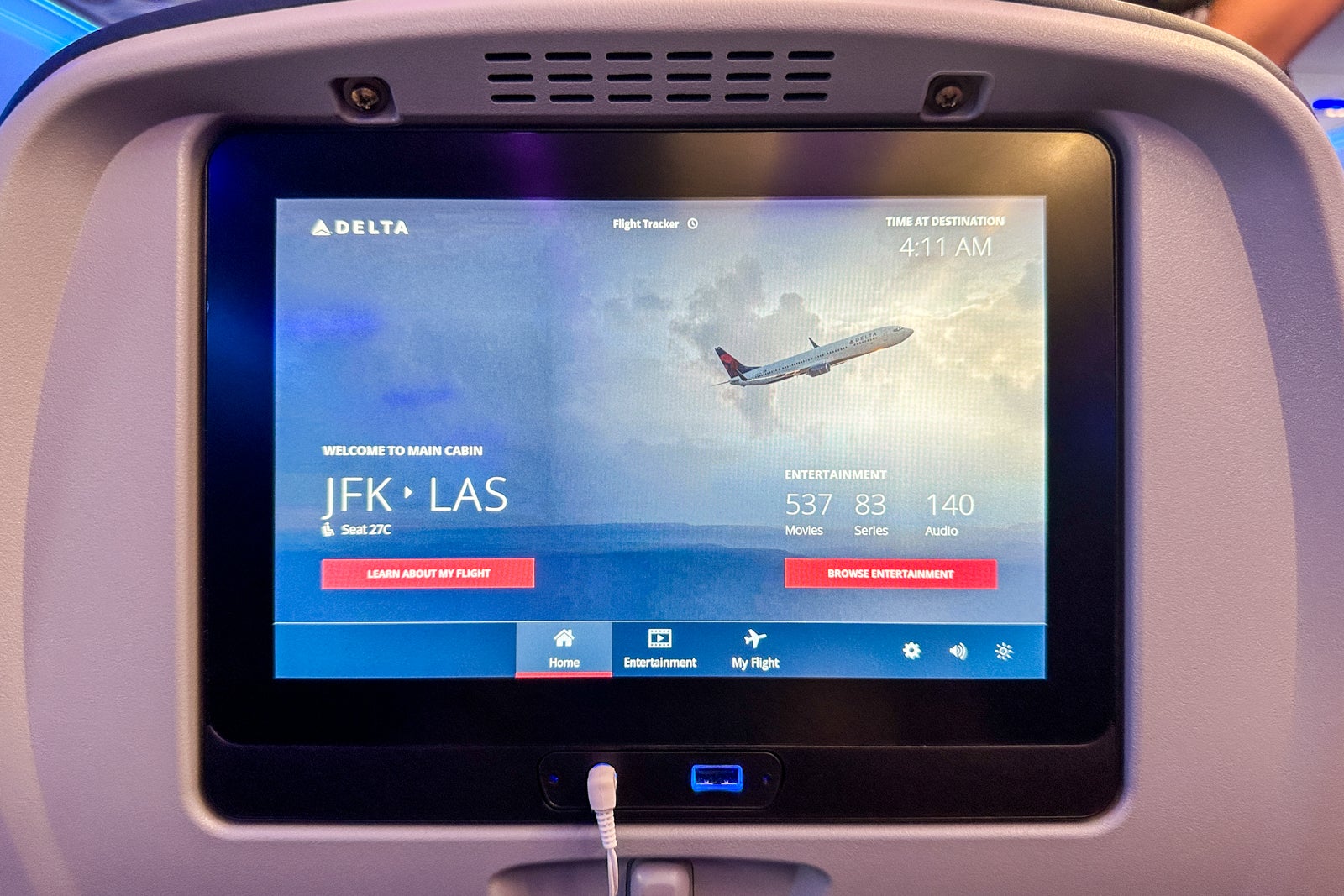 For starters, the entertainment system, called Delta Studios, offered more than 500 movies, 83 TV series (including options from Paramount+), podcasts, live satellite TV, Spotify playlists (I see you, "90's Country Mixtape") and even Masterclass lessons on topics like wine, interior design and personal branding with Kris Jenner.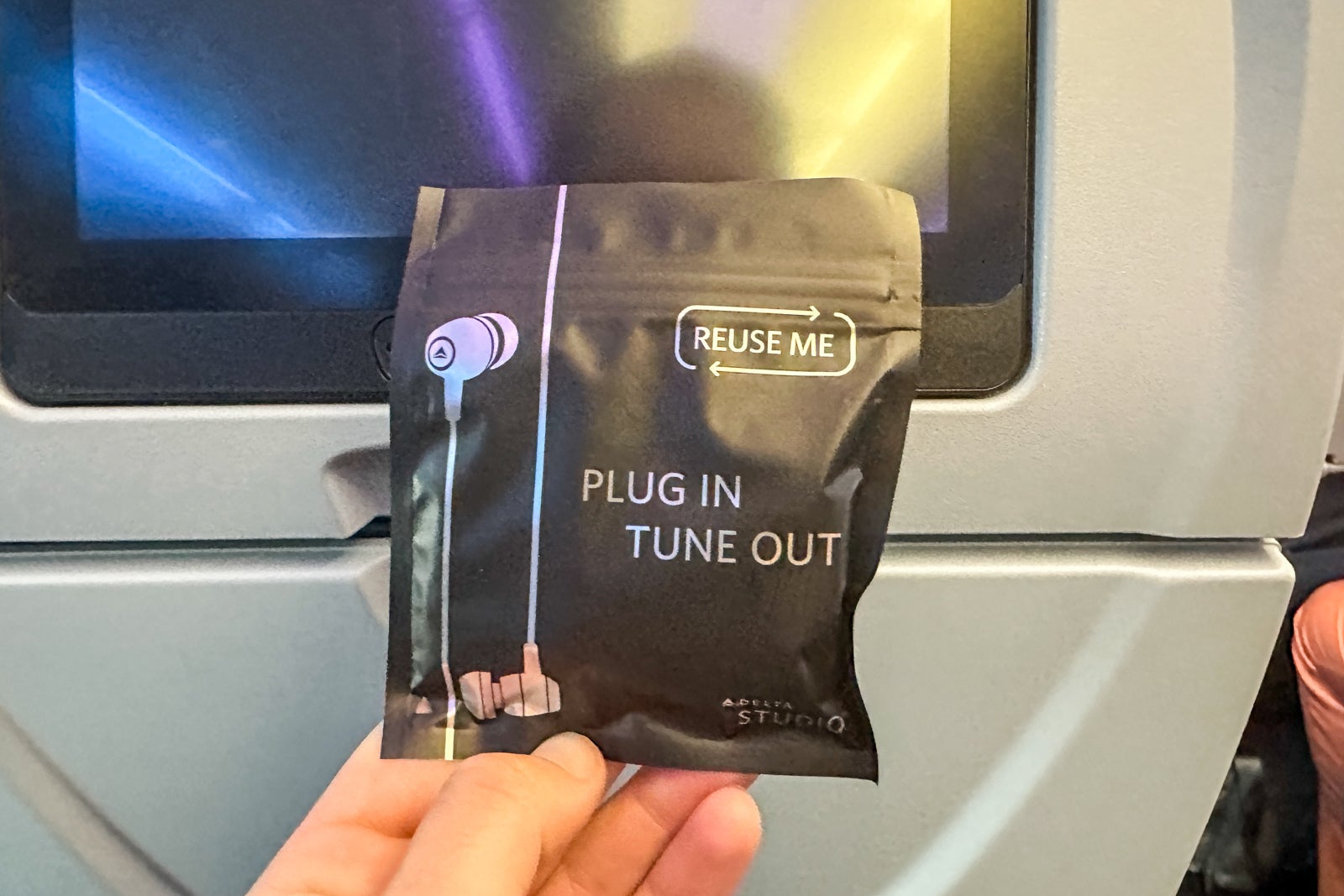 While most people these days have Bluetooth headphones, flight attendants passed out free wired earbuds for passengers to use during the flight and take home with them. Though they weren't the best earbuds in the world, I wouldn't have been able to enjoy any of the entertainment options without them. I do hope that Delta soon integrates Bluetooth connectivity onto planes like United is rolling out.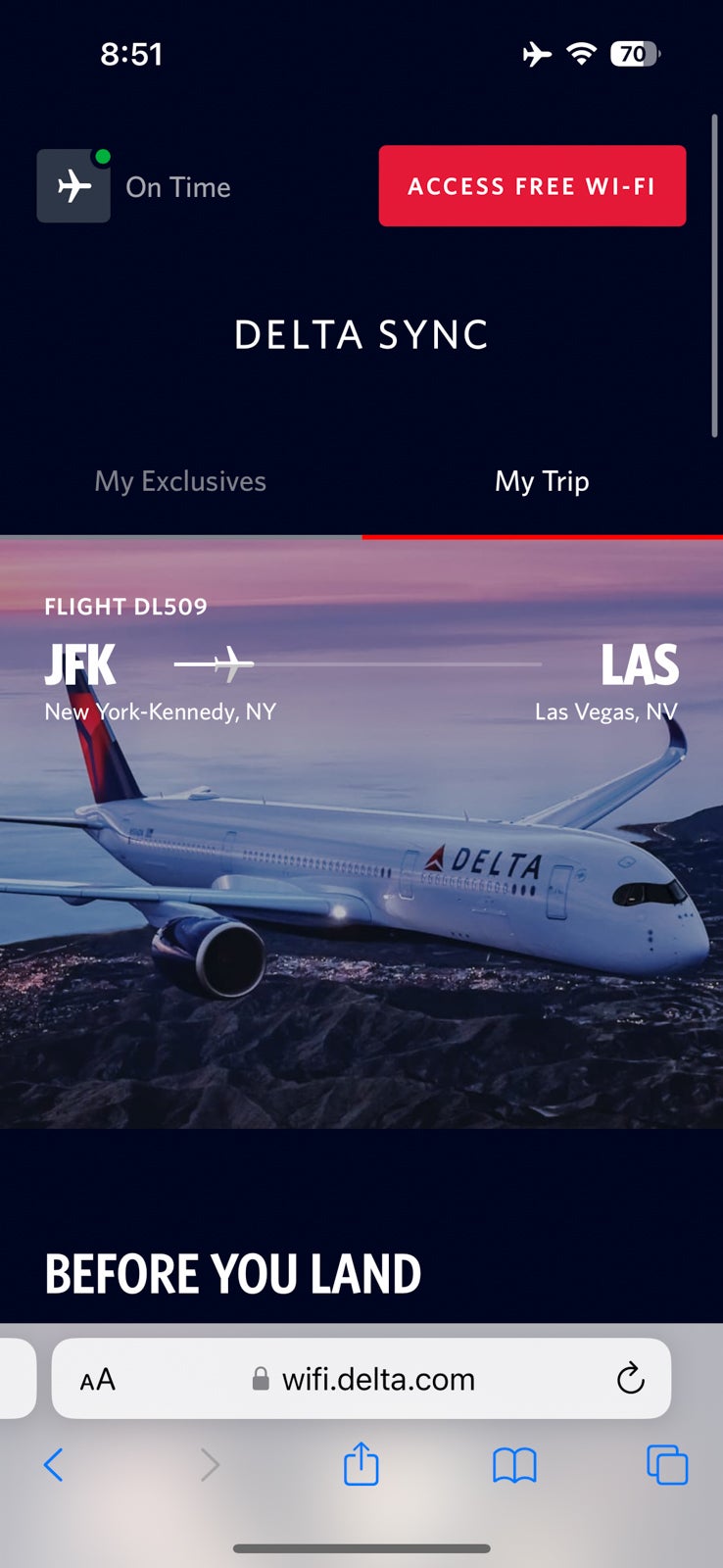 Another great perk of the flight was free Wi-Fi for SkyMiles members using the KA from the Viasat system. I used the Wi-Fi during my flight and measured a 25.45 Mbps download speed; I found it fast enough for messaging and casual browsing.
How was the food in Delta economy?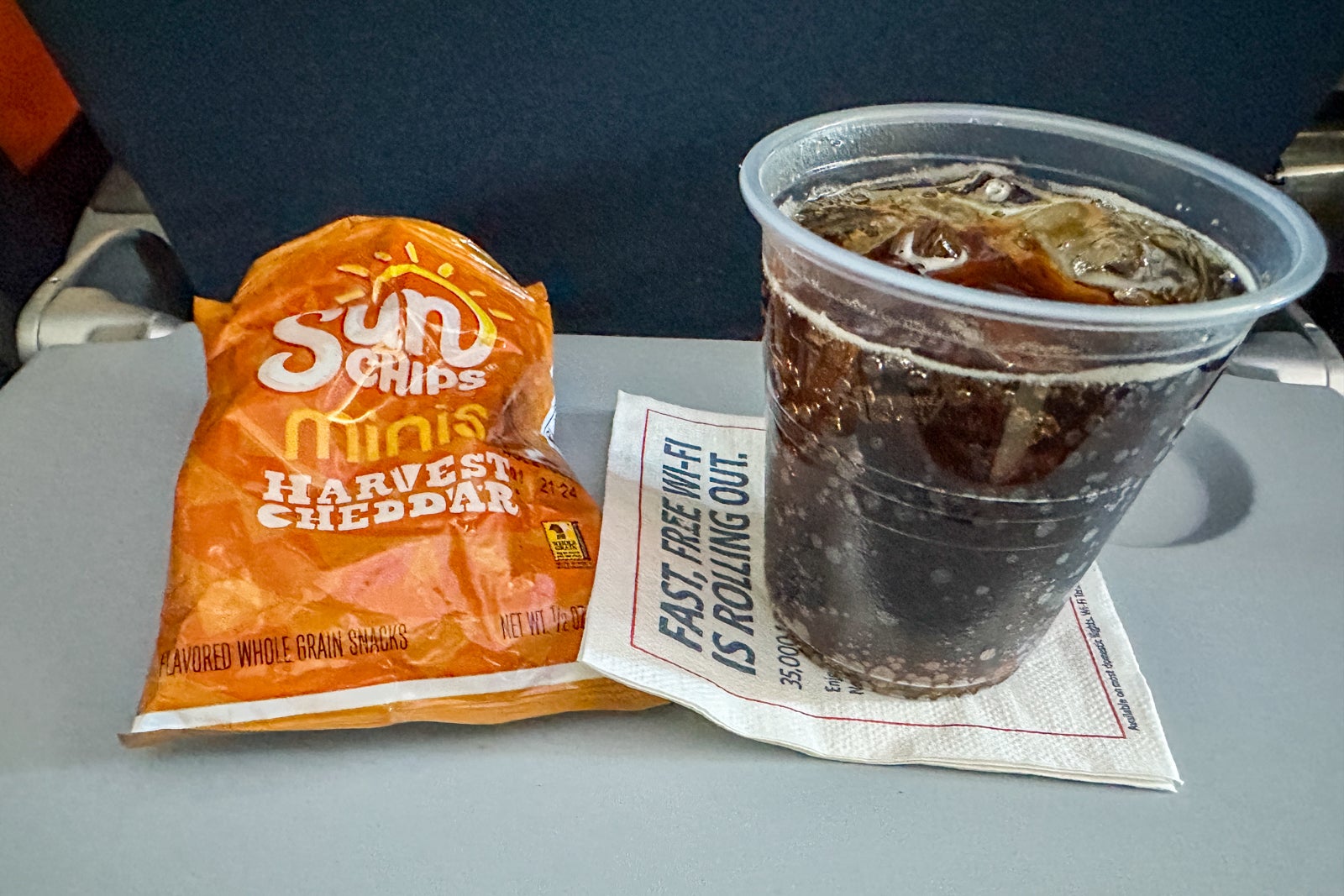 About an hour after takeoff, friendly flight attendants rolled out the food and beverage cart, which featured your standard drinks (Coca-Cola products, Starbucks coffee and alcoholic beverages for purchase).
Available snacks included Harvest Cheddar SunChips Minis, Biscoff cookies and almonds. While there wasn't much to the service besides pleasantries, it was quick and efficient, and I noticed the crew giving multiple bags of those delicious SunChips to people who asked.
Snack boxes were available for purchase ($10), with options including potato chips, Oreos, gummy bears, a cheese spread, crackers and a beef stick; there was a lighter option with pita chips, hummus, olives, apricots, almonds and more. Since this was an early morning flight, I opted out of the snack boxes and stuck with a Diet Coke and SunChips to tide me over.
There was also a second drink service later in the flight from which I ordered a hot Starbucks coffee that I promptly spilled in my lap, which I do not recommend. After my spill, kind flight attendants at the back of the plane offered me plenty of napkins to help soak up what was possible. They also offered me more coffee, which I respectfully declined.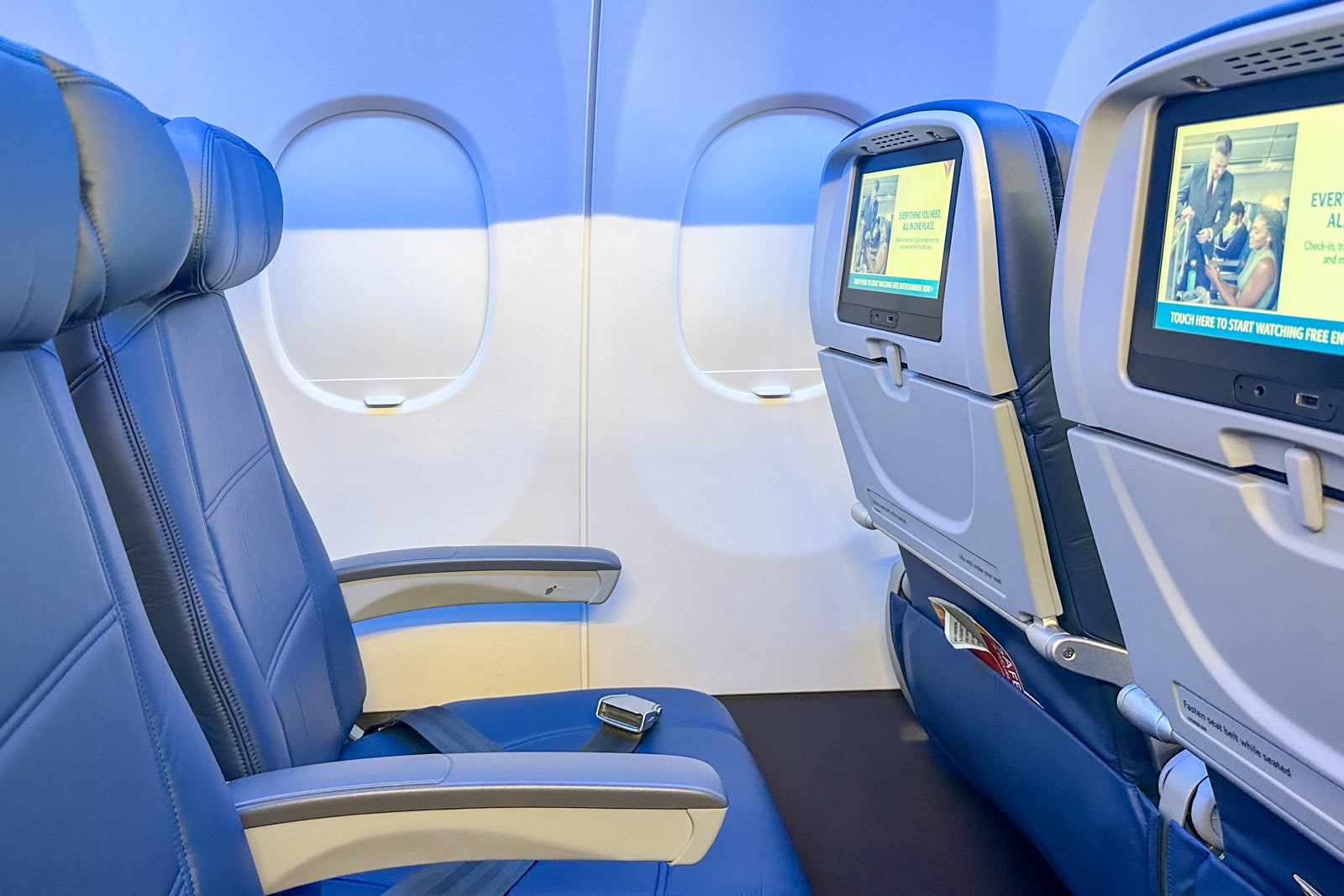 While this isn't an amenity, one of my favorite parts of the flight was when the captain announced we were flying over the Grand Canyon and the Hoover Dam (even though I wasn't near the window to see them myself).
Would you recommend Delta economy?
Despite recent negative changes to its loyalty program, Delta does offer a solid domestic economy product. From the mood lighting and music during boarding to the friendly crew and comfortable headrests, I felt content and well taken care of during my five-hour flight.
As an avid American Airlines flyer, it was a nice change to have seatback entertainment rather than streaming to my phone placed on a little fold-out tray in the seat in front of me.
Though I'll personally continue to fly American to keep my status, it's safe to say that I totally understand why people love the Delta experience.