Editor's note: TPG founder Brian Kelly is a Bilt advisor and investor.
---
Bilt Rewards recently announced its November Rent Day promotions. In addition to SoulCycle benefits and double points for cardholders on Nov. 1, Bilt is offering a United Airlines Premier status challenge.
Even if you're not currently a Bilt Rewards member or Bilt Mastercard cardholder, you can use the November Rent Day promotion to unlock United status. But you'll have to act fast: Registration started today and ends at 11:59 p.m. EDT on Nov. 1, 2022.
The information for the Bilt Rewards Mastercard has been collected independently by The Points Guy. The card details on this page have not been reviewed or provided by the card issuer.
Some background on the Premier status challenge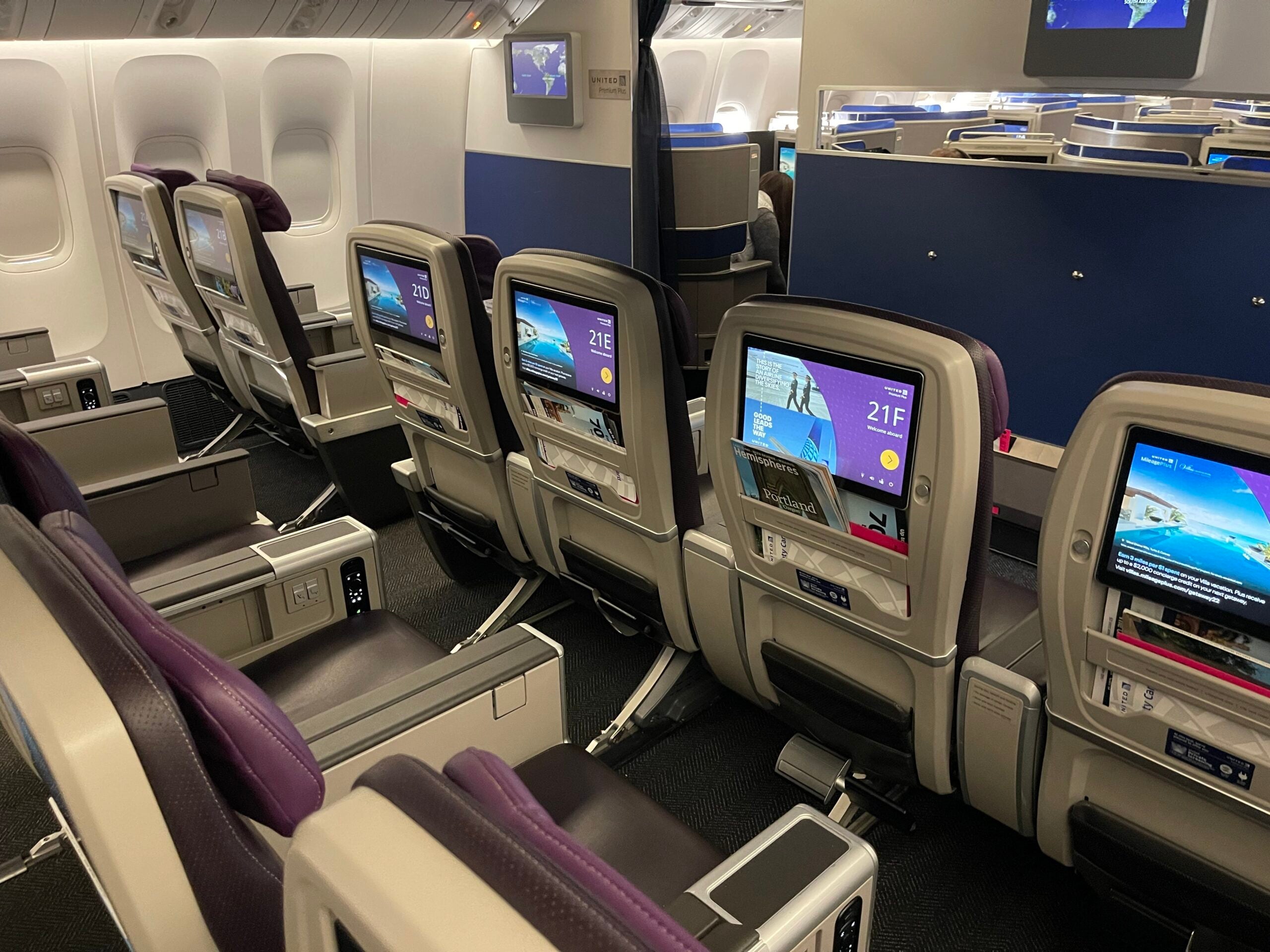 Through Nov. 1, Bilt Rewards members can unlock 120 days of Premier Silver or Premier Gold status, with the option to extend through 2023.
Your Premier status challenge will depend on your Bilt status tier:
Bilt Blue tier (no requirements): Premier Silver.
Bilt Silver, Gold and Platinum tier: Premier Gold.
As a reminder, Bilt Silver, Gold and Platinum require 25,000, 50,000 and 100,000 total points to qualify each year, respectively. You can earn these points when you pay rent with Bilt or use your Bilt Mastercard; every point you earn with Bilt is one point toward status.
The benefits of Premier Silver include perks like a 40% mileage bonus on paid tickets, a complimentary 70-pound checked bag for you and a companion on the same reservation, the ability to reserve Economy Plus seats within 24 hours of your departure (for you and a companion) and space-available Complimentary Premier Upgrades that can clear within 24 hours of departure.
Premier Gold includes benefits like a 60% mileage bonus on paid tickets, two complimentary 70-pound checked bags for you and a companion on the same reservation, access to Economy Plus seats at the time of booking (for you and a companion), 48-hour upgrade priority on most flights, Group 1 boarding and Star Alliance Gold status.
Your Premier status will be valid for 120 days. To extend your status through Jan. 31, 2024, you'll need to earn the following before your complimentary status expires:
Premier Silver: 1,000 Premier qualifying points and 4 Premier qualifying flights.
Premier Gold: 2,000 PQPs and 6 PQFs.
In short, you earn 1 PQP per $1 spent with United and 1 PQF per segment flown. To keep Premier Silver status through next January, you have to spend $1,000 (before taxes) across at least four eligible United flights.
For more information, refer to this guide, which includes some examples of how you can quickly earn PQPs and PQFs before the end of the year.
Related: What is United Airlines elite status worth?
How do I enroll in the status challenge?
Here's how to enroll in Bilt's United status challenge. As mentioned, it's free to sign up with Bilt Rewards, and you do not need to apply for the Bilt Mastercard to participate in the challenge.
If you already have a Bilt Rewards account, skip to step four.
Step 1: Sign up with Bilt Rewards
Go to biltrewards.com and select "sign up/log in" in the top right corner.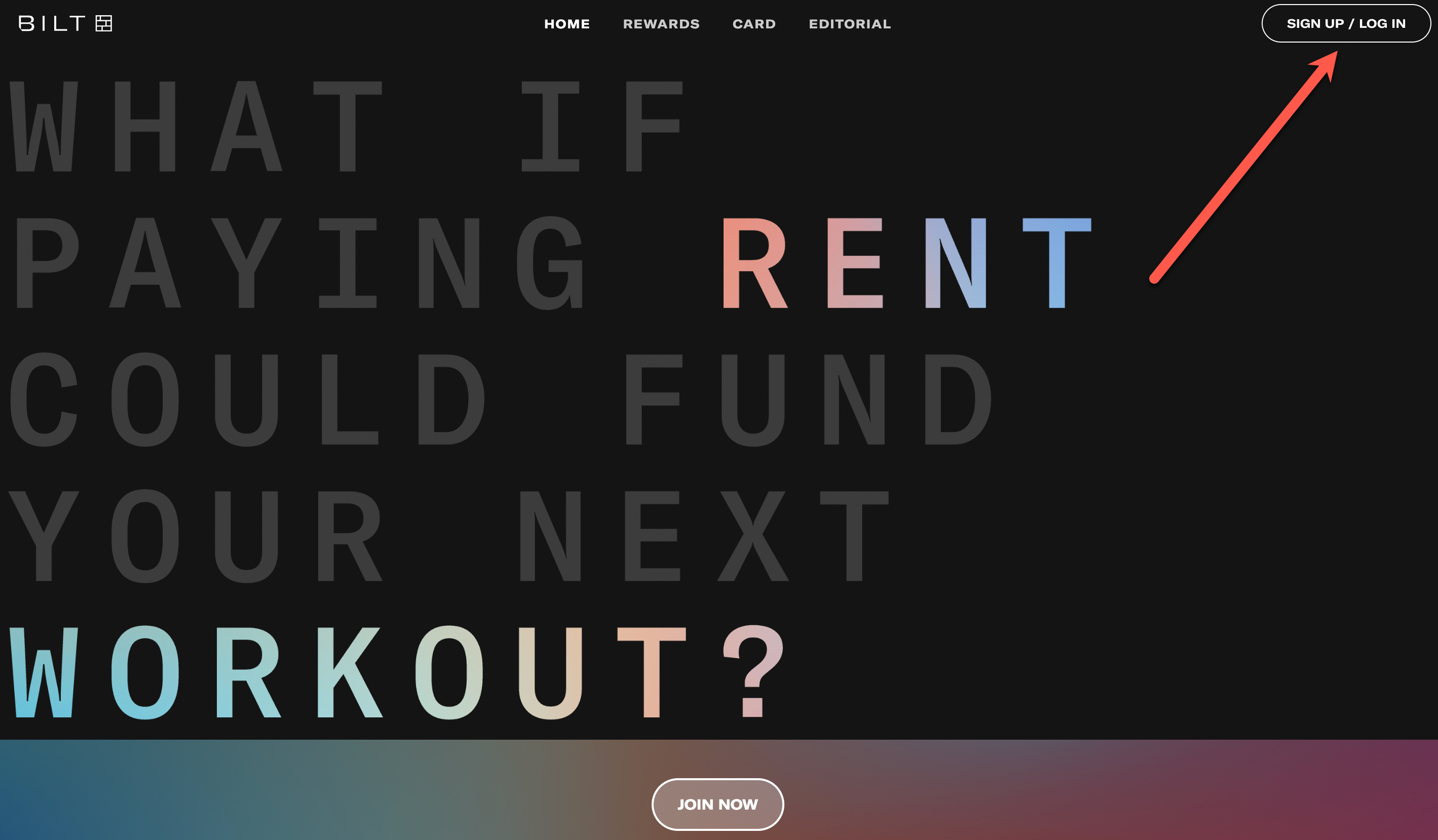 Step 2: Fill out the requested information
Now, follow the on-screen prompts and fill out the sign-up form. You'll get to a page where the "Apply for the Bilt Mastercard" box will already be ticked. Since the United status challenge doesn't require you to have the Bilt Mastercard, you can untick this box if you're not interested in opening the card.
Step 3: Download the Bilt Rewards app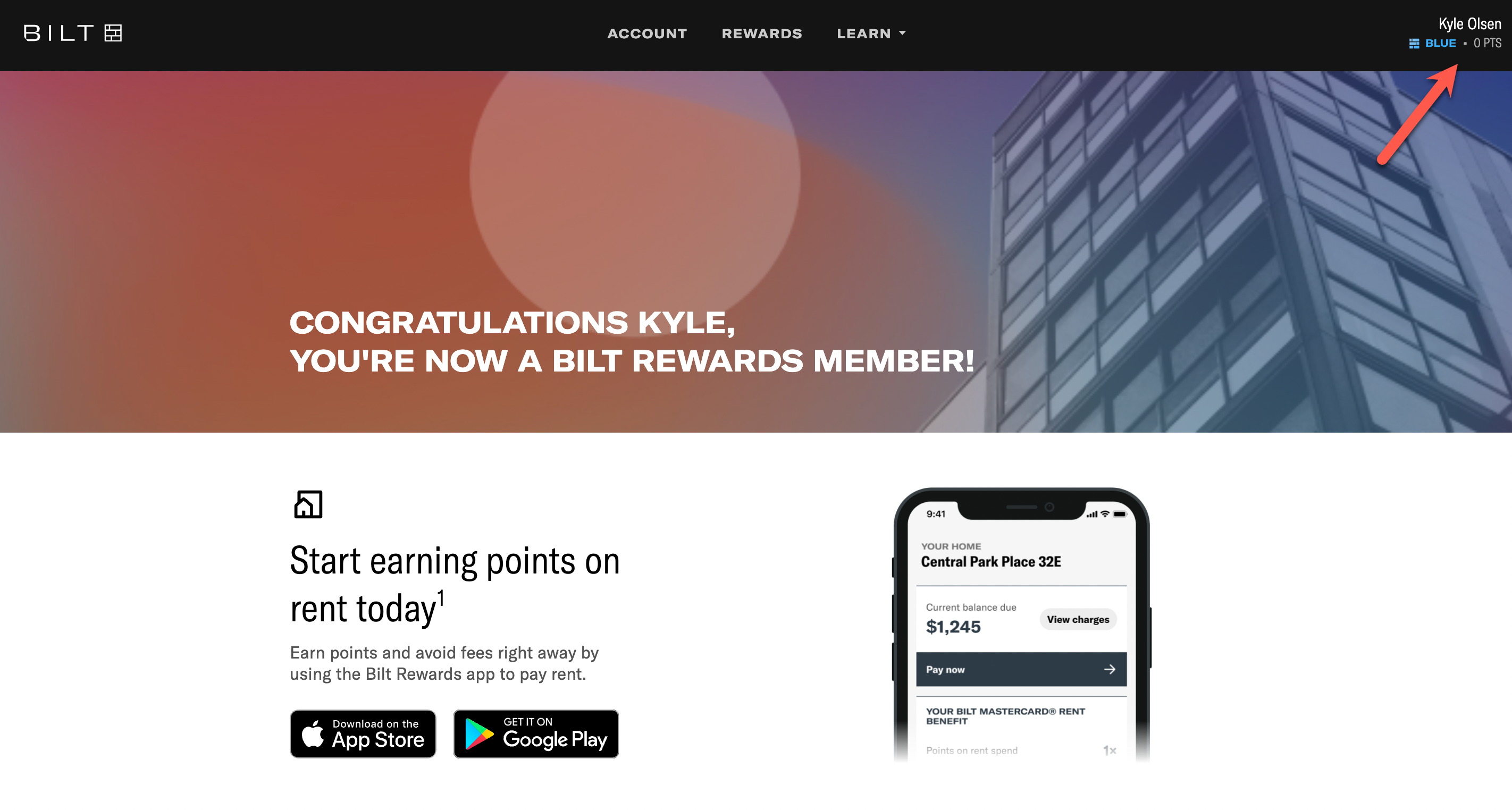 Once you've signed up, you'll automatically be a Bilt Blue member, and you can download the app to continue.
Step 4: Select 'Unlock United Airlines Premier status' from the Bilt app
After you log into your Bilt account on the app, select "learn more" in the "Unlock United Airlines Premier status" box.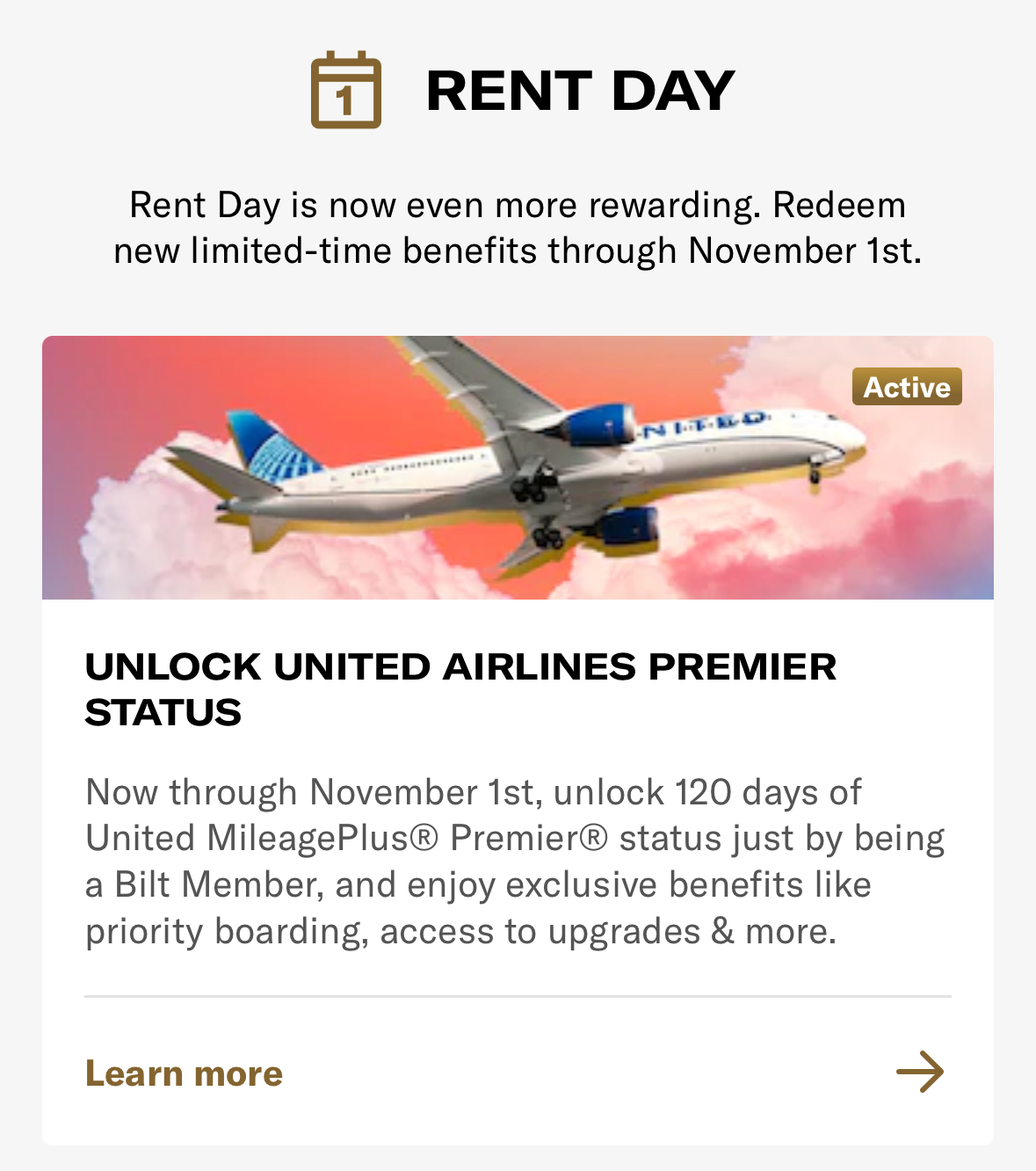 Step 5: Link your Bilt Rewards and MileagePlus accounts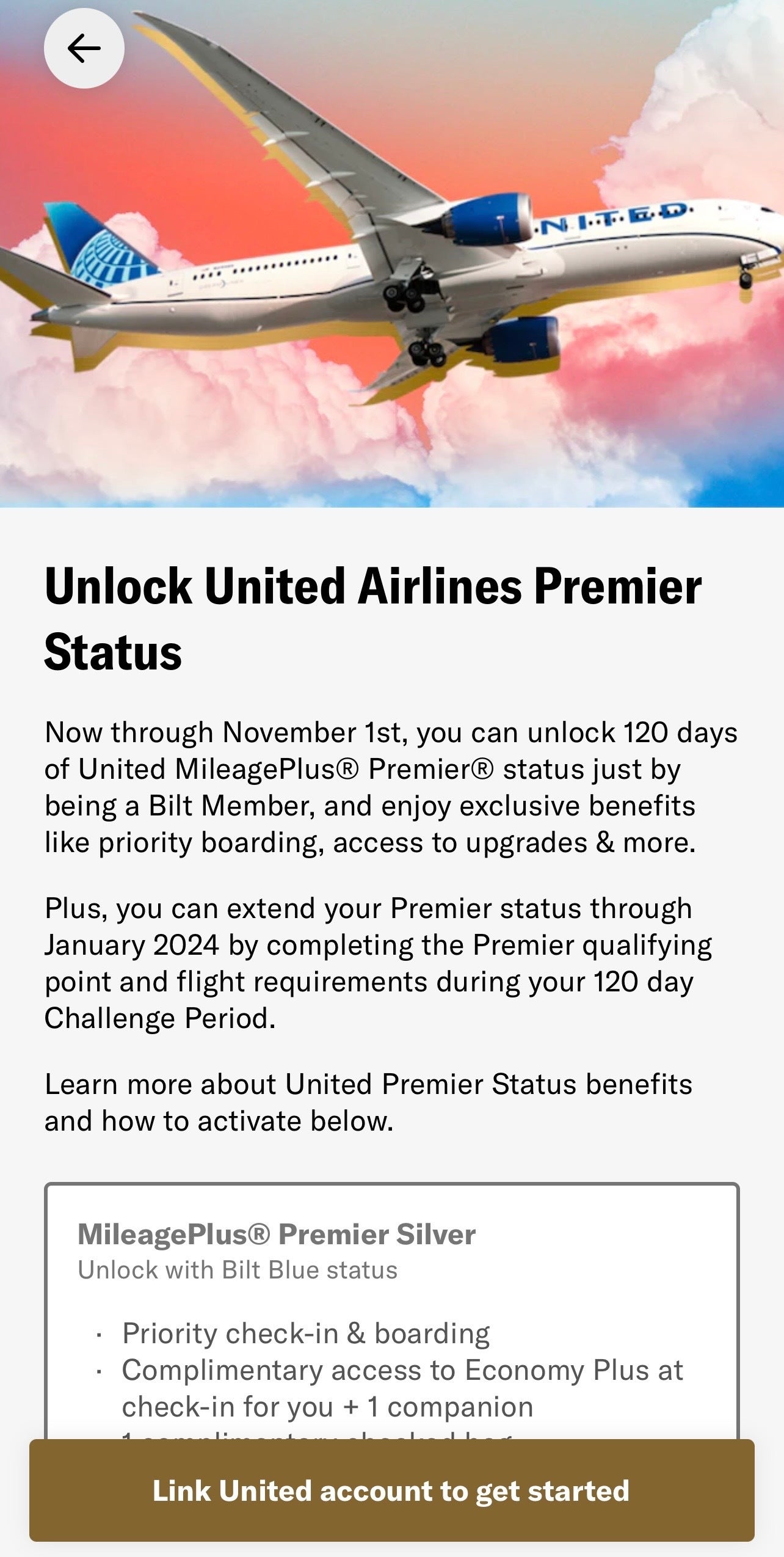 Next, you'll be invited to link your United MileagePlus account to Bilt Rewards. You'll need to enter your first name, last name and MileagePlus number. Interestingly, your MileagePlus password is not required.
Step 6: Enroll in the status challenge
Now that you've linked your MileagePlus account to Bilt, you can return to the app's homepage and enroll in the status challenge. You must agree to the terms and conditions and then select, "Register for Premier challenge." According to the app, it could take up to three weeks from Nov. 1 for your MileagePlus status challenge to begin.
Bottom line
It's great to see Bilt Rewards continue its monthly Rent Day promotion with lucrative offers.
This time around, the startup is offering complimentary status matches to all Bilt Rewards members, up to Premier Gold. If you're not already a Bilt member, you can sign up for free and enjoy Premier Silver status by linking your United account to Bilt.