Taylor Swift announced her 2023 tour earlier this week after her newest album "Midnights" broke multiple records on Spotify and Billboard. "The Eras Tour" is a big moment for Taylor Swift fans — it's her first tour since before the pandemic and the setlist will cover six albums total. She also has some fantastic supporting artists going on tour with her, including Paramore, HAIM and Phoebe Bridgers (which means we're definitely getting "Nothing New" live during this tour).
Tickets to "The Eras Tour" won't go on sale to the general public until Nov. 18, and many Swifties are worried about the probability of snagging a ticket. This is because there are limited U.S. tour dates, ticket prices have been preannounced and prices are relatively affordable. Tickets will start at just $49.
Luckily, you don't need to be a mastermind to score tickets. Those who bought tickets for her "Lover Fest" tour (which had to be canceled during the pandemic) will receive preferred access to presale tickets as long as they use the same Ticketmaster account. There are also two options available for other Swifties to gain access to presale tickets before the masses starting on Nov. 15: Ticketmaster Verified Fan and Capital One Presale.
Ticketmaster's Verified Fan registration
Ticketmaster has a system called Verified Fan that allows potential concertgoers to register for presale access to events. It's meant to combat bots that buy up large swaths of tickets when they go live, helping real fans who are most likely to actually go to the event.
Once you are registered as a Verified Fan for a specific event — in this case, "The Eras Tour" — your name goes into a lottery of sorts. On Nov. 14, the night before presale tickets go live, those selected for the presale will receive a message in a bottle (aka an email) with the access code; they can use it to buy tickets the following morning at 10 a.m. local time for the venue (so, 10 a.m. ET for the Philadelphia shows, but 1 p.m. ET for the Los Angeles shows).
Signing up for Verified Fan registration doesn't guarantee you access to presale tickets, but it's free and relatively simple to sign up — you just need a Ticketmaster account.
To register, you'll head to the sign-up link for "The Eras Tour" on Ticketmaster. From there, it'll place you in a virtual waiting room: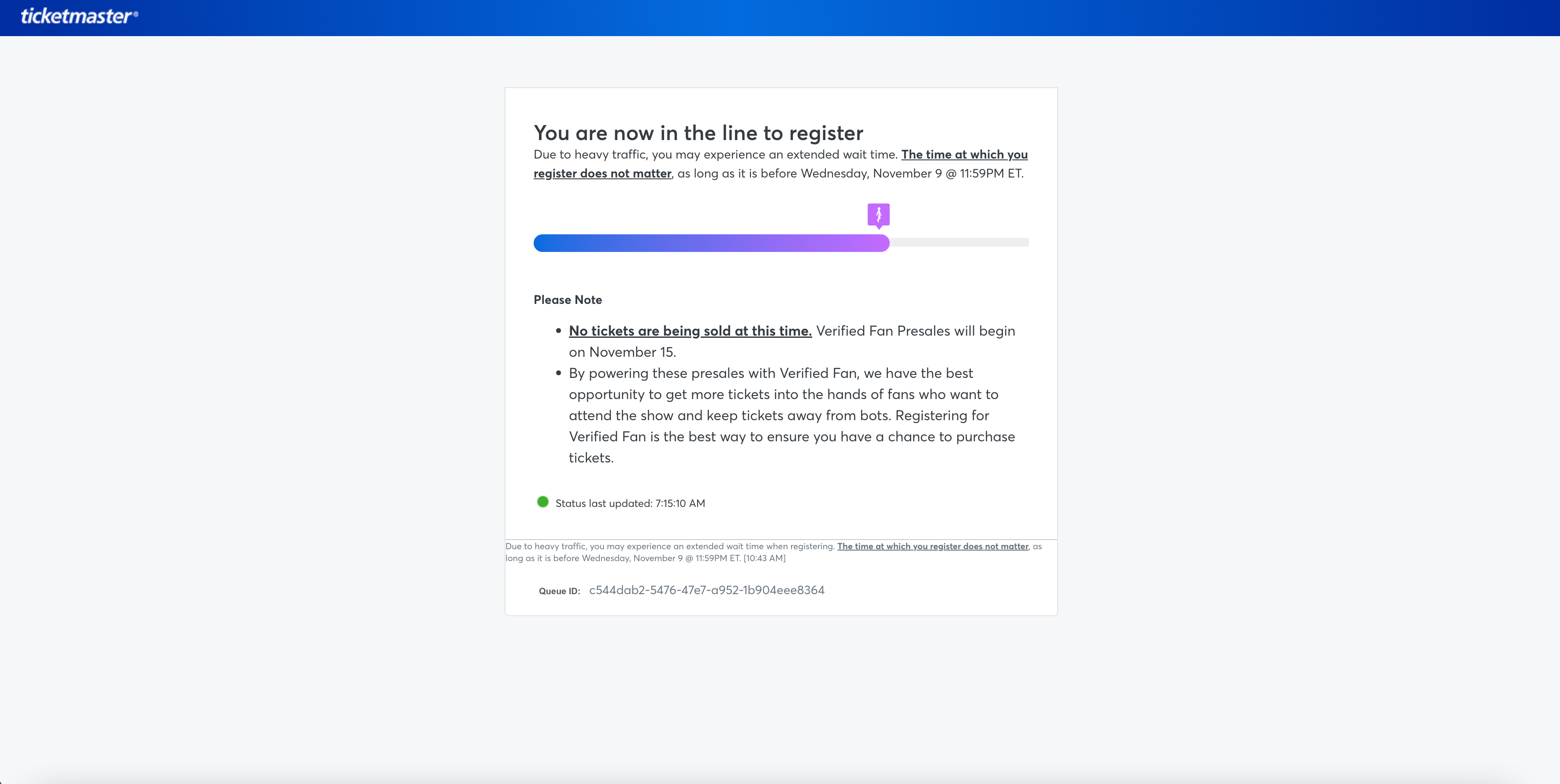 When the tour was first announced, fans on Twitter were seeing red at the long wait times to register. (I personally had to wait more than four hours before I got through to the actual registration page.) Now that we're out of the woods with the initial wave of fans looking to get registered, you'll likely breeze through this stage. I checked this morning and got through to the registration page in less than a minute.
Once your spot in line is up, it'll redirect you to the registration page. Sign in to your Ticketmaster account when prompted and fill out the information on the form, including your top three choices for concert dates. You'll hit submit and you should receive a confirmation message on your screen: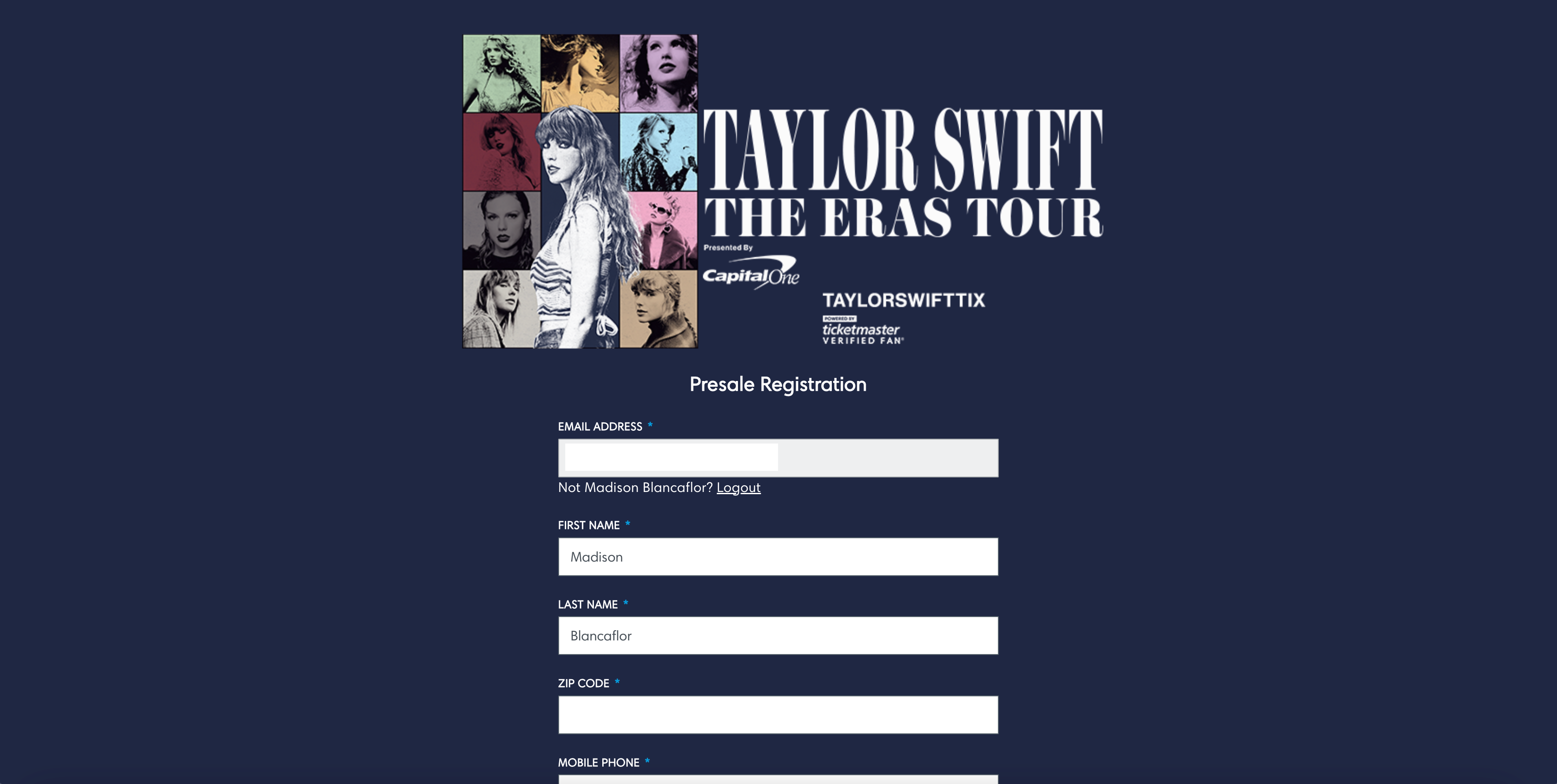 I will warn you that during the initial rush, the Ticketmaster system seemed to be a little delicate with so many people attempting to register at once. I had to refresh my page multiple times after hitting submit and refilled the form twice before it finally got through. Eventually, it did go through, but be prepared with patience just in case.
You have until Nov. 9 at 11:59 p.m. ET to register. Breathe easy — the time you register has no bearing on your chances of being selected.
While it's certainly worth it to sign up for Verified Fan in the hopes of the earliest presale slots, you don't have to be the lucky one selected to get presale tickets. Having the right credit (or debit) card can also get you access.
Related: VIP events access is back: Here's how to unlock it with your credit cards
Capital One cardholder presale
If you have an eligible Capital One credit or debit card, you'll also have access to presale tickets starting Nov. 15 at 2 p.m. local venue time. A range of ticket options will be available during this presale (including premium options), and there is no selection process or special invite needed aside from your card.
All Capital One Visa or Mastercard credit or debit cardholders are eligible for this presale, but private label cards are not eligible.
Here are the steps for getting presale access with your Capital One card:
On Nov. 15 at 2 p.m. local venue time (or anytime throughout the presale window), head to Ticketmaster and select the concert date you want.
Use the first six digits of your Capital One card to get access to the tickets.
You can select up to six tickets via this presale while supplies last (which means you'll want to grab tickets as early as possible in case they sell out).
Once you have your tickets, you must check out using your Capital One card.
What if you don't have a Capital One card already? If you act swiftly, there's still time to apply and get your card in time for the presale.
The terms and conditions on the landing page for "The Eras Tour" Capital One presale says, "The Capital One Cardholder Presale is for existing Capital One cardholders. New applicants that have recently applied and have yet to receive card information are not eligible if a new card is received post the Cardholder Pre-sale window or after presale tickets have sold out."
Long story short, this means as long as you get your new card number and activate it before the Nov. 15 presale window begins, you should be golden.
Which Capital One card should you get for 'The Eras Tour' presale?
If you don't already have a Capital One credit card, what better excuse to apply for one than Taylor Swift's new tour? It can feel treacherous to sign up for a new credit card, so here are our recommendations on the best Capital One cards to consider.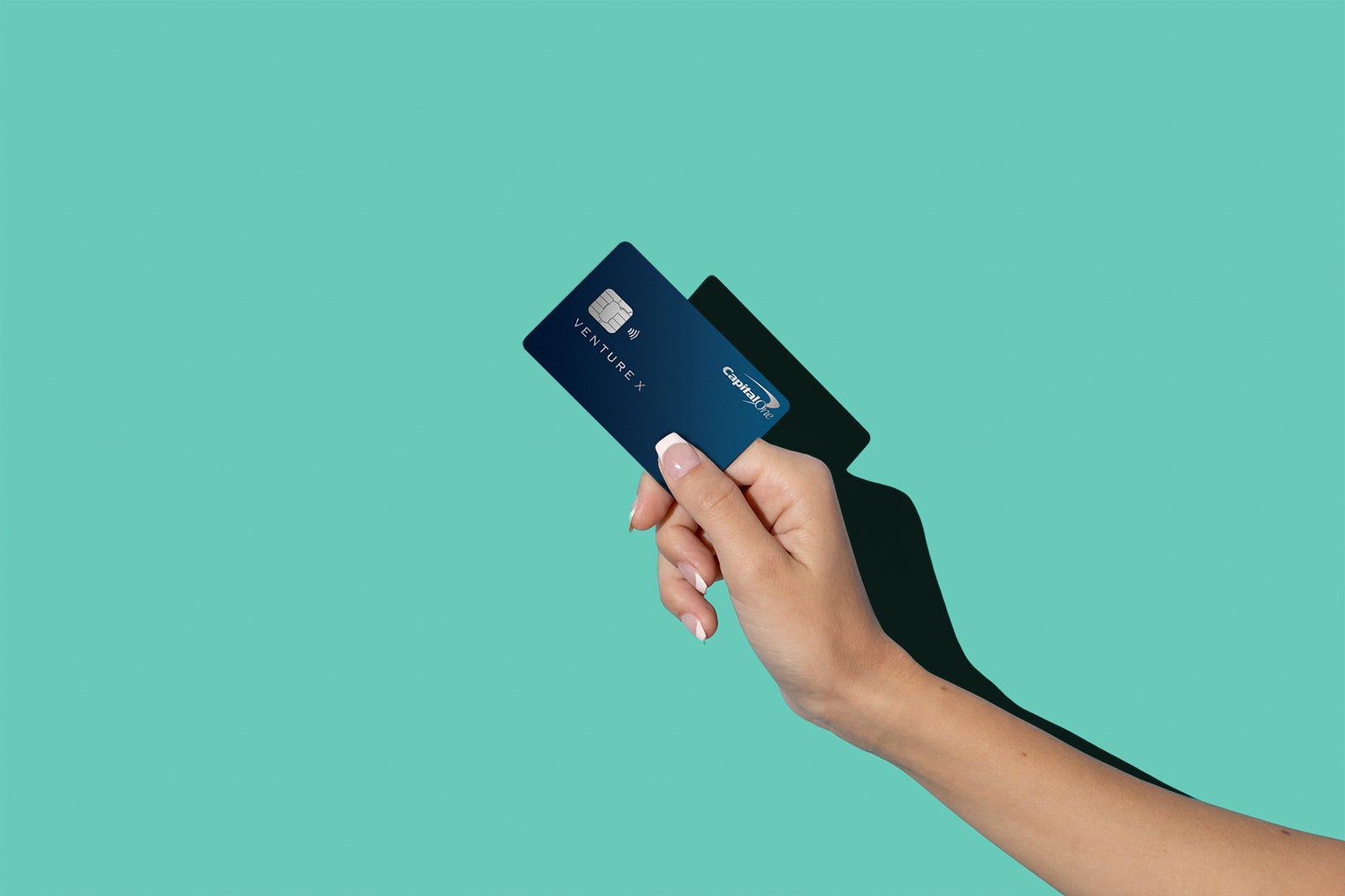 Frequent travelers should consider applying for either the Capital One Venture X Rewards Credit Card or the Capital One Venture Rewards Credit Card. They'll each earn 2 miles per dollar spent on your ticket purchase. The Venture X also earns 10 miles per dollar spent on hotels and rental cars, and 5 miles per dollar spent on flights booked through the Capital One Travel portal — a solid earning option if you're traveling to one of the concert venues.
Both cards also offer a great sign-up bonus of 75,000 miles after you spend $4,000 on purchases within the first three months from account opening; they also offer great travel perks for those who are regularly on the road. Check out our full comparison of the Venture X and Venture cards for a full rundown.
If cash back on entertainment is more your style, a Venture card may not be "the 1" for you. Instead, check out the Capital One Savor Cash Rewards Credit Card. You'll get 4% cash back on entertainment purchases — including concert tickets. If you're new to the credit card game and aren't looking to spend a gold rush on annual fees, there's also the no-annual-fee Capital One SavorOne Cash Rewards Credit Card, which earns 3% cash back on entertainment.
The information for the Capital One Savor card has been collected independently by The Points Guy. The card details on this page have not been reviewed or provided by the card issuer.
You can check out our full reviews of both the Capital One Savor and SavorOne for more information, and compare all Capital One credit cards.
Bottom line
For a lot of fans — myself included — Taylor Swift music has been a mainstay throughout the majority of our lives. I first listened to her when "Tim McGraw" made its radio debut, and I've remained a fan through every album since. This tour is the culmination of years of new albums and re-releases, a tour bigger than the whole sky for many fellow Swifties. So, getting tickets is likely to be a competitive labyrinth.
Making sure you're signed up for presale access with both the free Ticketmaster Verified Fan system and also with a Capital One card will be your best bet for getting tickets to "The Eras Tour."
Remember, presale tickets go live Nov. 15 at 10 a.m. local venue time for Verified Fans and at 2 p.m. local venue time for Capital One cardholders. Set your clocks and get ready to jump then fall so you can get your tickets for the best day. If you get presale access and can help your friends grab tickets, you'll definitely be the superstar of your group.
Until then, you can find me listening to "Midnights" on repeat.