When it comes to snacking, we at TPG take the matter very seriously — so much so that we decided to test the complimentary snack offerings on seven major U.S. airlines.
After getting our hands on all the airline snacks we could source, we tempted our staff with these snacks unknowingly at a TPG retreat in Charlotte in March. We also asked our social followers to vote in three different rounds for their favorite free snack offered by U.S. airlines.
Picking a favorite snack is not an easy feat. After all, any free nibble at 30,000 feet is one we'll gladly try.
But let's face it: Not all snacks are created equal. Some airlines are better at snacks than others.
So, which ones should you go out of your way to enjoy? Here are the options currently available on the main U.S. carriers and which ones get the seal of approval from TPG staffers and readers.
Free airline snacks
While the exact snacks you'll have on a flight will vary by carrier and route, most airlines offer several options for passengers to choose from based on their preferences.
United Airlines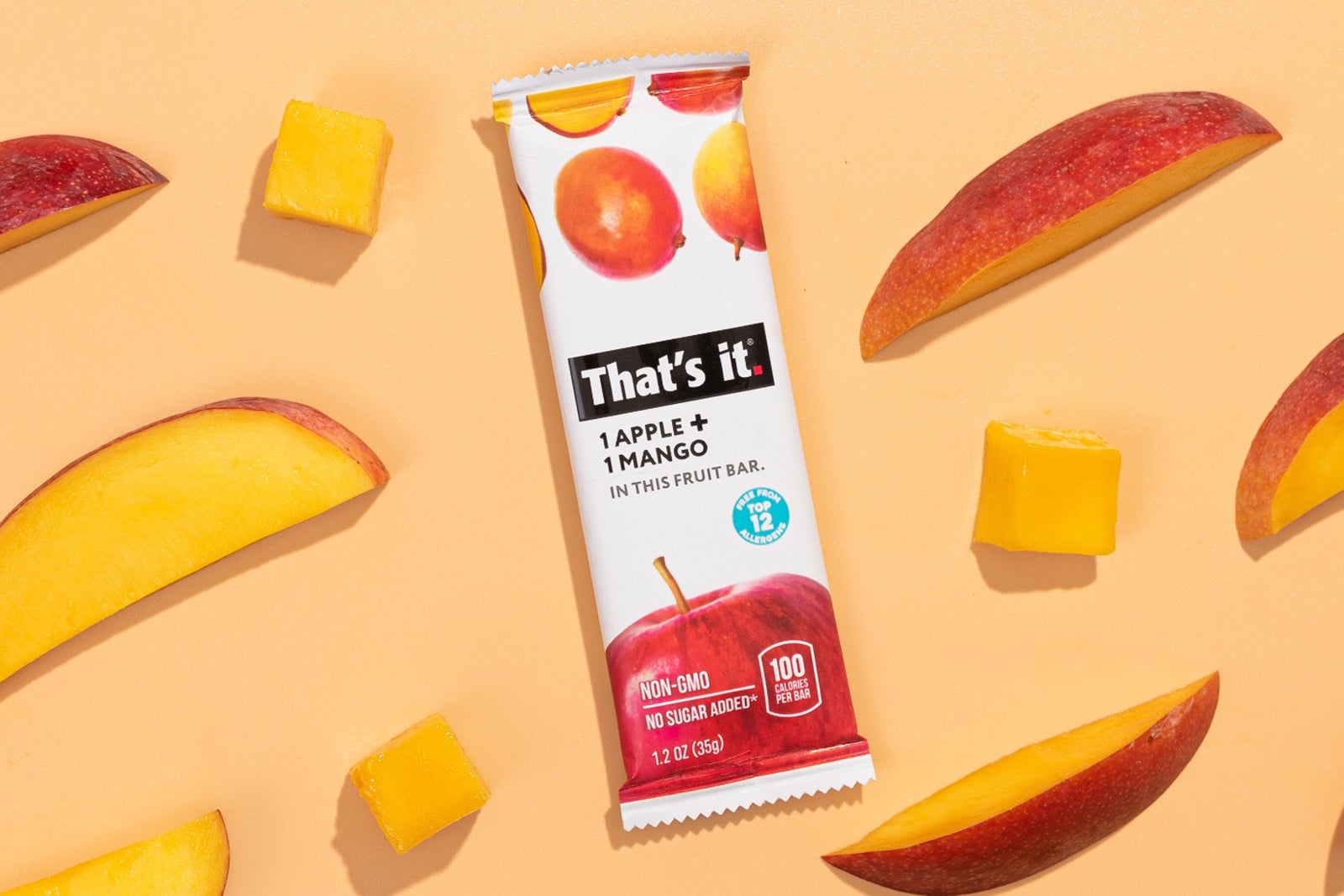 In March, United rolled out its new Undercover Snacks menu. It features several free snack choices for economy passengers on all domestic and United Express flights more than 300 miles long. Options include:
Dark chocolate and sea salt chocolate crisps by Undercover Snacks.

Apple and mango fruit bars by That's It.

A savory snack mix by Summer Harvest.
The fruit bars and the savory snack mix will replace pretzels and Biscoff cookies when the rollout is complete. However, United will continue to regularly adjust and rotate its inflight snack offerings based on customer feedback.
Delta Air Lines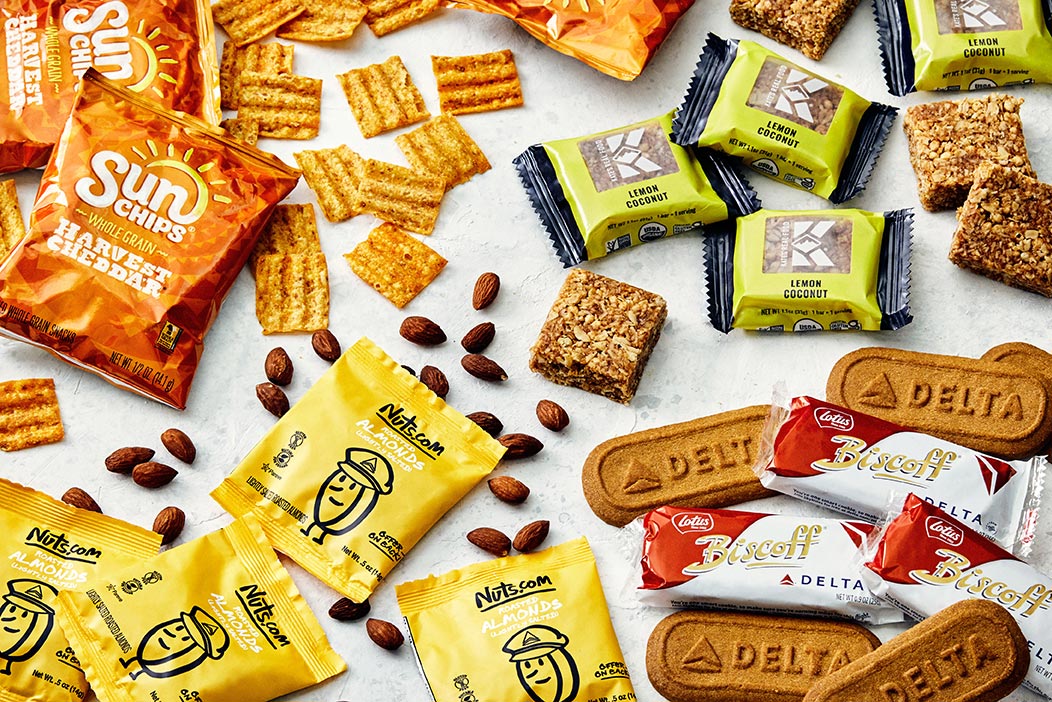 The Atlanta-based carrier recently changed up the complimentary onboard snack options available to all customers. Choices include specialty offerings like miniature SunChips in a harvest cheddar flavor and Kate's Real Food organic bars featuring hints of lemon and coconut. There are also classics like Nuts.com roasted almonds and everyone's favorite, the iconic Biscoff cookies.
Related: Delta revamps inflight service, brings back buy-on-board products 
American Airlines

Unlike Delta, American only offers complimentary (and paid) snacks in premium and main cabins on flights that are at least 250 miles long. Taking a page from Delta's book, the main cabin accompaniments are Biscoff cookies, pretzels and Love Corn corn snacks.
Southwest Airlines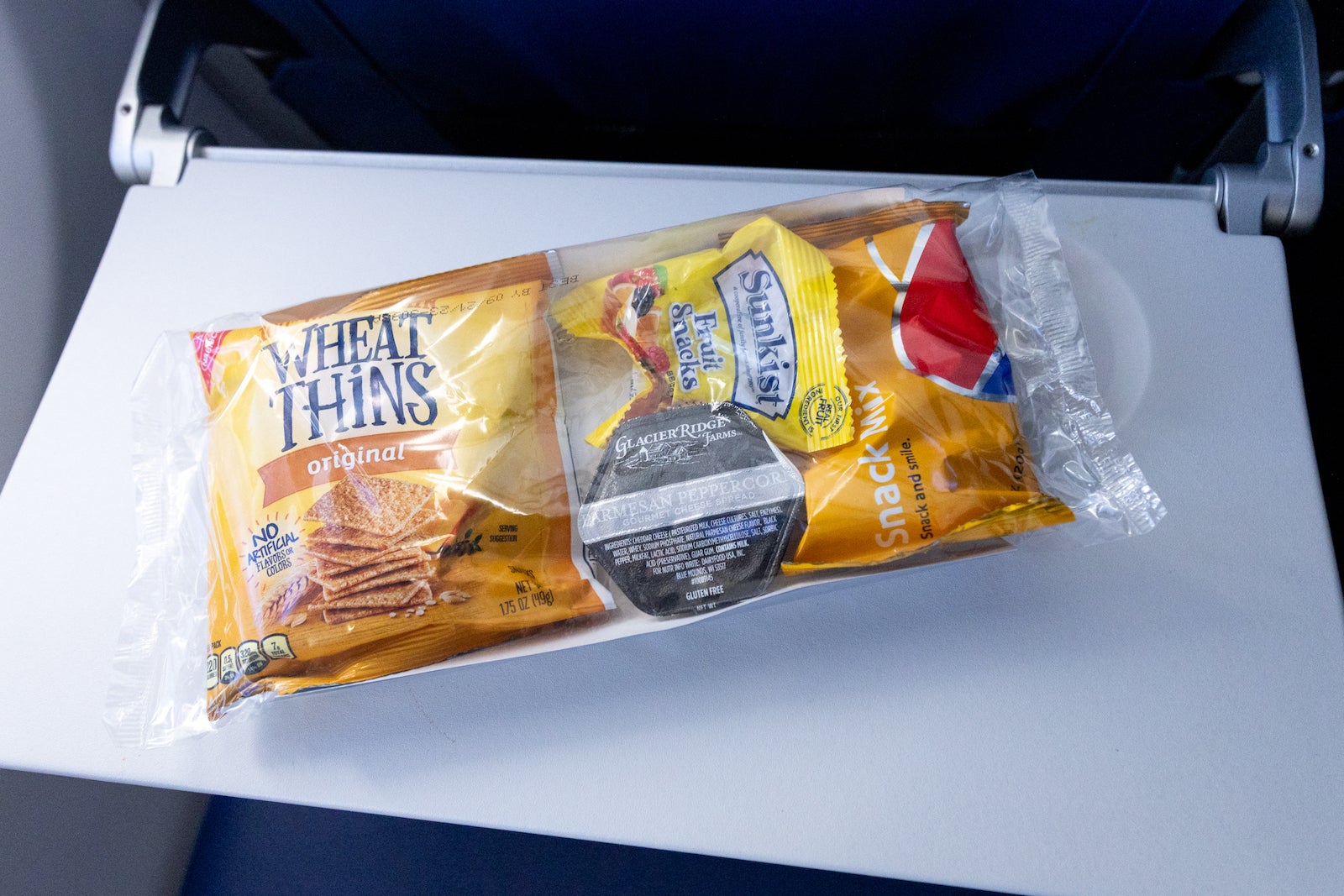 Known for having fewer onboard offerings when compared to other airlines, Southwest has stepped up its snack game lately. Instead of sticking to one standard option for all passengers, the carrier now serves a variety of complimentary snacks on flights that are at least 176 miles long, such as:
Sheila G's Brownie Brittle.

King Nut snack mix.

Nabisco Wheat Thins.

Sunkist Fruit Bites.
As someone who grew up exclusively flying Southwest, those snacks are a far cry from the airline's days of only having small bags of roasted peanuts.
JetBlue Airways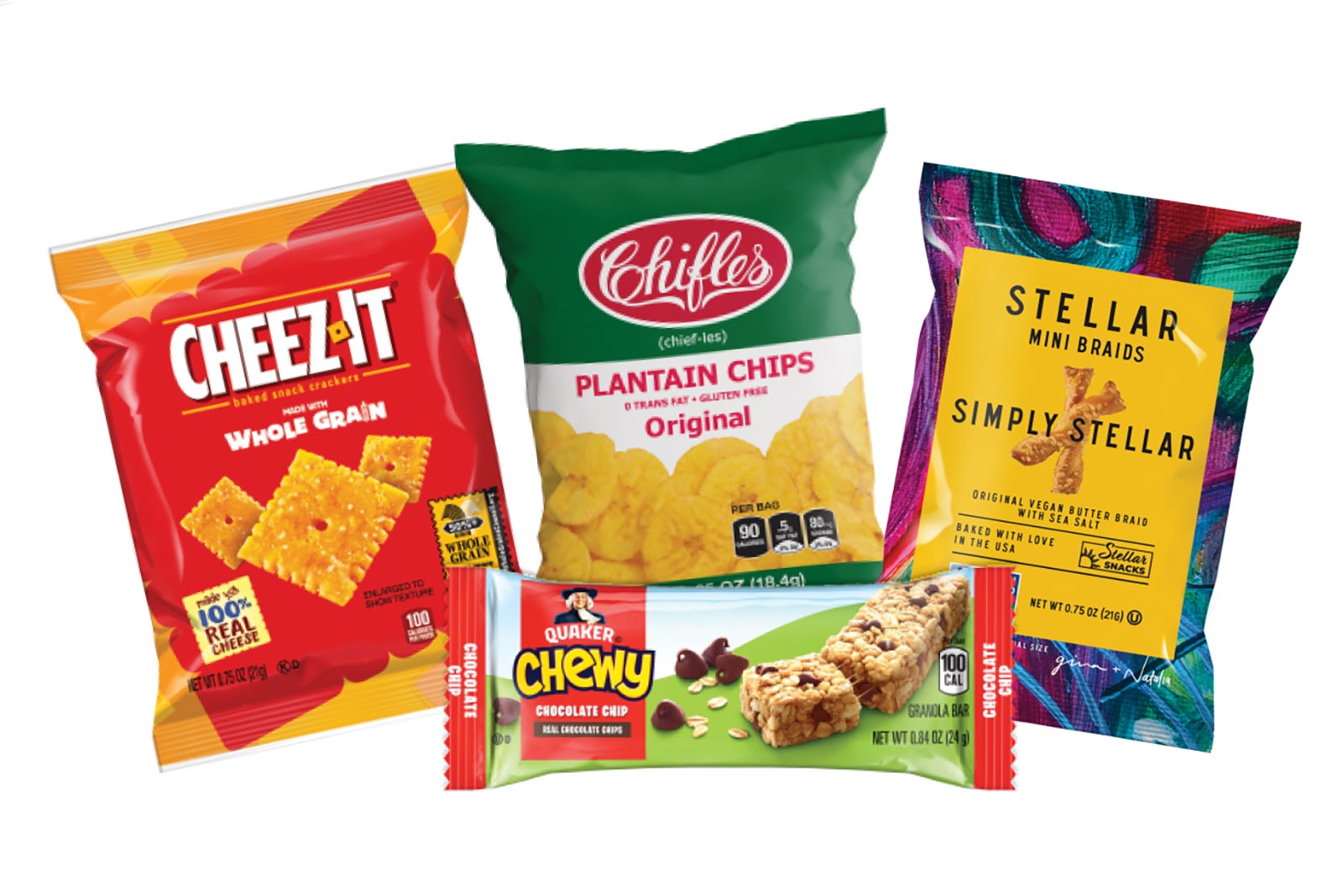 JetBlue, long known for its variety of inflight snacks, promises the below options on board (though some snacks may not be available on all flights):
Cheez-It crackers.

Simply Stellar pretzel braids.

88 Acres seed and oat bars.

Chifles plantain chips.

Goodie Girl cookies.
Hawaiian Airlines
Although known for island-inspired, award-winning meals on long-haul routes, Hawaiian only offers economy passengers the choice of two free snacks, both of which are cookies. You can choose between La Tour Bakehouse cookies or Honolulu Cookie Company shortbread cookies.
Alaska Airlines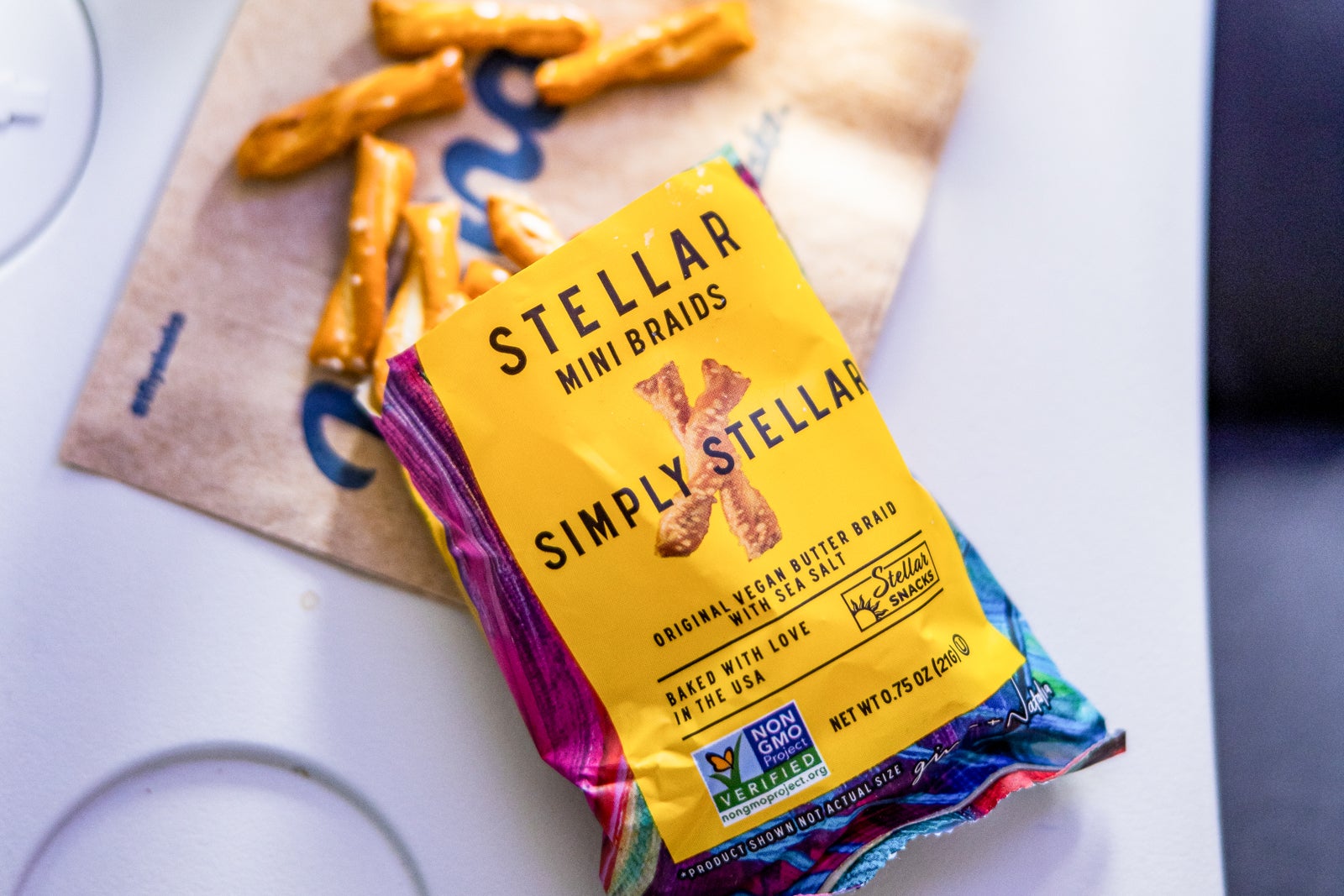 Compared to the rest of the mainstream carriers, Alaska's free inflight food and beverage service is more limited overall (though the carrier's wine and food options available for purchase are pretty solid). Still, there are a few free options, including Biscoff cookies and Simply Stellar pretzel braids.
Related: Best burgers in the sky: We compared inflight hamburgers to see which was the tastiest 
The US airline with the best free snacks
Social media results
In three rounds of voting via brackets, a la March Madness, we put the aforementioned airlines' snacks head to head. United went up against American, Southwest took on Delta, JetBlue faced Hawaiian, and Alaska was pitted against a multicarrier contender: Biscoff cookies.
In the first round, Biscoff cookies came out on top, collecting the most votes (4,366) across both Twitter and Instagram.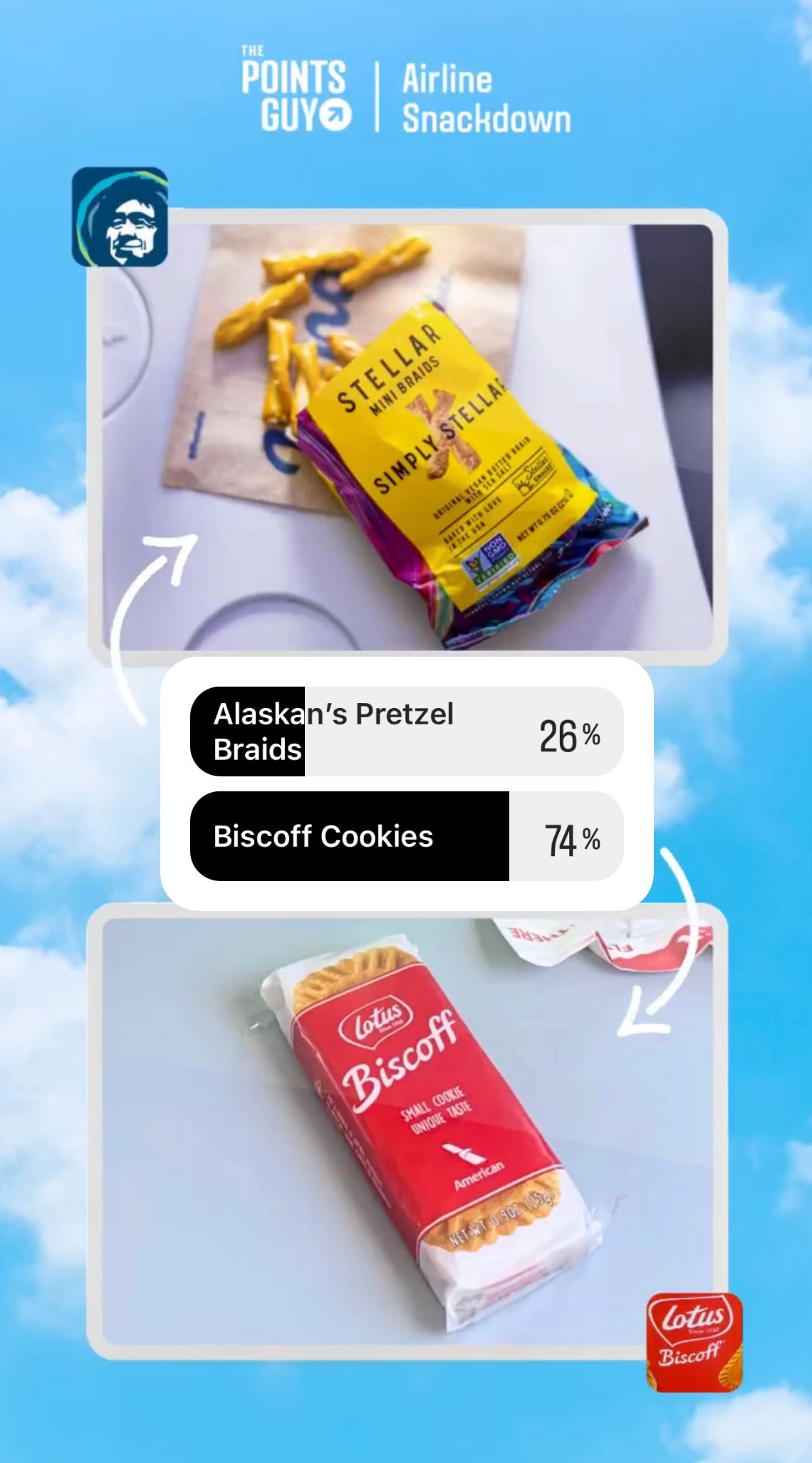 Voters also moved Delta's SunChips, Southwest's Sheila G's Brownie Brittle and Hawaiian's Honolulu cookies to the next rounds.
Holding strong in the first and second rounds, voters advanced Biscoff and Delta's SunChips to the final round.
Then, to perhaps no one's surprise, Biscoff claimed the title of the most iconic snack in the sky, collecting more than 9,500 total votes.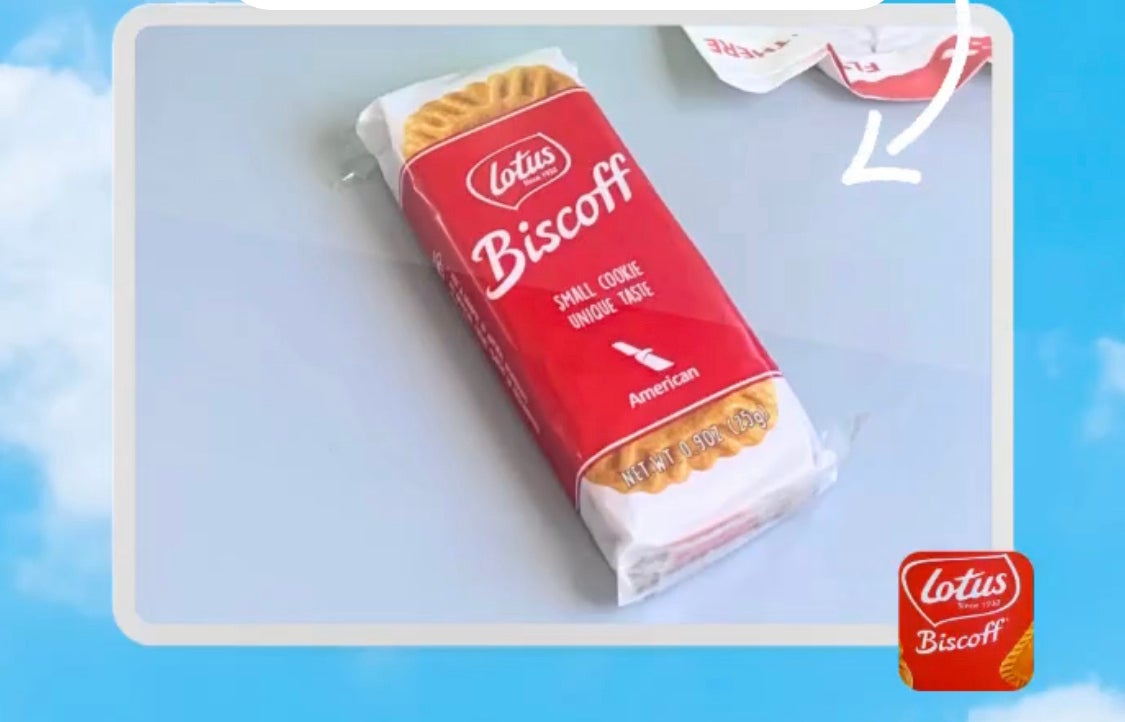 In-person taste test
We didn't want to leave such an important poll to chance, so we ran an in-house taste test, too.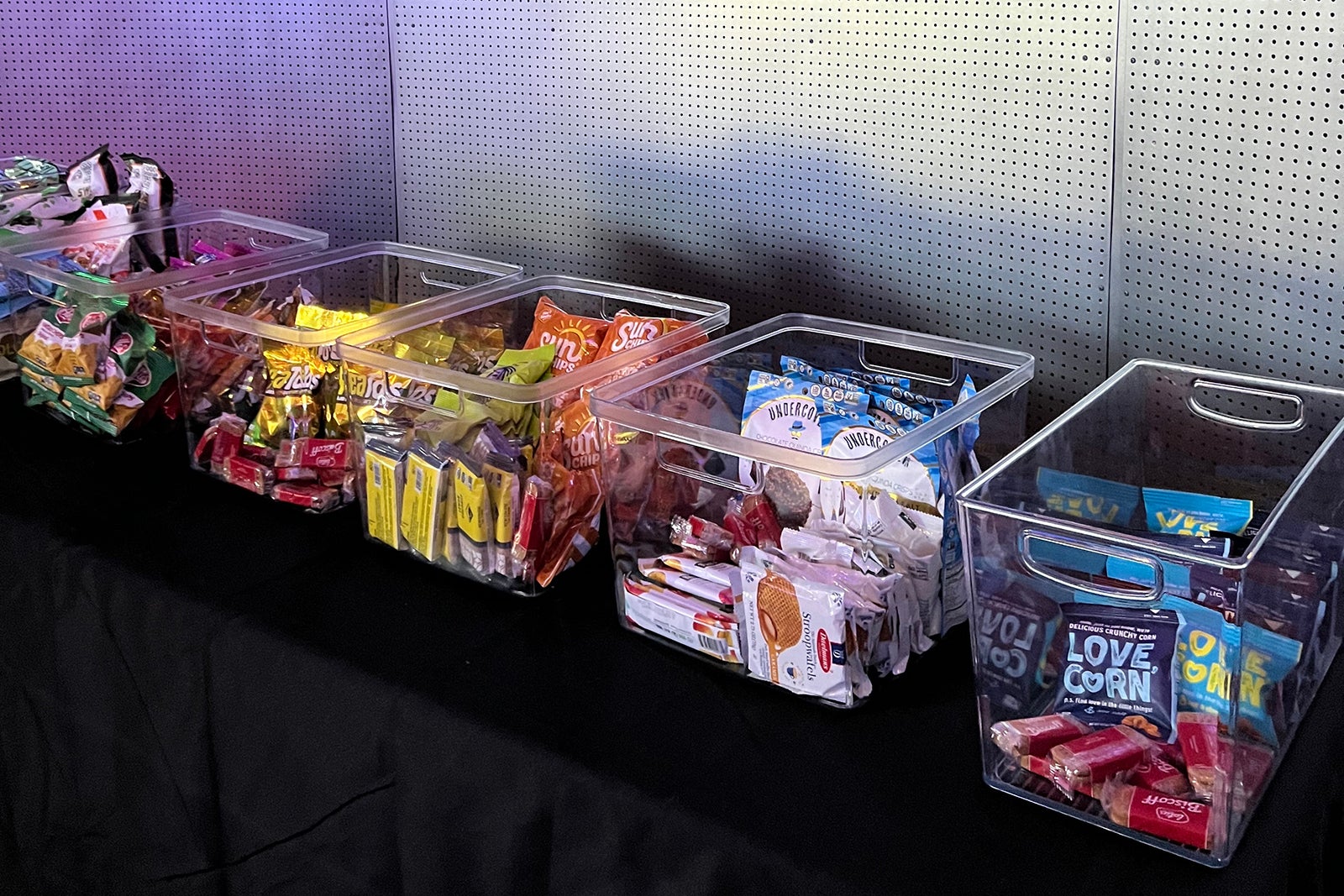 In March, we surreptitiously counted which free airline snacks TPG staffers picked most frequently out of 22 snack varieties from six carriers plus private jet operator JSX.
After a few hours, these were the snacks left behind.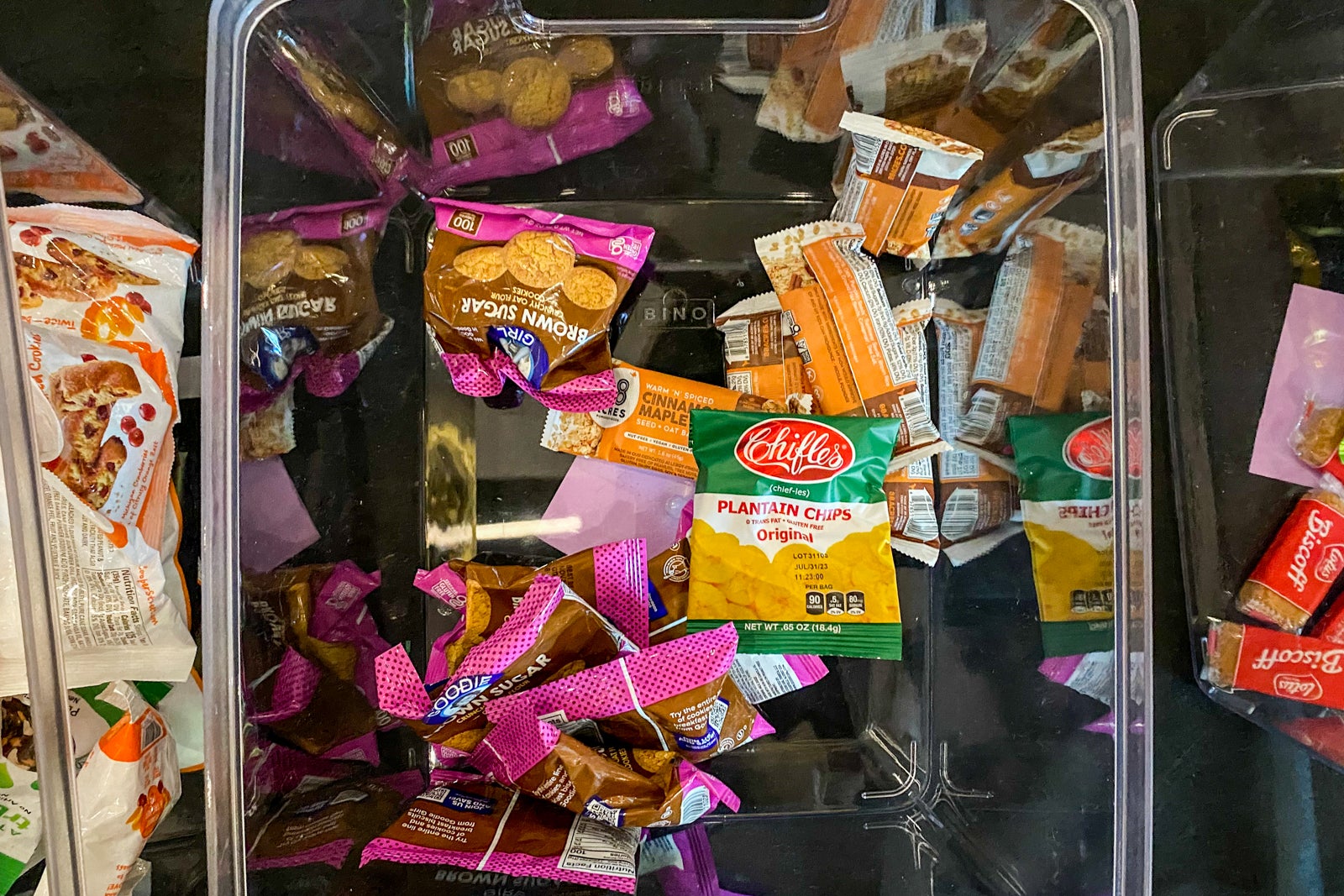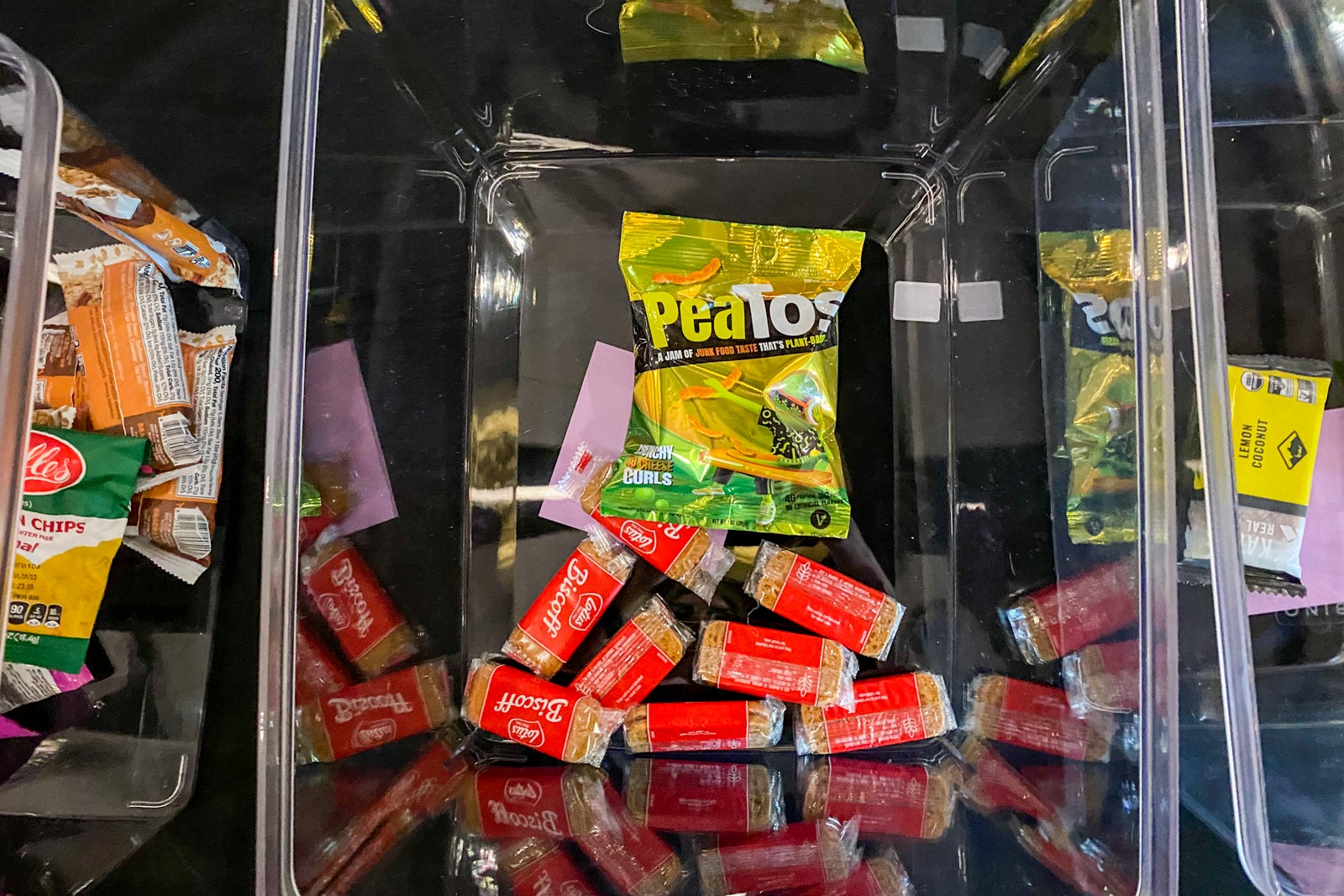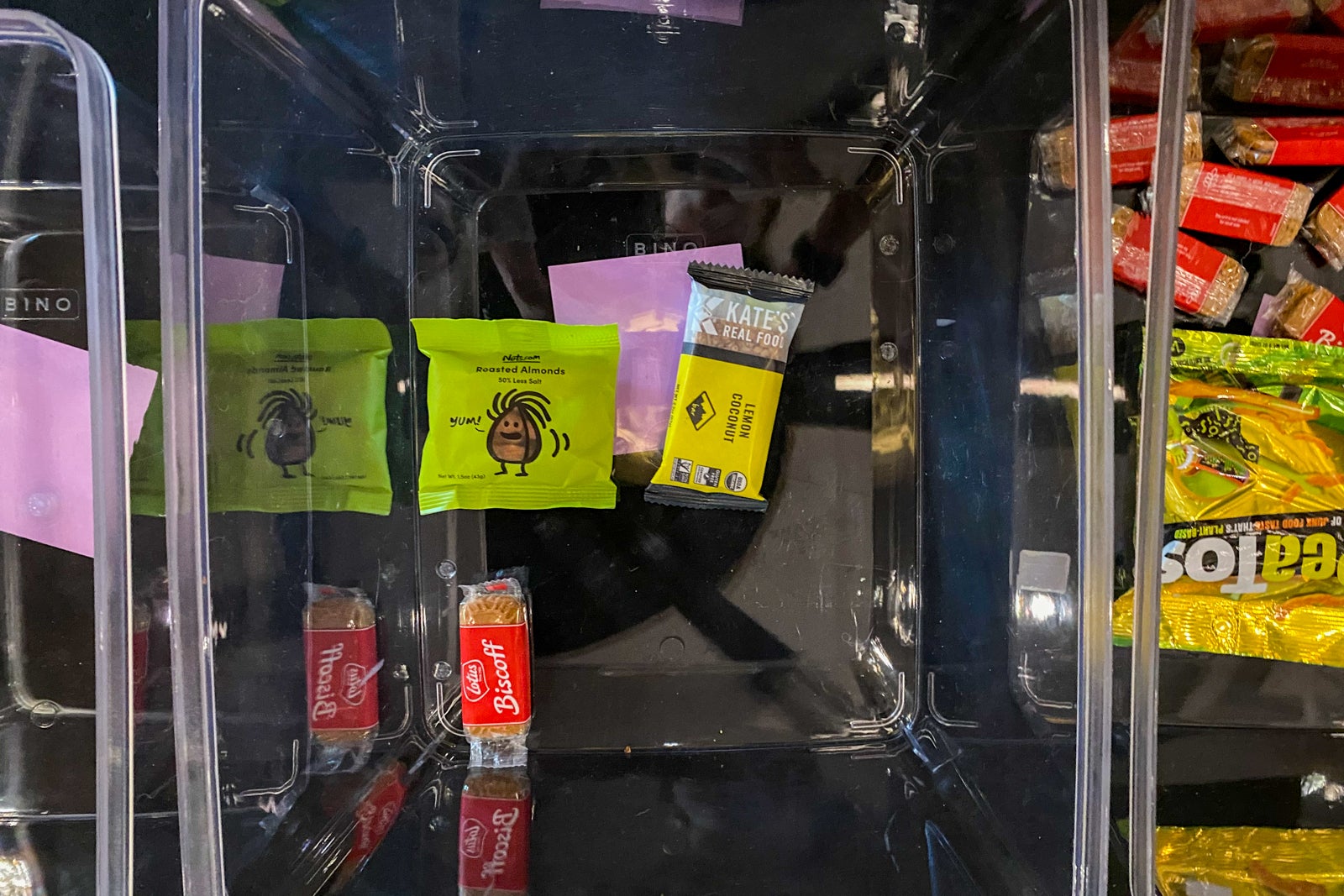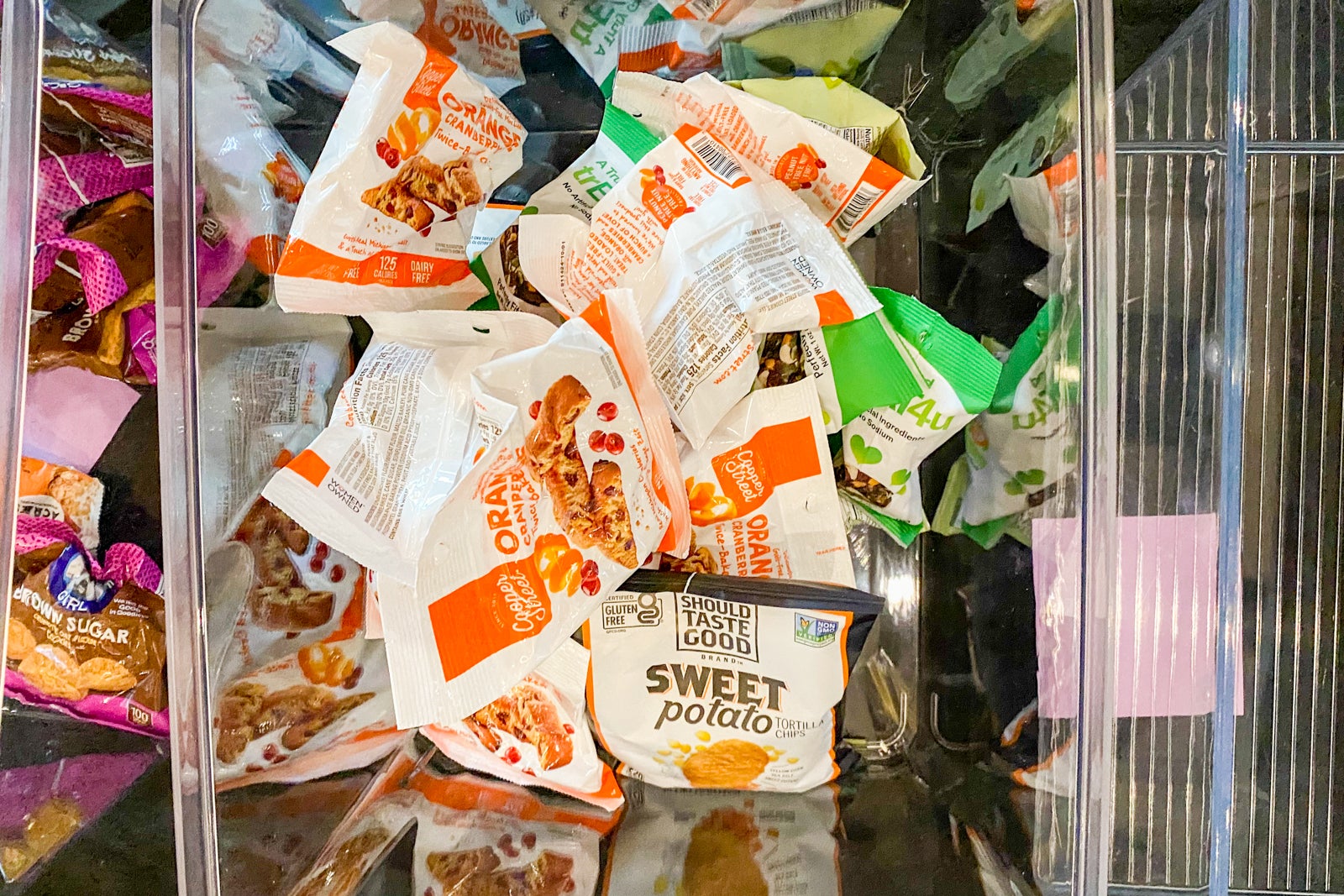 The results spoke for themselves. The nearly 100 TPG staffers in attendance first devoured eight of the 22 free airline snacks we purchased. Staffers ate all of the United free snack options we tested, including the longstanding stroopwafel.
Other than United, the Hawaiian Airlines' makeshift airline snack box was the only one TPGers emptied on the first day of the test. We could only get our hands on the carrier's Island Princess macadamia nut caramel popcorn — an option that costs extra.
No other airline's makeshift snack basket offerings were completely gone after the first day of our gathering. However, TPG staff ate all of the following snacks:
JSX's Cooper Street blueberry pomegranate granola cookie bakes.
JetBlue's Cheez-It crackers.
Delta's SunChips.
Upward of 90% of Delta's Nuts.com roasted almonds, Kate's Real Food organic lemon coconut bars and Biscoff cookies were gone; the same is true for American's Love Corn corn snacks, JetBlue's Chifles plantain chips and Alaska's PeaTos cheesy rings.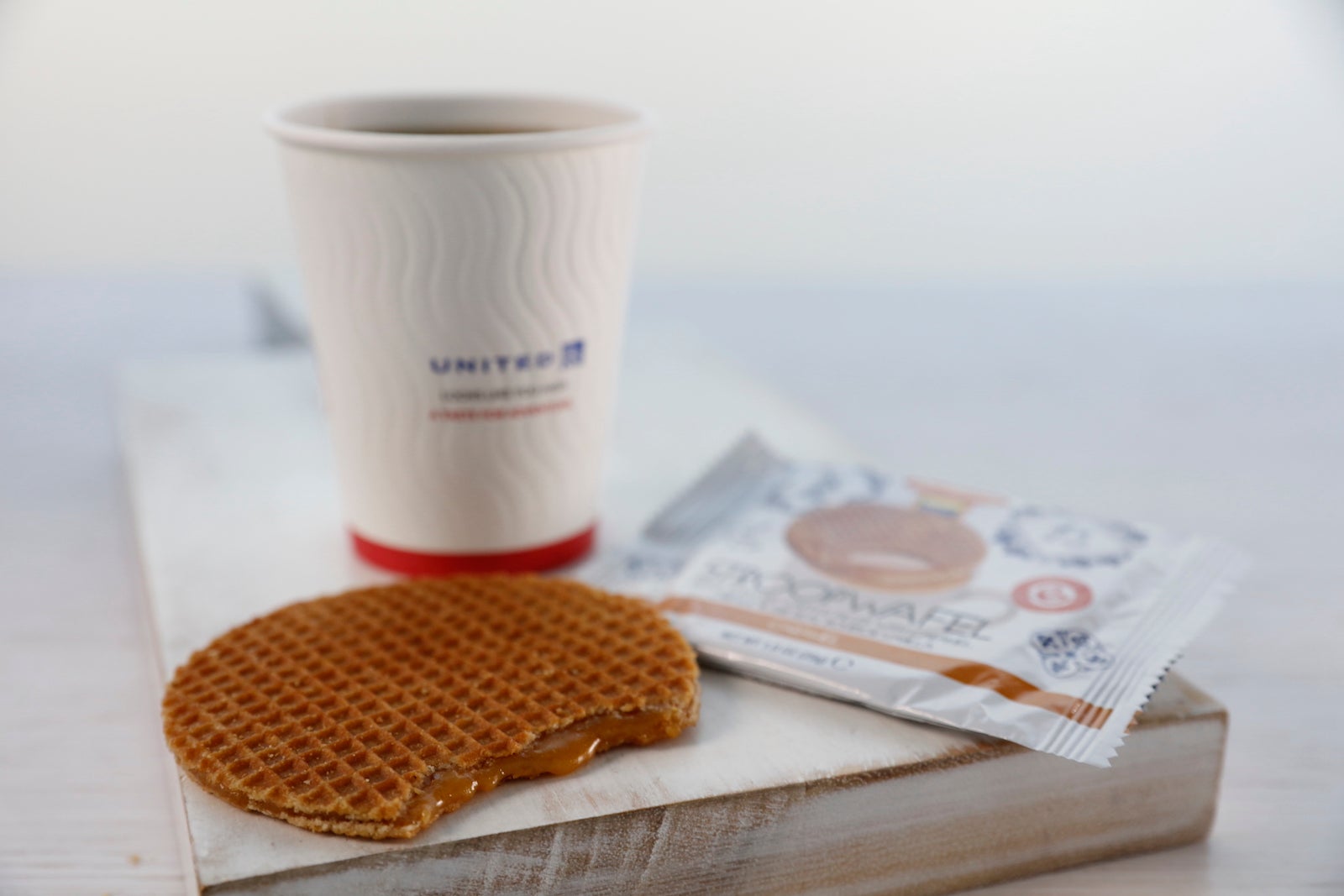 It was a close race, but with our combined results, we crown the Biscoff cookie — which you'll find on Delta, American, United and Alaska flights — as the snack of the skies. United may want to reconsider replacing it with their new snack rollout, as it's a clear favorite with flyers.
Bottom line
At TPG, we strive to deliver hard-hitting, snackable content (pun intended). If you missed the opportunity to participate in our poll, don't fret: You can still try out these snacks for yourself the next time you fly. You may even discover a new favorite munchie to pick for future trips.
Related reading:
Additional reporting by Meghna Maharishi and Kristy Tolley.