Last week I flew from New York's John F. Kennedy International Airport (JFK) to Copenhagen Airport (CPH) on Delta Air Lines.
The trip wasn't a mileage run per se — I was meeting my cousin and a friend for a short trip — but I needed the Medallion Qualification Dollars to keep my Diamond Medallion status. After flying this trip and factoring in my other year-end travel, I will be at just more than 15,200 MQDs for the year.
However, a miscalculation in Delta's system shorted me 273 MQDs. If the mistake had gone unnoticed, it would have cost me my status for 2023.
See, when I landed back in New York, Delta credited my account 593 MQDs even though my ticket cost about $954. I wasn't expecting to earn MQDs on all of that spending — MQDs are only earned on the ticket's base fare and carrier-imposed surcharges, commonly dubbed "YR" — but I knew something was off.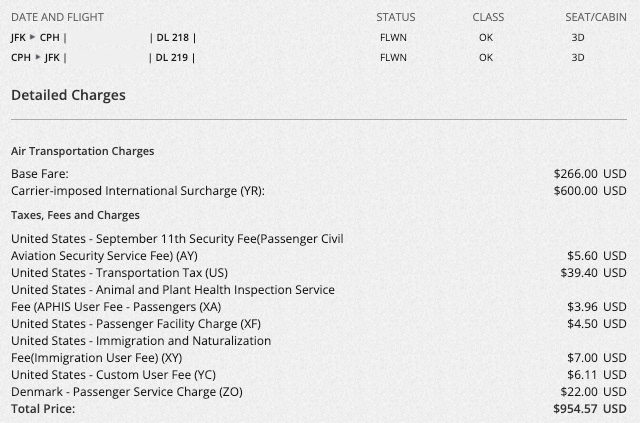 I checked an elite status tracking spreadsheet I maintain and quickly confirmed I should have received 866 MQDs for my JFK-CPH-JFK itinerary. According to my receipt, the ticket had a base fare of $266 and $600 in carrier-imposed surcharges. This brings me to my missing 273 MQDs. In turn, I was also shorted just more than 3,000 redeemable SkyMiles too, as my redeemable mileage earnings were calculated on the incorrect $593 base fare plus carrier-imposed surcharge.
Thankfully, this story has a happy ending. I called the Diamond Medallion line and explained the situation to the representative. He called the SkyMiles department, they noticed their error and the representative told me they'd recalculate earnings with the correct fare and surcharges.
Roughly an hour later, my account was credited with the correct 866 MQDs and 9,526 redeemable miles, worth about $134 per TPG's valuations.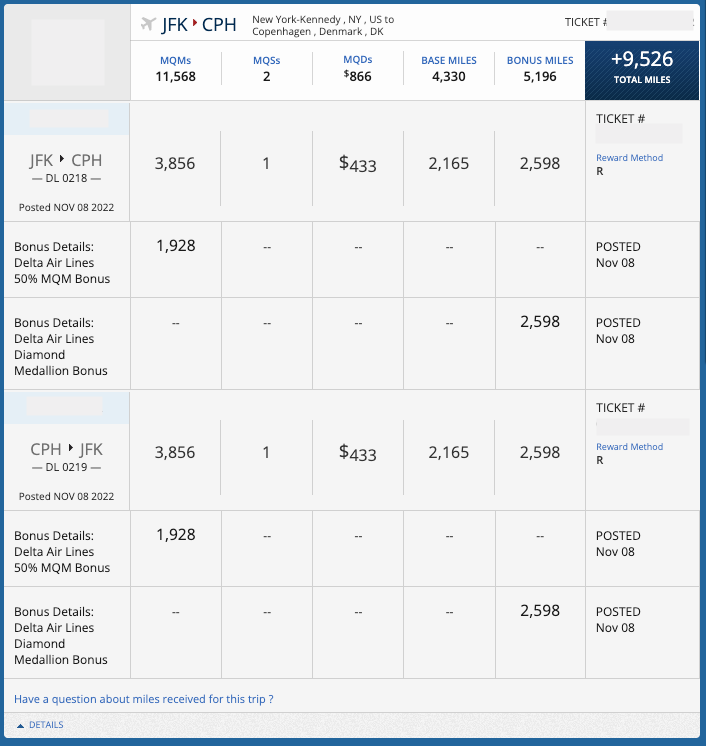 If I hadn't noticed this error, I could have lost my Diamond benefits over a simple mistake in Delta's system. Or, I would have had to panic-book a flight after finishing my holiday flights home and realizing I hadn't qualified for my status. Needless to say, that would not have been a cheap (or fun) endeavor right after the holidays.
Related: Quick Points: How and why you should regularly audit your loyalty accounts
Take my experience as a reminder to always check your loyalty account after you fly. Then, recalculate your earnings and ensure you received the proper number of redeemable miles and elite metrics. If you don't, you could leave miles and elite status on the table.
I also encourage you to build a spreadsheet that logs your flights throughout the year. I add all of my flights to this spreadsheet as I book them, alongside their Medallion Qualification Miles, MQDs and redeemable SkyMiles earnings. Then, I have a running number that adds all of them up and adds them to my current MQD balance. This helps me plan and audit my account quickly as I travel throughout the year, and it keeps me in the loop on how close I am to the next elite status tier.