When I first booked a stay in the mountain town of Canmore, Alberta, I planned to use it as a jumping-off point for my adventures in Banff National Park. However, I didn't expect to leave wishing I'd had more time to explore this beautifully sited town at the heart of the Canadian Rockies.
Canmore is home to locally owned art galleries, vintage shops, boutiques, parks, walking trails, cafes and breweries, all surrounded by towering mountains and crystal-clear lakes. The town's rugged, picturesque backdrop was even used as the setting for many scenes in the HBO hit series "The Last of Us."
During my stay, I hiked past a waterfall to one of the most unusual lakes I've ever seen, strolled for hours around the downtown area and enjoyed panoramic views from a rooftop pool. Not to mention, I was able to easily drive to the many attractions in nearby Banff.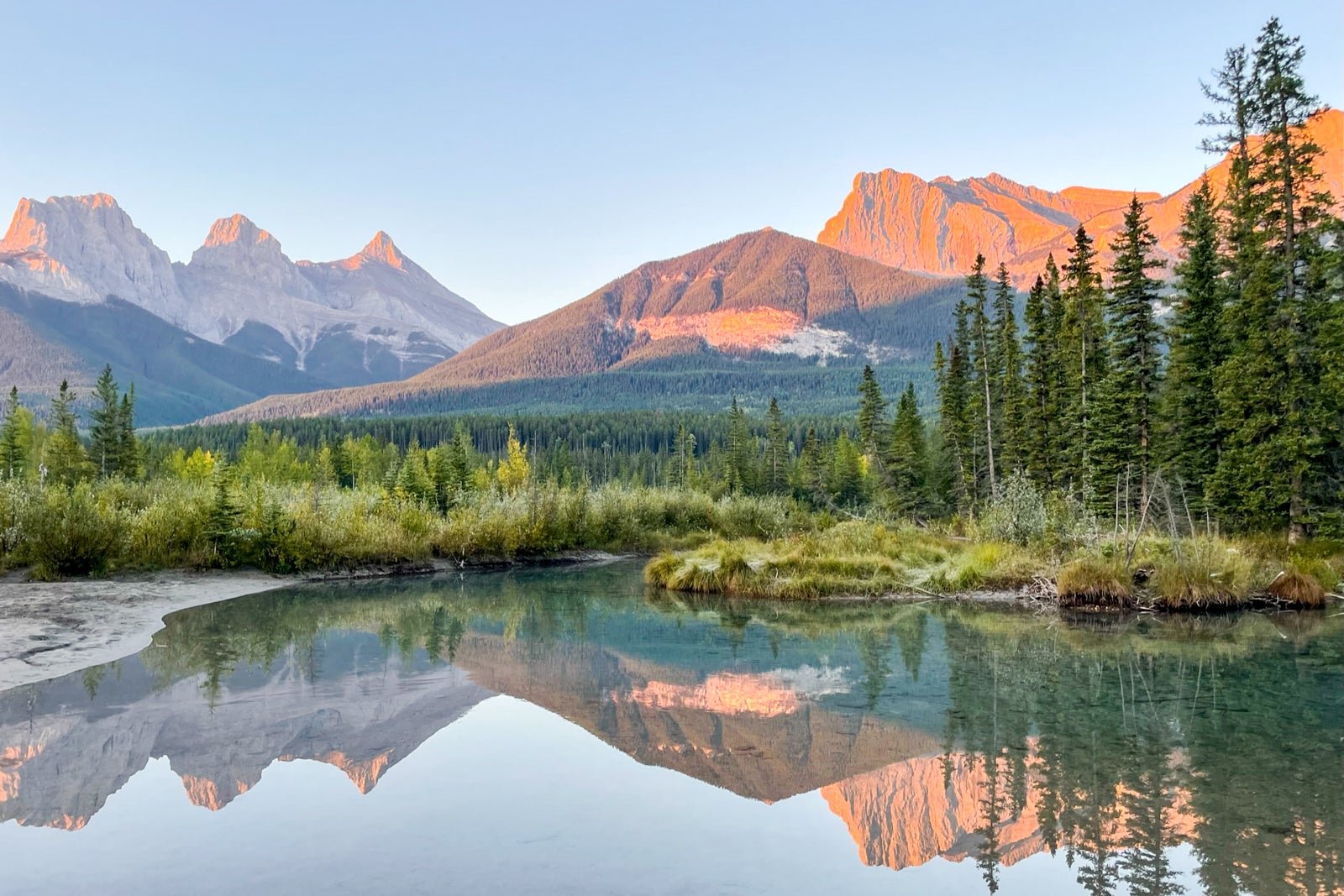 Where is Canmore?
Canmore sits about 15 miles southeast of Banff in Canada's Alberta province. It's around 75 miles west of Calgary International Airport (YYC), the closest major airport in the area.
I found the drive relatively simple, coming from the airport's rental car area. You'll spend the majority of the ride traveling west along the Trans-Canada Highway, which passes through mostly flat farmlands until the mountains come into view. I'd recommend renting a car if you want to explore all that Canmore has to offer.
If you'd rather not drive, there are shuttle services from Calgary to Canmore running multiple times a day. On the Banff Airporter, a one-way ticket to Canmore costs about 77 Canadian dollars ($56) for adults, CA$69 ($50) for seniors and CA$38 ($28) for children 6 to 17. On Vivo Green, tickets cost as low as CA$50 ($36).
Where to stay in Canmore
There are plenty of Canmore hotels to choose from. However, most properties in town are boutique hotels or motor lodges, so you'll have to venture farther out to find anywhere that allows you to redeem points. I was staying in town for three nights, so I wanted to check out two different properties — one upscale option and one more budget-friendly option.
You can still maximize your hotel purchase using a travel rewards card, though. Popular options include the Chase Sapphire Preferred Card (which earns 2 points per dollar spent on travel), the Capital One Venture Rewards Credit Card or the Capital One Venture X Rewards Credit Card (both earn a flat 2 miles per dollar on all purchases, including hotels) or the Citi Premier® Card (see rates and fees), which earns 3 points per dollar on several travel categories, including hotels.
The Malcolm Hotel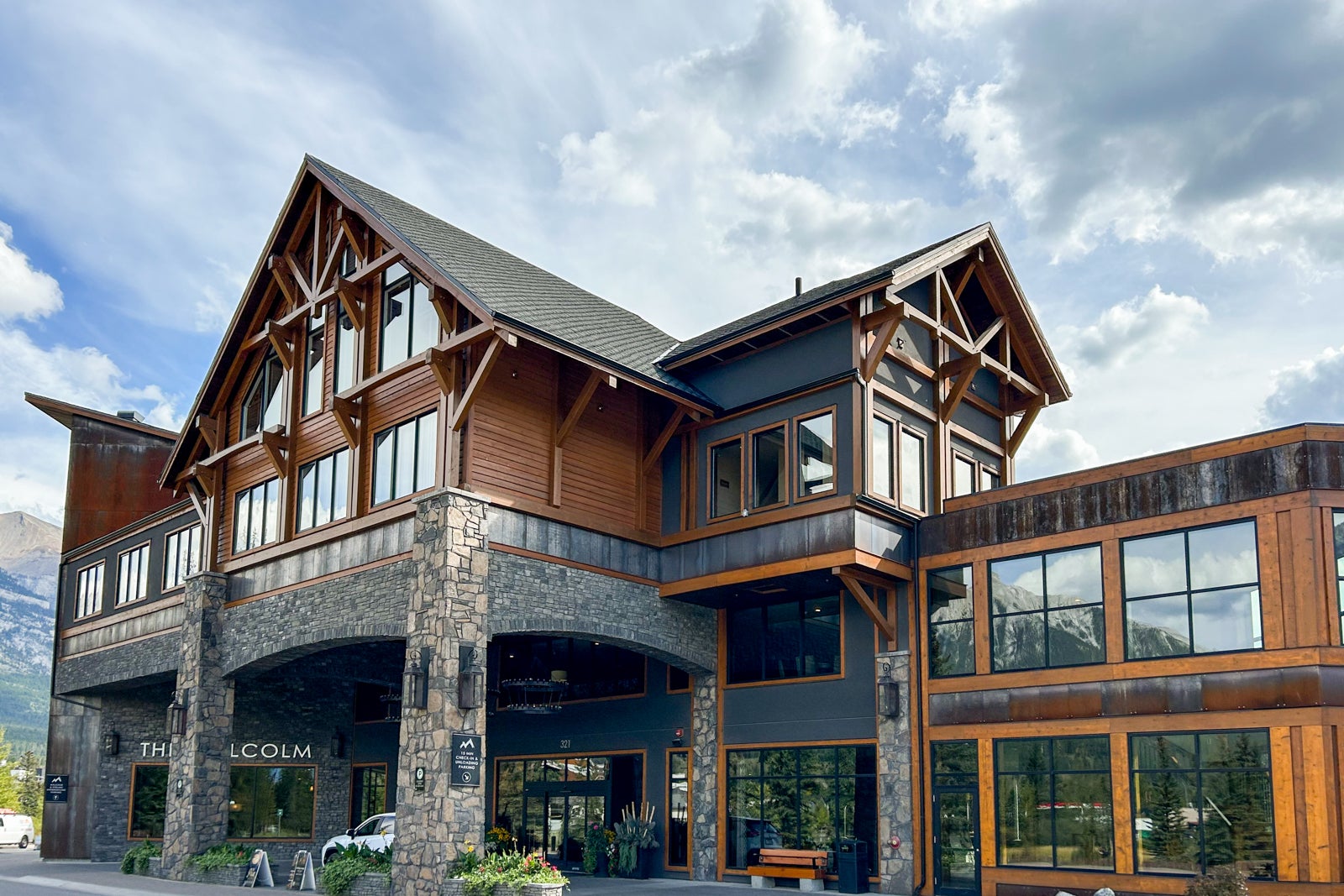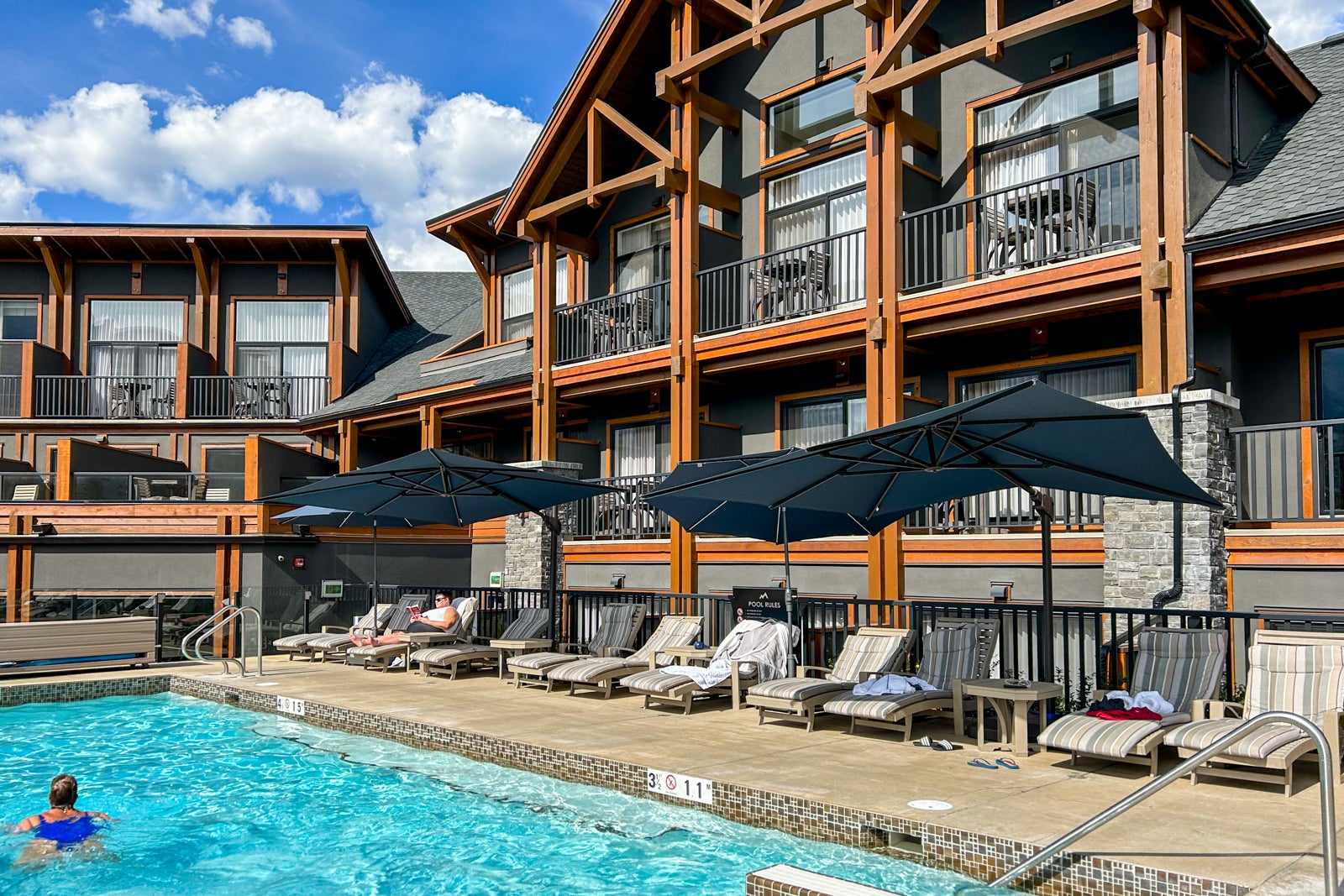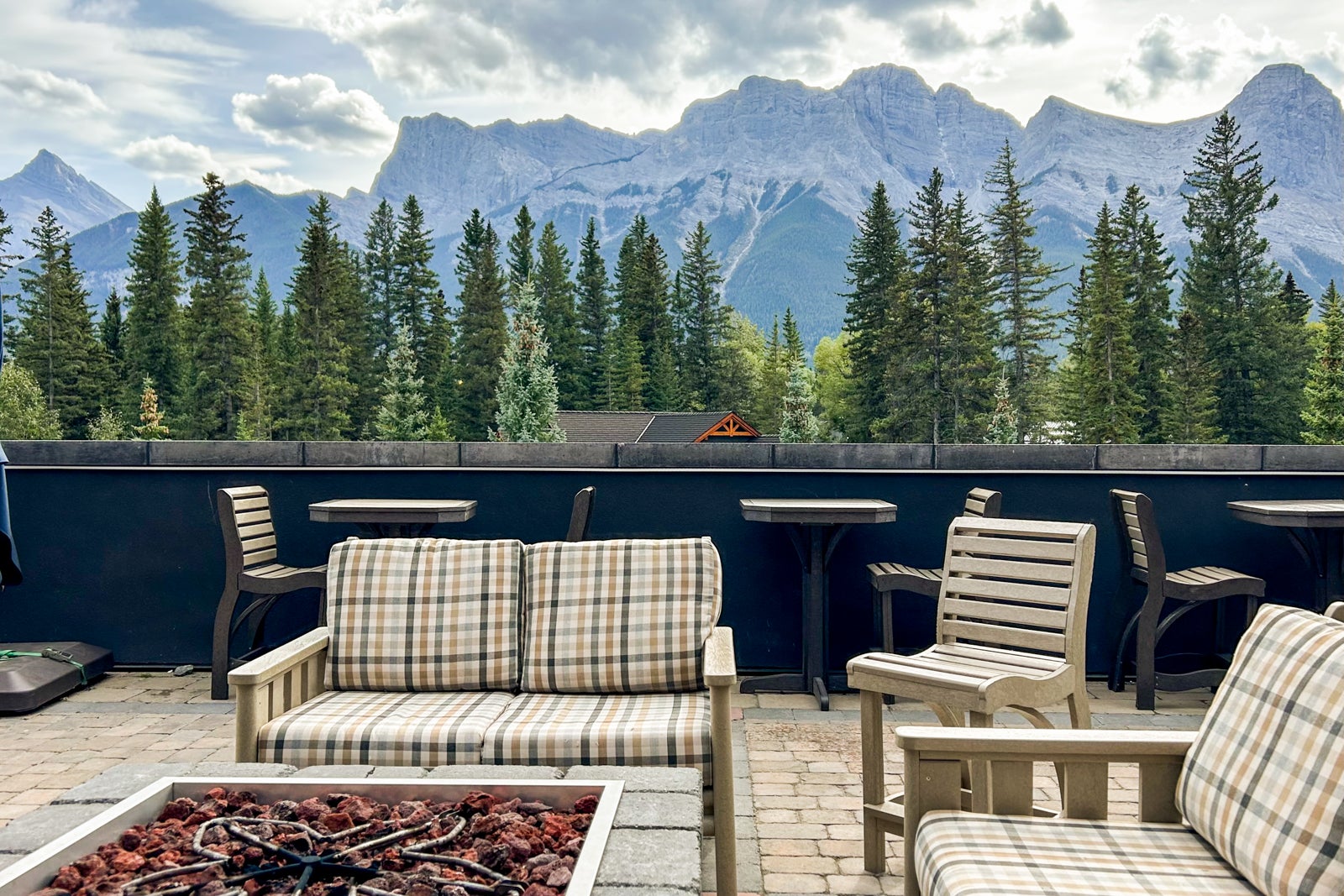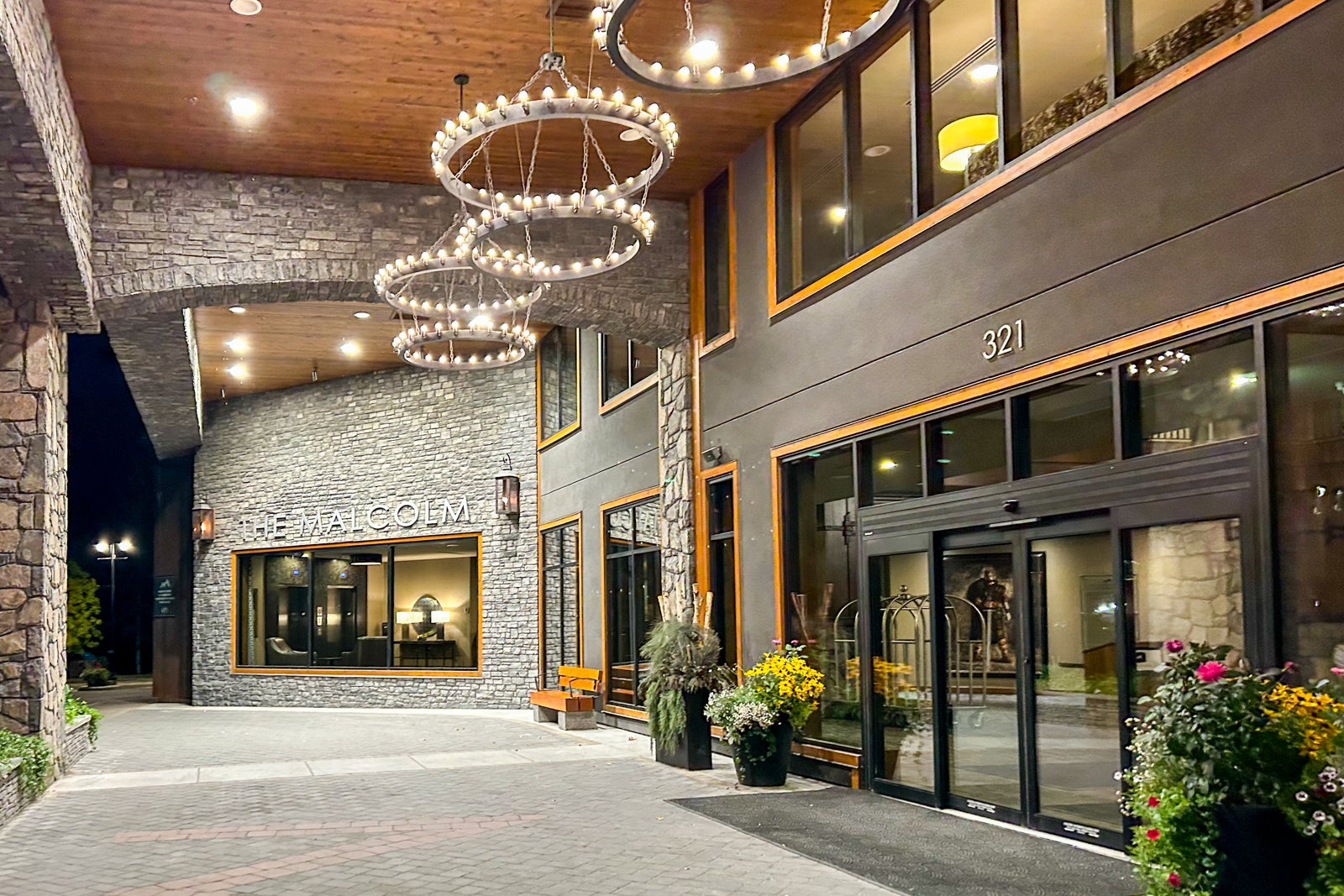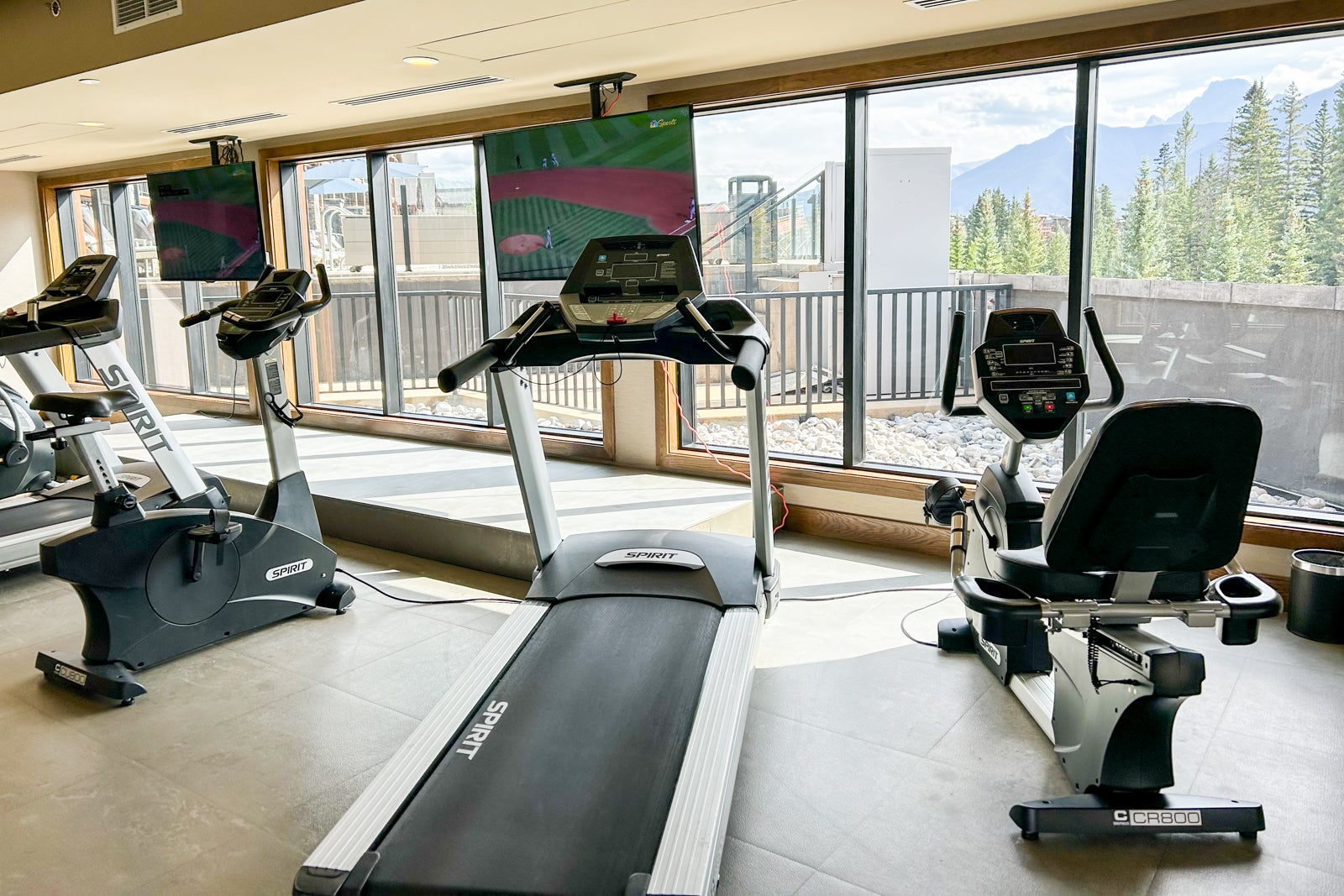 The Malcolm Hotel is an upscale lodge-like property just off the town's main street. One of the best and most sought-after hotels in Canmore, I was drawn to the hotel's convenient location, upscale atmosphere and rooftop pool.
Upon entering the lobby, I noticed massive gold light fixtures and an equally massive fireplace surrounded by dark carpeting, stone accents and leather chairs.
After checking in, I headed to The Pulse General Store and Coffee Bar in the lobby for a pick-me-up. The shop offers made-to-order coffee, light bites, small souvenirs and any toiletry items you may have forgotten.
The hotel's 124 guest rooms feature high ceilings, glass showers with luxurious toiletries, cozy bathrobes, hotel-branded slippers and accents that make the room feel homey. In my double-queen room, the beds were comfortable, and there was plenty of storage space for luggage. The balcony, which featured a seating area and provided views of the nearby mountain range, was my favorite feature.
On the second floor, there's a fitness center and an entertainment area with a pool table, foosball table, giant Scrabble board and collection of board games. From this floor, guests can also access the fitness center, the heated outdoor pool, two hot tubs and a fire pit area.
The highlight of my stay was the rooftop pool deck where I enjoyed stunning mountain vistas while relaxing and swimming.
The rooftop area is also home to the chef's garden, which supplies some of the produce used downstairs in the on-site restaurant, The Stirling Dining Room and Lounge. In the warm-weather months, the restaurant's creekside patio is the perfect place to enjoy a snack or a drink.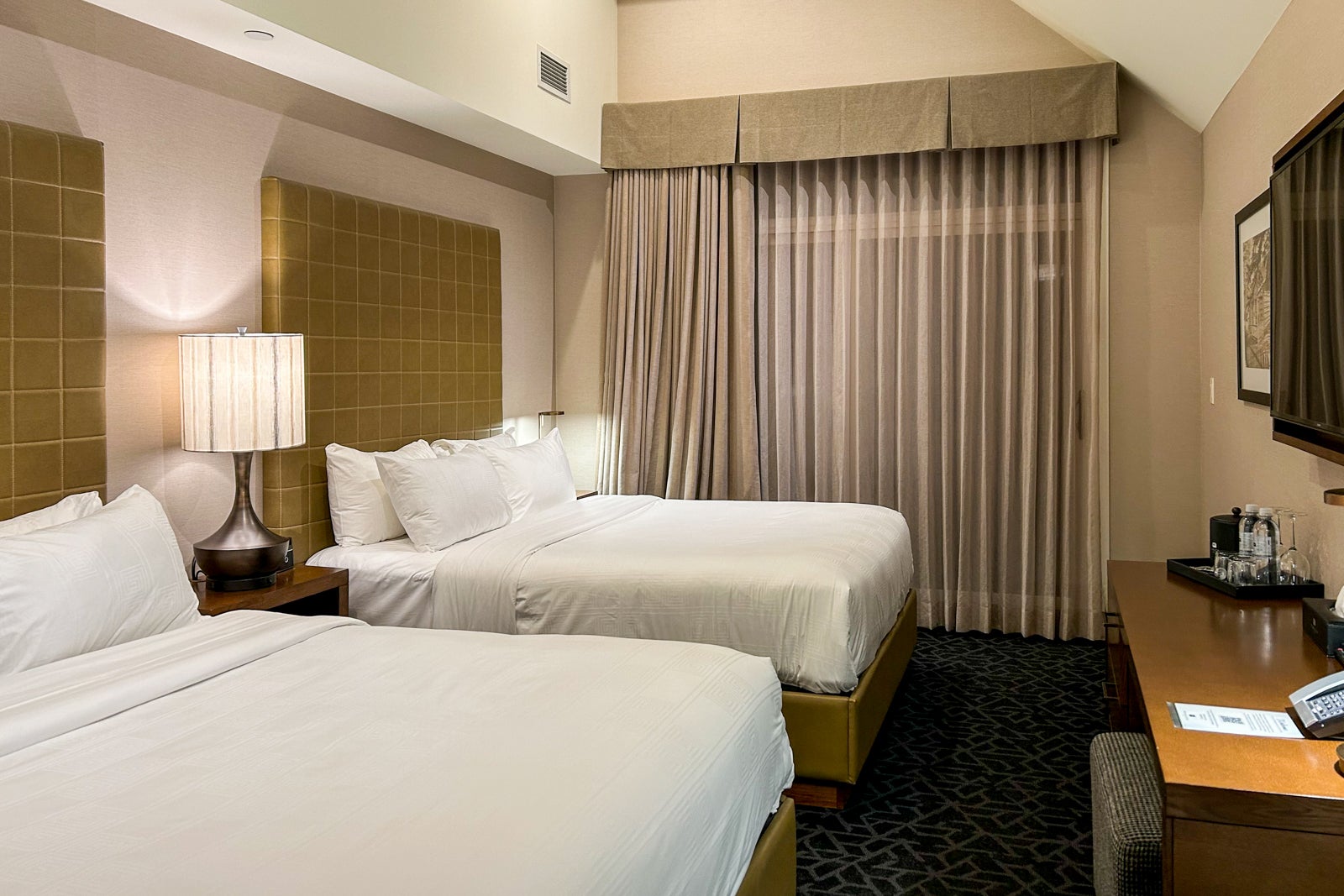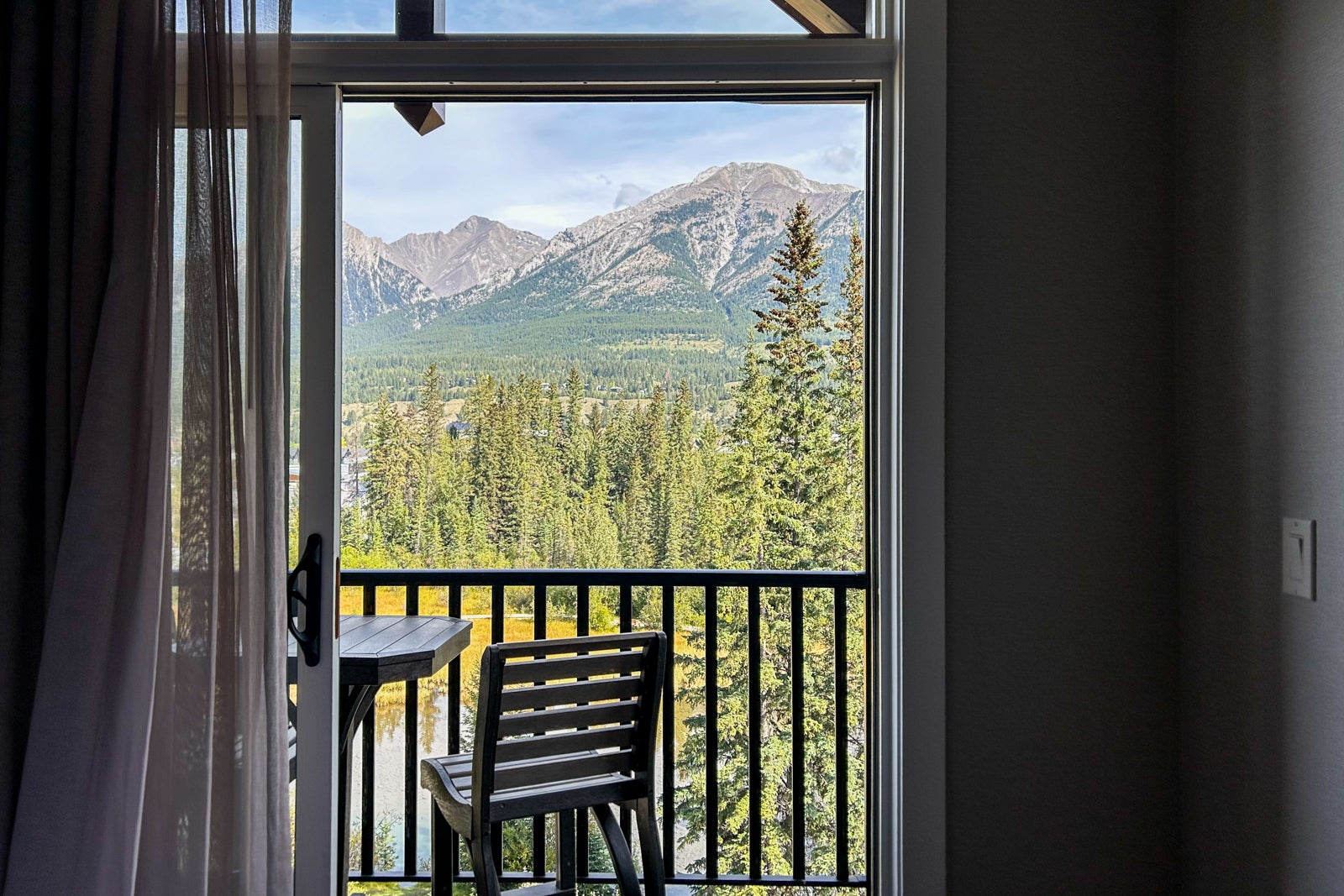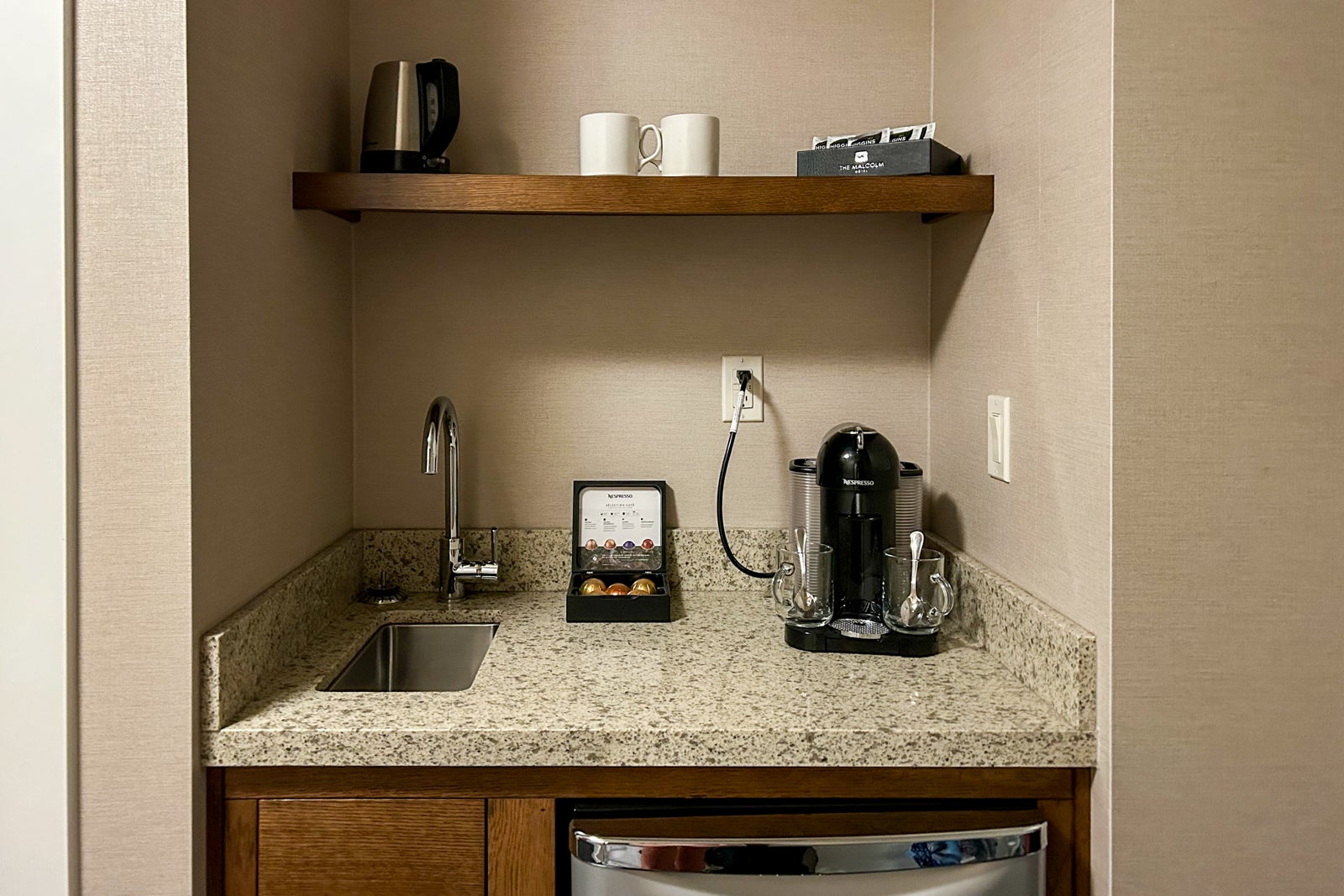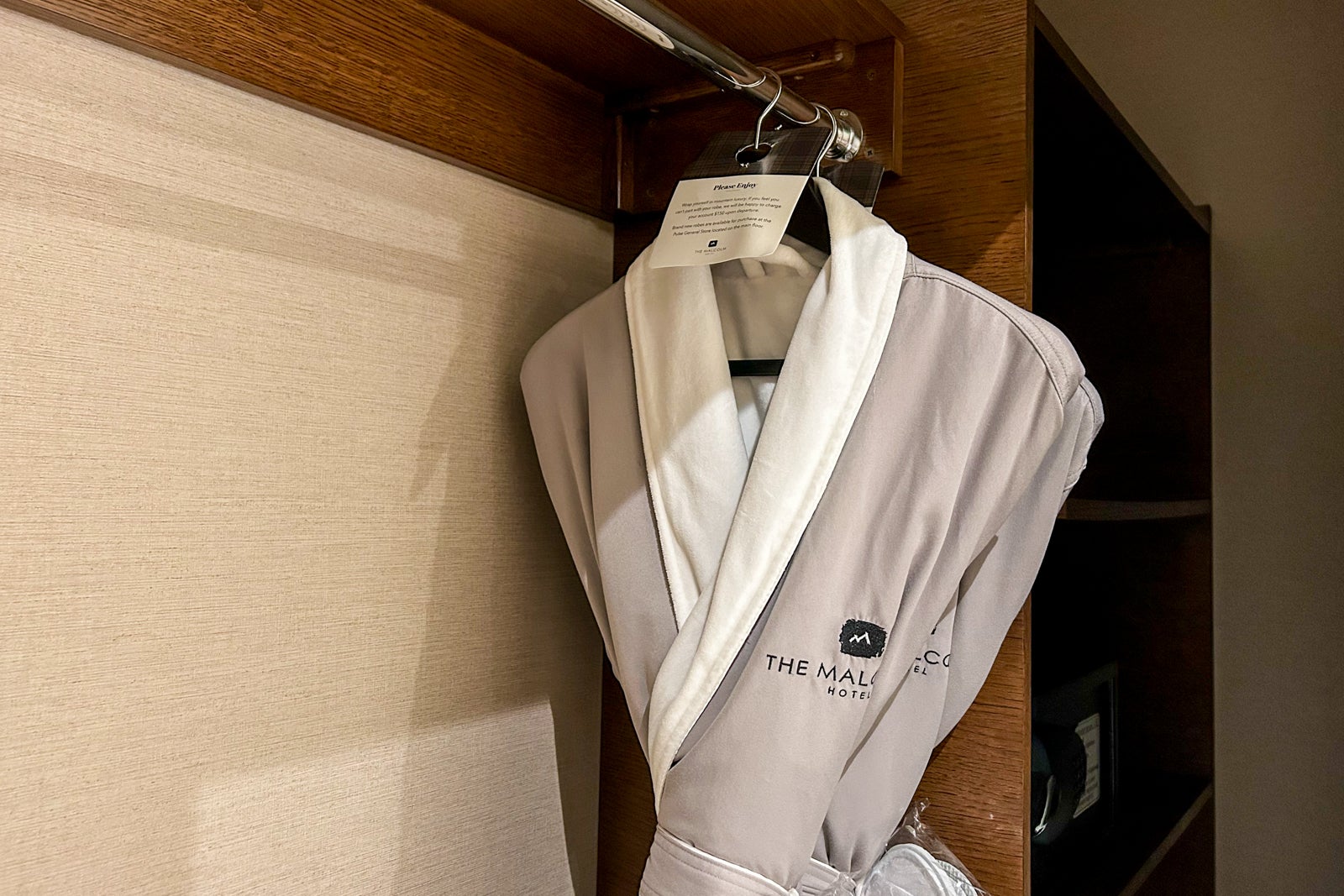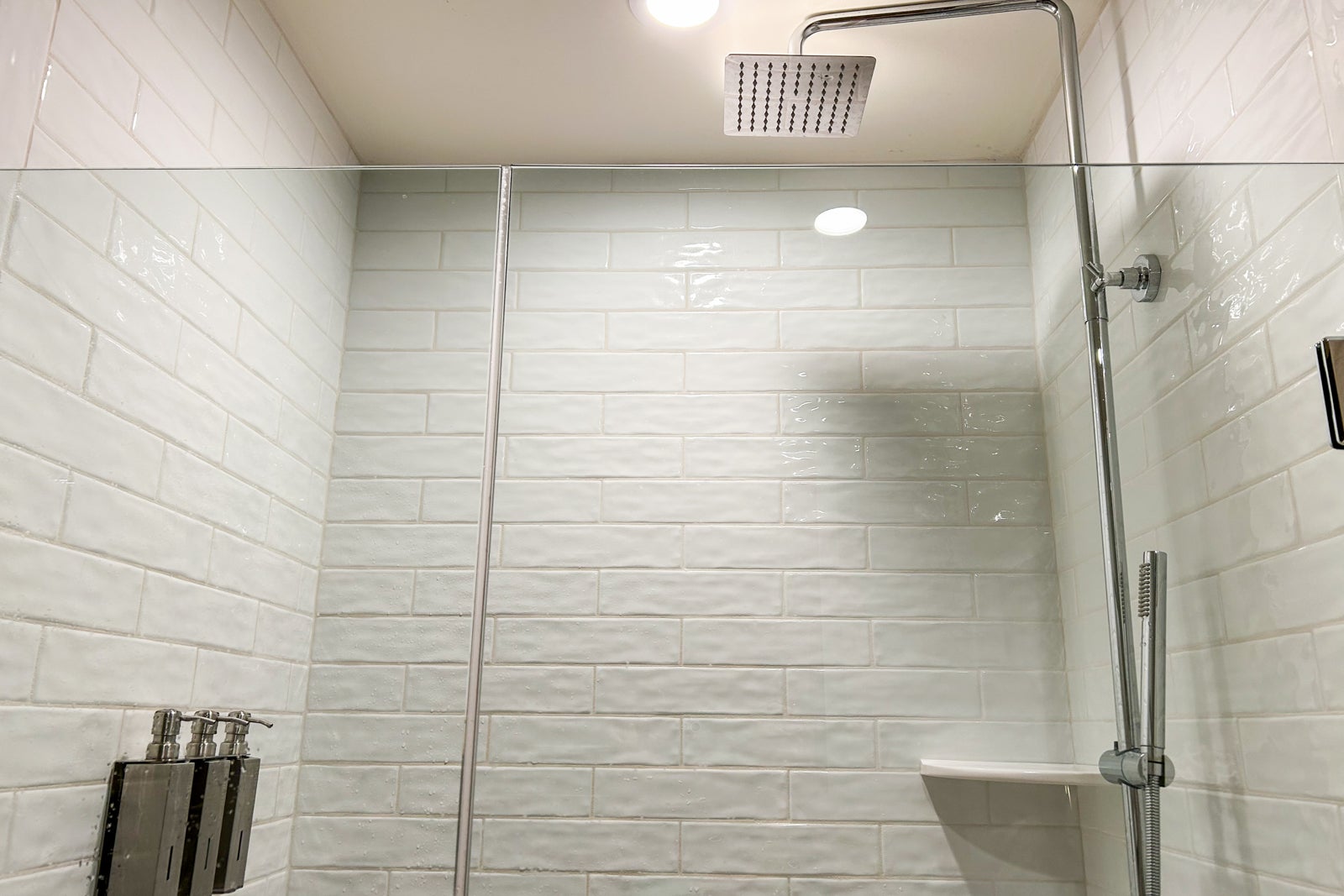 The hotel offers prime access to the main street, yet it's set back in a quiet area. However, during my stay, signs indicated that a new hotel is set to be built right next door, meaning potential construction noise.
Standard king room rates at The Malcolm Hotel range from CA$150 ($109) per night in the offseason to about CA$400 ($290) in the peak season. Some dates require a minimum two-night stay. Free underground or street parking is available.
Coast Canmore Hotel & Conference Centre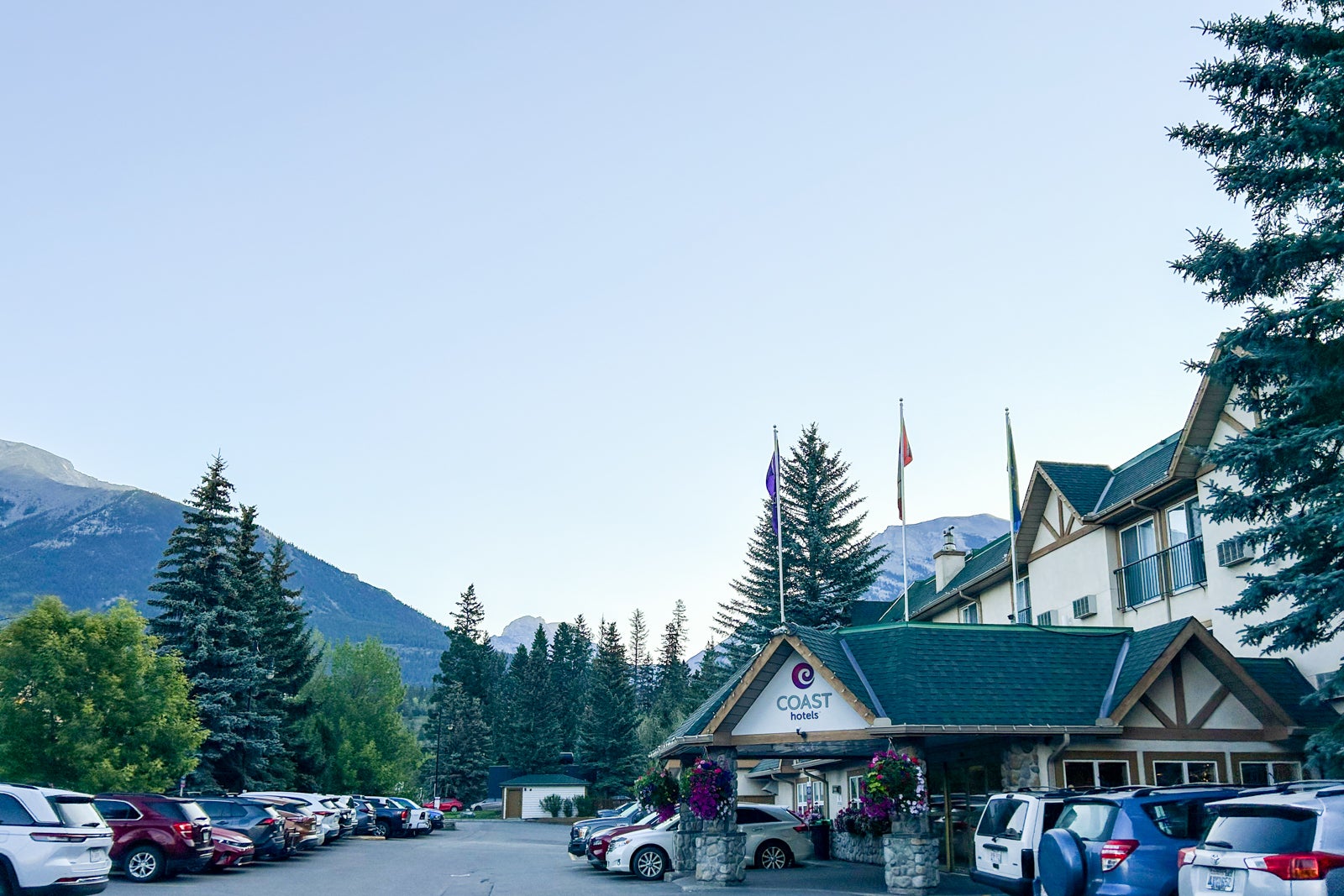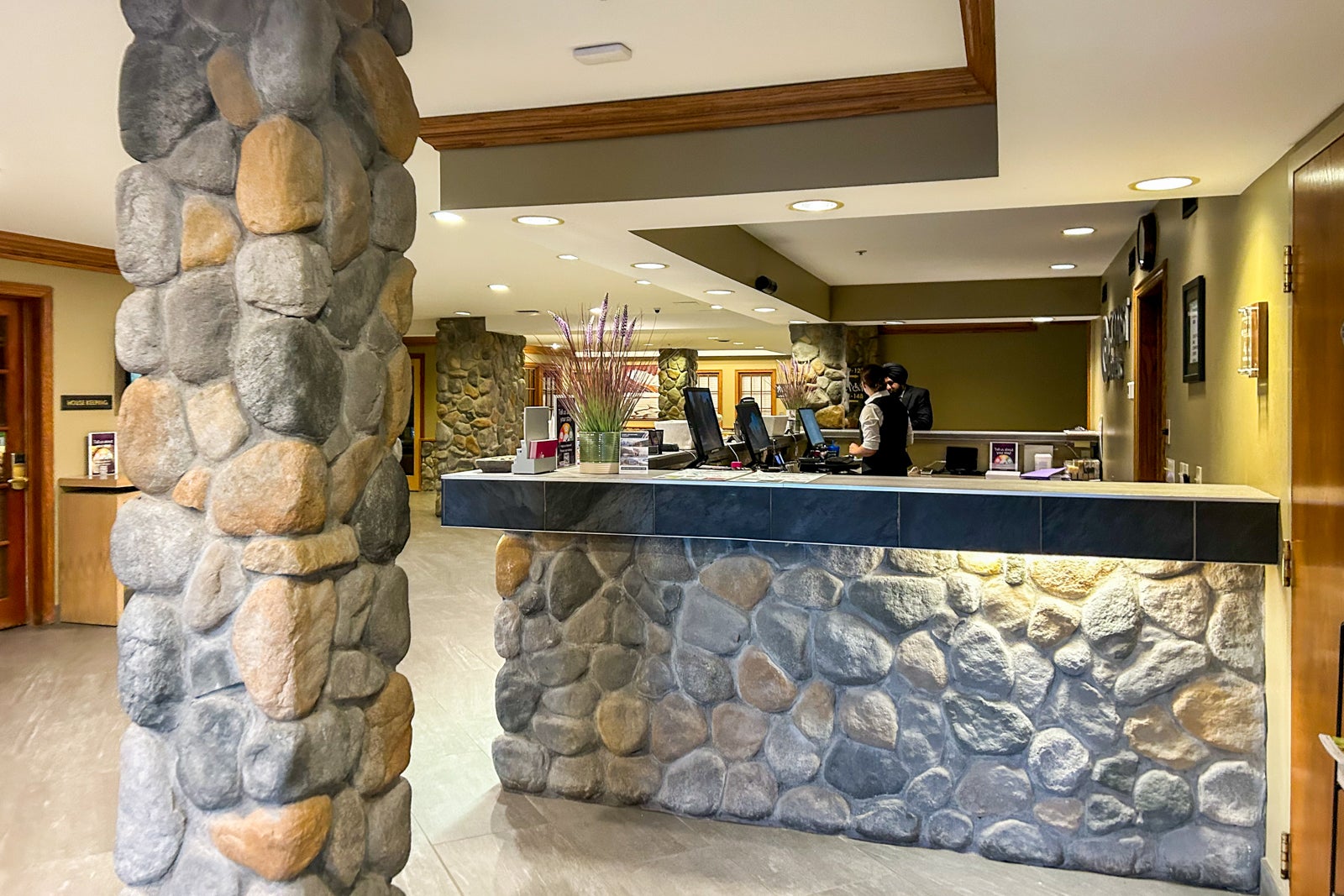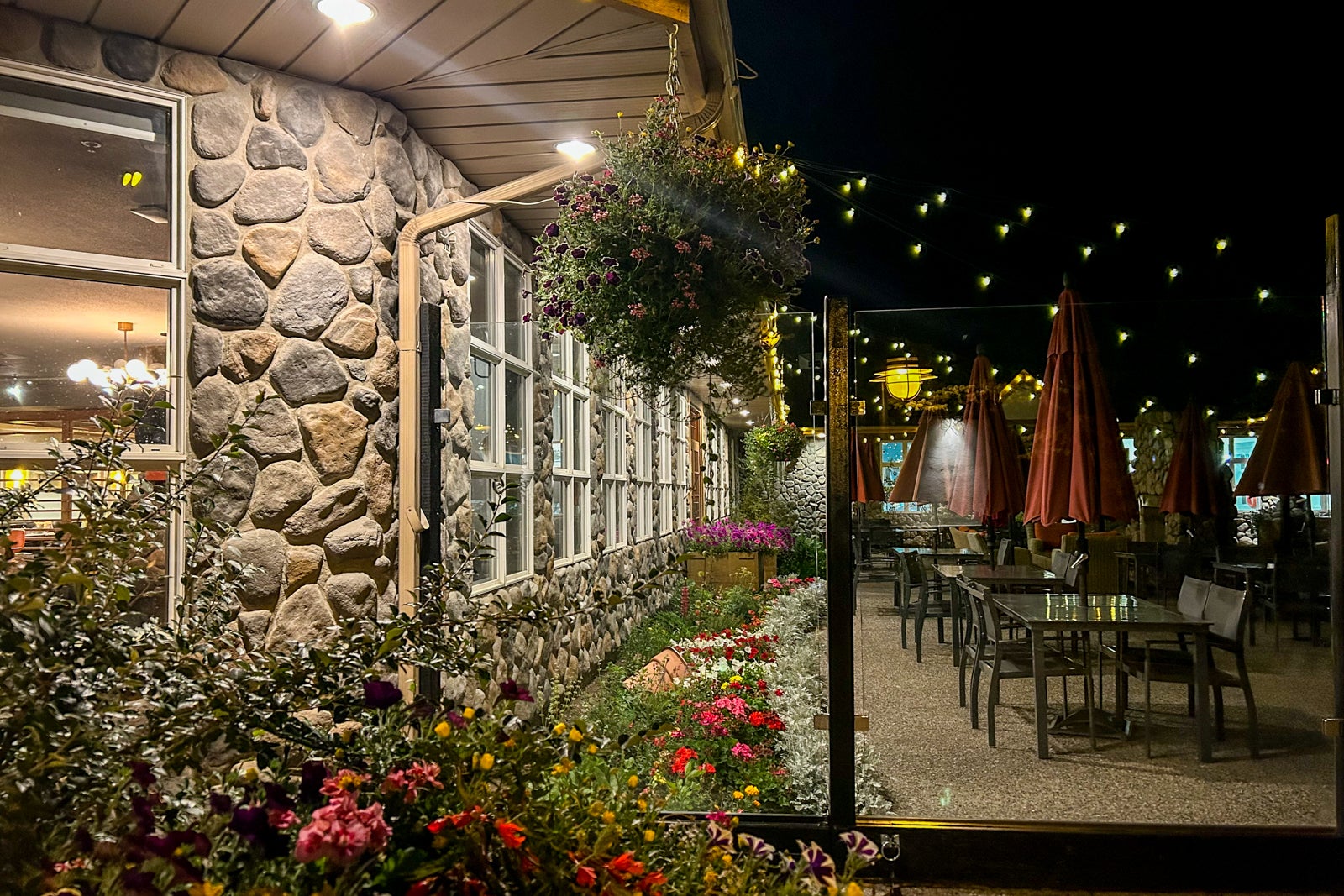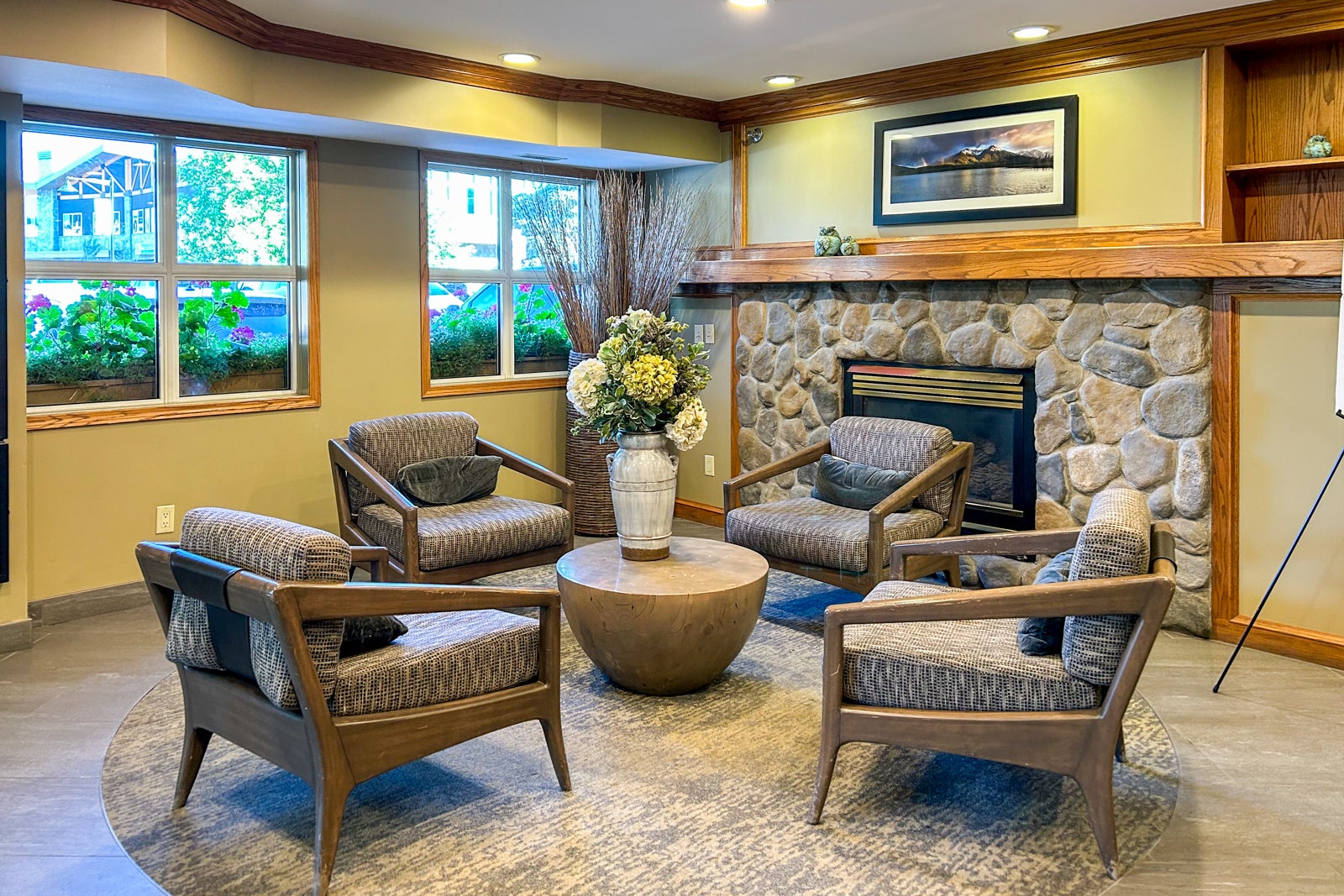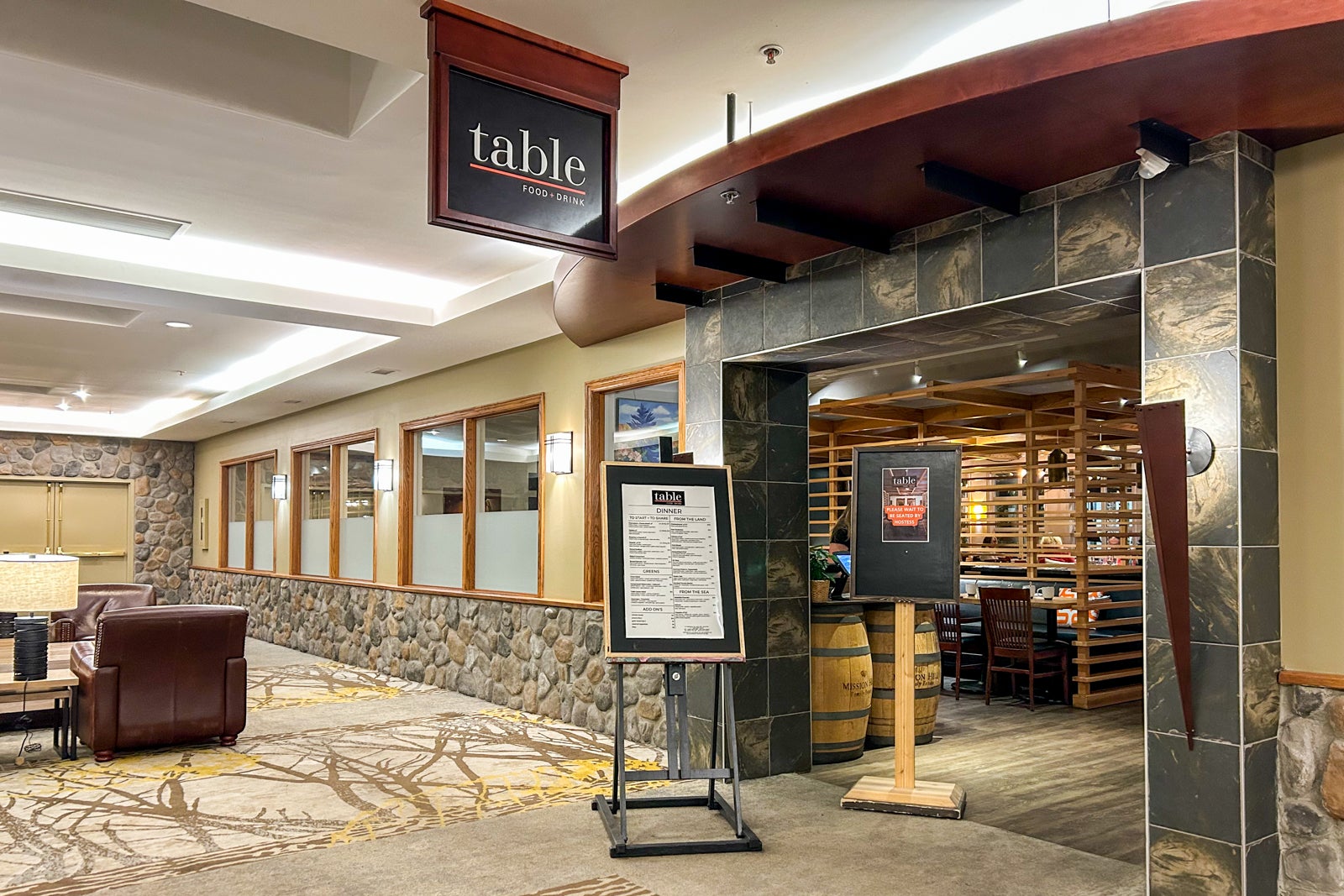 Coast Canmore Hotel sits off Route 1A, about a 10-minute walk from Canmore's main street. I wanted to check this property out because it's a bit more affordable than The Malcolm and because there's a Roam bus stop right in front that can bring visitors to Banff.
There are stone accents all around the lobby as well as plenty of seating. I found front desk staff members to be friendly, enthusiastic and happy to give advice about the best area activities.
From the lobby, you can walk through the courtyard and parking lot area to reach the indoor pool and hot tub space, as well as the fitness center. The lobby restaurant, Table Food and Drink, has indoor seating as well as an outdoor patio. Down the hall, there are also multiple conference rooms. Both the restaurant and conference rooms were rented out to wedding parties during my stay.
Related: Why you should absolutely visit the Fairmont Banff Springs — but maybe not spend the night
Upstairs, my double-queen room featured patterned black-and-gray wallpaper behind the beds and a light faux-wood accent wall. There's a small seating area with a table and chairs beside sliding doors that open up to a false balcony. You also have the option to book a room with a patio if you desire.
The bathroom was on the small side but was fine for a short stay with two people. If you're just looking for a place to rest your head after a long day of outdoor adventuring, the rooms at Coast Canmore do the job.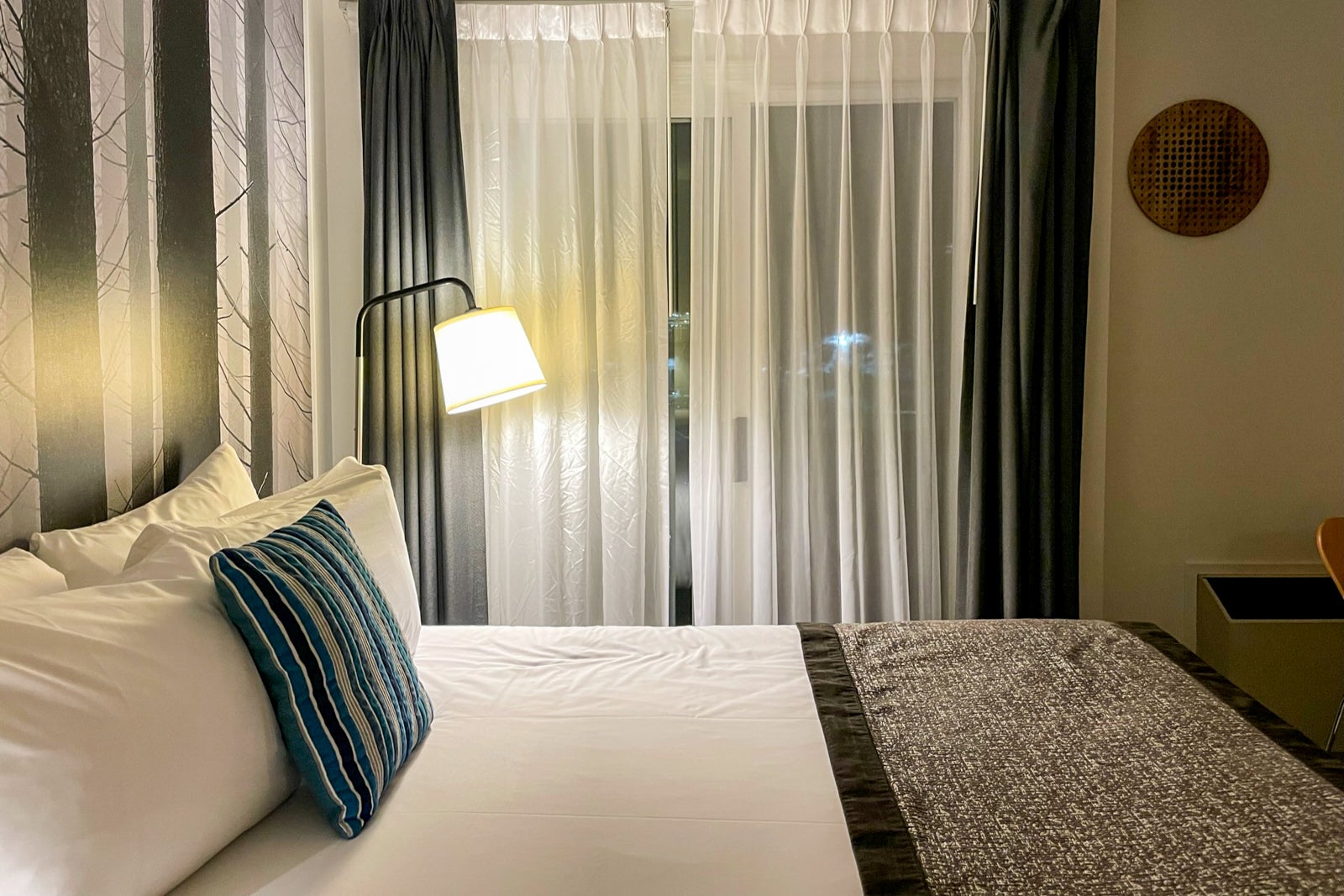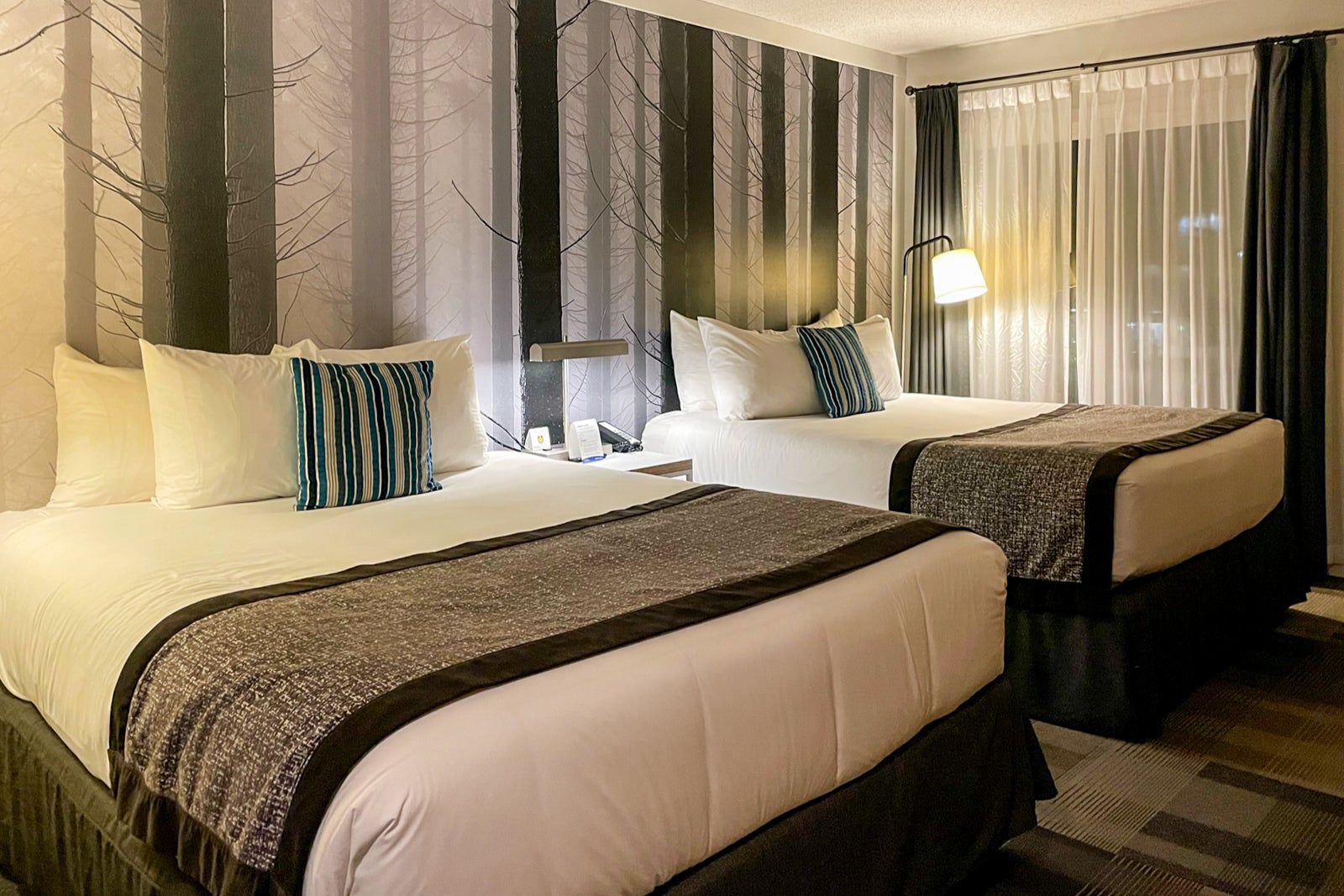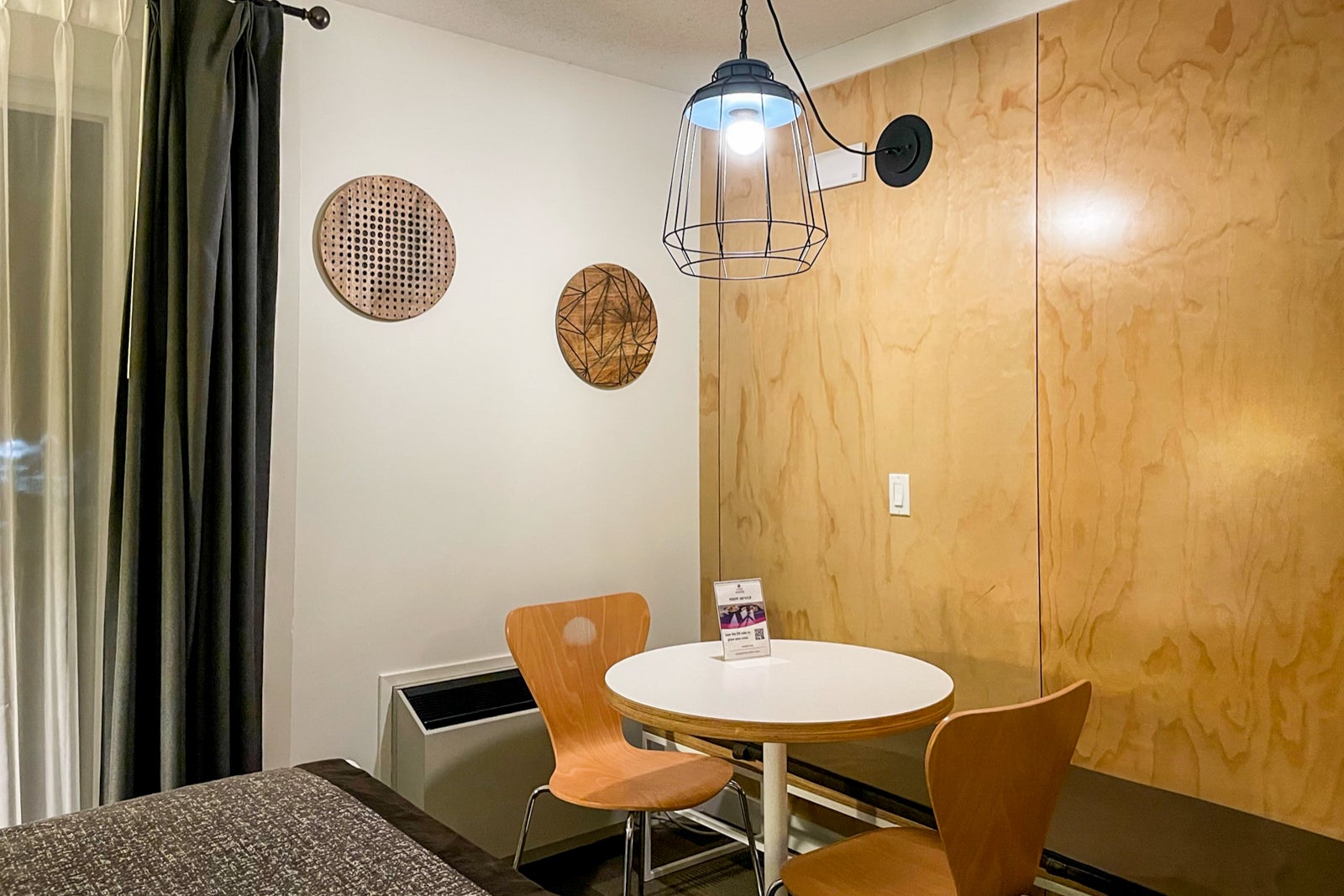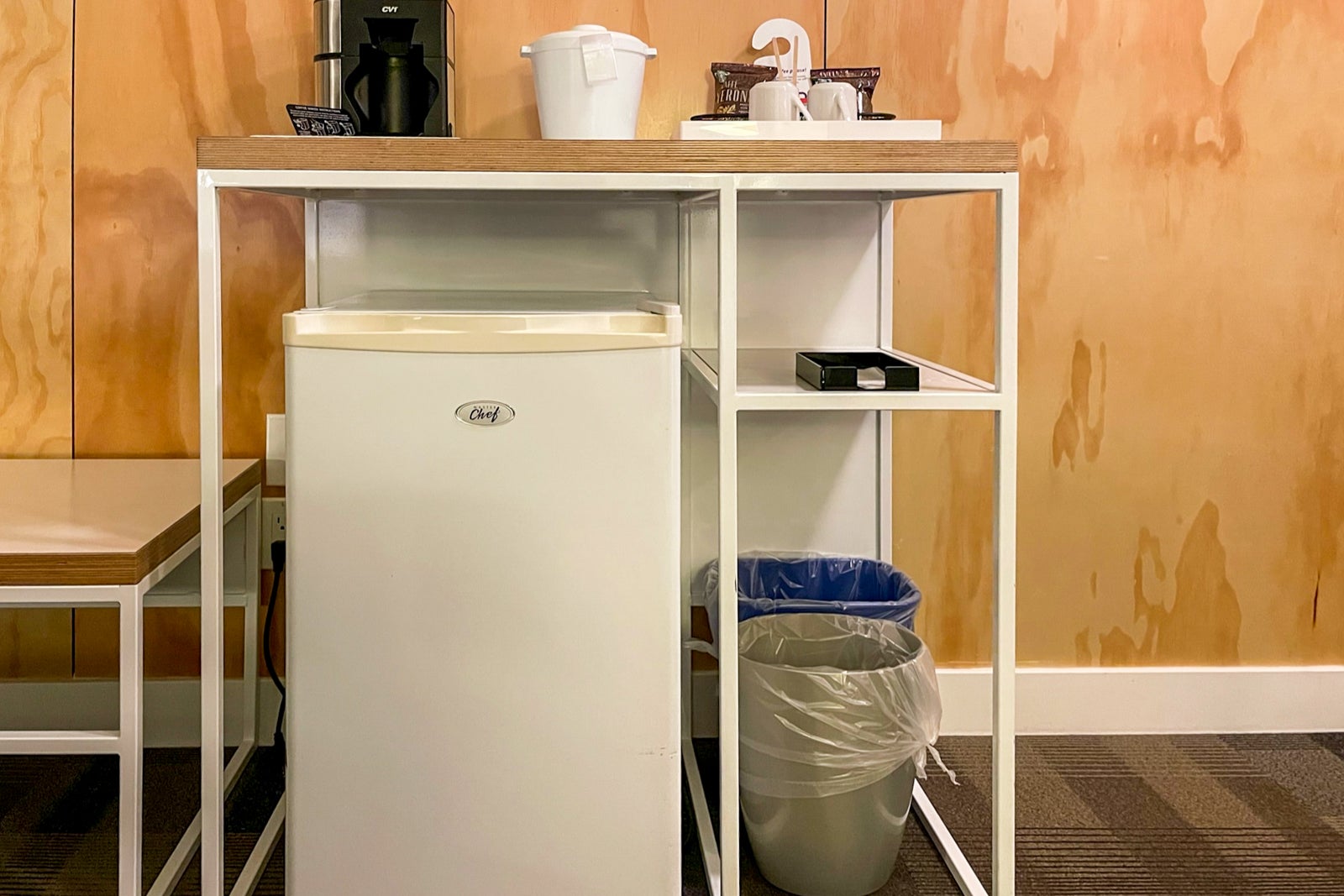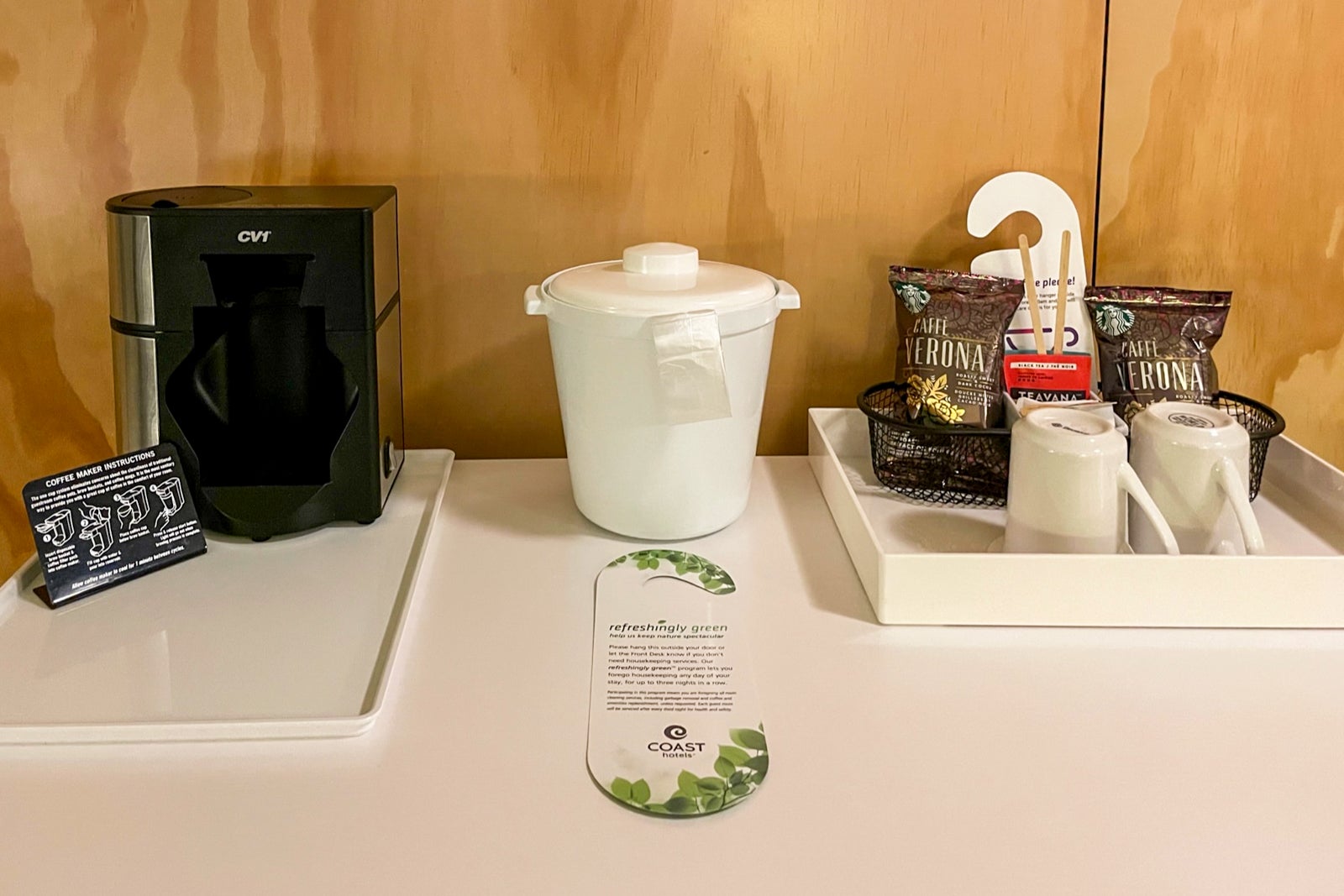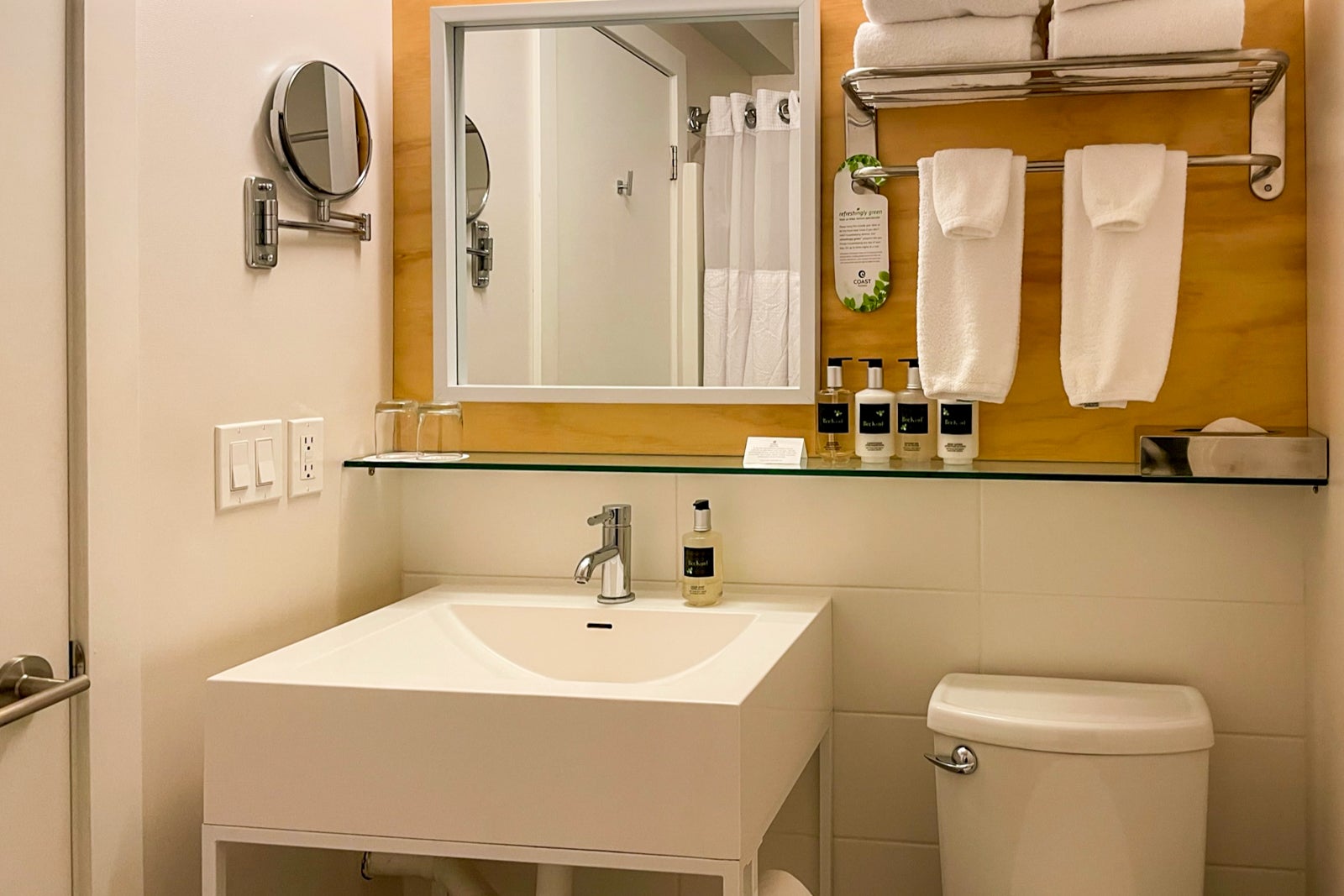 Next to the hotel is a plaza with some fast-casual restaurants, a coffee shop, a convenience store and a liquor store.
Standard king room rates go for about CA$115 ($83) per night during the offseason and nearly CA$400 ($290) per night during peak season. If you visit during a popular time, the hotel can be pretty expensive for what you get. If you find Coast's prices are comparable to those of The Malcolm Hotel when you're booking, the latter offers a nicer experience with better amenities.
Other lodging options
Some other popular boutique hotels in Canmore include Basecamp Lodge Canmore, Solara Resort by Bellstar Hotels, Stoneridge Mountain Resort and Blackstone Mountain Lodge by Clique.
If you'd rather stay in a vacation rental or apartment-style property, you're in luck. Unlike the town of Banff — where strict zoning laws limit many short-term vacation rentals — Canmore has plenty of condos and rental properties. Check the town's rental website or search Airbnb, Vrbo or a similar platform.
Where to eat in Canmore
There are plenty of Canmore restaurants to enjoy, including many on and around 8th Avenue — the town's main street.
For a quick caffeine fix, head to Eclipse Coffee Roasters, Blondies Cafe or Beamer's Coffee Bar. I also thought the lattes from the charming Bicycle Cafe (which triples as a plant store and a bicycle repair shop) were great.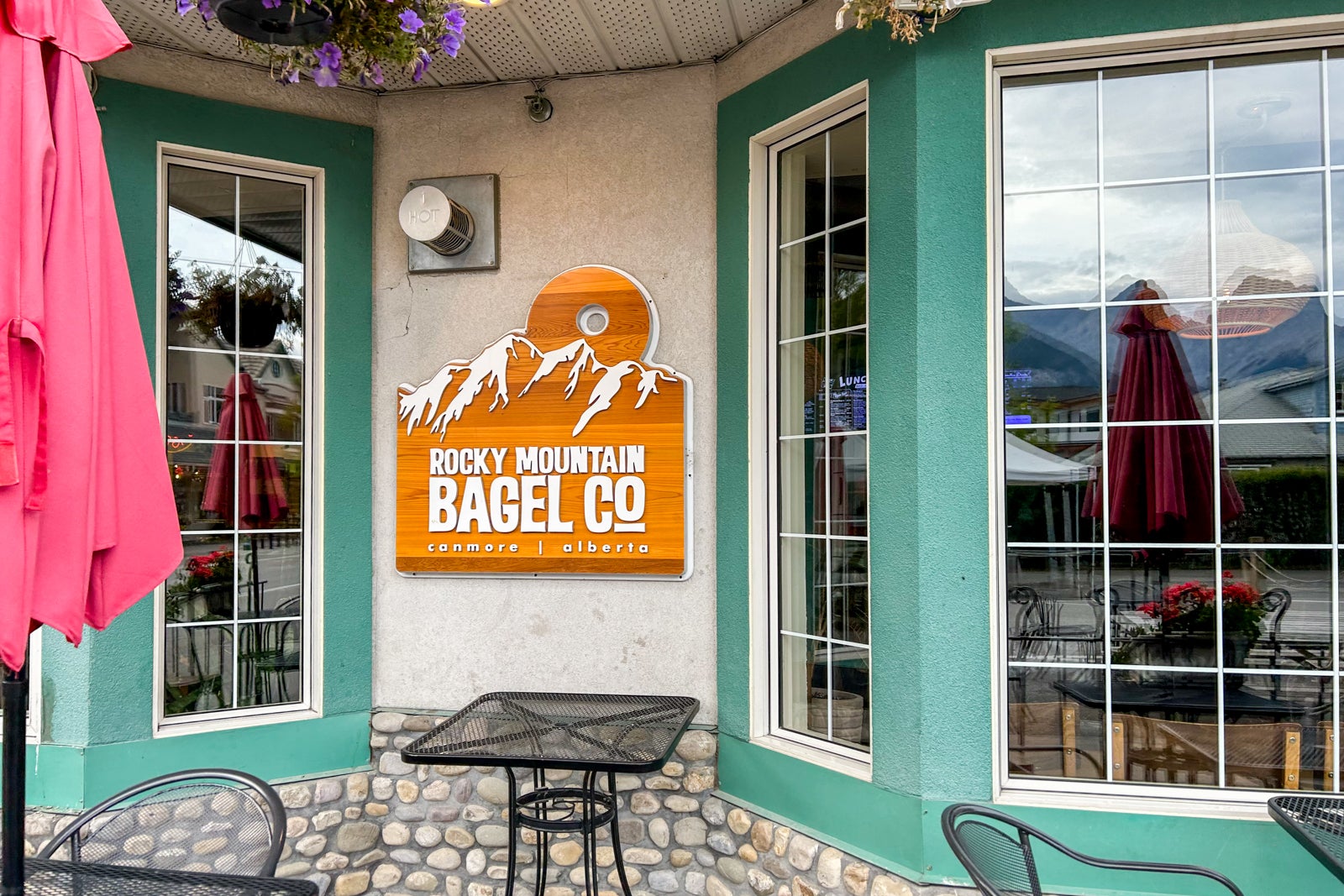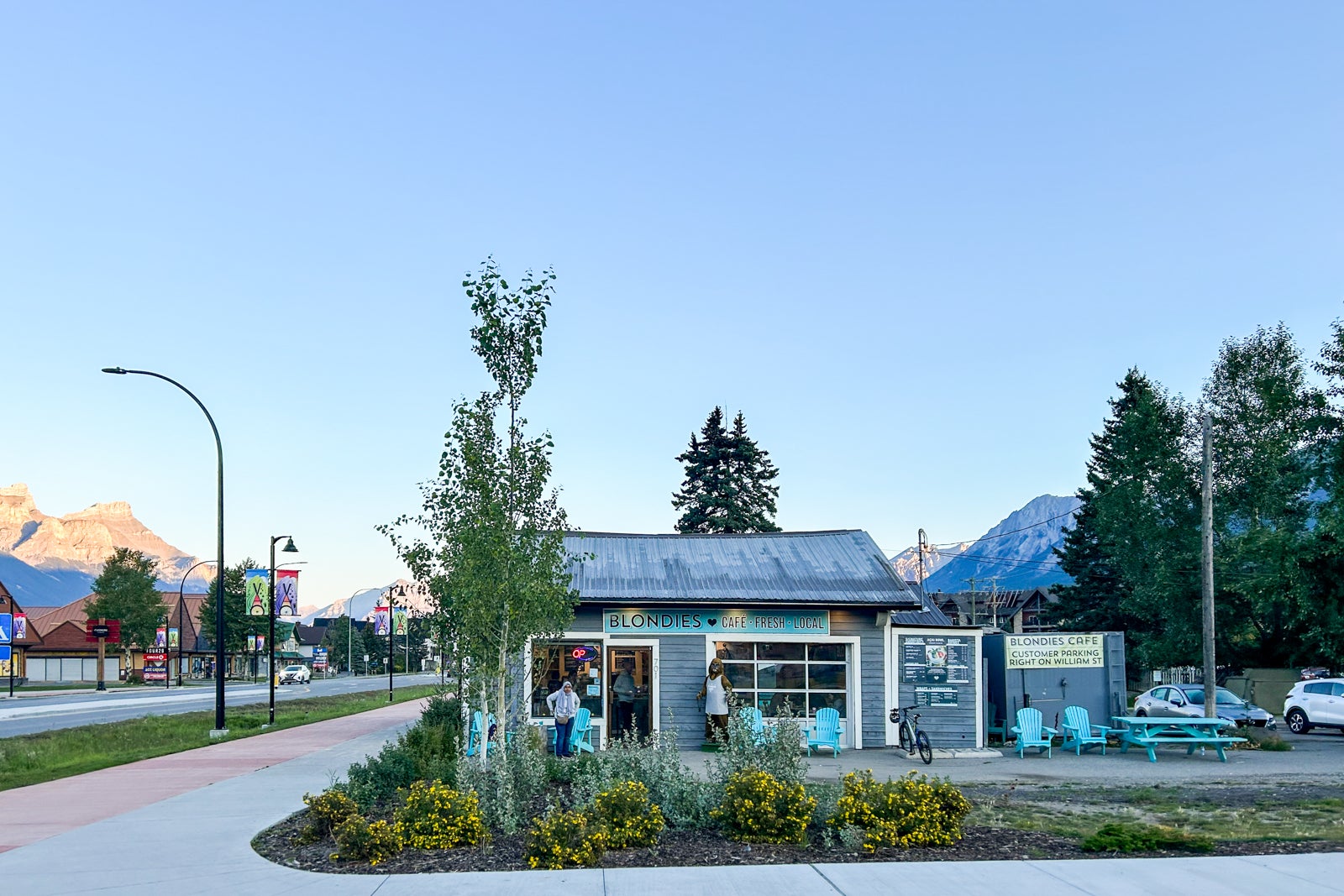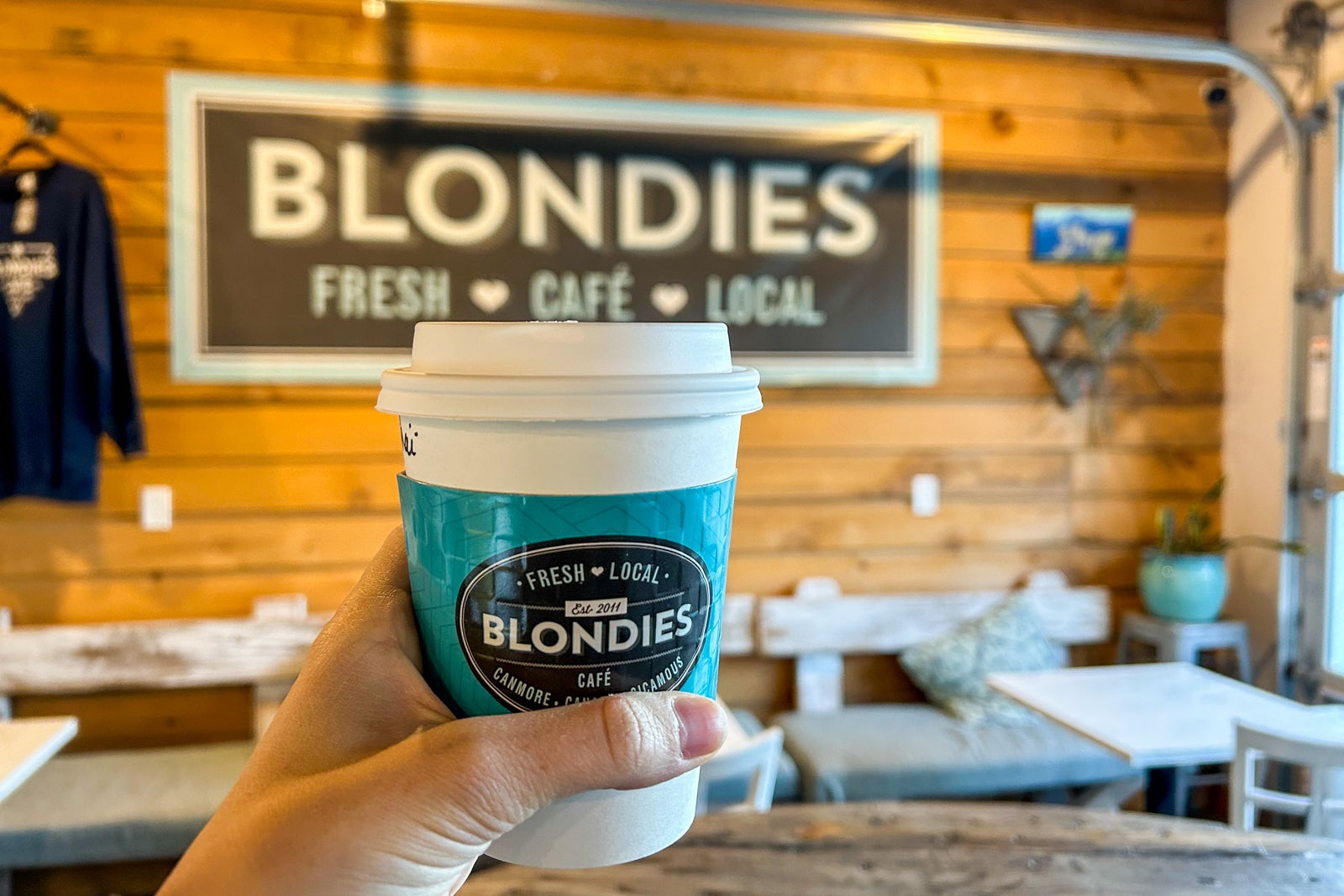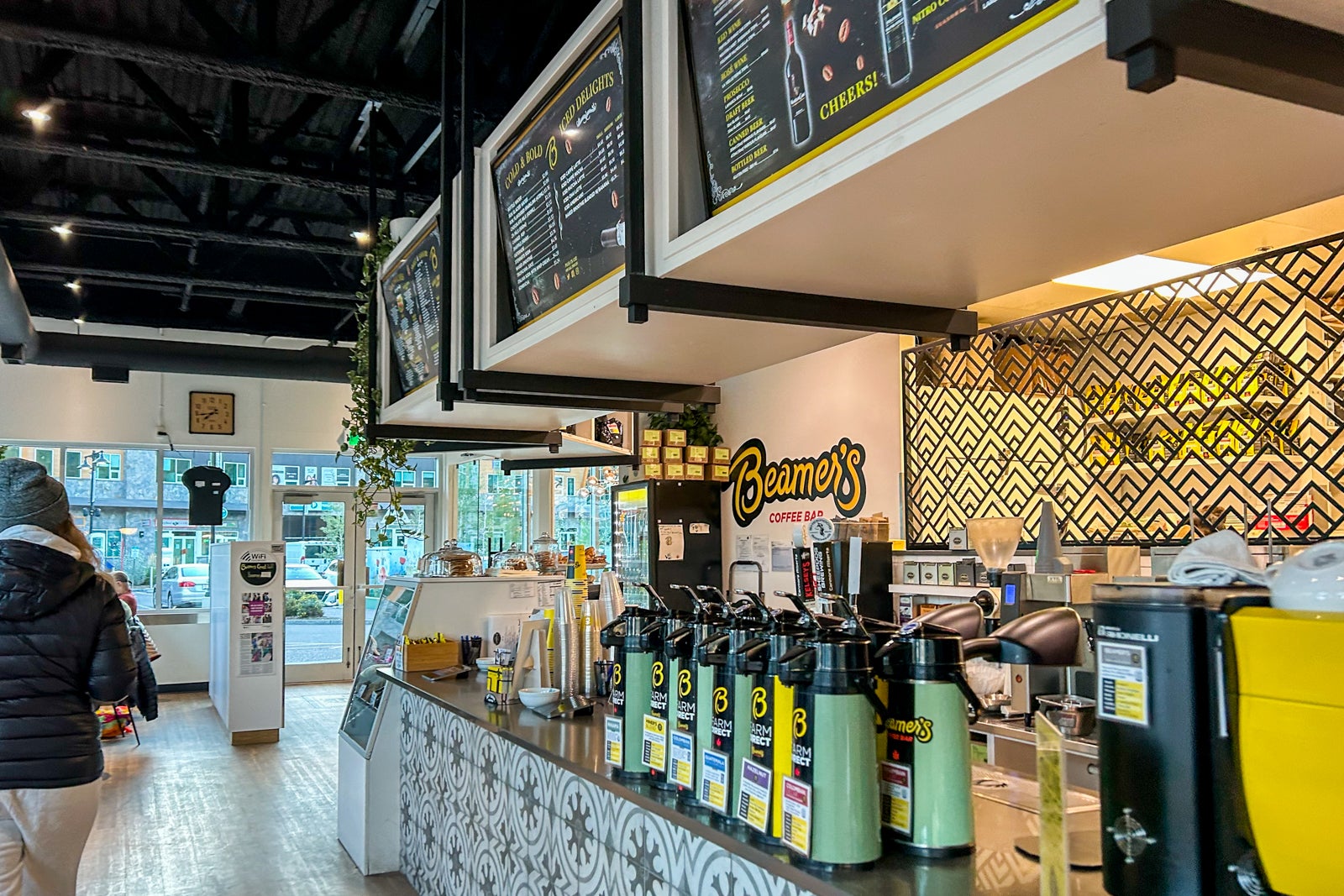 Rocky Mountain Bagel Co. and J.K. Bakery are solid spots for a quick breakfast and coffee before a hike. If you're looking for more of a sit-down breakfast, brunch or lunch, consider Chez Francois Restaurant. Communitea Cafe is also a good option for healthy lunch fare.
After a long day exploring the great outdoors, Canmore can more than satisfy your dinnertime cravings. Since the weather was nice during my visit, we headed to the casual outdoor patio at The Wood to enjoy an appetizer and cocktail while admiring the surrounding mountains. The strawberry spinach salad with spicy pecans (CA$22 or $16) was a nice light bite alongside a Moscow mule (CA$12 or $9) and a glass of sangria (CA$14 or $10).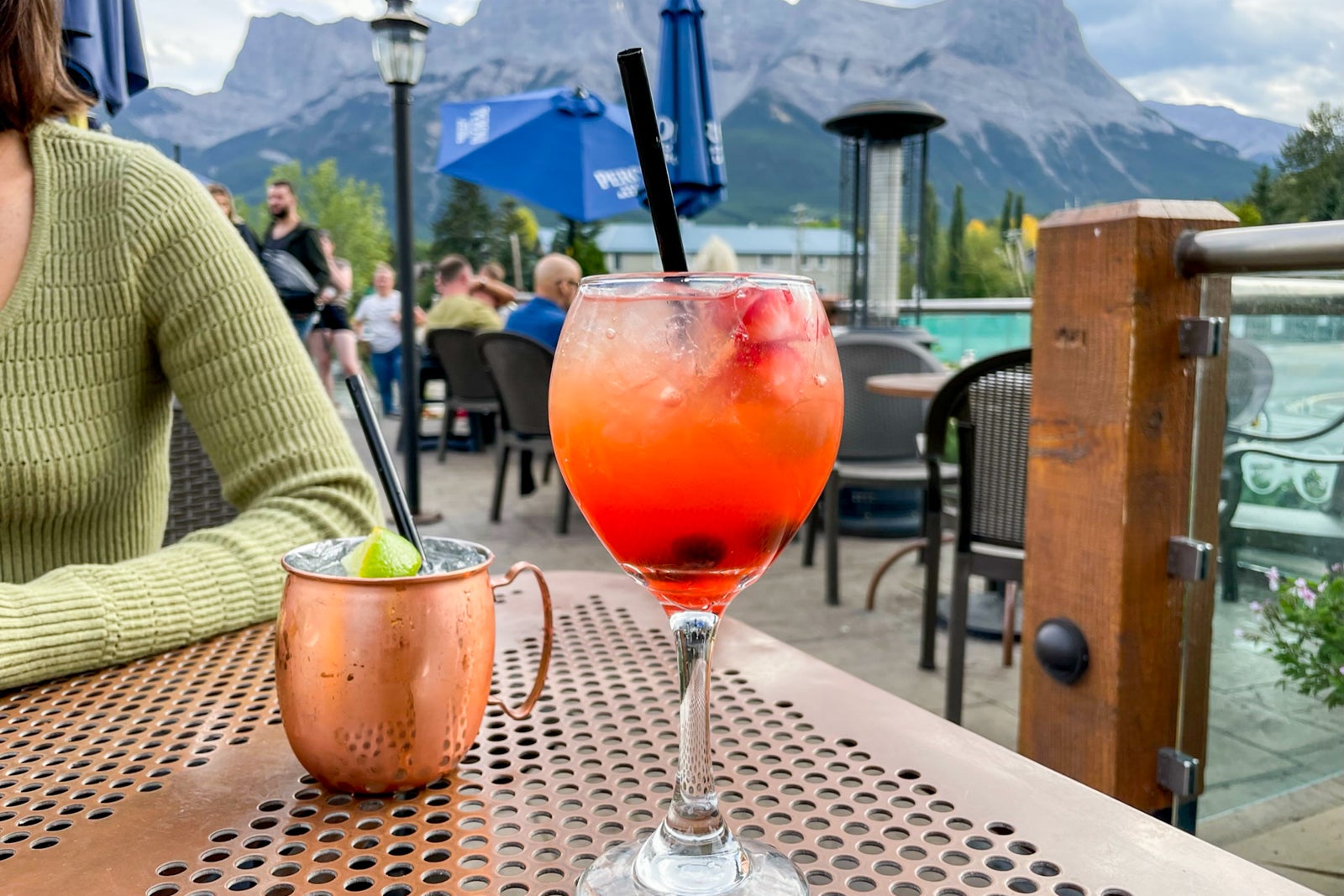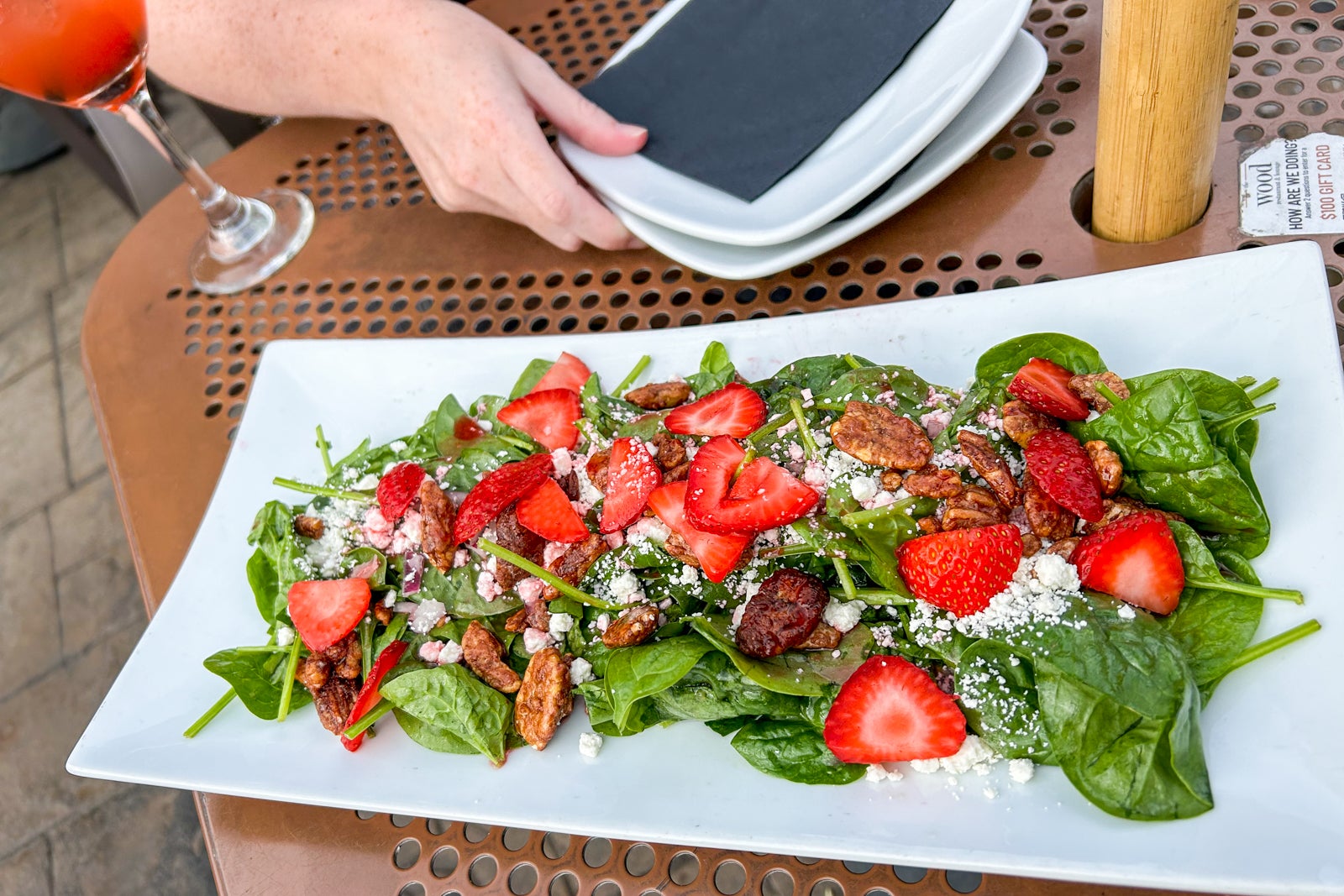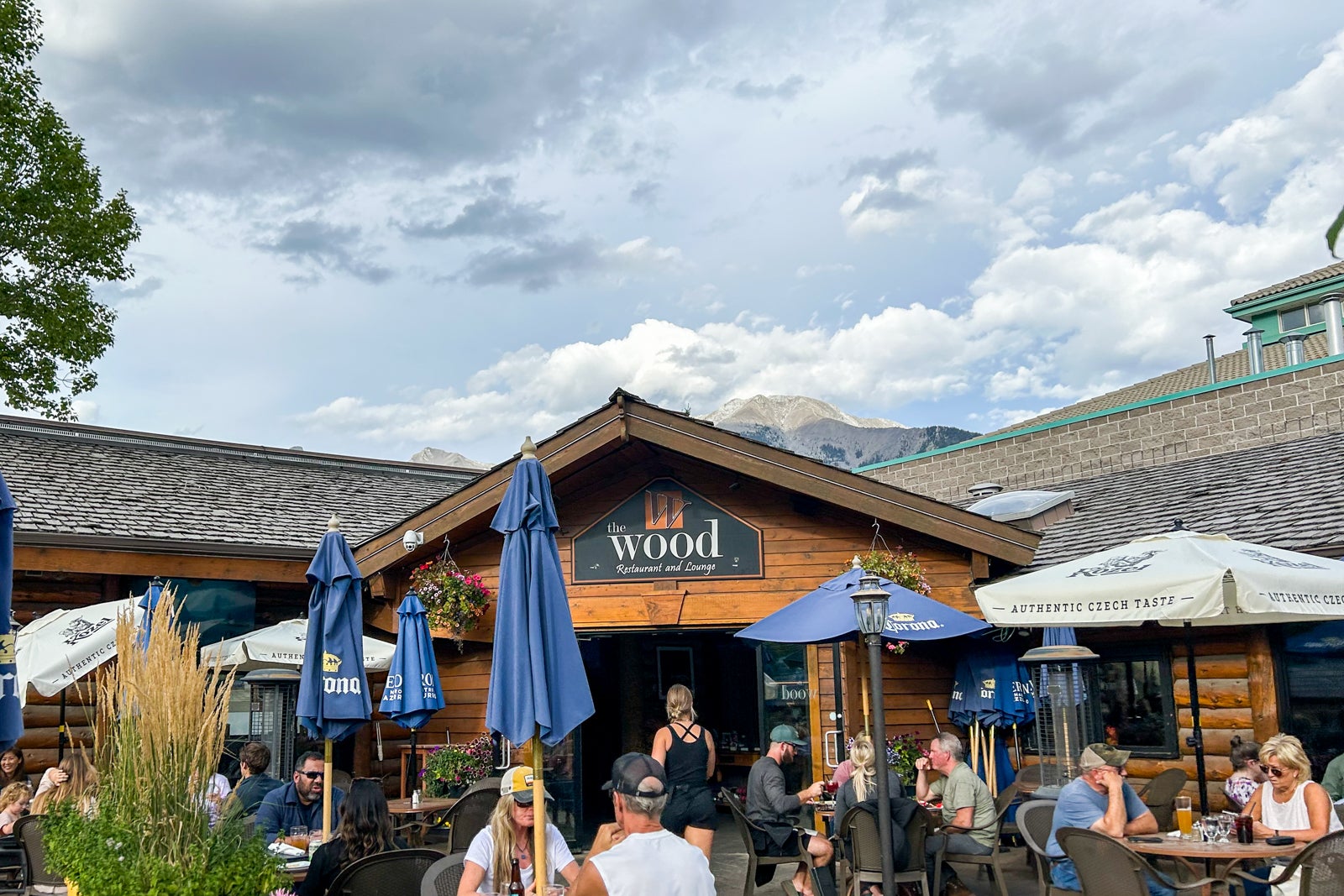 Dinner at Murrieta's Mountain Bar & Grill was a standout experience, thanks to the service, cozy atmosphere and, of course, the warm homemade focaccia (CA$6 or $4). We also sampled the maple chili glazed Brussels sprouts (CA$16 or $12), the mushroom flatbread (CA$23 or $17) and a trio of dips that included eggplant, red pepper feta and roasted garlic hummus (CA$18 or $13).
The restaurant also has a huge wine selection and a cocktail menu, and the peach bourbon smash and the maple bourbon sour — each CA$16 ($12) — were nicely executed.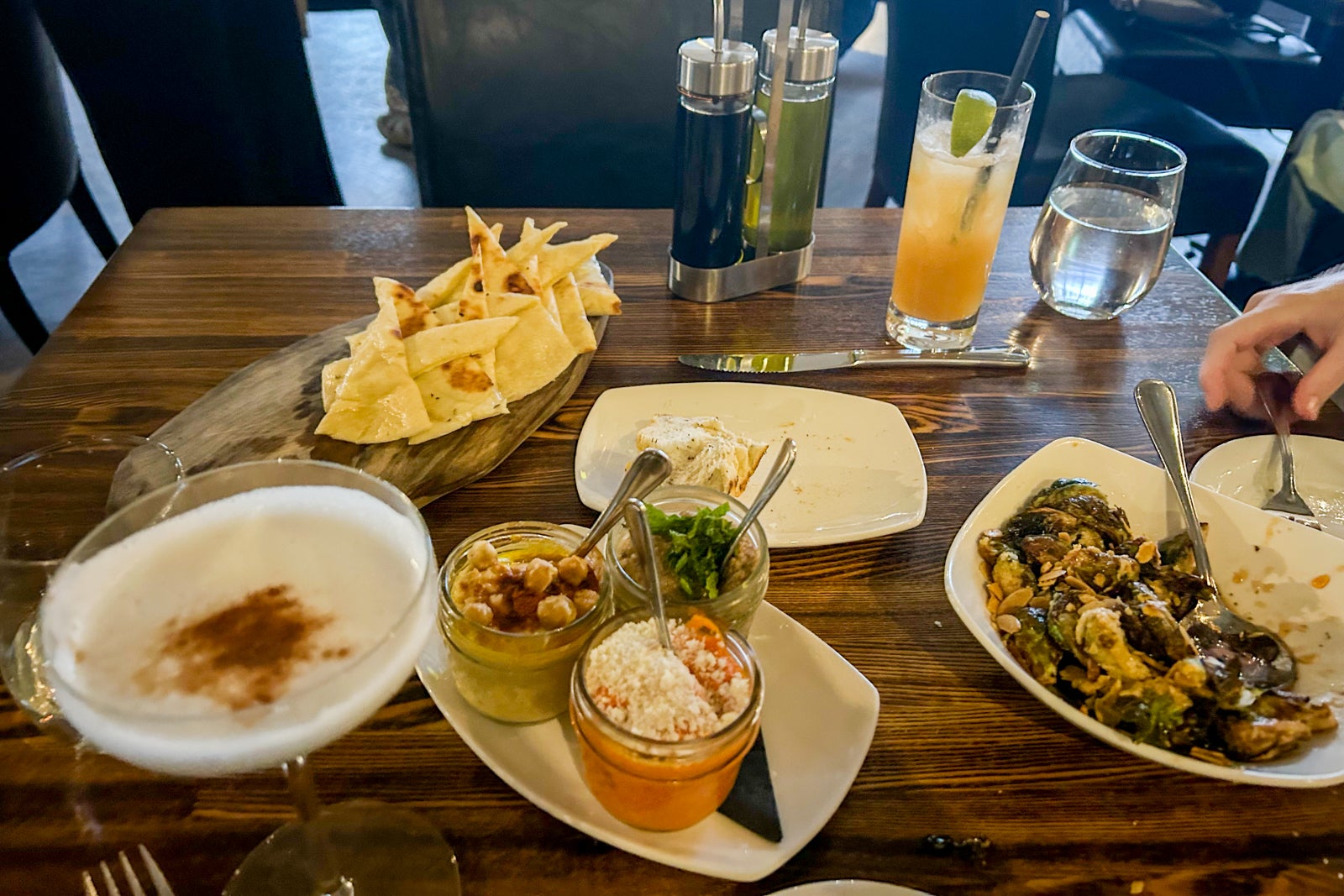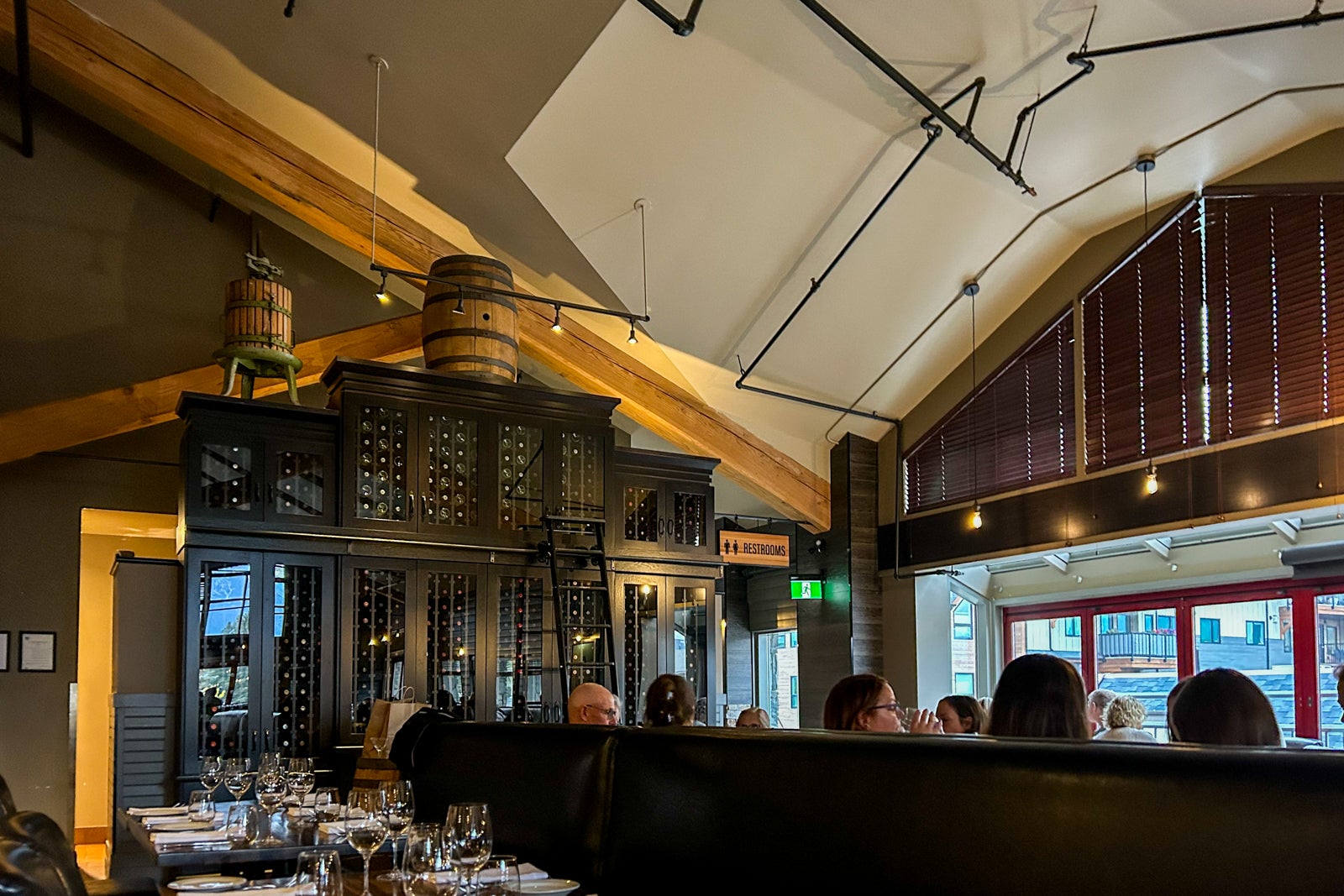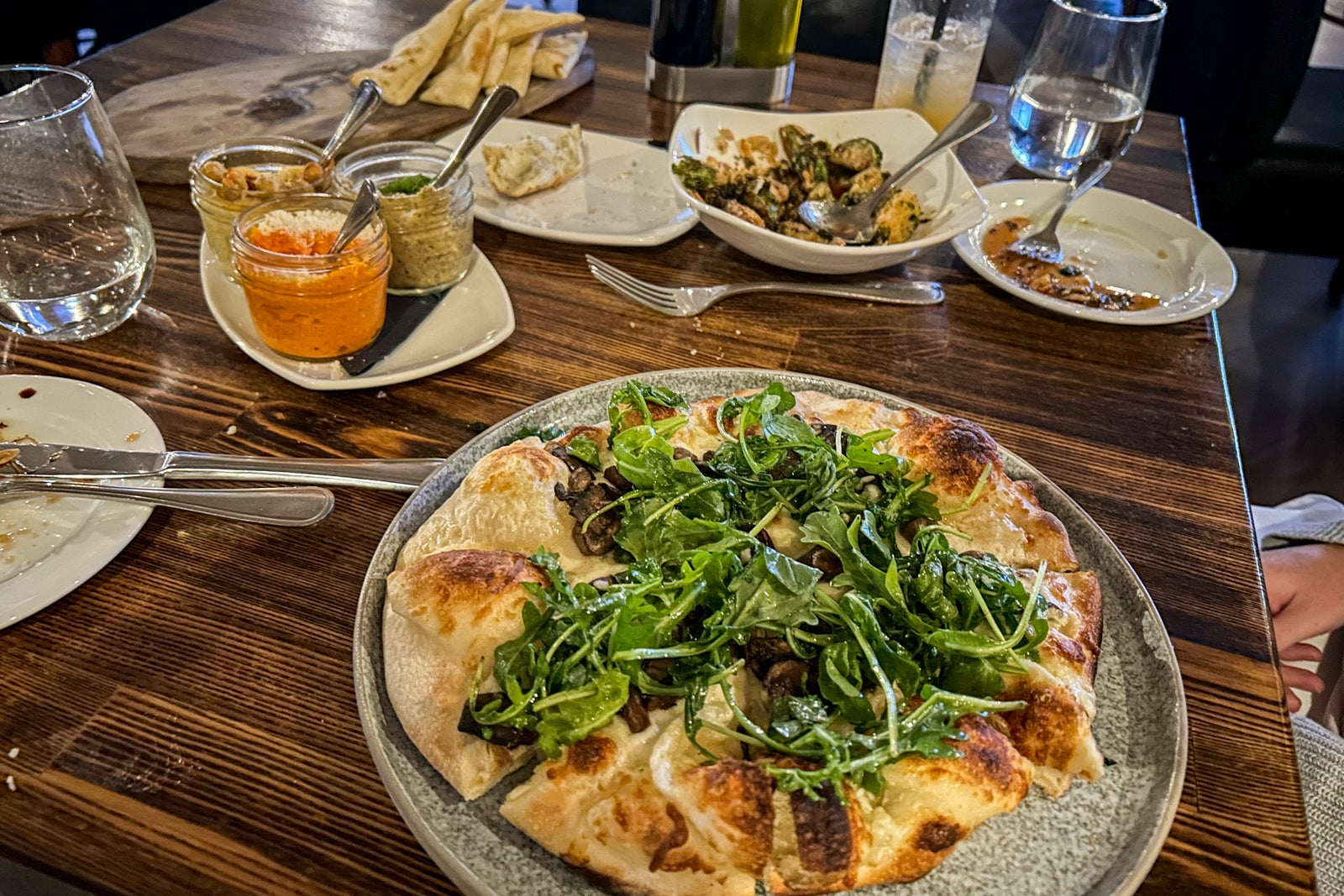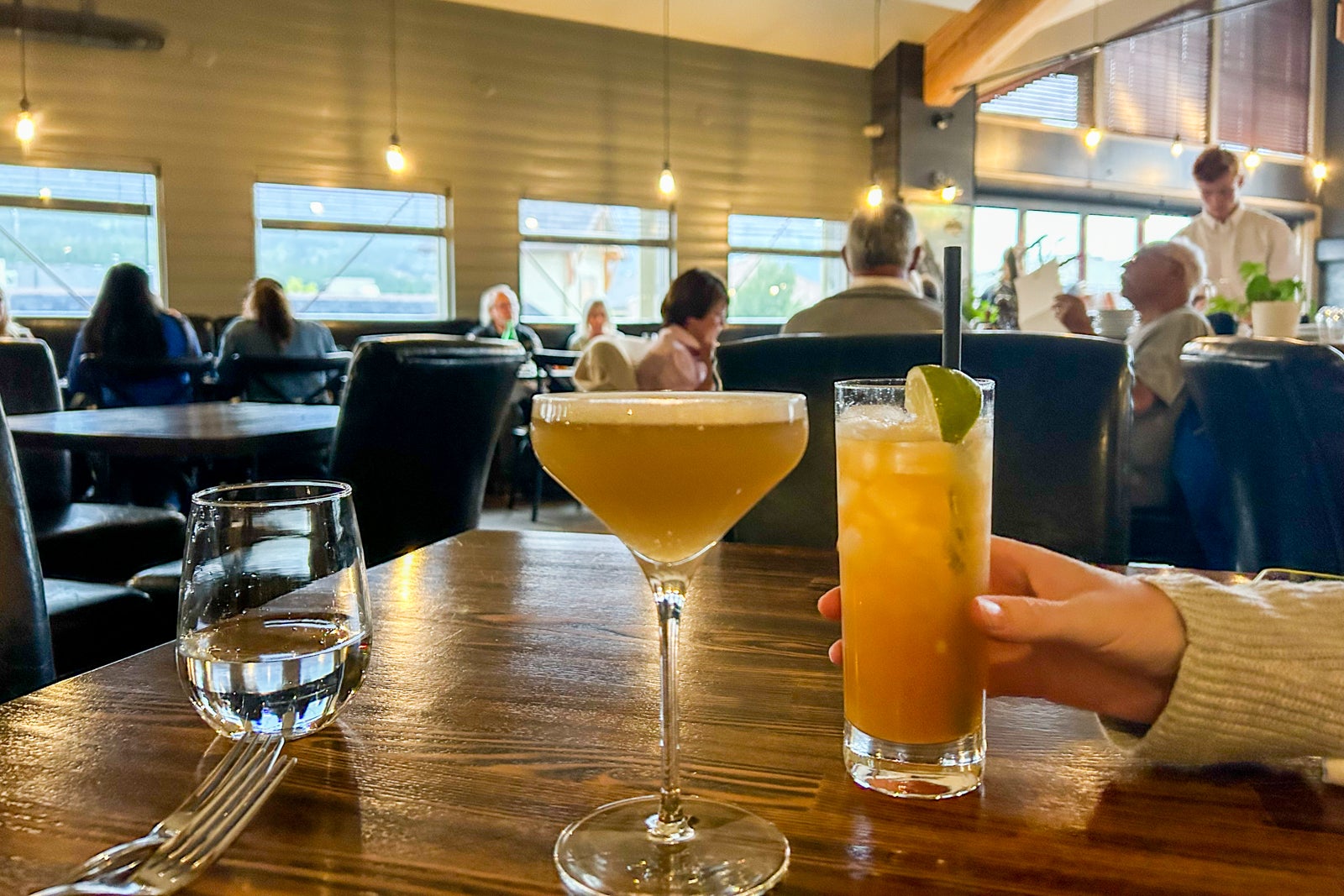 The Malcolm Hotel's on-site restaurant, Stirling Dining Room and Lounge, offers a similar vibe as well as outdoor creekside seating in the warm weather. Iron Goat Pub & Grill, about a five-minute drive from downtown, is also worth a stop if you're in search of nice ambience and mountain vistas.
Definitely make time to visit Where the Buffalo Roam Saloon, whether to eat dinner or just to enjoy an expertly crafted cocktail in an aesthetically pleasing space. We sat at the bar and ordered the High Violet — gin, grapefruit, honey vanilla syrup, lime and lavender bitters — and the East Tea — Japanese whisky, green tea, lemongrass ginger syrup and lime — for CA$16 ($12) each.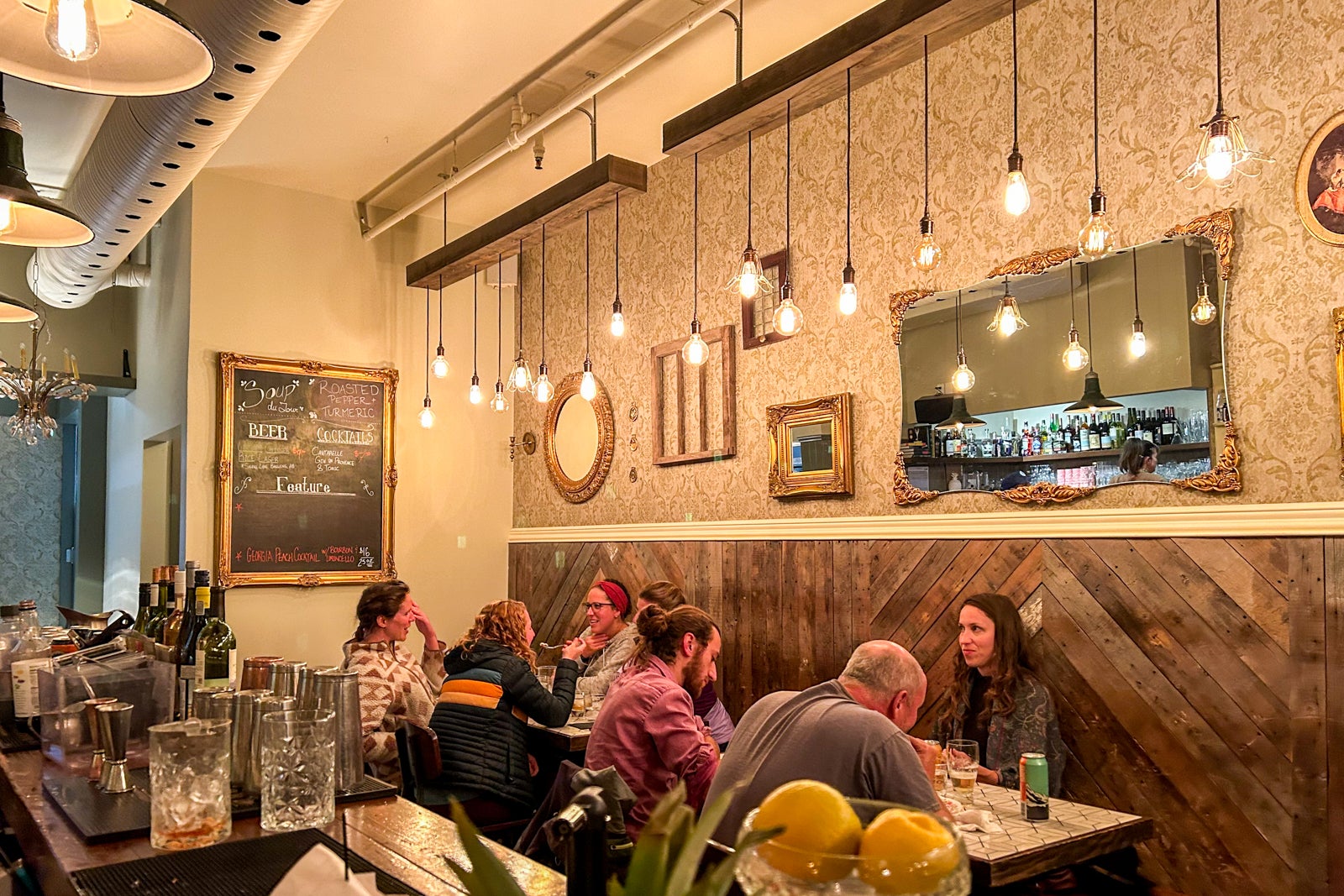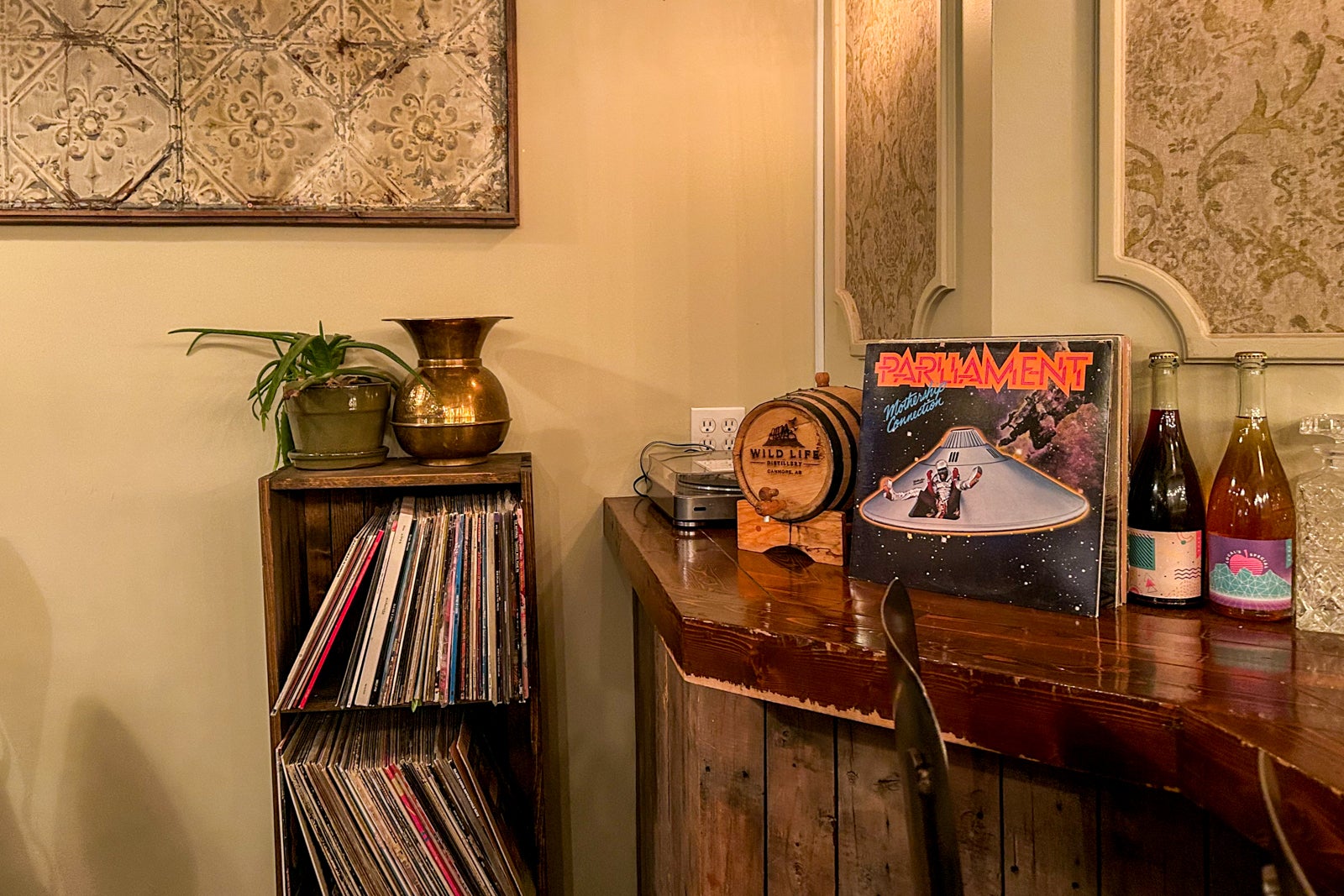 If you prefer beer, find local brews alongside panoramic mountain views at Blake Brewhouse and Distillery as well as at The Grizzly Paw Pub and Brewing Company's third-floor lounge Tank310.
There are a few fast-food chains in town — such as Dominoes, A&W and Subway — for those too exhausted from exploring to think about dinner, as well as multiple grocery stores within walking distance where you can stock up on snacks before a hike.
Things to do in Canmore during the summer
Hike
If you're coming to the Canadian Rockies to hike, you will revel in the opportunities that Canmore and nearby Kananaskis Country provide. The trails here are pristine and far less trafficked than those in Banff.
Even after seeing all that Banff had to offer, the 2-mile Grassi Lakes hike in Canmore was one of the best parts of my trip. On the journey up, I passed by cascading waterfalls and could look down over the Rundle Forebay Reservoir. Then, after climbing some sets of steep stairs, multiple neon lakes — the color of which I don't think I've ever really seen in nature before — were waiting to greet me.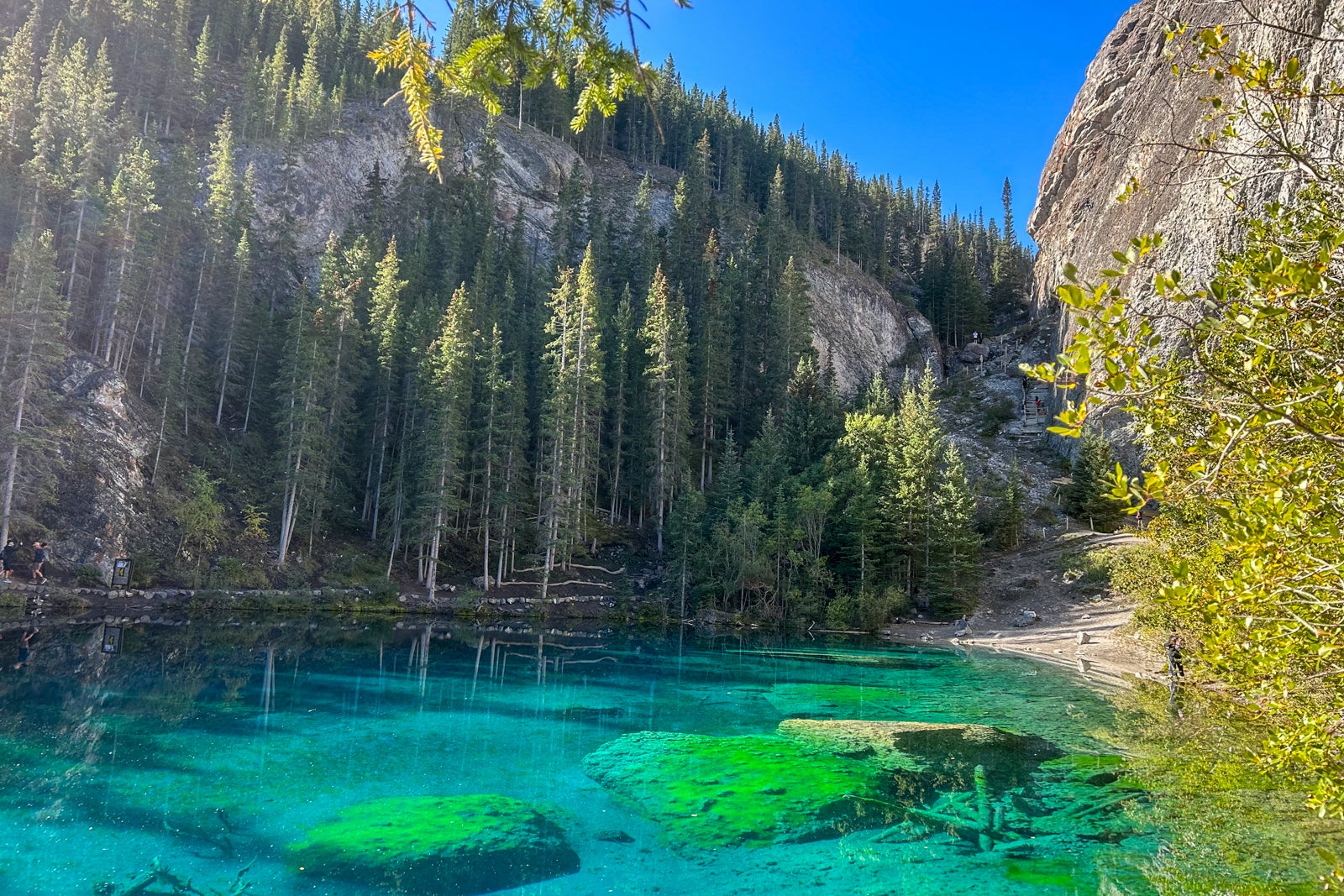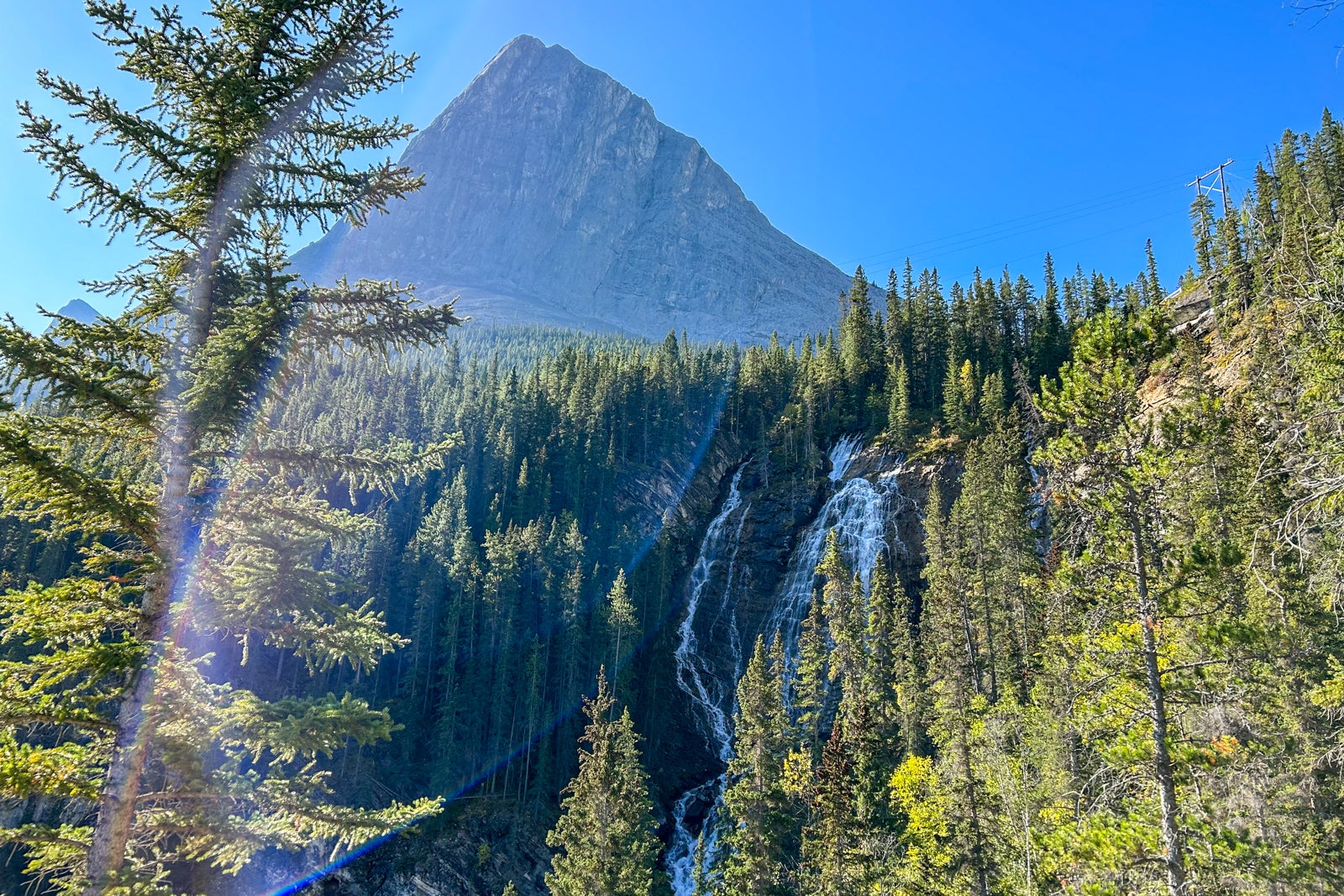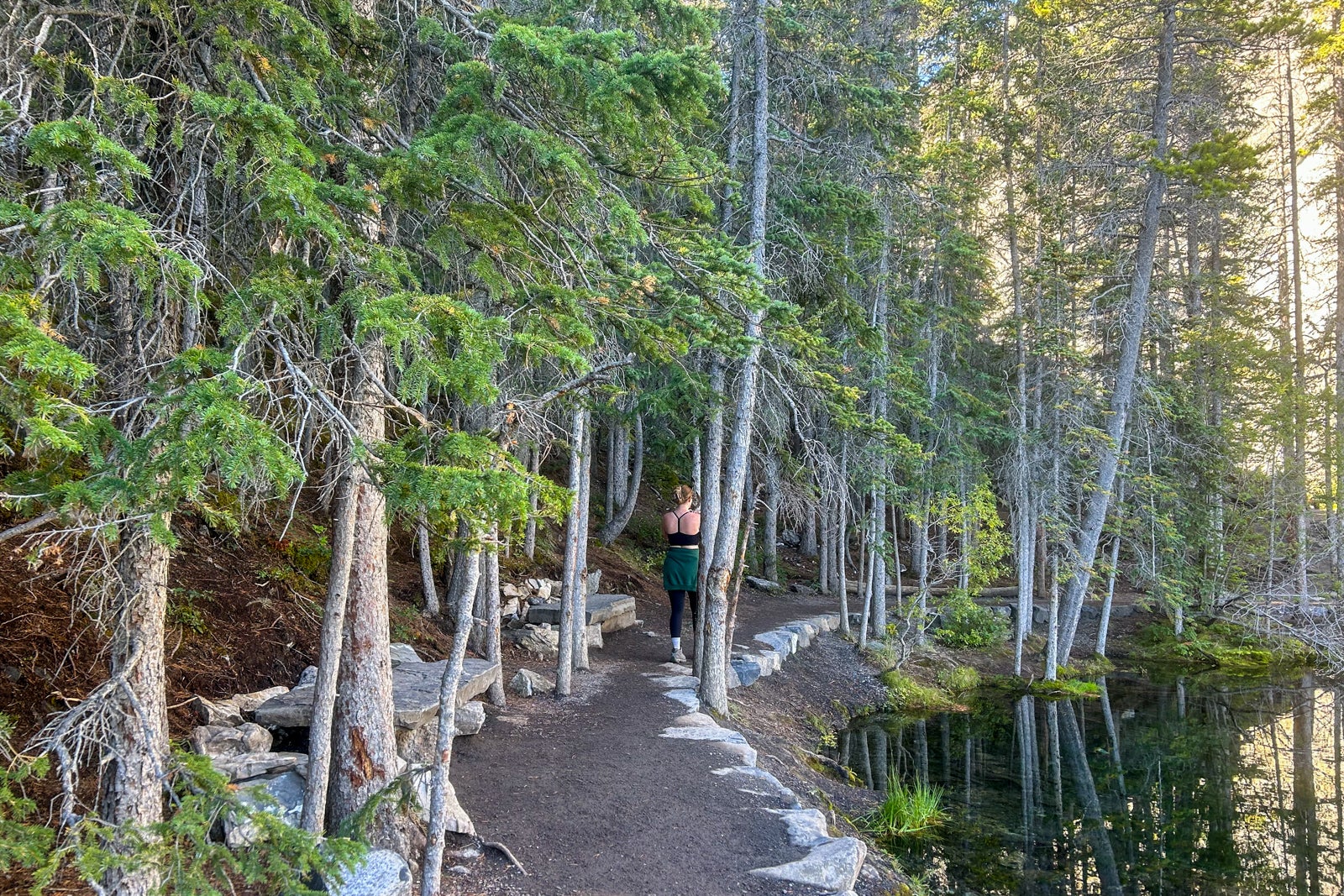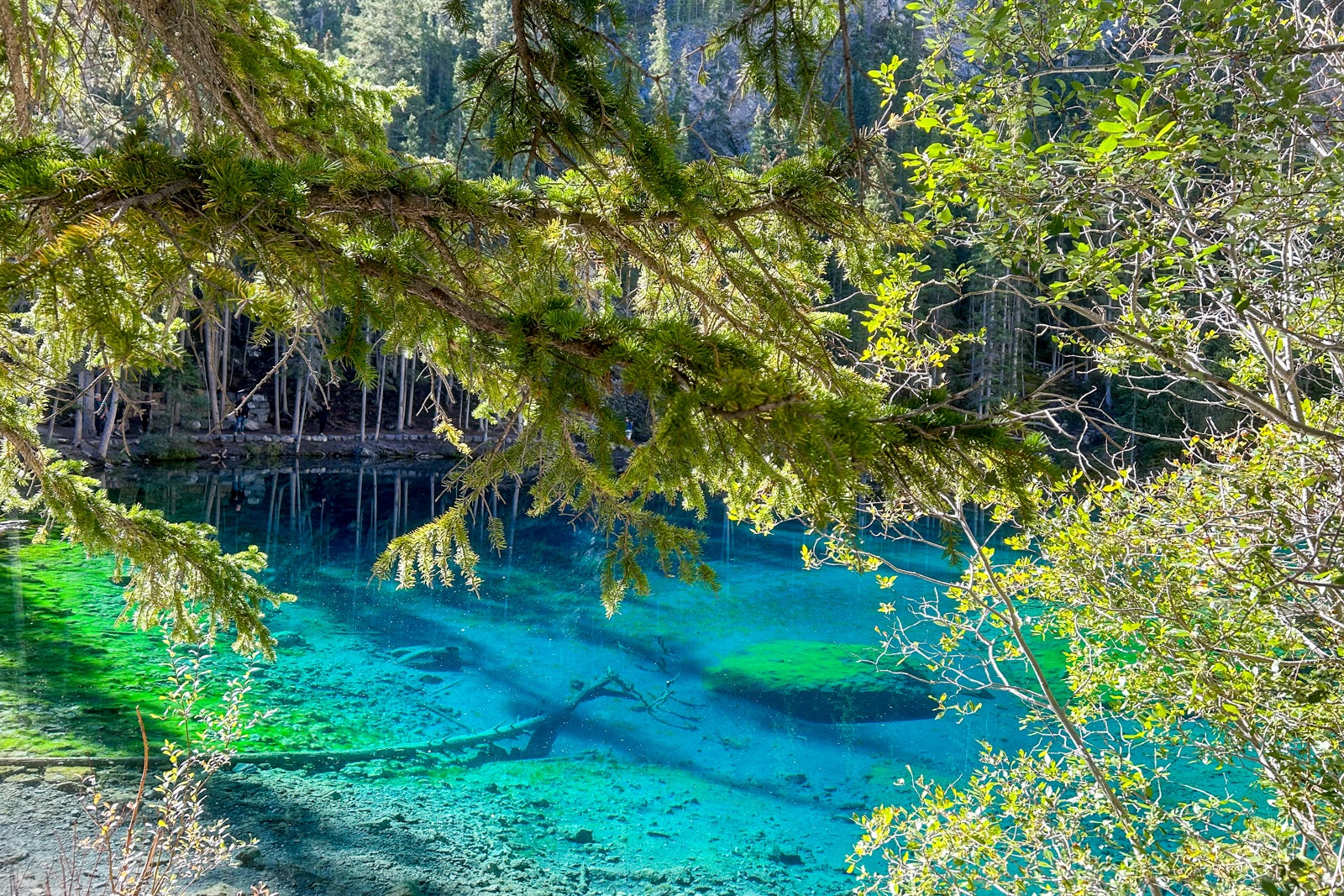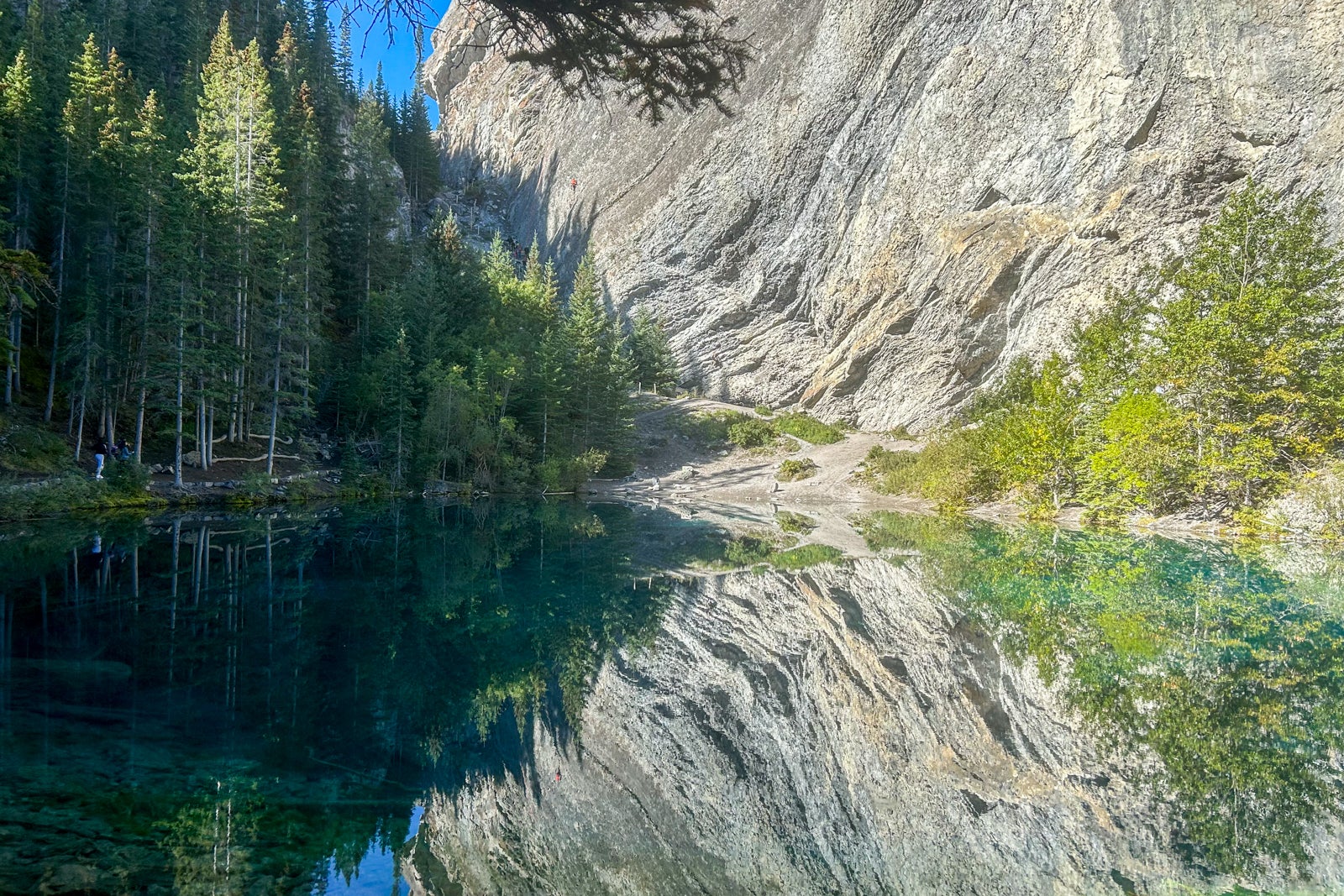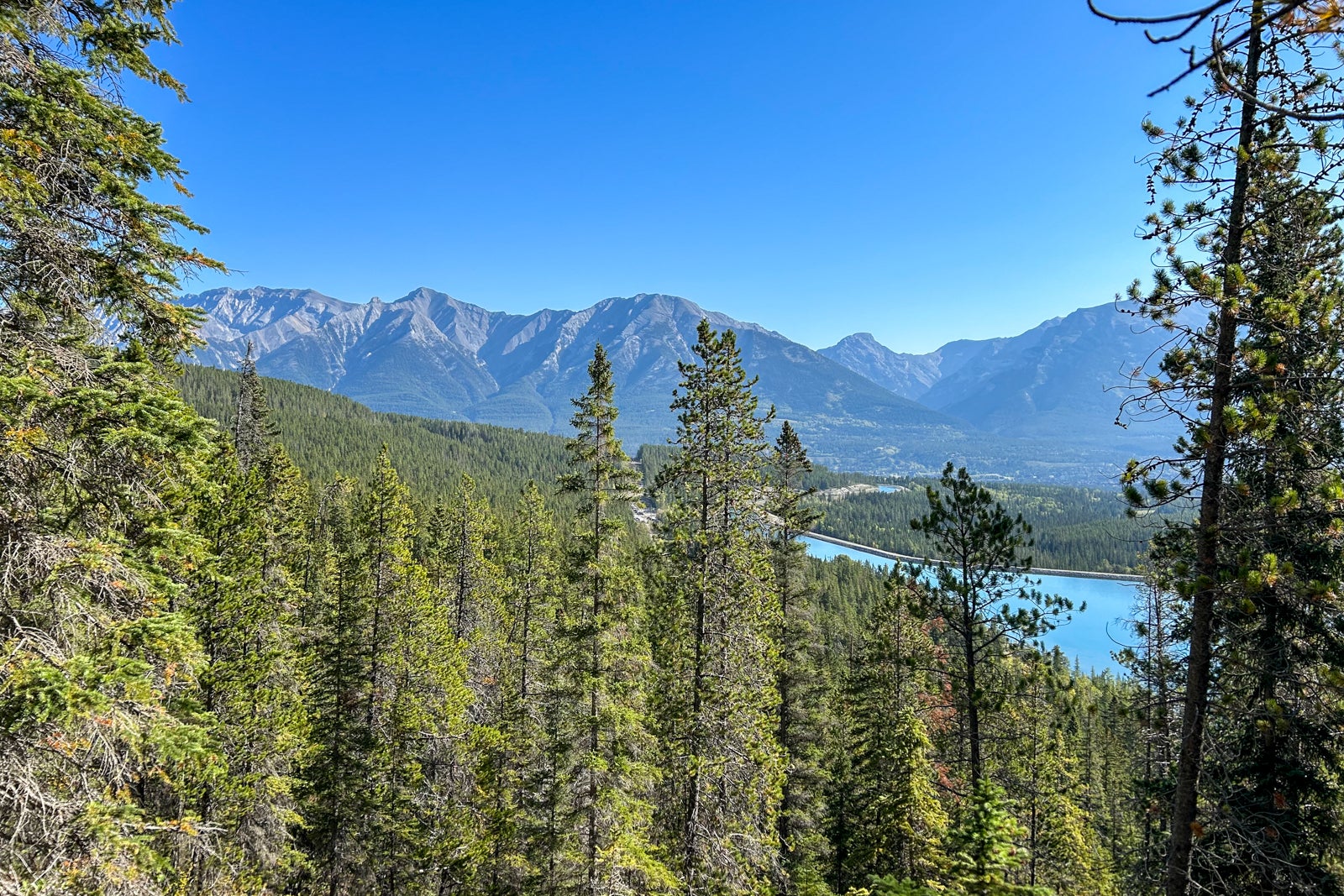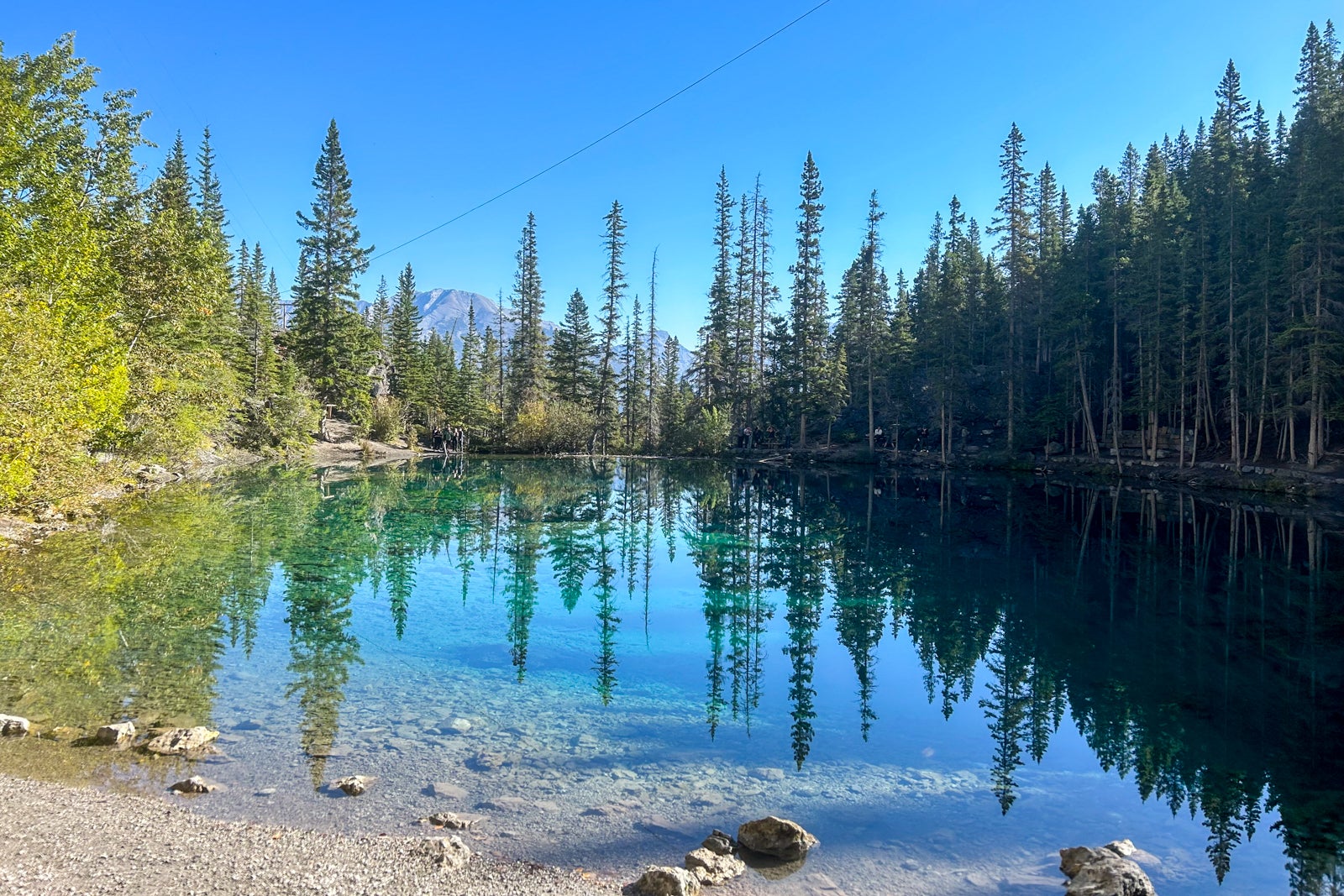 Walking trails circle the lakes, so you can take in the view from every angle. (You'll also likely witness climbers ascending and rappelling down the surrounding mountains.) It's a family-friendly hike and easy for a morning excursion. Pro tip: Start the loop trail on the left to enjoy constant scenery on the way up and a more paved, less rocky path on the way down.
Ptarmigan Cirque and Troll Falls are other easy area trails. If you're looking for something longer and more challenging, consider the Ha Ling Peak, Galatea Lakes or Sarrail Ridge via Rawson Lake trails.
Swim in Quarry Lake
Unless you visit in July or August, the water in Quarry Lake won't be warm enough to swim in for more than a few minutes. Even so, I decided to take a quick dip in the icy lake in mid-September, which was both fun and rejuvenating.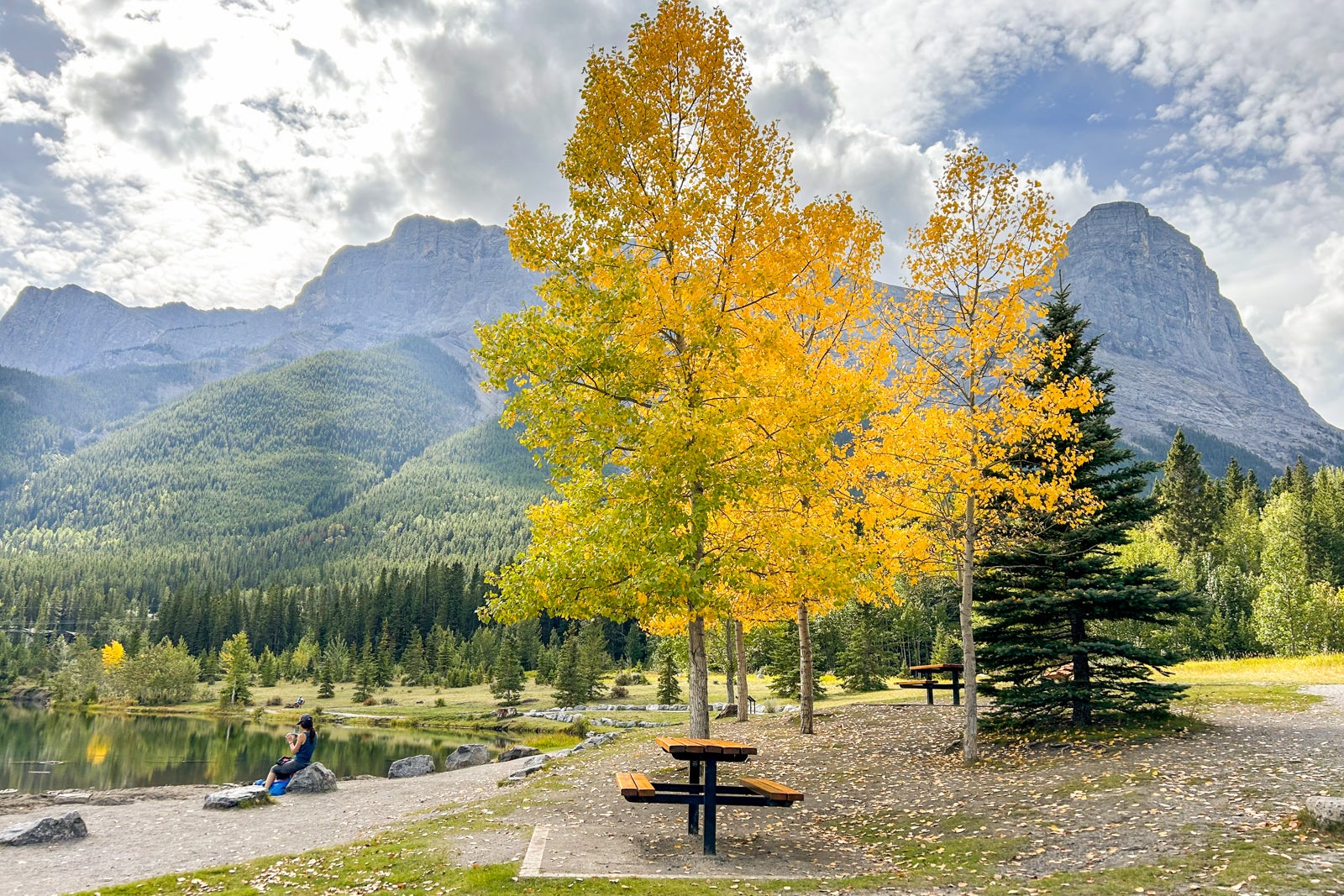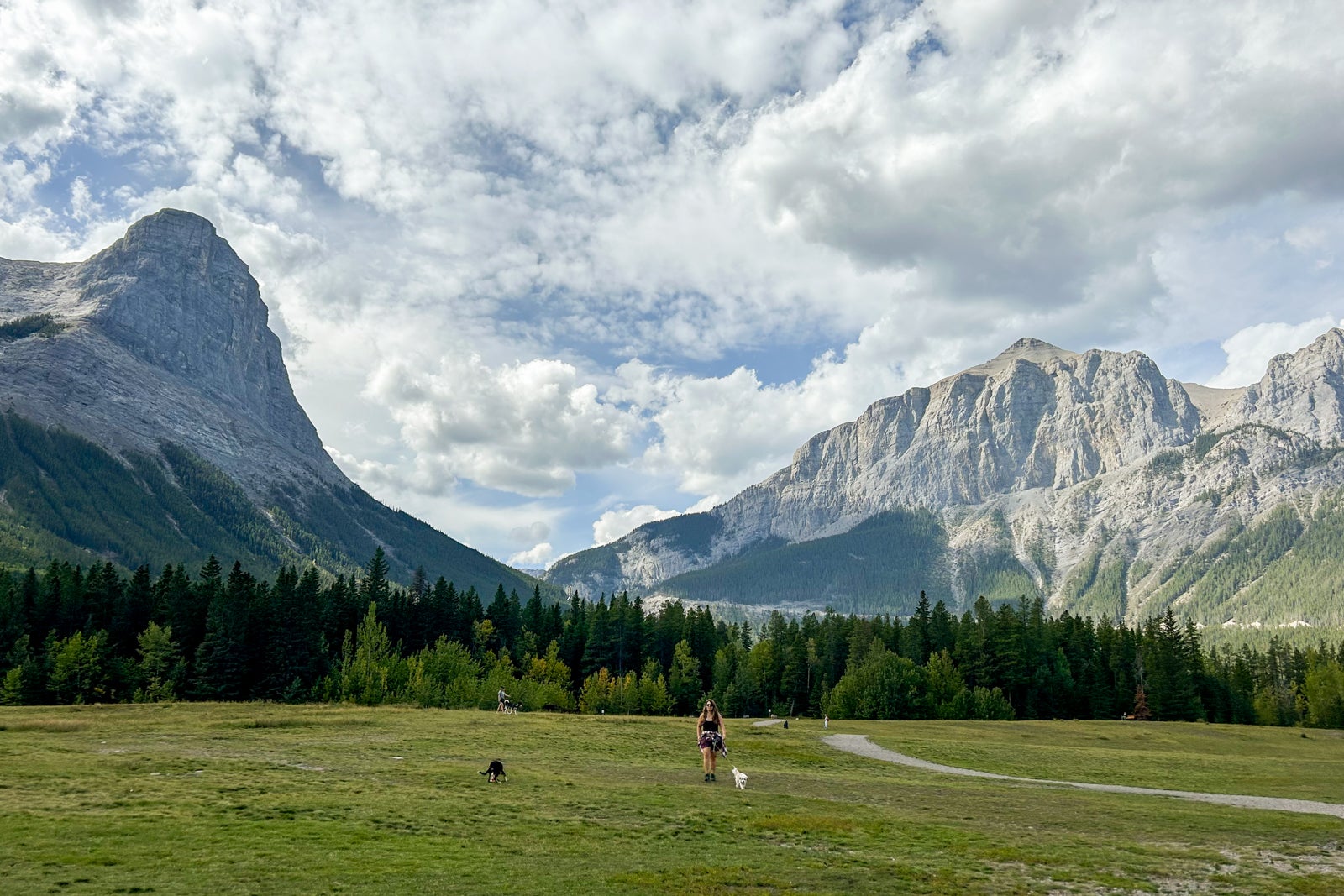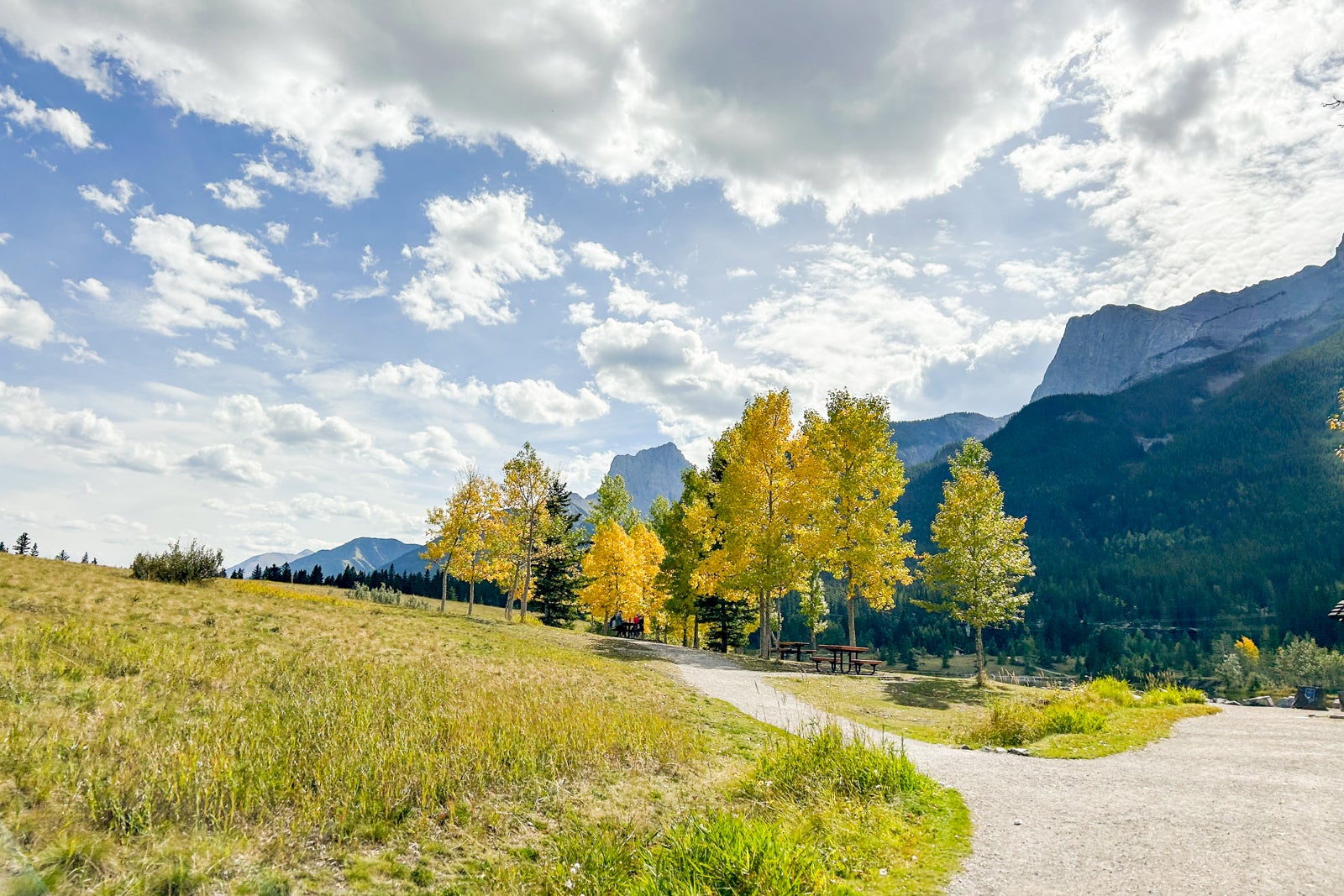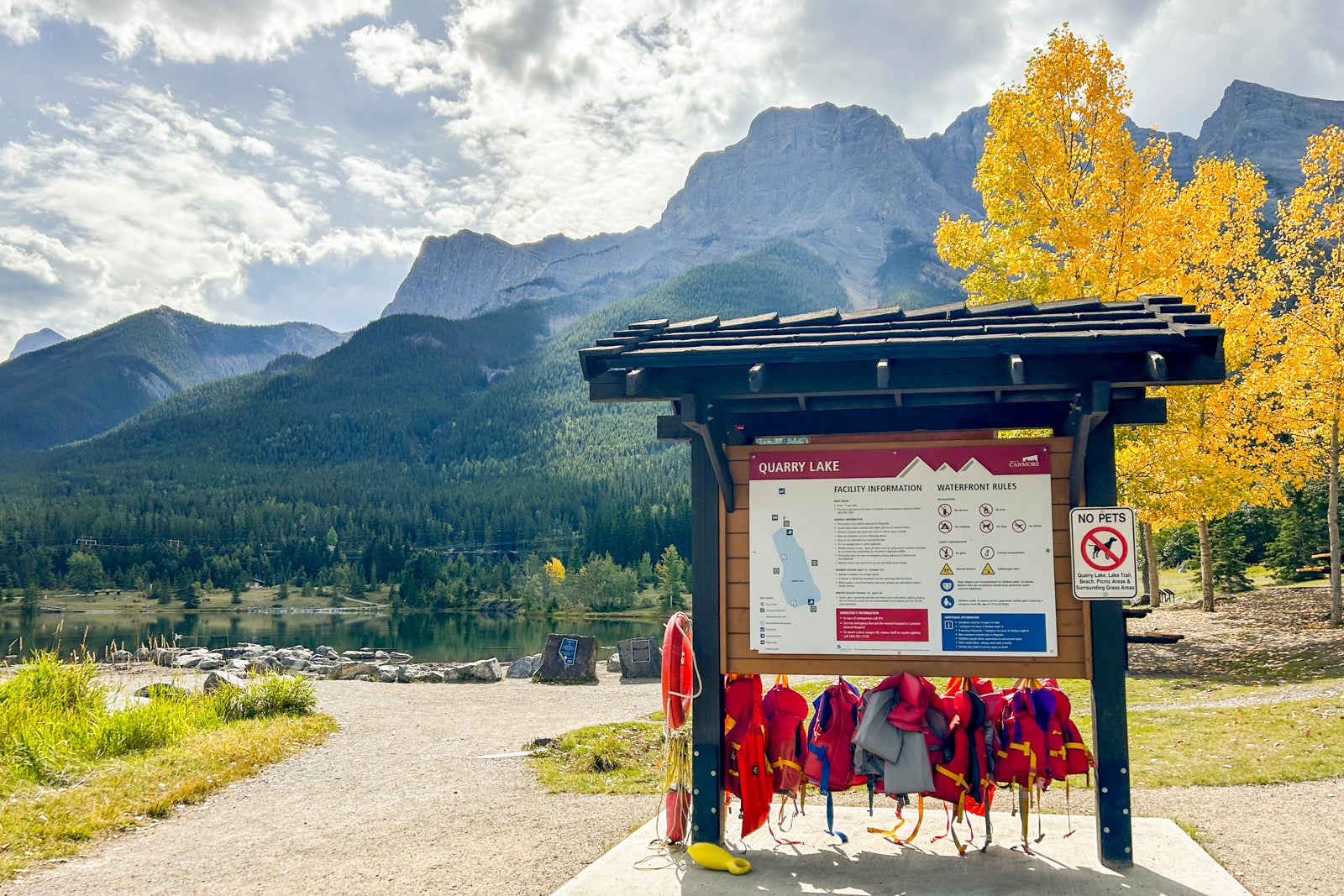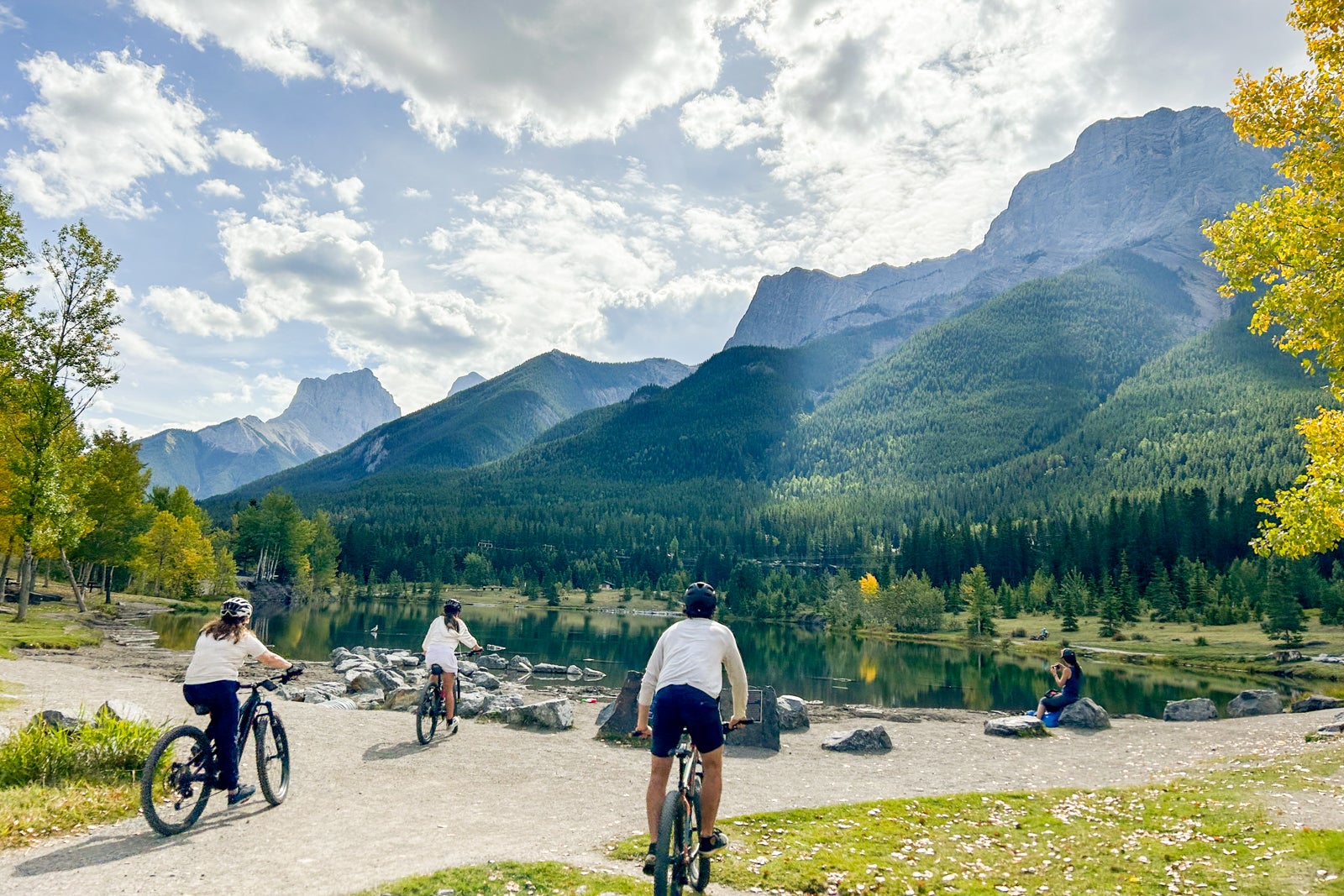 Even if you don't swim, Quarry Lake is the perfect place to come relax, mingle with locals or just enjoy the mountain scenery. There are plenty of picnic tables on the grassy area beside the lake as well as a gravel walking trail around the water. If you have pets in tow, there is also a large dog park near the parking lot. The easiest way to get here is by driving, but since it's just more than a mile from downtown Canmore, you could definitely walk or bike as well.
Go for a stroll
Travelers who aren't in the mood to hike but still want to explore on foot can enjoy the multiple scenic walking paths in Canmore.
From Riverside Park, walk the Higashikawa Friendship Trail along the turquoise waters of the Bow River to reach the Canmore Engine Bridge. This is where the bridge scene from "The Last of Us" was filmed, so fans can snap a photo of where Ellie and Joel stood. (The entire town of Canmore was used as the setting for Jackson, Wyoming, in the show, so you might recognize some other spots as well.)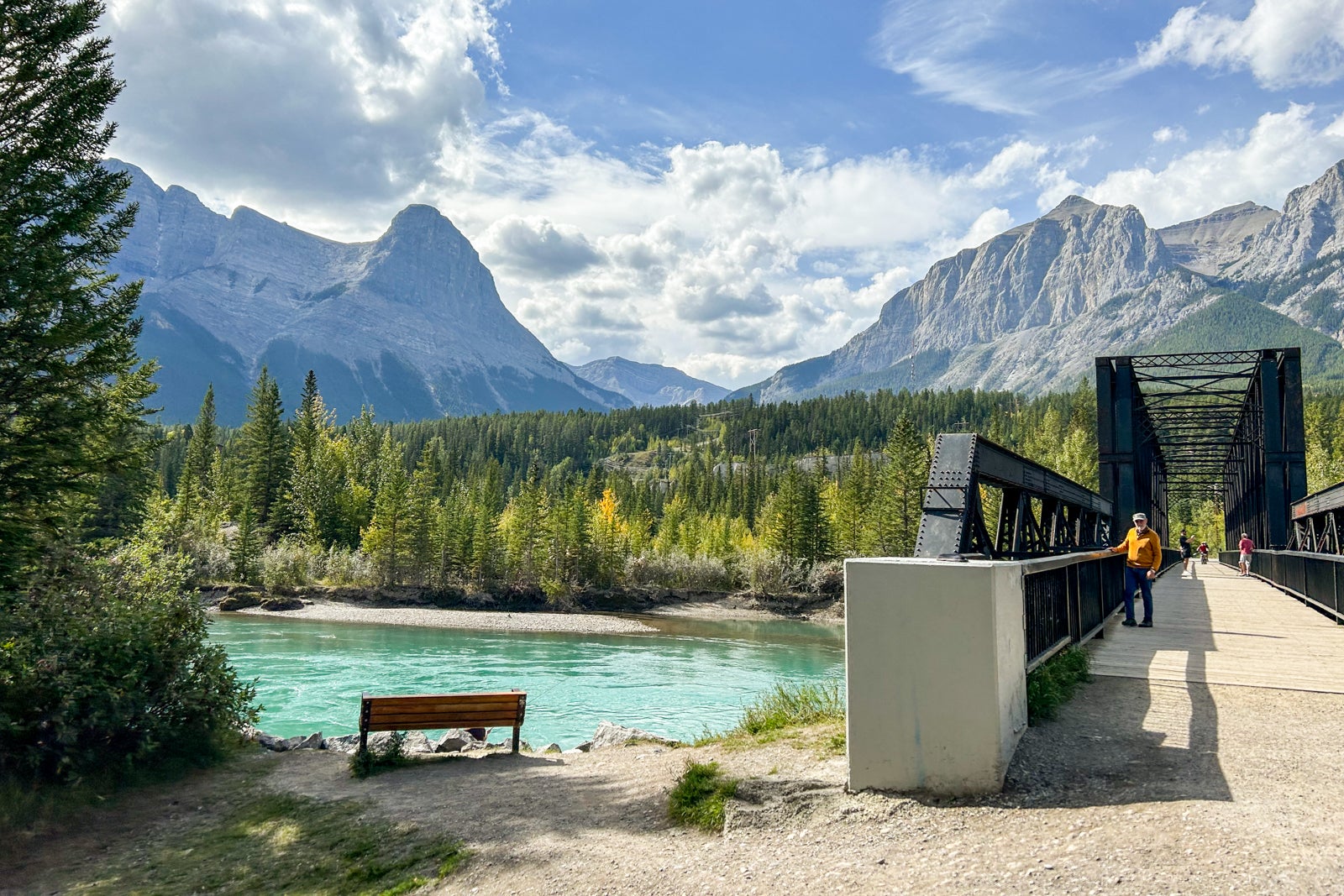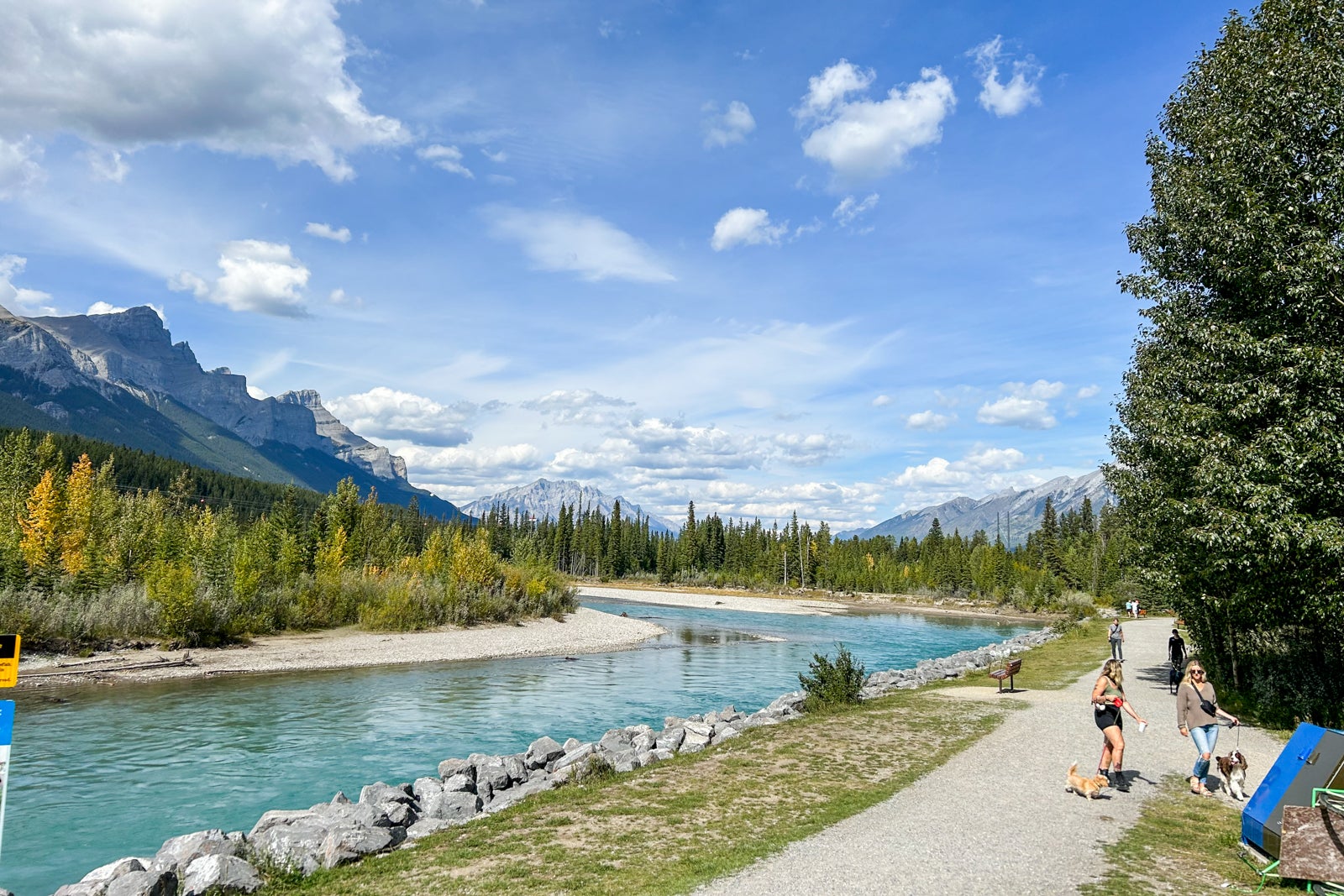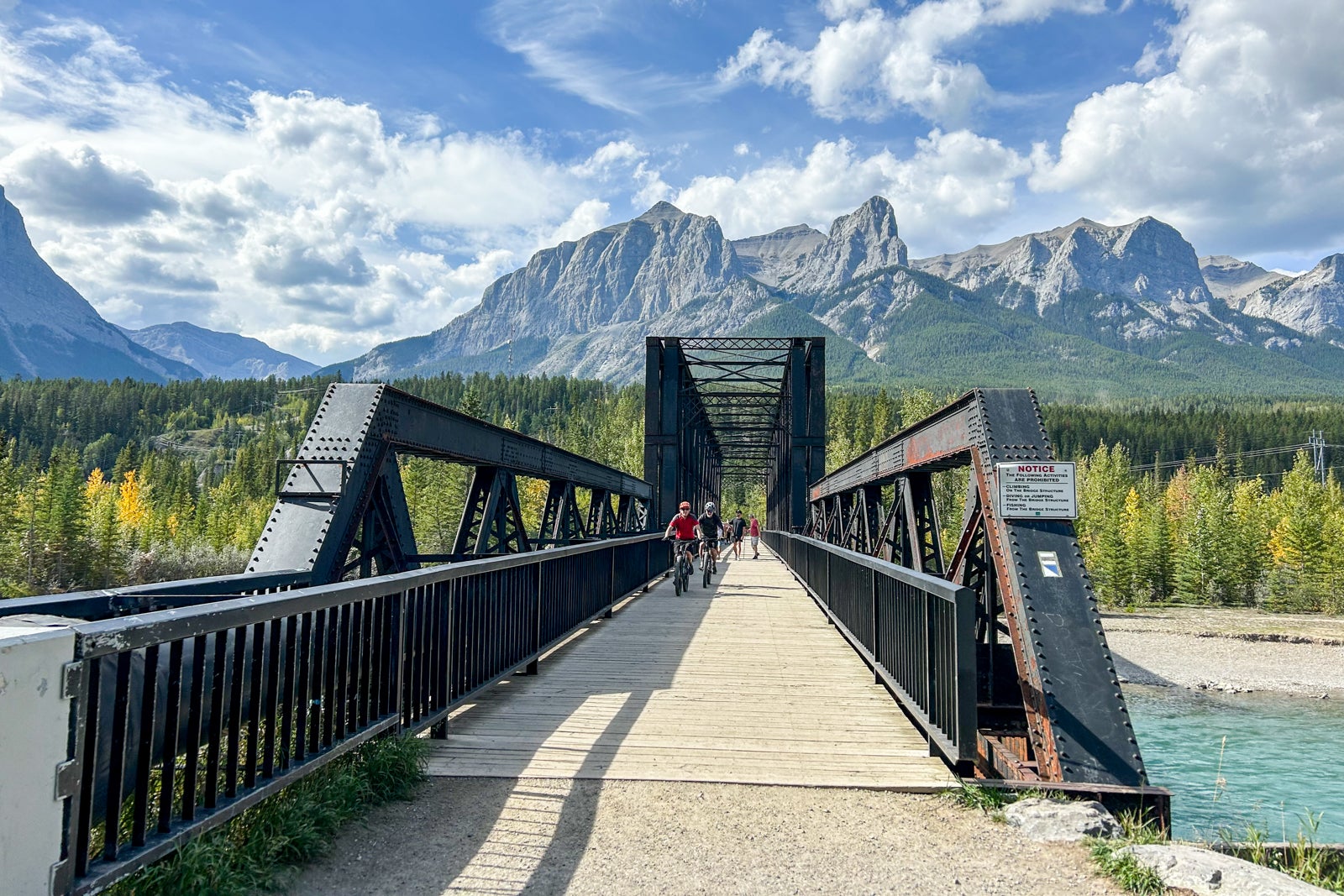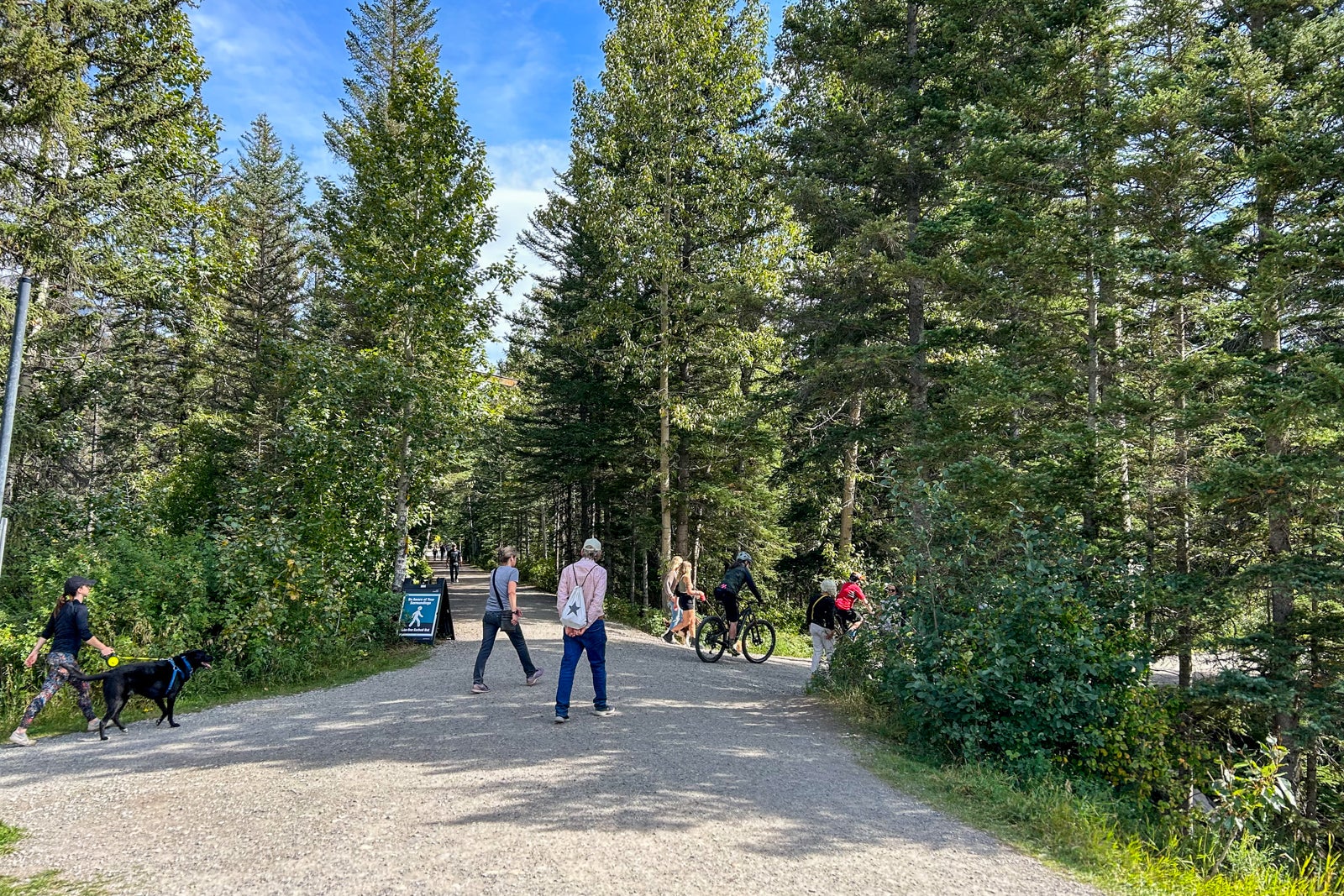 Another solid walking option is Policeman's Creek. This 2.5-mile out-and-back boardwalk path runs alongside the creek and weaves through forested areas. It's the perfect setting for a morning stroll before getting coffee or breakfast in town.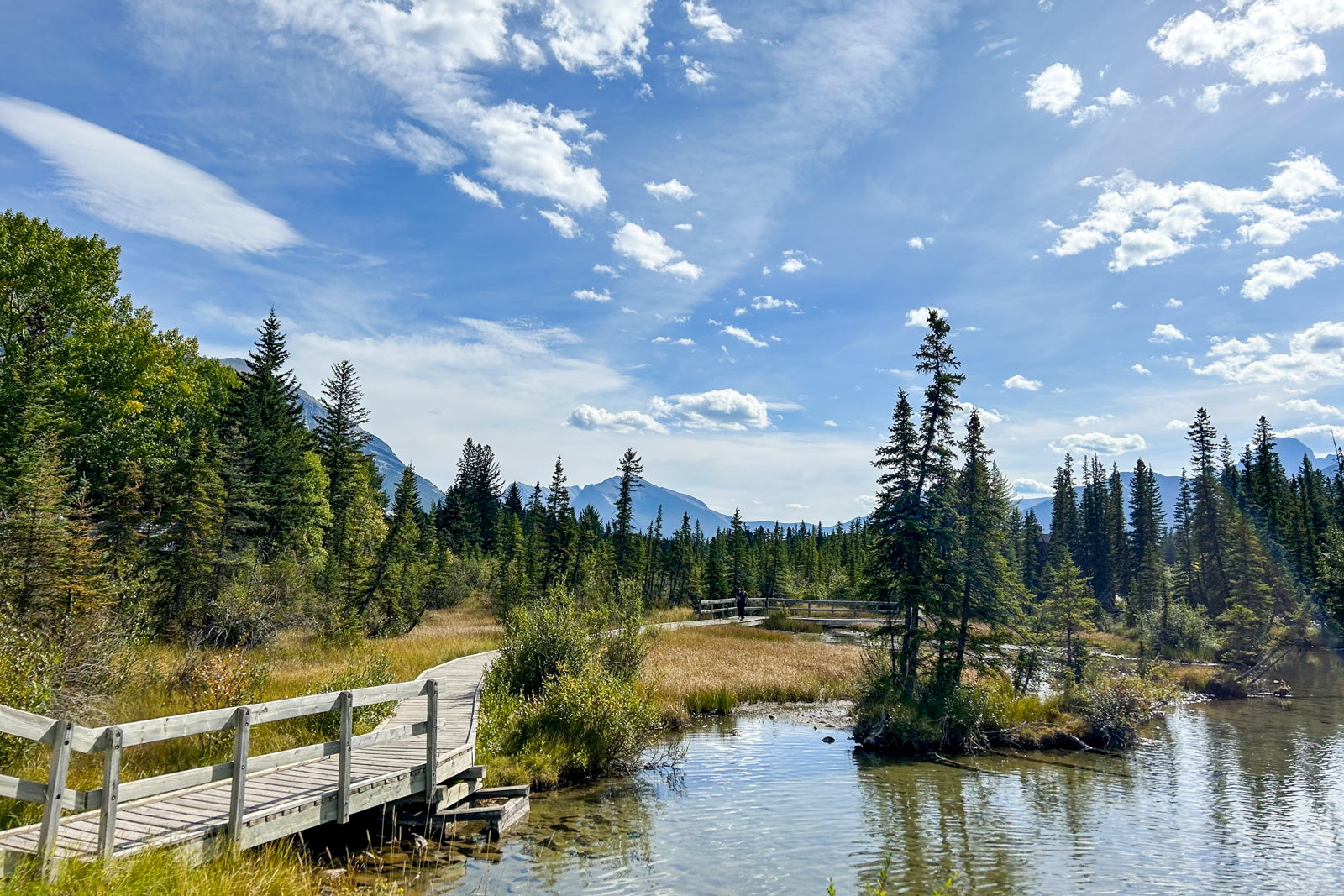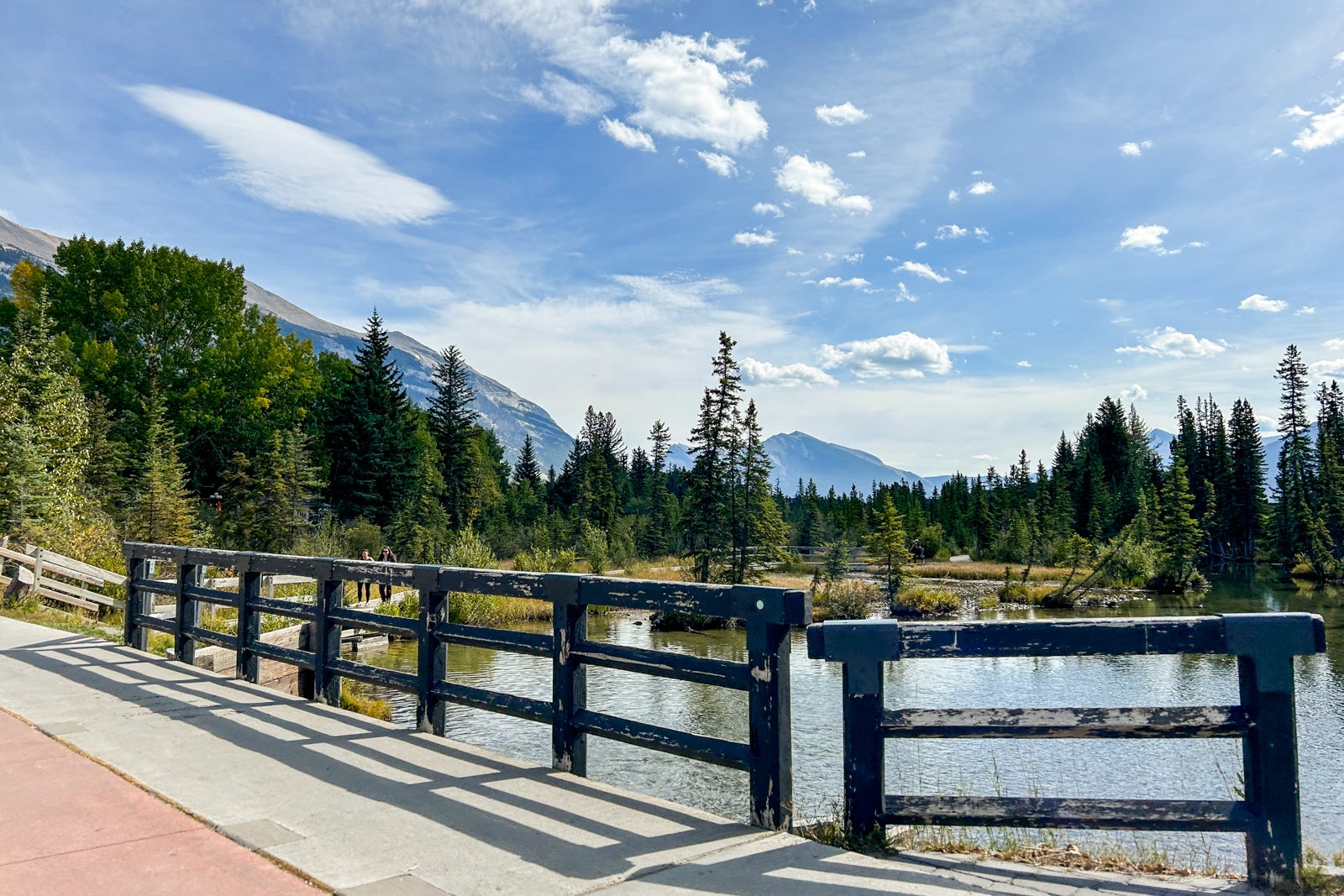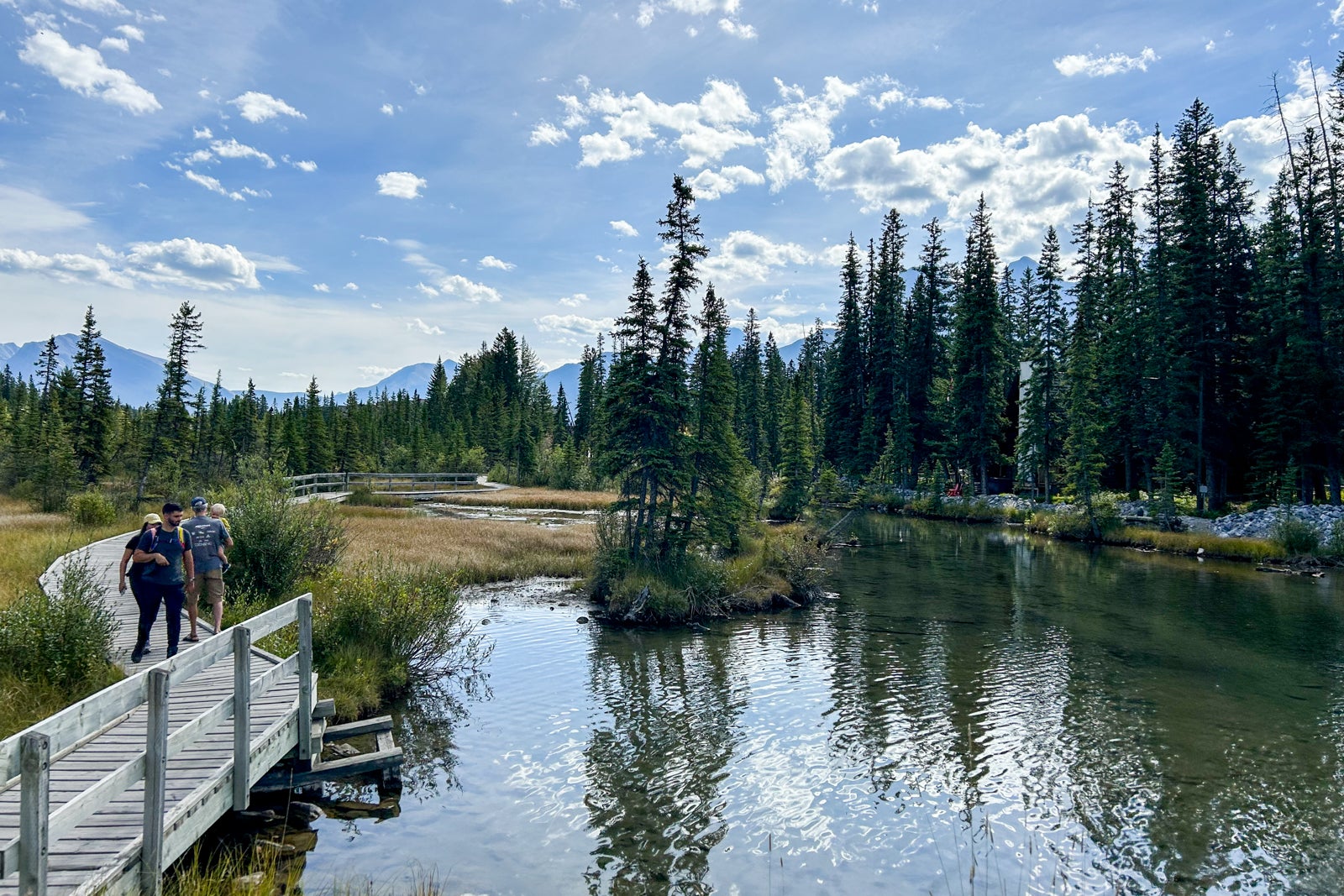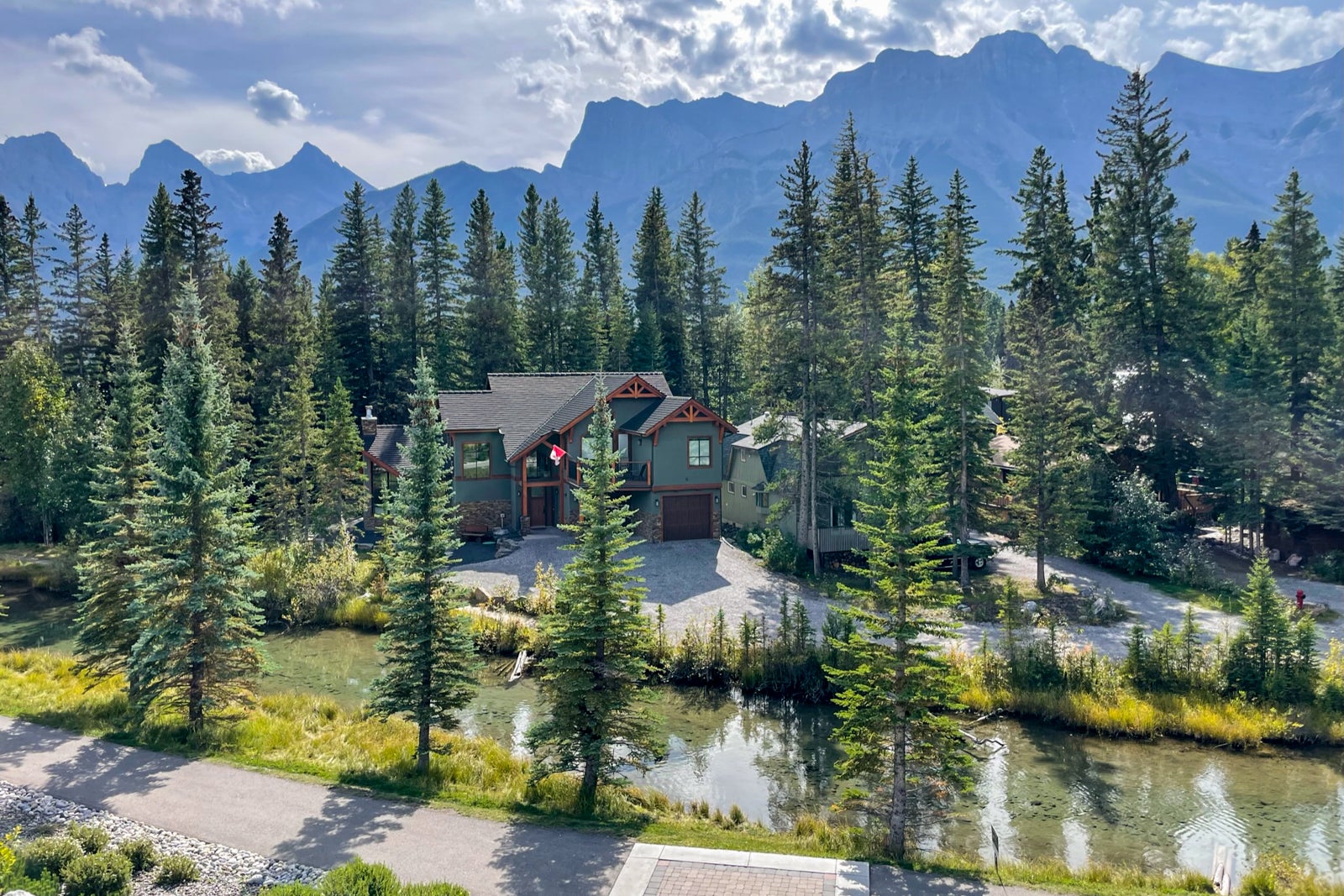 Take a guided tour
Travelers in need of an adrenaline rush should consider taking a guided adventure tour in the Canmore area.
You can book a whitewater rafting trip through Discover Banff Tours. Guides will bring you down the Kananaskis River for Class 3 rapids, through Horseshoe Canyon for Class 3 to 4 rapids, or along the Kicking Horse River for Class 4 rapids. Prices usually start at CA$120 ($87) per adult.
Or, explore the world beneath Canmore on an underground cave tour through Rat's Nest Cave — one of Canada's longest caves at about 2.5 miles. It sits about 4 miles east of Canmore. Learn about the caves' formation from your Canmore Cave Tours guide, discover fossils, and descend past stalagmites and stalactites to eventually reach an underground grotto. Tours normally last at least four or five hours and cost CA$150 ($109) or more per person.
If the sky is more your style, opt for a helicopter sightseeing tour above the Three Sisters — the area's famous mountain trio — or Mount Assiniboine. Prices depend on the length of your tour but start at around CA$290 ($210) per person.
Browse the art galleries and shops
Just by walking around town, you can tell Canmore is a haven for artists. There are colorful murals on the sides of buildings, and the streets of downtown are brimming with art galleries. They feature work by local artists, and the friendly gallery owners all seemed very eager to share the art with patrons. Even if you don't plan on purchasing any art, their enthusiasm lends an overall excitement to the browsing experience.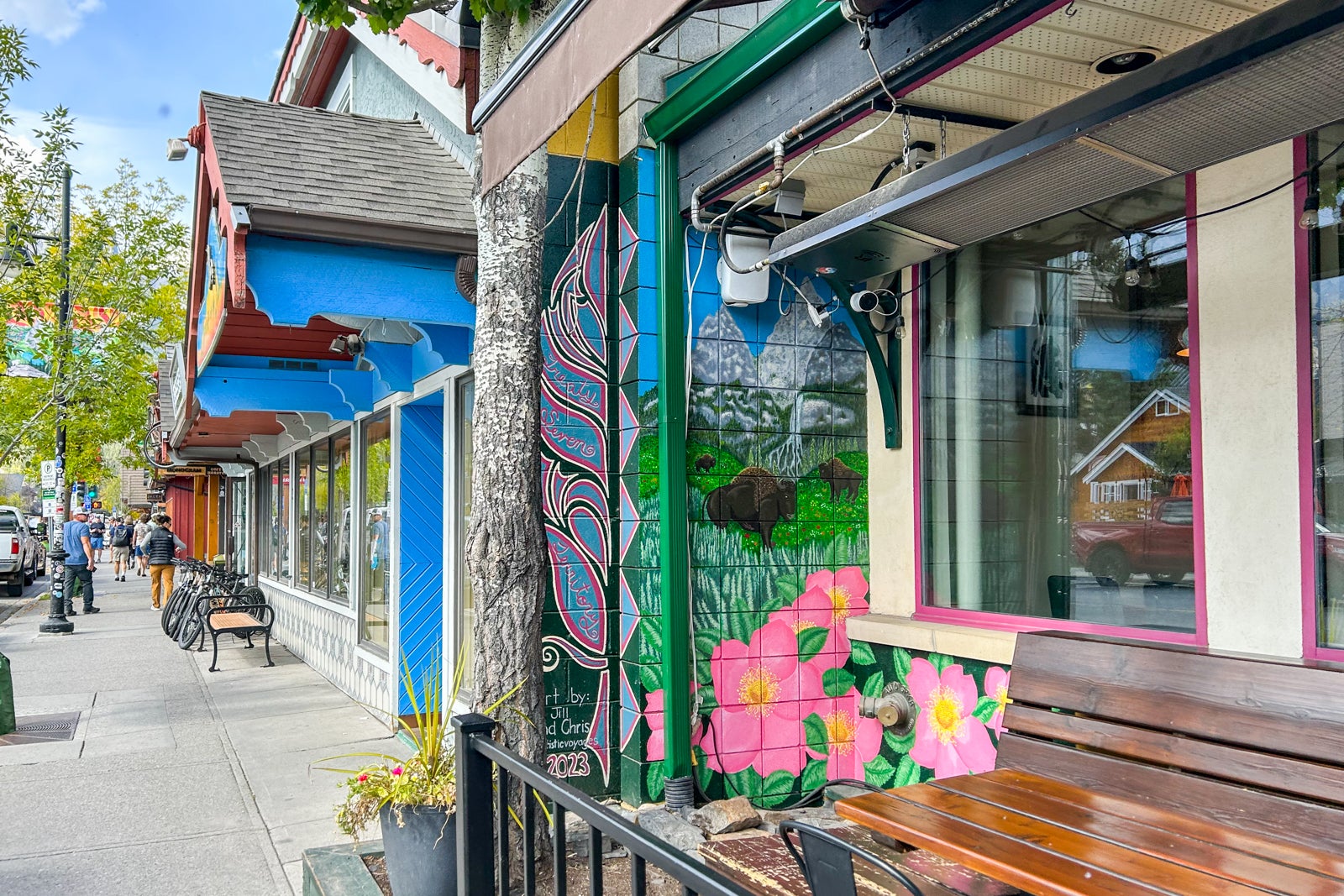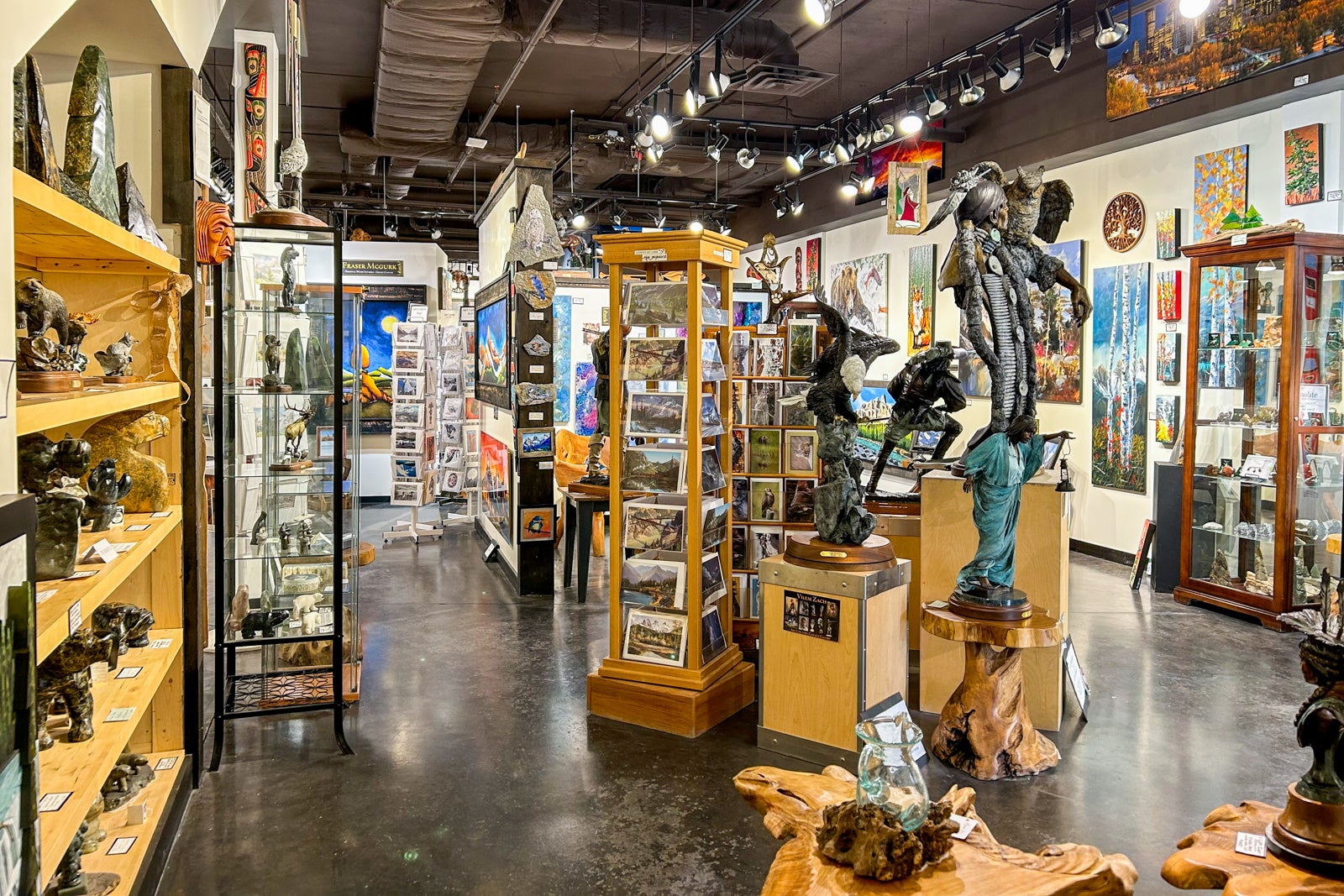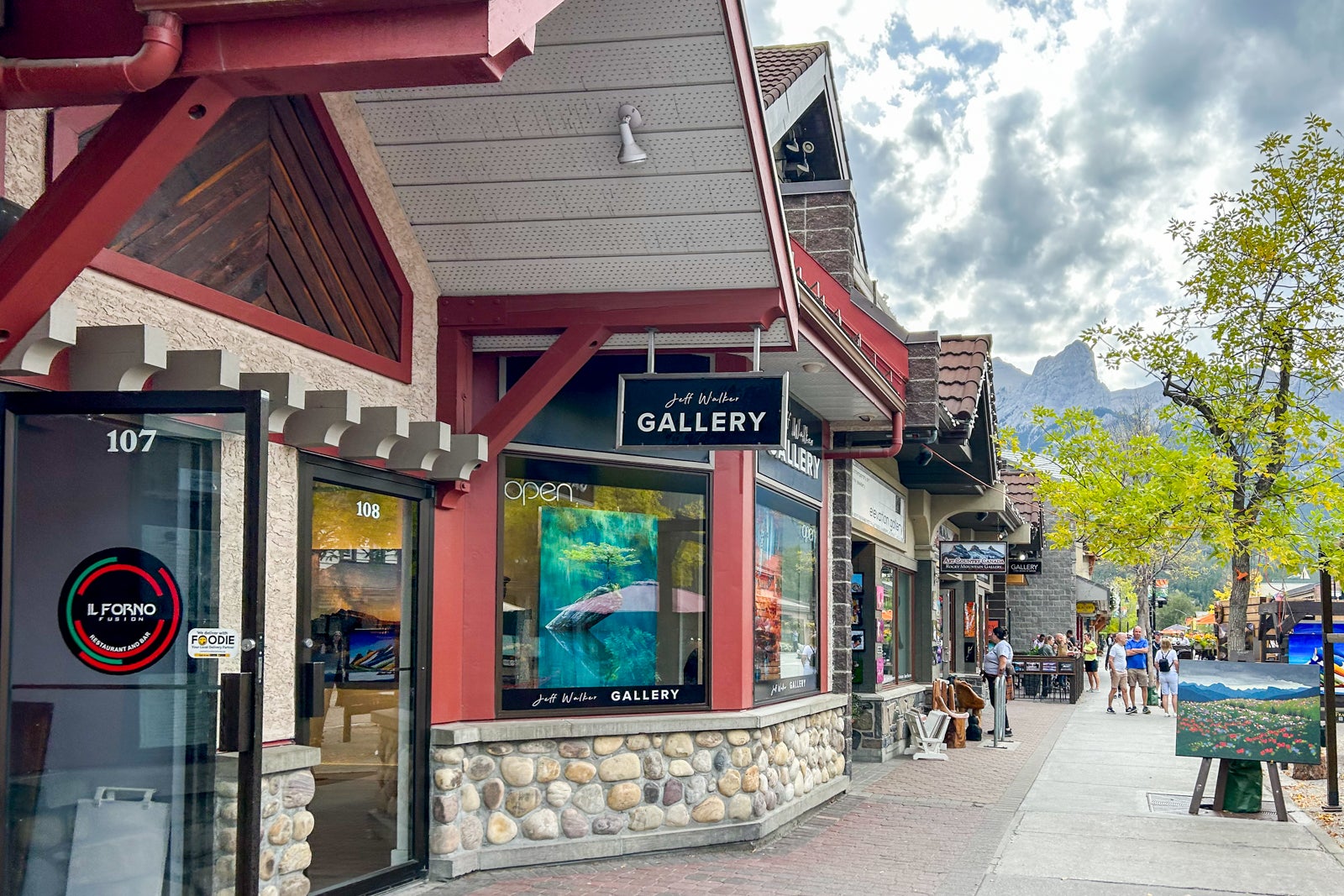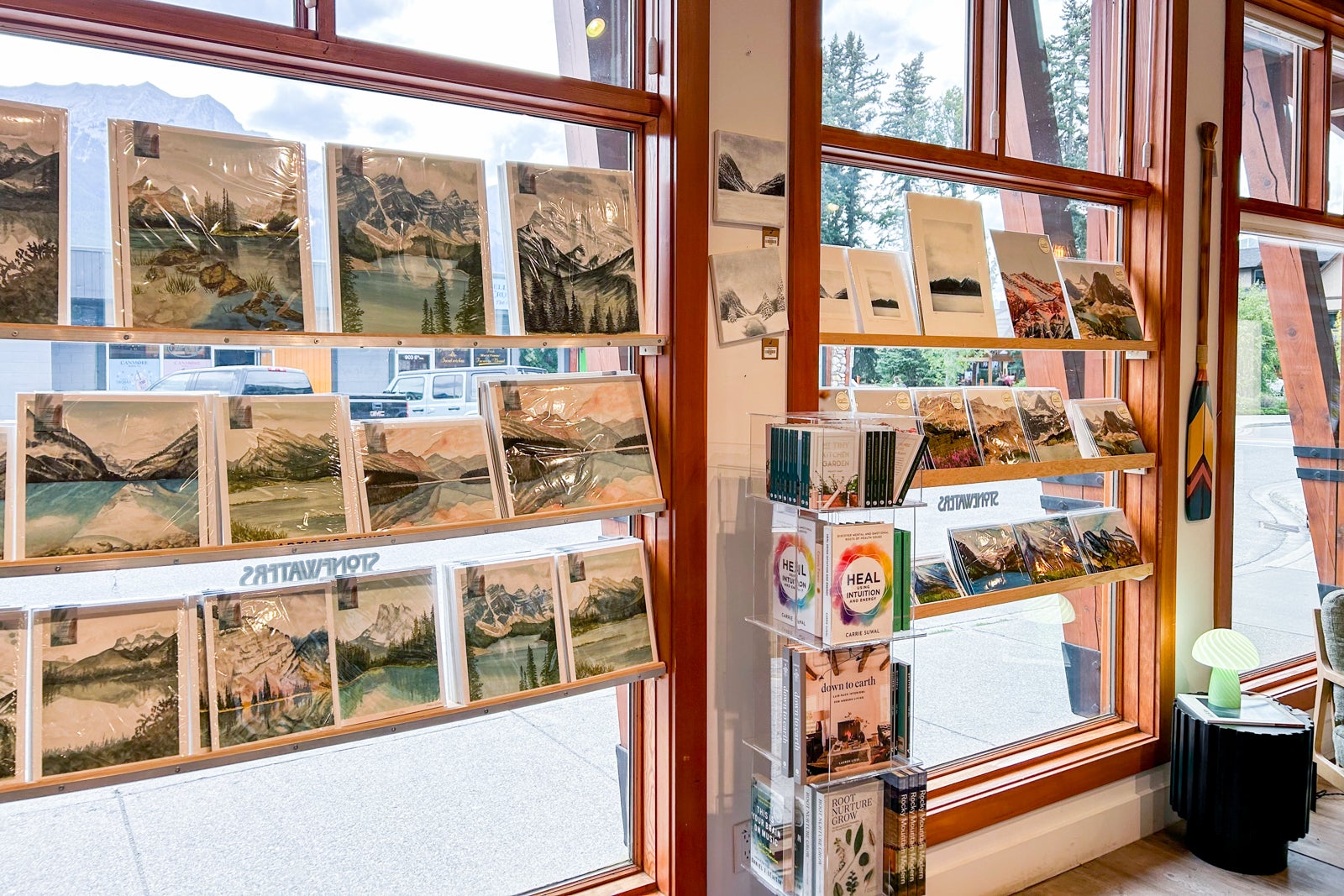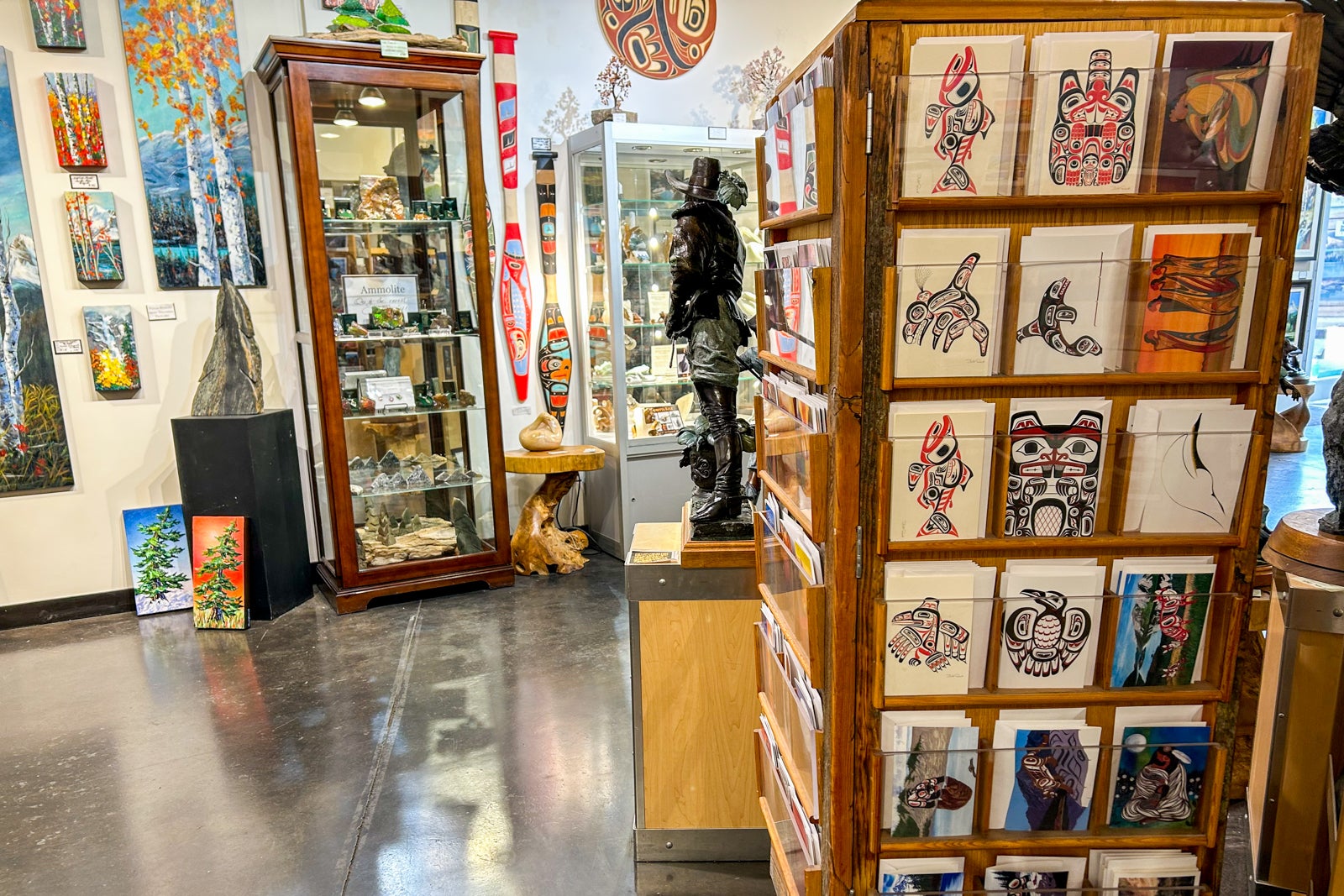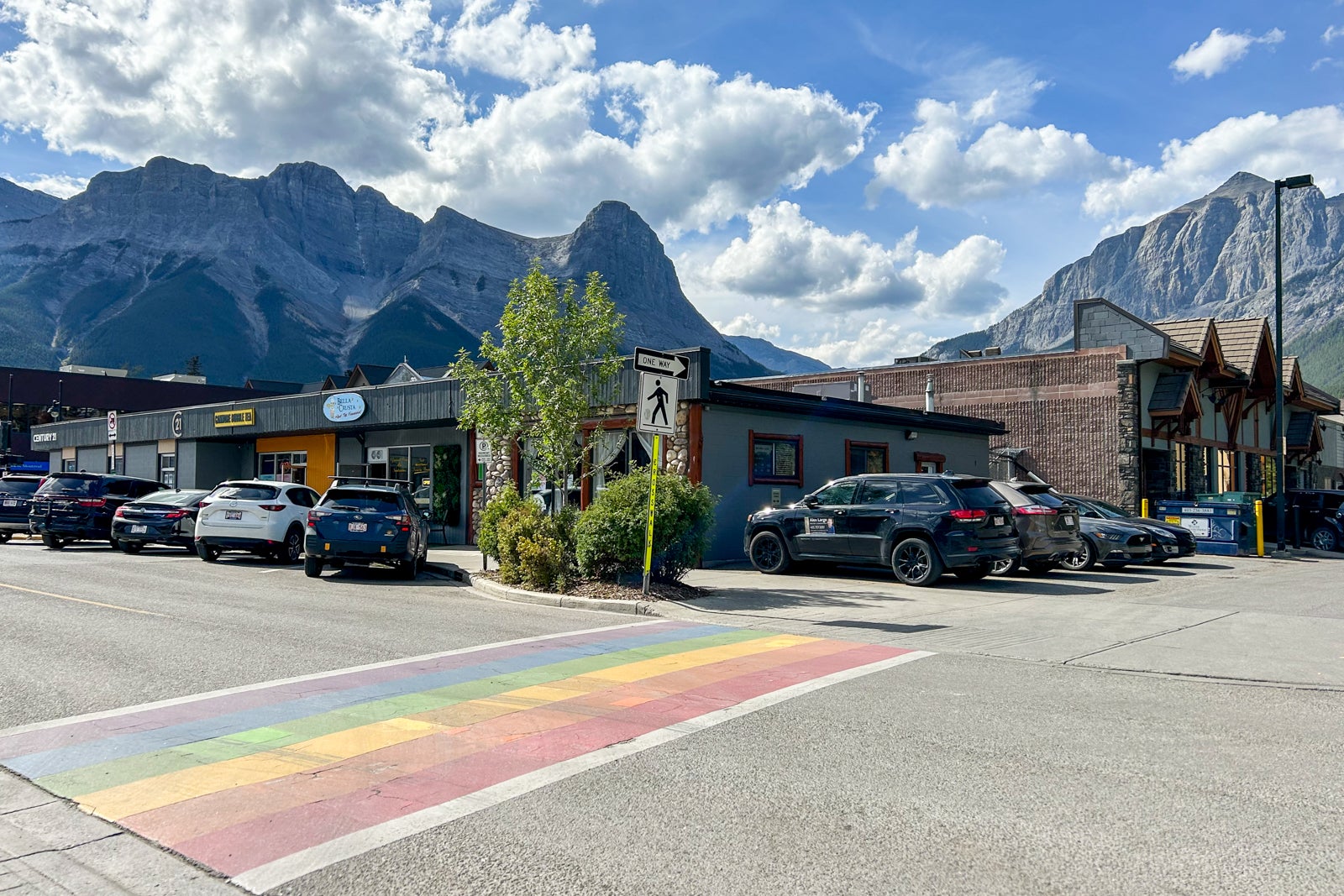 At Carter-Ryan Gallery and Live Art Venue, you can admire the paintings of Indigenous artist Jason Carter and even catch a theater production if you visit on a show day. Visit Elevation Gallery for a look at some modern art, Avens Gallery for mixed media art by Western Canadian artists and All in the Wild gallery for nature photography highlighting the Canadian wilderness.
It's also worth stopping at the Canmore Museum to see some more art as well as other exhibits about the area's history.
After you've gotten your fill of artwork, pop into the eccentric bookstore, Cafe Books (one of my favorite stops), to browse some unique titles, or head to Rocky Mountain Soap Company for handcrafted soaps and skincare products.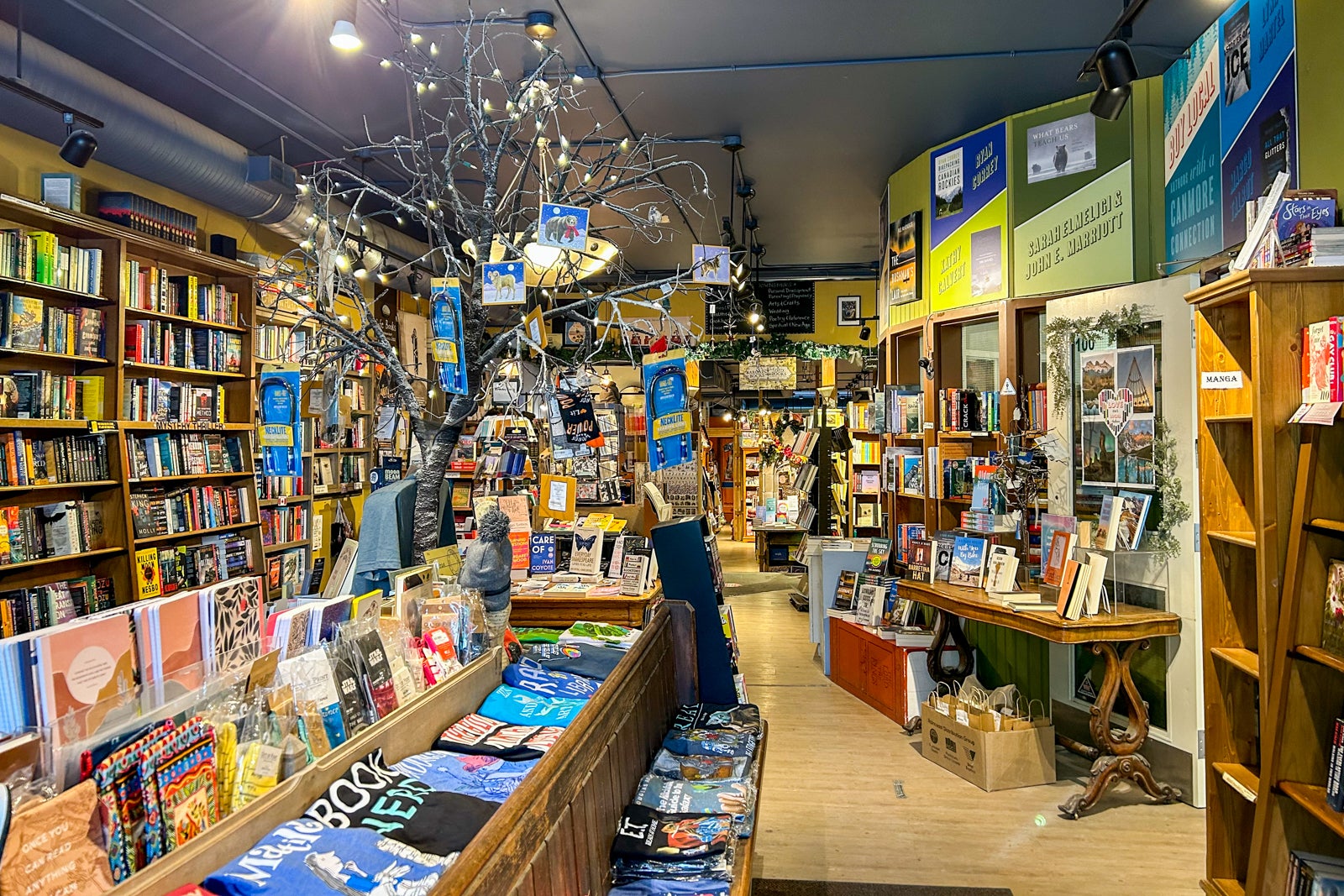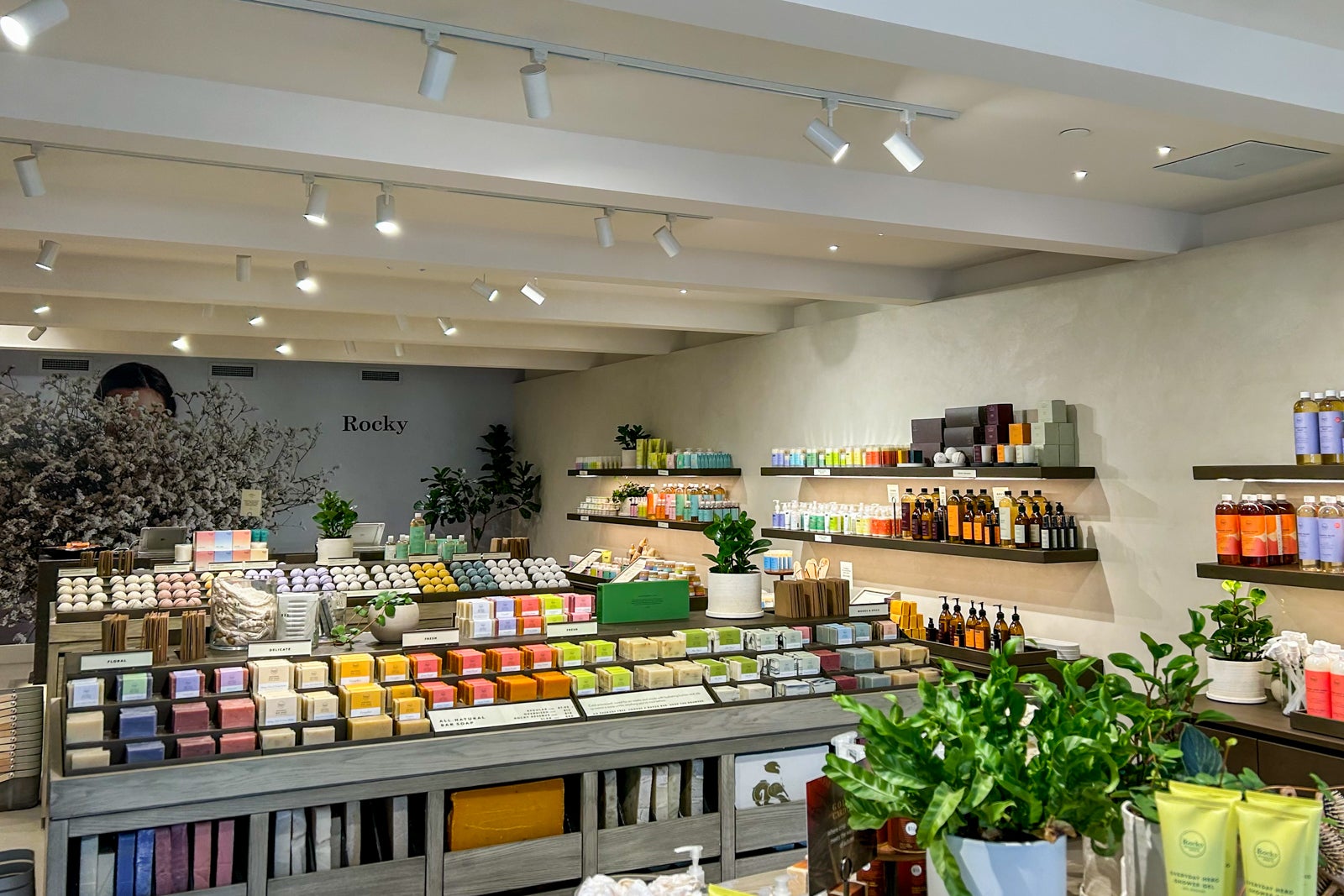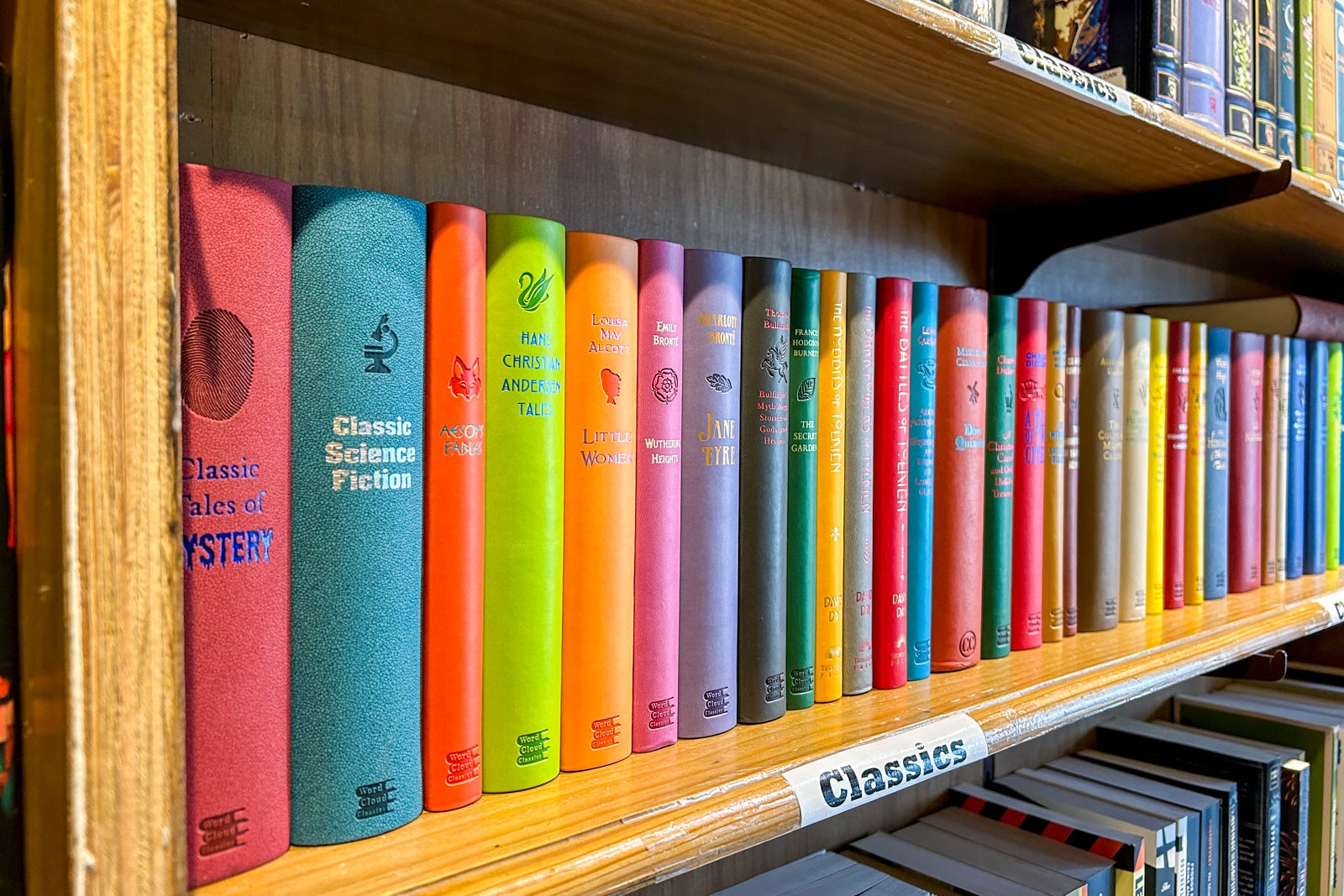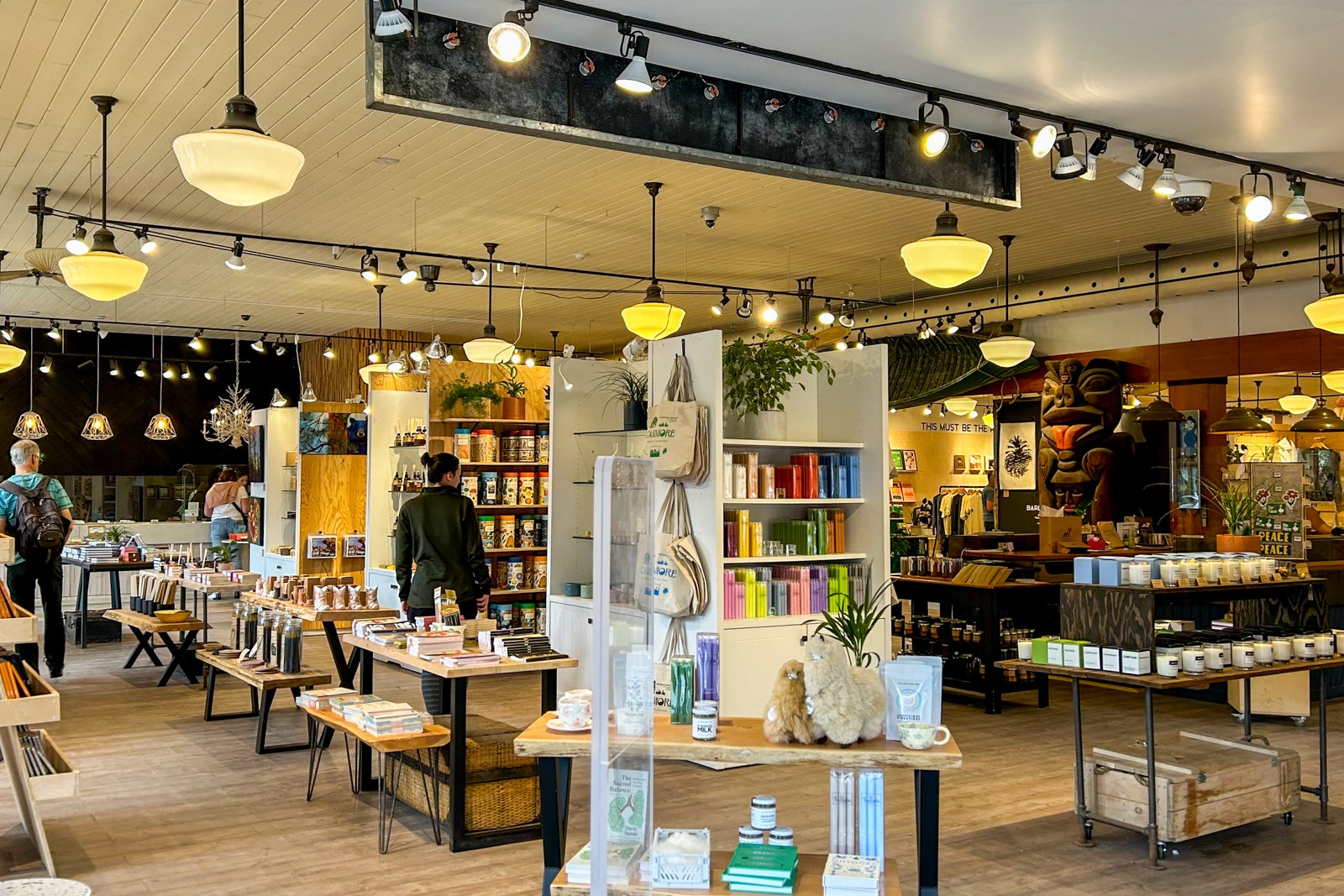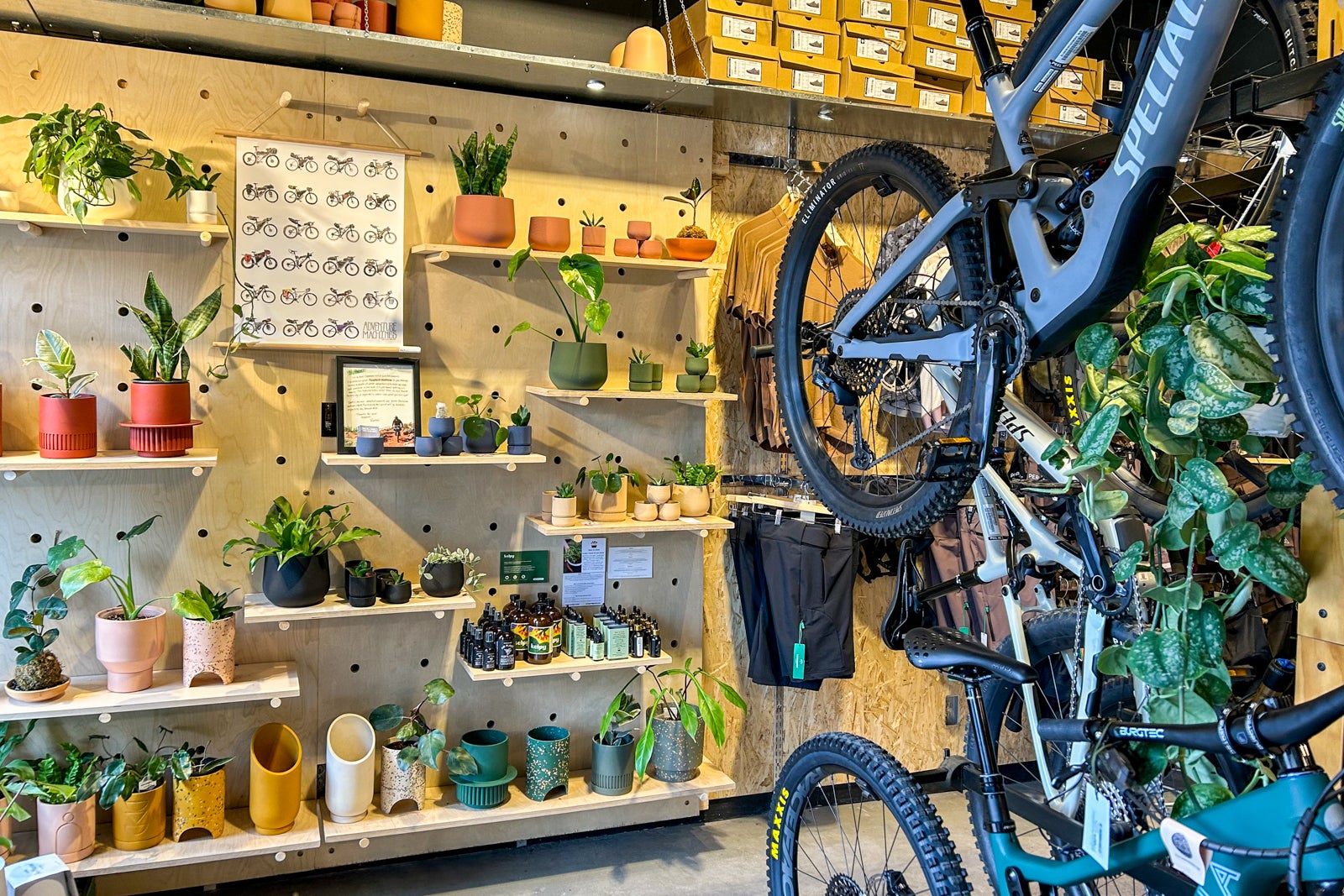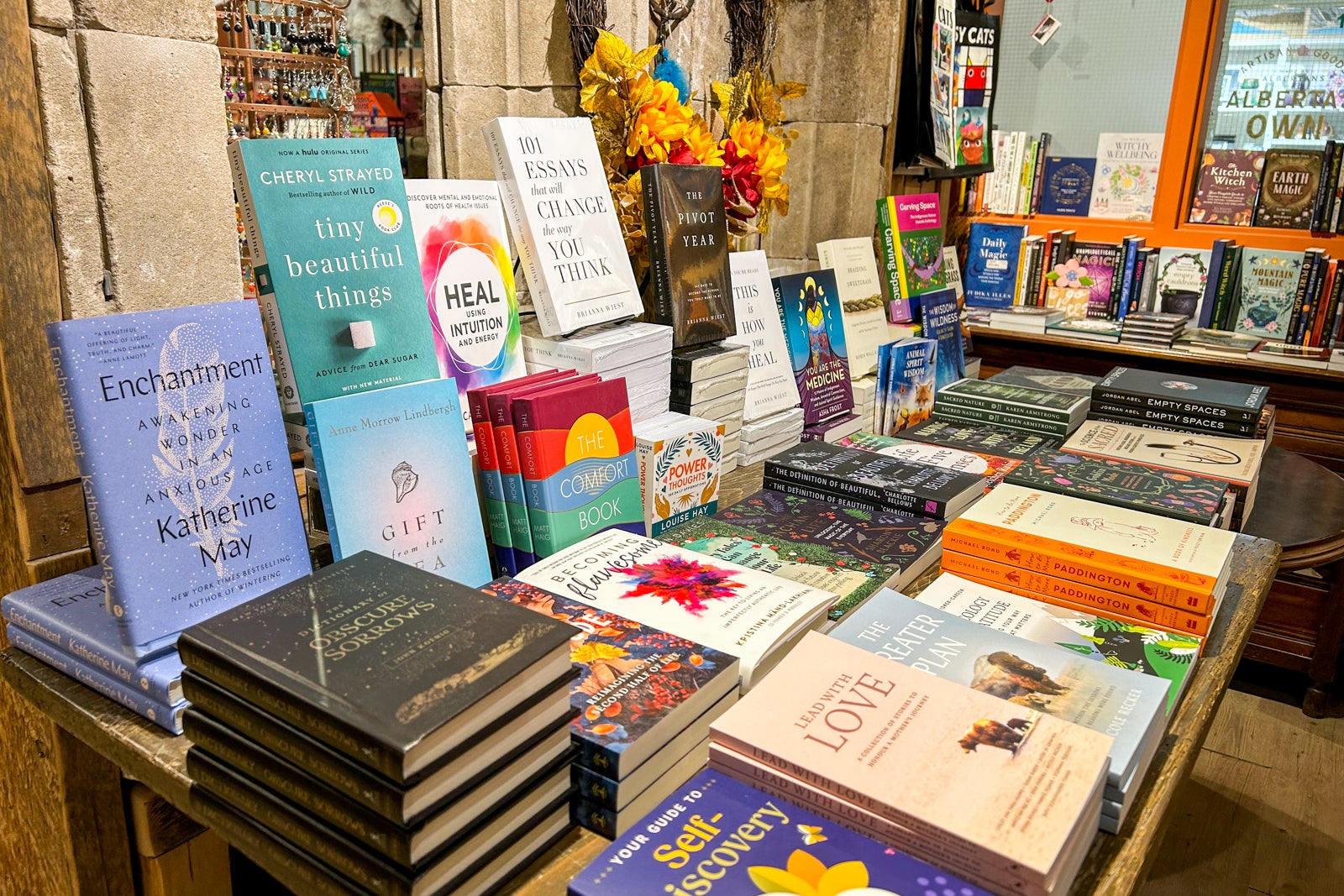 (These spots are open year-round, so you can enjoy them in the winter months as well.)
Things to do in Canmore during the winter
Embrace your inner Olympian at the Canmore Nordic Centre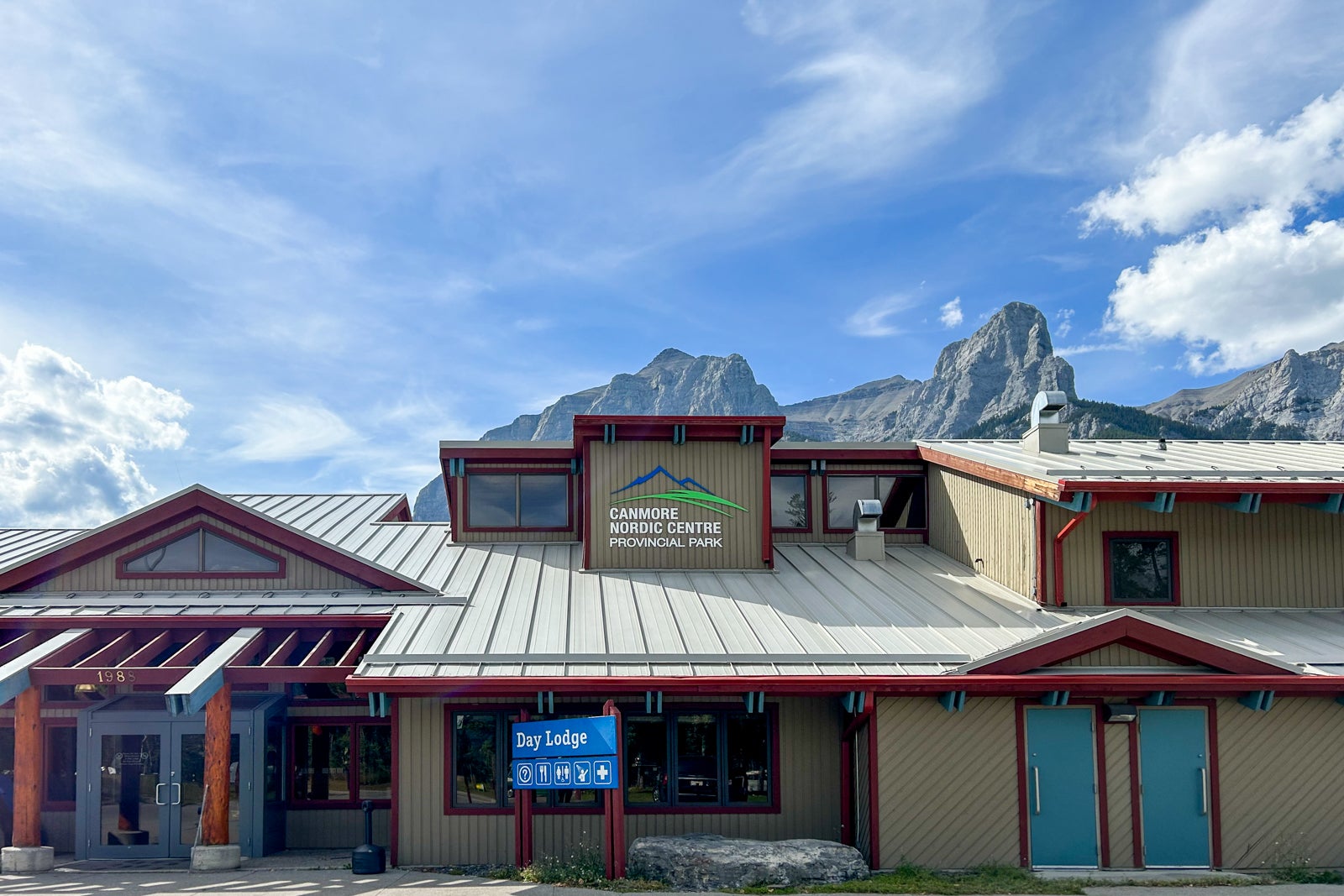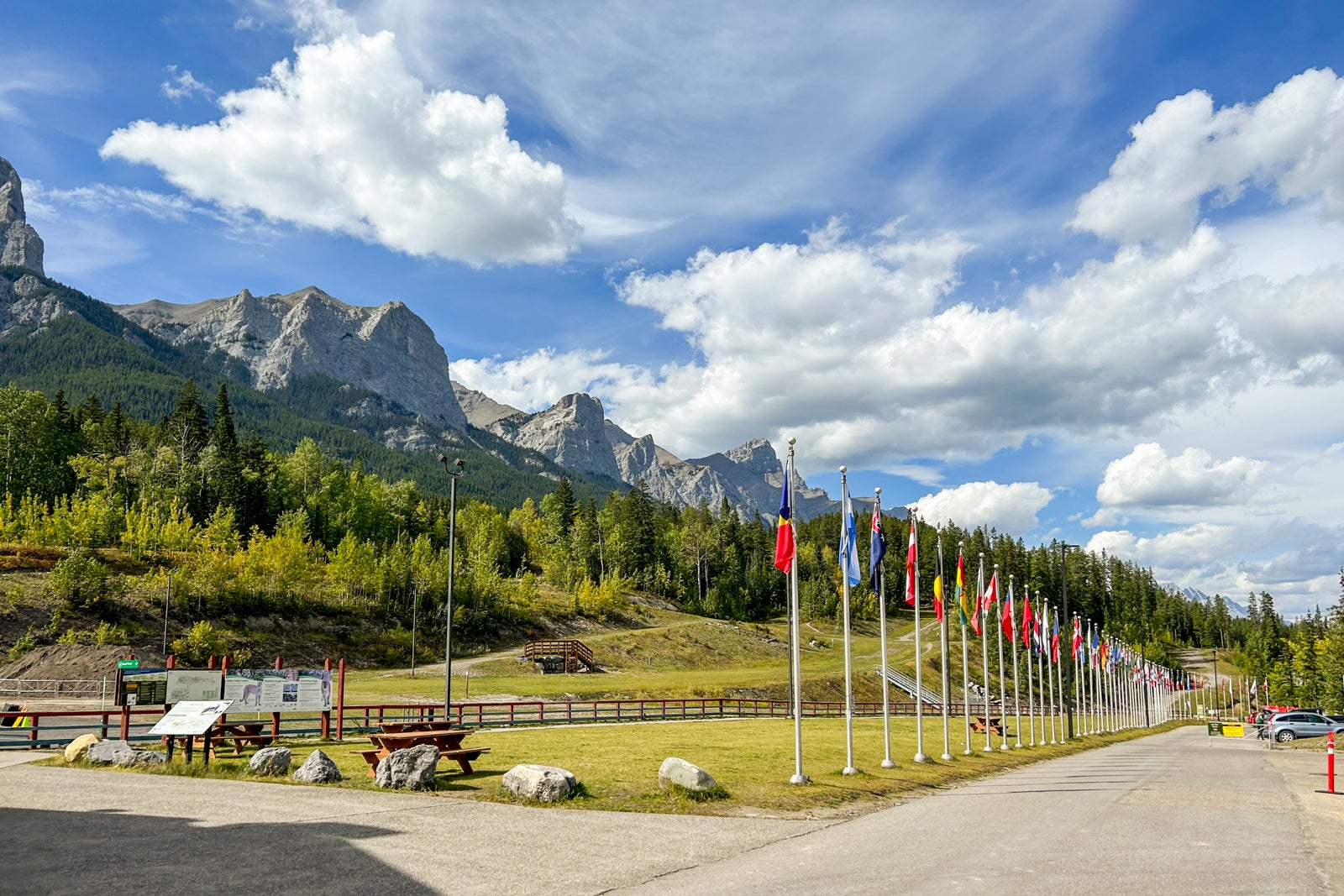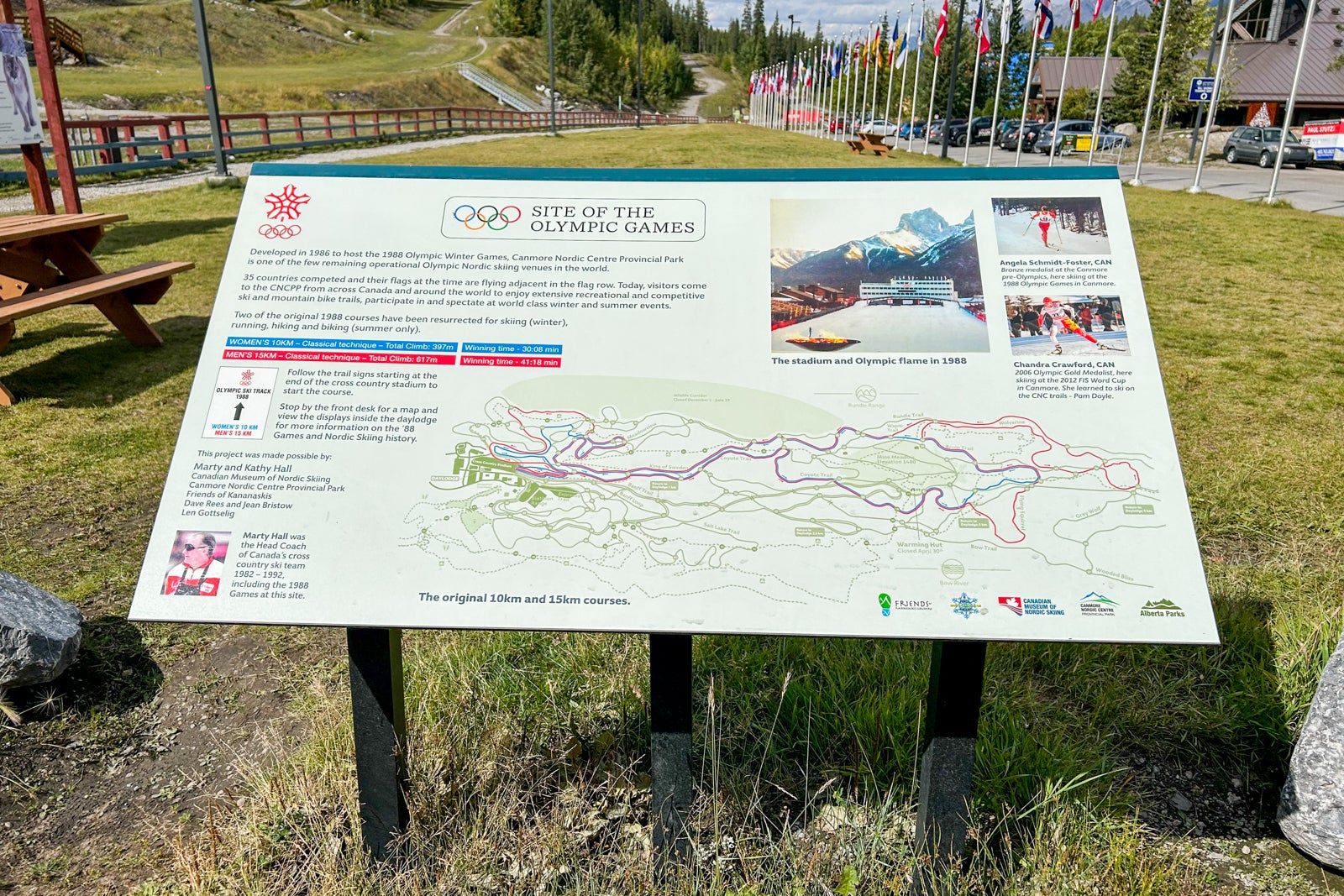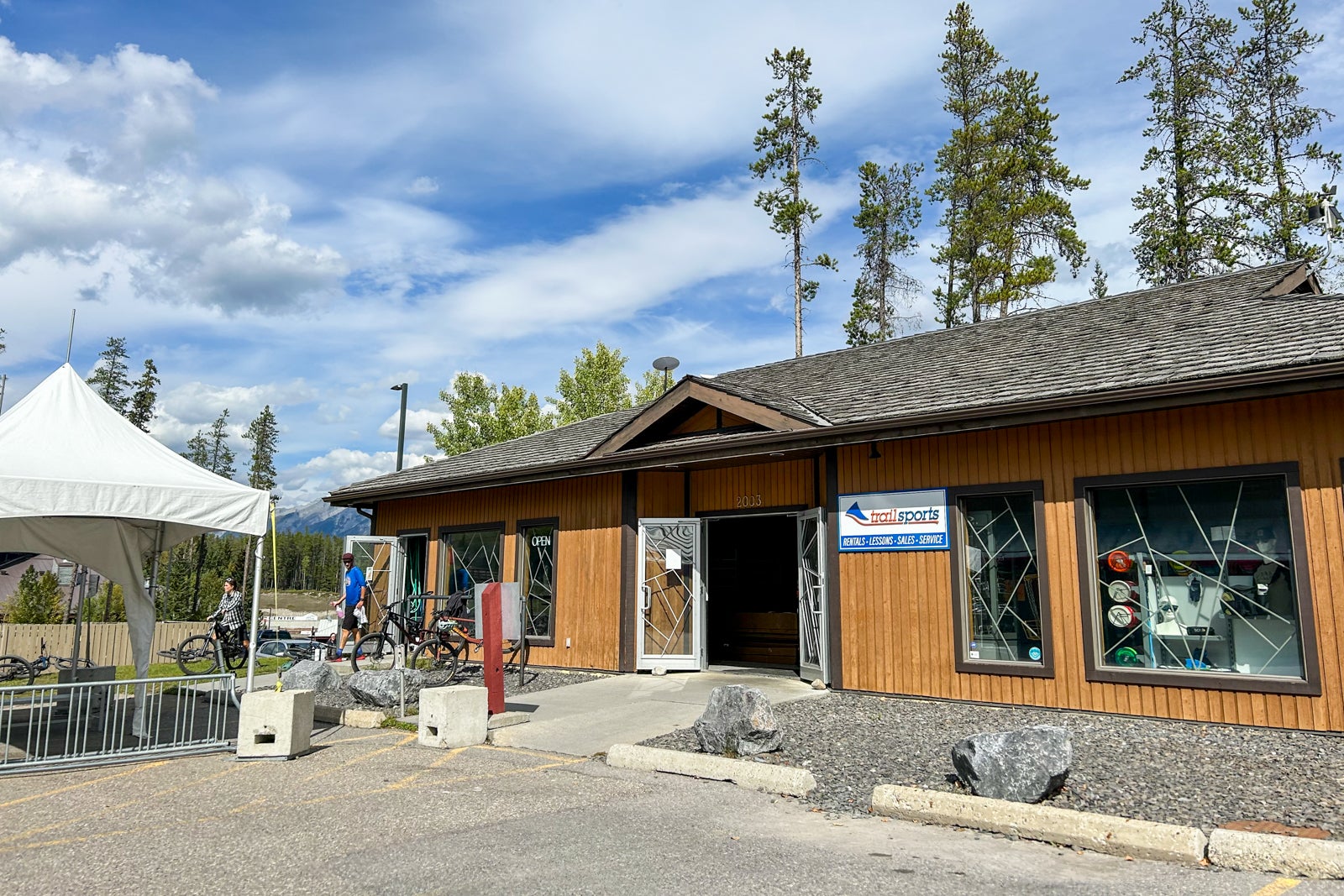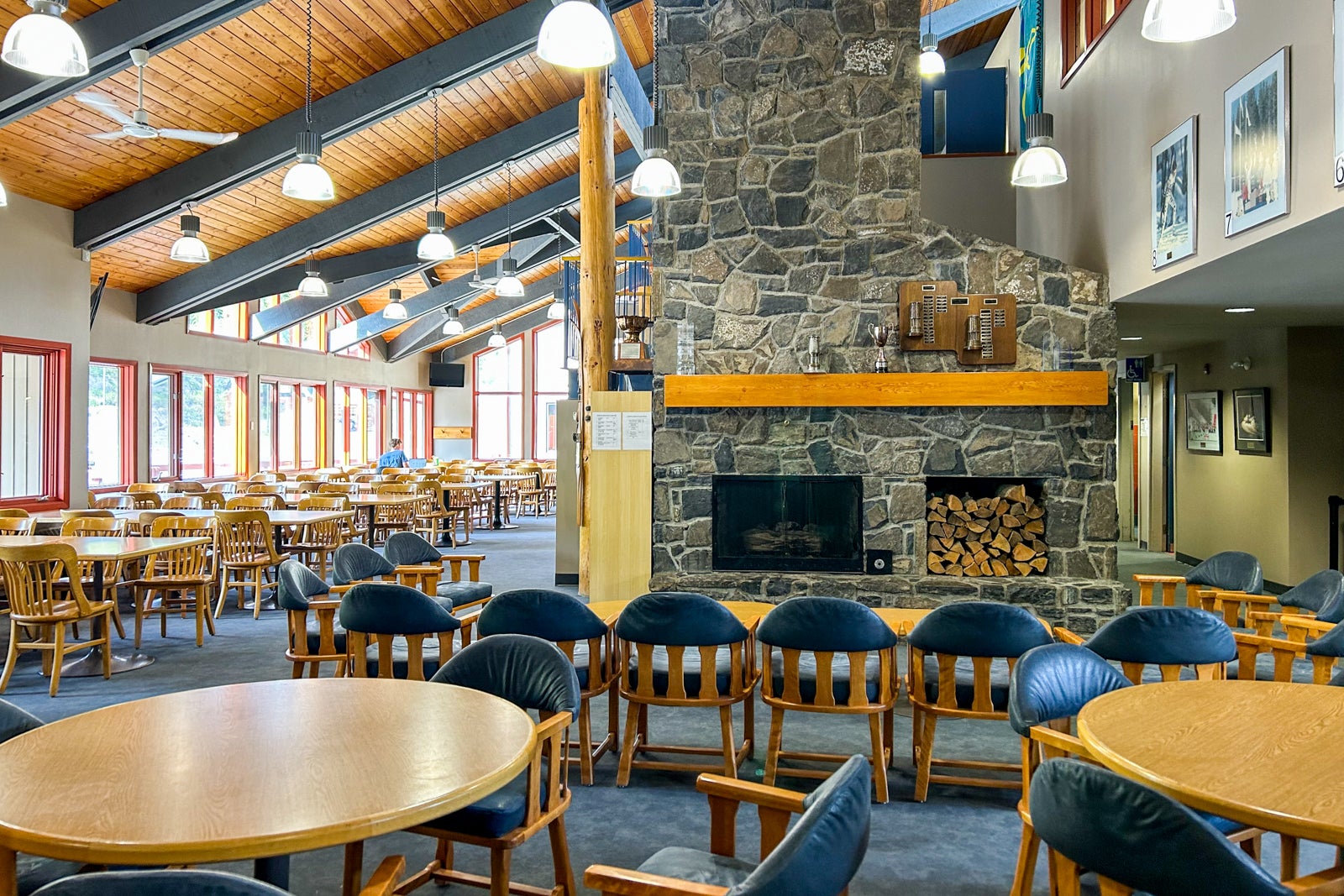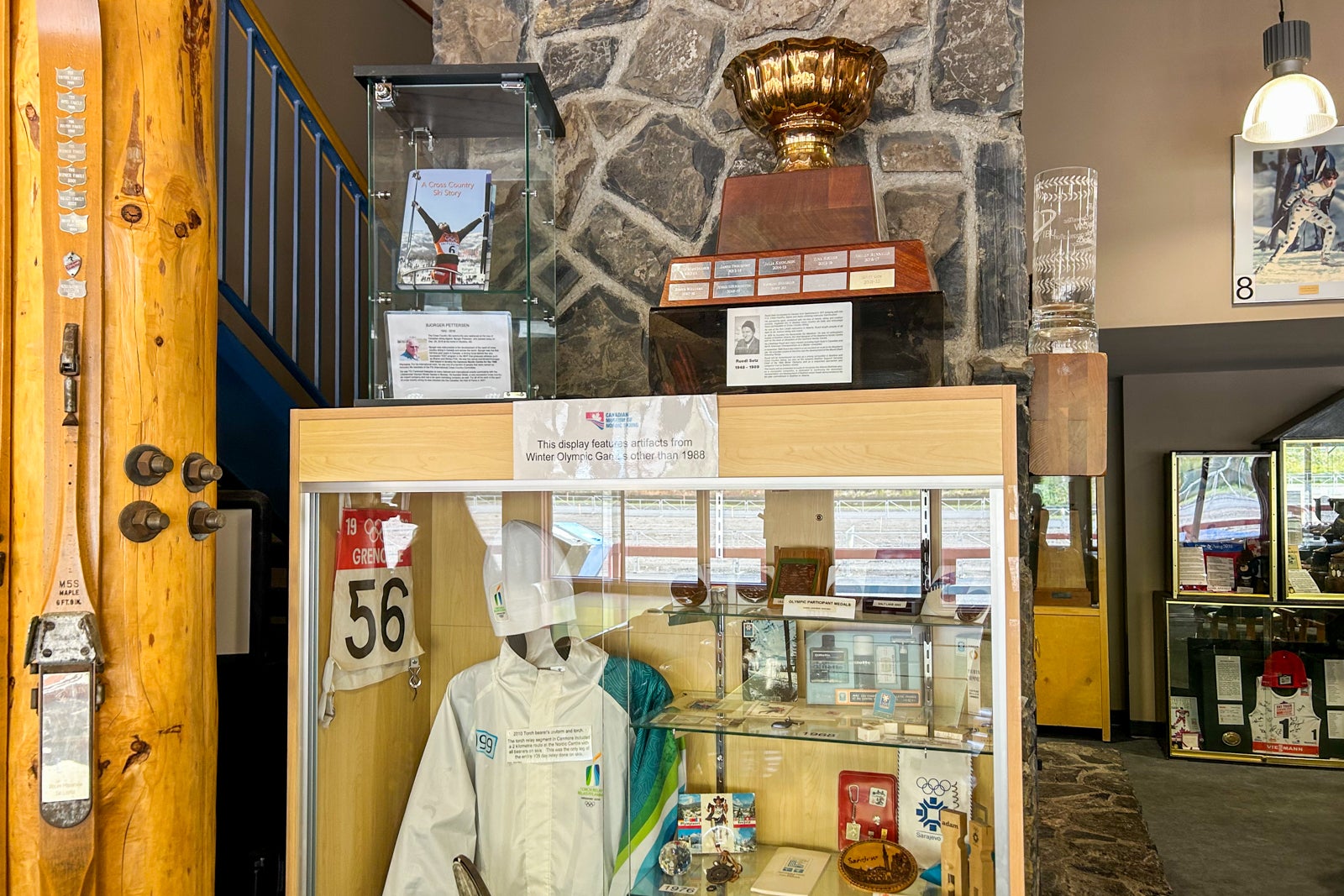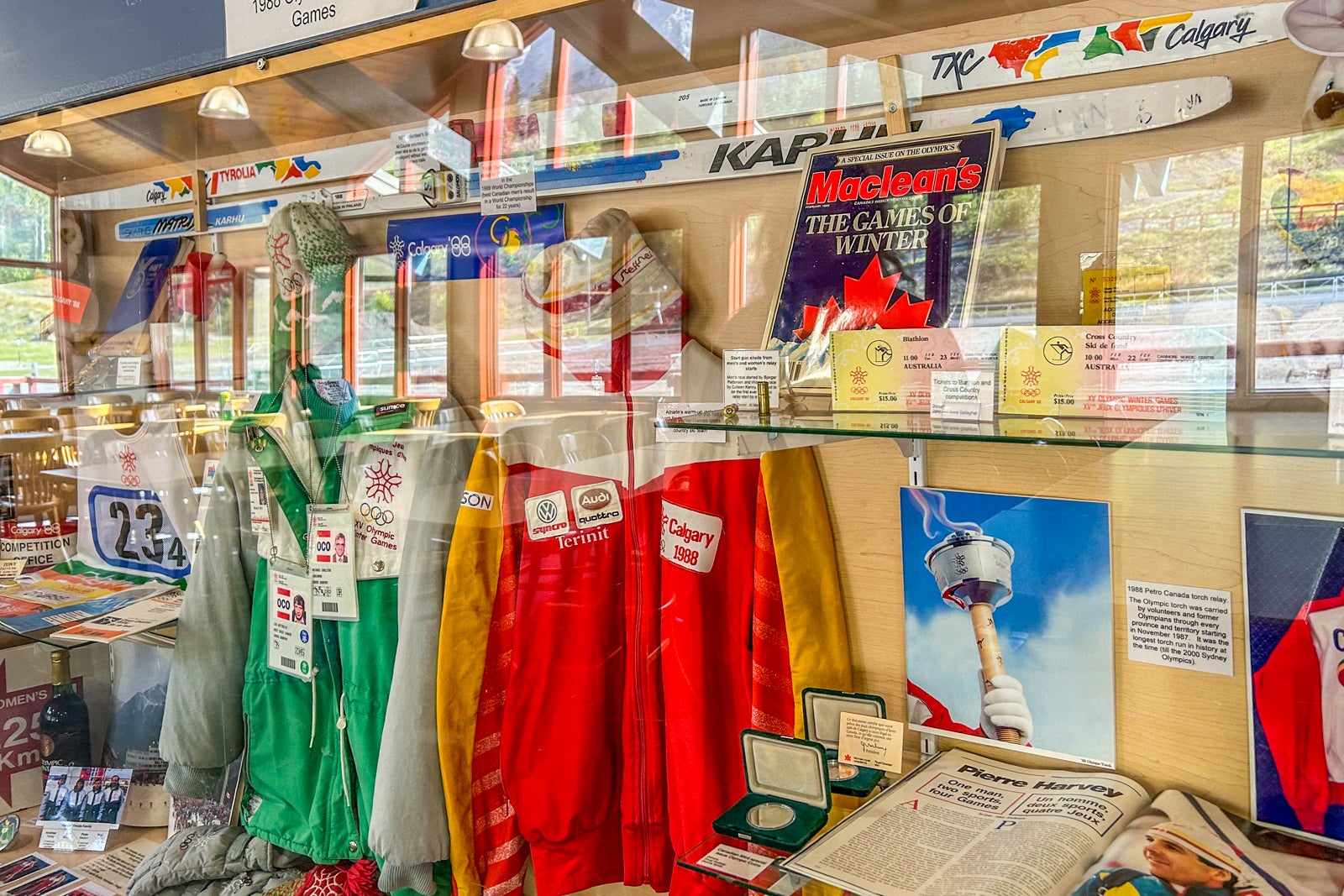 The Canmore Nordic Centre was constructed to host the cross-country skiing events for the 1988 Winter Olympics. Nowadays, it's used as a recreational center where anyone can go cross-country skiing.
It boasts 40 miles of both groomed and natural snow trails, leading all the way to the base of Canmore's majestic Mount Rundle. Off one of the trails, you'll find a warming hut to relax in if the cold gets to be too much.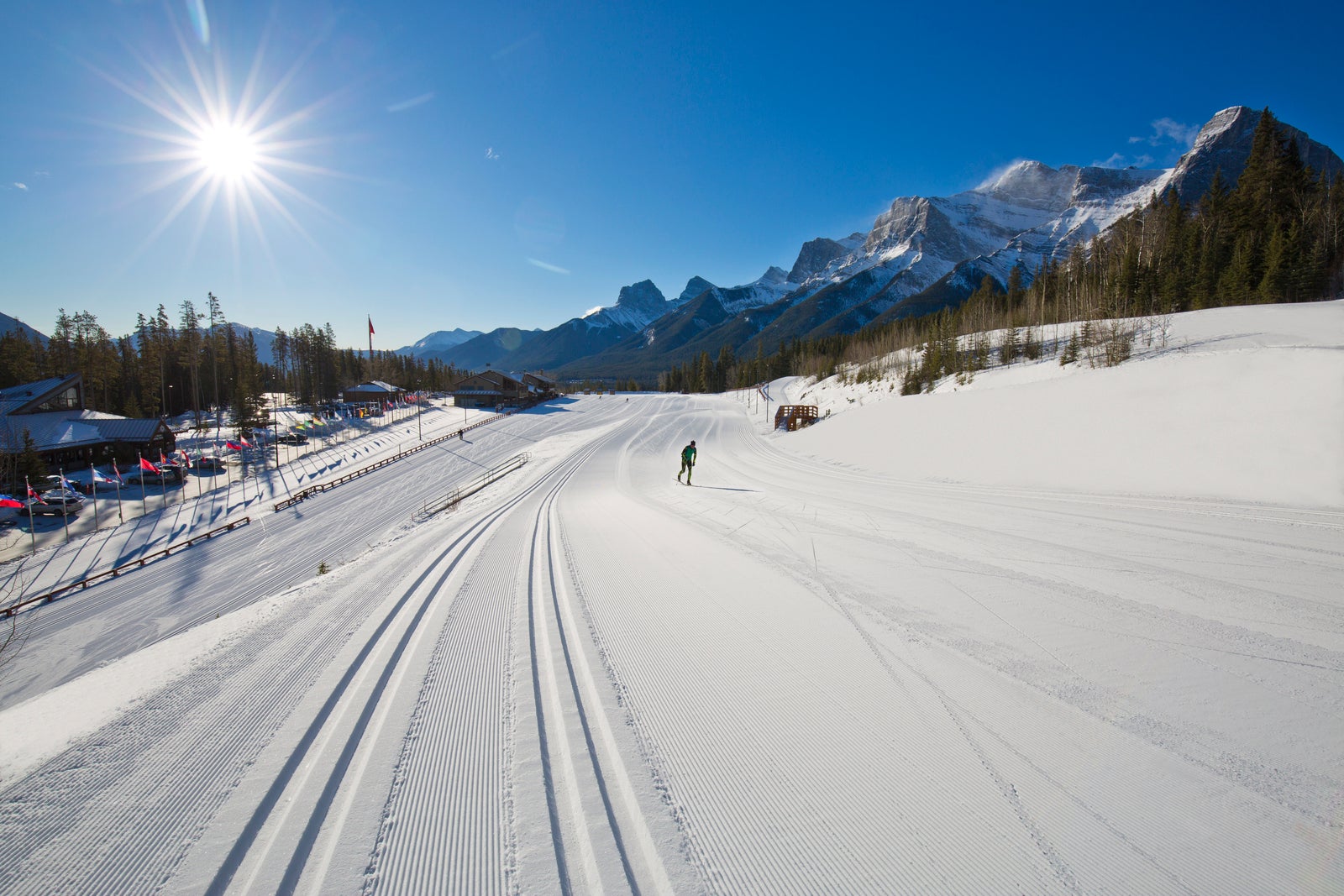 Other fun winter activities here include fat biking, tobogganing, ice skating and winter disc golf.
If you flew to Canmore and didn't bring any sports equipment, you can easily get some at the on-site rental facility. There is also a lodge space where you'll find Olympic paraphernalia as well as a dining area.
The center also offers various summer activities, such as disc golf, mountain biking, orienteering, roller skiing and more.
Hit the slopes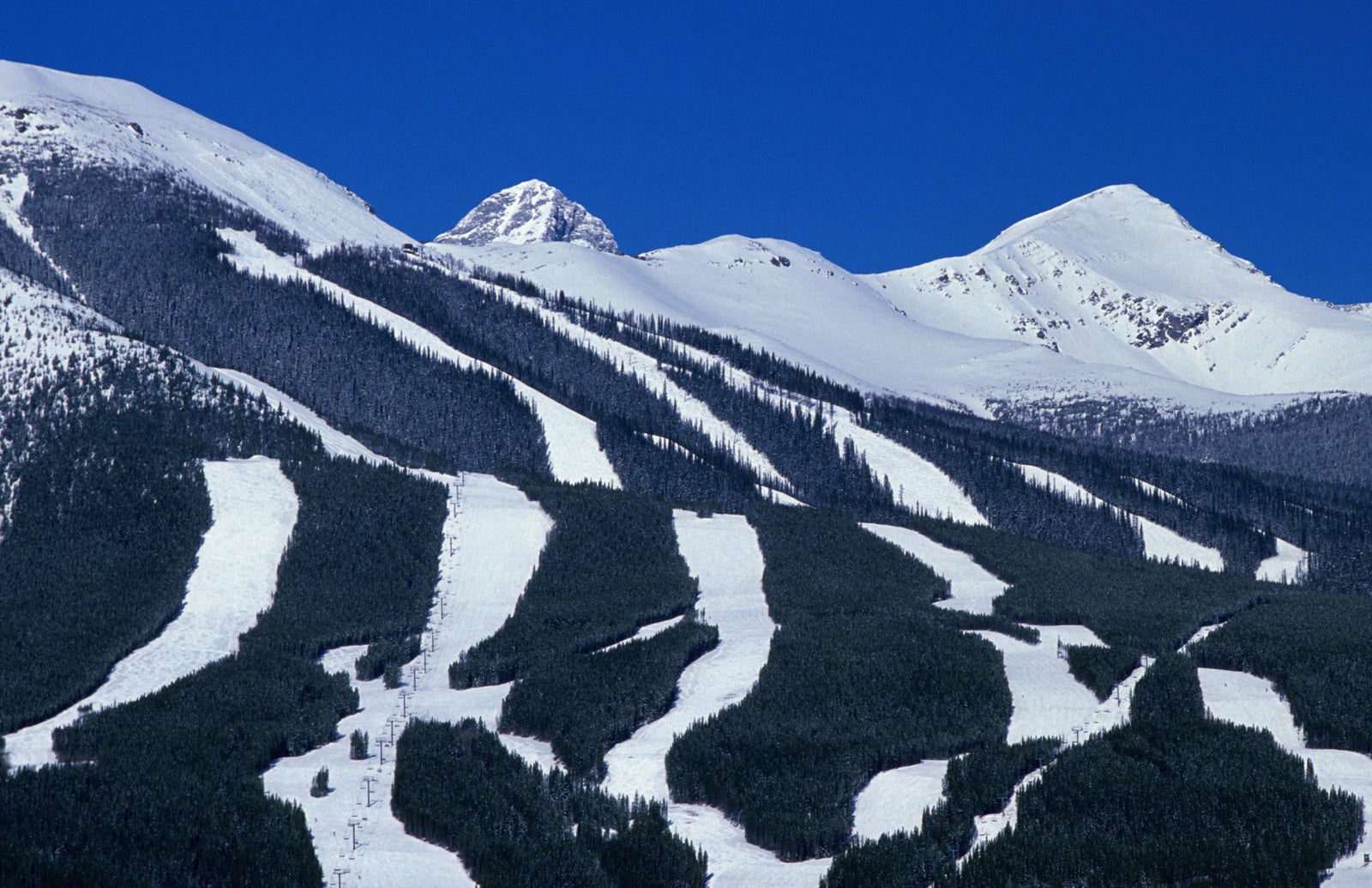 Of course, the world-class skiing opportunities are the main draw to the Canadian Rockies in the winter. The area's three most sought-after mountains are Mount Norquay, Sunshine Village Ski Resort and Lake Louise. These ski resorts are about 20, 25 and 50 miles from downtown Canmore, respectively.
If you don't have a car, you can take the Canmore-to-Banff regional Roam shuttle. In Banff, you can transfer to the line of whichever ski mountain you want to visit.
While these three mountains undoubtedly offer some of the best skiing in the area (and in the country), there's another hidden gem near Canmore: Nakiska Ski Area in nearby Kananaskis Country. It's a much smaller mountain than those in Banff, making it ideal for beginner and intermediate skiers. There are 79 marked trails served by four chair lifts and two magic carpets.
The mountain's smaller size means the lift tickets are worlds away from the Big 3 in terms of price. Nakiska is the perfect place to visit with younger children. It'll take about 30 to 40 minutes to reach the mountain from downtown Canmore.
Ice skate
As mentioned above, Canmore Nordic Centre offers a free ice skating rink. If you'd rather bring your skates to a different part of town, there are multiple other options.
The Canmore town pond is open for ice skating throughout the winter. You can enjoy the mountain views while you glide across the ice. It's conveniently on 7th Avenue and Mallard Alley, just off the main stretch.
If you want to go somewhere a little more remote and picturesque, bring your skates about 9 miles from downtown to Goat Pond.
Take a guided tour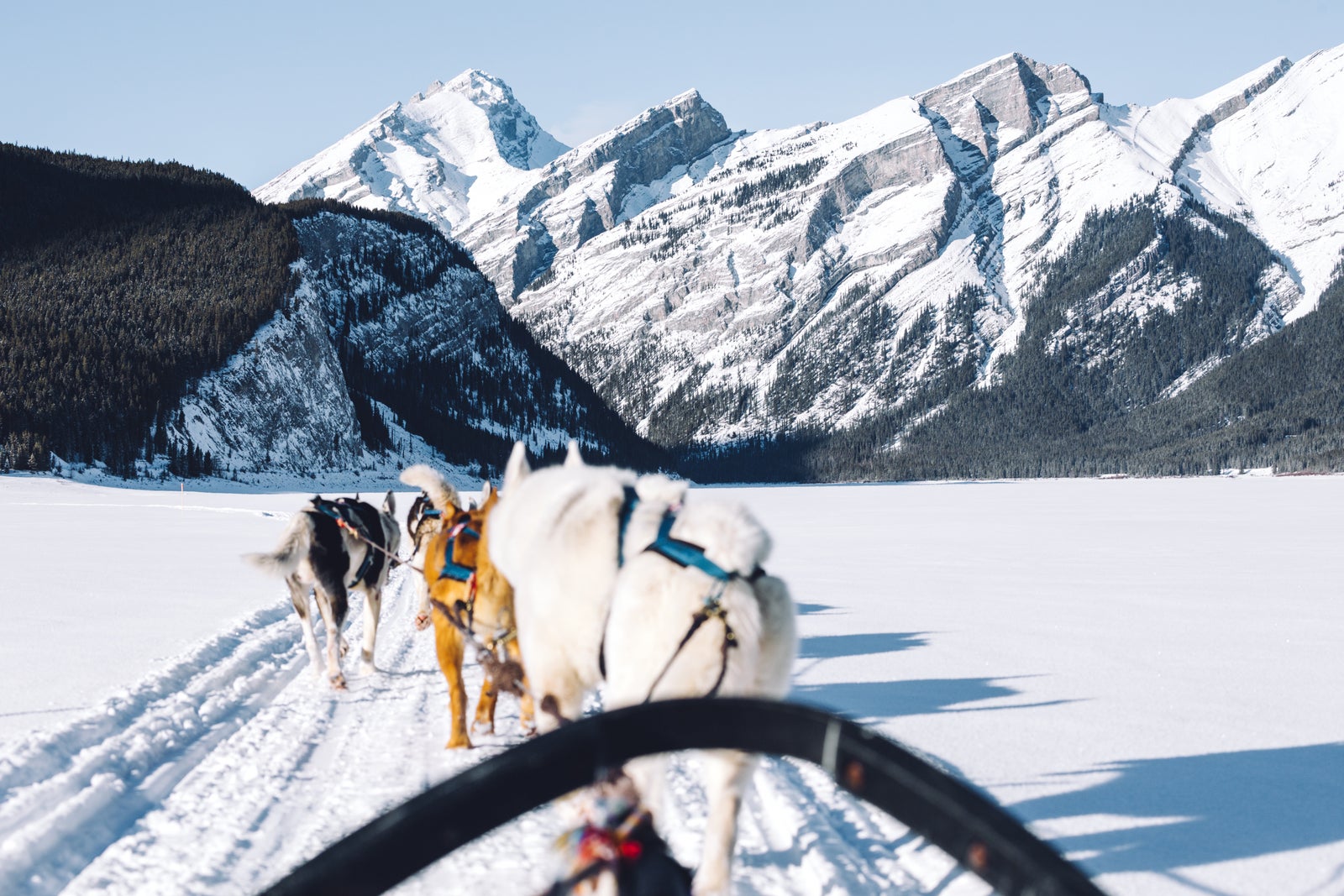 There are plenty of tour opportunities during the winter months, just as there are in the summer.
Embark on a dog sledding tour along the snowy mountain trails to take in the scenery and admire your team of huskies. Multiple companies — such as Howling Dog Tours and Snowy Owl Sled Dog Tours — offer these excursions, and prices normally start at about CA$250 ($181) per person.
You can also scale a giant frozen waterfall on an ice-climbing tour with Yamnuska Mountain Adventures. These tours start at about CA$350 ($253) per climber. The tour operator also offers guided backcountry skiing adventures.
For travelers who prefer to adopt more of an après-ski approach to the chilly season, you could opt for a distillery or brewery tour in town. Buy a CA$55 ($40) ticket on the Mountain City Brew Bus and get whisked away to sample the area's best brews and spirits.
The aforementioned helicopter and cave tours are also available in the winter months.
How to get around Canmore and Banff
For those who rent a car, getting around Canmore is simple. There is free street parking along many of the main roads as well as at many area hotels. If you park at Grassi Lake trailhead, the Quarry Lake parking lot or other similar spots before an outdoor excursion, you'll usually have to pay a few dollars on a parking app.
It's a 20-minute drive to Banff National Park from Canmore. There is a massive free parking lot near downtown Banff, and you can leave your car there for up to nine hours while you explore the park. The lot is about an eight-minute walk from Banff's main street, where there are plenty of restaurants and shops as well as access to park buses. You can also opt to leave your car in a paid lot and be even closer to the town.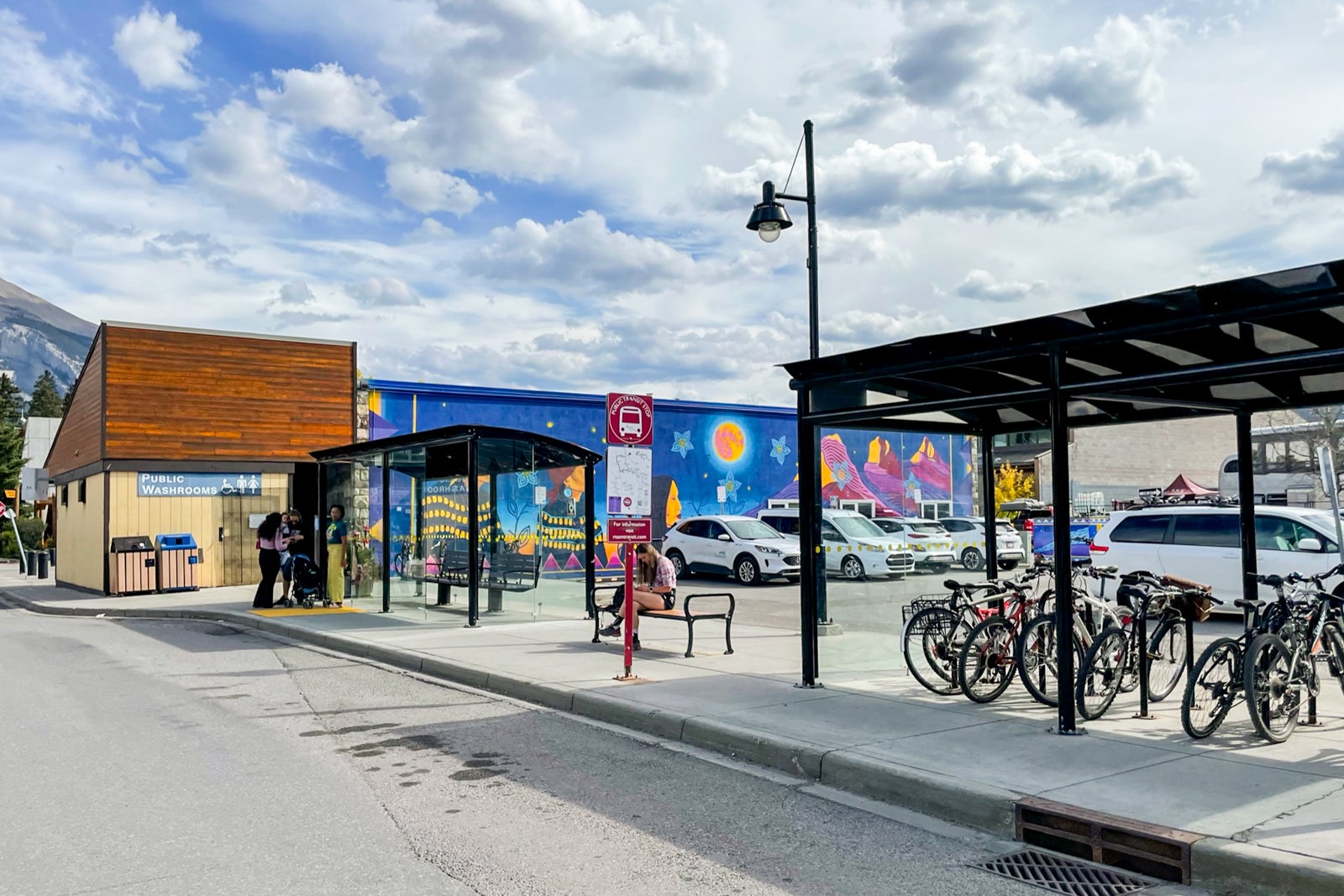 If you take the shuttle from the airport to Canmore instead of renting a car, you can easily get around town on foot. Then, when you want to head to Banff, take the regional Roam shuttle bus, which has eight stops in Canmore and five stops in Banff. One-way adult fares start at CA$6 ($4.34).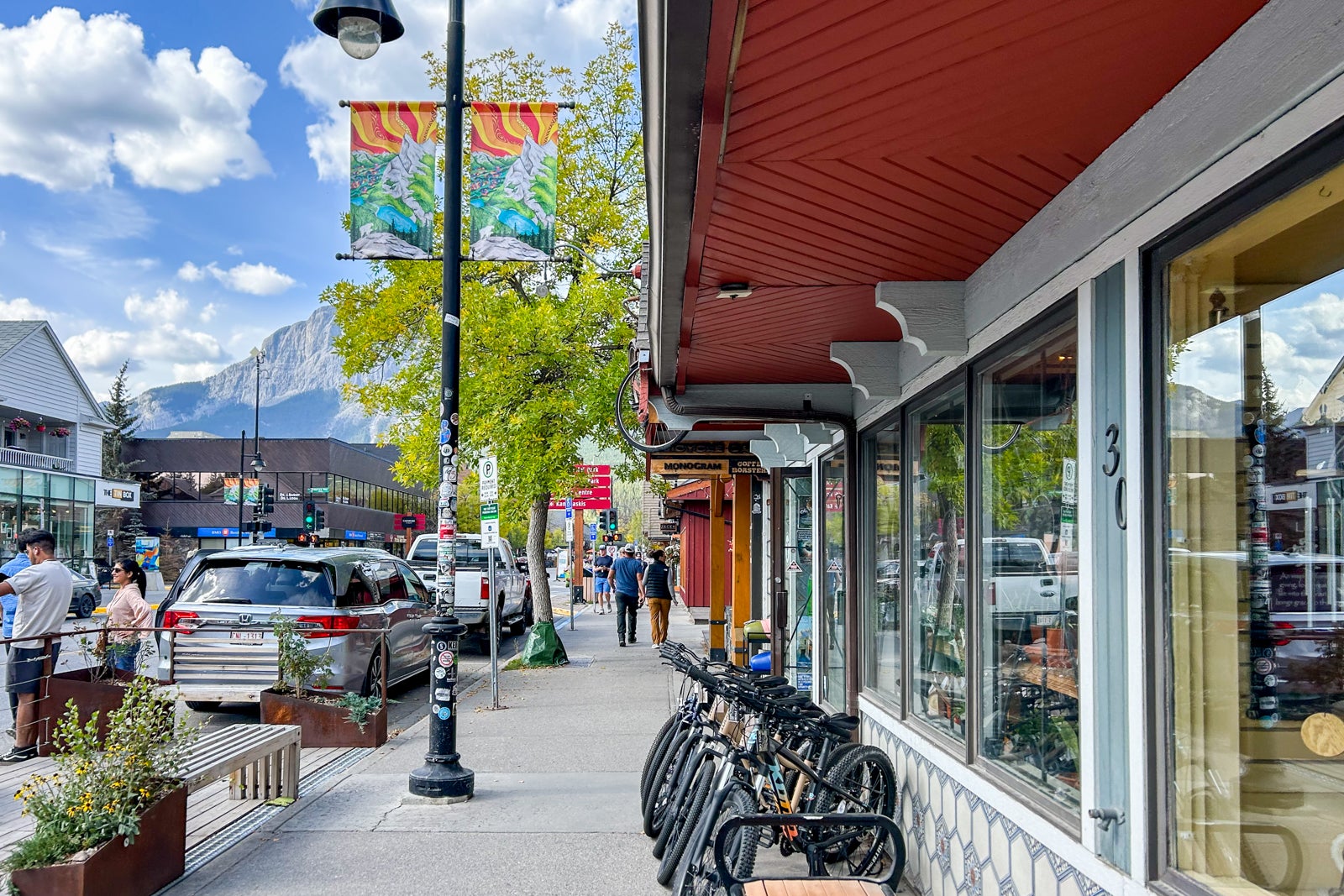 There are also bike lanes and cycling trails in the surrounding area. In town, bike repair shops and bike rental places abound. When the weather is nice, many people cycle the 15 miles from downtown Canmore to Banff on the Banff Legacy Trail, which stretches alongside the highway.
Choosing between Banff and Canmore
Banff is a picture-perfect ski town, hugged by mountains and filled with inviting restaurants. Its streets are lined with souvenir shops and candy stores, and even in September, it was filled to the brim with tourists.
The town is designed with visitors in mind, so it's perfectly walkable and has an array of dining options. It's difficult to find overnight parking here, but you don't need a car if you commit to taking the buses and shuttles.
There are bus stops right on Banff's main street, and the buses will efficiently transport you to Lake Louise, Moraine Lake and many other park attractions. Staying close to these shuttle stops is especially convenient if you're in town to ski.
Canmore also attracts its fair share of out-of-towners, but, in my opinion, the downtown area feels more like a real town than a storybook village. The many locally owned establishments and seasonal events give Canmore a strong sense of community. You won't find endless souvenir shops here like you do in Banff; instead, you'll find stores with artisan goods, plants, books and art.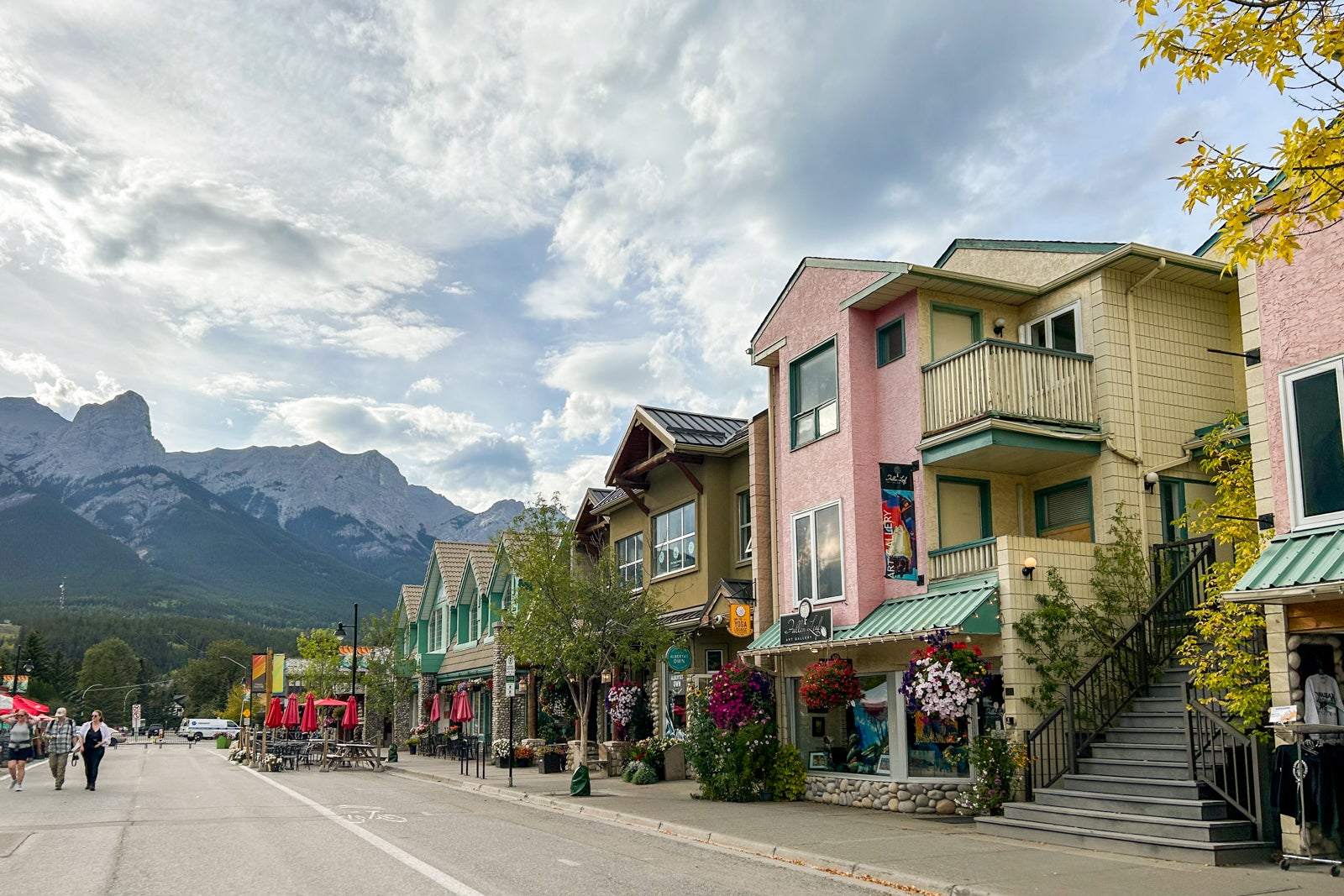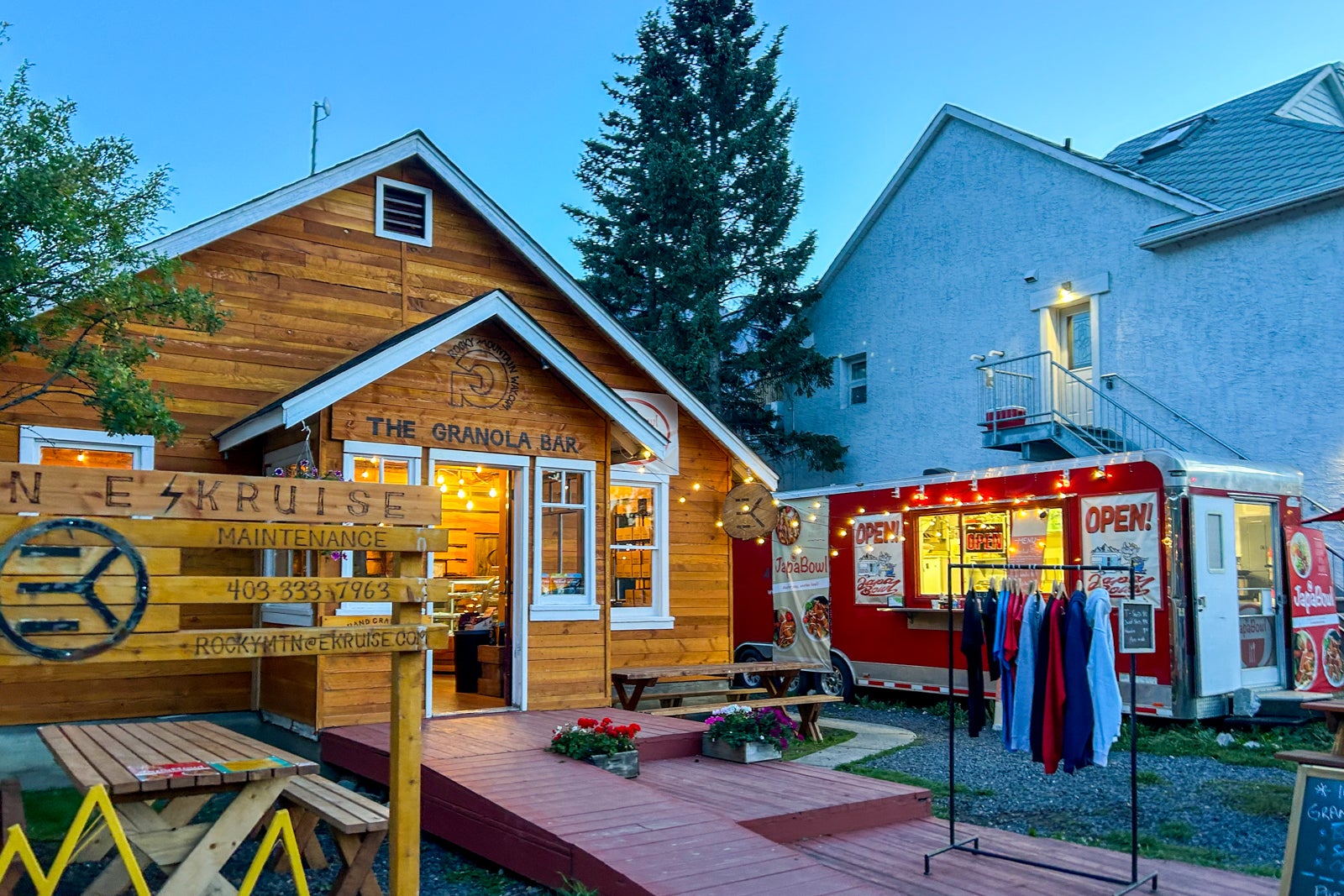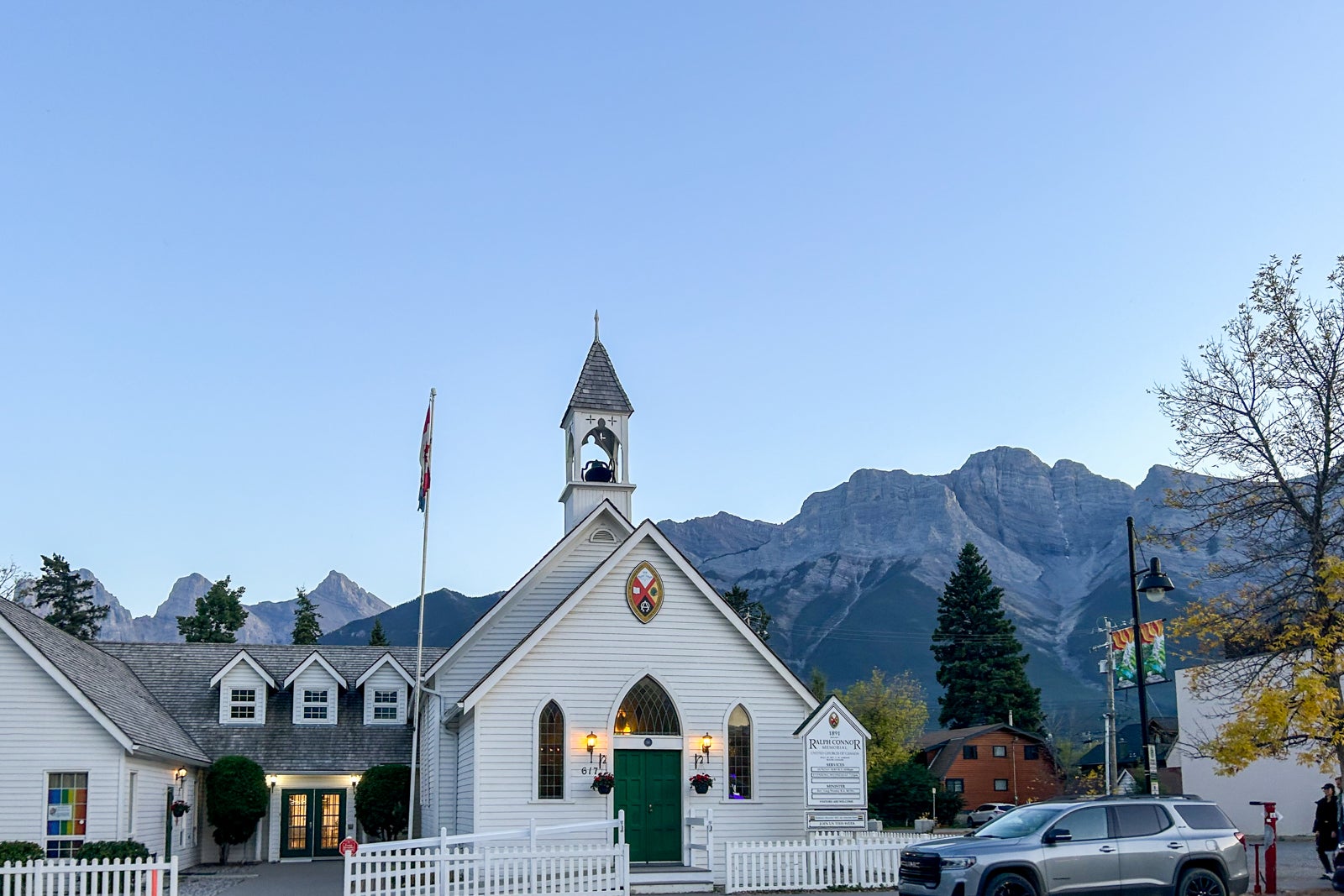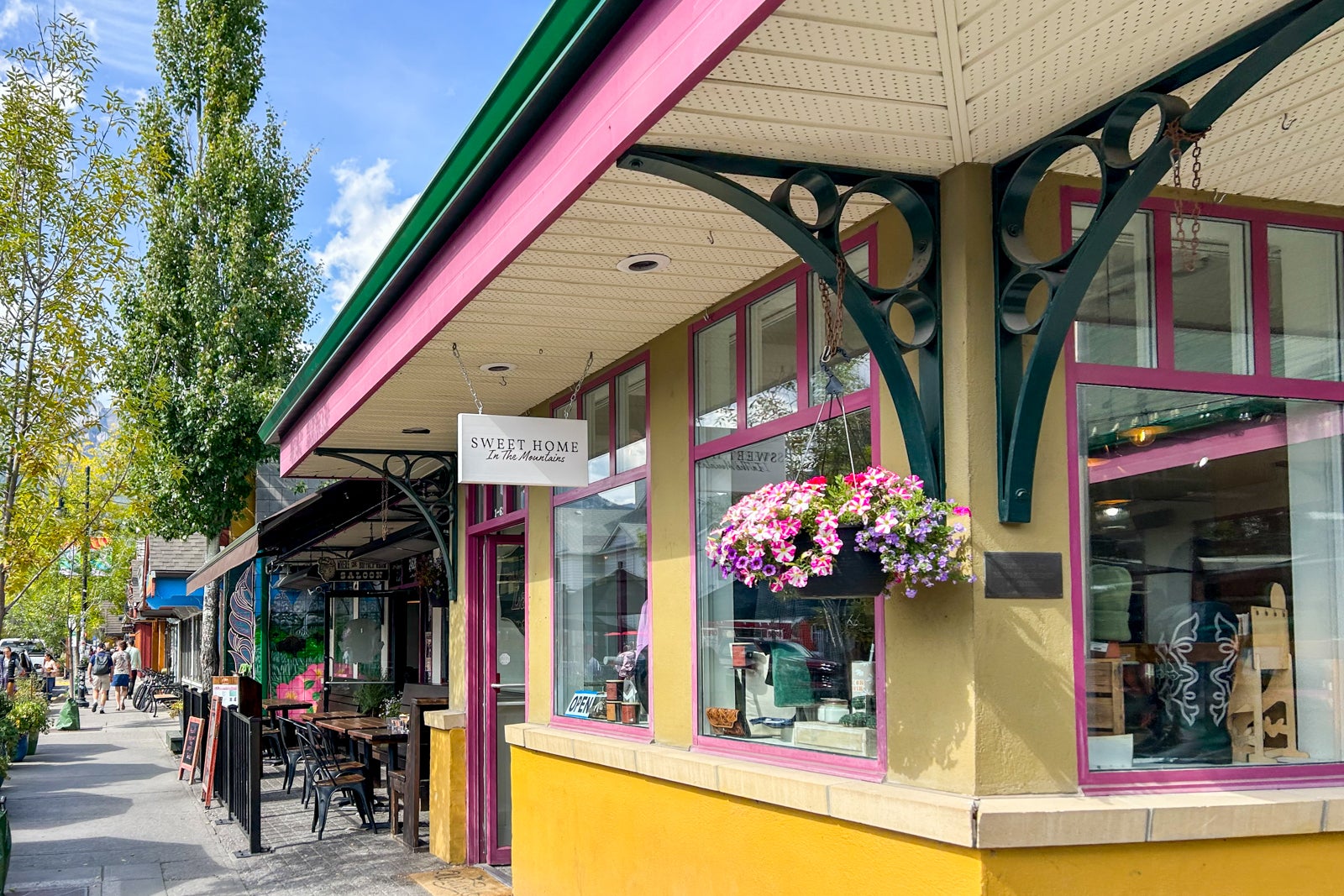 Not to mention, many of the hikes and outdoor activities in Canmore are more enjoyable because they are not as oversubscribed as in Banff. (Plus, restaurant wait times won't be nearly as long in the peak seasons.) While accommodations are still quite expensive in Canmore, the rates are usually a little lower than those in Banff. It's nice to have a rental car during your stay here to explore more off-the-beaten-path attractions, though, which could cancel out some savings.
If you want the most convenient trip possible, are traveling just to ski the Big 3 mountains or only have the desire to explore the national park, Banff is for you.
If you're not strapped for time and want a more authentic Canadian mountain town experience filled with art and plenty of natural scenery, Canmore is the place to be. This is especially true if you have already been to Banff or are interested in exploring other regions of beautiful Alberta.
After staying for just a few days, I realized Canmore deserves to be a vacation destination in itself — its proximity to Banff is just the cherry on top.
Related reading: