Editor's note: This post has been updated with new information.
---
If you've got plans to rent a car between now and the end of the year, there's a good reason to get your rental booked this weekend.
Between now and Monday you can earn as many as 75,000 Etihad Guest miles — worth about $1,050 according to TPG's valuations  — when you book with Avis.
There are some important terms to know about before you book. Namely, you'll have to book three separate rentals of at least three days each to earn the maximum number of miles. The other caveat is that you have to book through a special landing page, and we found prices could be quite a bit higher on that page than when you book a comparable rental through Avis' standard website.
Still, with how many bonus miles you could earn, there's a good chance you'll come out easily ahead by using this promo when booking your car rental for Thanksgiving or almost any other three-day period for the remainder of 2022.
This 96-hour promotion with Avis and Etihad runs through Monday at 11:59 p.m. GST — which is 3:59 p.m. EDT Monday.
Potential earning of up to 75,000 miles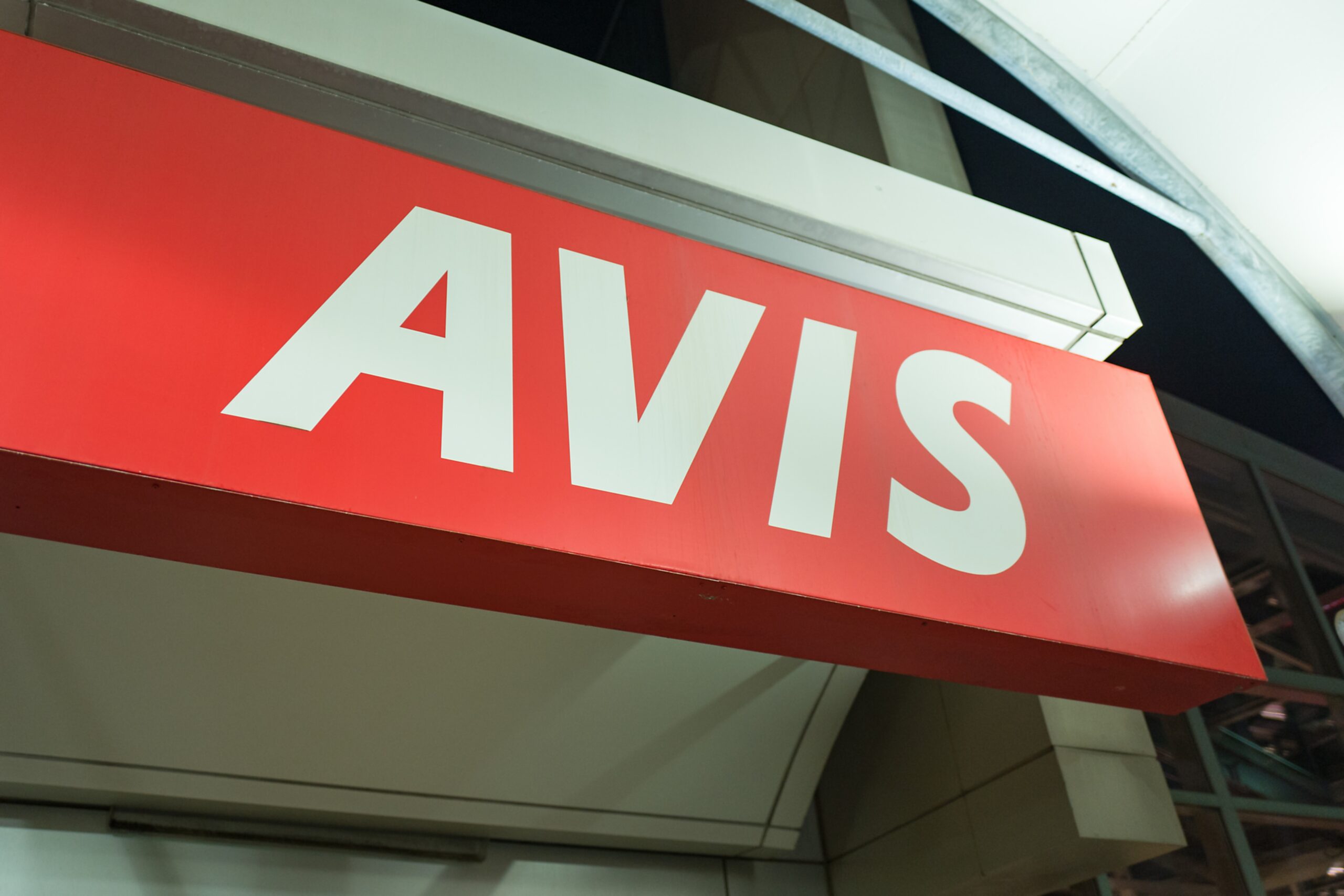 With this Avis promotion, you'll earn 25,000 Etihad miles when renting a car for at least three consecutive days on a maximum of three qualifying reservations, for a potential total of 75,000 miles. This is on top of the Etihad miles you'll earn for your spending — between 3 and 5 miles per dollar, depending on your Etihad status.
Here are the details:
You must reserve your car by Monday, Oct. 31 at 11:59 p.m. GST. (3:59 p.m. EDT).
Your reservation pick-up must be between Nov. 1 and Dec. 23, 2022, and rentals must end by Dec. 31, 2022.
You can rent anywhere in the U.S. (except Alaska), Canada, Africa, Asia, Europe and the Middle East.
You must rent a car in group C or above.
You must make your reservation through avisworld.com/etihad
Rentals that last beyond 28 days will not earn Etihad miles.
You must be an Etihad Guest member to participate.
This offer also states that you'll receive a 15% rate discount, though we did not find that to be true in practice (more on that in a moment).
Is this a good deal?
Etihad is the second largest airline in the United Arab Emirates. That might not sound particularly useful for someone based in the U.S., but Etihad miles are some of the most underrated rewards in the points and miles world. Here are some examples of flights you can book from the U.S.:
50,000 Etihad miles one-way to Europe in business class on American Airlines.
44,000 Etihad miles one-way to Morocco in business class on Royal Air Maroc.
54,000 Etihad miles one-way to Japan in business class on ANA.
Related: Etihad Guest miles continue to fly under the radar
If there's a bit downside with this promotion, it's that you have to book through a special Avis landing page. During past similar (though less lucrative) promotions, we've found cases where the prices were virtually even between the normal website and the landing page.
Unfortunately, this time around, that's not always the case. We found some prices on the landing page that were far higher than the standard Avis website.
Here's an example for a November booking at Chicago O'Hare International Airport (ORD). Looking at a three-day rental on the landing page, keep in mind you'll need to book a group C car class or higher. You can find the car class by clicking "specs" in the upper right-hand corner of each car.
The three-day, group c car rental — which in this case is a Toyota Corolla or similar car — comes to $377. Keep in mind, also, booking through the promo page doesn't allow you to log into your Avis account to benefit from any discounts you might receive due to elite status.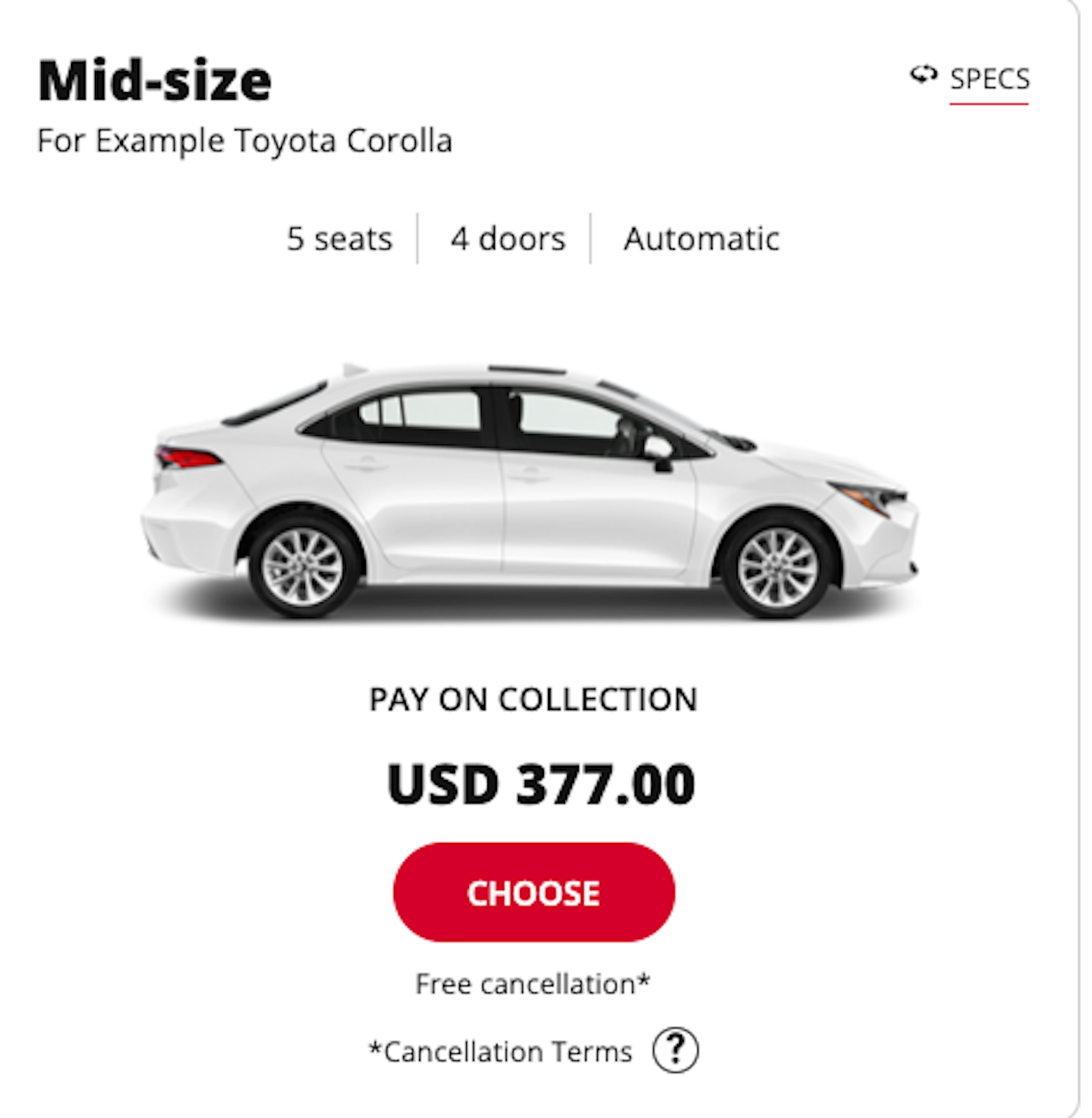 Meanwhile, when we go back to the standard Avis website, you can get a comparable car for $263 for the three-day rental, or $209 if you pay in advance.

We found similar discrepancies on rates at Dallas/Fort Worth International Airport (DFW).
Now, even with the price difference, it's still possible you might want to choose to book through the promotion because 25,000 Etihad bonus miles are worth about $350 per TPG valuations. So, if you're finding, say, a $100 price difference between the standard website and the landing page, technically you could come out ahead by booking the promo to tap into the bonus miles (and that's just for one of your three eligible rentals for this deal).
And you may even find a more competitive deal in whichever city you're looking to book. Just be sure to evaluate your options before making your rental decision.
Bottom line
If you're planning to book car rentals of at least three days between now and Dec. 23, you might want to lock in your reservation between now and Monday. You could earn a nice haul of Etihad Guest miles. Just be sure to check both the promotion booking page and the standard Avis website to make sure you're finding at least a comparable rate when considering your options.
Even if you don't have plans to rent a car, it could be worth reserving a rental car if there are dirt-cheap rates in your area. You could get a business class ticket to Europe, Africa or Asia out of it.
Featured photo by Christopher Pike/Bloomberg via Getty Images.