What do the Queen of England, Sophia Loren, Dora the Explorer and the rapper Pitbull have in common? They're all ship godmothers and godfathers in a tradition that has evolved from ancient seafaring days.
In Viking times, ceremonies for new ships are said to have involved human sacrifices to appease the gods and protect the ship and its crew. The Babylonians offered ox blood. In ancient Greece, they'd put olive wreaths on their heads, drink wine and bless the new ship with water.
These days, we usually sacrifice a bottle of alcohol by smashing it on the bow and then raising a glass to celebrate. Although some ships have had their bows doused with brandy, Champagne and wine are the most popular choices. (During Prohibition, christenings in the United States were often done with water, juice and apple cider.)
For more cruise news, guides and tips, sign up for TPG's cruise newsletter.
When it comes to choosing a godmother, traditionally the offer would be extended to female royalty. However, in recent years, cruise lines have gotten creative. The right godmother will get people talking and lead to a whole lot of free publicity, which is why we've seen celebrities, politicians, athletes and even cartoon characters stepping into the role.
Some join their godship's inaugural cruise, but others only stay for the Champagne smashing and flashing cameras. Once the ceremony is over, most don't have an ongoing role on their ship, though some find ways to keep working together with the cruise line.
What kind of person makes the cut to christen a ship? Let's take a look.
Simone Biles
In 2021, Simone Biles, a 19-time world champion gymnast and seven-time Olympic medalist, became godmother for Celebrity Cruises' Celebrity Beyond. The line has often selected transformational and courageous godmothers who are breaking barriers and championing change in their respective fields. Biles joins fellow Celebrity godmothers Reshma Saujani, founder of Girls Who Code and the Marshall Plan for Moms, and Nobel Peace Prize laureate Malala Yousafzai.
Jennifer Lopez
Keeping with its non-traditional way of doing cruises, Virgin Voyages did away with the "godmother" moniker, naming actor and singer Jennifer Lopez the "Chief Entertainment and Lifestyle Officer" for the line's Valiant Lady. Lopez isn't just the face of the vessel. She's partnered with the line, creating wellness programs and beauty products that are available across the Virgin Voyages fleet.
Related: First look: 10 things I love about Virgin Voyages' new Valiant Lady cruise ship
Katy Perry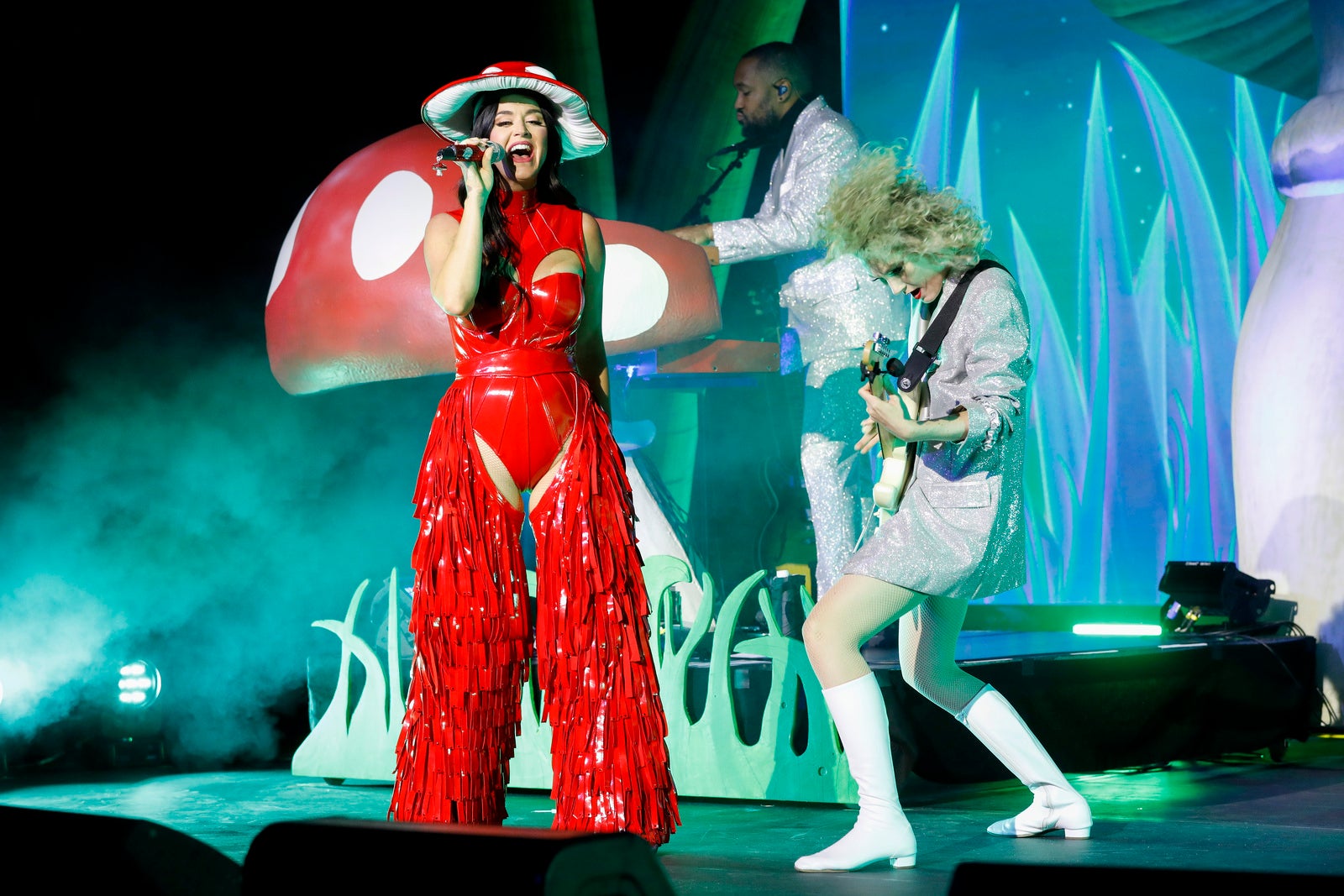 One of the latest in a long line of famous and attention-grabbing godmothers, singer Katy Perry christened Norwegian Cruise Line's Norwegian Prima in Iceland in 2022 and followed it up with a live performance and a short sailing on the vessel.
Queen Elizabeth II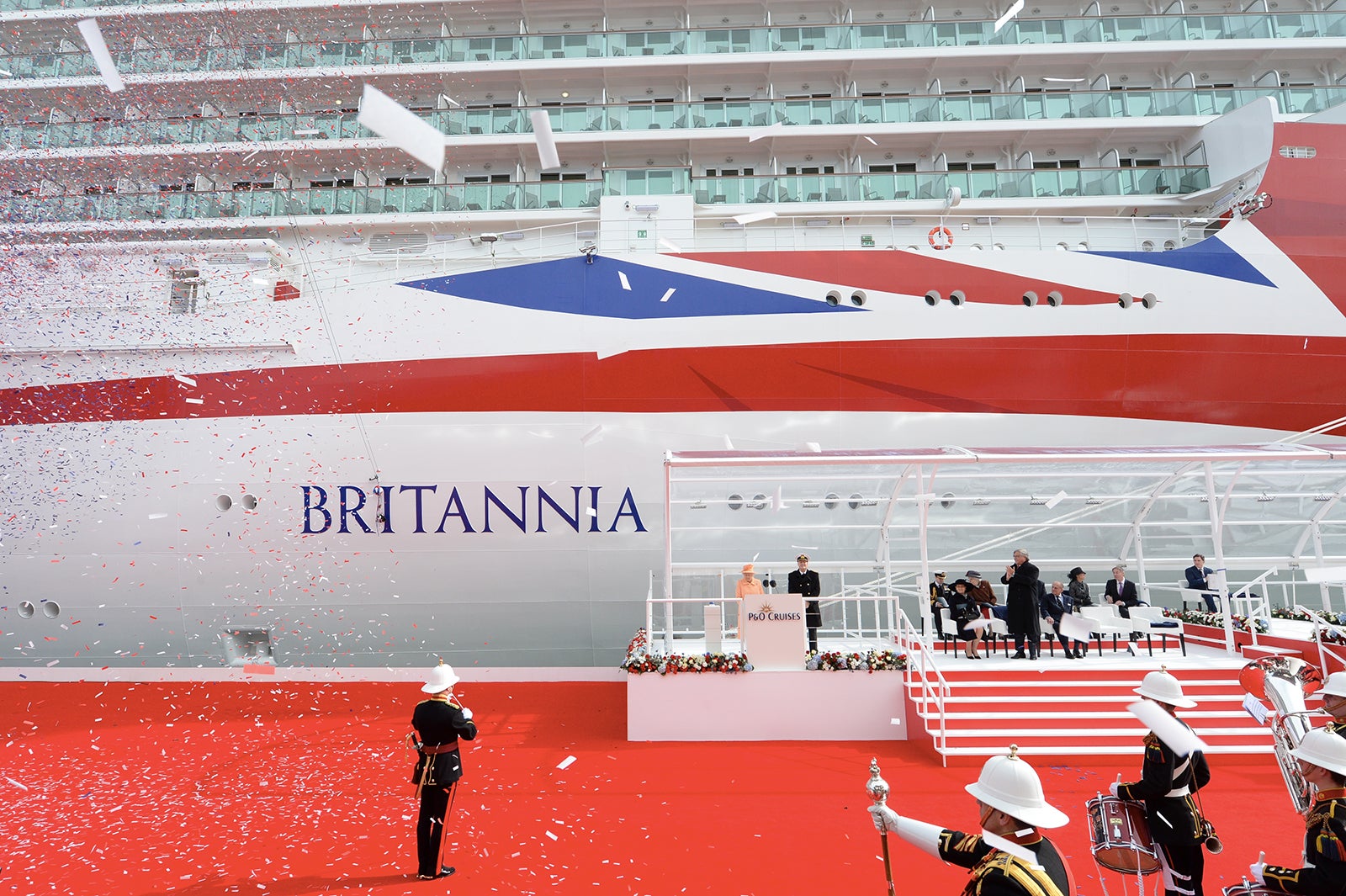 The ship that shares the late British queen's name, Queen Elizabeth 2, or QE2, may now be a floating hotel in Dubai, but the queen was also the godmother of three ships that are still sailing the seas.
The queen christened two Cunard ships, Queen Mary 2 in 2004 and Queen Elizabeth in 2010, and was also godmother to P&O Cruises' Britannia. Other royal family members who became ship godmothers include the late Diana, Princess of Wales and Catherine, Princess of Wales (formerly known as the Duchess of Cambridge).
Sophia Loren
As godmother to the largest number of vessels, Sophia Loren has christened nearly two dozen ships in the MSC Cruises fleet. Before becoming MSC's godmother of choice, starting with MSC Lirica in 2003, Loren also became godmother of Princess Cruises' original Crown Princess back in 1990.
Dame Helen Mirren
The British Oscar-winning actress Helen Mirren became the godmother of the world's first discovery yacht, Scenic Eclipse. The founder and chairman of Scenic, Glen Moroney, said Mirren's "style, beauty and spirit of adventure" were the perfect fit for Scenic Eclipse. It wasn't her first time smashing Champagne on a ship. Mirren also became godmother to P&O Cruises' Ventura in 2008.
Oprah Winfrey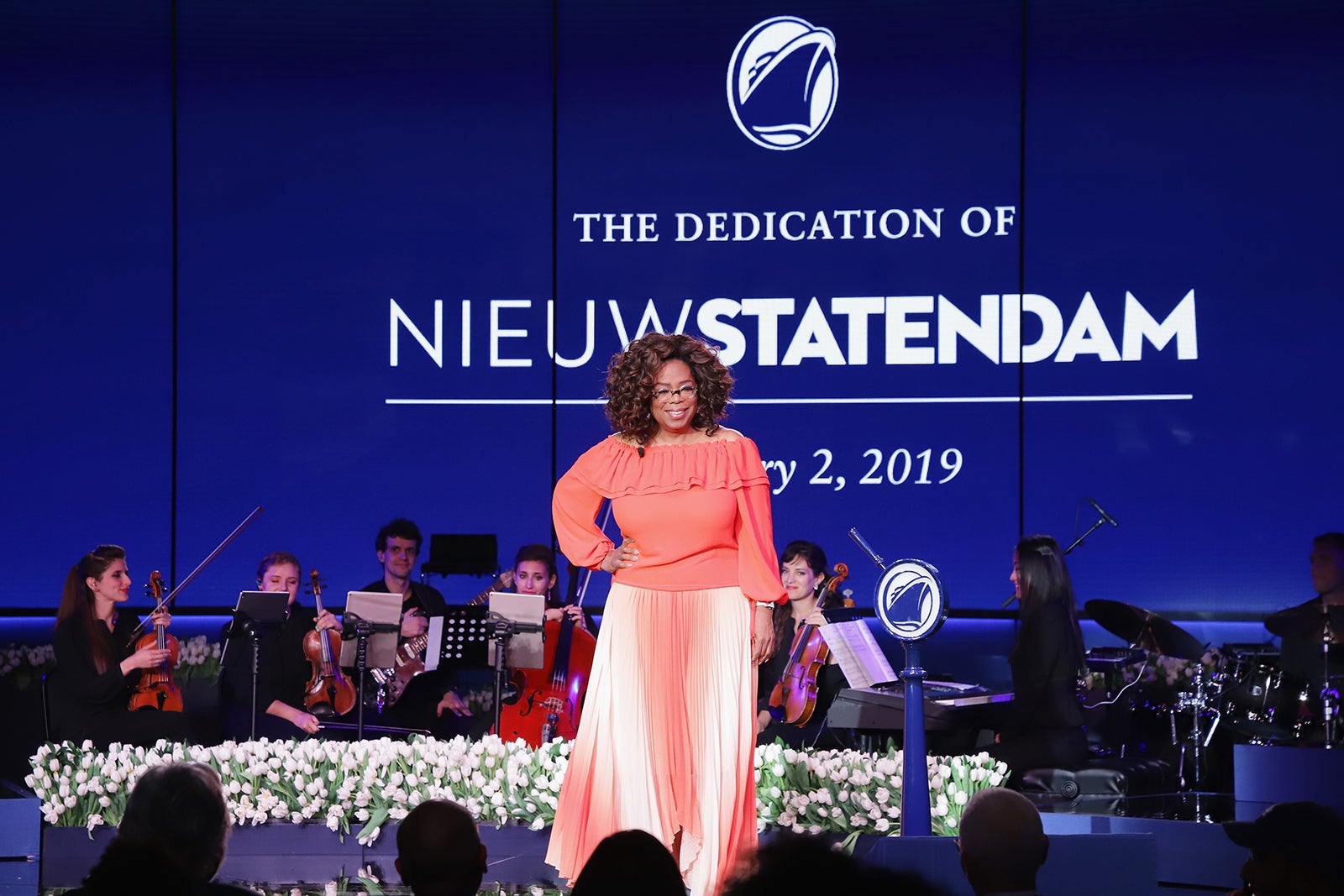 To celebrate becoming godmother to Holland America Line's Nieuw Statendam, Oprah set sail on a cruise with her friend Gayle King and 2,666 Oprah magazine readers. Oprah also worked with HAL to provide lifestyle programs, including morning meditation and intention setting, across 16 ships.
Dame Judi Dench
Champagne bottles are built tough to withstand high pressure. Unfortunately, Dame Judi Dench found out just how hard they can be when she christened Carnival Cruise Line's Carnival Legend in 2001. After three attempts, the bottle finally smashed and soaked her in the process, leading to "Dame Judi Drench" headlines alongside photos of her covered in Champagne.
Martha Stewart
The celebrity lifestyle expert's appointment as godmother was a controversial choice in 2006, coming just two years after she had been sentenced to five months in jail on felony charges. Stewart did the honors for Princess Cruises and christened the line's new Crown Princess ship that year. Stewart currently works with MSC Cruises creating exclusive onboard and onshore culinary experiences.
Malala Yousafzai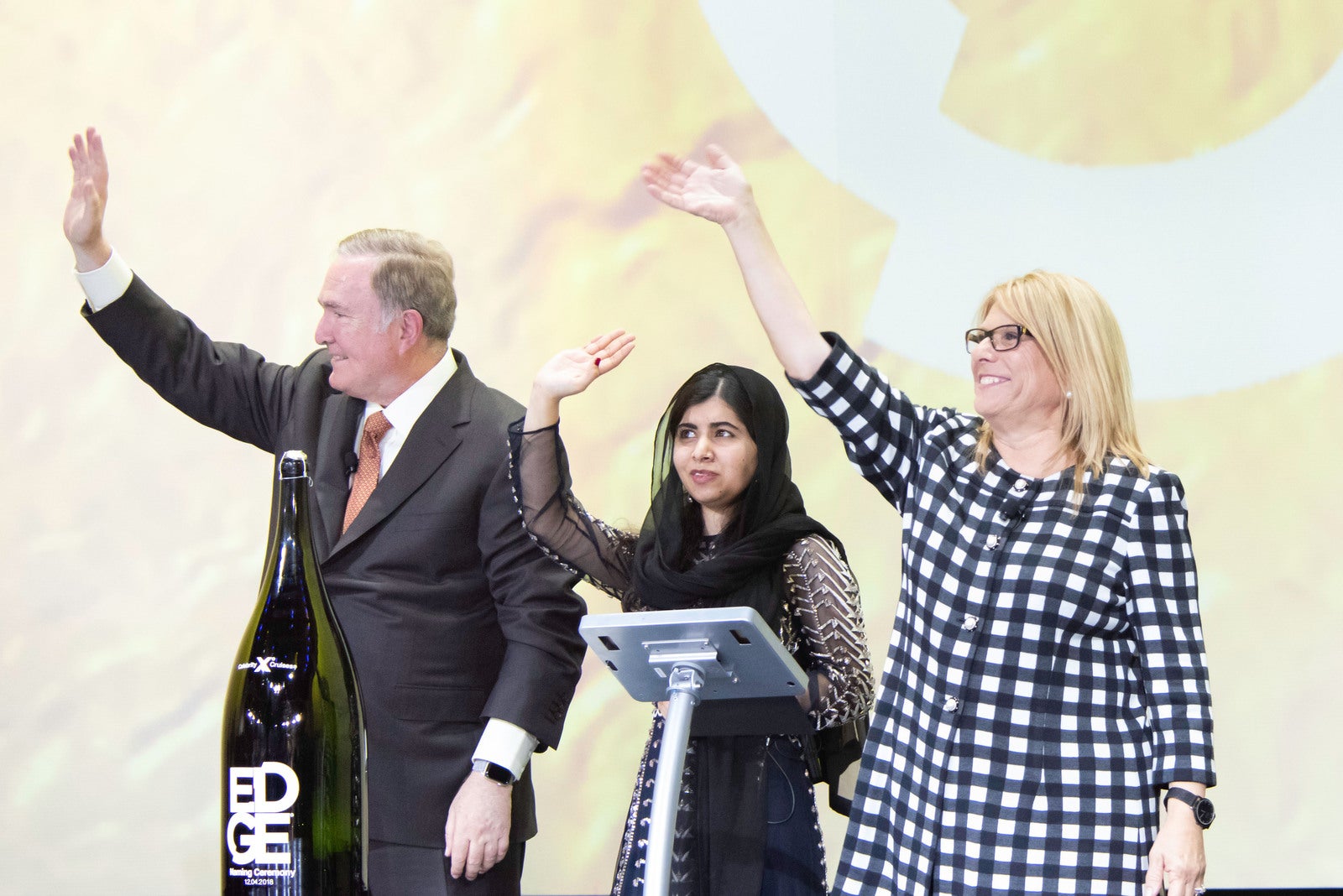 The youngest Nobel Prize laureate, Yousafzai continues her fight to give every girl the right to safe, free education through the Malala Fund. When she christened Celebrity Cruises' Celebrity Edge with sparkling water rather than Champagne, she also marked a two-year partnership between the cruise line and her charity.
Priscilla Presley
Steamboats have godmothers, too, and the biggest and most luxurious one on the Mississippi has Priscilla Presley. American Queen looks like an old-school showboat on the outside but features modern comforts on the inside. When it stops in Memphis, guests receive an invitation to the godmother's house, Graceland.
Dora the Explorer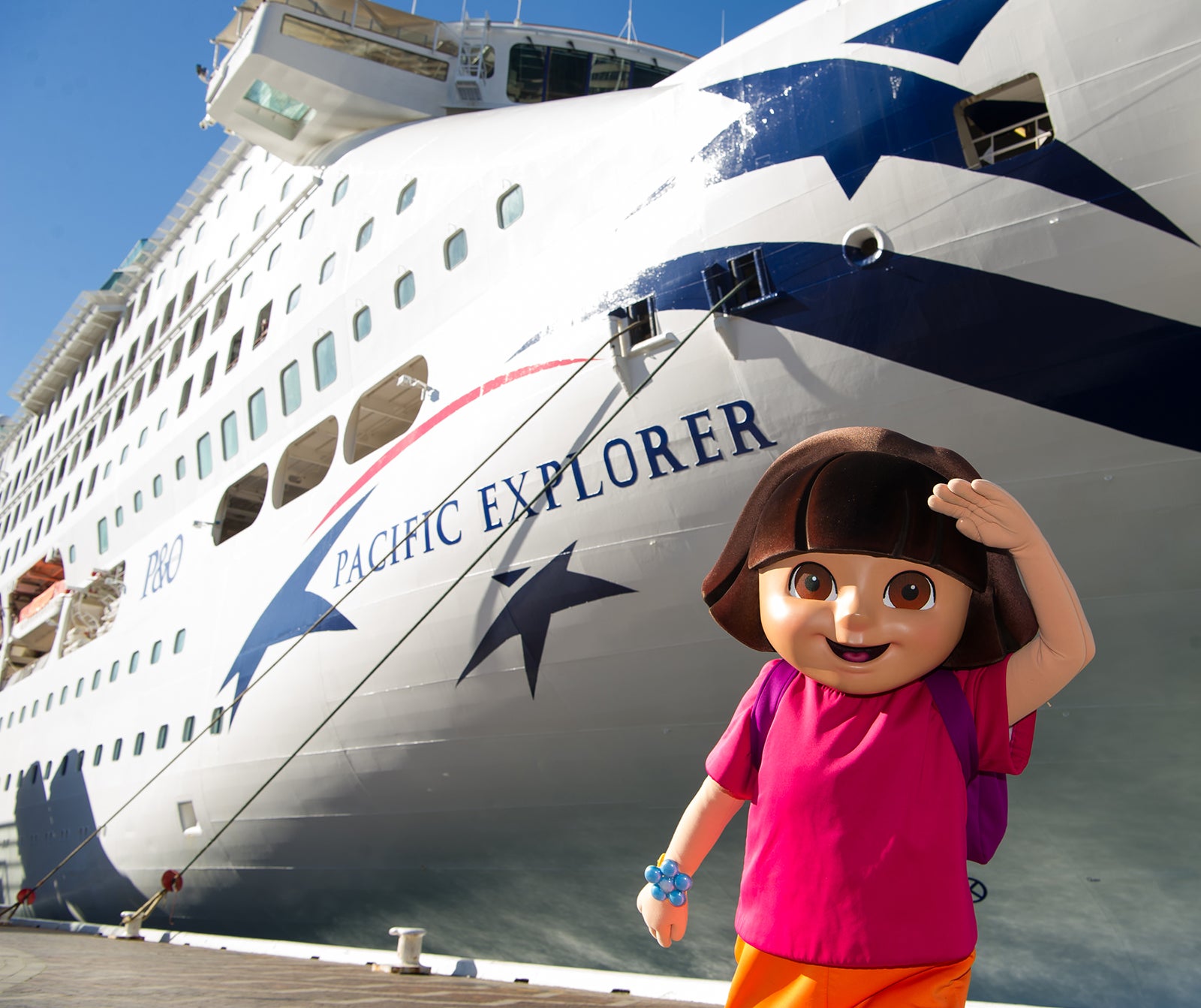 When P&O Cruises called on Dora the Explorer to serve as godmother to Pacific Explorer, the Nickelodeon character was joined by SpongeBob SquarePants and the Teenage Mutant Ninja Turtles for the christening celebration. Other animated godmothers include Shrek's Princess Fiona, who is the godmother to Royal Caribbean's Allure of the Seas, and Tinkerbell, who is the fairy godmother to Disney Cruise Line's Disney Wonder.
Pitbull
When Norwegian Cruise Line named Pitbull the godfather of Norwegian Escape in 2015, it took a lot of people by surprise. It turns out he's the godfather who keeps on giving. Pitbull's songs have been featured in Norwegian's ads, he's entertained guests at a CruiseWorld event and the video clip for his song "Freedom" is pretty much an ad for the cruise line.
Since Pitbull was named godfather, other men have also filled the role for NCL, including New York City radio personality Elvis Duran, who christened Norwegian Bliss in 2018.
'The Love Boat' cast
When "The Love Boat" cruised onto TV screens in 1977, the pilot was filmed on Princess Cruises' original Pacific Princess.
Fast forward to 2014 when six of the main cast members became godparents to the line's Regal Princess. Gavin Macleod (Captain Stubing), Fred Grandy (Gopher), Ted Lange (Isaac), Bernie Kopell (Doc), Lauren Tewes (Julie) and Jill Whelan (Vicki) reunited to pull a handle that sent 50 bottles of Champagne crashing against the ship's hull before singer and comedienne Charo brought down the house with a flamenco guitar performance. Now that's a party.
Planning a cruise? Start with these stories:
Additional reporting by Ashley Kosciolek and Kristy Tolley.