Editor's note: This post has been updated with the latest information.
Studying abroad is one of those once-in-a-lifetime experiences. For many, it might be their first time traveling out of the country and truly immersing themselves in another culture. This opportunity is invaluable and can truly set college students up for great success in years to come.
When borders finally reopened after the pandemic, applications to study abroad programs skyrocketed; the number of U.S. students studying overseas in 2022-23 increased by 83% compared to the previous academic year, according to data from Opendoors.
During college, it was important for me to study abroad. I chose a program at the University of New South Wales in Australia (near the beaches in Sydney), and I look back fondly at that experience quite often.
Unfortunately, though, the study abroad experience comes with a hefty price tag. According to a recent Study.com survey, the average cost to study aboard for a semester costs $16,368 in 2023.
These costs are generally above and beyond what parents think college students spend. Of course, this number can be higher or lower depending on your specific program, the country where you are studying and other external factors, but this is a good number to start with.
For me, the cost of studying abroad was actually similar to the semester cost at my university in the U.S. Finding a program that partners with your university is important as it will make the process more seamless and potentially more financially feasible.
Related: How to travel on a budget: Here are our 22 top tips
With such an expensive cost, it is a good idea to start budgeting early. You'll also want to remember studying abroad is more than just tuition, housing and a plane ticket to that country. You truly want it to be an experience. You'll want to eat at local restaurants, travel around the country and spend nights out in the town.
Here are some tips on how to budget for your upcoming study abroad experience:
Plan out your expenses
Aside from your program costs, there are many additional expenses that you might not have thought about. Since you are in another country, you might have to get a different cellphone and sign up for a separate plan. You also might be on the hook to pay for Wi-Fi and electricity in your accommodation.
Related: Every student studying abroad needs one of these credit cards
Transportation to your school is another cost to think about. Are you within walking distance, or will you be relying on local transportation? Also, consider how you'll get to the grocery store and around town. The costs will be minimal for some, while others might have a decent line item in their budgeting tracker.
This is something that I did not consider initially. My school was about a 20-minute walk, but for late-night classes, I didn't love walking on my own in the dark. The grocery store was also close to the school, so walking with bags in hand (with many hills) was not a great option. Every time I took the bus, I was out another $2. While this might not seem like a lot, it can add up, especially if you pay this on a daily basis.
Your housing situation will also play a big part in your additional expenses. Are you living on a campus with an included meal plan, or are you on your own for food? Do you have a kitchen where you can cook your own food, or will you primarily be eating out?
I lived in a house with seven other students and was fortunate enough that we would all take turns cooking for one another. Cooking in bulk and splitting trips to the grocery store helped keep us on track with our budget.
Using an excel spreadsheet or creating a monthly budget can help you fully keep track of your potential expenses and help you spend accordingly.
Pick a budget-friendly country
When you are budgeting out all of your expenses, make sure to take your country of choice into account. For example, studying in Western Europe will likely cost more than in Southeast Asia. This is not only due to potentially lower program costs but also your everyday living expenses, entertainment and travel costs. Finding street food for a dollar is quite easy in Thailand, but it's nowhere close to realistic in Switzerland.
Understanding personal finance and ways to manage money early on is important when preparing to study abroad. Using a general study abroad cost calculator might over or underestimate your actual costs, so make sure to fully understand the overall climate of your country of choice.
You'll also want to consider exchange rate changes. If you are budgeting a year or more out, remember that the exchange rate might be slightly different after you actually arrive in the country. This may or may not be to your advantage. Hint: You could use a no foreign transaction fee card to pay for your expenses.
Know what's included in your program costs
Figure out what's included in your program costs, as you might be surprised to see the additional costs add up. Is the flight to the country included? (If not, you can always consider using points and miles to get you there.) Will you have to furnish your apartment or housing option, or will it already be furnished?
When I studied abroad, although our apartment was furnished, we were on the hook for nonessentials, like televisions. We went to a secondhand store to buy a television for the semester, and then we sold it at the end of our six-month stay. We also had to rent a washing machine from a local store and opted to hang dry our clothes to save on the dryer expense. These were not expenses I had originally budgeted, but they can add up.
Determine the cost of living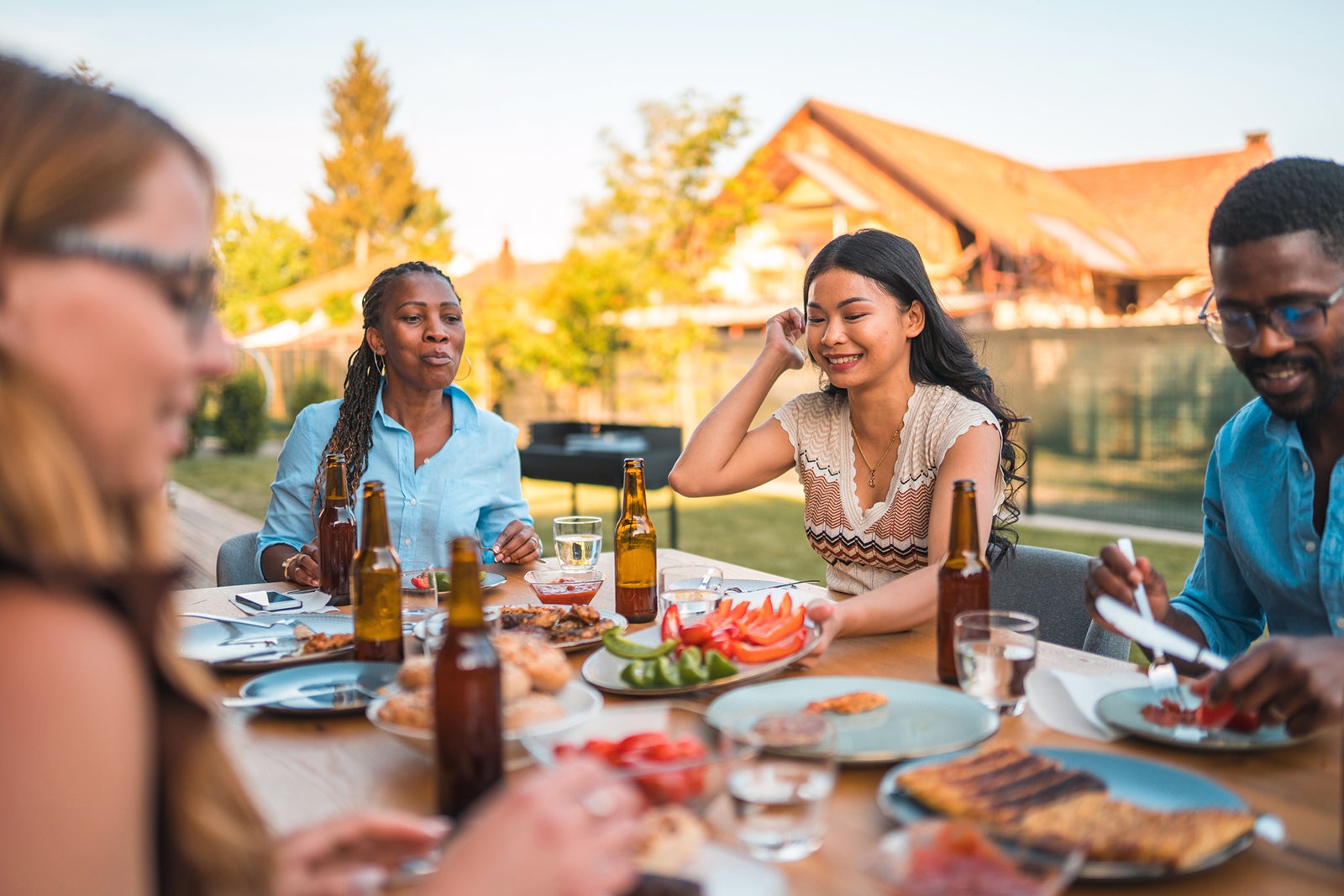 Do some research about the country you are planning to visit to figure out the cost of living. Talk to students who have studied at that particular school or join a local online group and speak to individuals currently living there.
This will help you determine essential costs, such as housing, cell phones, transportation, restaurants and groceries. Of course, you'll also want to budget for experiences as well, such as restaurants, excursions and nightly entertainment.
You will want to travel
Travel is a huge part of studying abroad too. While getting to know your new university and the city where you are living is great, seeing other parts of the country is part of the experience.
The place you're studying will determine your travel expenses. You'll want to determine if there are inexpensive train options or if you are bound to more expensive airplane tickets.
During my study abroad experience, we were pretty much on our own for sightseeing. One weekend trip, a visit to the Blue Mountains of Australia, was included in the program fee. My other travel and sightseeing expenses during the study abroad experience made up a hefty part of my budget.
Fortunately, I knew other students who went to my university of choice the year prior, and they were able to help me figure out my travel schedule in advance. My research ahead of time helped me understand to budget for a spring break trip and a week-long study period trip at the end of the semester.
I also planned a few weekend trips to see other sites within the country. Staying with friends while traveling is also a great way to reduce travel costs and help you stay on budget.
Bottom line
Studying abroad is an amazing experience and should be an opportunity to consider. The cost can add up, but some students might actually find it to be a similar price as their semester cost at home.
Ultimately, you'll want to ensure you budget properly to fully enjoy the entire experience out of the country. Make sure to live like a local, see everything you can and make the most memories to look back on.
Related reading: