If you're like us, you're already filling your basket with this year's Prime Day deals.
And if you're looking to save even more money this July 11-12, we have great news. There's a promotion for select and targeted Chase Ultimate Rewards cardholders for 50% off eligible purchases on Amazon when you redeem at least one Chase Ultimate Rewards point towards your Amazon purchase.
We don't usually recommend redeeming rewards points on Amazon, especially since, in this case, you'll get well below TPG's valuation of 2 cents each for your Chase Ultimate Rewards points when cashing them in at Amazon.
However, much like the American Express promotion we highlighted last week, you can redeem this offer by using just 1 Chase point — and we're certainly "primed" for an easy outlay like that to save up to $60 with just one point.
How to get 50% off Amazon using 1 Chase Ultimate Rewards point
Note that not everyone will be eligible for this promotion. (In fact, only half of the TPG staffers who tried this were eligible to add it to their accounts.)
See if you're eligible for the promotion
To start, check this link to see if you're eligible for this promotion.
Although you can add a Chase Ultimate Rewards points-earning credit card such as the Chase Sapphire Reserve® or Chase Sapphire Preferred® Card to your Amazon account now, the message we received gave a 24-hour minimum turnaround before the information would be approved, so it might not show up in time to take advantage of this deal for Prime Day if you don't already have one linked.
Activate the promotion
If you follow the link and see an "Activate promotion" button — congrats — you can move on to the next steps.
To activate the promotion and apply points to your next order, you must click on the button at this point to receive the promotion credit.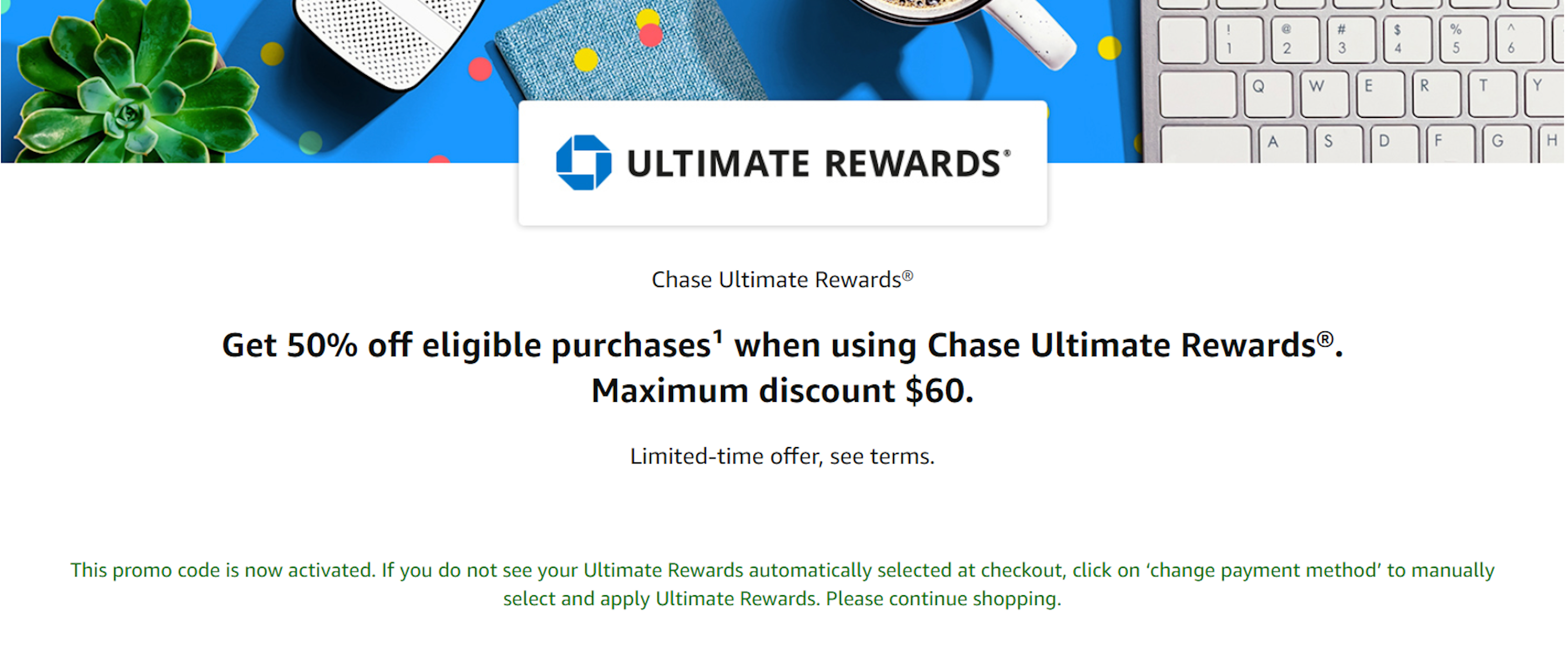 Start shopping
Now comes the fun part: Just add eligible products that are both sold and shipped by Amazon to your shopping cart (third-party vendors won't activate the discount). Here are some of the travel-related Amazon Prime sales that have caught our eyes.
One of our TPG staffers went with the ever-popular summer option of self-sealing water balloons and stacked the 50% offer by using 1 Chase point with an Amazon Prime Lightning Deal discount.
You can add as much as you'd like to your cart, but pay attention to the maximum value of your targeted offer. We've seen it as high as $60, so in that case, a $120 purchase would maximize the full deal value.
Check out
Once you've made your selections, head to your cart and add 1 Chase Ultimate Rewards point at checkout.
You'll need to cover the rest of your transaction using a Chase credit card, though you can also apply an Amazon gift card balance if there's one attached to your account. The 50% savings will be reflected on the final order checkout page.
Now you just need to sit back and wait for your half-price water balloons — or whatever it is you ordered — to show up at your door.
Final note: This offer is set to expire at 11:59 p.m. (PDT) on July 13.
Read on for more Amazon-related deals and coverage:
Additional reporting by Emily Thompson.