Editor's note: This post has been updated with new information.
In August 2022, Choice Hotels acquired Radisson Hotels Americas. And at the end of January, it became possible to transfer points between the programs at a ratio of 2 Radisson Rewards Americas points for every 1 Choice Privileges point.
In late June, we learned the integration of Radisson Rewards Americas into Choice Privileges would begin July 18 and finish before the end of summer. The integration is complete now, and members can book legacy Radisson Rewards Americas hotels through Choice Privileges. So, here's what you need to know.
Radisson Rewards Americas is no more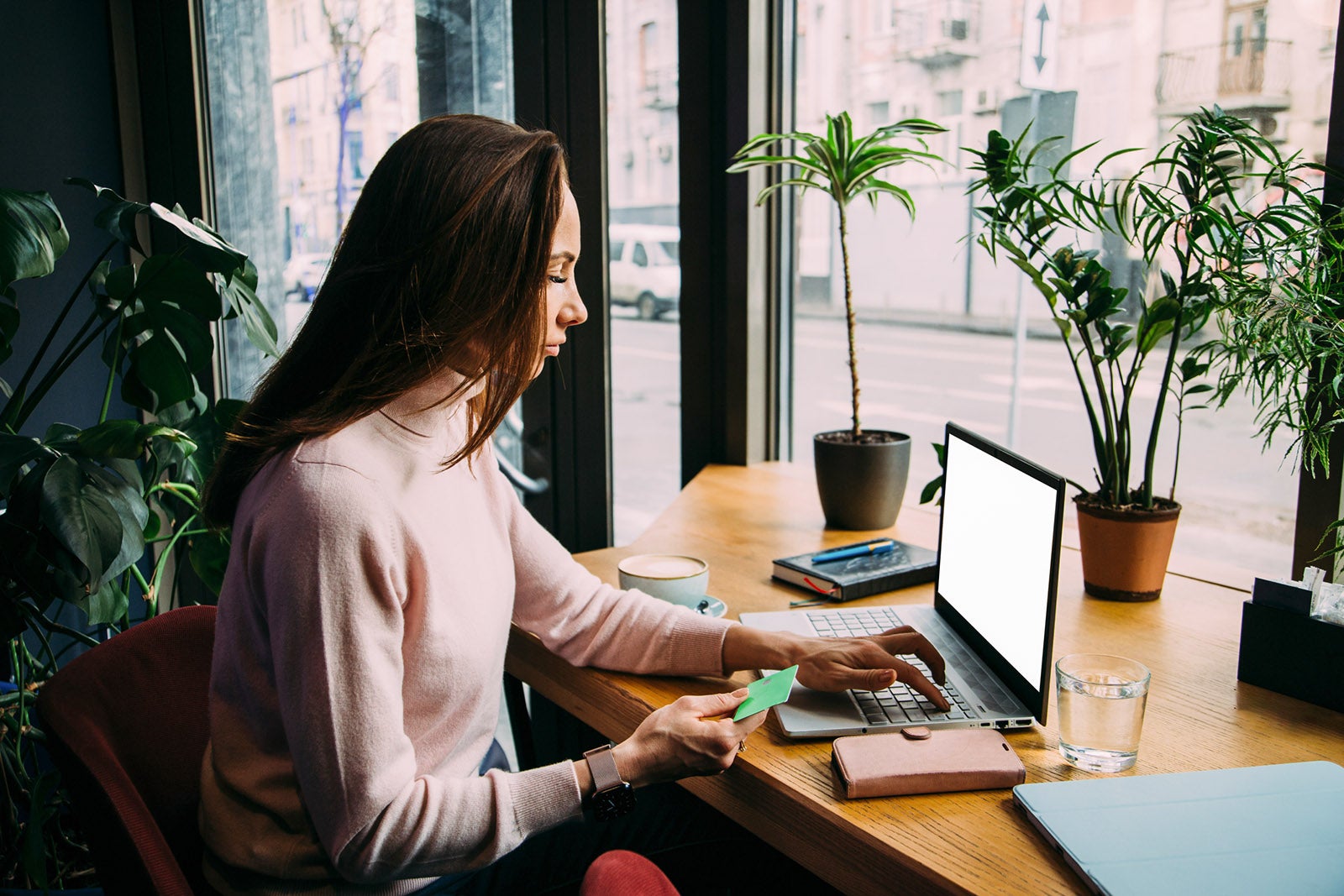 If you go to where the Radisson Rewards Americas website previously lived, you'll get an automatic redirect to the Choice Privileges website. So, you can no longer log in to your Radisson Rewards Americas account.
Radisson Rewards Americas members should now see that their elite status, points, elite night credits and existing reservations booked through Radisson Rewards Americas have been moved to the Choice Privileges program. Specifically, points balances as of July 18 were transferred at a ratio of 2 Radisson Rewards Americas points to 1 Choice Privileges point.
If you don't already have a Choice Privileges account, or your Radisson Rewards Americas account didn't transfer properly to Choice Privileges, go to this page on the Choice Privileges website for help merging your accounts.
Related: How to earn points with the Choice Privileges Eat & Earn dining rewards program
Changes in the Choice Privileges program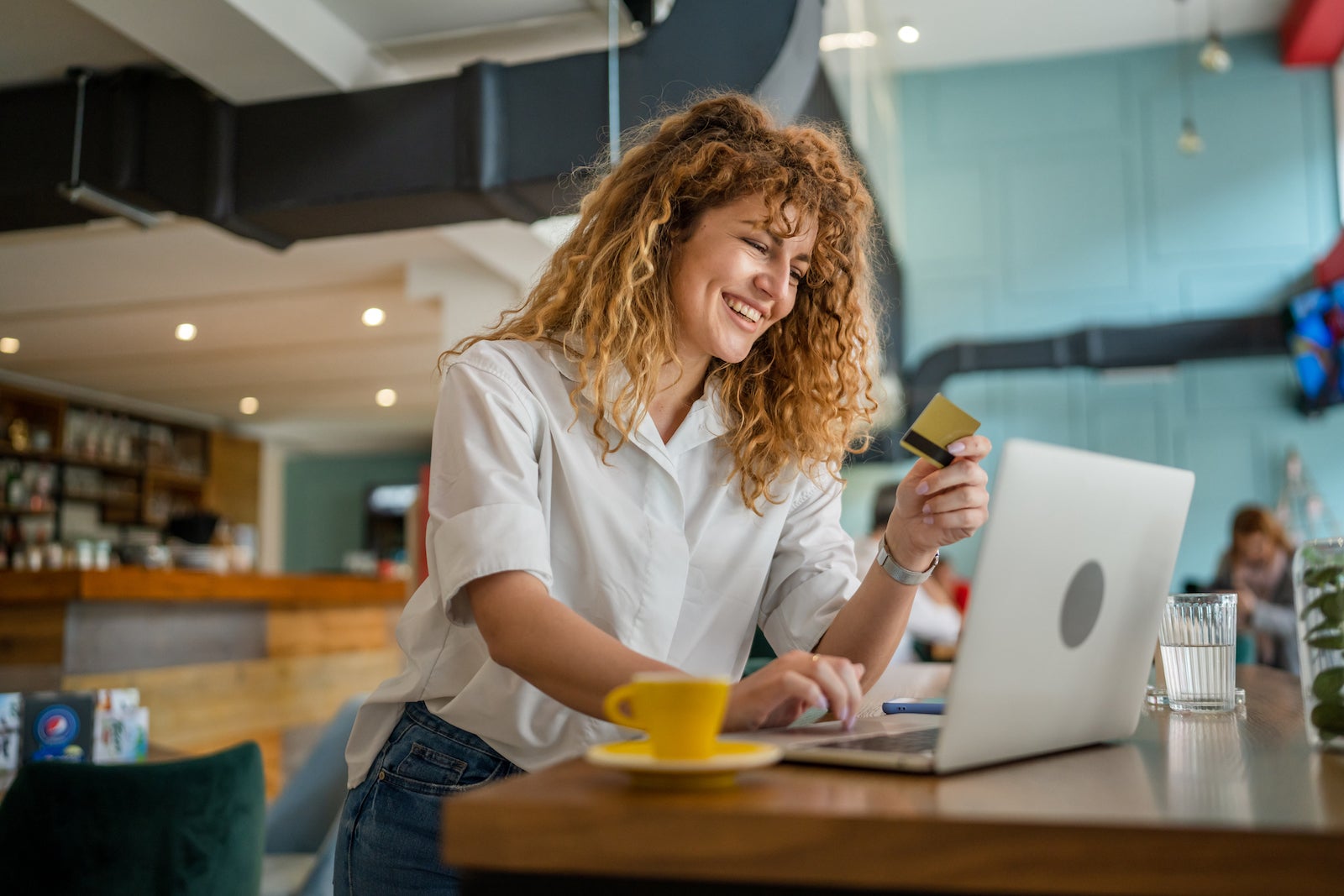 When I spoke with program leaders at the Choice convention earlier this year, they were seemingly still deciding how to fairly combine the loyalty programs. But overall, the integrated program feels fair, and Choice Privileges kept most of its previously offered promotions and benefits — including one of my favorites, the Choice Sweet Spot Rewards promotion.
Starting Wednesday, Choice Privileges members with Diamond status will enjoy complimentary breakfast for two at Radisson Blu, Radisson, Radisson Red and Park Plaza hotels in North America, Latin America and South America. A Choice Hotels spokesperson also told TPG that elite member room upgrades are now offered at:
Cambria and Ascend Hotel Collection brands worldwide
Radisson, Radisson Blu, Radisson Red, Radisson Collection, Radisson Individuals and Park Plaza brands in North America, Canada, Latin America and the Caribbean
I always appreciate getting an upgrade. But temper your expectations as the rules and regulations of the Choice Privileges program state the following:
Elite Member room upgrades are determined by each hotel at check-in, are subject to availability and only apply to Member's personal room. Upgraded room types may include recently renovated rooms, rooms on a higher/lower floor, or rooms with favored views. Participation may vary and hotels are not required to upgrade Members' rooms to any specific type.
Related: Register for Choice Hotels Your Extras to earn gift cards or other perks on weekday stays
Choice Privileges award pricing
Good news: Choice Privileges will continue its current award pricing model of publishing set award rates for each property across defined periods, with weekdays pricing differently than weeknights.

Better news: Award rates have remained similar to before the integration. For example, I can still stay in the heart of Tokyo for 8,000 points per night.
Award nights in New York City still top out at 30,000 points per night, including at legacy Radisson Rewards Americas hotels.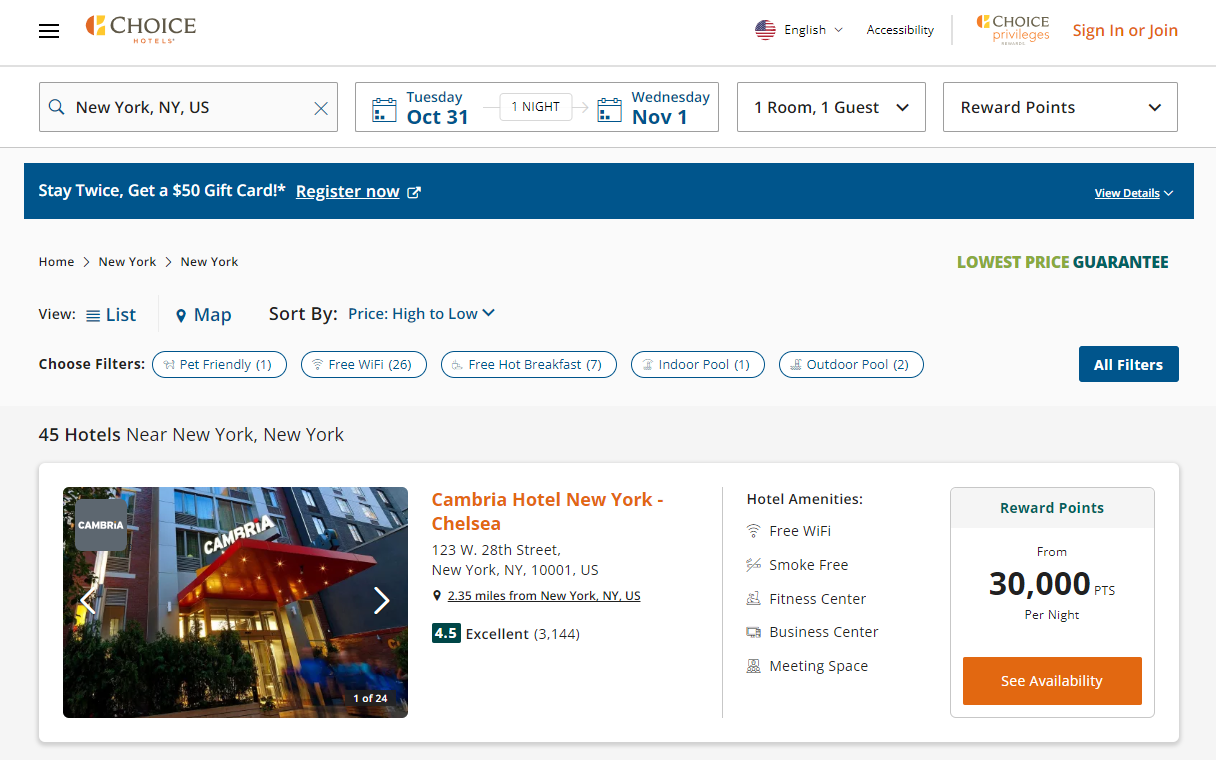 You can still book multiple room types for the same rate at many properties. For example, I can still book the three-bedroom house at the Quality Suites Huka Falls for the same award rate as a standard room.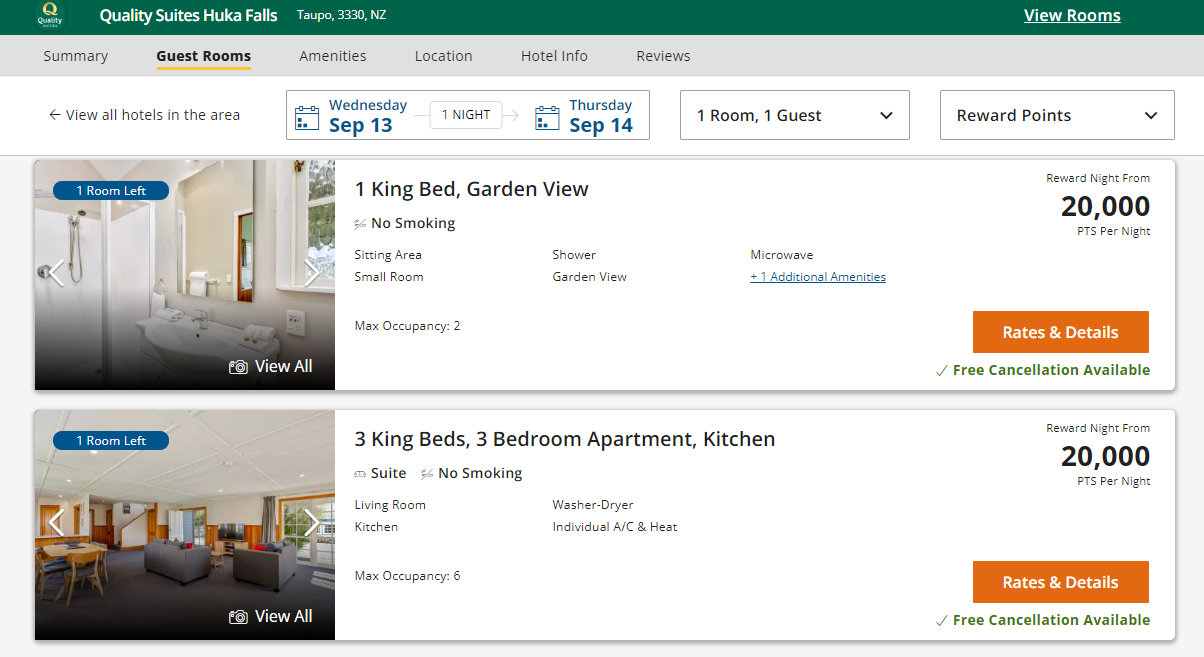 You will occasionally find properties with award nights that cost 35,000 points (and award nights in Asia Pacific can still cost up to 75,000 points). But luckily, this is limited to a small set of properties.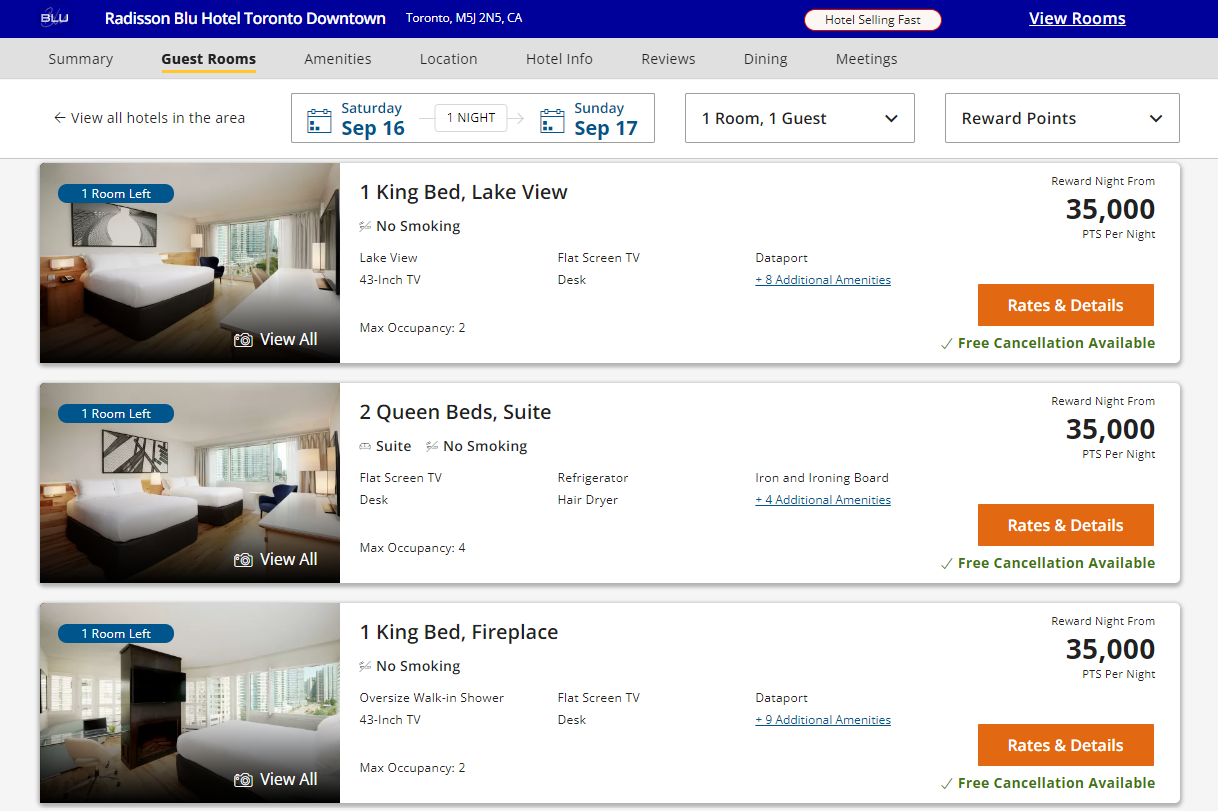 And finally, the only not-so-good news: Choice Privileges will continue its current policy of only allowing award bookings within 100 days of check-in.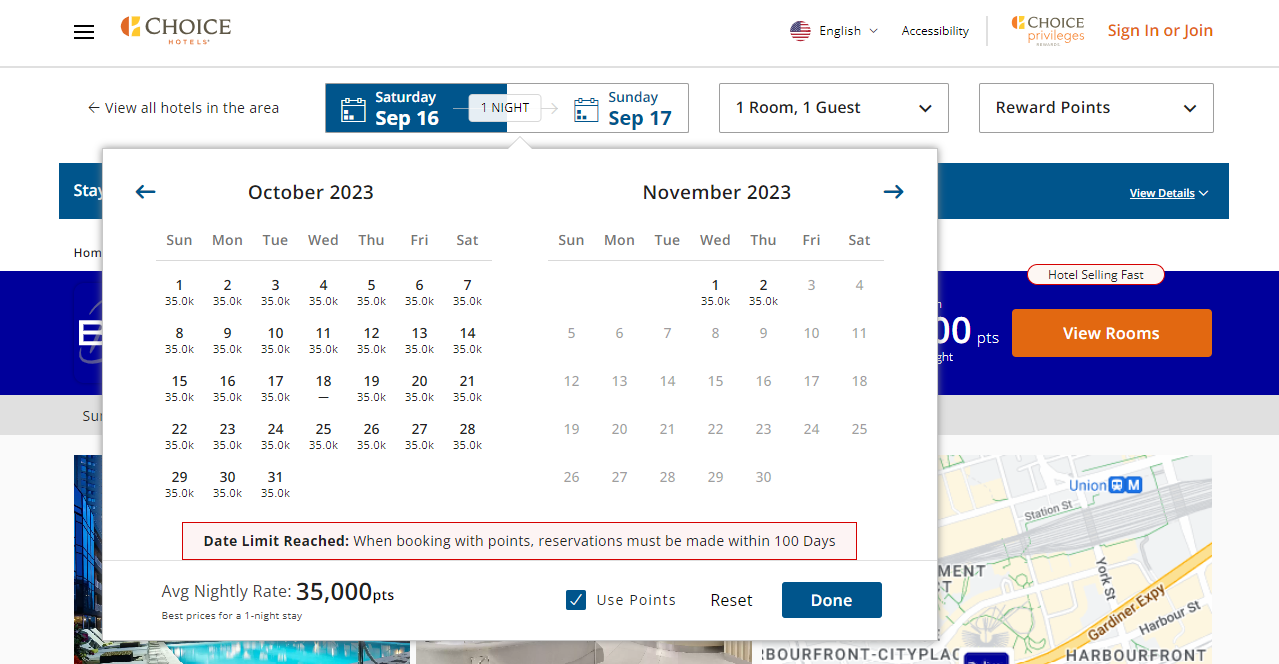 Related: Redeem Choice points for a Maldives resort, half-board hotels, suites and more
Bottom line
I've historically gotten excellent value when redeeming Choice points, so I'm relieved that Choice Privileges didn't take the integration as an opportunity to devalue its loyalty program. Instead, the integration went smoothly and quicker than expected. And Choice Privileges Diamond members can now start enjoying a new perk: breakfast for two at select legacy Radisson Rewards Americas brands.
Most Choice Privileges properties currently list award rates through Nov. 30. Choice doesn't usually publish award rates further in advance, so this isn't cause for concern. However, we'll track whether award rates shift upward as Choice extends its pricing window. But for now, enjoy earning and redeeming Choice points at over 7,400 hotels across 22 brands in 45 countries and territories.