Swiss trains are already considered the gold standard by train enthusiasts and travelers alike for their spectacularly scenic routes, clockwork punctuality and incredible engineering. This is why trains like the Glacier Express can navigate narrow tracks and climb into the sky-tickling reaches of the Alps.
It may come as a bit of a surprise to discover that the Swiss had not been able to achieve a major milestone in rail innovation until this past weekend. On Dec. 11, the new GoldenPass Express journeyed from Montreux to Interlaken via Gstaad without requiring a change of trains for the first time in history.
It's not just the route that's noteworthy. The train itself, operated by the Montreux-Berner Oberland Railway (MOB), is a combination of eye-catching design and revolutionary technology that allows it to "jump" in both height and width, while also changing electrical voltage. This way, it can connect some of the most popular tourist destinations in Switzerland into one seamless trip — a journey 150 years in the making.
Related: The best credit cards for train travel
Engineers have been trying to link these scenic Swiss destinations since 1873. But for nearly a century and a half, connecting the two main train routes between sparkling Lake Geneva and towering Swiss Alps destinations had proved too difficult because there were two different types of tracks — metric gauge and standard gauge — to navigate. These two track types aren't just different widths; they're also different heights and use different voltages. So to travel from one stunning Swiss location to another, passengers had to disembark and change trains.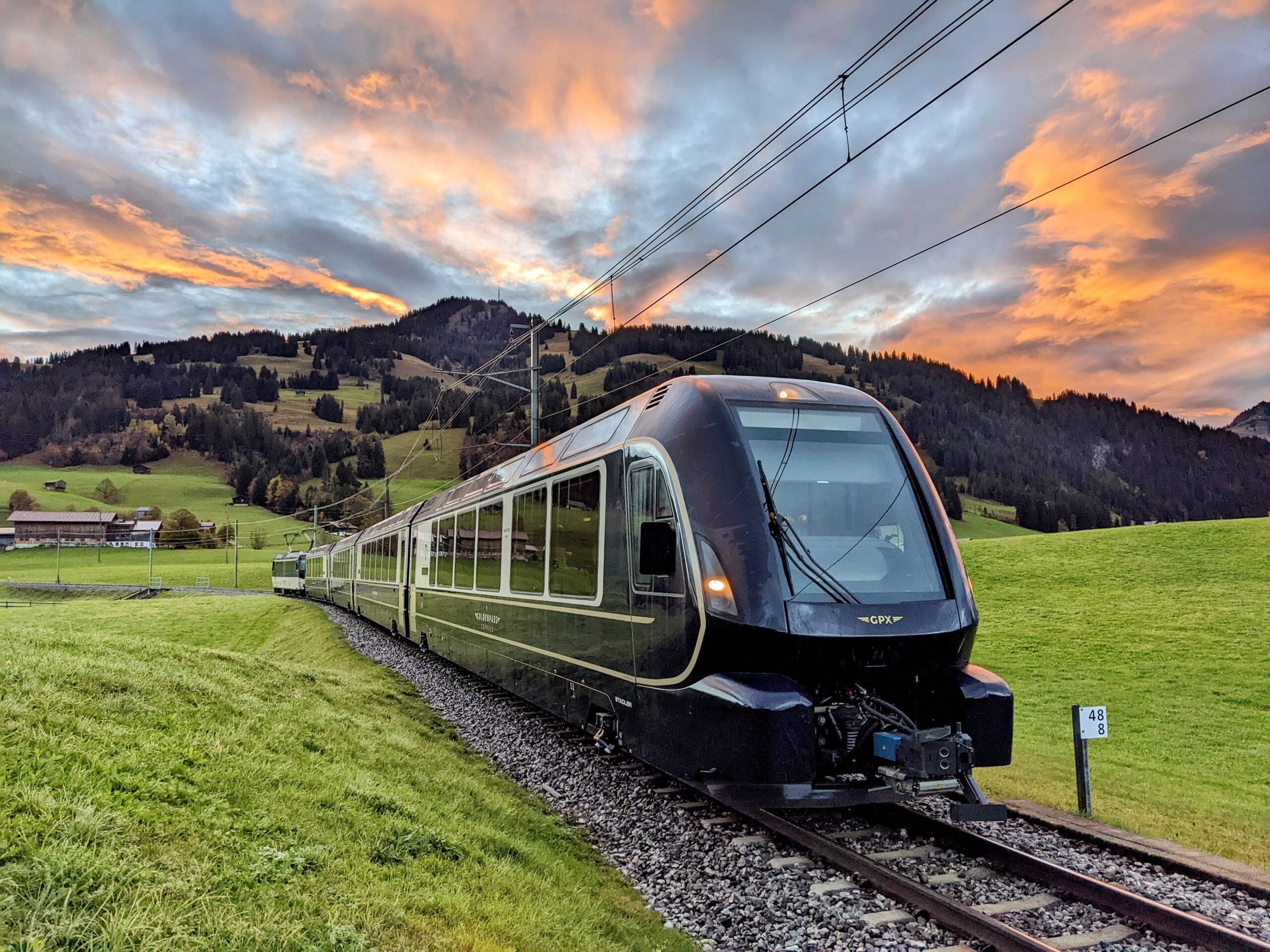 Related: 11 of the most scenic train rides on Earth
Now, however, a variable gauge bogie first developed in 2007 jumps into action, so to speak, at Zweisimmen Station; this is where the standard gauge and metric gauge parts of the journey meet. The train passes over the gauge-adapting ramp and flaps are raised to allow the coach to position itself. It's a slick piece of engineering that looks like it belongs as much in a sci-fi movie as it does in modern travel. Take a look at the video.
In addition to offering nonstop travel and stunning natural beauty, the new $96 million train offers a stylish ride with immersive views through panoramic windows. It also has plush compartments with comfortable, swiveling seats and even a gourmet menu of treats, including charcuterie and caviar, to sample along the way. On this train, passengers can truly enjoy the Swiss scenery in style.