American Airlines recently implemented dynamic pricing, which replaced the airline's previous MileSAAver and Web Specials. Previously, the airline did not offer any savings for booking round-trip tickets. Instead, it essentially combined the pricing of two, one-way tickets to arrive at the total mileage cost for a round-trip award ticket.
However, now the airline has started offering cheaper award tickets for those who book select round-trip flights, as first reported by AwardWallet.
That said, this appears to be very limited across American's route network, as TPG has tested these American routes and didn't find lower round-trip pricing in premium cabins:
John F. Kennedy International Airport (JFK) to San Francisco International Airport (SFO).
JFK to Adolfo Suárez Madrid-Barajas Airport (MAD).
JFK to São Paulo-Guarulhos International Airport (GRU).
JFK to Buenos Aires Ezeiza International Airport (EZE).
Charlotte Douglas International Airport (CLT) to MAD.
Miami International Airport (MIA) to EZE.
MIA to Rio de Janeiro/Galeão International Airport (GIG).
Dallas Fort Worth International Airport (DFW) to Santiago, Chile's Arturo Merino Benítez International Airport (SCL).
DFW to Seoul, South Korea's Incheon International Airport (ICN).
DFW to Lima, Peru's Jorge Chávez International Airport (LIM).
Nevertheless, you may be able to save AAdvantage miles by booking a round-trip ticket.
On a sample search from Chicago's O'Hare International Airport (ORD) to Rome Fiumicino Leonardo da Vinci Airport (FCO), you'll need 50,000 miles to book a pair of one-way economy tickets.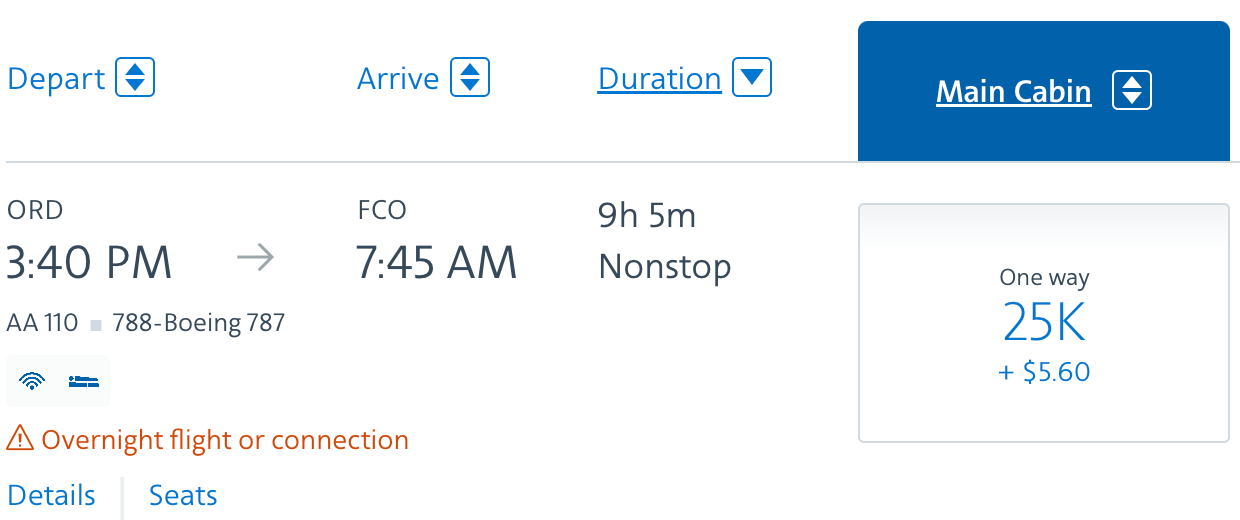 By booking these exact same flights as a round-trip itinerary, you'll save 8,000 miles.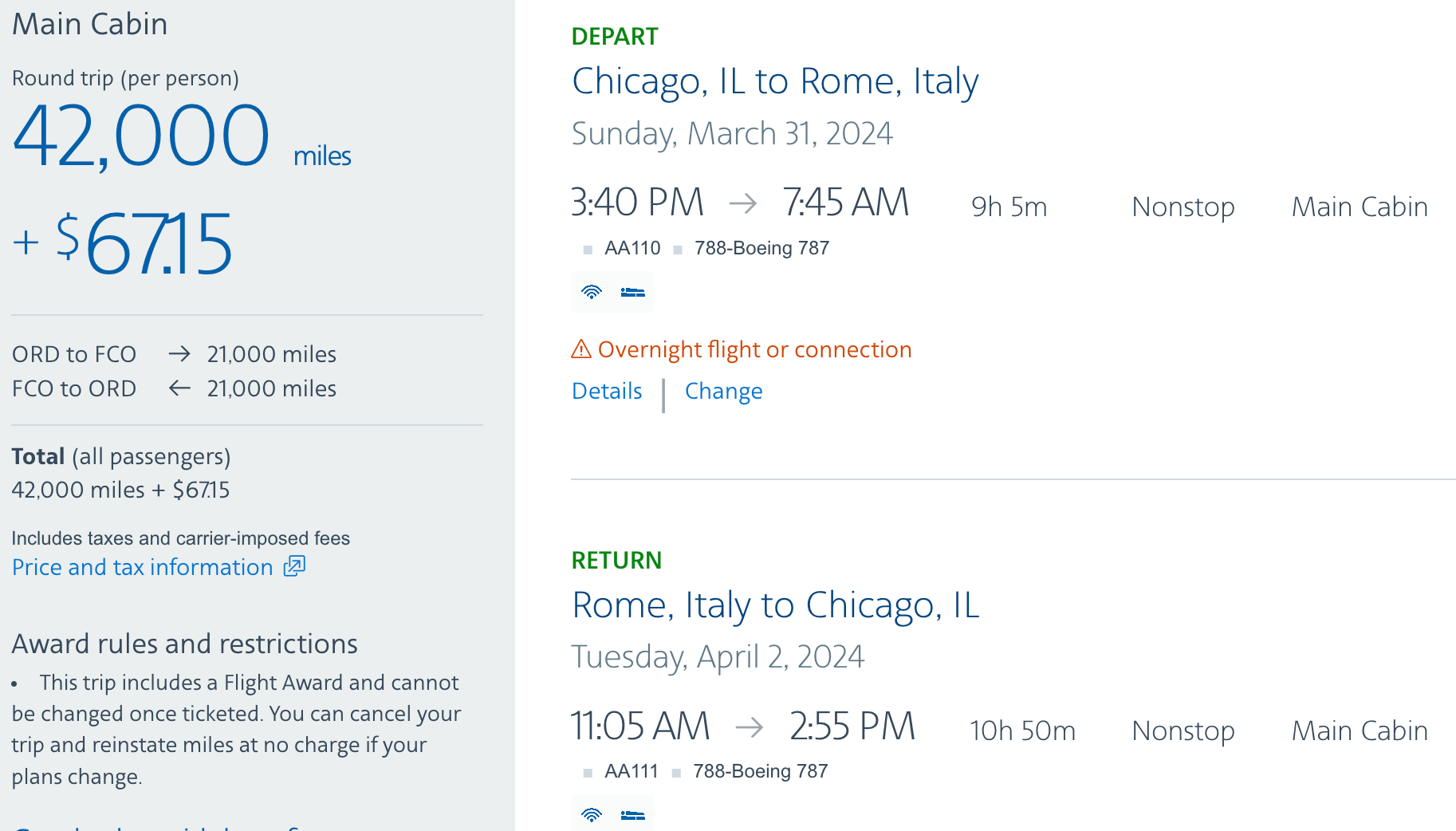 You could save quite a bit going this route, as 8,000 AAdvantage miles are worth more than $140 based on TPG's valuation.
Related: How to earn miles in the American Airlines AAdvantage program
Here's another example, this time for a business-class search from Los Angeles International Airport (LAX) to London's Heathrow Airport (LHR).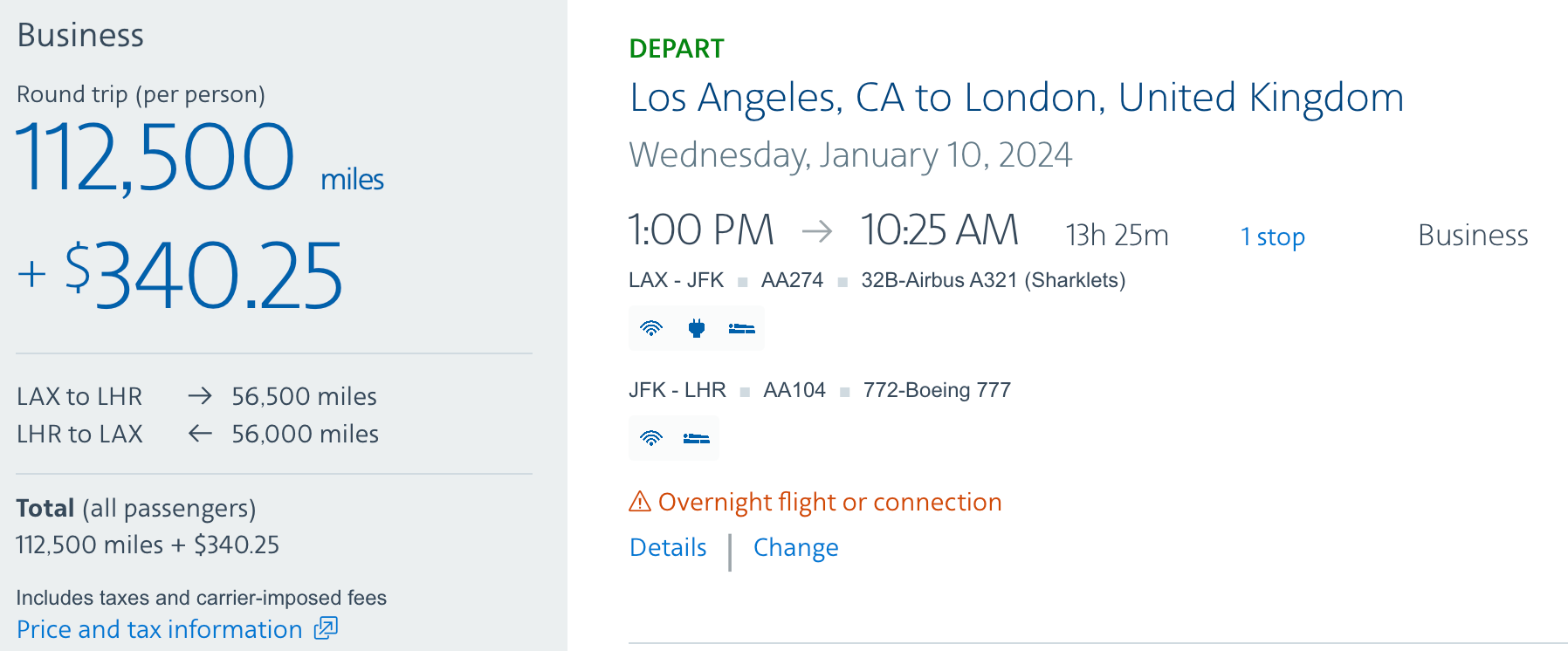 As you can see, booking the outbound ticket as a one-way flight would set you back 67,000 miles, and the same price holds on the return, putting the total mileage cost at 134,000 miles. However, combining them on a round-trip itinerary drops the required mileage to 112,500 miles — a savings of 21,500 miles.
Note that this doesn't apply to award tickets operated by partner airlines, so those will still price based on the (still-published) award charts on aa.com.
Related: From zero to Executive Platinum: Why and how I qualified for American's top-tier status without plans to fly the airline
Bottom line
American officially dropped award charts on its own metal a month ago, and it's now offering the ability to book select round-trip award tickets at a discount compared to two one-ways. As of now, this isn't widespread across the carrier's network. That said, check round-trip award rates before booking a one-way award on your next AAdvantage redemption.