It's almost that time of the year: thrilling tennis matches, chilled Honey Deuce cocktails and some nice lounges to go with it. That's right; we're talking about the return of the U.S. Open from Aug. 28 to Sept. 10, 2023. If you have an American Express credit card, there are multiple U.S. Open benefits your credit card can unlock again.
Some U.S. Open perks are practical, like getting a discounted checked bag at security checkpoints, while others are reserved for certain Amex cardholders, including access to a pop-up Amex Centurion Lounge.
And while the matches don't begin until later in the month, today (Aug. 10) at 1 p.m. EDT, Amex Platinum Cardholders can begin to book their spots in the pop-up Centurion Lounge via Resy.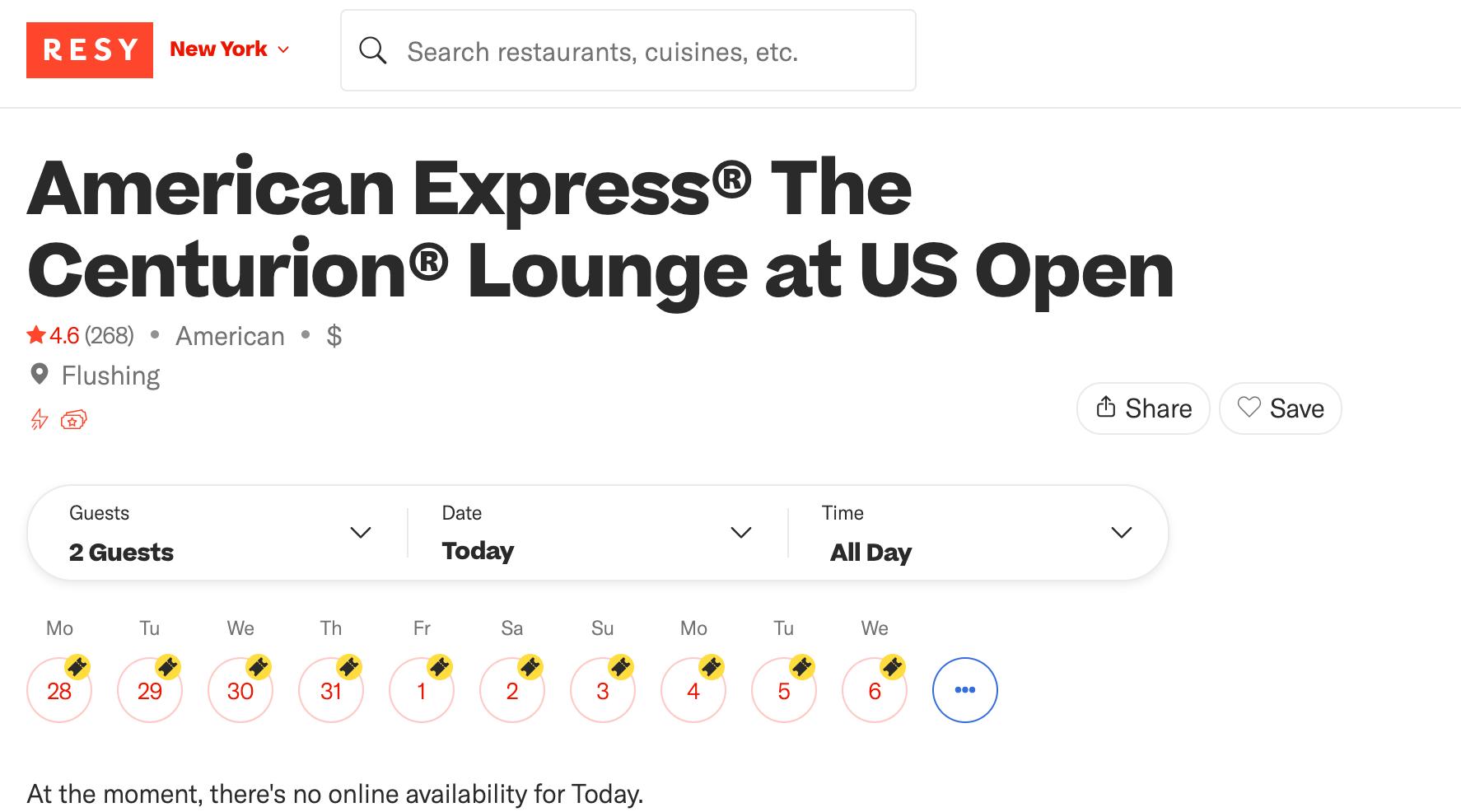 Let's look at the Amex cardholder benefits available for this year's U.S. Open and how to take advantage of them.
Save $10 with targeted Amex Offer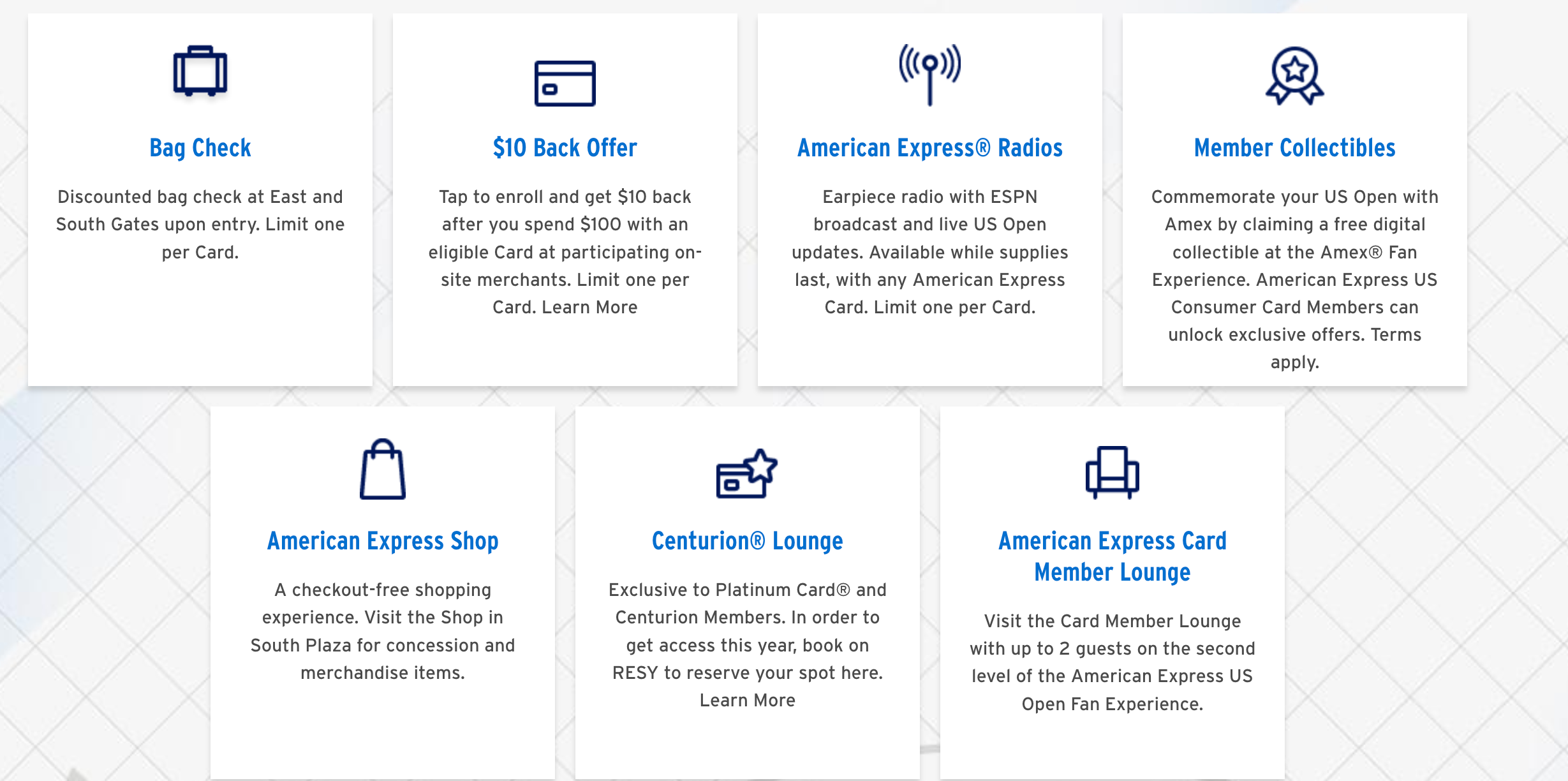 A current Amex Offer can provide $10 back after spending $100 on eligible U.S. Open onsite purchases with an eligible Amex card. To take advantage of this offer, log into your account here to see if the offer is available for your card.
Here's what it looks like on the American Express homepage.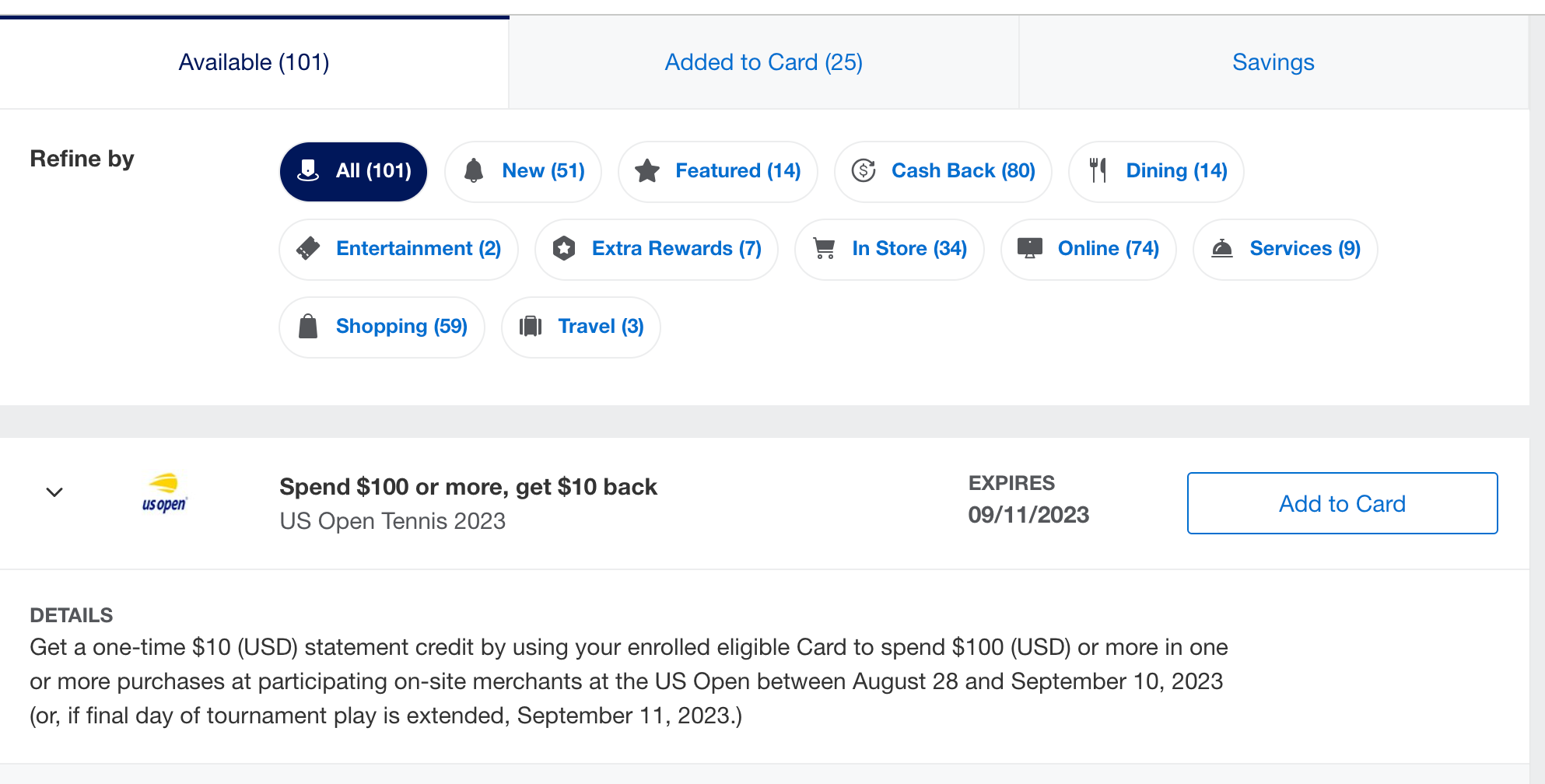 Discounted bag check
Entering the U.S. Open with bags, purses and backpacks is subject to strict limits. Each person is allowed a maximum of one bag, with a maximum size of 16 inches by 12 inches by 12 inches. If you have another bag that needs to be checked, your Amex can save you some cash since Amex cardholders can get $5 off one checked bag at the East and South Gates.
Radios with ESPN broadcasts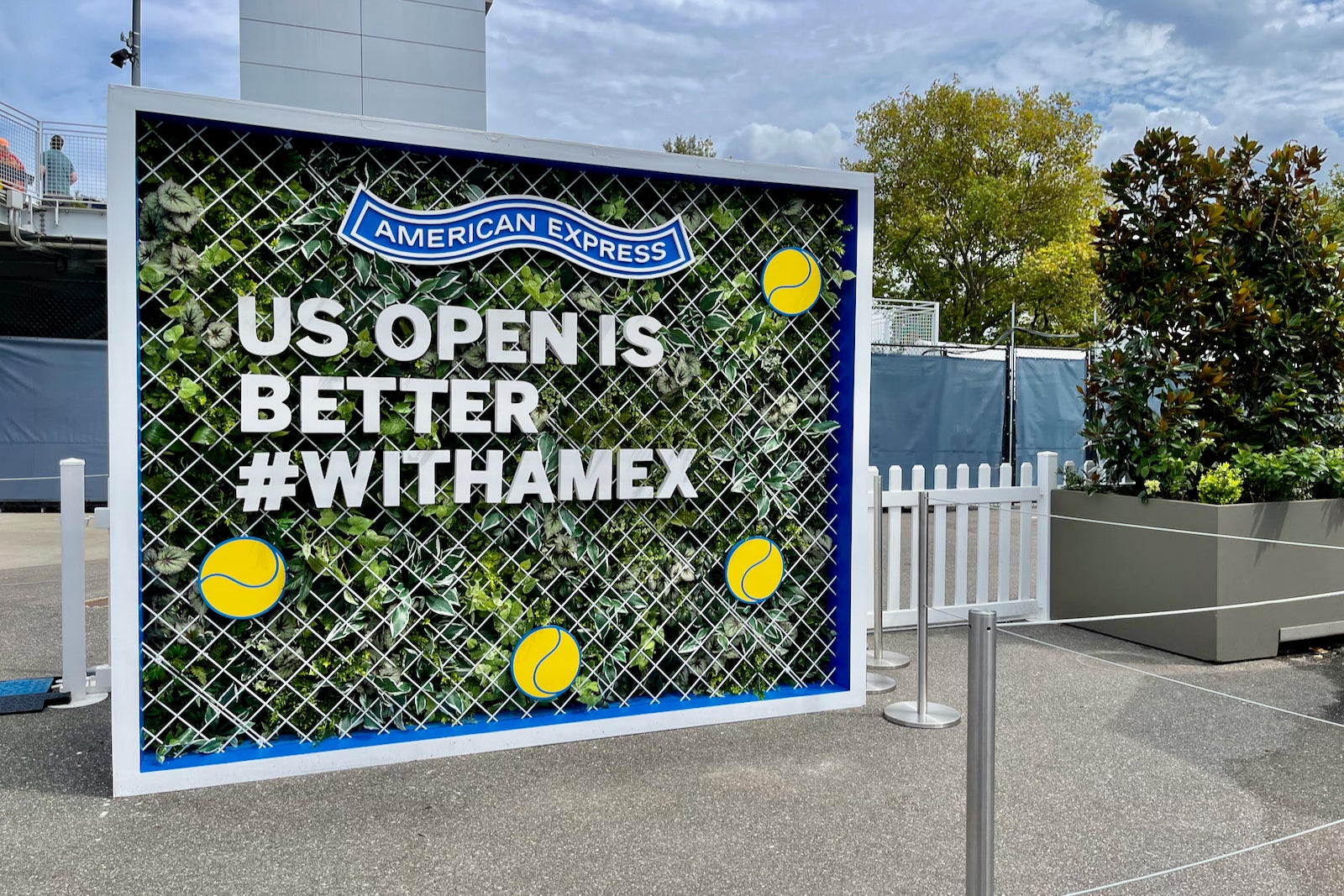 ZACH GRIFF/THE POINTS GUY.
Since you can't be in two places at once, you can watch one match while following the other via ESPN on a free loaner radio. While supplies last, your Amex card can get you an earpiece radio with play-by-play coverage and highlights from the U.S. Open by showing an Amex credit card. This benefit mentions that showing your card in a mobile wallet is acceptable.
There is a limit of one radio per cardmember, and the radios only work within the grounds of the U.S. Open and need to be returned by the end of the day.
Buy concessions at the American Express Shop
Whether you're using your mobile wallet, tapping your card or swiping your card, you can buy concessions at this shop that is checkout-free in the South Plaza.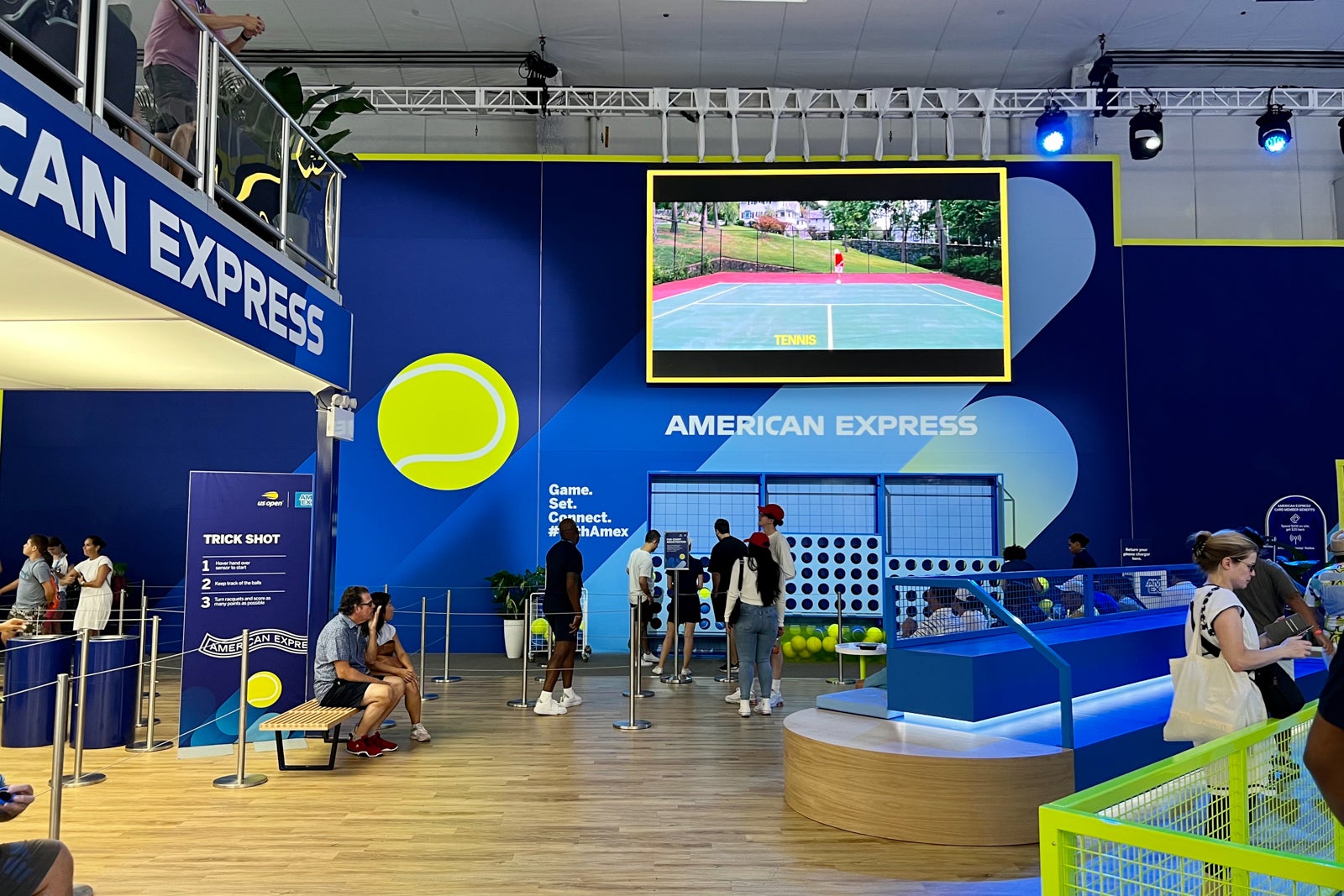 Exclusive lounge for all Amex cardholders
Anyone with an Amex credit card (excluding American Express prepaid cards) can access this lounge on the second floor of the U.S. Open American Express Fan Experience. Entrance is free, and cardholders can bring two guests. Entrance is first come, first served. Inside the lounge, you'll have access to drinks, snacks, places to charge your phone and air conditioning to escape the summer heat. It is capacity-controlled, so it's not guaranteed there will be room.
Related: These are the best Amex credit cards 
Centurion Suite for Platinum and Centurion cardholders only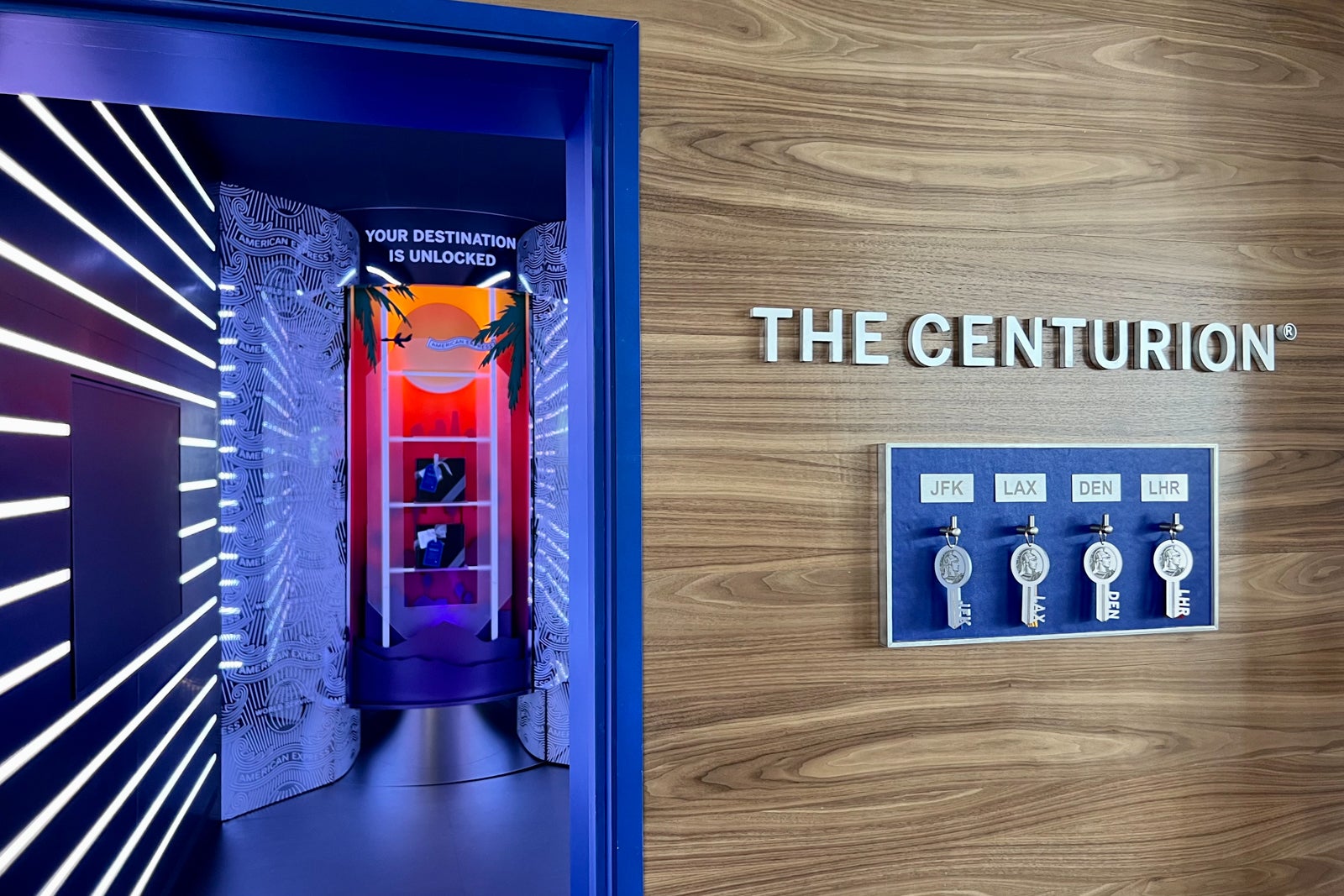 In addition to the lounge available to all Amex cardholders, there will be a Centurion Suite available to those with the following cards:
The information for the Centurion Card has been collected independently by The Points Guy. The card details on this page have not been reviewed or provided by the card issuer.
As with regular Centurion Lounge locations, entrance is free, but you must show your eligible card to enter. You also need to make a reservation in advance via Resy, though you can request to be added to the waitlist by visiting the lounge in person, subject to availability. Reservations are open now for Centurion cardholders and will open at 1 p.m. Eastern on Aug. 10 for Platinum cardholders.
The rules state that Platinum cardholders can make reservations for a table of up to two people, while, Centurion cardholders may make reservations for a table of up to four people. Each reservation provides up to one hour of access to the lounge.
To get an idea of what to expect, here's a look inside the lounge in 2022.
Related: Guide to the Amex Centurion Lounge network
Bottom line
American Express credit cards can provide numerous perks and one of those perks is access to special areas and experiences at events like the U.S. Open.
At the 2023 U.S. Open, Amex cardholders had access to early ticket sales ahead of public ticket sales and will have benefits like free checked bags and access to exclusive lounges once the tournament begins.
Related reading:
Additional reporting by Ryan Smith and Summer Hull.