In Munich — the centuries-old capital of Bavaria — you are immersed in the rich history, architecture, culture and beauty of Germany. With only a few days to see, do, eat and drink it all, my husband and I were looking for a centrally located hotel that could be just as much a jumping-off point for our adventures as a retreat when it was time to rest up for the following day's exploits. We found that — and an unexpected bit of cheekiness — at Roomers Munich hotel.
Quick take
I knew from words like "hedonistic" and "sensual" in the overview on the hotel's website that Roomers Munich — a member of Marriott's Autograph Collection — was looking to attract travelers who value swanky functionality as well as more sensory pleasures like a well-mixed cocktail, a savory meal and a soft robe and slippers tucked away in their hotel room.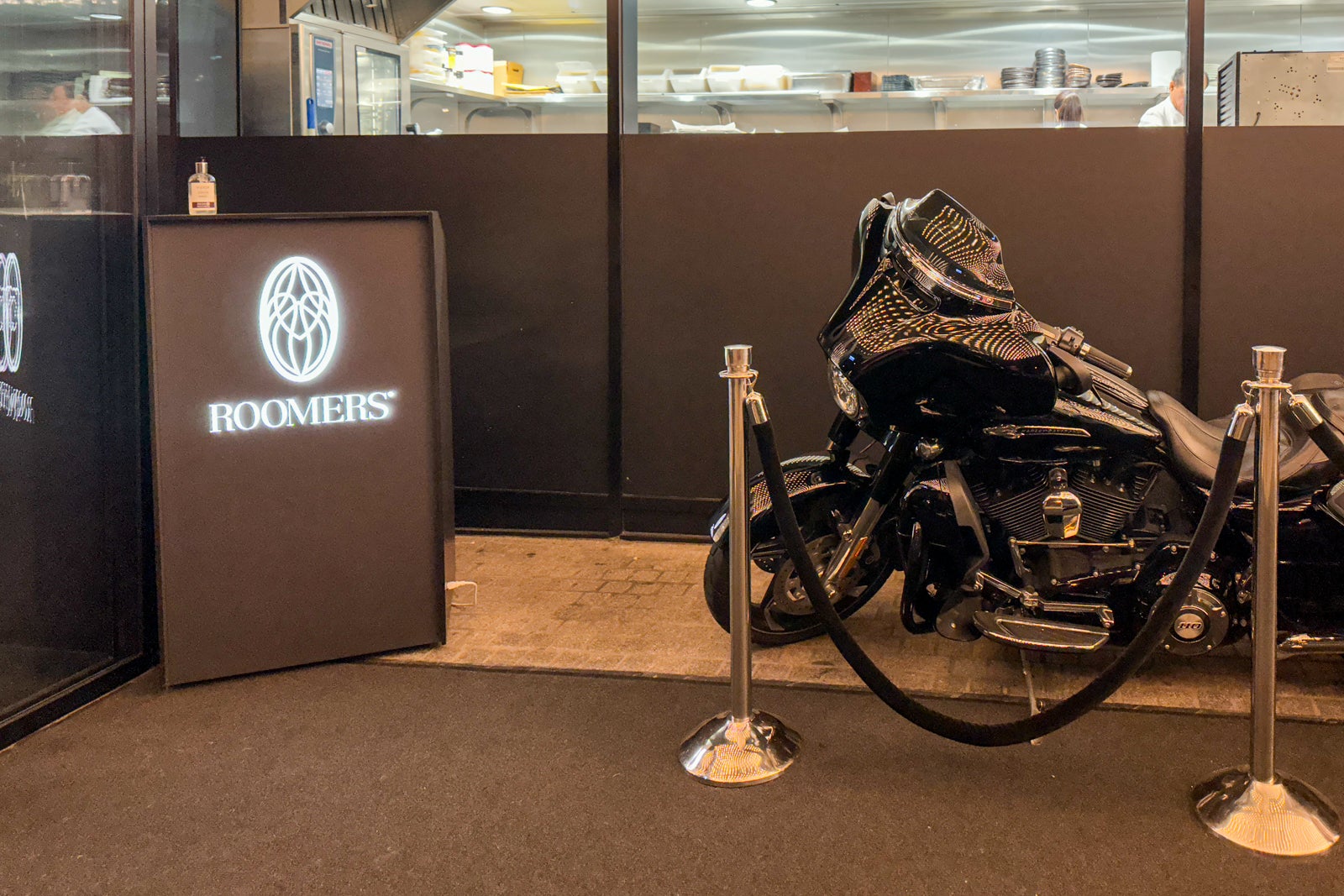 Upon arrival, Roomers Munich certainly lived up to that expectation. We were greeted with a smile and a cocktail from the lobby lounge, which was filled with comfy chairs and couches where guests could gather. After our warm welcome, we made our way to the room. The variety of jewel-toned colors and soft textures gave the room a warm, cozy feel, while an array of smart features like bedside controls for the lights and housekeeping requests spoke to a sleek, design-forward ethos.
Getting there
Roomers Munich is part of a trio of properties in Germany under the Roomers brand — the other two are in Frankfurt and Baden-Baden. A fourth, also in Frankfurt, is slated to open in 2023. Roomers Munich is located in the city's Westend neighborhood, less than 2 miles from the medieval Old Town area and only a short walk from tram, subway and bus transportation. The closest airports are Munich International Airport (MUC) and Salzburg Airport (SZG) in Austria, though MUC is much closer (between 30 and 40 minutes away). We rented a car to get from the airport to our hotel, but public transportation is also available.
Booking
Roomers Munich has 280 rooms and suites ranging from a 269-square-foot one-queen room to a two-bedroom suite with a hot tub on its private balcony. As an Autograph Collection hotel, Roomers Munich participates in the Marriott Bonvoy program and rooms can be reserved using cash or points.
Pricing ranges from $160 per night (plus taxes and fees) for a basic room to over $3,000 per night for the privilege of soaking in your own private outdoor spa. Points pricing starts between 30,000 and 42,000 points per night, though certain room types, including suites, do not appear to be available for points redemptions.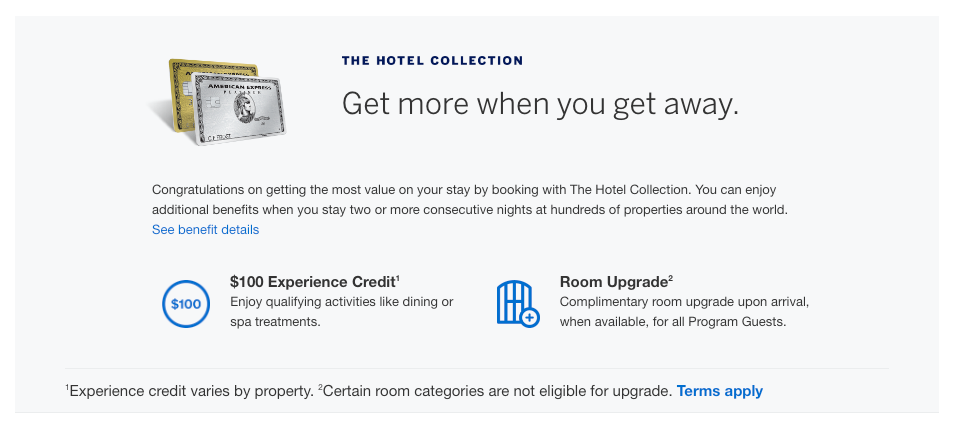 As a member of The Hotel Collection from American Express, Roomers Munich is also bookable via the Amex Travel portal, which is the method we used for this stay. We redeemed 73,661 Amex points for a two-night stay in a deluxe room with one king bed, which was equal to a cash rate of $241 per night (plus taxes and fees).
Related: Grand Canyon to Bavaria: Here are 7 fall trips to take on points and miles
When you book with The Hotel Collection through the Amex Travel portal for stays of two nights or more, you also get a $100 on-site experience credit, which we did receive, and a complimentary room upgrade when available, which we did not. Our Marriott Gold Elite status — a perk of holding The Platinum Card® from American Express — banked us a welcome gift of 500 Marriott Bonvoy points and a 25% bonus on the base points we earned during this stay. This is one of several benefits you can register for as an Amex Platinum cardholder.
Standout features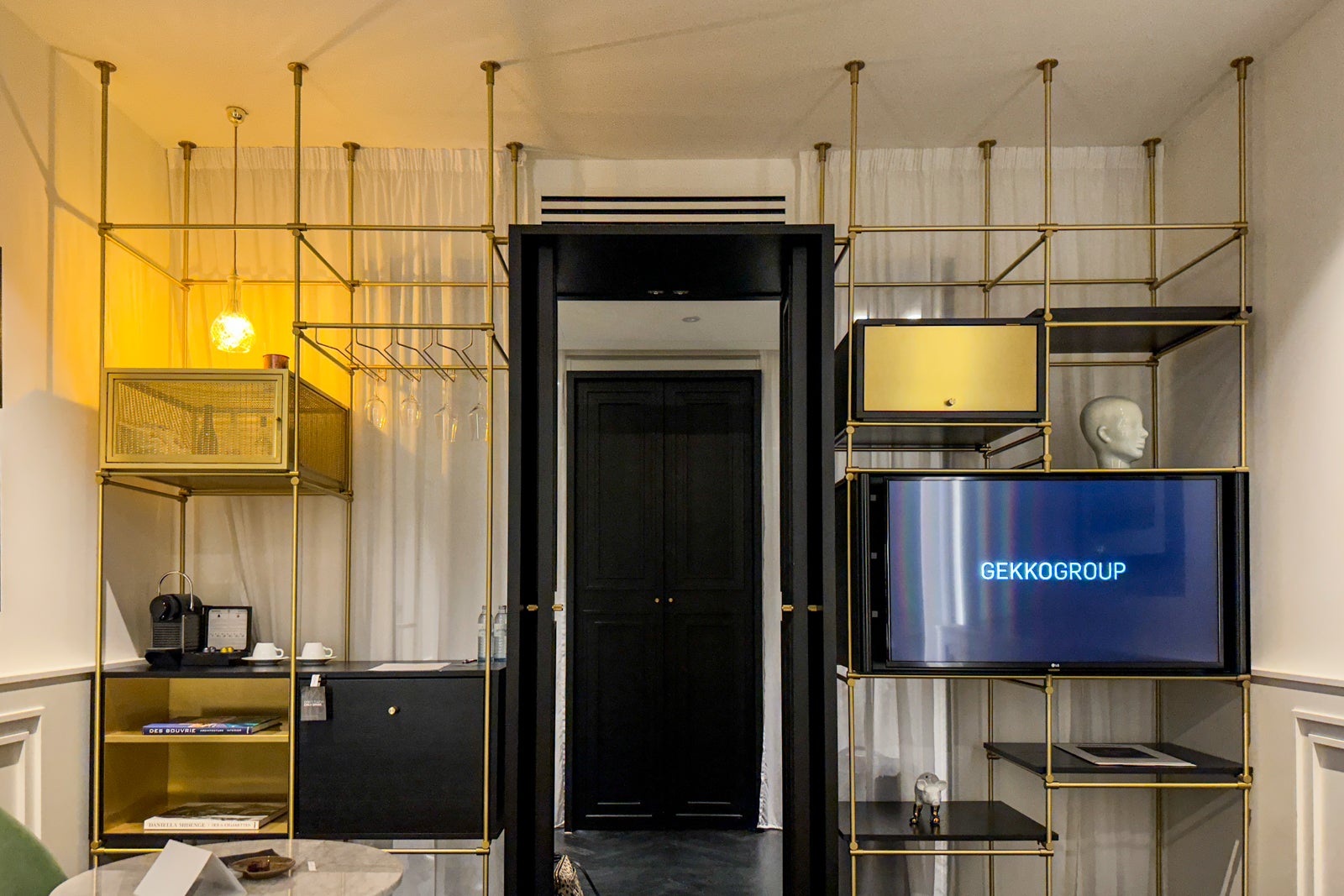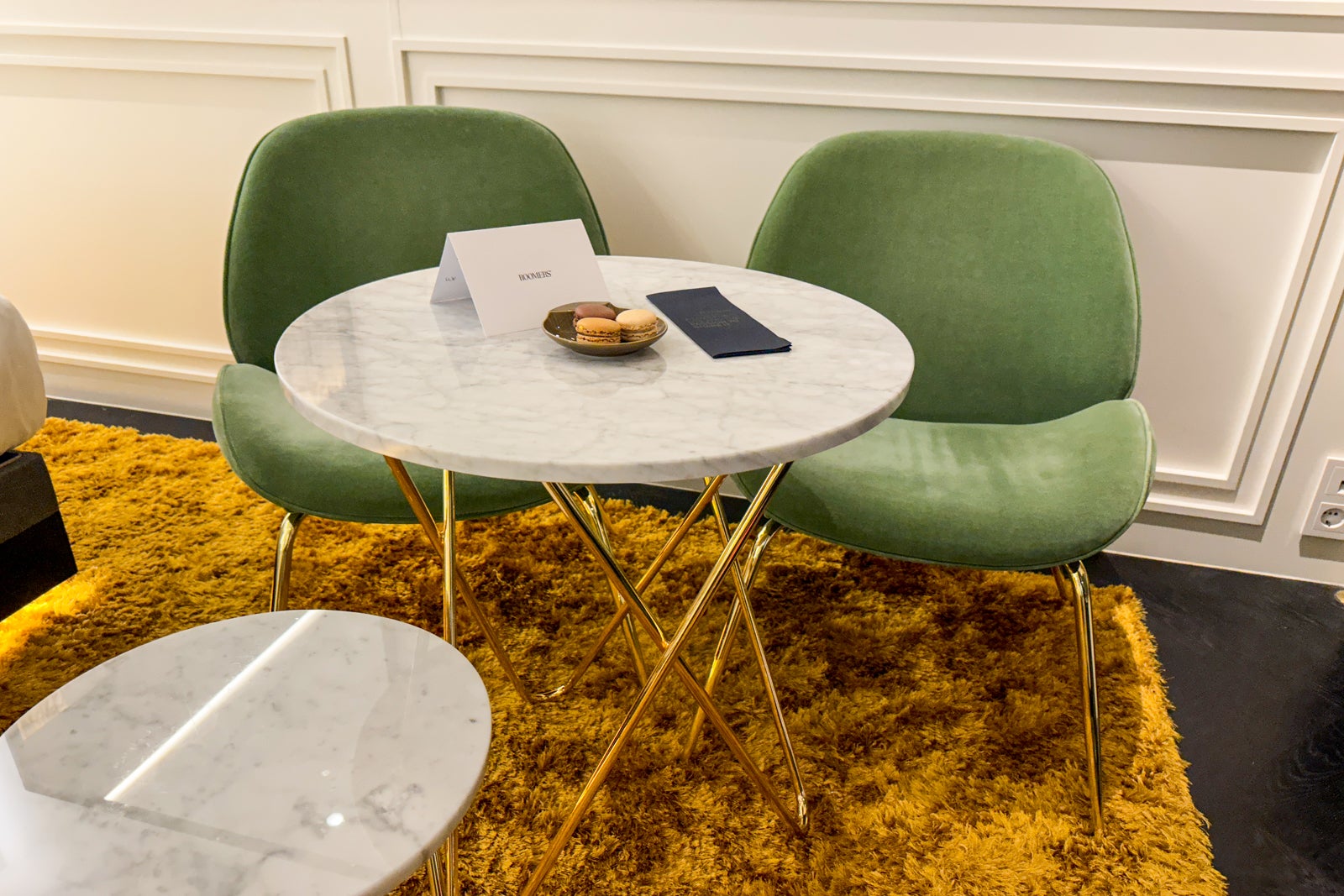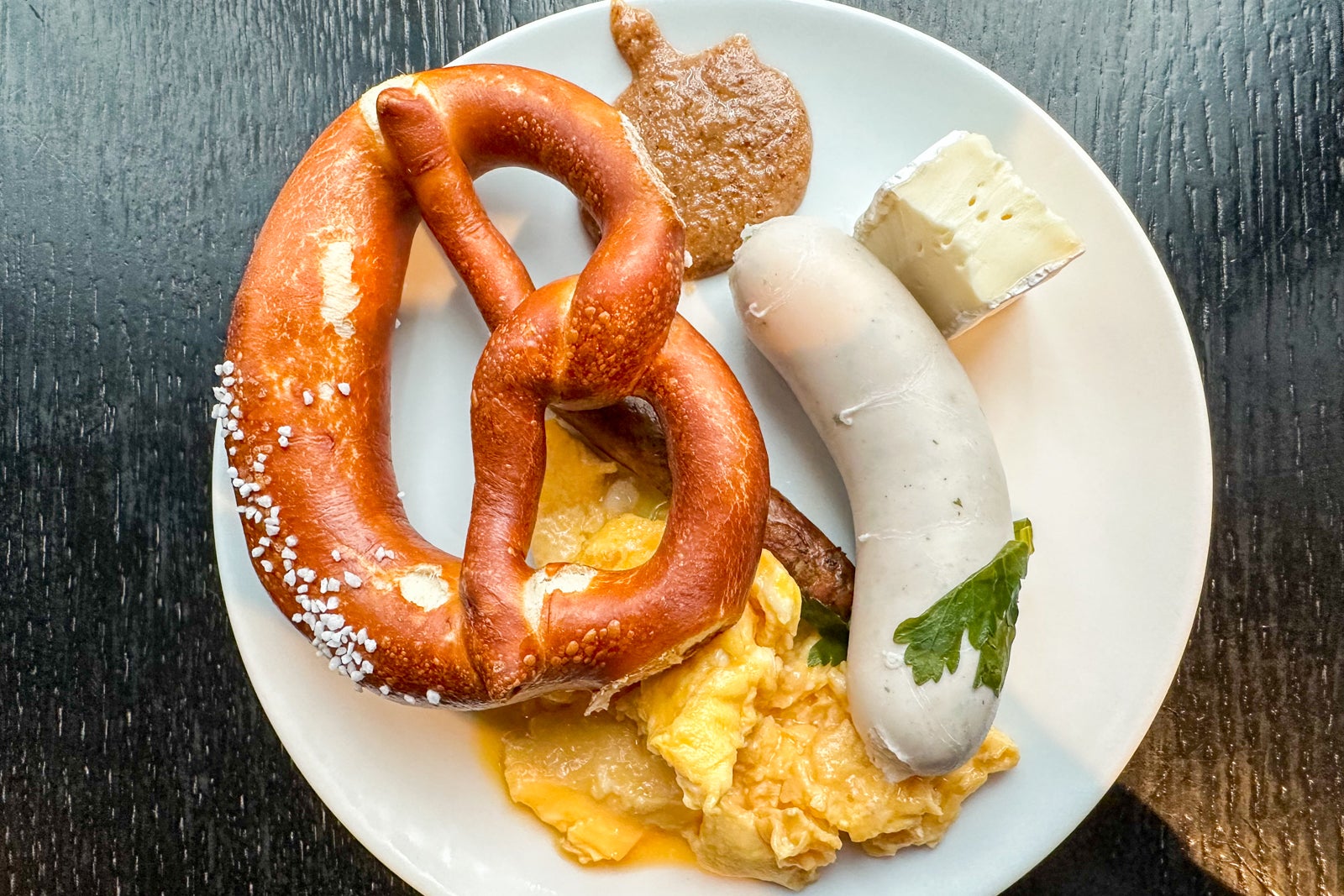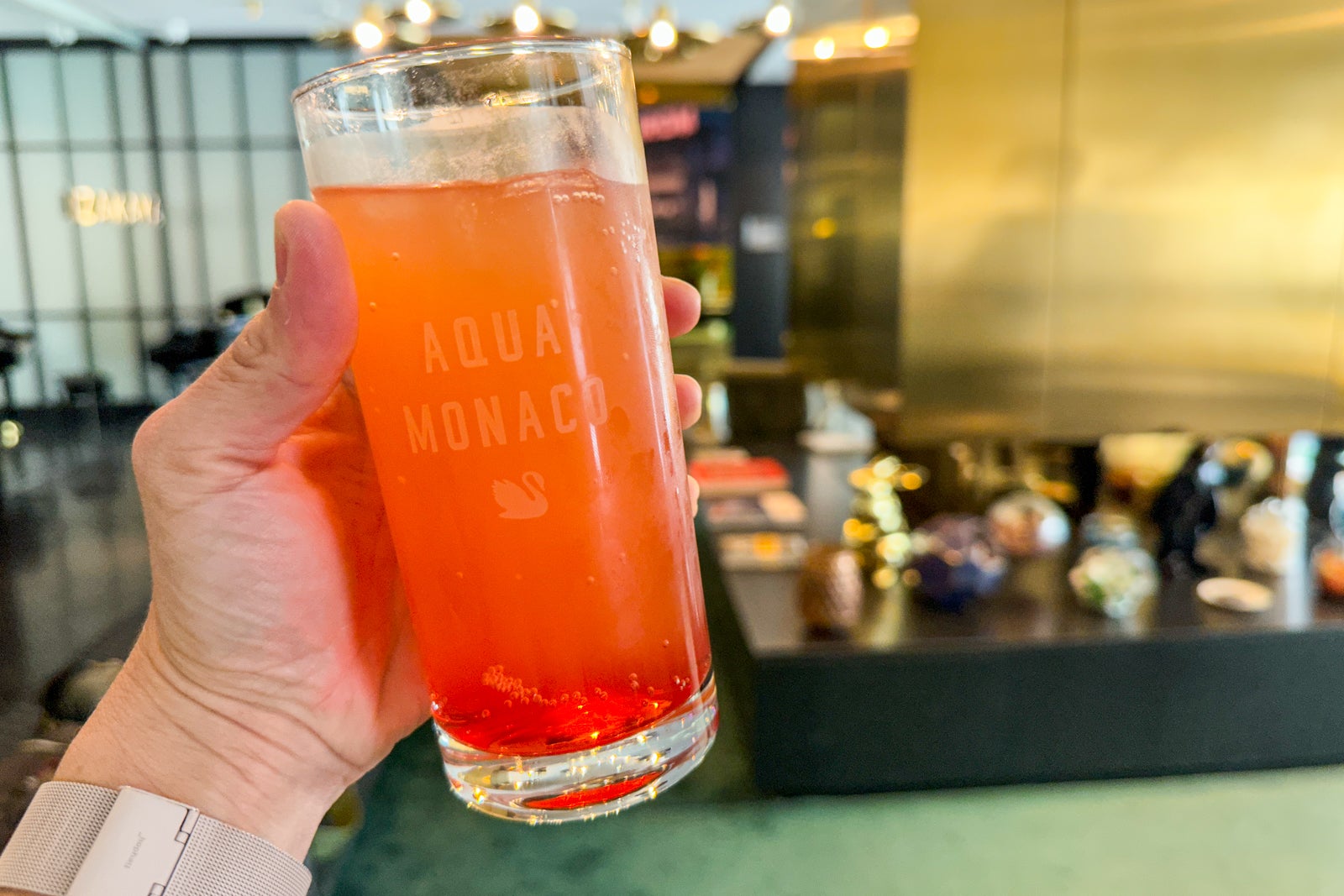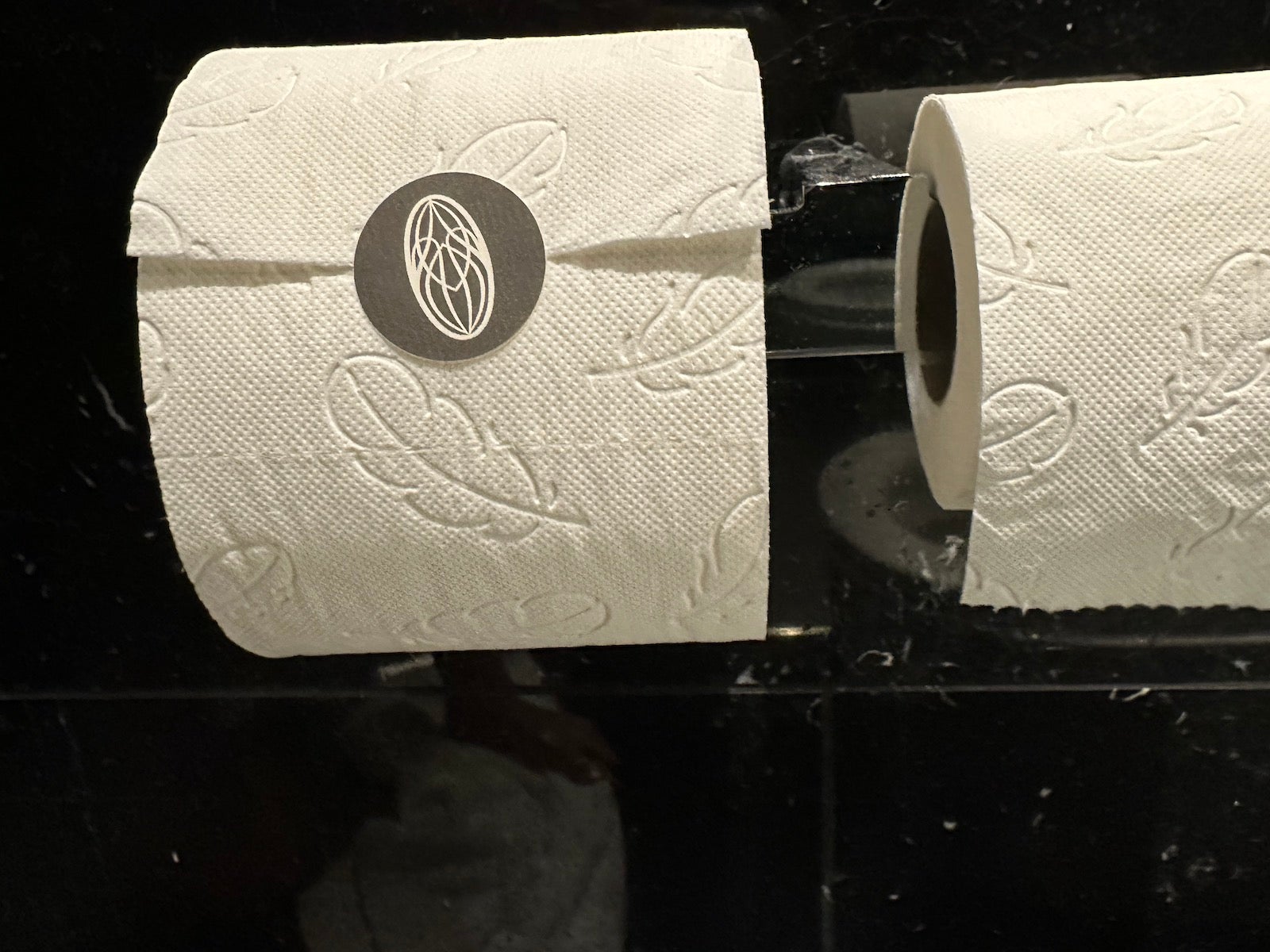 The rooms were absolutely gorgeous with rich colors, soft bedding, high-end shower amenities and convenient features like a minifridge, Nespresso coffee maker and a tasseled rope above the bed that allowed us to turn off the lights at night without getting up.
The food and drinks were just as delicious to look at as they were to eat and drink. The Campari cocktail I was served at check-in was brightly colored and not too sweet, and the tiny jar of beer cheese perfectly complemented my warm, fresh pretzel at breakfast.
The small details stood out. The toilet paper had a whimsical feather print, there was glassware and a bottle opener at the ready in our room and there were jars of candy in the lobby with a set of tongs so guests could help themselves.
Drawbacks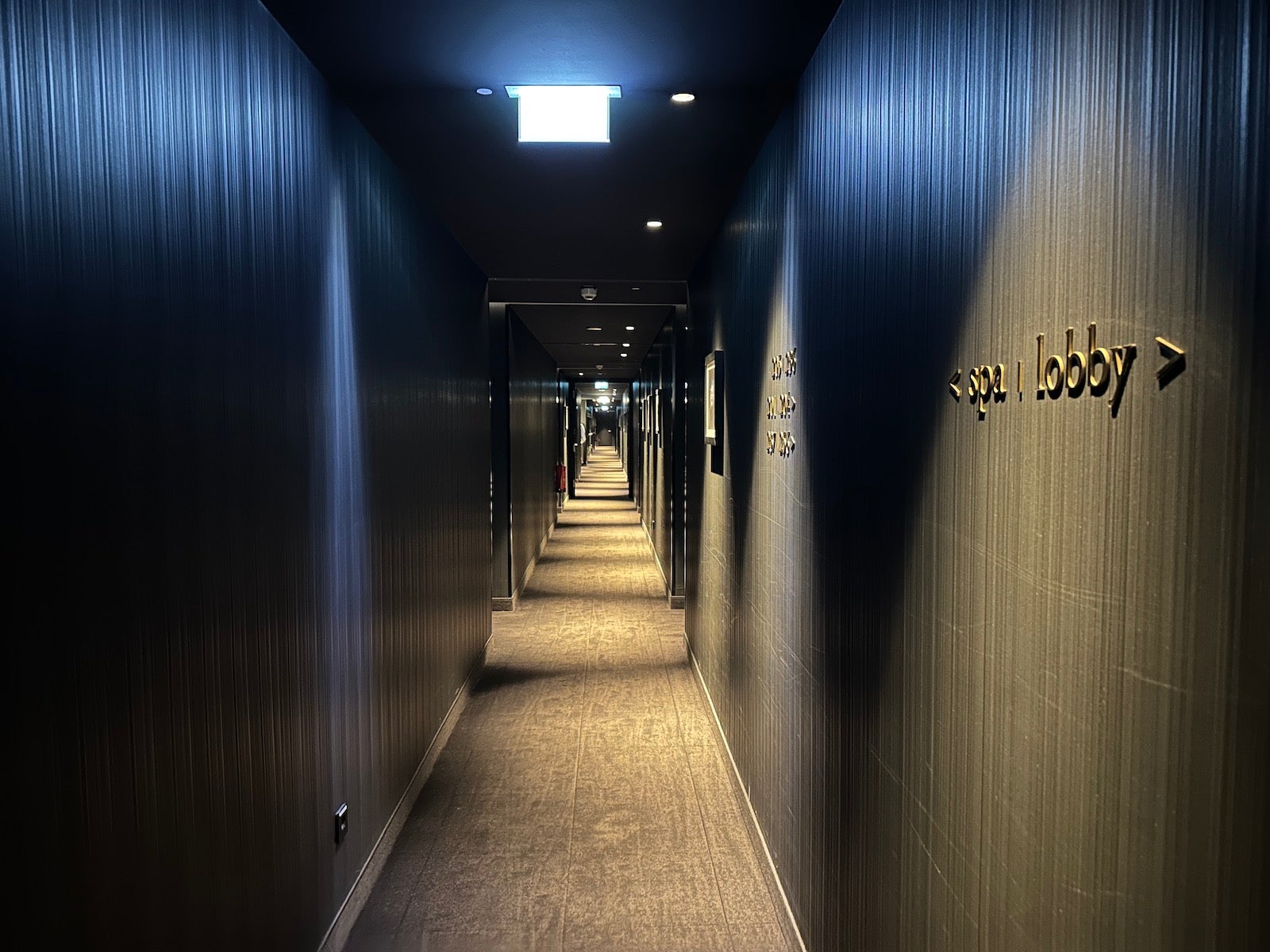 The mood lighting in the hallway when we stepped off the elevator was teetering toward being too moody. It was so dark that I wasn't sure which way to go.
I probably wouldn't stay here if I were traveling with my kids. I'm not quite ready to explain why there were mirrors on the right and left sides of our bed or why the restaurant menu reads "Pimp your breakfast."
I love to walk, so it didn't bother me personally, but it was a fairly long walk (around 35 minutes) to get to the Old Town area where most of the touristy things we wanted to see were located.
The vibe
In a word, Roomers Munich is sexy. In more than one word, it's a place for stylish, refined adults (we only saw one child during our stay) to mingle over cocktails in the lobby lounge, listen to a late-night DJ set in the bar, take a business call in one of the library's leather chairs while surrounded by shelves filled with framed black-and-white photos and coffee table books, or retire through the dimly lit corridors to their room for an intimate evening.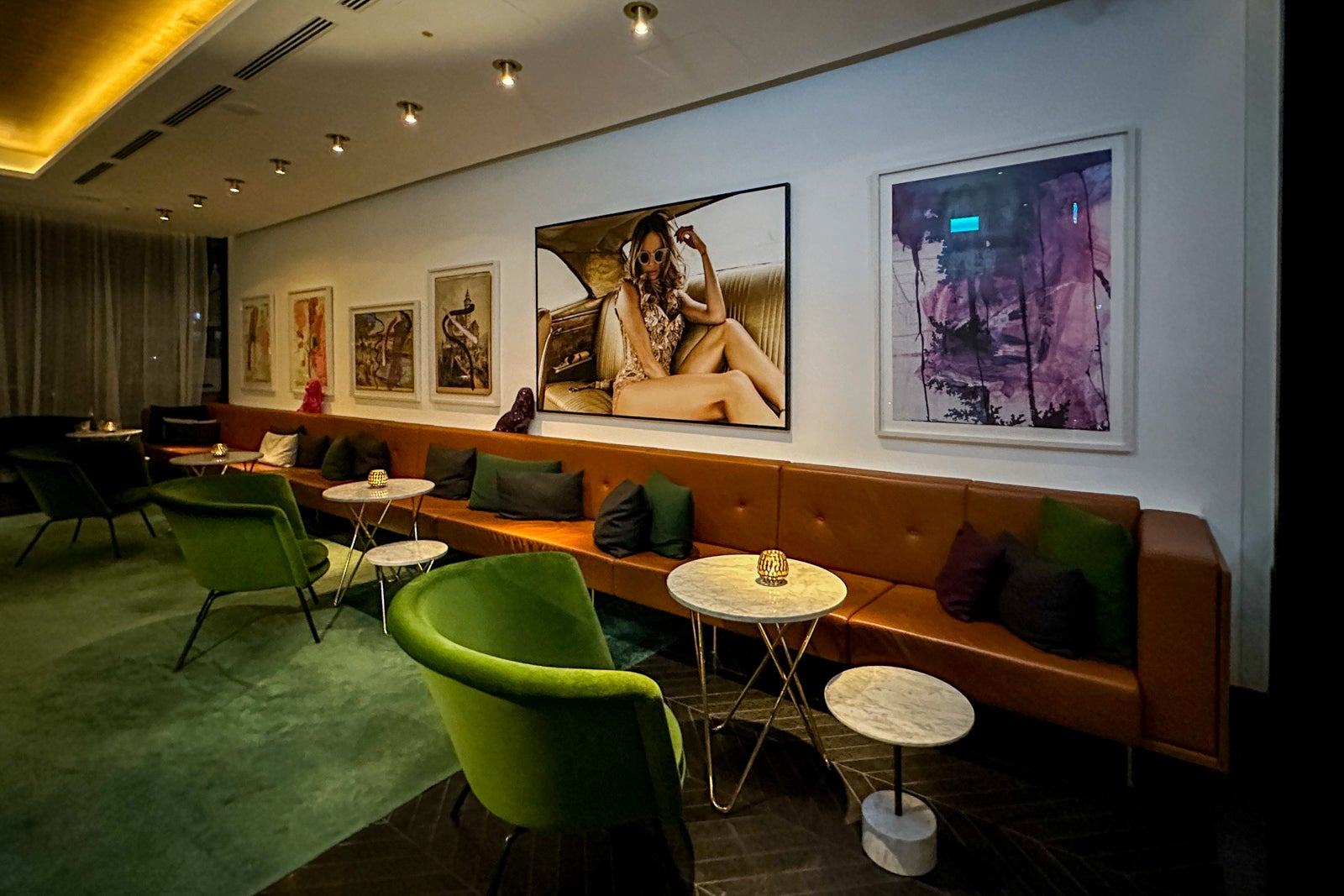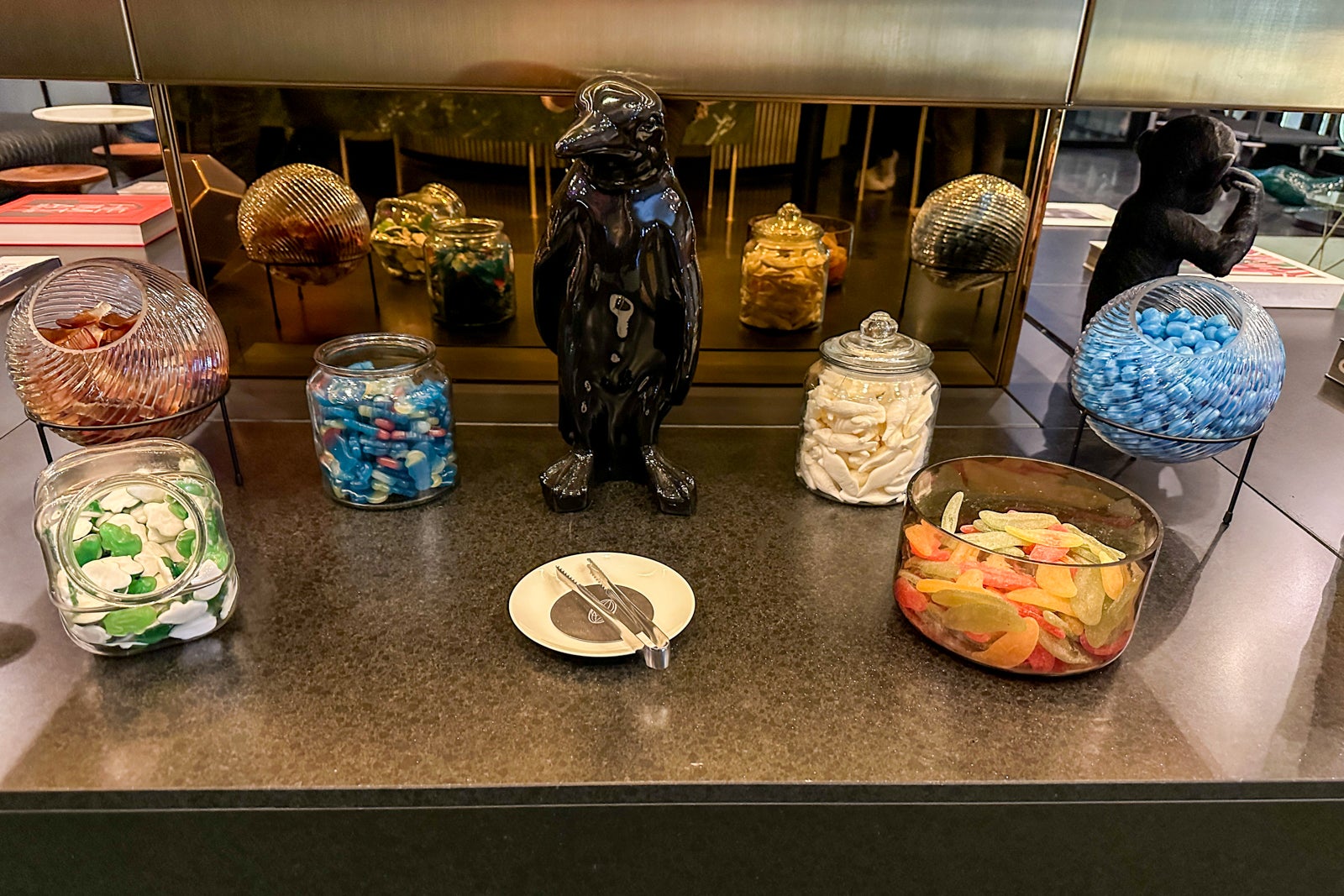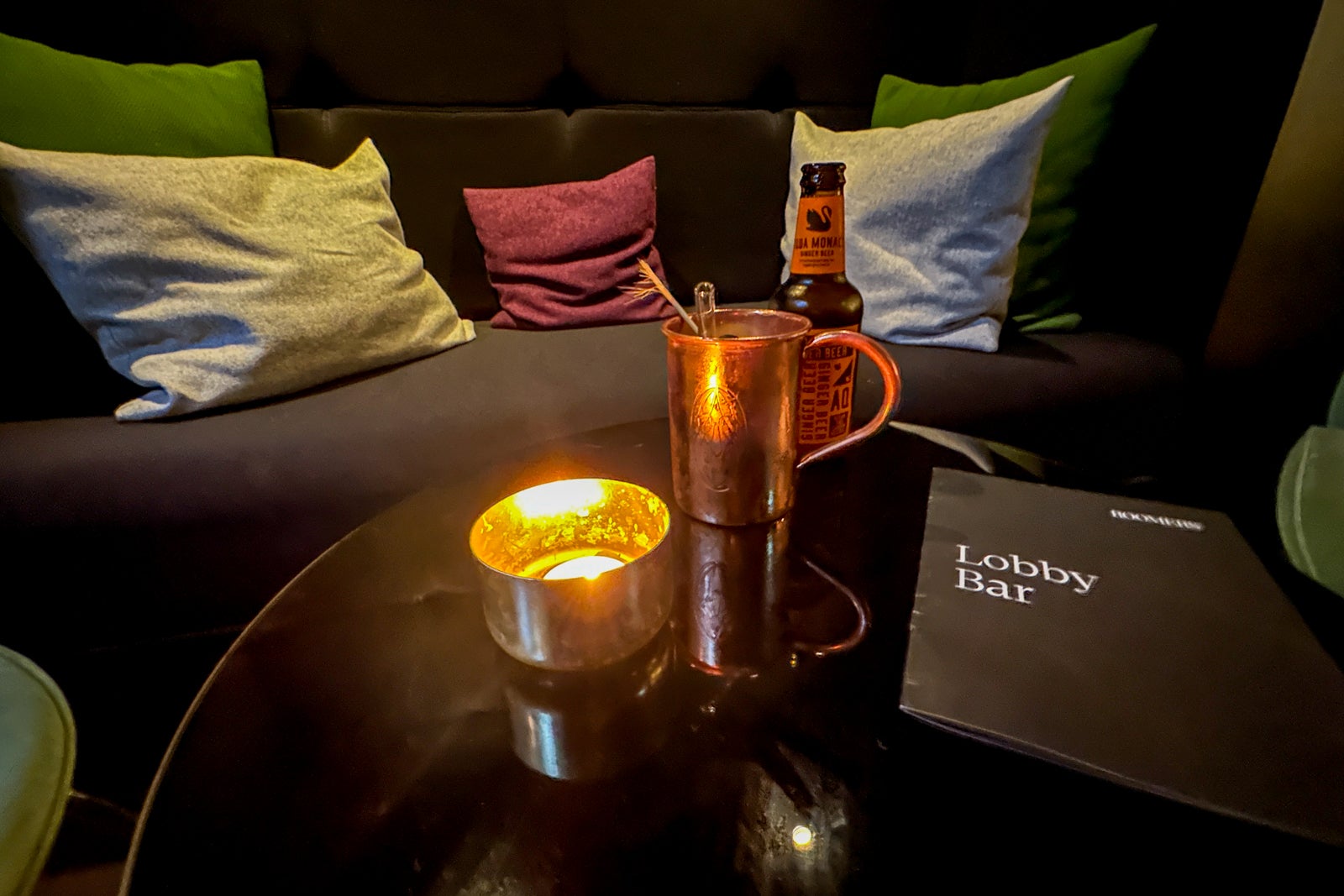 Everything about the property felt sumptuous and inviting, from the food and drink to the numerous pillow-lined corners where you could cozy up with your travel partner or the aforementioned food and drink.
The room
We stayed in a Deluxe room with one king-size bed, which is one of the hotel's mid-tier rooms. The room was sleek and trendy with touches of marble, metallics and bold colors often found in modern German design.
It's not the largest and not the smallest (334 square feet), but for us, it was just right. You enter into a small foyer with a closet that houses storage shelves and drawers, a hair dryer, an iron and ironing board and two pairs of slippers.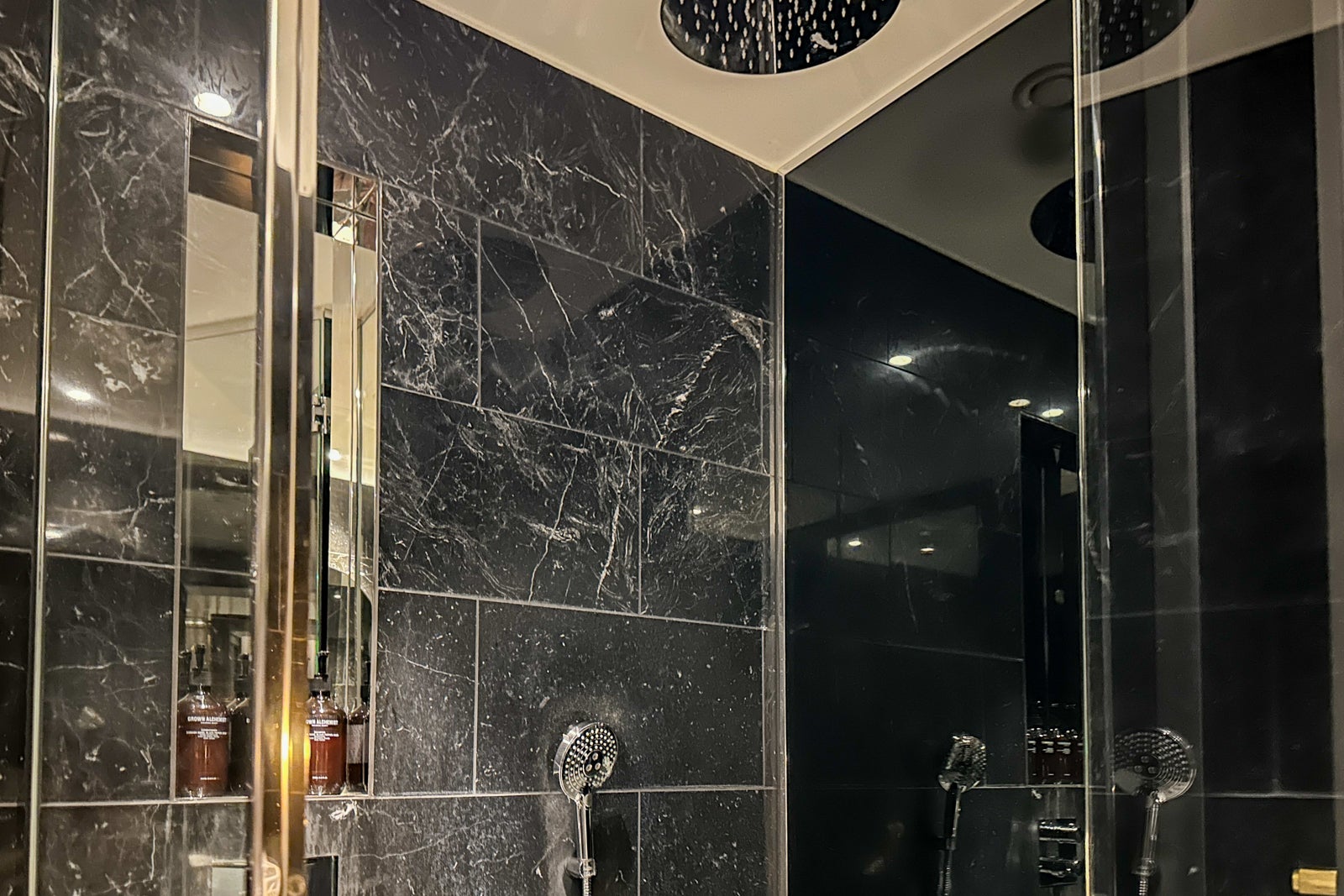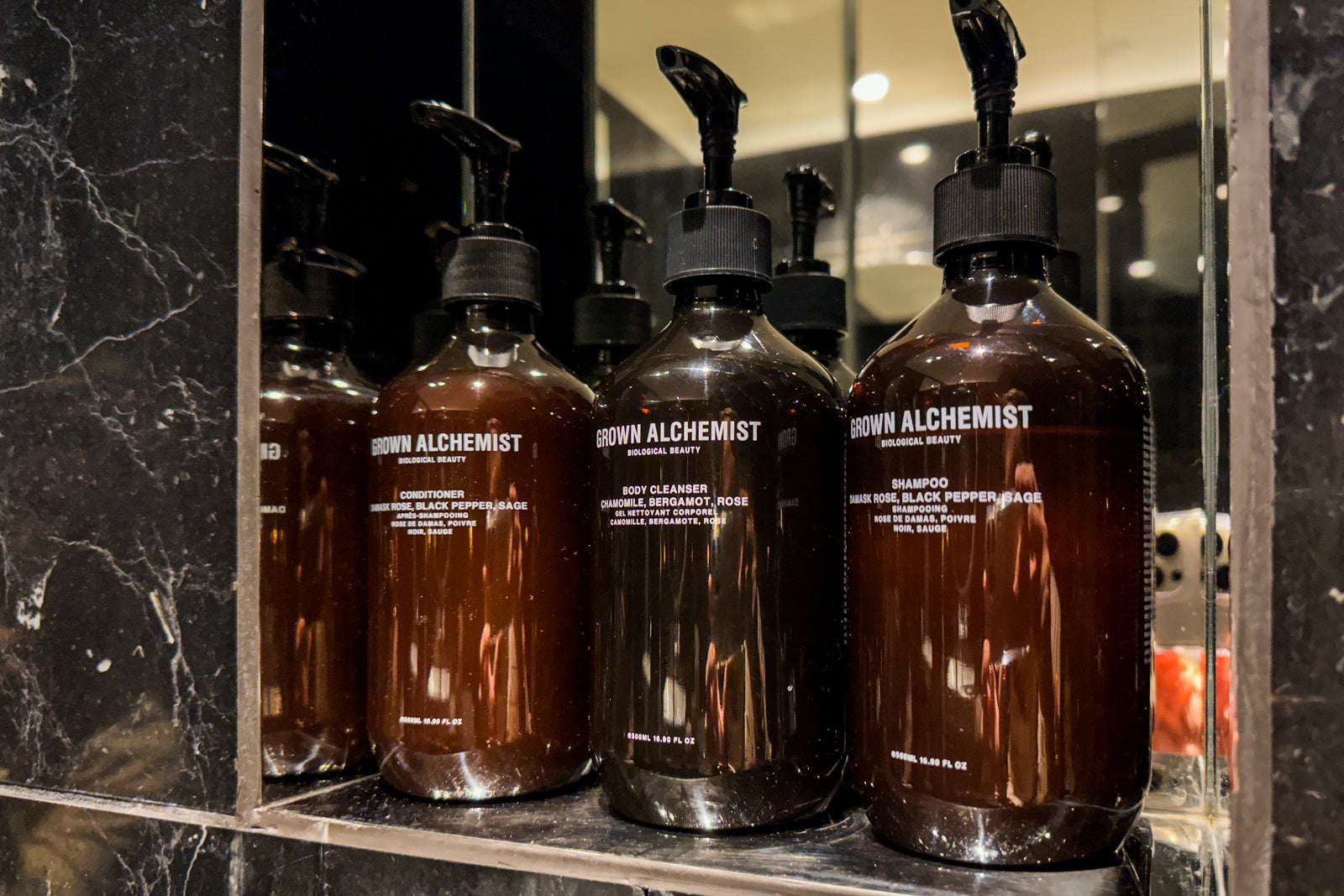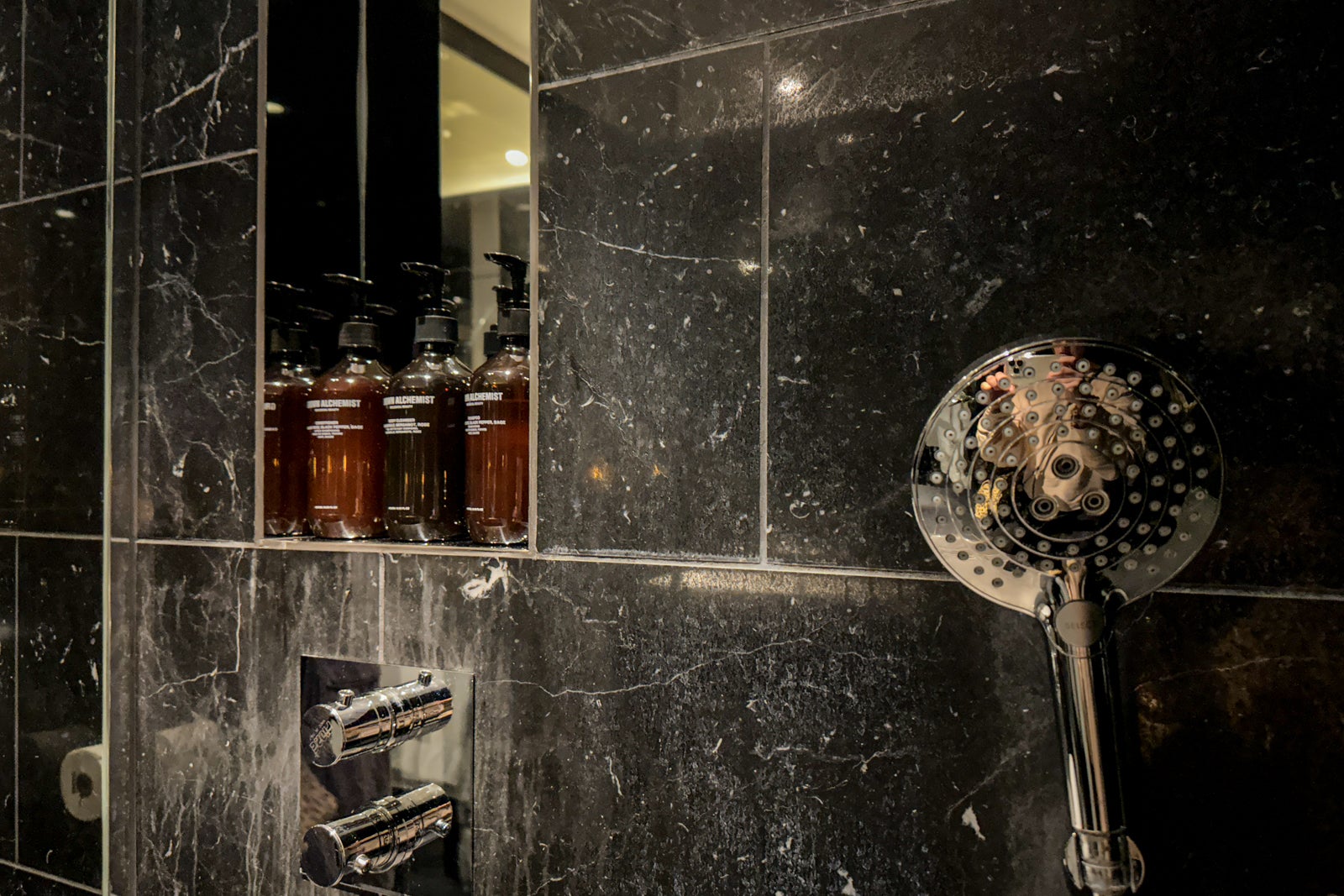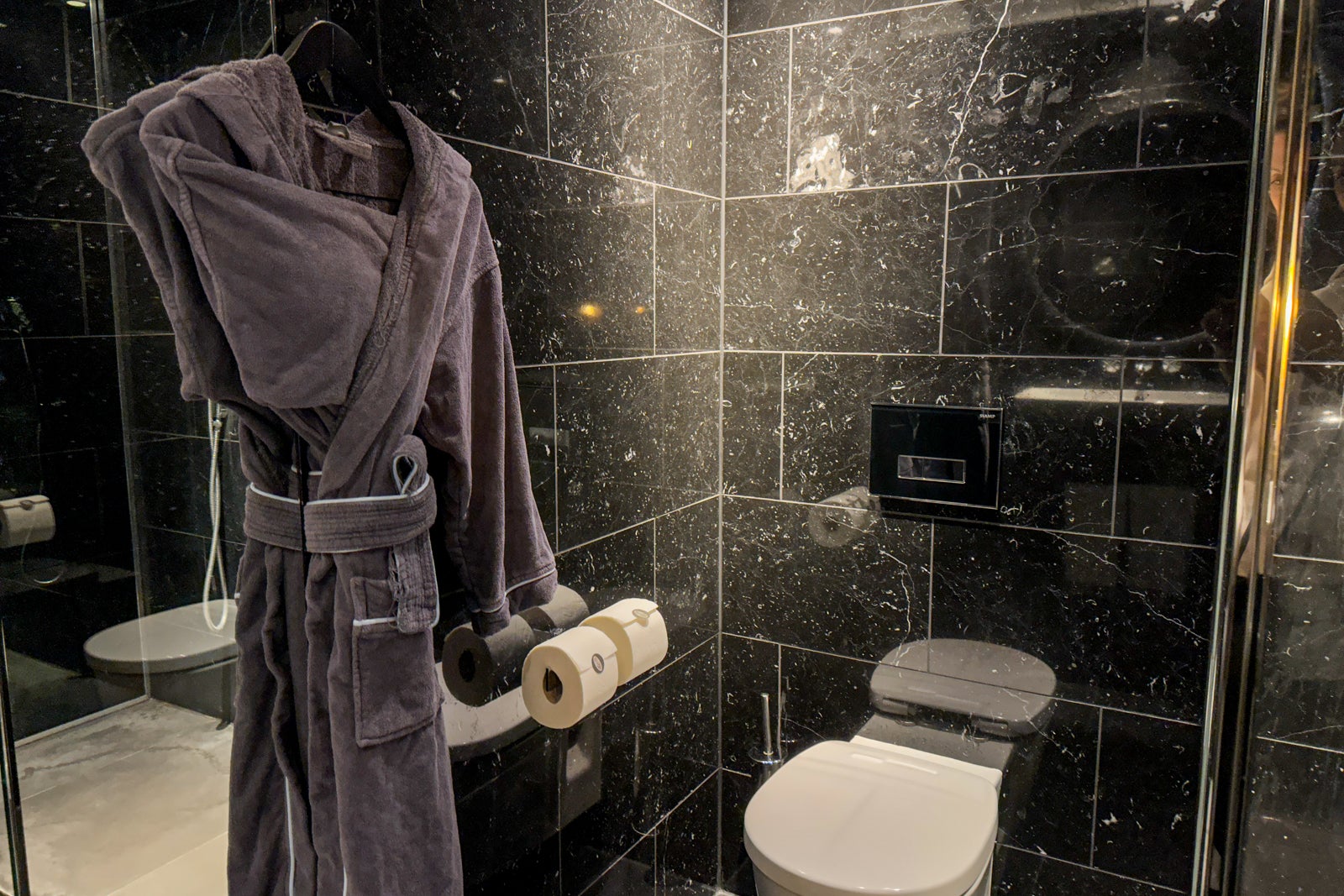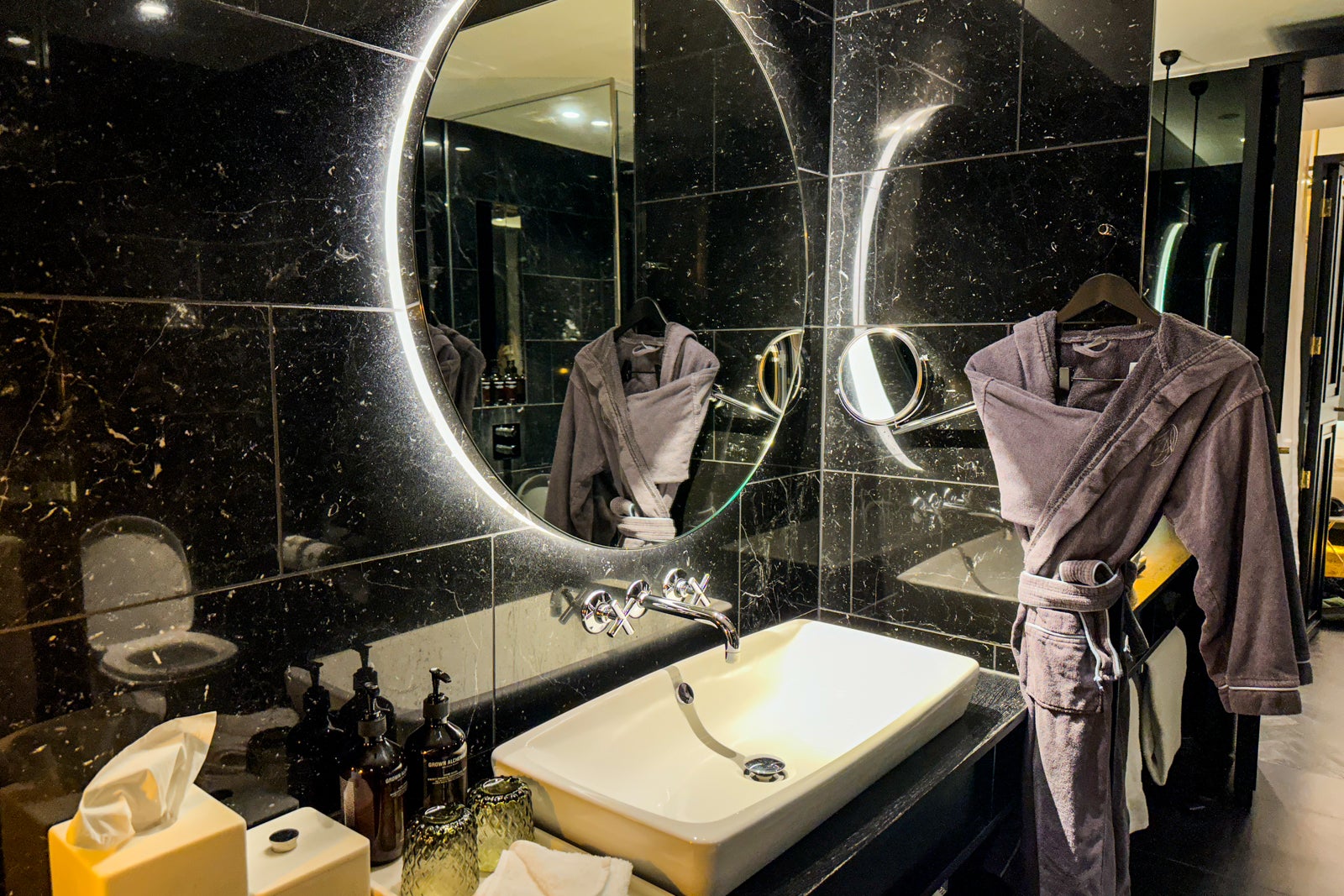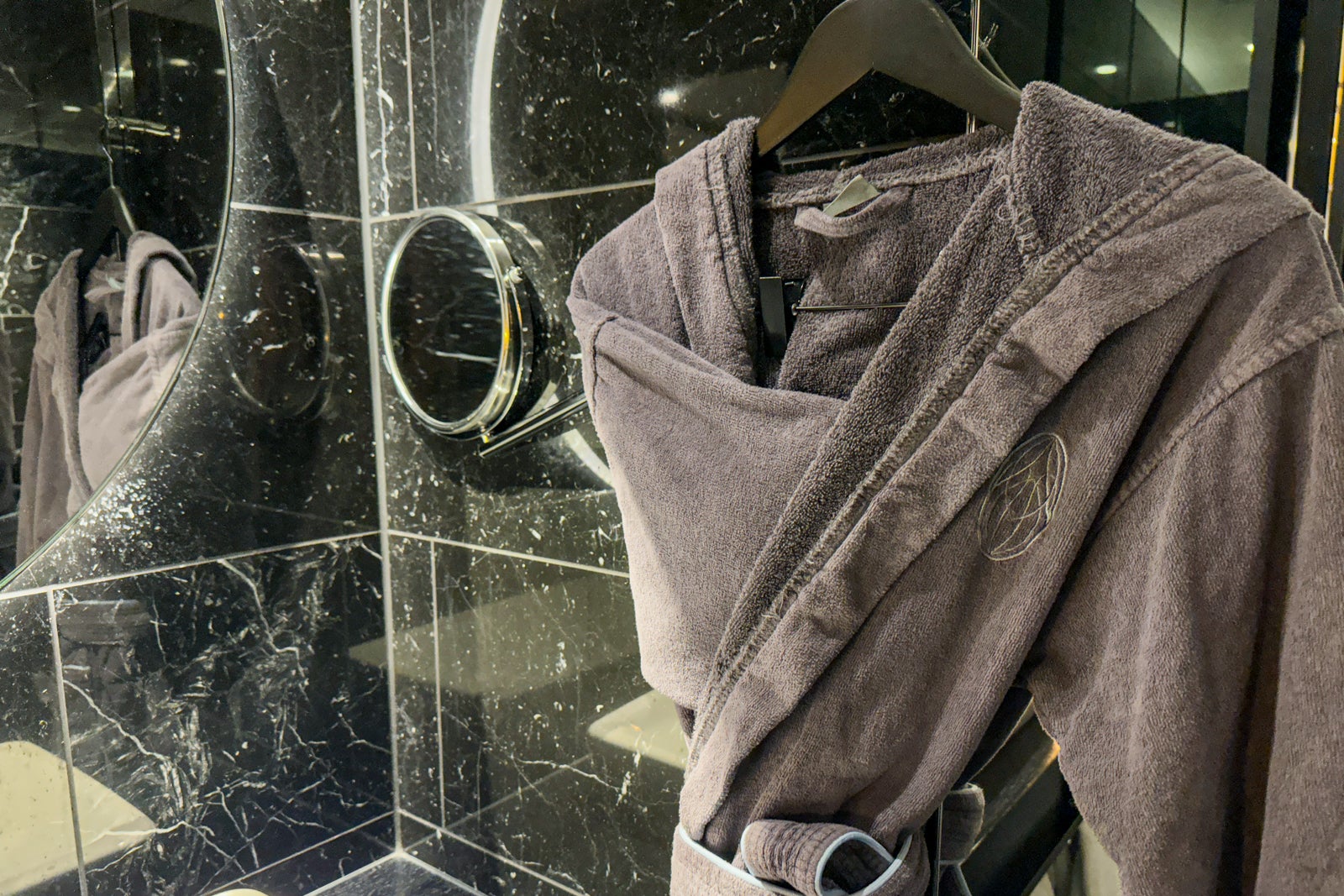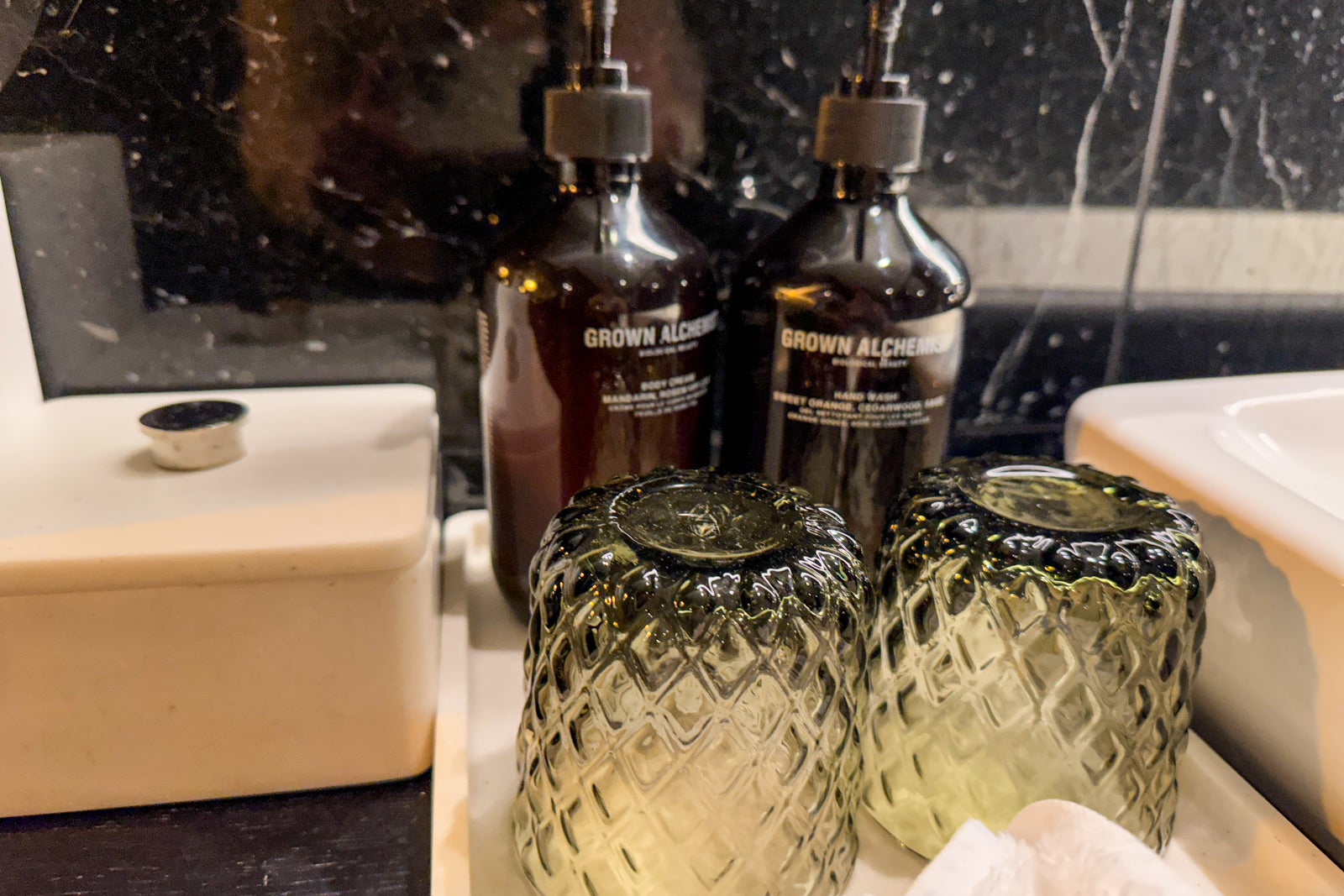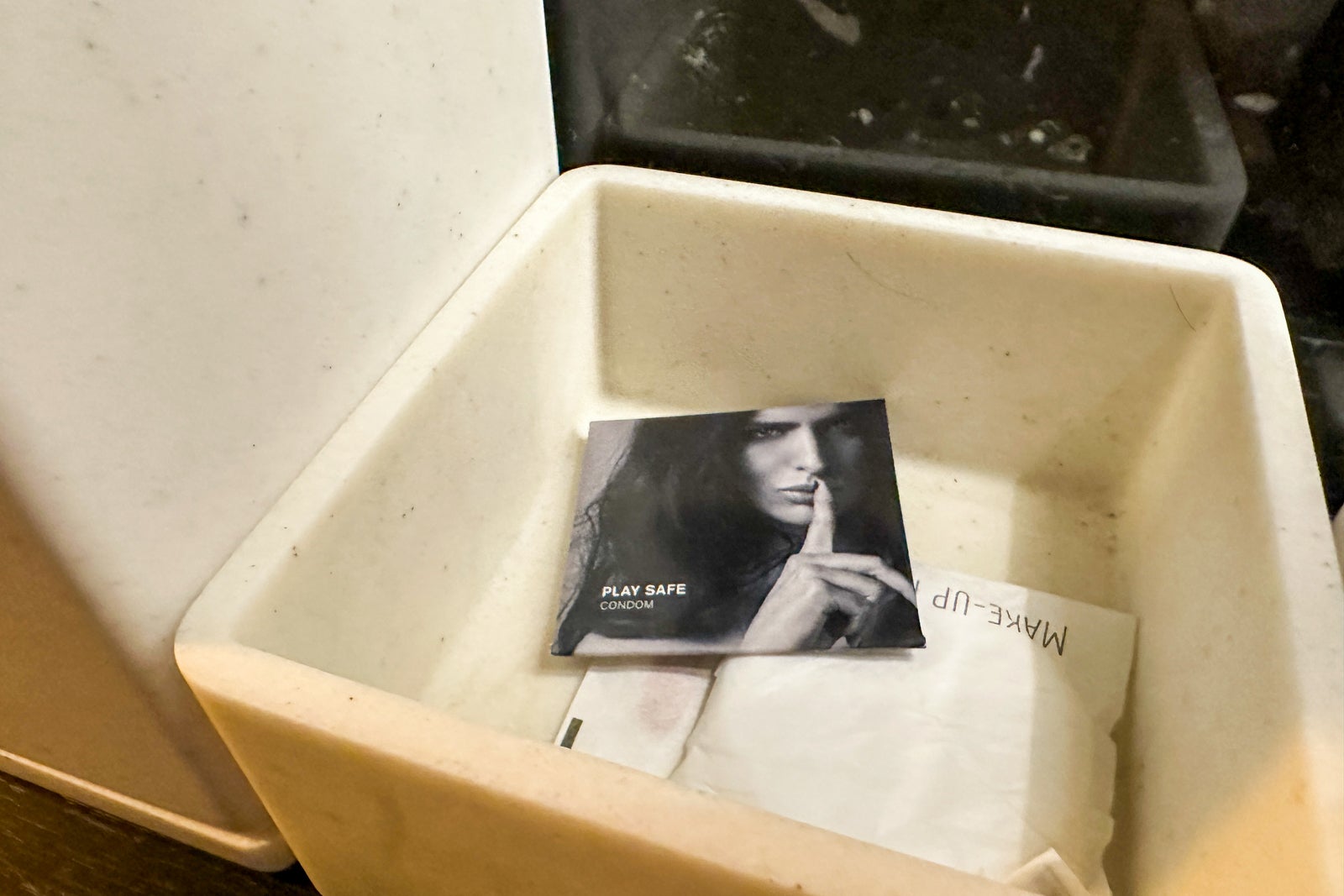 On one side of the foyer was the black-marble bathroom, which had a basin sink, a toilet and a glass-enclosed rain-style shower. There were two robes hanging in the room and delicious-smelling shower amenities from Grown Alchemist. There was a small amenity box with cotton swabs, a nail file, makeup remover wipes and a condom, which made the target guest abundantly clear.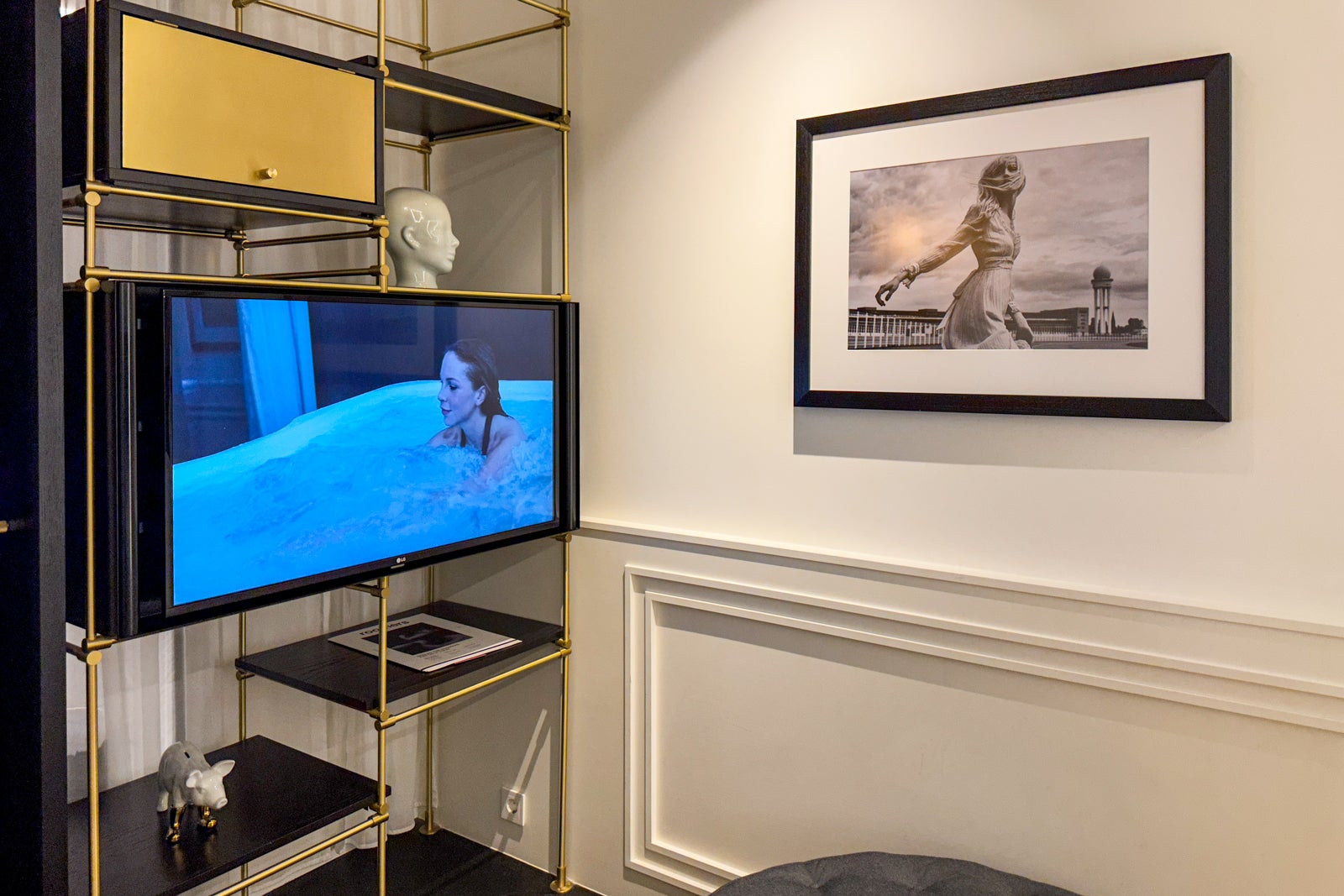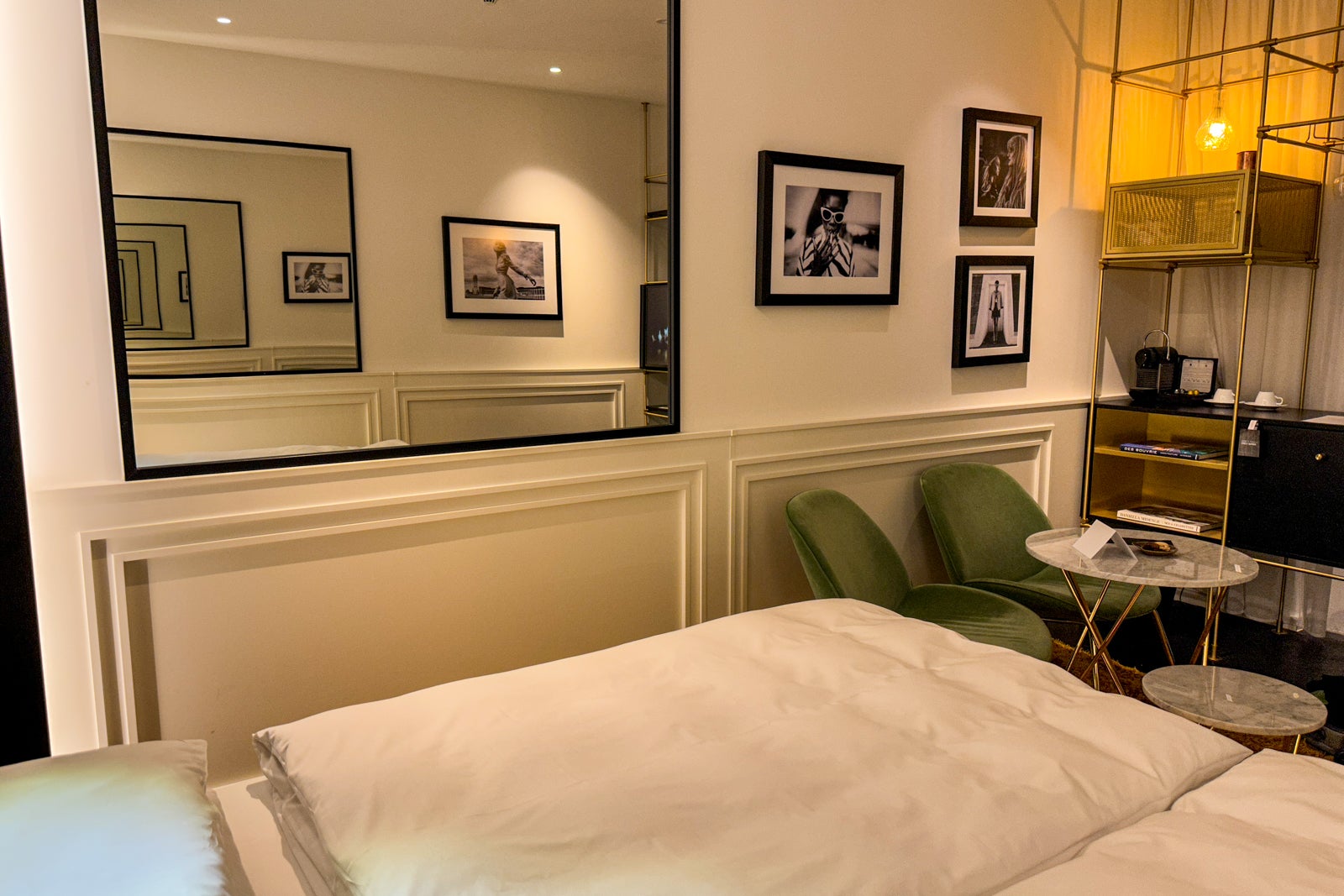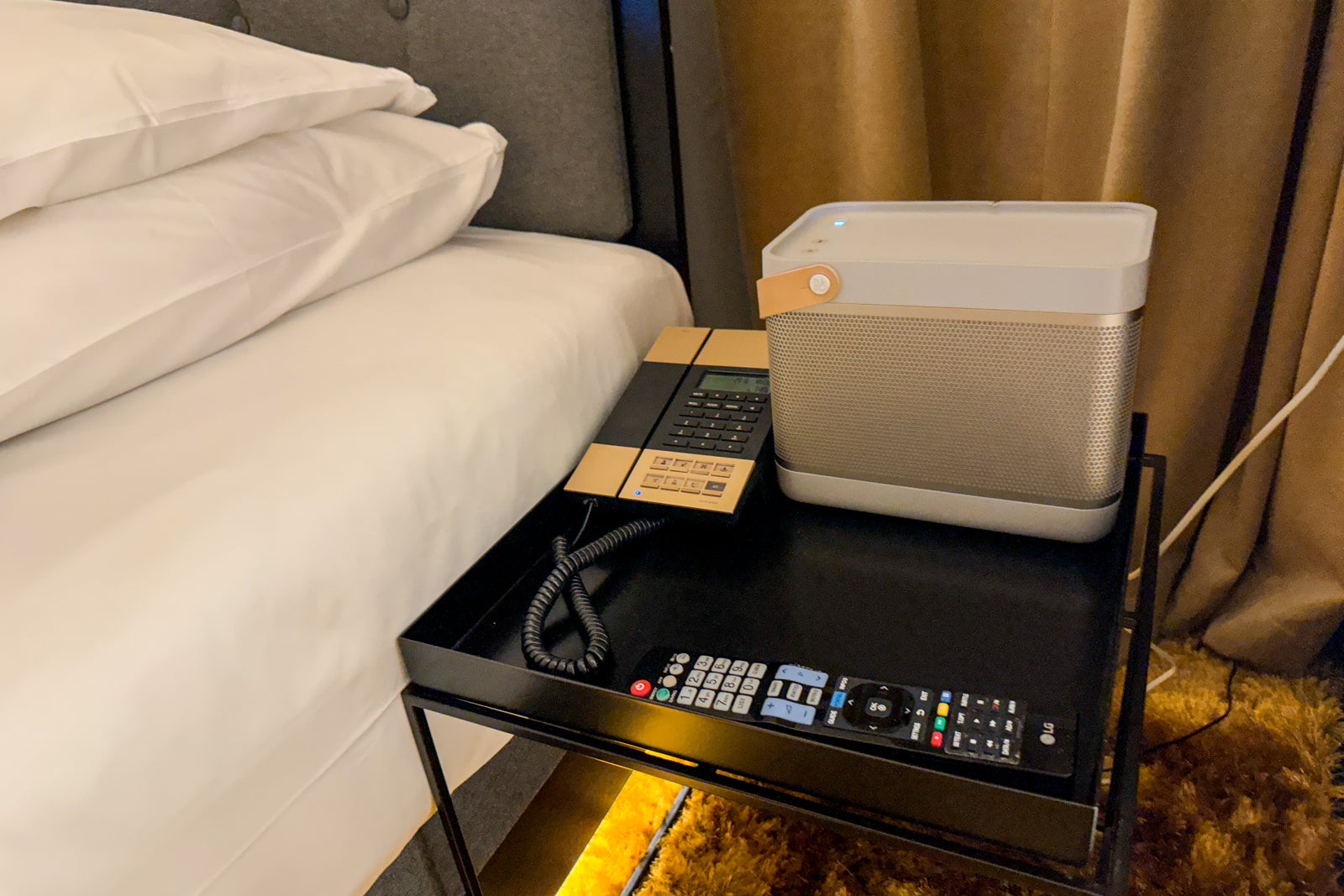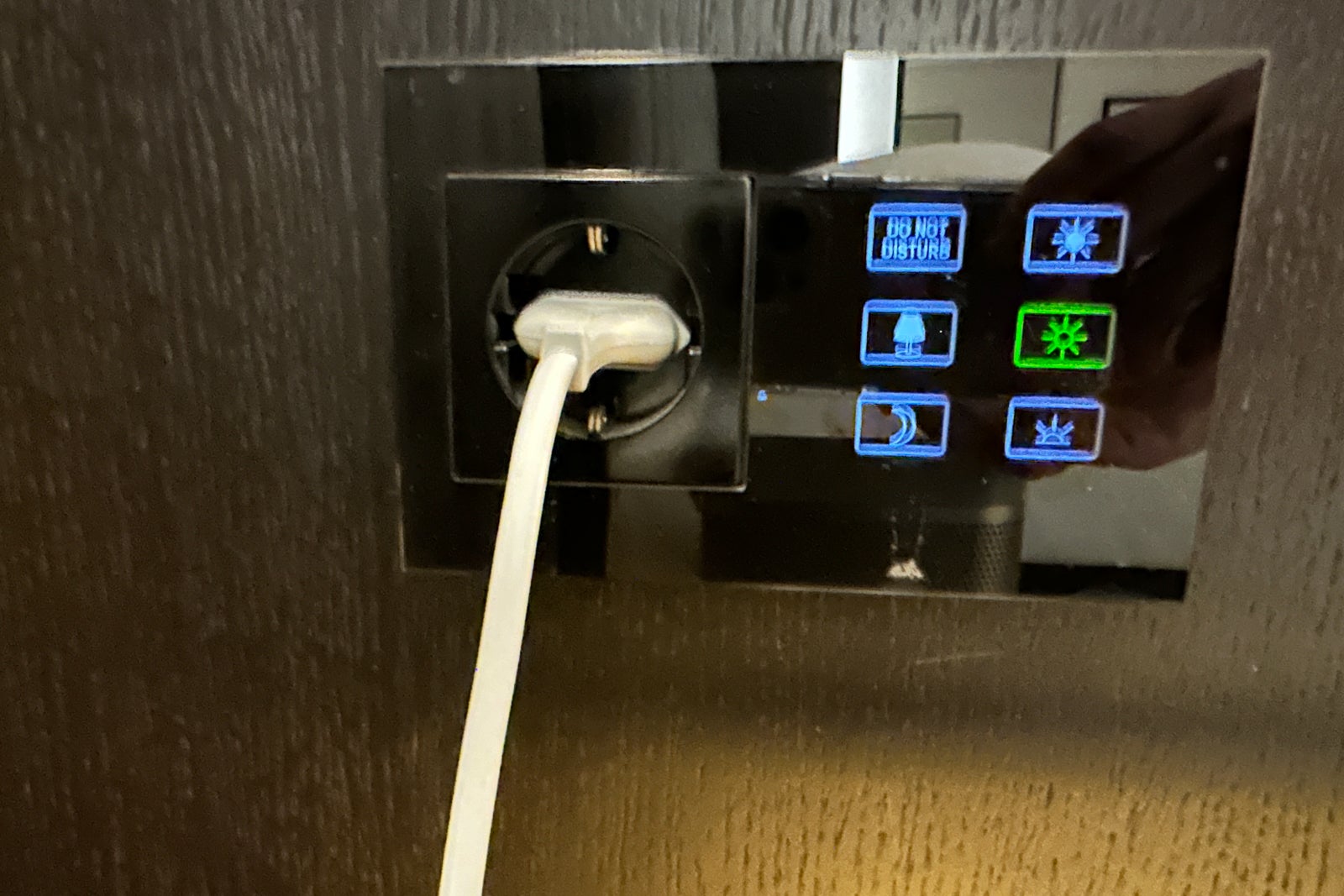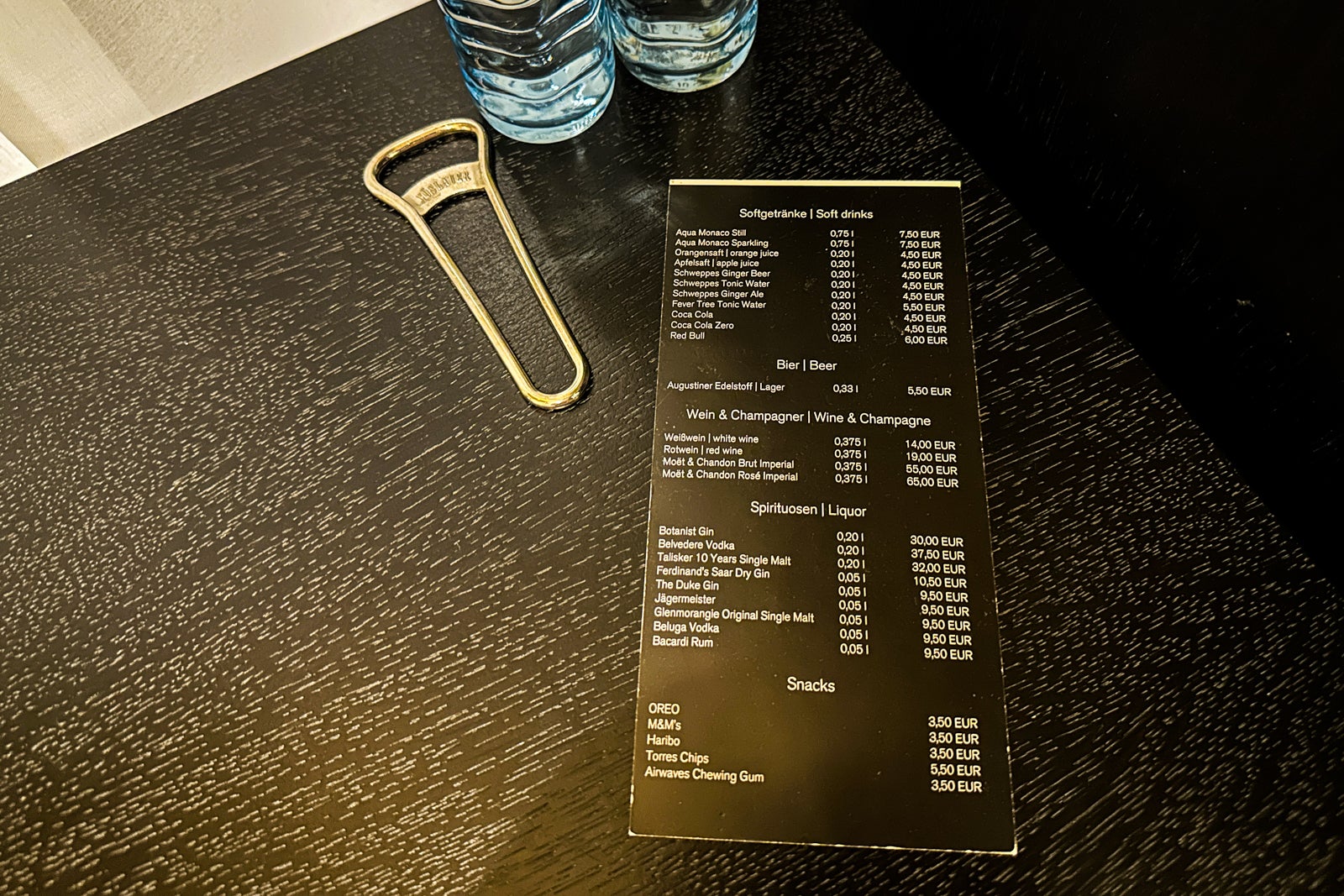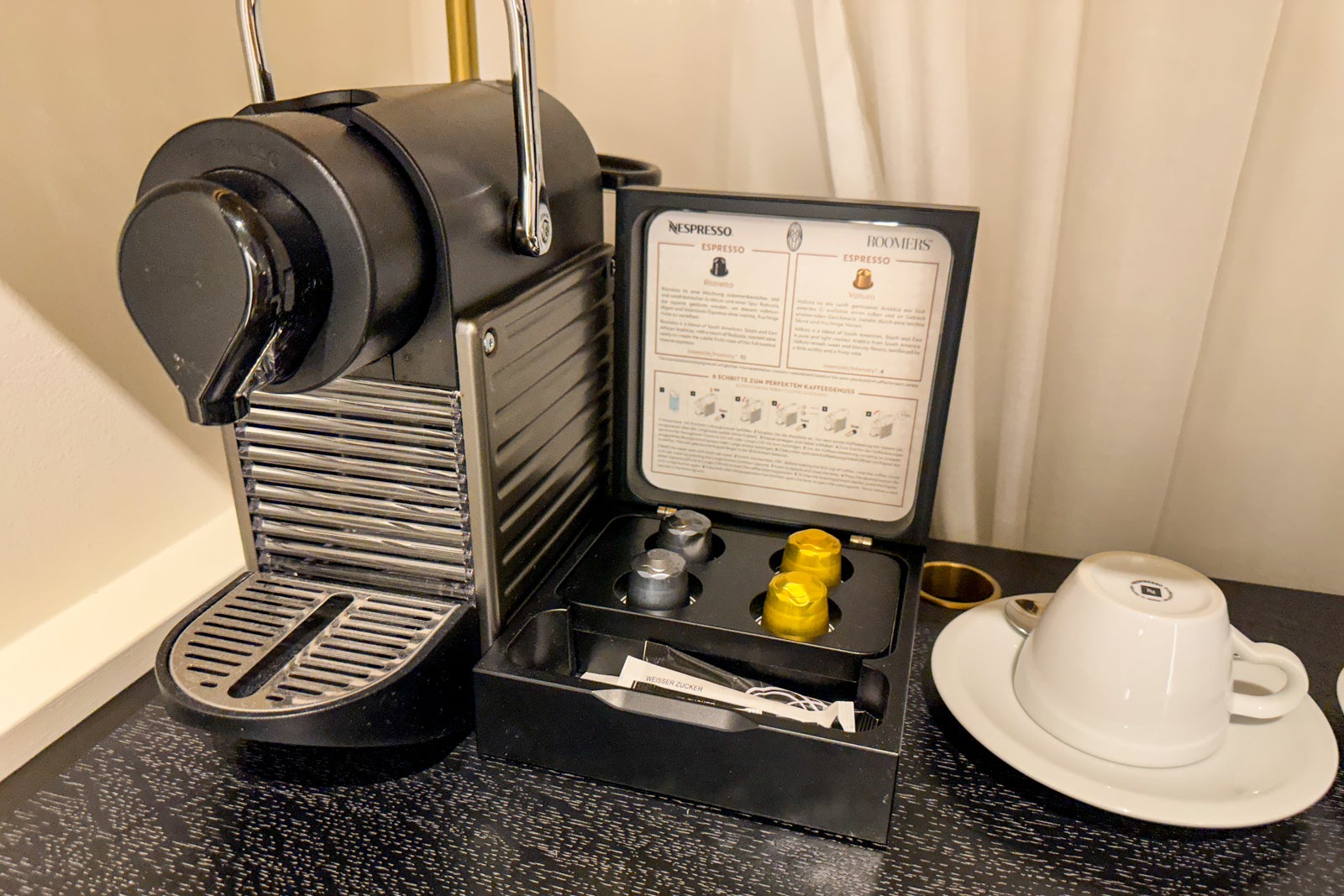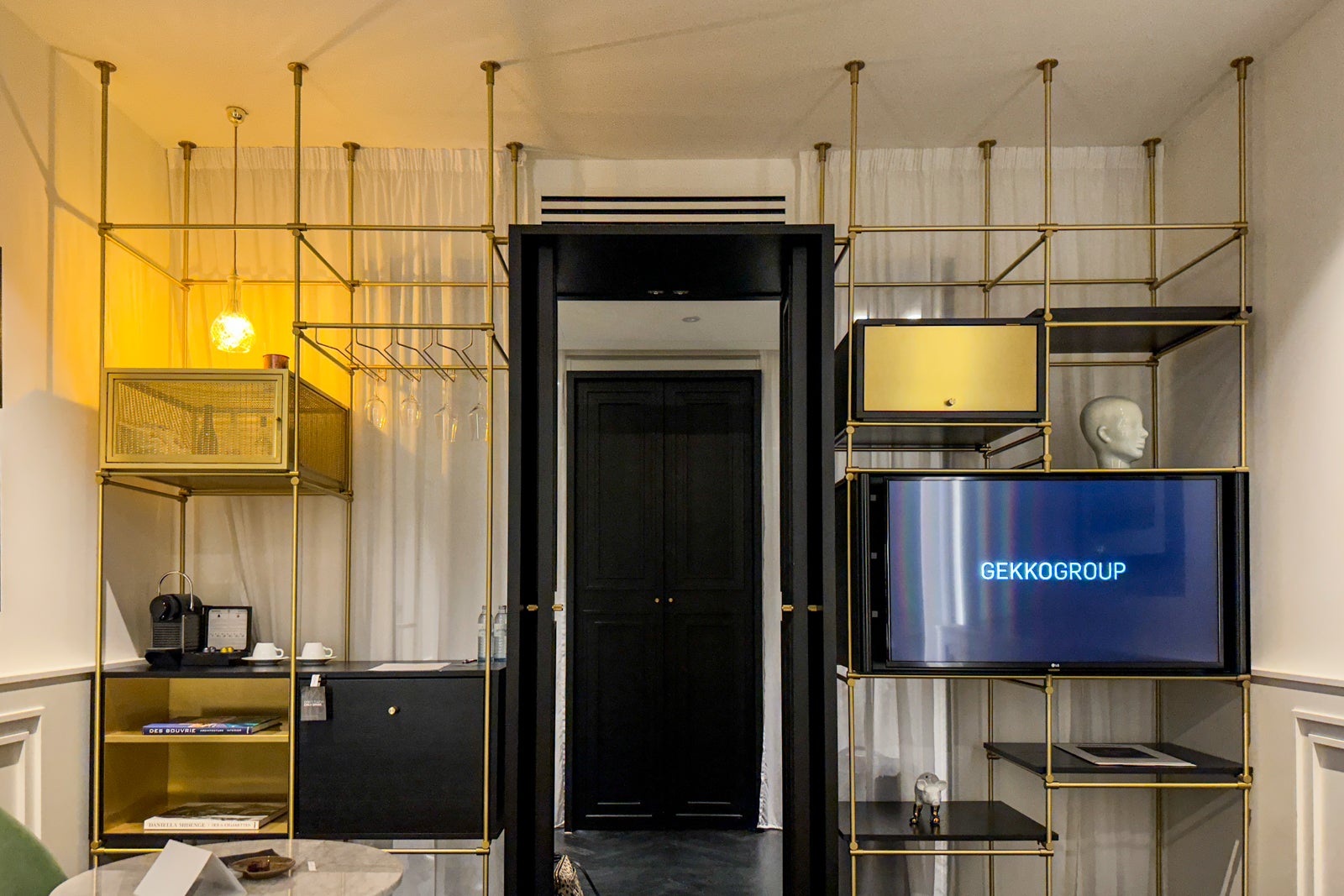 On the other side of the foyer was the bedroom. The king-size bed had small nightstands on both sides — one held a lamp and the other a Bang & Olufsen Bluetooth speaker. The black-and-white photographs on the walls and coffee table books lent a playful feel, but I appreciated some of the more utilitarian features as well, like the bedside panels to control the lights or request room service.
Opposite the bed, there was shelving that held the minifridge, Nespresso coffee maker and television, with additional room for storage. It is worth noting there was nary a USB outlet in sight, so I recommend packing a converter that has built-in USB outlets.
Food and drink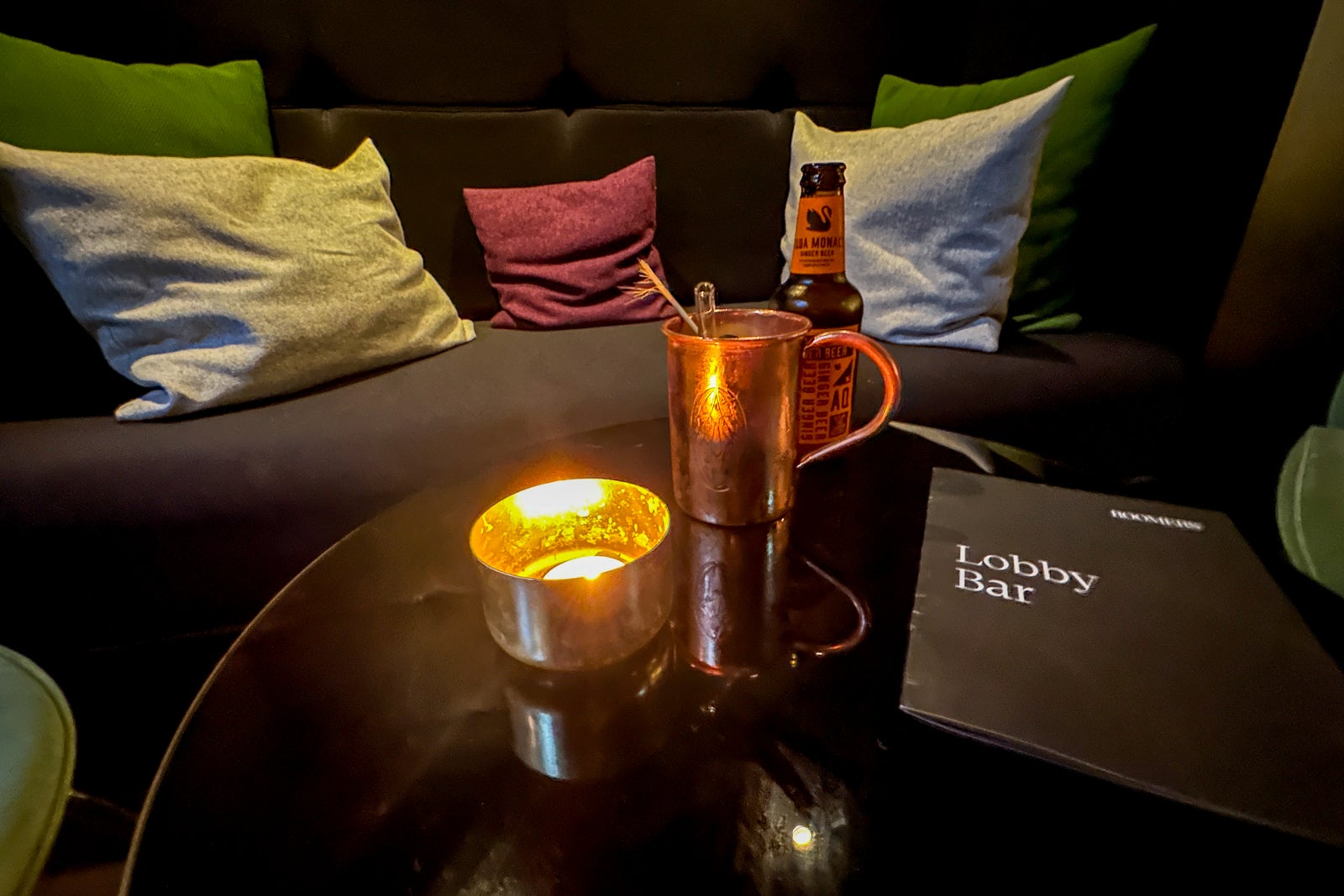 Every meal and drink we tried while at the hotel was top-notch. We sampled cocktails from the lobby lounge, which was my favorite spot for drinks. There were various seating areas ranging from pillow-lined couches to more private recessed banquettes, also with plenty of pillows, where you could enjoy your drink away from the other guests, or larger seating areas for big groups. My husband and I both tried the Moscow mule, which was reasonably priced at 14 euros ($13.70) each.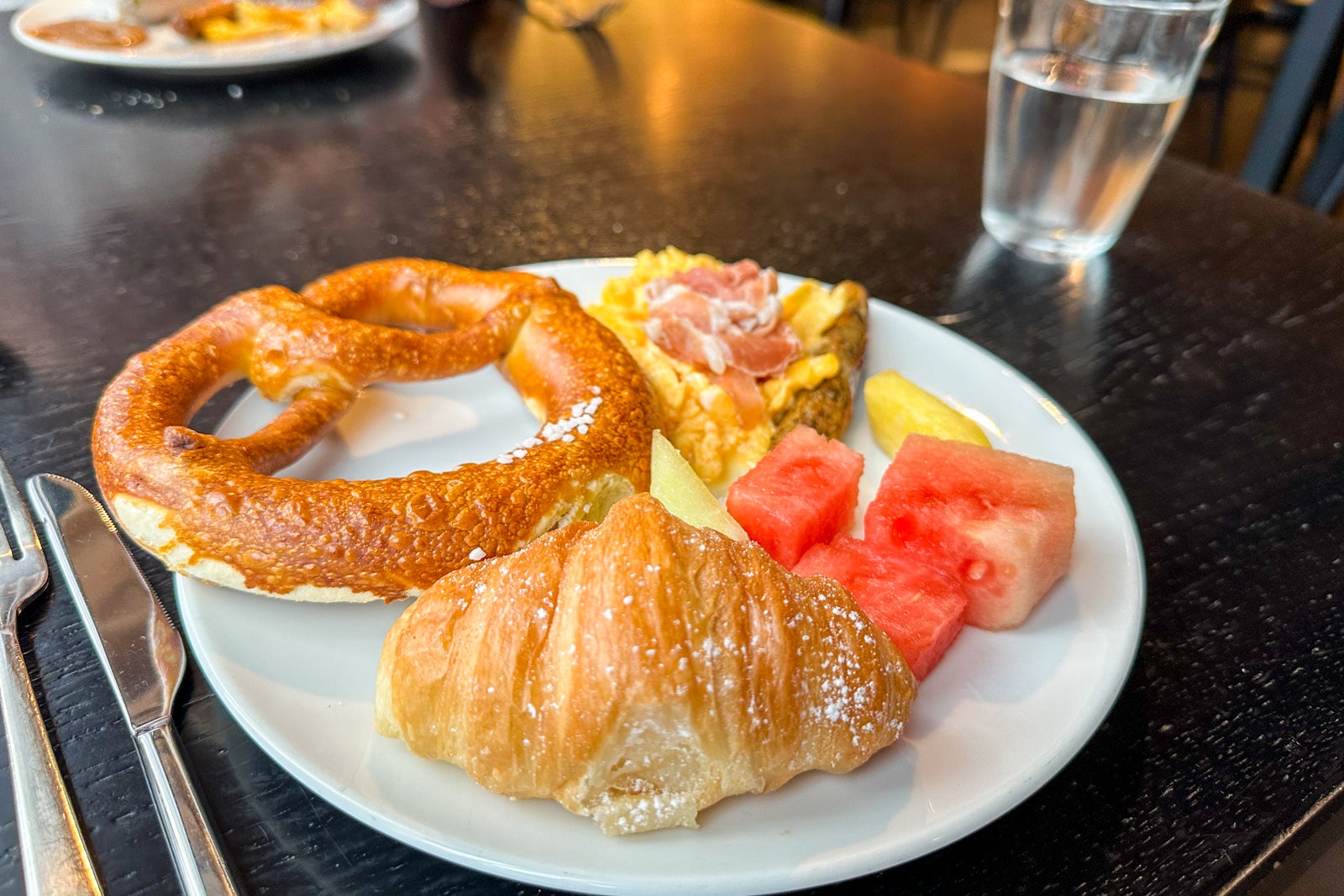 For breakfast, we had the buffet, which was served in a space that doubles as an Asian restaurant in the evening. The buffet had a variety of fresh foods, including eggs, sausages, fruit, pastries, cold meats and cheeses. I particularly enjoyed the fresh, warm pretzels and the various dips and spreads you could have with them, like beer cheese and spicy mustard. And, of course, there was no shortage of Nutella for the pastries. The hotel does have packages that include breakfast, but when paid separately, ours cost 39 euros ($38.87) per person.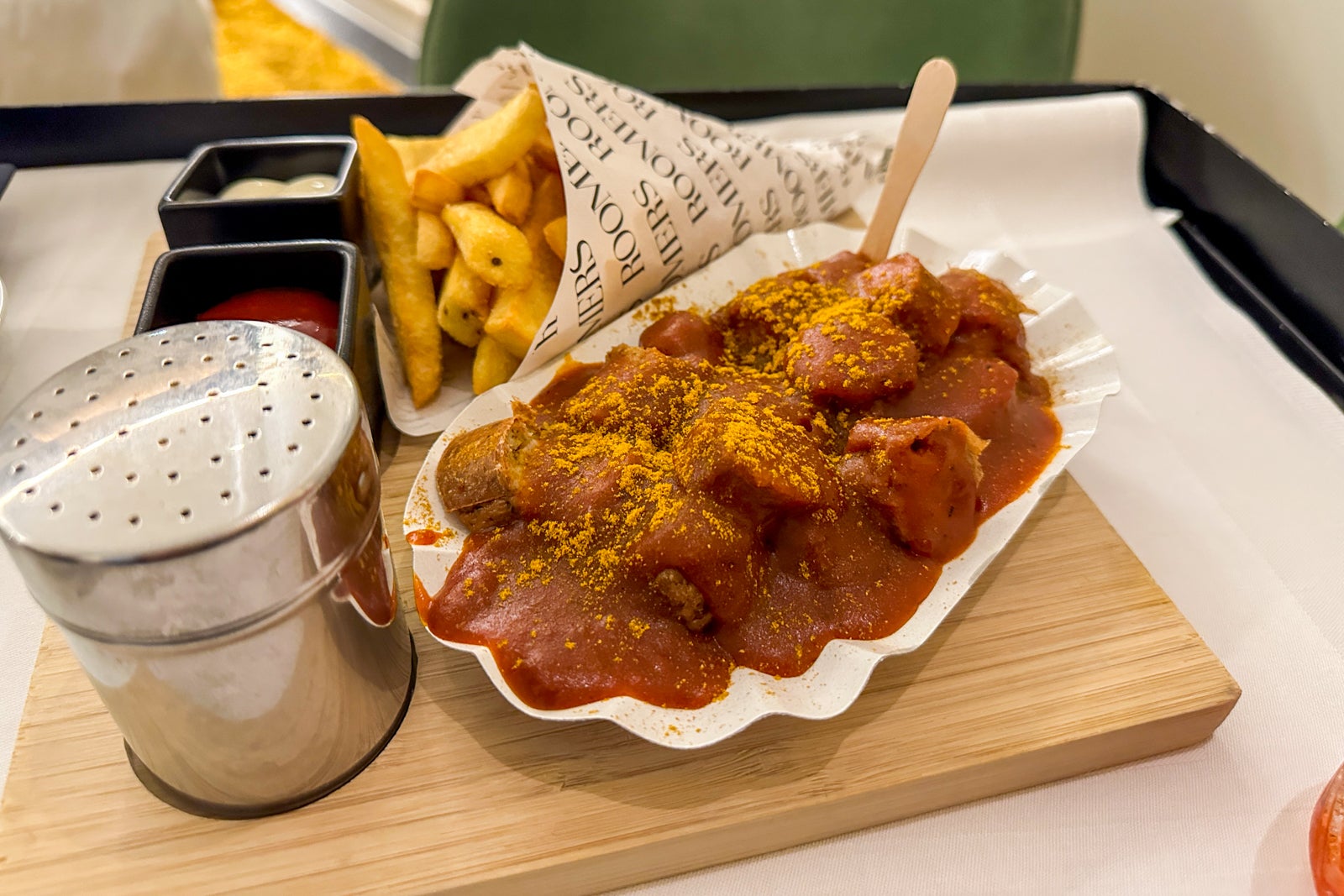 I had a craving for currywurst and fries one evening, but I was already comfortably lounging in the room with my robe and slippers on. Luckily, I was able to use the in-room TV to order via room service and I tacked on a Negroni for good measure. When my meal arrived, it was piping hot and served with ketchup, mayonnaise, mustard, salt and pepper. Altogether, my meal totaled 31 euros ($30.89) prior to the tip and it was worth every penny. Other dishes like schnitzel or a juicy burger and fries were tempting, but what can I say? I had a craving.
Amenities and service
We did have the opportunity to experience all of the hotel's spaces and amenities during our stay, save for the spa and gym (we got our exercise walking all over Munich). The full-service spa offers massages and facials, both starting at 55 euros ($54.81) and other treatments like scrubs and manicures, as well as the use of a sauna, steam bath and infinity pool. The spa uses products from Comfort Zone, an Italian skincare line designed to be clean and sustainable.
The gym was open 24 hours a day and was outfitted with a variety of cardiovascular equipment like ellipticals, treadmills, exercise bikes and rowing machines, as well as free weights and strength machines.
Every member of the staff we interacted with was friendly and helpful, whether we needed help figuring out how to get our car out of the parking garage (yes, that happened) or asking for drink recommendations. Since it was our first time in Munich, it was nice to feel so welcome and especially nice that the staff spoke English well and didn't make us feel guilty for being very novice German speakers.
Out and about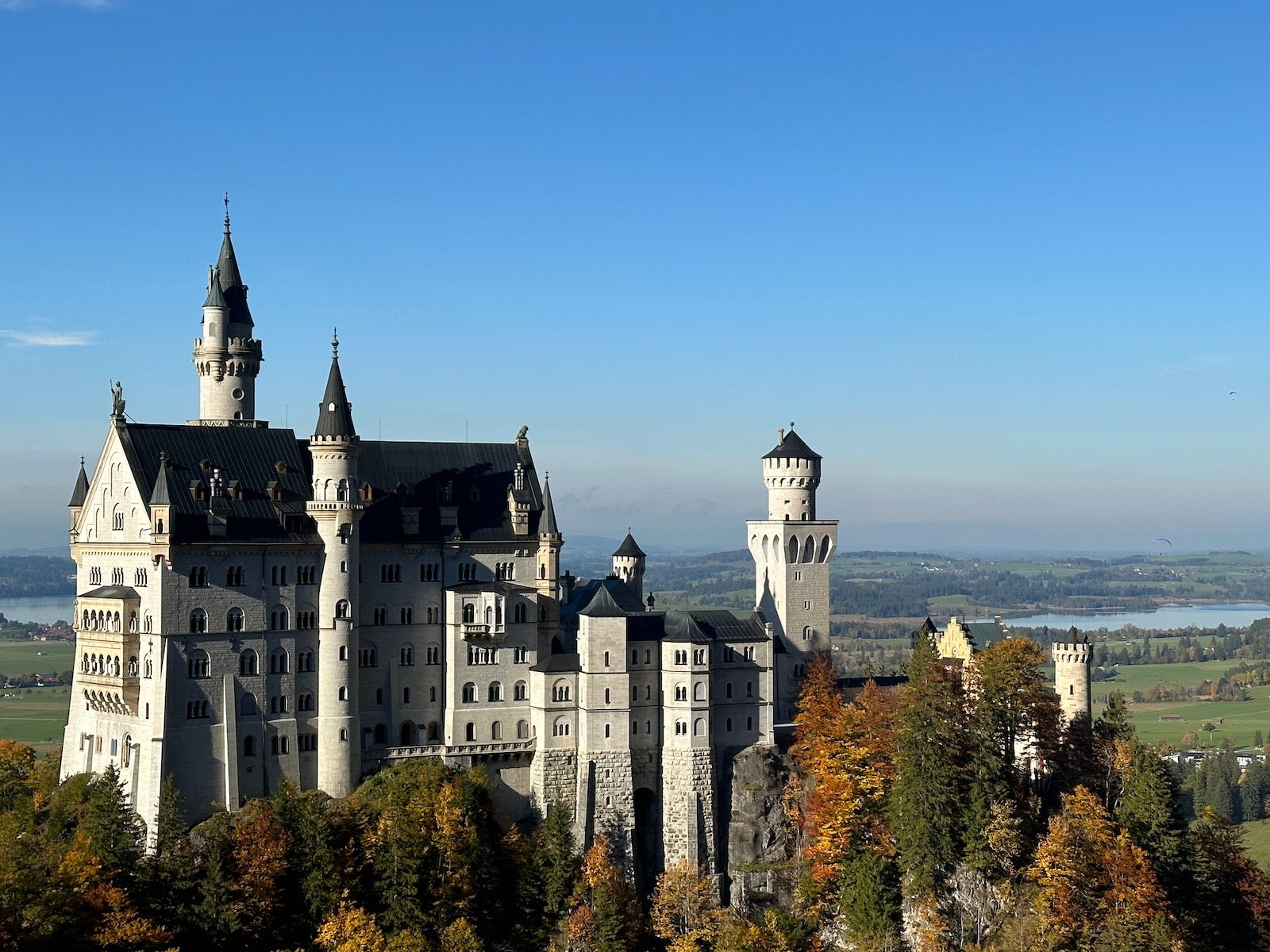 We walked to most of our destinations, but if you are planning to visit the Marienplatz, glockenspiel, churches, street market and other spots in Munich's Old Town, you can just as easily hop on a tram or catch a subway train, which costs around 3 euros ($3) for a one-way trip and takes around 15 minutes. Just one block from the hotel, you can visit Augustiner-Brau Wagner KG, a lively brewery and tavern that was founded in 1328. You are also only about a one-hour, 45-minute drive or train ride from the famed Neuschwanstein Castle, the inspiration behind Walt Disney's Sleeping Beauty Castle at Disneyland.
Accessibility
The public areas of the hotel were all accessible thanks to wide hallways and entrances that don't require stairs. Certain rooms had accessible features like roll-in showers and wide doorways, as well. Guests can also request allergy-friendly rooms and air purifiers.
Checking out
If I find my way back to Munich (and I definitely hope to), I would happily stay at Roomers Munich again. I always seek out hotels with personality that don't feel "cookie cutter" and Roomers broke the mold in an understated, provocative way without taking itself too seriously.