If you plan to smoke marijuana or ingest cannabis in any form on your cruise vacation, there are a bunch of things you should know.
Most importantly, cruise ships operate under federal jurisdiction. While you may light up legally in some states – and some countries – it's illegal to have cannabis on a cruise ship, so you cannot get high on the high seas.
Does that mean you can't smoke marijuana on your cruise vacation? Not exactly. It depends on where you are cruising.
For cruise news, reviews and tips, sign up for TPG's cruise newsletter.
Cruise ships visit some states where private use of cannabis is legal including Alaska, California, Washington, Maine, Massachusetts and New York. You might have an opportunity to indulge on land. But that does not mean you can walk right off the ship and light up.
Marijuana rules on cruise ships
It's important to know the cruise ship rules because violations come with stiff penalties – as several cruise passengers have learned in recent years.
If you do smoke, say, on your cabin balcony, it may be your fellow cruise passengers who rat you out. The crew is also trained to spot and report any illegal drugs.
That's when the fun ends. Under the cruise contract you sign to board a ship, cruise lines have the right to search your room, throw you off the ship and turn you over to local authorities for any violations. From there, you could face fines and possible jail time. Your cruise vacation will come to an abrupt halt.
Cruise lines say very clearly that cannabis in any form is not allowed onboard. It doesn't matter that medical marijuana is allowed in Florida, nor that you have a marijuana medical card. You can't bring pot or edibles onto a cruise ship.
The new Virgin Voyages cruise line, for instance, specifies that "all illegal drugs, non-prescribed controlled substances, medically prescribed marijuana or synthetic marijuana and CBD products are prohibited." You'll find something similar on every other cruise line website.
At the pier, as you board your cruise, you might notice customs or security officials with dogs. Among their duties is sniffing out drugs in carry-on baggage. Cruise lines also have technological means to find drugs in checked bags, though they don't publicly talk about that.
So what happens if you "forget" marijuana is illegal on your cruise ship and get caught?
Consider the case of a Pennsylvania woman who in 2018 was found by customs officers to have two bags of pot in her purse as she boarded Royal Caribbean's Anthem of the Seas in Bermuda. A subsequent search of her cabin found pipes and other paraphernalia and cannabis oil. She was arrested by Bermuda authorities, held in custody, pleaded guilty to four counts of drug possession, fined $4,000, which she had to pay on the spot, and eventually sent home – no cruise for her. Her excuse that she didn't realize the items were in her bags was not accepted by authorities.
If you think you can cheat the system, consider that drug trafficking is among the possible charges for bringing marijuana into international waters.
Pot shoreside
Ports of call might have looser rules. For instance, despite efforts by Femke Halsema, mayor of Amsterdam, to ban tourists from the city's famous "coffee shops," you may still legally light up in these cafe-like establishments. The menu typically features loose grass, pre-rolled joints, hashish and some edibles, such as muffins, cookies and brownies. Some shops have added loaded gelato. Just remember: No takeout is allowed.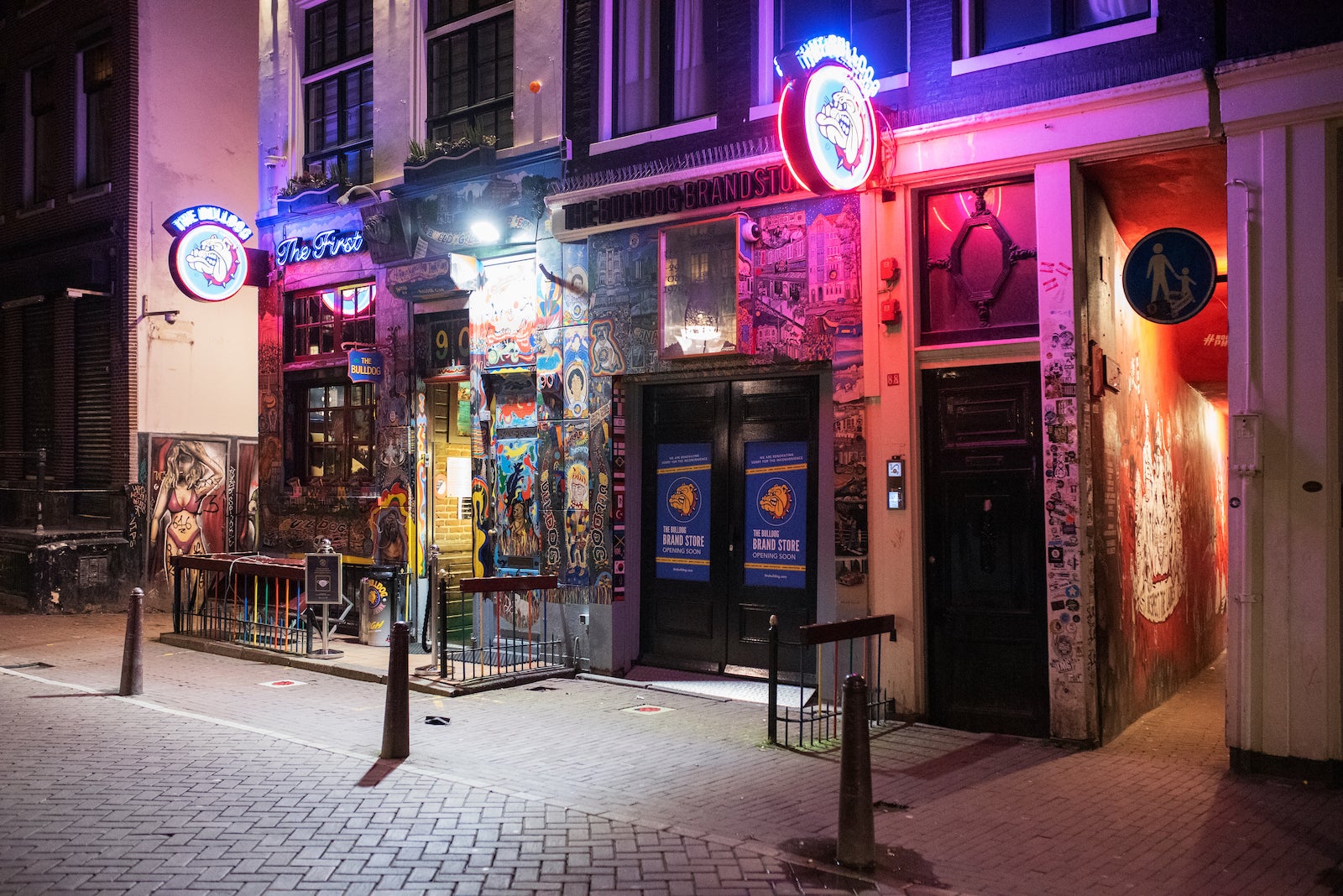 As part of your ocean or river cruise from Amsterdam, you might consider exploring the scene on a ganja walking tour. This and similar tours include snacks.
Despite the common belief that Jamaica is a pot free-for-all, smoking in public is illegal. Although violations are punishable by a fine, it's usually not much — 500 Jamaican dollars, which is about $3.50. To legally explore the scene, you might want to book a marijuana tour, where you visit a private weed-growing plantation and sip ganja tea while enjoying ganja cake.
High in Alaska
Alaska has been at the forefront of a movement in the U.S. to provide places where tourists and locals can light up socially.
Marijuana was legalized in Alaska for private use in 2014. Shops selling locally grown weed (and in some cases edibles) for adults ages 21 and older opened around the state, including in the cruise ports of Juneau, Skagway and Ketchikan. But the product was limited to use in private, leaving cruisers out of the picture.
After a drawn-out debate, and with strict rules in place, the Alaska Marijuana Control Board in August 2021 approved two venues for on-site consumption. These are among the first places in the nation approved to cater to locals and tourists.
RELATED: The ultimate guide to booking cruises to Alaska 
The on-site consumption rules are that you may buy raw or edible (containing up to 10 mg THC) cannabis products for on-site use – in a lounge, located behind a secured door or in a separate building.
At the Cannabis Corner in the fishing town of Ketchikan, a small lounge is outfitted with couches, a fireplace and activities such as adult coloring books. A catch for cruisers is that the shop is out of town, along the Tongass Highway, about 10 miles from downtown cruise piers. That means you have to arrange transportation. If you're at the Ward Cove cruise pier, however, you are only about 2 miles via taxi transportation.
Additional consumption lounges in Alaska are in the works, including in Juneau and Fairbanks.
It is still illegal for tourists to take the products off-site. Alaska law bans consuming marijuana in public view, including while walking down the street or in city parks. If you're caught, you might be fined. It's also illegal to light up in any U.S. national park – and for much of your cruise in the Inside Passage in Southeast Alaska, you are in national parkland.
Don't even try to bring your purchases back onto your cruise ship.
Cannabis hotels
One way to ensure the opportunity to smoke on your cruise vacation is to do a pre- or post-cruise stay at a cannabis-friendly hotel, assuming you are in a port city where pot is legal. A Google search will produce results.
For those sailing from Los Angeles, the Fairmont Miramar Hotel & Bungalows in Santa Monica has a cannabis concierge as part of an arrangement with Eaze, a leading California cannabis delivery service. Guests can request an in-room menu of hemp and cannabis products.
Pot-smoking cruisers on Alaska sailings might want to begin or end their cruises in Seattle or Juneau, where there are also cannabis-friendly properties. The Silverbow Inn in downtown Juneau, for instance, promotes on its website that guests may visit the nearby Rainforest Farms Cafe and then "unwind and get an amazing night of rest during your stay" at the property. The hotel has a rooftop hot tub among the areas where you might enjoy your purchases.
Planning a cruise? Start with these stories: