Editor's note: This is a recurring post, regularly updated with new information and offers.
---
Capital One has tossed its hat into the ring, launching a luxury hotel program to compete with those offered by Chase and American Express. Say hello to the Premier Collection.
While the original October 2022 announcement covered what the Premier Collection should look like, the booking portal was not yet live. We were promised a launch date before the end of 2022, but that date came and went without updates. However, we can confirm that bookings are now live.
Access is limited to those with premium credit cards from Capital One — only the Capital One Venture X Rewards Credit Card (a personal credit card) and Capital One Spark Travel Elite card (a business credit card).
The information for the Spark Travel Elite card has been collected independently by The Points Guy. The card details on this page have not been reviewed or provided by the card issuer.
Bookings with the Premier Collection include automatic benefits like free Wi-Fi during your stay, daily breakfast for two people and bonus miles on paid reservations — or the option to redeem your Capital One miles to pay for the reservation. Other benefits like room upgrades and early check-in may be offered depending on availability.
With all of these benefits available, are there any drawbacks to booking through the Premier Collection? Does the portal work as expected? Now that Premier Collection bookings are available, it's time for TPG to take it for a test drive.
Today, we'll walk you through booking with the Capital One Premier Collection and whether booking your next hotel stay here makes sense.
What is the Capital One Premier Collection?
The Capital One Premier Collection is a set of boutique and premium hotels that you can book through the Capital One Travel portal.
Since this is a curated collection of hotels, not all hotels are available for Premier Collection bookings. However, hotels from the following brands are among those you can find in the Premier Collection:
1 Hotels.
The Leading Hotels of the World.
Montage Hotels & Resorts
Six Senses.
Small Luxury Hotels of the World.
Viceroy.
There also are many independent hotels that you can book through the Premier Collection. All hotels participating in the Premier Collection should be "one-of-a-kind luxury hotels and resorts, each packed with personality and hand-picked for exceptional quality," according to a spokesperson for Capital One. Noticeably absent in the collection are global hotel brands like Hilton, Hyatt, IHG, Marriott and Wyndham.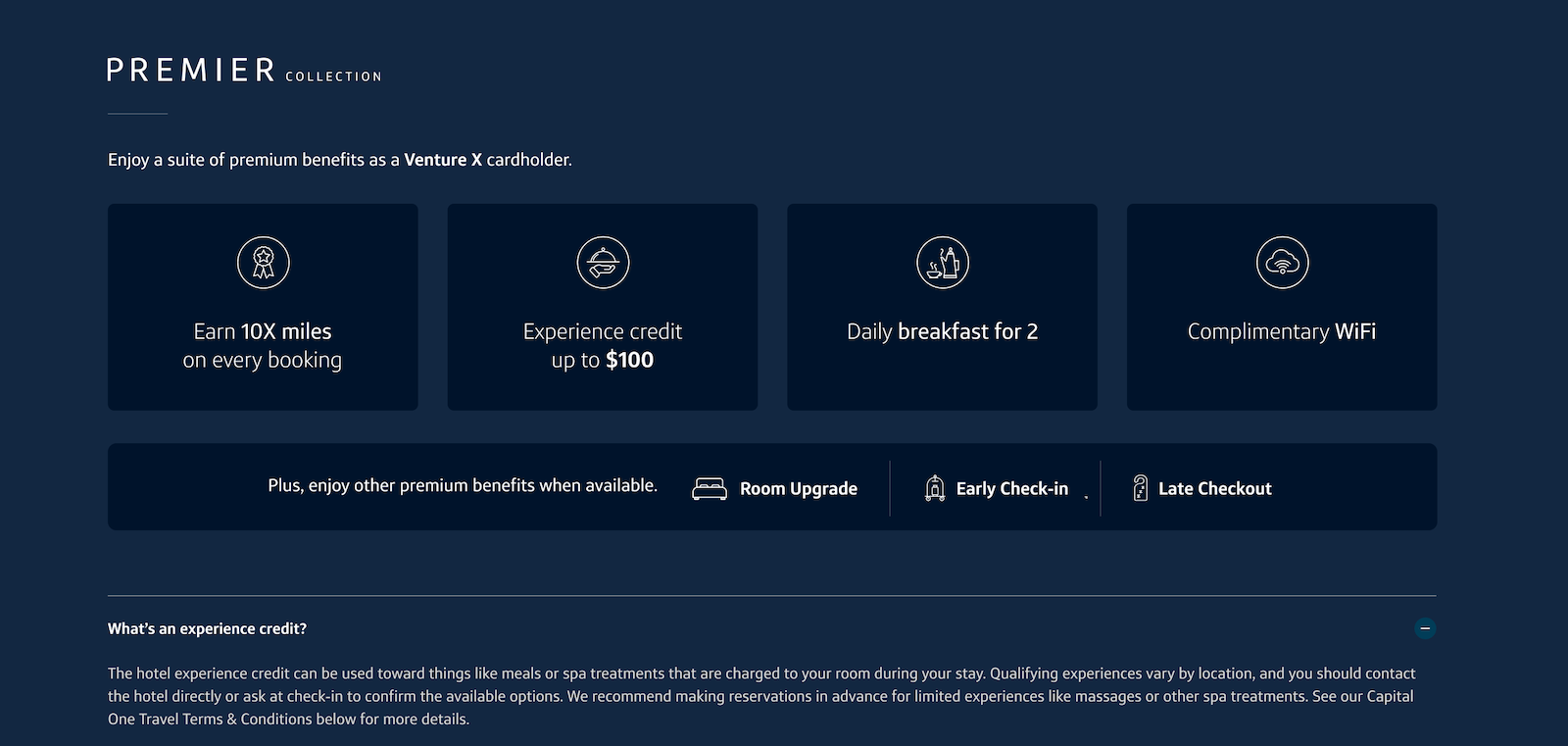 Main benefits and perks with Premier Collection
It's worth pointing out that none of the hotels participating in the Premier Collection are exclusive to this booking portal. Alternatively, you could call or use the website for any of these hotels to book directly. You might also find these hotels on sites like Hotels.com. Prices could be higher or lower, depending on who you book through.
The main advantage to making a reservation with the Premier Collection is the suite of benefits added to your booking. Cardholders who make Premier Collection hotel reservations will enjoy the following guaranteed perks added to each room for the duration of their stay:
An on-property "experience credit" of up to $100.
Daily breakfast for two people.
Complimentary Wi-Fi.
Elevated earning rate of 10 miles per dollar.
In addition, you may receive these additional benefits, if available during your stay:
Room upgrade at check-in.
Early check-in.
Late checkout.
While many of these benefits are straightforward, it's worth highlighting the experience credit. When visiting a foreign country, the benefit will be made available in the local currency. Also, each property will determine this credit independently. Thus, it could be valid only for food and beverage purchases at some hotels while other properties may allow you to use this credit for massages at the spa or greens fees at the golf course.
Related: 5 ways to get your hotel breakfast for free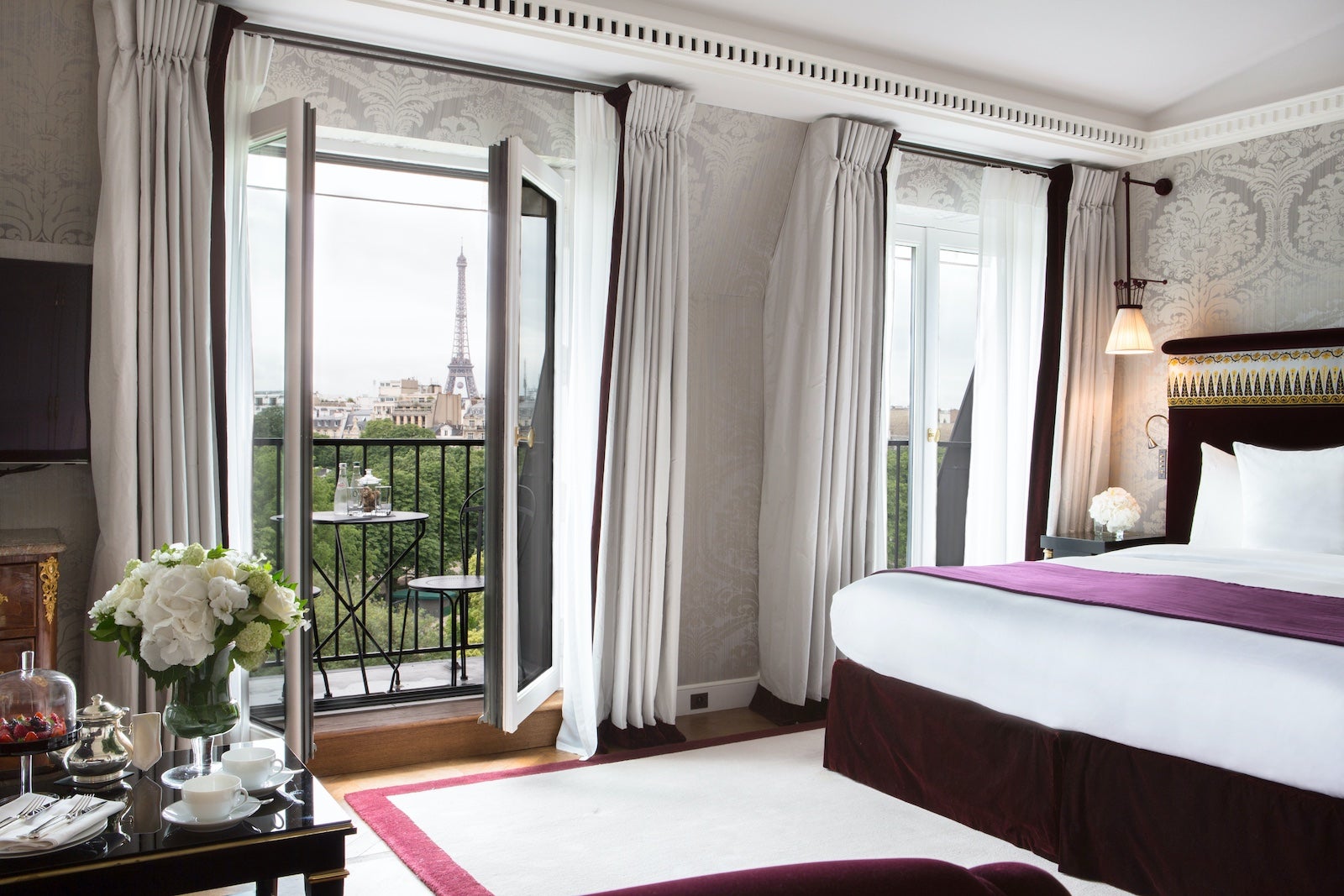 To use the on-property credit, eligible purchases must be charged to your room. Then, the credit will be applied at checkout when settling your bill. To determine what a hotel's experience credit is in advance, you'll need to contact the hotel directly. Details on the credit and its uses aren't available on the Premier Collection website prior to booking.

As these credits can vary from hotel to hotel, it's worth considering how you value this benefit. Evaluate whether the perk is saving you money — by providing a free dinner, for example — or just offering a nice experience that you wouldn't choose if you had to pay for it yourself. Then, decide whether your valuation of the perk changes your desire to book that property through the Premier Collection.
Many of these benefits are similar to what you will see in other premium hotel collections. See more details here: A comparison of luxury hotel programs from credit card issuers: Amex, Chase and Capital One.
How to book Premier Collection hotel stays
To book a hotel with the Premier Collection, you must book through Capital One Travel.
While numerous credit cards provide access to Capital One Travel, only two cards provide access to the Premier Collection. Those are the Venture X and Spark Travel Elite.
Once logged in, you can either click on the "Premier Collection" tab on the top right, or "Hotels" to see both Premier Collection and non-Premier Collection accommodation options. (We'll go with the latter.)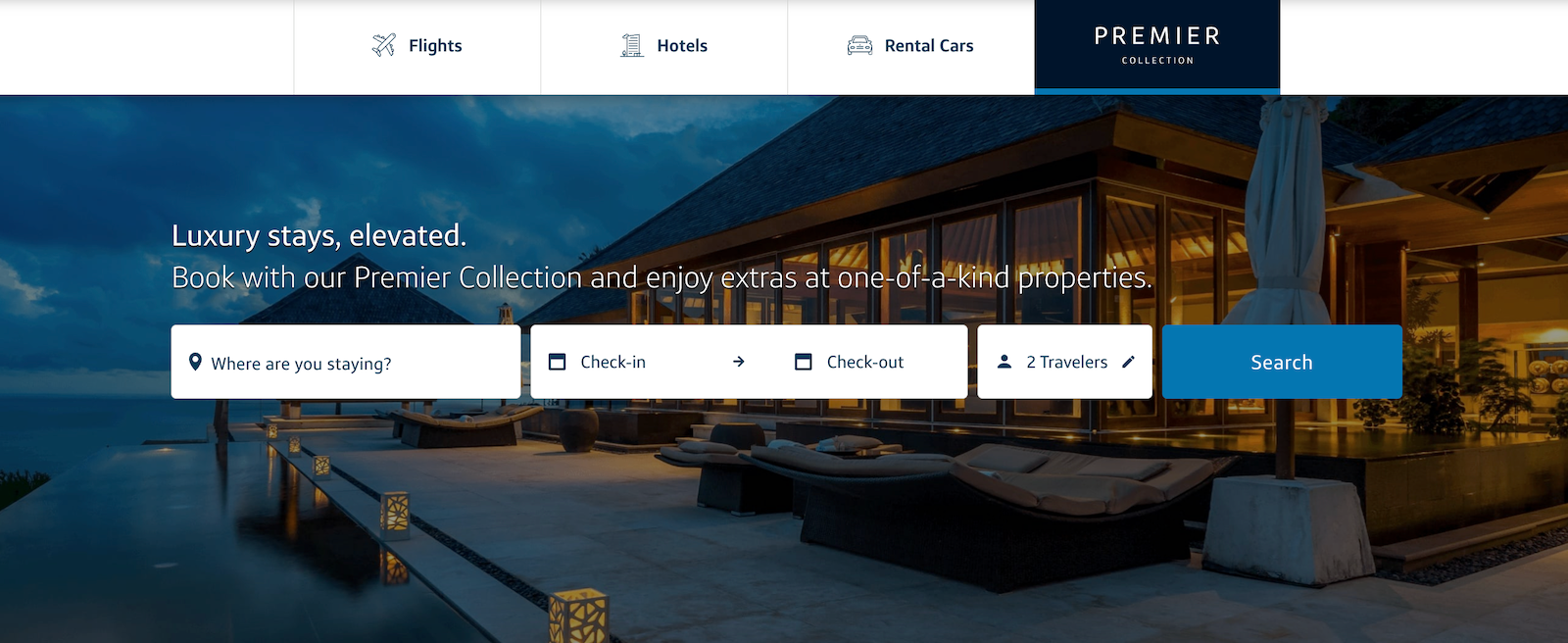 Search for your intended destination as you normally would.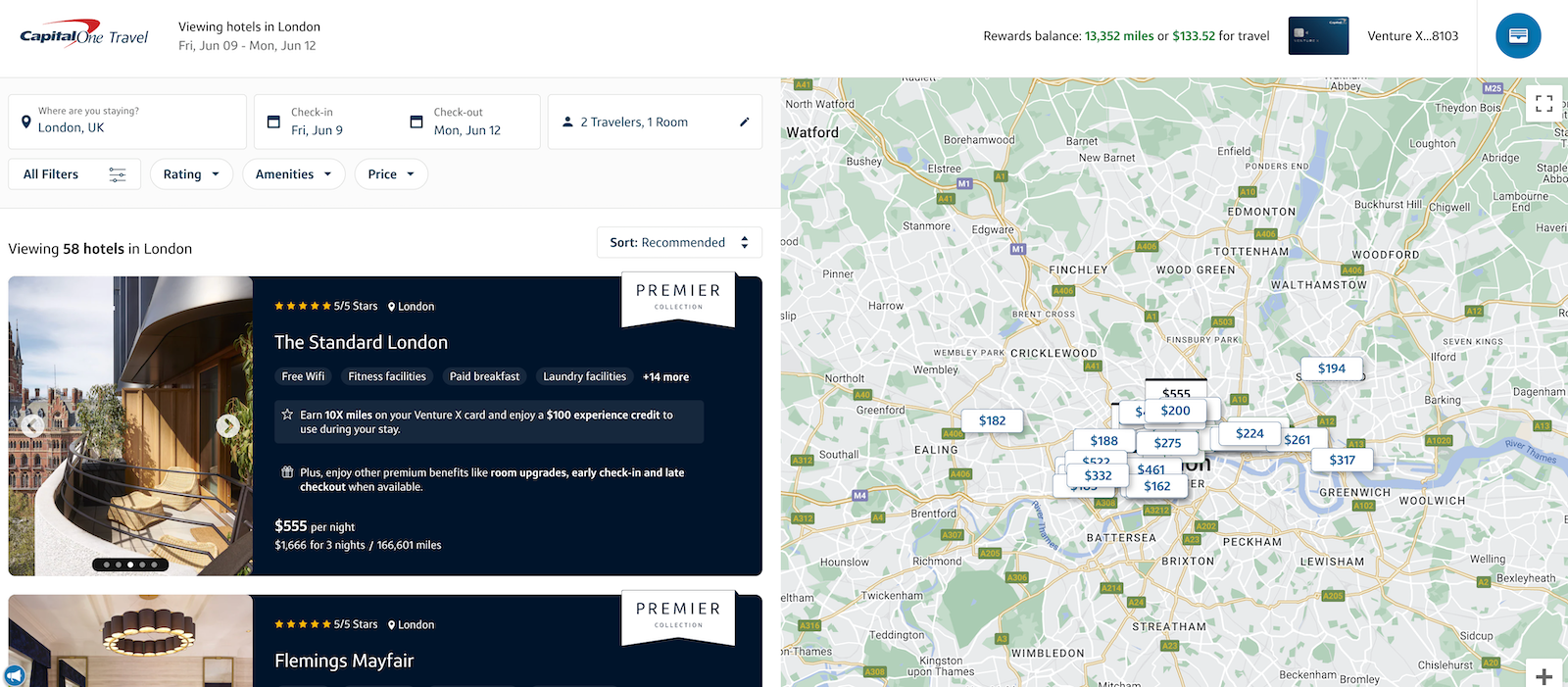 If you've chosen the "Hotels" tab, you can then filter for hotels that are part of the Premier Collection.

From here, you'll now see 10 hotels, meaning the vast majority of hotels in Capital One Travel are not part of the Premier Collection.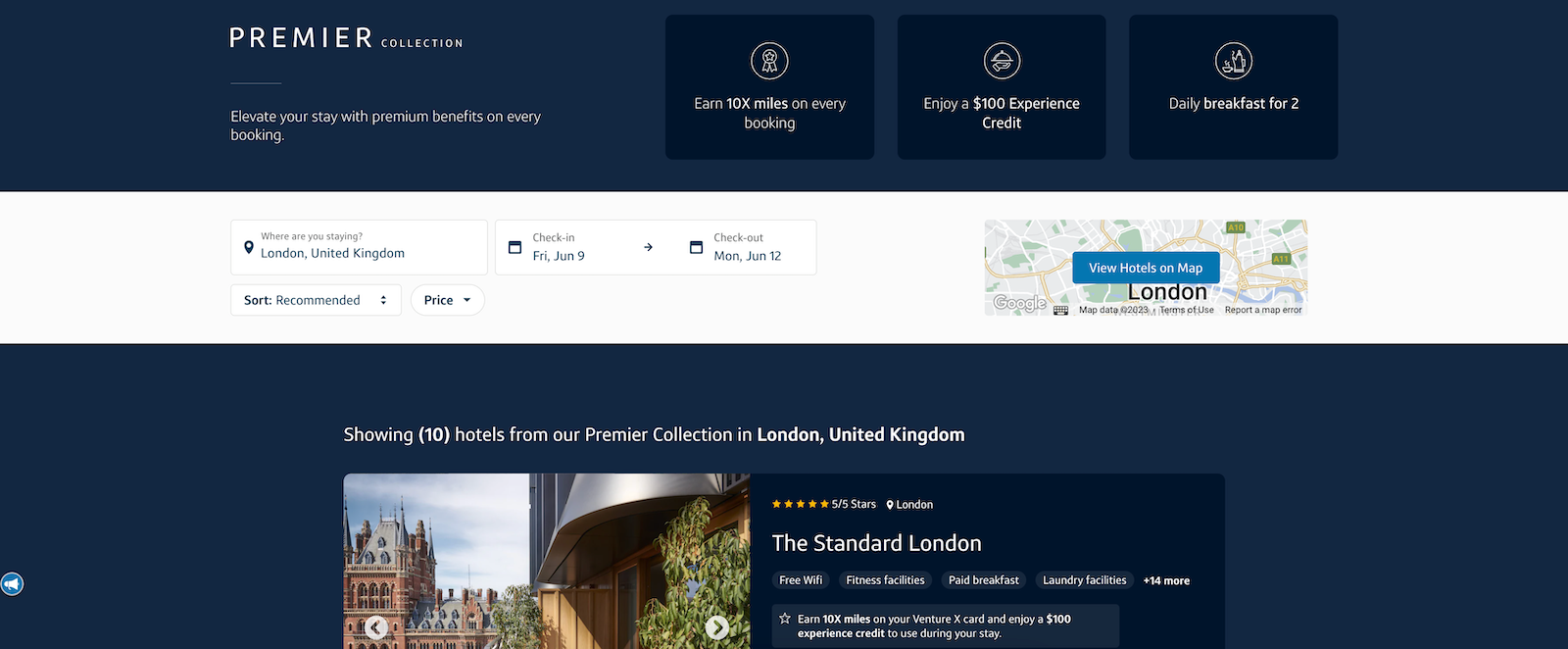 You can scroll through the list to see highlights of the hotels, such as available amenities and pricing.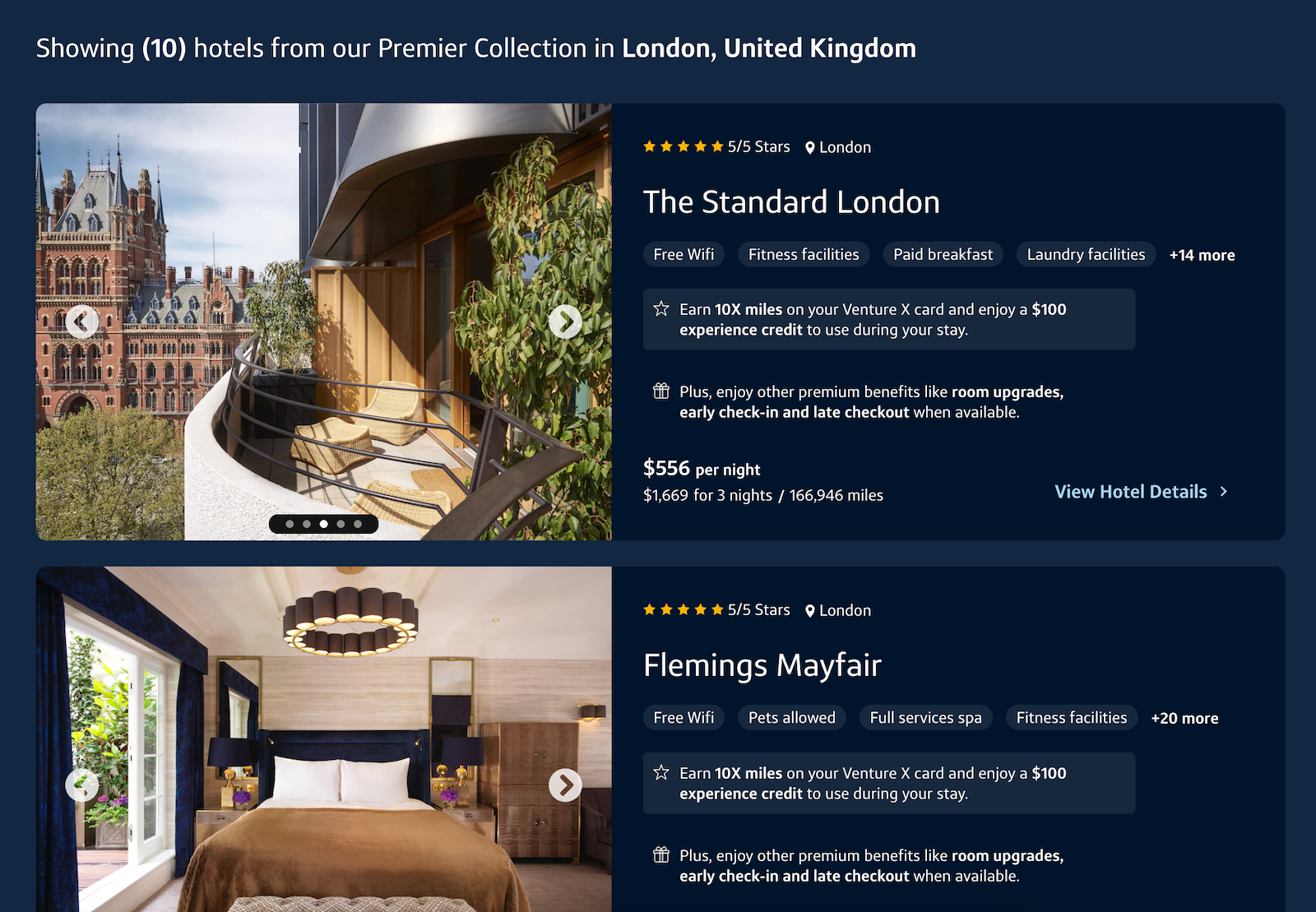 Clicking on a hotel provides details about its offerings and location.

If you click on the "Choose Room" button, you can browse room types and associated pricing.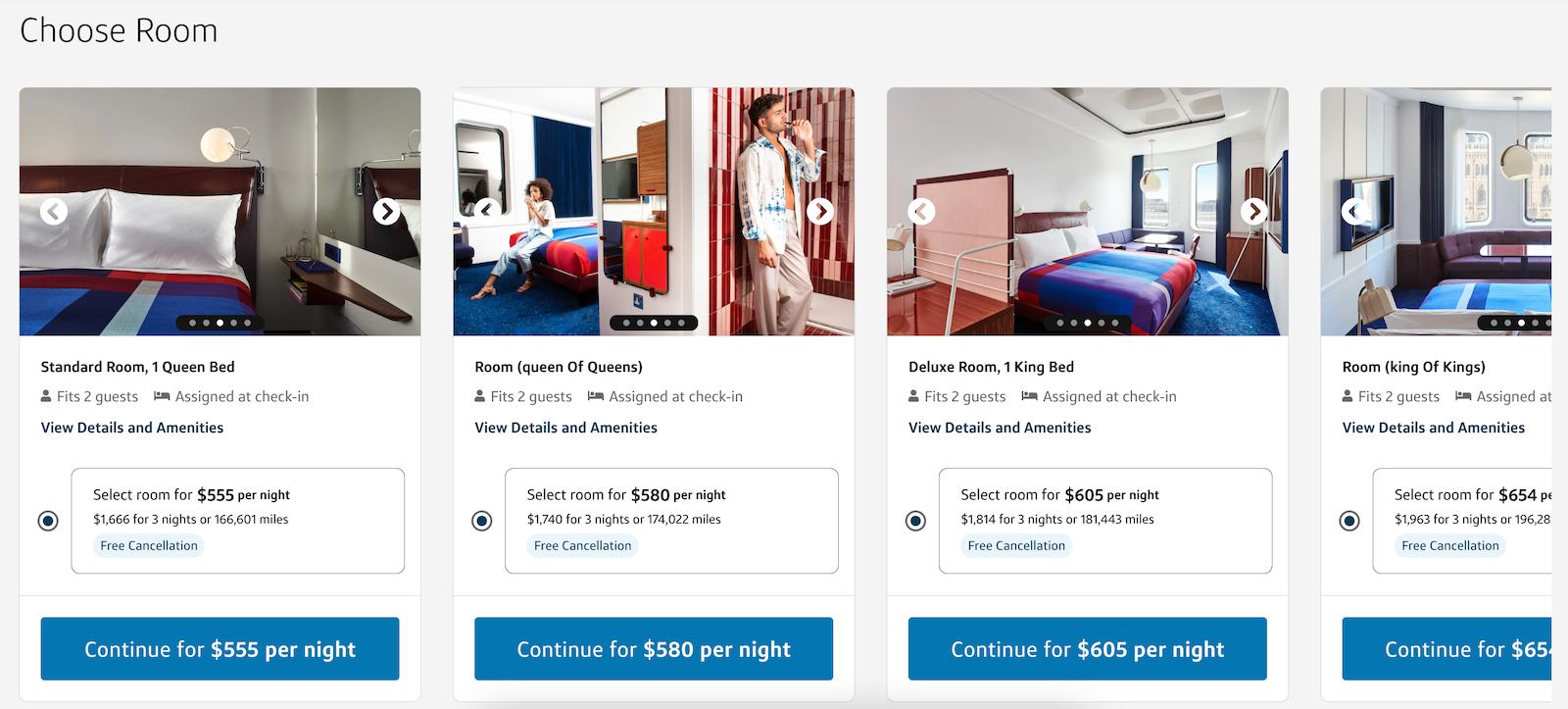 When making a paid reservation with either of these cards, you will earn 10 Capital One miles per dollar. TPG values these miles at 1.85 cents apiece, meaning you would earn a healthy 18.5% return on spending.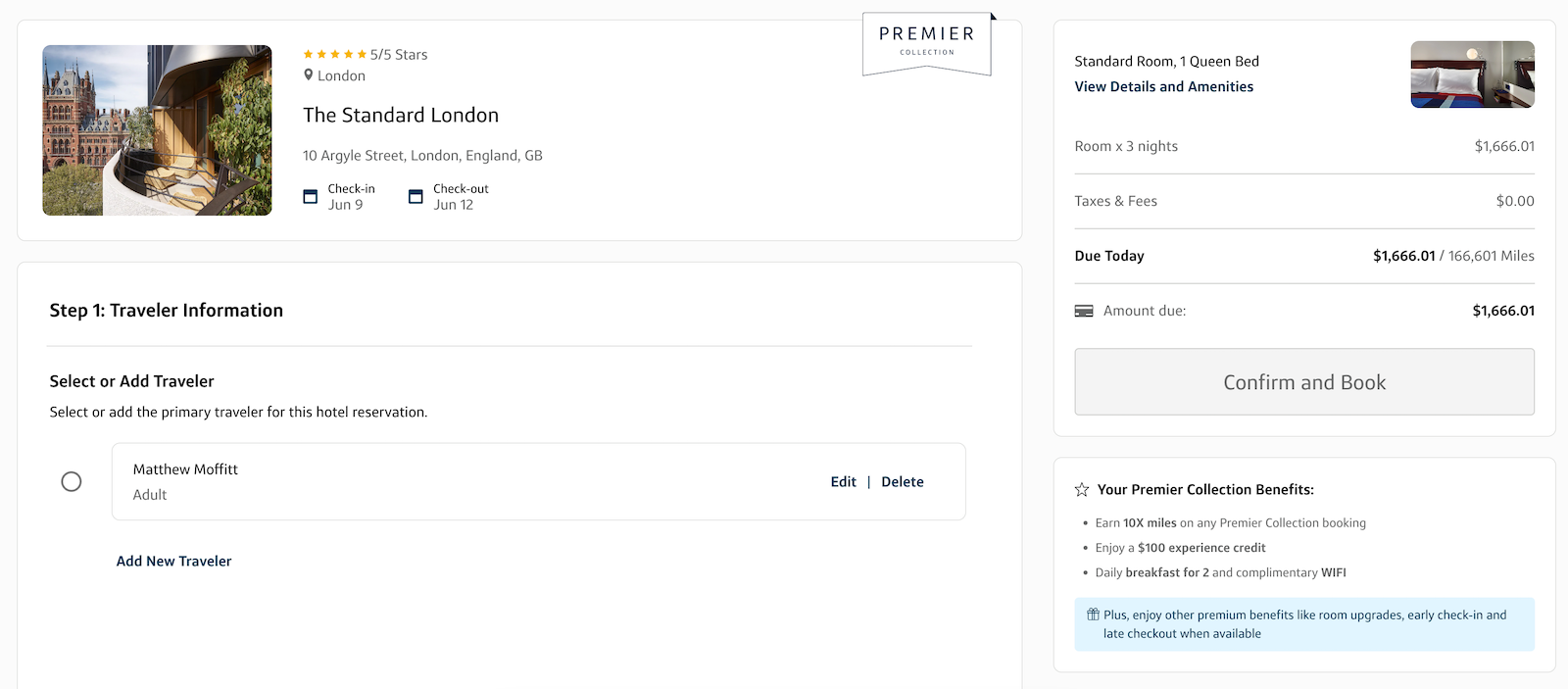 Finally, you will have the option to pay cash or redeem your miles at 1 cent apiece to pay. (We recommend paying in cash as you can get better value for your Capital One miles on other redemptions.)

Will I receive points or elite status benefits with hotel programs through Premier Collection?
You might receive some or all of the benefits from a hotel program when booking a hotel that participates in a rewards program, but you might not.
Many people receive stay credit or status perks when booking through Chase's Luxury Hotel & Resort Collection or American Express' Fine Hotels + Resorts or The Hotel Collection, but some don't, and it's not guaranteed. That's because these bookings are considered third-party bookings, and hotel loyalty programs are not required to provide status benefits on these reservations.
Related: Things to consider when choosing to book via a portal vs. booking directly
Capital One will provide the option to include your rewards/loyalty account number when making a hotel reservation, but the decision to recognize your status or award points for your stay will be made by the hotel itself, according to the same spokesperson for Capital One. Thus, if your hotel status and its perks are important to you, consider whether you want to book through a portal where your status benefits and stay credits are not guaranteed.
Can I pay for Premier Collection bookings with my Capital One miles?
When making a Premier Collection booking, you can pay with your Venture X card or Spark Travel Elite card — earning 10 miles per dollar spent on the reservation. However, you also can redeem your Capital One miles to cover the cost of your reservation.
Using your miles here will provide a redemption rate of 1 cent per mile. TPG values Capital One miles at 1.85 cents apiece, so this is not the best use of your miles. You may be better served using your miles elsewhere. If you're sitting on a mountain of Capital One miles or can't afford to pay the cash cost of Premier Collection hotels, then using your miles to save money could make sense for you.
Related: Tips and tricks to get maximum value from your Capital One miles
Can I get a free night added onto Premier Collection bookings?
Several hotel programs offer benefits like a "free fourth night" or "free fifth night". To receive this benefit, you need to book directly with the hotel and redeem points from that hotel's rewards program.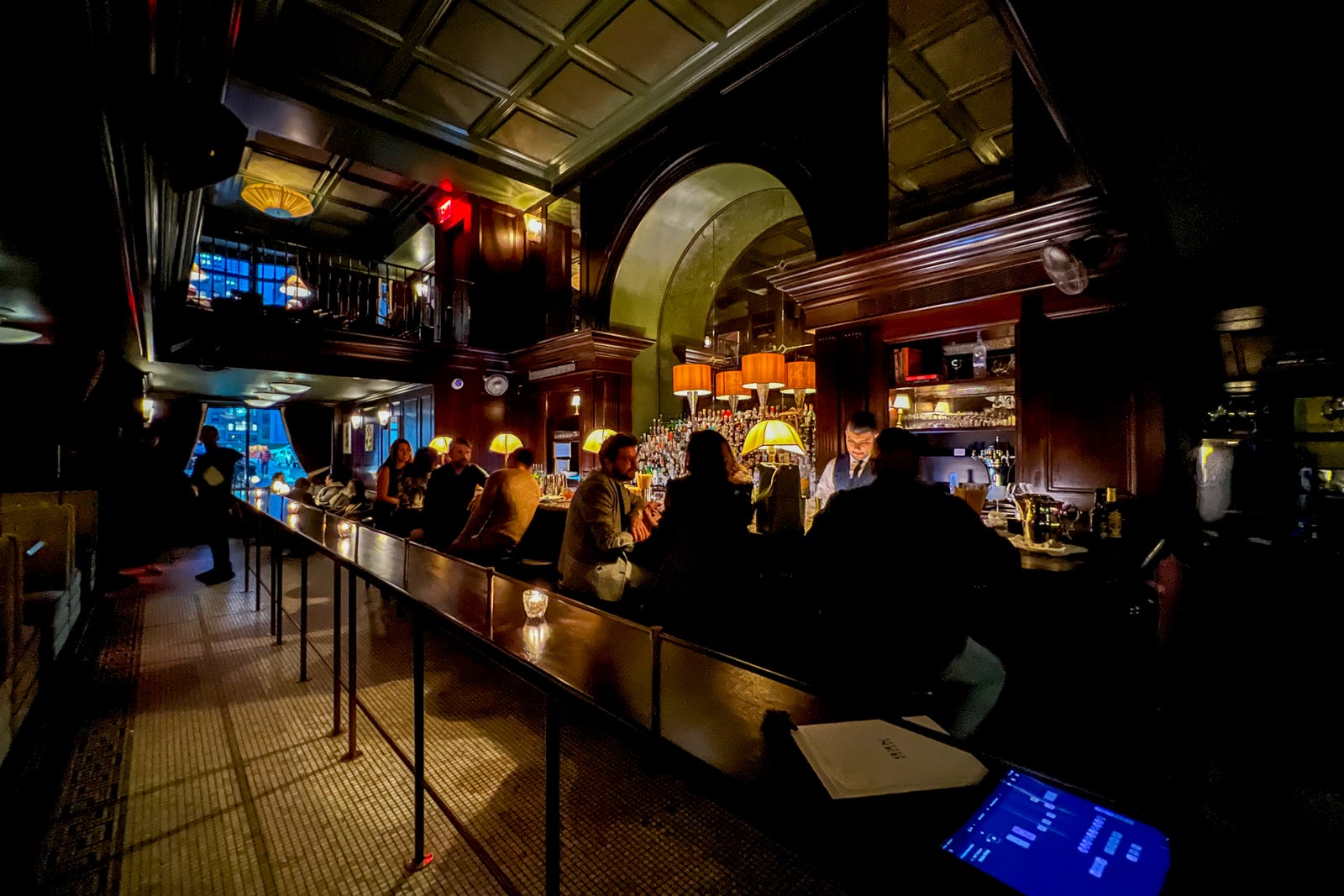 Additionally, we have seen promotions like "pay for three nights, get a fourth night free". However, all of these promotions and benefits for free nights added to your reservation require booking directly with the hotel. As Premier Collection reservations are considered third-party bookings, you won't be eligible for these additional, free nights. Be sure you consider the possible savings before deciding how to book your next hotel stay.
Is the Premier Collection worth it?
We checked a handful of hotels in London and New York City. On average, booking with the Premier Collection costs 13% more than booking the same room directly with the hotel. Compared to booking with Hotels.com, we found booking with the Premier Collection was up to 3% cheaper in some cases but up to 9% more expensive in others.
To put this into perspective, remember that you will not get the extra benefits offered by the Premier Collection when booking directly with the hotel or with sites like Hotels.com. The question is whether you think the extra benefits are worth the extra cost.
When to book with the Premier Collection
We see two times when it's advantageous to book with the Premier Collection, despite the higher cost:
When you have sufficient miles and don't want to pay cash.
When the benefits are worth more than the extra cost of booking with the Premier Collection instead of booking directly with the hotel. For example, consider locations where your daily breakfast will be expensive if not offered for free with your hotel room.
Related: 5 ways to get your hotel breakfast for free
Bottom line
Bookings for the Capital One Premier Collection are live. Those with the Venture X or Spark Travel Elite cards can access these bookings for benefits on their upcoming hotel reservations.
While there are extra benefits with these bookings, there can also be higher costs. Cash prices are consistently lower when booking directly with the hotels, instead of through the Premier Collection.
However, there are times where you may decide it's worth it, given the ability to redeem your miles for these bookings or to get a suite of benefits that will reduce your out-of-pocket costs across the entirety of your vacation. In short: make sure you do the math.