If you're contemplating your first family cruise, you might be wondering if Carnival Cruise Line has a kids club. The answer is a resounding yes.
Carnival offers a fabulous kids club called Camp Ocean for preschool- and school-aged children, plus separate hangouts with age-appropriate activities for teens and tweens. It even offers special programming for babies and toddlers. Events take place in cool kids-only hangouts and are staffed by youth counselors with prior education or childcare experience.
For cruise news, reviews and tips, sign up for TPG's cruise newsletter.
Some kids want to stay in cruise camp all day, while others will check into Camp Ocean for an hour or two and spend the rest of the cruise exploring the ship with their family. No matter how your young cruisers choose to use the kids' facilities, here is everything you need to know about Camp Ocean on Carnival Cruise Line.
What are the Carnival kids club age groupings?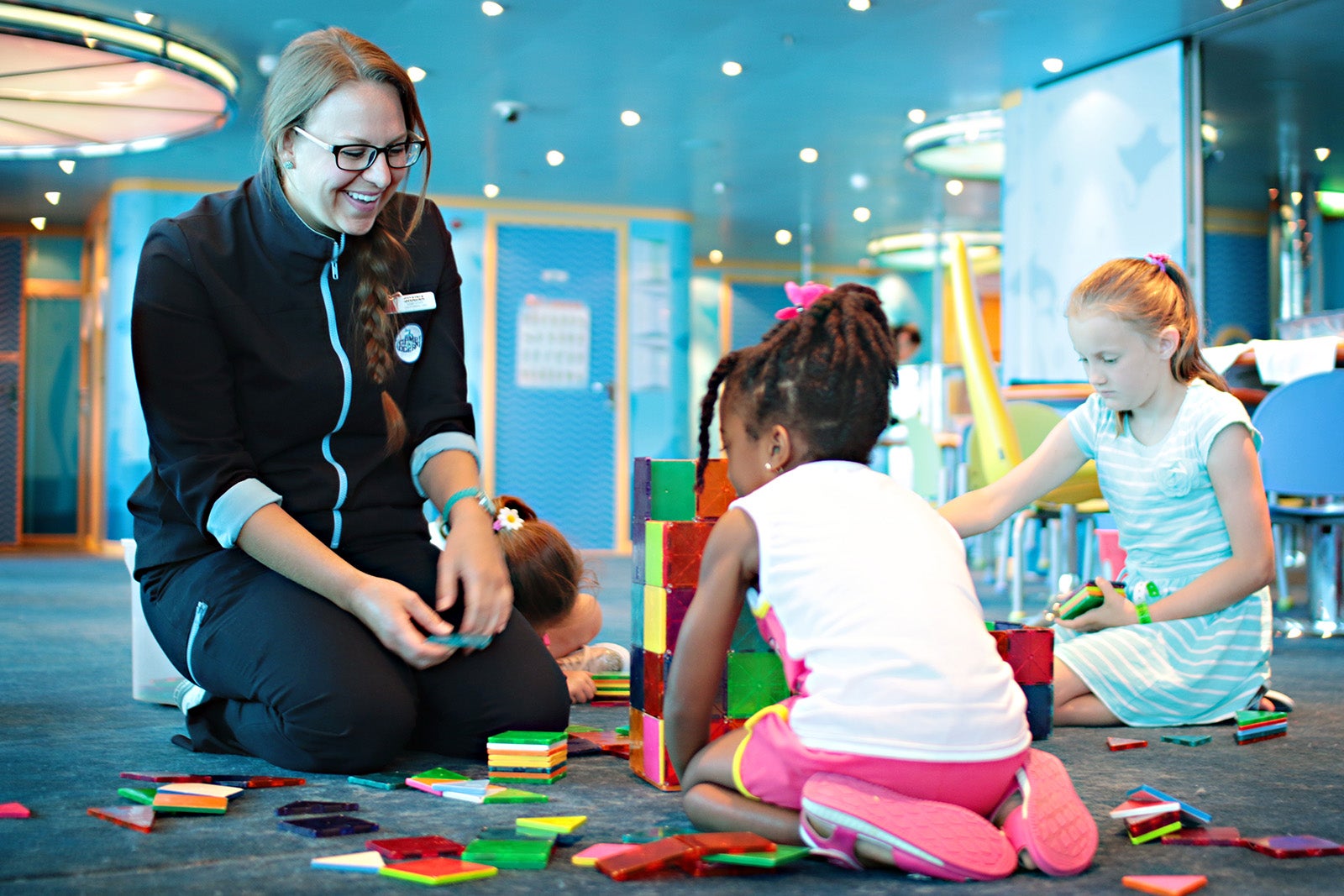 Camp Ocean divides young cruisers into three main age groups: Penguins (2 to 5 years old), Stingrays (6 to 8 years old) and Sharks (9 to 11 years old). Kids do not need to be toilet trained to attend dropoff programming, though youth staff will not change diapers for older kids ages 5 and up. The Turtles program is an addendum to Camp Ocean for little kids ages 6 months to 2 years.
Circle C is the tween hangout for the kids in the middle, ages 12 to 14.
Club O2 invites teens ages 15 to 17 to chill out with new friends.
Related: 5 best cruise lines for families
What activities are available for kids in Carnival's Camp Ocean?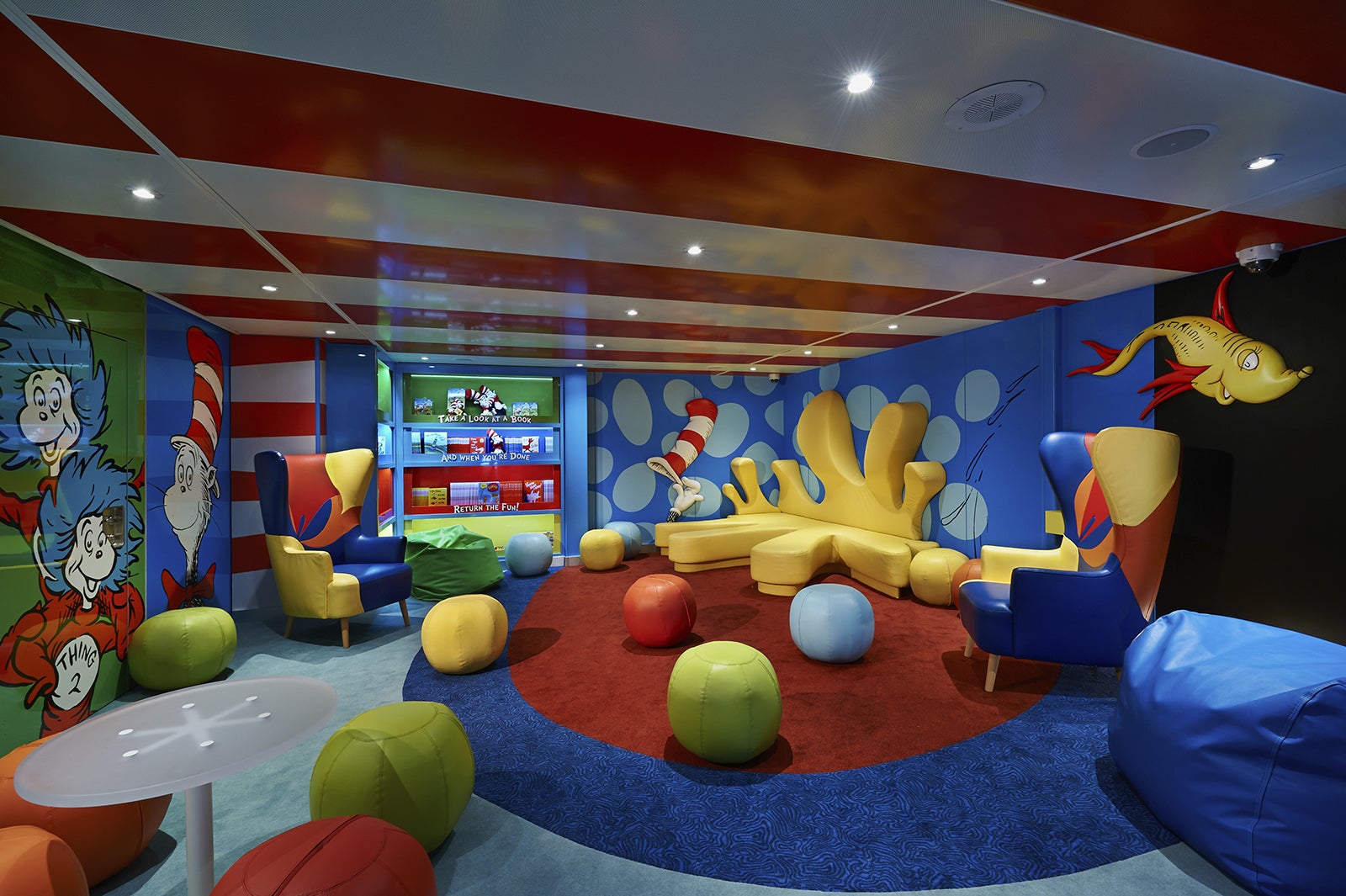 Camp Ocean offers a schedule of kid-friendly activities, sometimes split into three age groups and sometimes with mixed ages. The daily schedule might include arts and crafts, sports and games, movie watching, science-based activities, face painting and video game play. Some free play and socializing time is scheduled as well.
To stay true to its name, the program has access to more than 400 ocean-themed activities, such as creating penguins out of Oreo cookies, designing aquariums and creating sea salt art.
Carnival has a partnership with Dr. Seuss, so his whimsical characters influence Camp Ocean's activities. The Seuss-a-palooza parade and story time is a big hit with little sailors who can meet life-size versions of their favorite storybook characters, like the Cat in the Hat.
Related: Disney Cruise Line vs. Carnival: Which family-friendly cruise line should you choose?
The cruise line has also joined forces with NASA to offer a Space Cruisers program to Camp Ocean campers. NASA-inspired activities might include playing space-themed bingo, building Mars rovers, designing bridges and learning about how objects orbit in space.
At night, Camp Ocean turns into Night Owls, a late-night, mixed-age group slumber party. It offers movies, toys and snacks for kids, as well as rest areas (including cribs) for sleepy cruisers. Special parties called Owl Jams are held on select evenings, either for kids ages 2 to 11 or 6 to 11. These themed parties might include a Caribbean party with a tropical theme and limbo contest, a Party Animals event with face painting and games, or a Rock N Glow Party with an '80s theme and glow sticks.
The littlest cruisers under age 2 can come to Carnival's cruise camp for special programming at select times on sea days. Parents and guardians can either drop off babies and toddlers for a fee or stay and play with their kids for free. On port days, they can drop off their little ones for group babysitting while they explore ashore, but they must be onboard during mealtimes as Camp Ocean will not provide lunch to this group.
Turtles activities might include sensory play, story time, arts and crafts and dancing.
What activities are available for teens in Circle C and Club O2?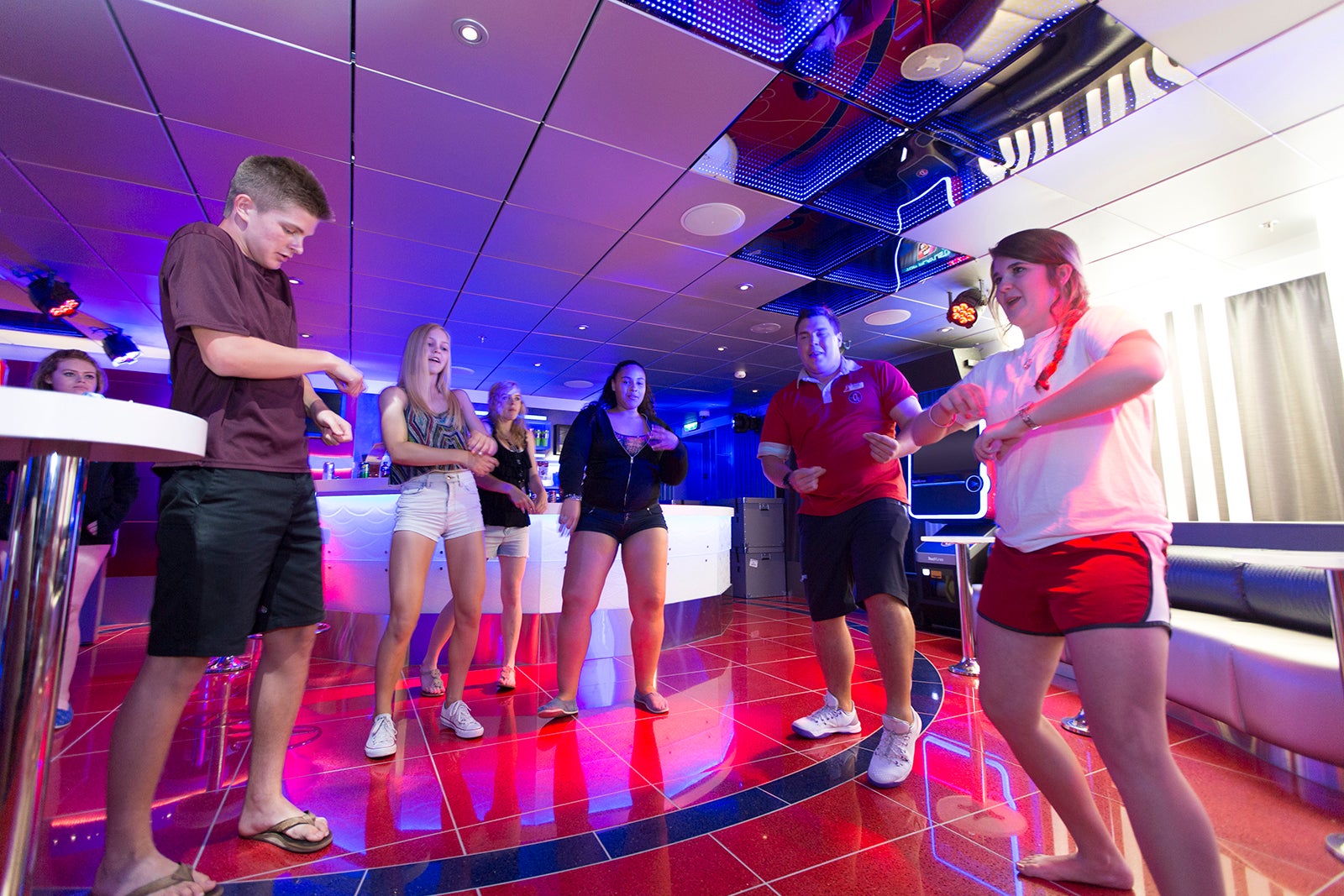 Tweens in Circle C can participate in games of all kinds (bean bag toss, card games, kids vs. staff), play video games, watch movies, make crafts, roam the ship on scavenger hunts and bust a move at evening dance parties. A Circle C Leader is on hand to organize activities and keep everyone making friends and having fun.
Club O2 counselors know that teens don't need a lot of handholding but do need some intriguing events to keep them from wandering the ship and getting into trouble. Activities for teens include movies, sports and games (basketball, dodgeball, capture the flag), video games, music, karaoke, foosball and evening parties, including Carnival's version of prom.
Related: The 5 best cruises for teens
What are Carnival's Camp Ocean hours of operation?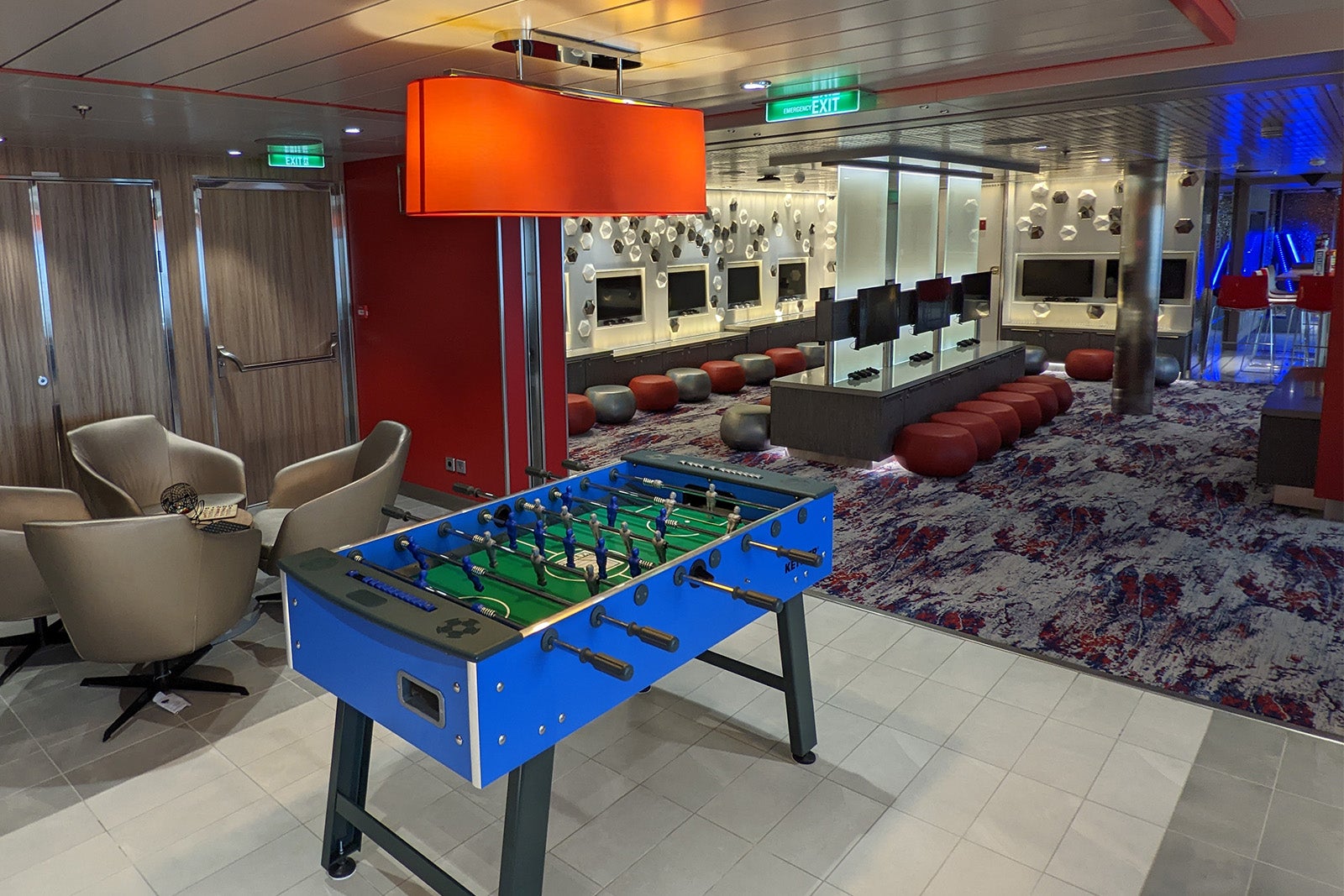 The Carnival kids club hours vary by day and by port of call. Camp Ocean's schedule on sea days runs from 10 a.m. to 5 p.m. and 7 p.m. to 10 p.m.
On port days, activities start from the time the ship arrives in port until 10 p.m., with a break from noon to 1 p.m. for a supervised lunch at the buffet. Family programming might be scheduled for 4 to 6 p.m. on port days.
Most children need to be signed in and out of Carnival cruise camp by a designated adult. However, parents and guardians can give Sharks (ages 9 to 11) permission to sign themselves in and out.
A youth staff-supervised Kids' Only Dinner is offered nightly, except for embarkation day, from 6 to 6:50 p.m. at the buffet.
The Night Owls late-night activities take place from 10 p.m. to 1 a.m. All kids must be picked up by an adult from Night Owls; no one can sign themselves out after 10 p.m.
Circle C and Club O2 offer supervised programming from noon to 5 p.m. on sea days and from 4 to 6 p.m. on port days. Complimentary evening activities run nightly from 8:30 p.m. to 1 a.m.
How much is the Carnival kids club?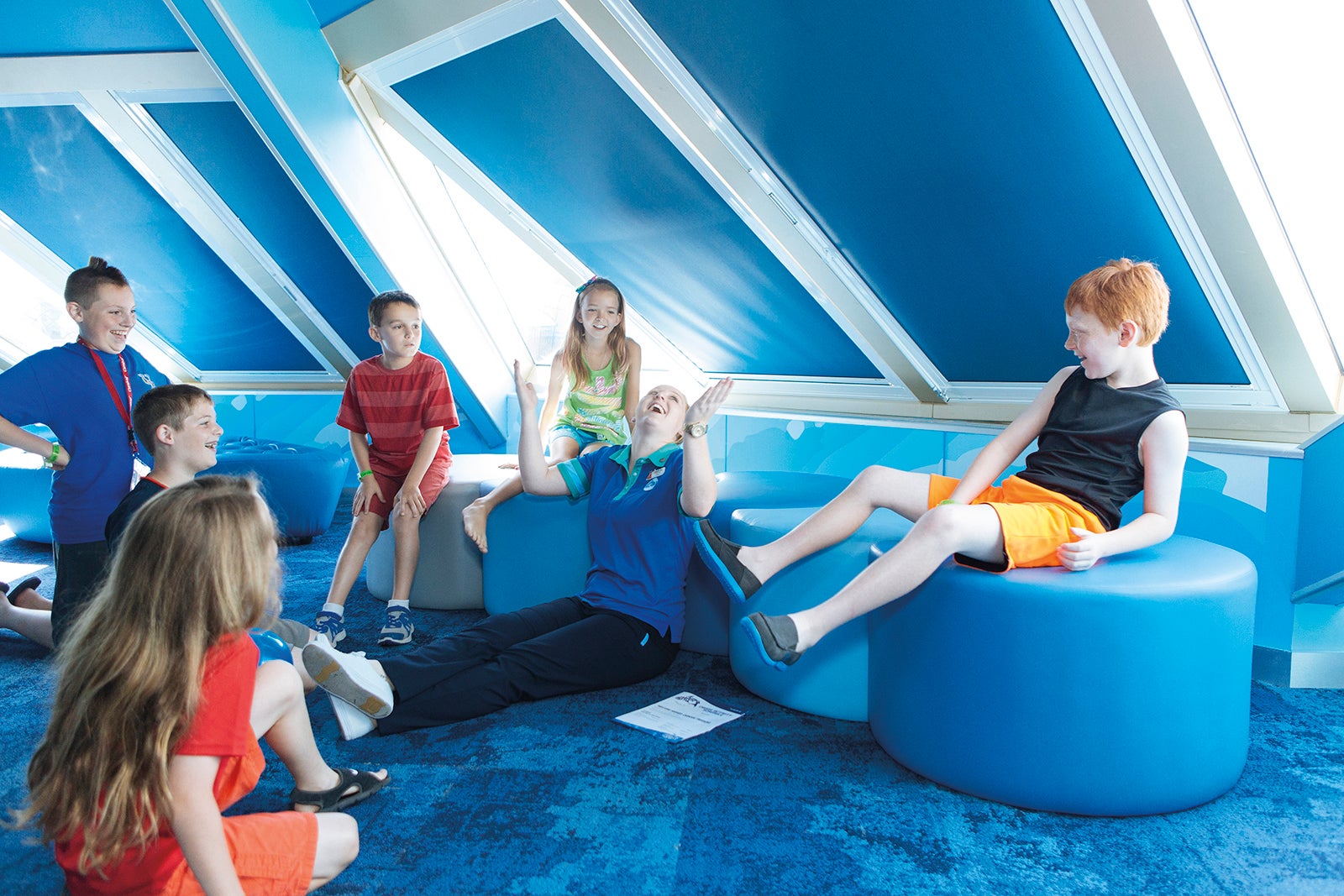 Day and evening programming at Camp Ocean, Circle C and Club O2 is included in your cruise fare.
The Night Owls late-night activities for kids ages 6 months to 11 years old cost $7.50 per child per hour, plus an 18% service charge. Owl Jams cost $17 per event, per child, plus the service charge.
Related: Are cruises all-inclusive? What's actually included in your cruise fare
Turtles drop-off programming for kids ages 6 months to 2 years also costs $7.50 per child, per hour, plus an 18% service charge. The price is the same on port and sea days.
What else does Carnival offer families with children?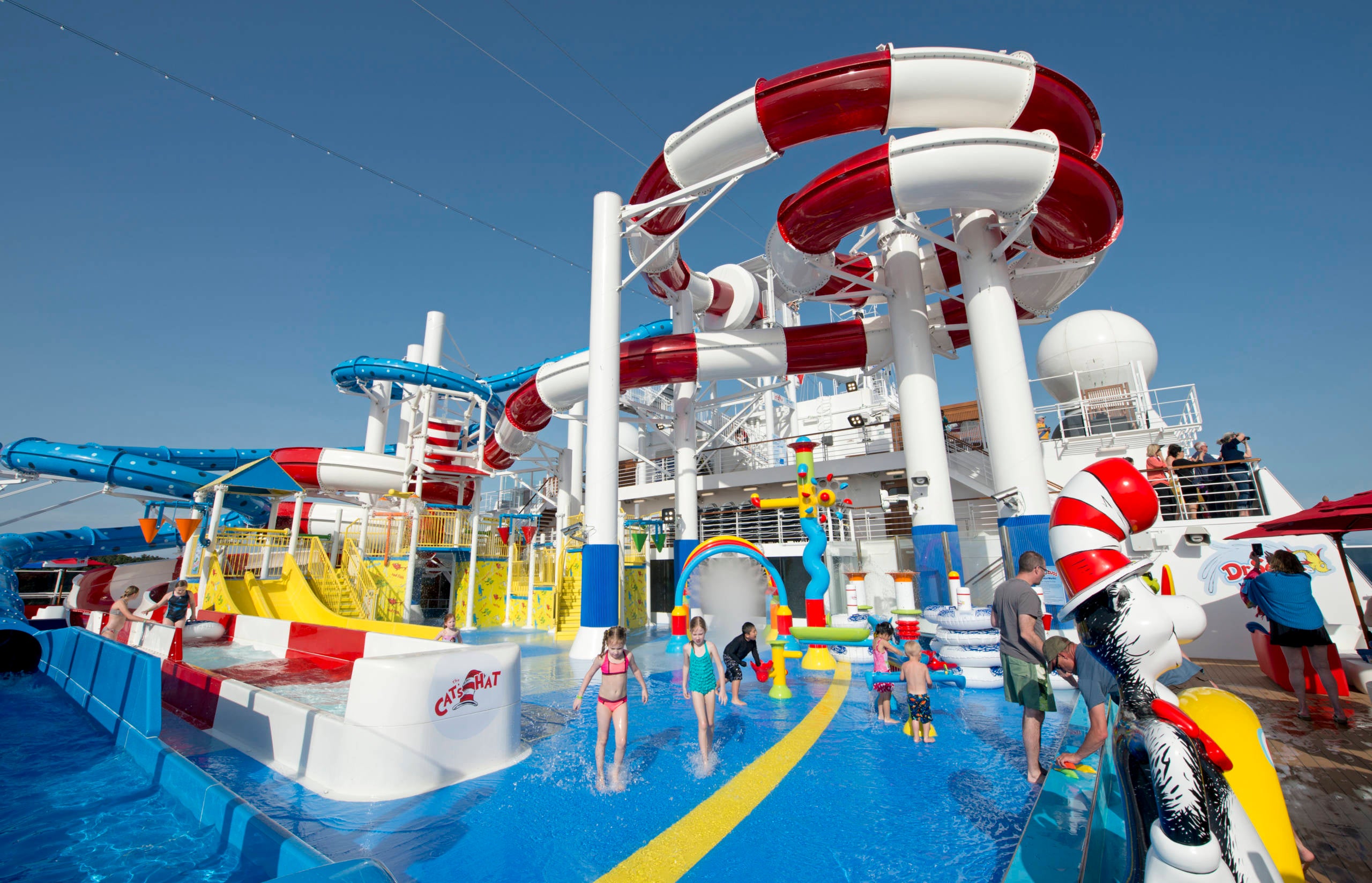 Carnival cruise ships are extremely family-friendly. Kids will love the onboard water parks, often with multiple waterslides and splash playgrounds, as well as the onboard pools. Ping pong, foosball, arcades, minigolf and sports courts are common across the fleet. Giant movie screens by the pools show family favorites in the evening.
Certain ships have ropes courses, roller coasters, suspended cycling rides and IMAX and thrill theaters.
Additional family programming might include scavenger hunts, bingo, trivia and craft-making. Carnival also offers Build-A-Bear workshops for an additional fee.
Related: The 10 wildest attractions you'll find on a cruise ship
Parents should be warned that kids might want to spend their entire allowance at Carnival's onboard candy store, Cherry on Top. Redirect them to the multiple onboard soft-serve ice cream stations, often by the buffet or pool deck, where treats are free.
Possibly the best specialty dining event on board for young families is the Dr. Seuss-themed Green Eggs and Ham Breakfast, perfect for preschoolers. The menu is filled with colorful breakfast treats inspired by the storybooks, and life-size characters pose for photos with all the families.
Speaking of food, Carnival's fast-casual staples, such as Guy's Burger Joint (created by celebrity chef Guy Fieri), Blue Iguana Cantina, Pizzeria del Capitano and Shaq's Big Chicken are hits with kids of all ages — and their parents. The main dining room always has a kids menu, but for a treat, splash out on a night at Bonsai Teppanyaki, where the chefs are the star of the show.
Bottom line: Camp Ocean, the Carnival cruise kids club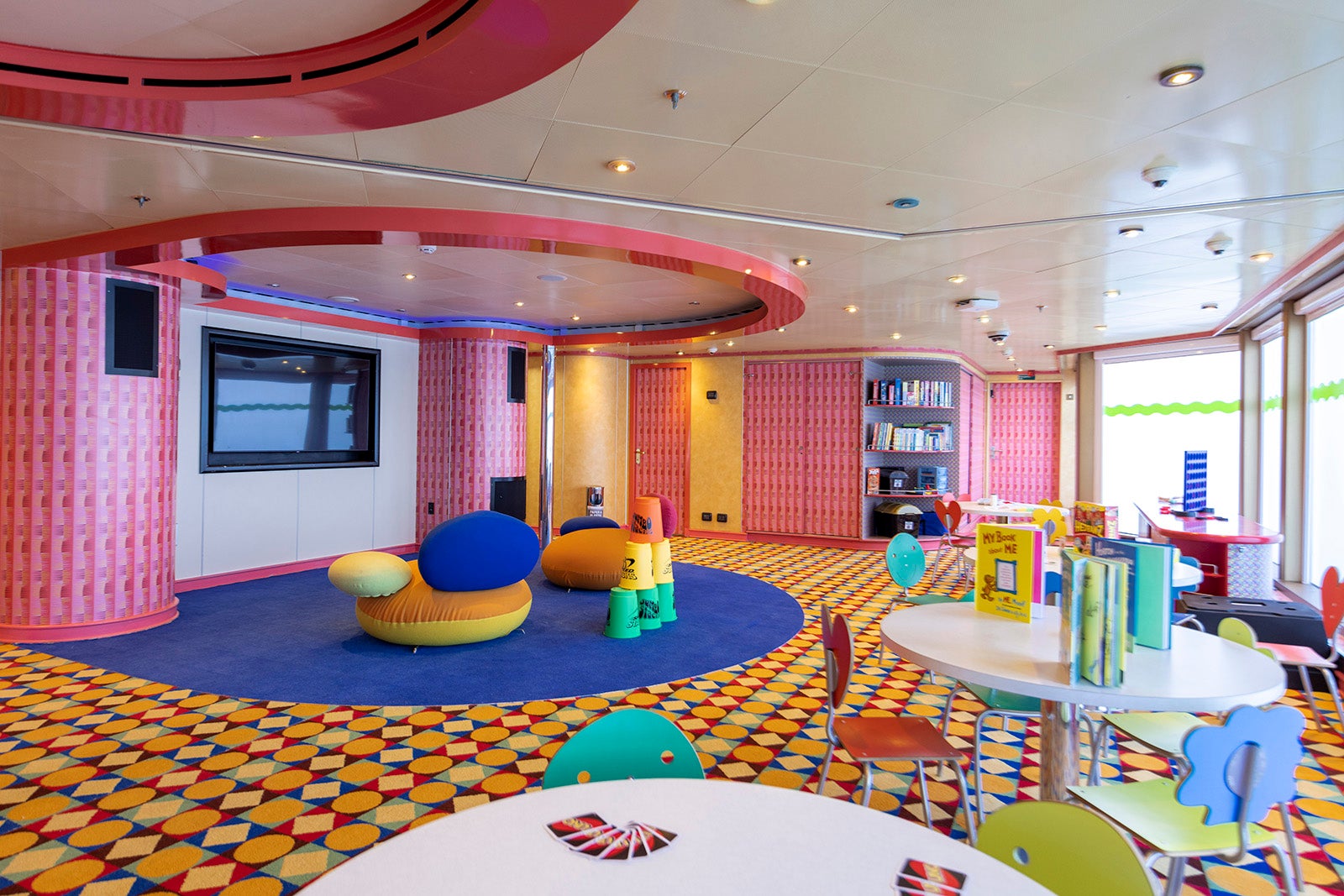 Carnival's kids club offers age-appropriate fun for babies, kids and teens. It can give parents a break to enjoy a leisurely dinner at a specialty restaurant and allow kids to make friends to play with on board. Camp Ocean's flexibility lets families use its programming as much or as little as they like to fit their travel style and enhance their vacation. Plus, with free activities from morning until late at night, kids will have a blast without breaking mom's or dad's travel budget.
Planning a cruise? Start with these stories: