Pride month may be halfway over, but that doesn't mean celebrations are coming to a close any time soon.
Though many of the world's major Pride celebrations have already come and gone (or are happening over the last few weekends in June), it's not too late to wave your rainbow flags and show support for a community that's facing tough times right now.
That also means there's still time to plan a trip — especially if you're looking to go abroad or visit a domestic city outside the major Pride events in the U.S.
If you're curious about where to go, the International LGBTQ+ Travel Association (IGLTA) has a handy online calendar with events throughout the year. The organization also has plenty of resources to help the LGBTQI+ community plan trips to safe and inclusive destinations worldwide.
Here are some of the major events:
Rio de Janeiro Pride Month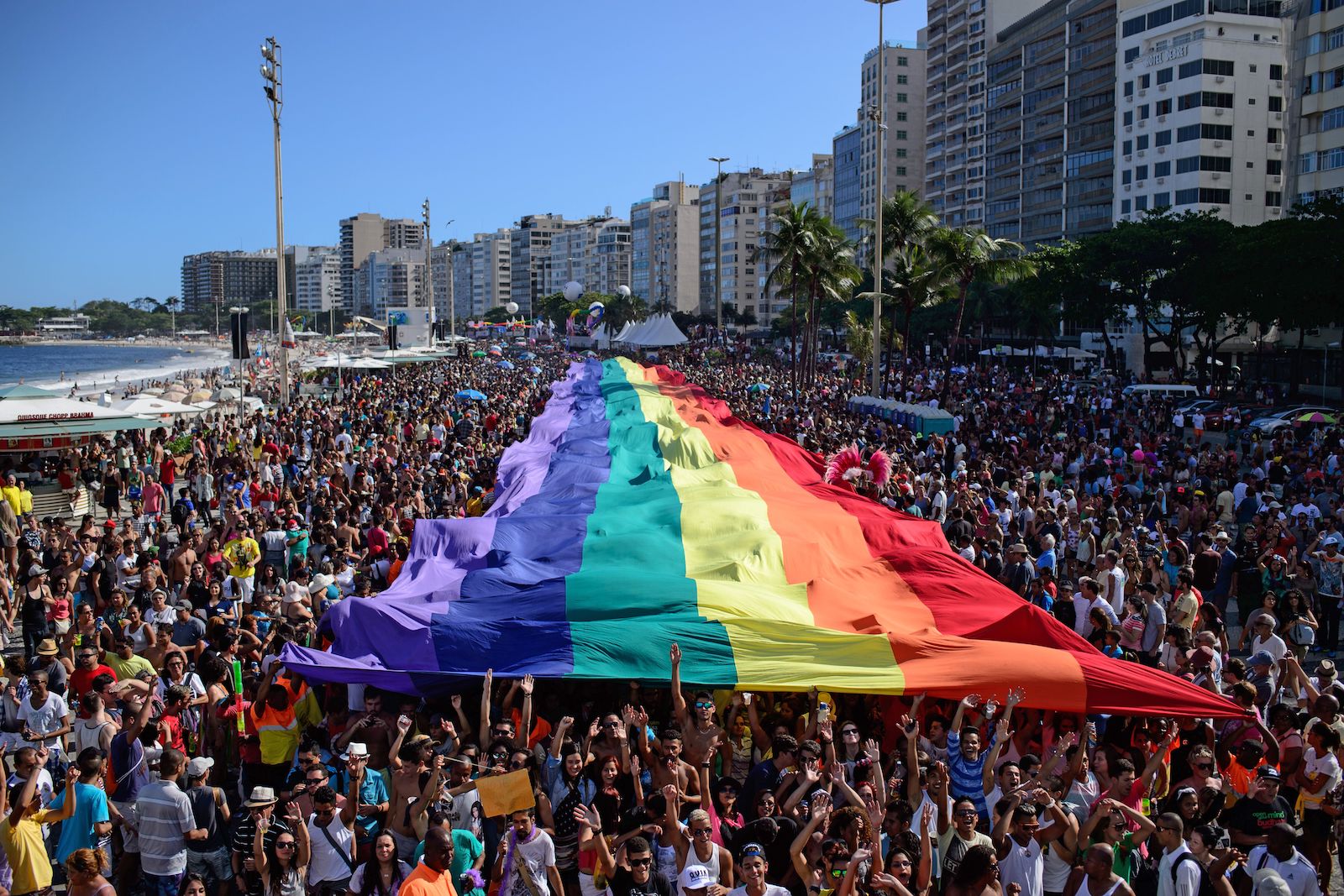 Where to stay
With so many exciting Pride events happening worldwide, there are so many options for inclusive places to stay.
One great place to start is with Preferred Hotels, a network of highly curated independent hotels spanning the globe. Preferred Hotels recently revamped its LGBTQ+ inclusive "Preferred Pride" program; it curates hotels that "thoughtfully cater to the unique needs and preferences of LGBTQ+ travelers." These hotels have also met an important framework in the program and promise to:
Demonstrate a commitment to creating a workplace environment that is welcoming and inclusive to both employees and guests who identify as LGBTQI+.
Provide specific LGBTQI+ diversity training to all employees.
Actively support the LGBTQI+ community, locally or globally, through charitable donations, volunteer days, partnerships, or Preferred Pride initiatives.
Right now, there are more than 110 qualifying hotels, all of which you can find on a dedicated landing page for the Preferred Pride program. Guests who book receive perks including a $50 credit and a welcome amenity.
At Pride events around the globe, Hilton has offered support; it served as a sponsor for NYC Pride and is a co-host of Pride in London's afterparty. For London Pride, Hilton recommends booking at The Trafalgar St. James London, Curio Collection by Hilton, where a ticketed after party is taking place. In Rio, the cocktail menus at Hilton Barra Rio de Janeiro and Hilton Rio de Janeiro Copacabana were created by LGBTQI+ community member Rochelly Rangel and "pay tribute to women who have made an impact on the gay community."
For Hyatt loyalists with eyes on Mexico City, the Andaz Mexico City Condesa is offering guests 20% off by booking through this link, along with specialty Pride cocktails and snacks. The newish hotel is also super pet-friendly, so it's a great place to take your most supporting four-legged friends.
Of course, you could skip hotels altogether and book a homestay through Airbnb. In fact, Airbnb recently shared that it's seen a huge uptick in the number of listings sharing inclusive language; this signifies that those properties aren't just safe and accommodating to travelers, they're welcoming, accepting and embracing of Pride and members of the LGBTQI+ community. Since 2017, the number has gone up nearly 90%.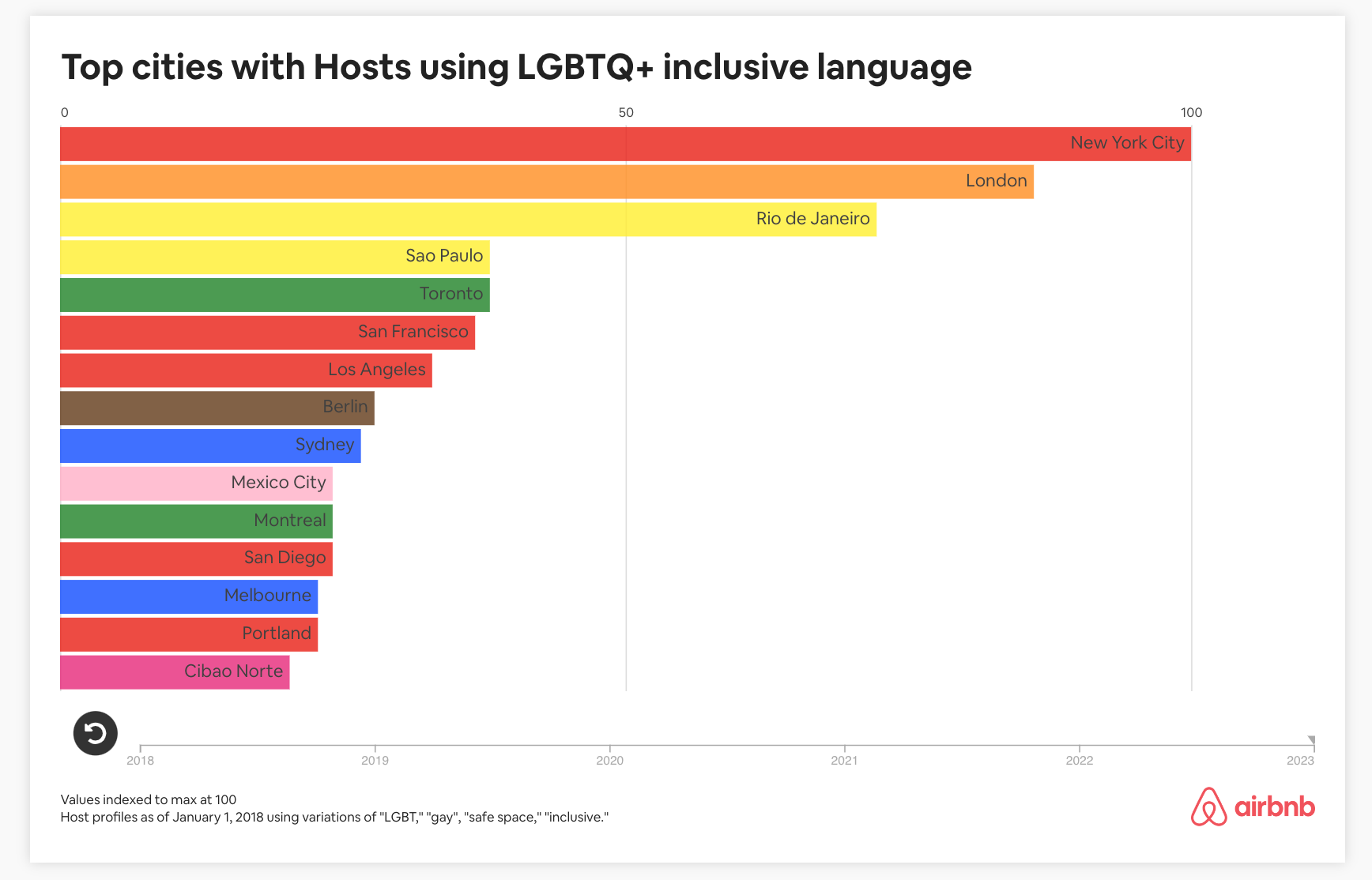 Whether you're traveling for Pride or not, Airbnb destinations that feature the most LGBTQI+ inclusive language in their listings are, in order: New York City; London; Rio De Janeiro; Sao Paulo; Toronto; San Francisco; Los Angeles; Berlin; Sydney; Mexico City; Montreal; San Diego; Melbourne, Australia; Portland, Oregon; and Cibao Norte, Dominican Republic.