Editor's note: This post has been updated with new information and offers.
Capital One business cards are ideal for the business owner who want to earn the most rewards with the least amount of time and effort.
Cards such as the Capital One Spark Miles for Business (see rates and fees) and Capital One Spark Cash Plus (see rates and fees) earn a flat 2 miles per dollar or 2% cash back on most purchases. With these cards, you don't have to juggle multiple spending categories, and earning 2% back for business purchases that would normally only earn 1% in rewards adds up over time.
With the Spark Cash card, you can earn a one-time cash bonus of $1,200 once you spend $30,000 in the first three months. The Spark Miles, meanwhile, is offering 50,000 miles after spending $4,500 in the first three months of account opening, worth $500 for travel. If you transfer your miles to Capital One's airline and hotel partners, you can potentially increase the value of these miles.
Related: How to maximize Capital One miles
Capital One card requirements
With that in mind, you should be aware of Capital One's credit card application restrictions.
Although the issuer limits you to having two personal credit cards at a time, Capital One business cards (and cobranded cards) aren't included in this limit. Note that you'll only be approved for one Capital One-issued card every six months.
Also, remember that nearly all Capital One business cards will appear on your personal credit report, which means they'll add to your Chase 5/24 count — even though they're business cards.
How to apply for a Capital One business credit card
No matter which Capital One business card you're applying for, the application will look the same. Let's walk through this application for the Capital One Spark Cash credit card.
First, enter your email address and business information.
If you're a sole proprietor (i.e., the sole business owner), you can use your name as the business name. Or, if you're a freelancer or independent contractor, use your own name as the business name — unless you've registered with your local or state government for a DBA name ("doing business as"), in which case you should use that name instead. For partnerships, LLCs or any other type of legal business structure, use the official business name. Don't make up a business name you haven't registered as a DBA.
Tip: Use your own name if you don't have an official, separate business name.
Related: Who might be eligible for a small business card
The "business name as you want it to appear on the card" doesn't need to match the "business name," but it can be an abbreviation if the full business name won't fit. The business address and phone number can be your home address or personal cellphone number.
Suppose you're the only owner and haven't registered as a legal business entity (LLC, non-profit, etc.), select "Sole proprietor" as the business legal structure. As a sole proprietor, you can use your Social Security Number (SSN) as the business tax ID. Otherwise, use your federal Employer Identification Number (EIN).
In most cases, the "Business ownership type" will be privately owned unless your company is publicly traded or partially government-owned. Once you've selected your "Industry type," you'll need to further specify your business activities by "Category" and "Specialty." The limited choices for this part of the application seldom accurately describe my freelance business activities. If you're in the same boat, pick the option that makes the most sense.
When it comes to your "Annual business revenue," include all the money your business takes in before expenses and taxes. For your "Business spend per month," it's OK to estimate your average monthly spending for the year, especially if your business is seasonal and your expenses fluctuate.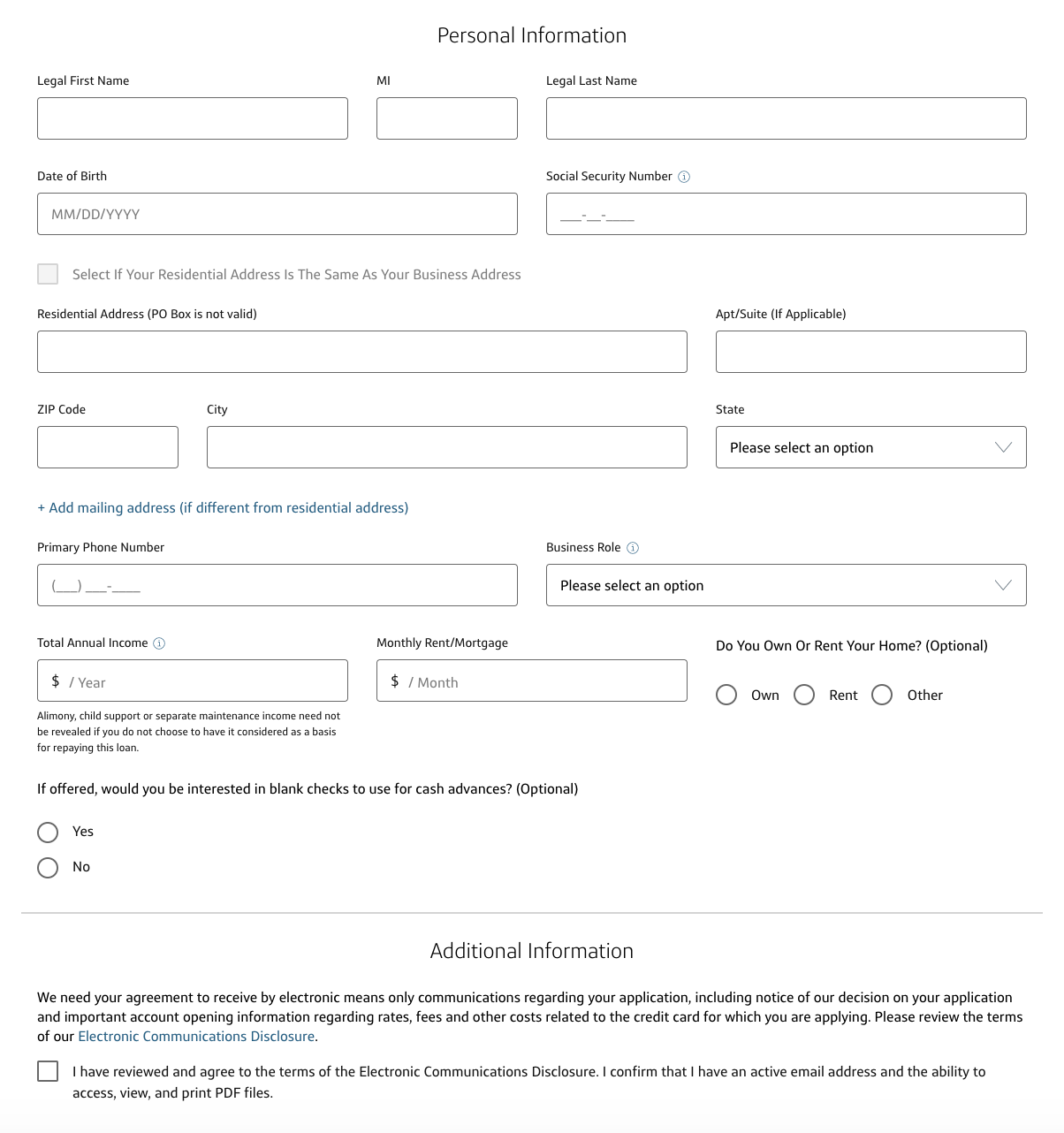 Once you've filled out your personal information, choose your role or title in the business. For most folks, this will be the owner or partner. Your "Total annual income" can include any income you regularly use to pay your bills — for many people, this can include a spouse or partner's income.
The last question asks if you want blank checks for cash advances. I recommend leaving this blank or selecting "no." If you use one of these checks, you'll pay a higher interest rate on the cash advance (compared to a regular card purchase) and a cash advance fee, even if you pay it off immediately. On top of that, cash advances won't earn points or count toward earning the welcome bonus.
Bottom line
Before applying for a Capital One business card, ensure you understand the ins and outs of the application process and the card requirements.
Accurately filling out the application can improve your chances of getting approved, and be aware of the rules specific to Capital One before you start your application.
Related: The best small-business credit cards
Additional reporting by Ryan Wilcox, Emily Thompson and Stella Shon.