British Airways launched its premium economy cabins and service way back in 2000, dubbing it World Traveller Plus.
The product is on all the airline's long-haul aircraft, so travelers (with one "l" here in the U.S.) will find it on most of the airline's major international routes, including to the carrier's U.S. gateways at Los Angeles International Airport (LAX), Phoenix Sky Harbor International Airport (PHX), Seattle-Tacoma International Airport (SEA), Newark Liberty International Airport (EWR), New York's John F. Kennedy International Airport (JFK), Charlotte Douglas International Airport (CLT), Chicago's O'Hare International Airport (ORD), Cincinnati/Northern Kentucky International Airport (CVG) and Nashville International Airport (BNA).
British Airways operates several types of long-haul aircraft, but I took a flight from Phoenix to London's Heathrow Airport (LHR) operated by a Boeing 777-300ER which departs at 7:30 p.m. daily and arrives in London at 1:25 p.m. the next day at Terminal 5. On the return, it departs London at 2:40 p.m. and arrives in Phoenix at 5:30 p.m.

Here's what British Airways premium economy is like and whether it's worth it.
How to book premium economy on British Airways
Before I decide which cabin to book on any route, I price out my preferred dates in economy and then also in premium economy — especially if it's an overnight flight and I want to sleep. I find I can relax more easily in premium economy, which offers more space and footrests. The seats are comparable in size to domestic first-class recliners. 
For the Phoenix-to-London route on British Airways, the economy prices tend to be around $1,200-$1,400 round-trip, but I have seen them over $2,000 on some dates. The premium economy fares for this route can range from $2,200 to over $4,000 round-trip. I booked 30 days out from my departure and paid $2,994.35, which was $1,290 more than the economy fare for the same dates.
I also always price out a one-way ticket versus a round-trip, just to see all my options, and find that British Airways often prices one-way tickets the same as round-trips.
I have flown this route in economy a handful of times, and a few years ago, I upgraded at the check-in desk at Heathrow and paid 300 British pounds (about $385) to upgrade one-way into premium economy for the 10 1/2-hour flight back to Phoenix. I felt it was worth it to gain more space and upgraded service.
If you have British Airways Avios (or can convert credit card points to Avios), you can search for award availability on the British Airways website if you'd prefer to book your ticket as an award. It's easier if you have flexible dates, use the search-by-month tool and look at off-peak days. I ran a few searches outside of the peak summer travel period. It currently shows no award availability on the British Airways leg from London to Phoenix in October, but plenty of space in the opposite direction in economy and premium economy.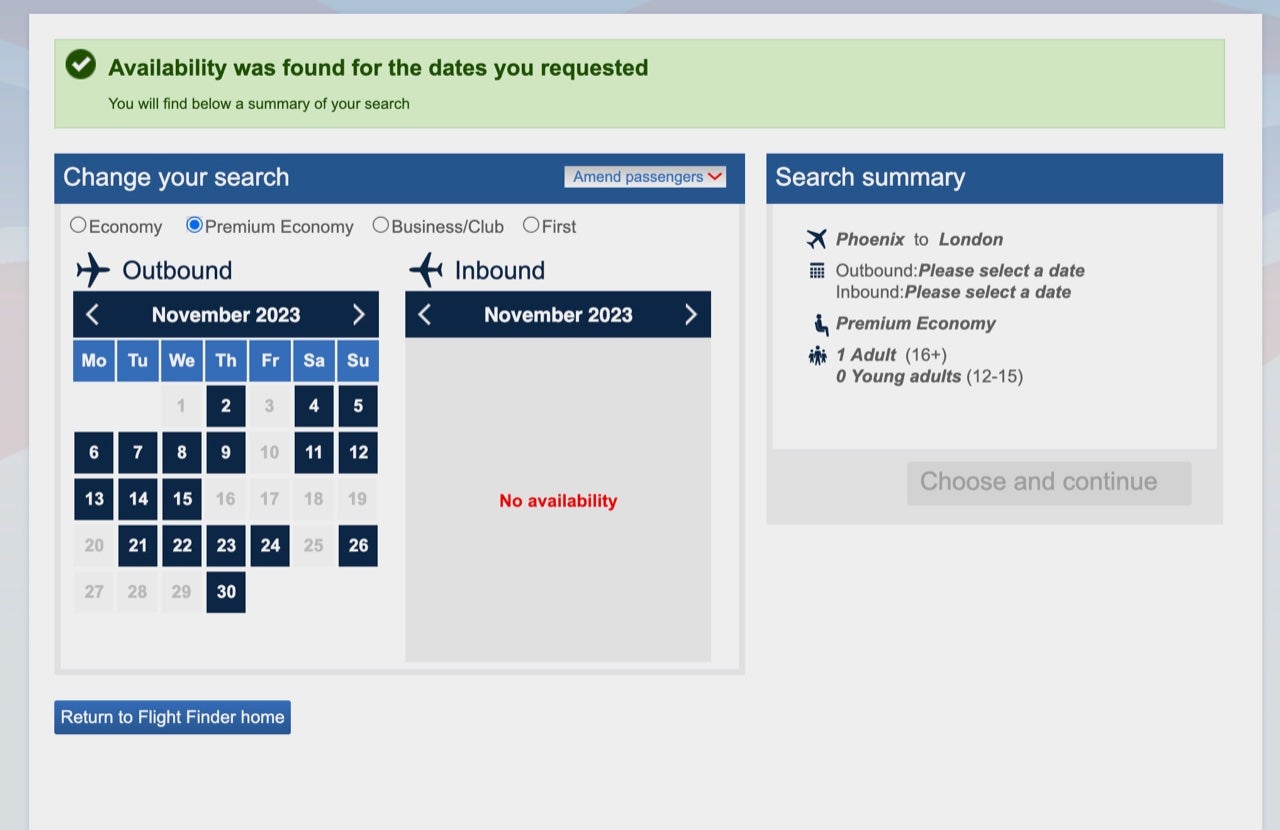 Pricing my itinerary out with Avios, it gave me the American Airlines flight as the return option for dates in October at 55,750 miles and $649 in taxes — the taxes are higher on BA than most other carriers. Even pricing a cash economy ticket, the fare was $620 round-trip but the taxes added another $649, making the total ticket price $1,269.
Here are the airfare and award redemption ranges for Phoenix-London round-trips on British Airways over the next several months:
| | | | |
| --- | --- | --- | --- |
| Class | Economy | Premium economy | Business class |
| Airfare | $1,269-$1,419 | $2,500-$4,784 | $7,430-$8,780 |
| Miles | 16,250-25,000 + $300-$649 taxes/fees | 32,500-95,000 + $660 taxes/fees | 62,500-190,000 + $900 taxes/fees |
Checking in to premium economy on British Airways
I always like to check in for flights online or using the airline's app on my phone. I was able to check in for my flight to London using the British Airways app, but was not issued a boarding pass pending a passport check, so I stopped by the British Airways priority desk at the airport to claim my boarding pass and check my bag. Normally I would not check a bag, but I packed my medium-size Away suitcase because London was not my final destination and I was going on an extended trip.
Premium economy tickets do get an extra bag allowance, so you could bring a cabin bag plus a personal item on board and check up to two additional bags of up to 23 kilograms (51 pounds) for free.
The priority check-in desk can be used if you hold elite status on British Airways or a Oneworld alliance partner. I have Platinum status on American Airlines, which gives me Oneworld Sapphire status. In Phoenix, there are two agent stations for priority passengers in premium cabins or with elite status, and three for those in economy. The check-in process was quick and easy as this is the only flight that British Airways operates out of Phoenix, and I did not wait more than five minutes. I also arrived three hours prior to the scheduled departure.
Once checked in, I headed through security using my Clear membership and went to the American Express Centurion Lounge, which is near Gate B22 in Terminal 4 at Sky Harbor Airport. I stood in line for almost 30 minutes to get my name on the waitlist and was told it would be another 30 before entry. I walked to the Admirals Club instead and gained immediate access with my status since I was flying internationally.
All this to say that a British Airways premium economy ticket alone does not provide lounge access to passengers unless you either have elite status or hold a credit card with lounge access as a perk.
On the return from London to Phoenix, I somehow missed the priority check-in area and opted to use a self-scanner to check my bag and send it on its way. This is a great timesaver in theory, but my machine was buggy and decided to become "unavailable" midscan, so I had to switch to another scanner. I did, however, make my way post-security to the south end of Terminal 5 to have a snack at the British Airways Galleries Club Lounge, to which I had access thanks to my Oneworld status, while I waited for the boarding time.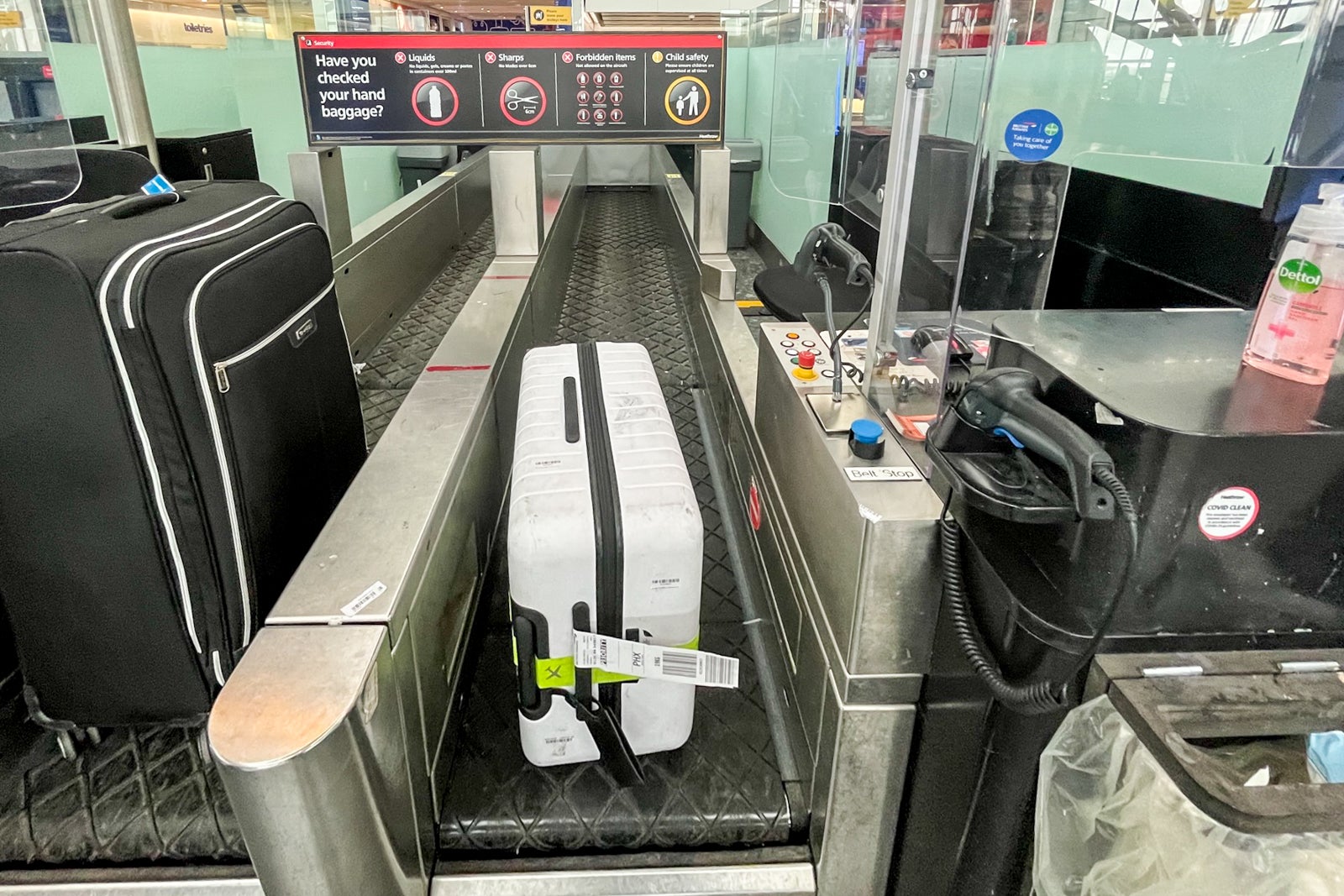 Boarding for the British Airways outbound flight from Phoenix always feels a bit like a cattle call as the gate is near the end of the terminal, and there are not really any seats, just long rows to funnel nearly 300 passengers onto the plane. The day I flew, the flight was fully booked because the flight the night before had been canceled, so anyone who could be moved to the next departure was.
The staff managed to board the plane in Phoenix quickly and efficiently, so there was not a lot of time lost at the gate. Boarding started at 6:50 p.m. and was completed by 7:30 p.m. A premium economy ticket entitles you to priority boarding after first and business class, but before main cabin passengers.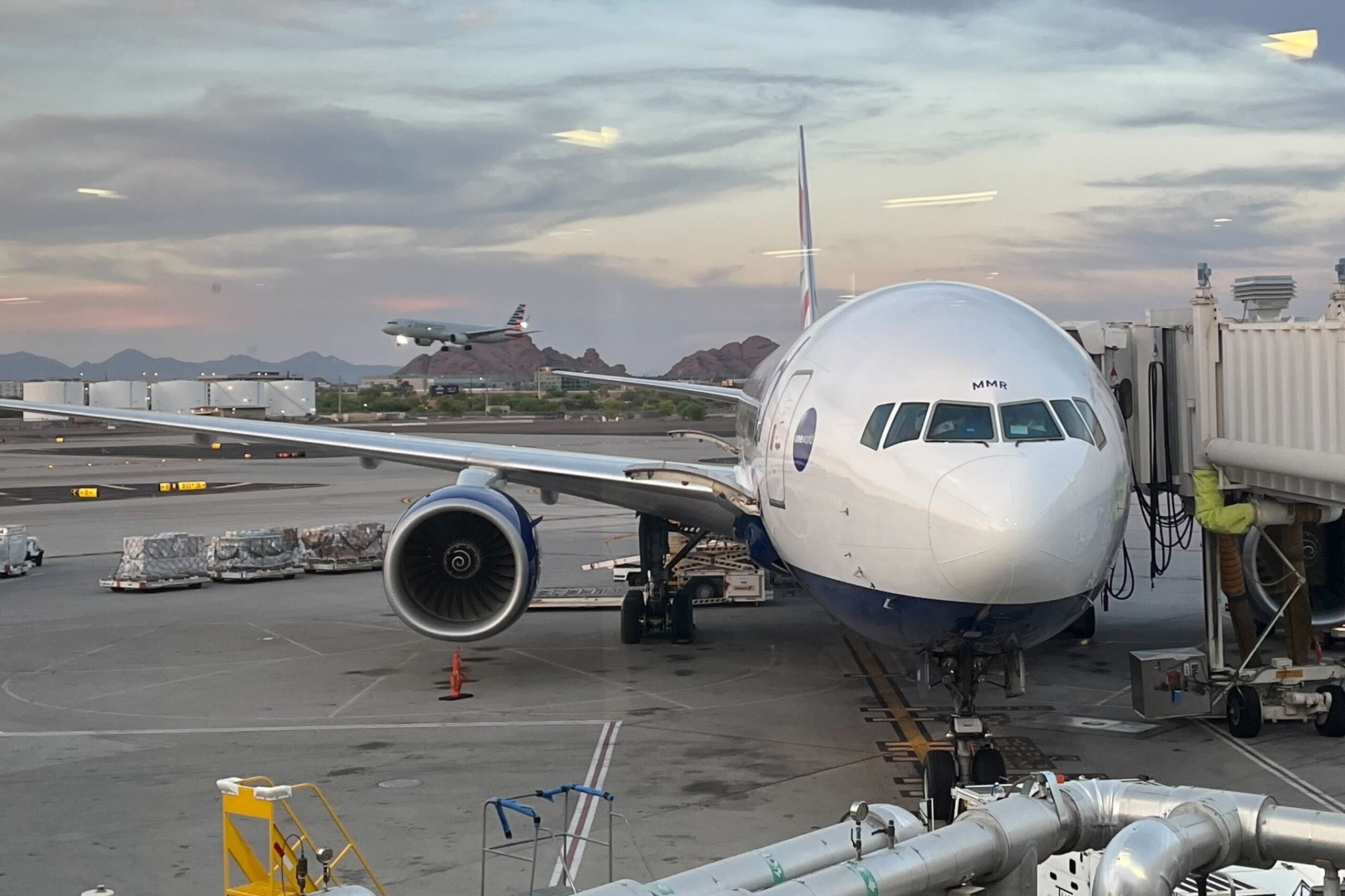 On the return flight from London, the plane was parked at a remote stand, which meant passengers needed to board shuttle buses to reach the aircraft and board via stairs instead of a jetway connected to the terminal. The flight was normally scheduled to depart at 2:30 p.m., but there was a mechanical delay announced at 2 p.m. so we didn't end up boarding until 4:30 p.m., and the process was completed by 5:12 p.m. By the time we pushed back, it was almost three hours after our originally scheduled departure, but the staff moved swiftly during boarding to get us on our way as quickly as possible.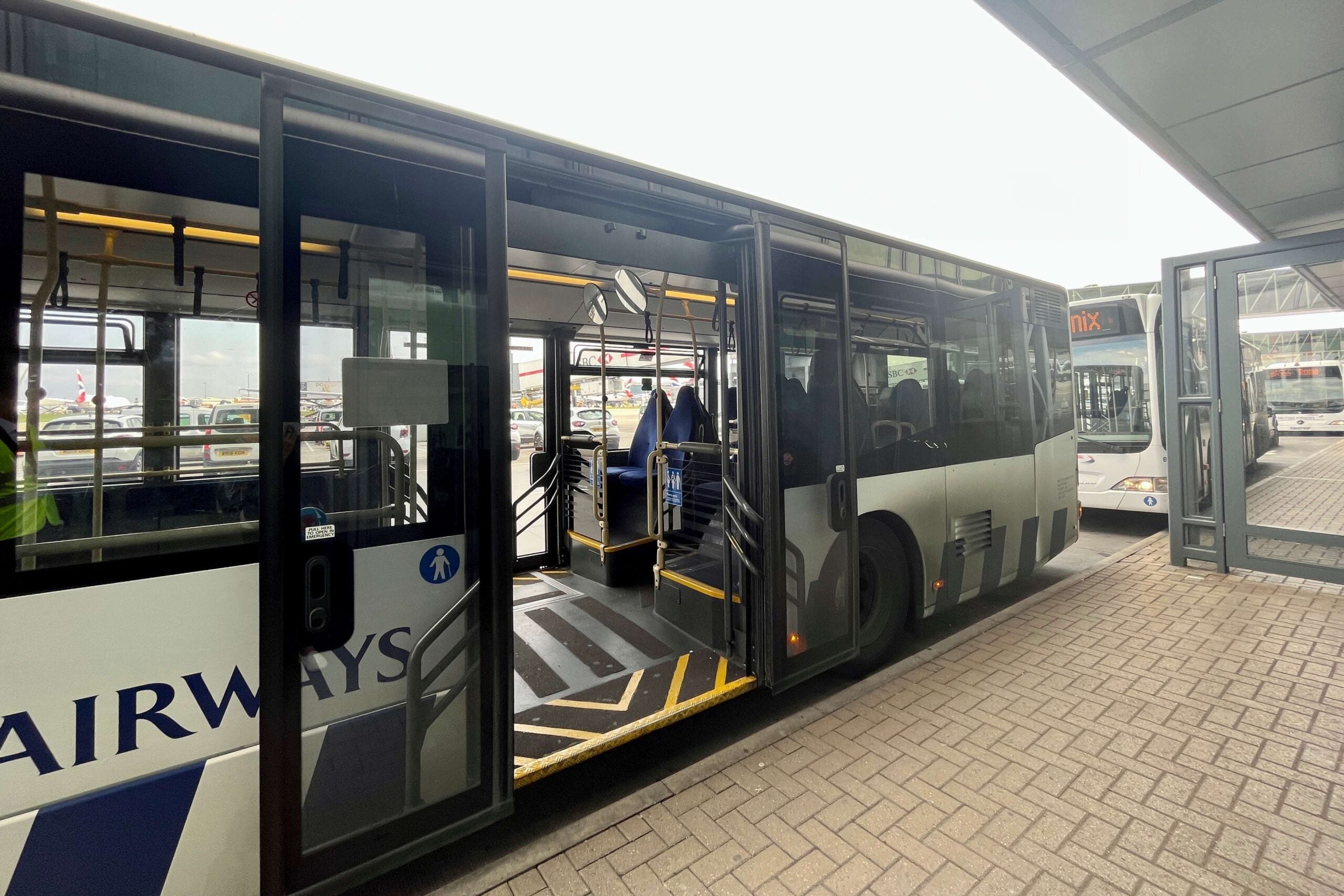 How comfortable was premium economy on British Airways?
One of the aspects I enjoy the most about premium economy is the cabin size. It's much smaller and more intimate than the main cabin. There are only five rows in a 2-4-2 configuration for a total of 40 seats on the Boeing 777-300ER, just behind the main business-class cabin.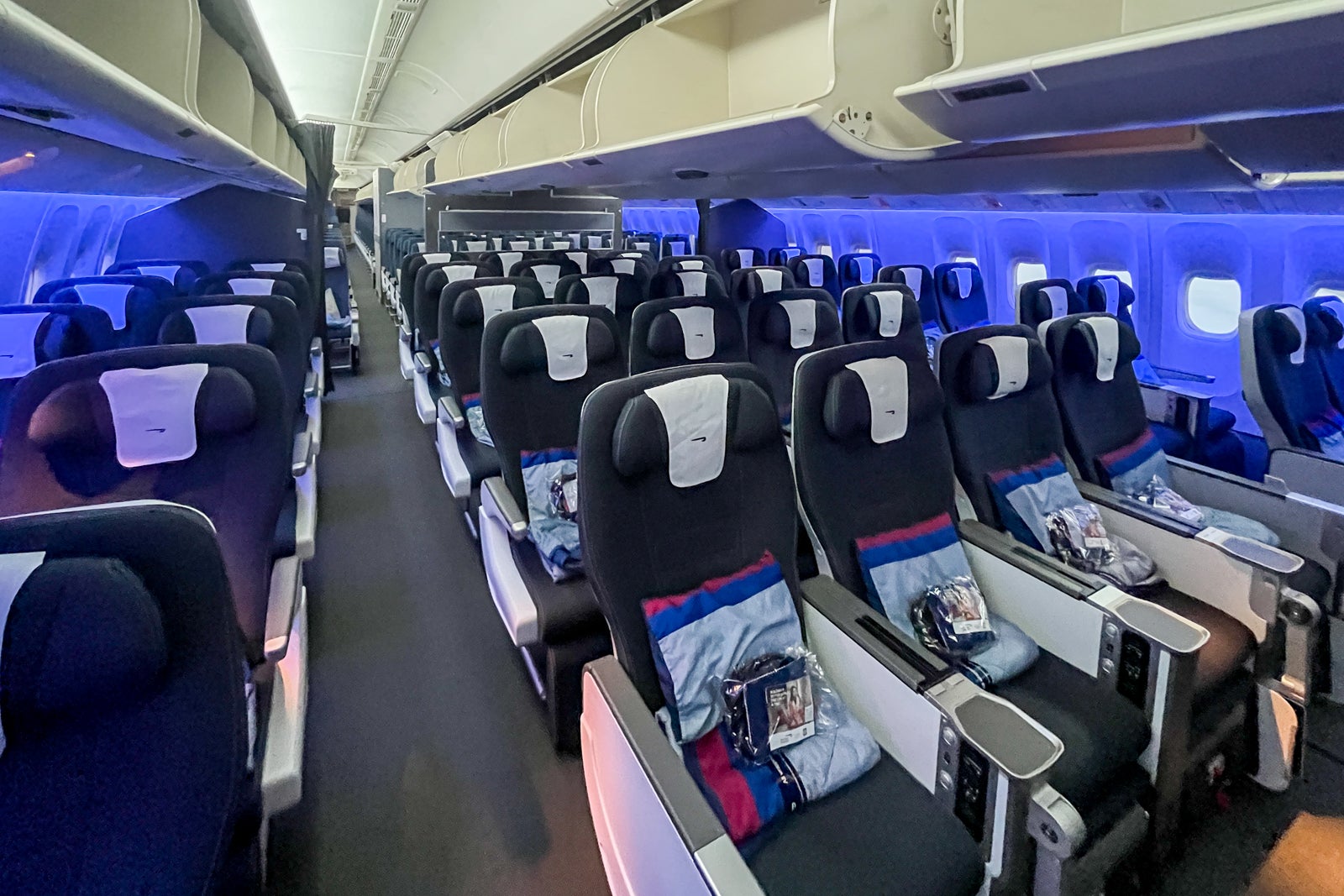 If I'm traveling with a companion, I try to book a set of two seats by the window, but since I was traveling alone, I opted for an aisle seat in the center section in the second row — 16G. I prefer an aisle seat, and my rationale here is that if I fall asleep, I won't necessarily be woken up by my neighbor if they need to get up since they can exit out of the other side of the row. Conversely, I won't need to wake anyone up if I need to stretch or use the restroom.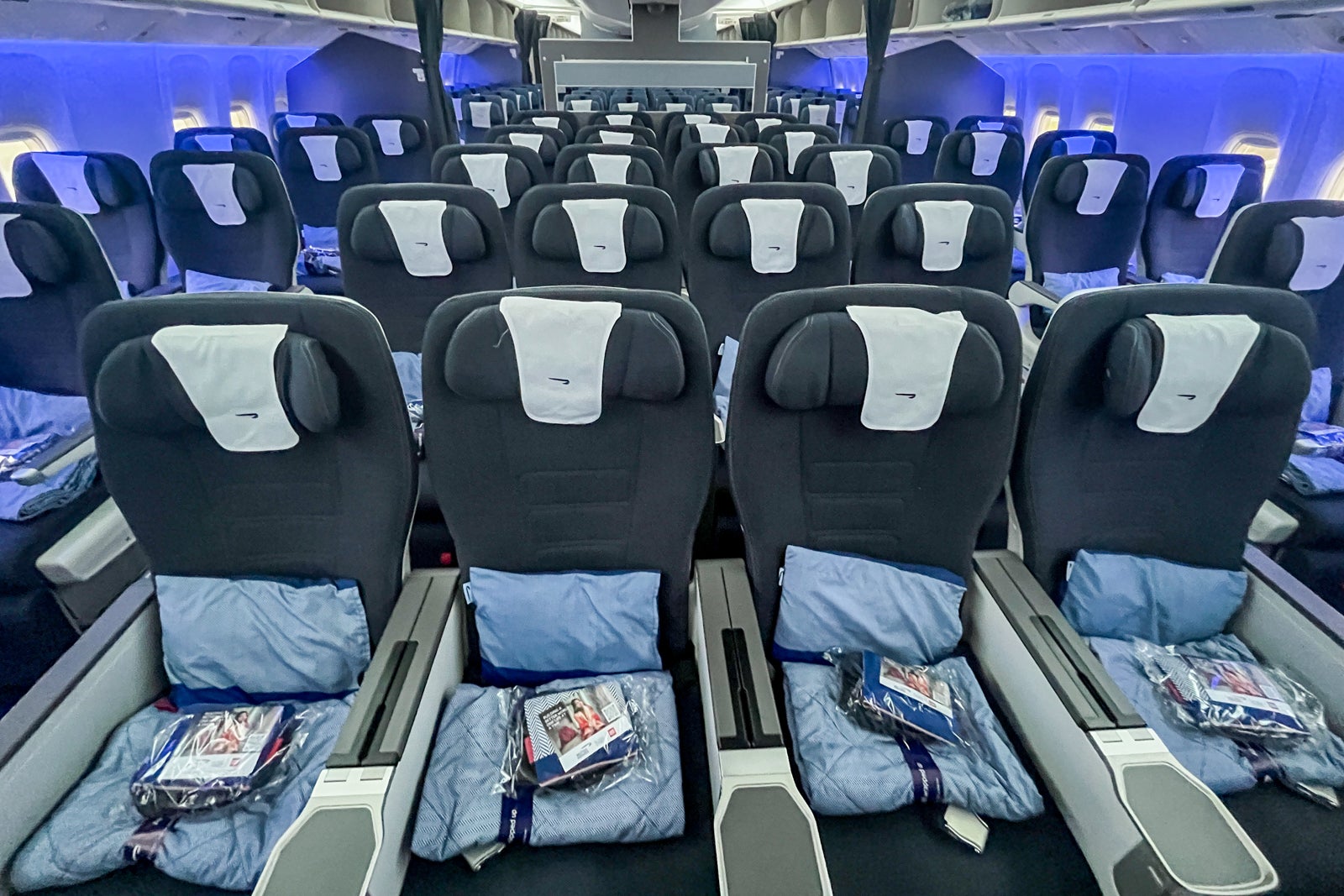 The seats are roomier than in economy, too — a full 18.5 inches wide versus just 17.1 inches — which feels equivalent to a domestic first-class seat. There is also a leg rest that can pop out from the bottom seat cushion and an adjustable footrest attached to the preceding seat.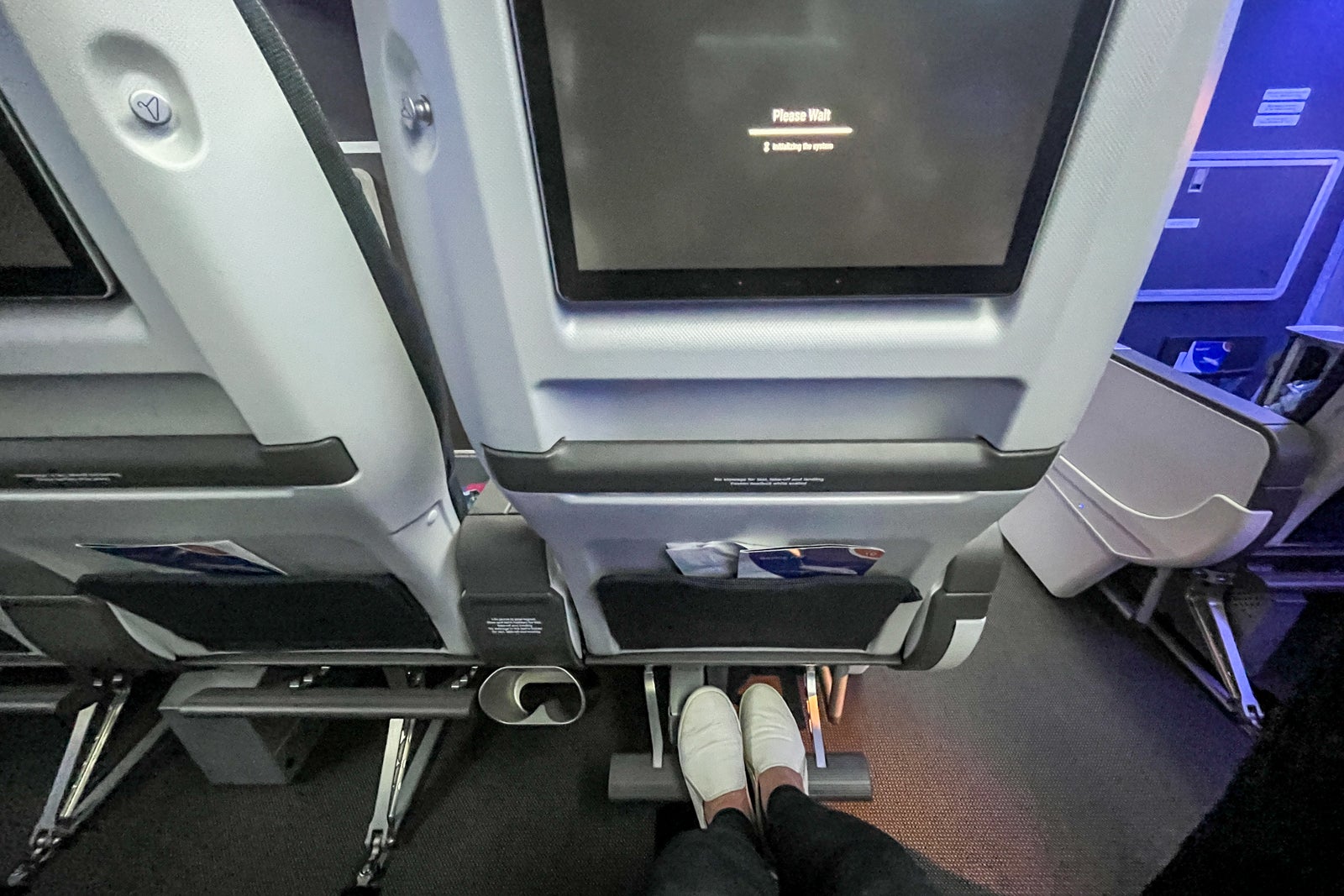 The seat reclines up to 8 inches and offers an adjustable headrest with wings to cradle your head.
| | | | |
| --- | --- | --- | --- |
| Class | Economy | Premium economy | Business class |
| Seat layout | 3-4-3 | 2-4-2 | 1-2-1 |
| Seat pitch | 31 inches. | 38 inches. | 72 inches. |
| Seat recline | 3-4 inches. | 8 inches. | Fully flat. |
| Seat width | 17.1 inches. | 18.5 inches. | 21 inches. |
| Screen size | 10 inches. | 12 inches. | 17.9 inches. |
I found the tray table and access to two power outlets in the armrest between my seat and my neighbor's. The table popped up and out, and unfolded to twice its stowed size, which was large enough for my 13-inch MacBook. There was onboard Wi-Fi available starting at 4.99 British pounds ($6.40) for one hour, 11.99 British pounds ($15.40) for four hours or a full-flight pass for 19.99 British pounds ($25.60).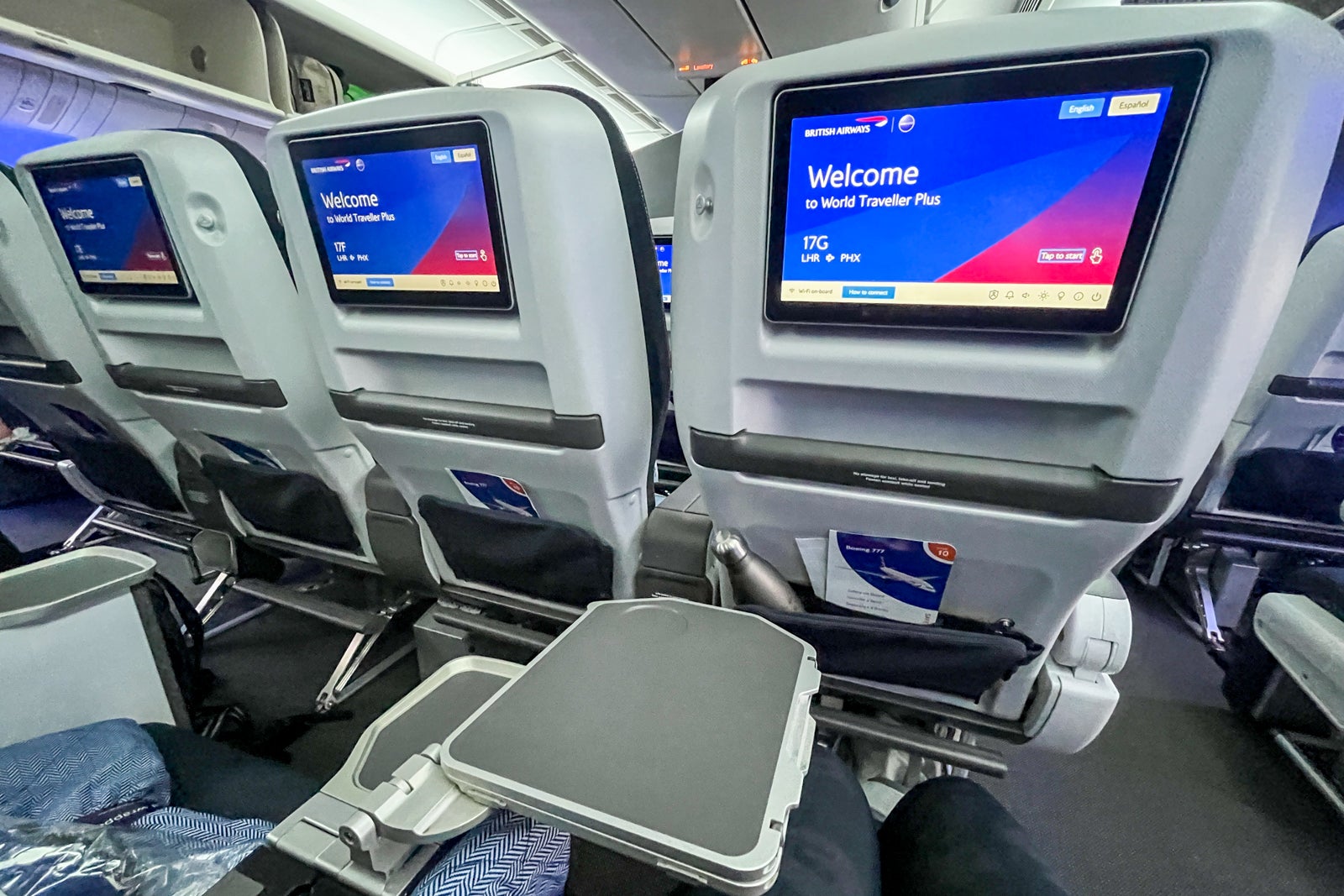 I found the Wi-Fi to be slower when trying to load files via Slack while I worked on the plane for a few hours, but it worked perfectly fine for emails and messaging on my MacBook.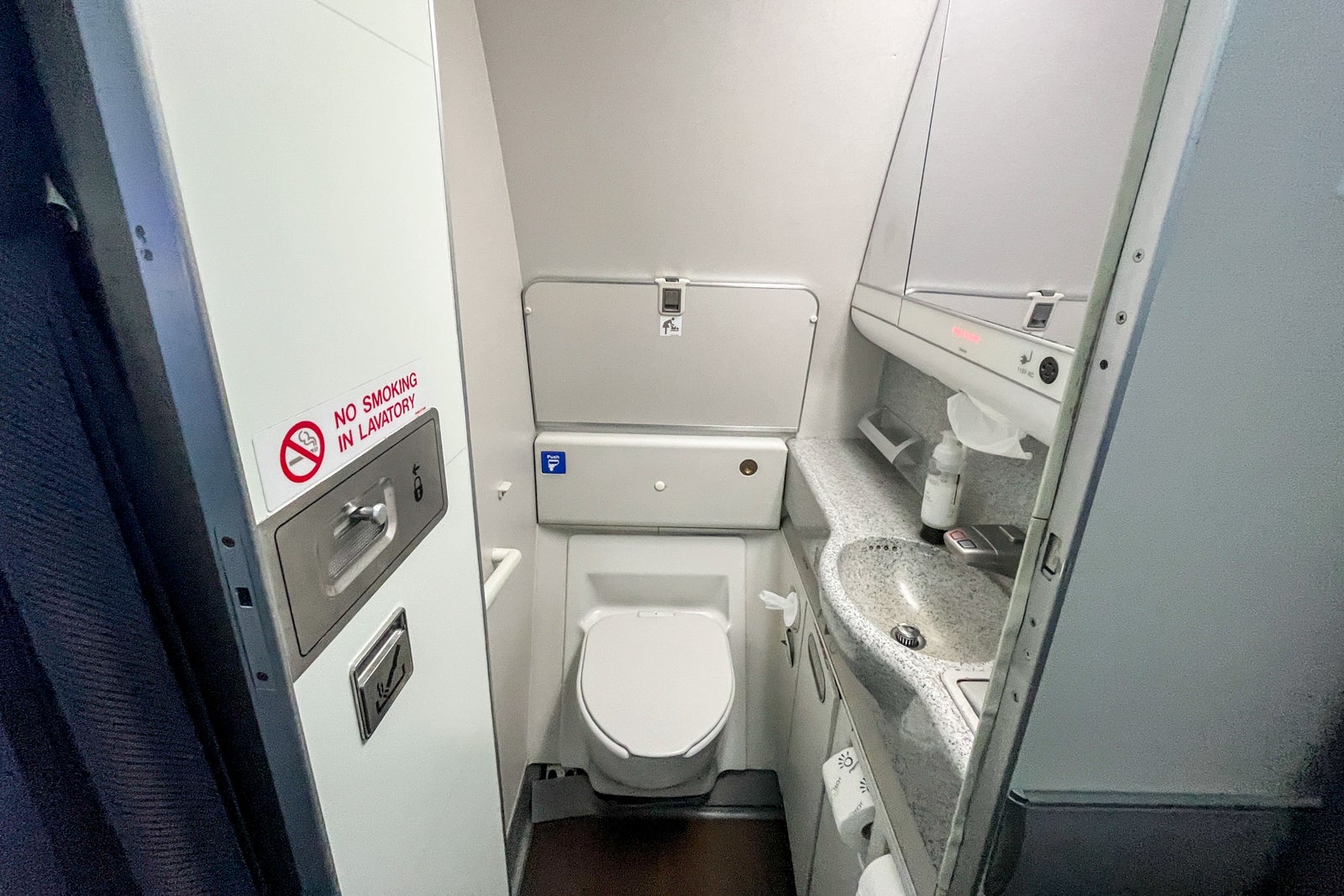 Finally, there were two lavatories located directly behind the premium economy cabin and ahead of economy that premium economy and economy passengers shared. Since there were only two other lavatories at the very aft of the plane for economy passengers, there was a wait to use them at times, but it never took too long.
Amenities in British Airways premium economy
Upon boarding, each seat had a small pillow and lightweight blanket, which I found to be soft and comfortable.
There were also basic noise-canceling headphones and an amenity kit.
The amenity kit contained a toothbrush, toothpaste, lip balm and hand lotion from Scaramouche + Fandango, socks, a pen and an eye mask. I was surprised there were no earplugs included, like you'll find in many other amenity kits.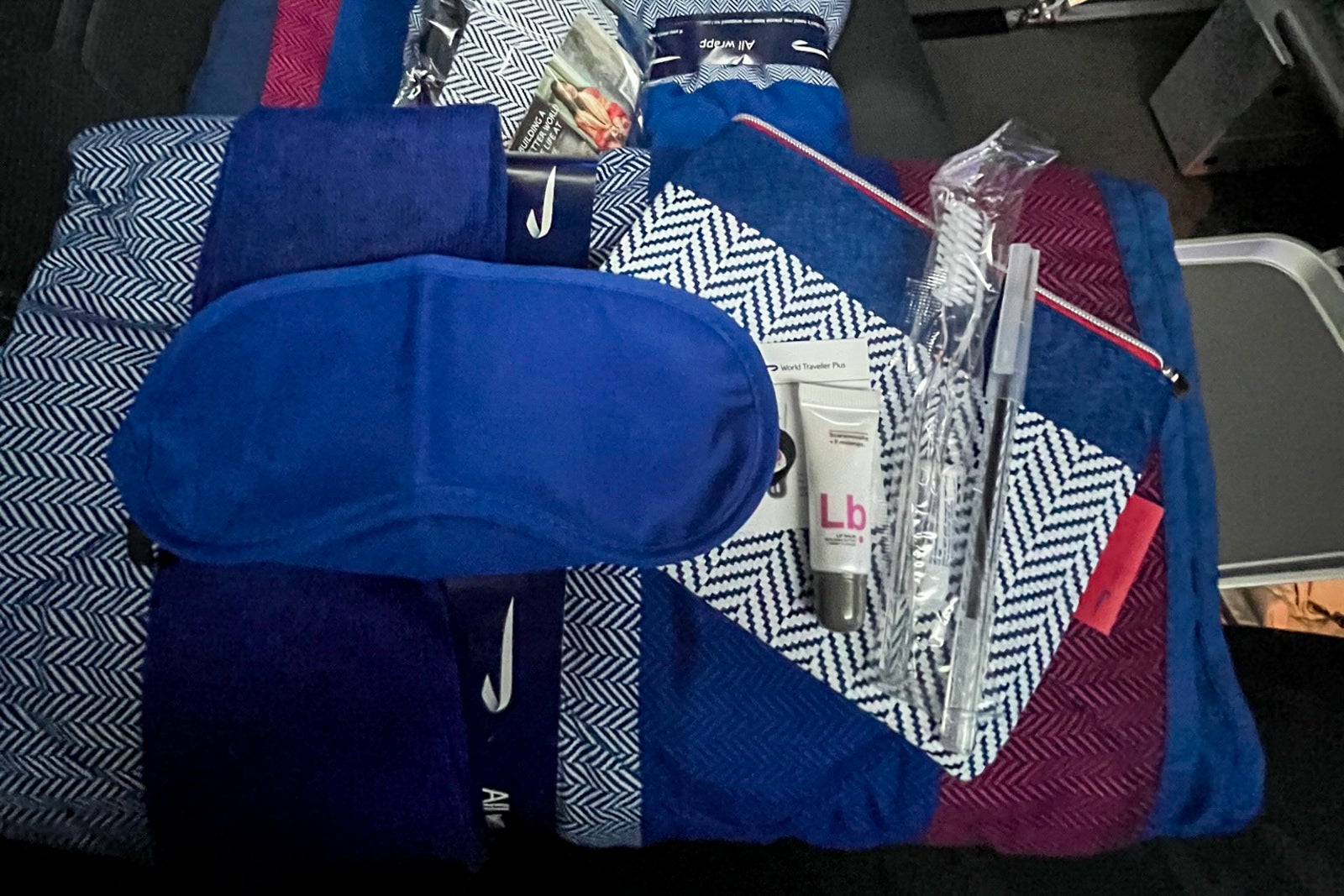 The personal entertainment system included a 12-inch screen in the seatback that was adjustable up and down so that when the person in front of you reclined their seat, you could still view the content well. The entertainment on demand included an array of new movies, classic movies, TV and music. The BA High Life Entertainment system includes Paramount+ shows, and I was able to catch up on episodes of "1923" with Harrison Ford and Helen Mirren during the flight.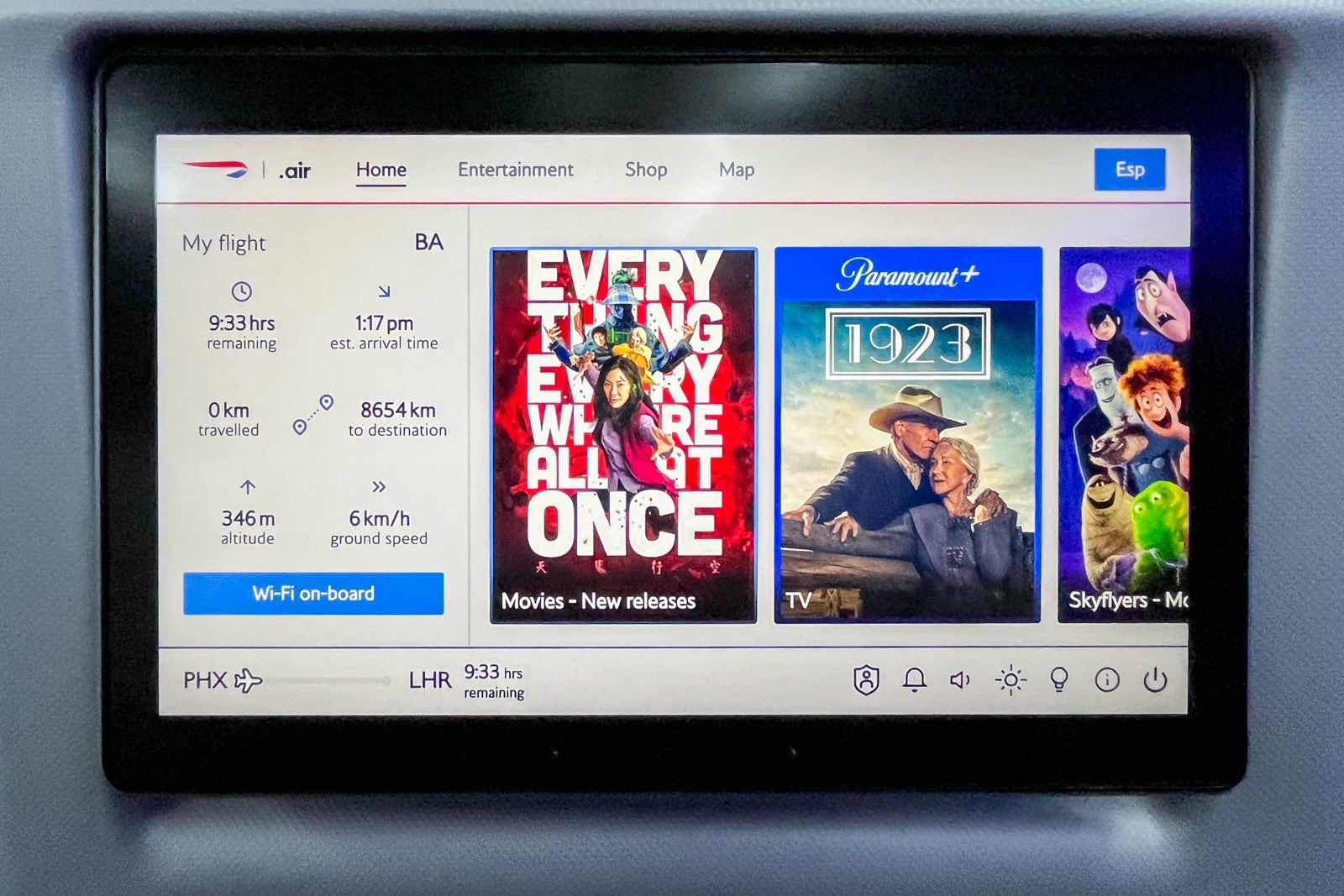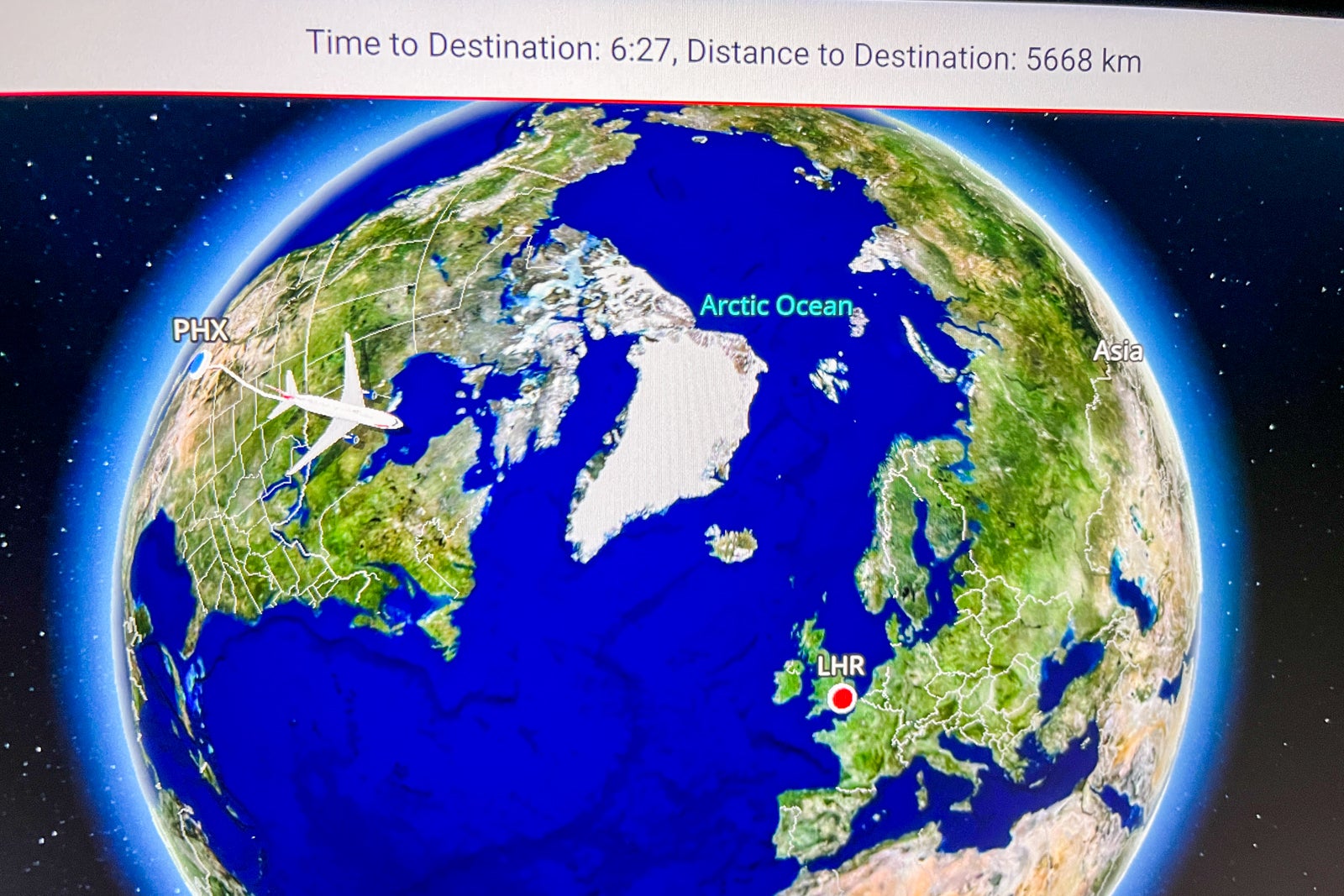 For a break between episodes, I would switch to the satellite-view flight tracker and check our location as we navigated up over Canada and Greenland toward the U.K.
The entertainment system can be controlled with a wired remote that pops out of the side of the armrest, but the same controls are available on the touchscreen. The headphones plug in right next to the remote in your armrest.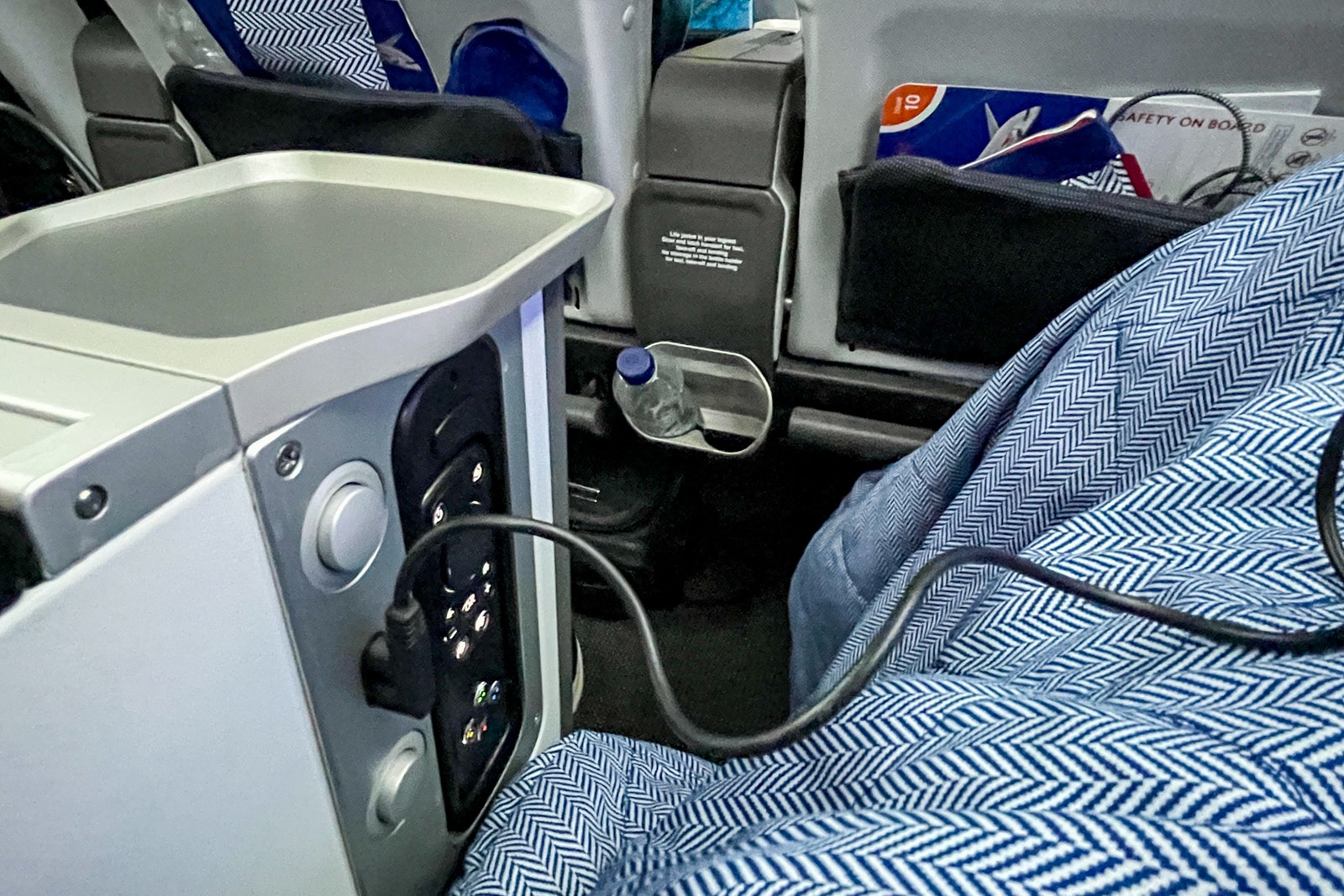 How was the food in British Airways premium economy?
As boarding on my outbound flight from Phoenix was underway and passengers were getting settled in, flight attendants came through the cabin, welcoming everyone and offering a predeparture beverage choice of water or orange juice.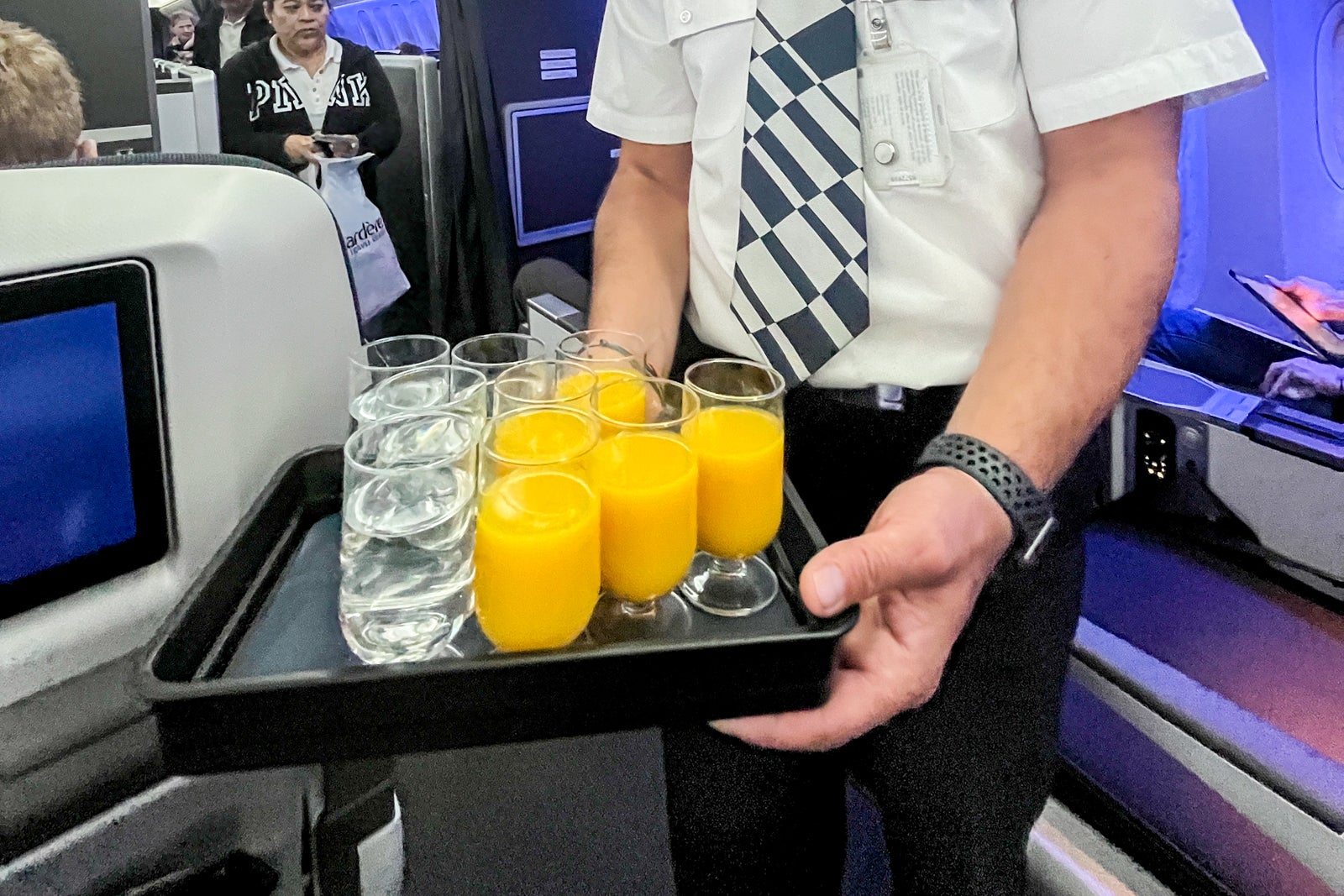 Around 30 minutes after takeoff, the crew circulated with warm towels. Drink service started about 10 minutes after that, and menus were handed out. All service in the premium economy cabin was quick and efficient, and the friendly flight attendants made a point to chat with each passenger. 
I'm not sure if it's due to the double aisles, but meal service overall on the plane seemed to take less time than on a domestic flight in the U.S. where they only serve drinks and pretzels. The BA crew definitely has it down to a science.
On the outbound flight, dinner service included a starter of quinoa salad. The main course was a choice of:
A vegetarian Indian dish.

Beef brisket.

Roasted chicken with parmesan cheese. 
The tray also included a dinner roll and butter, cheddar cheese with crackers and a vanilla bean cheesecake with tropical jelly.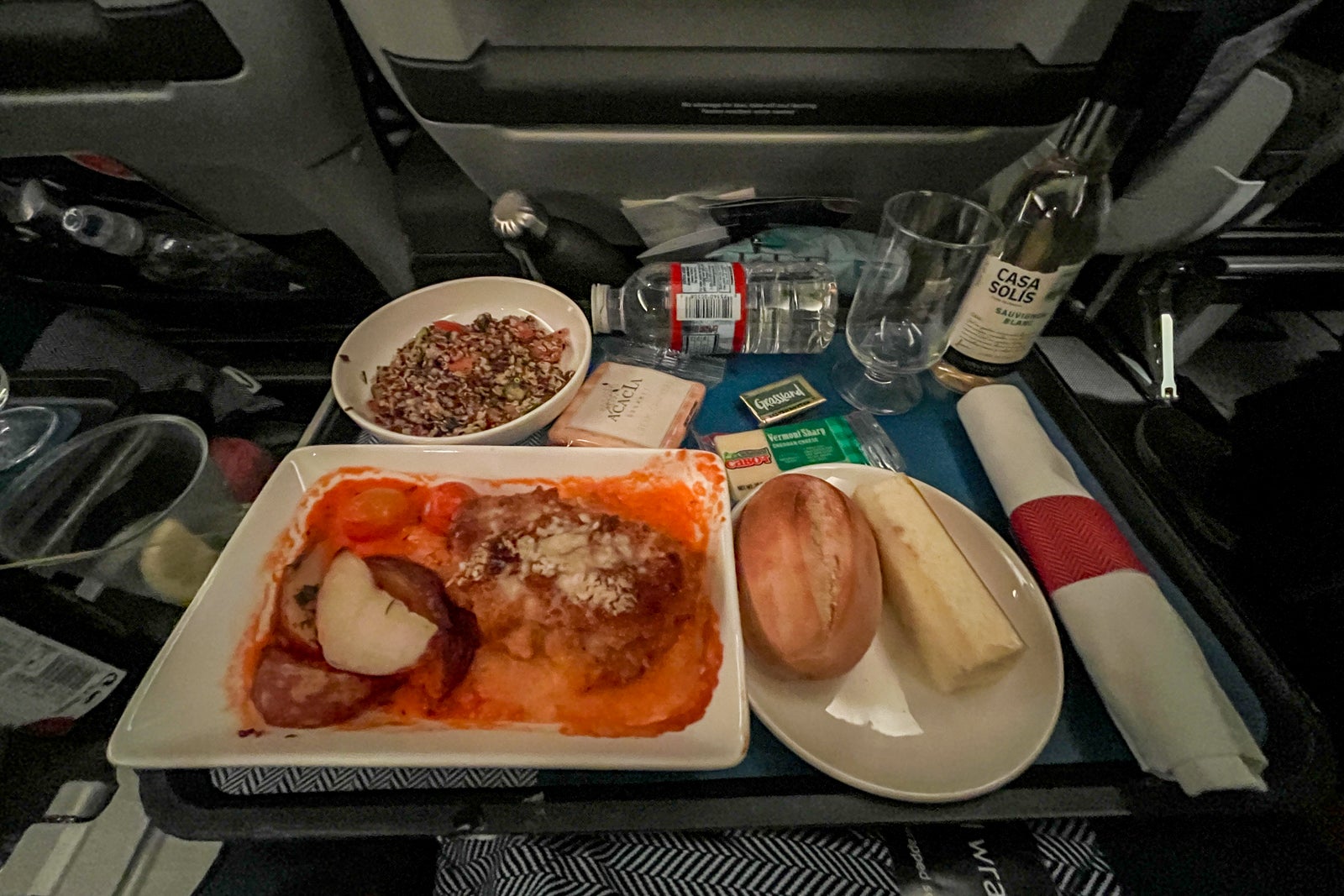 I selected the chicken with roasted potatoes for my entree. The temperature was perfect, and the chicken was tasty. I know it's hard to get a good crisp on roasted potatoes served in the sky, but they were decent. I'm not really a dessert fan so I only took a bite of the vanilla bean cheesecake and decided to eat the cheese and crackers instead. Bottled water and a choice of beverage were also included. The bar menu includes a selection of cocktails, mocktails, beer, wine, tea, coffee and soft drinks.
After dinner, the crew dimmed the lights and I watched a movie before reclining my seat, donning my eye mask and sleeping on and off for about four hours. In my book, that's better than nothing!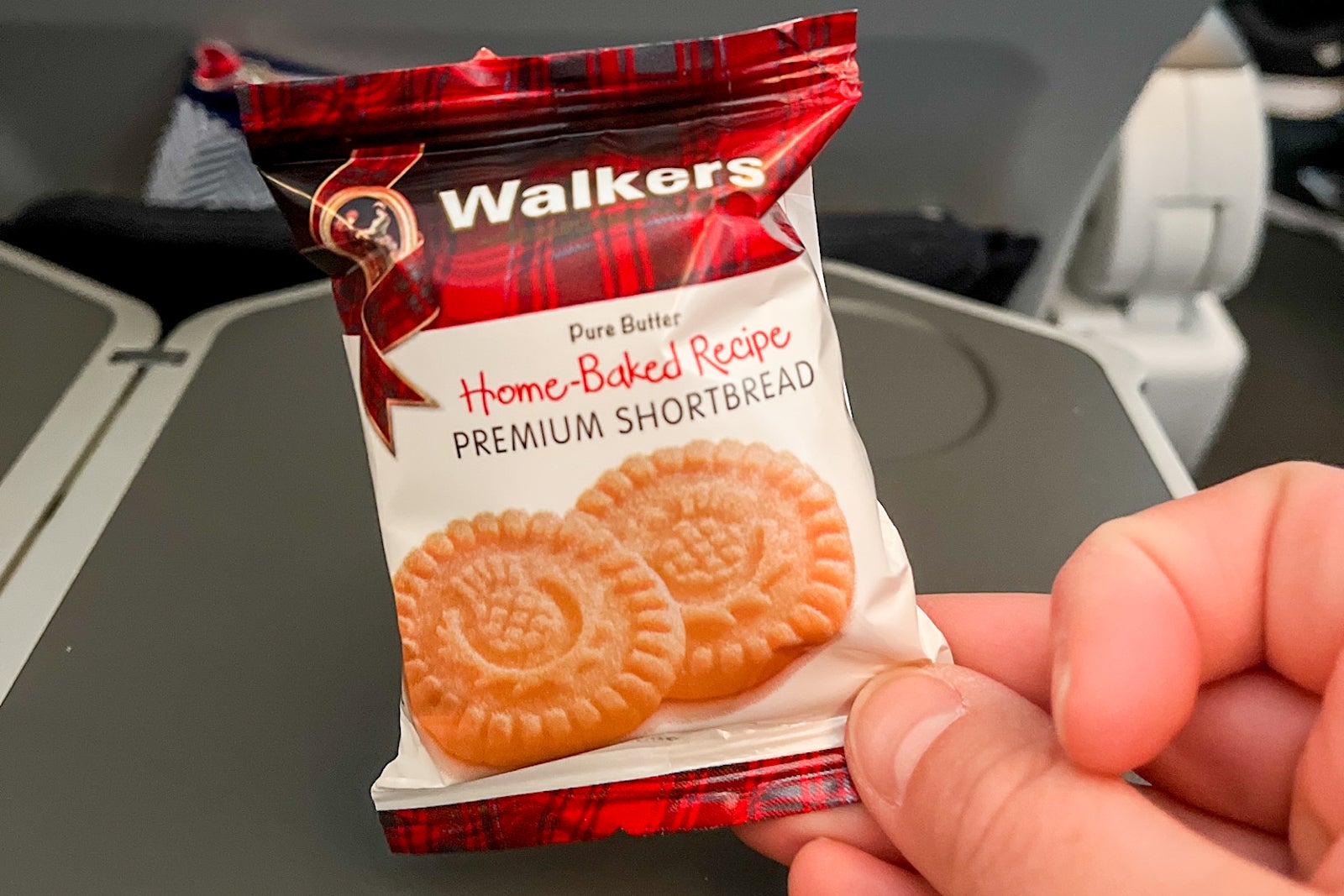 About two hours after dinner, I was awake when crew members came by handing out Walker shortbread cookies. The buttery goodness is something I always associate with my trips to the U.K. Around midnight U.K. time, the crew circulated with a choice of water or orange juice. I'm still not sure about orange juice at dinnertime or midnight, so I grabbed more water.
About an hour before landing in London, breakfast service was delivered and passengers had a choice of:
Scrambled eggs with mushrooms, bacon and potato hash

Cheddar cheese omelet, potato wedges, cherry tomatoes and asparagus
Both dishes were accompanied by a fruit cocktail cup and a muffin. I only ate a few bites of my scrambled eggs and side veggies, which was enough to hold me over until I could grab a full meal once in London. 
The food quality on the outbound flight to London was OK but not excellent. However, on the return flight to Phoenix, both dinner service and the light meal before landing were some of the best food I've had on a flight. Around 30 minutes after takeoff, the crew circulated with warm towels, followed 10 minutes later by water, orange juice and pretzels.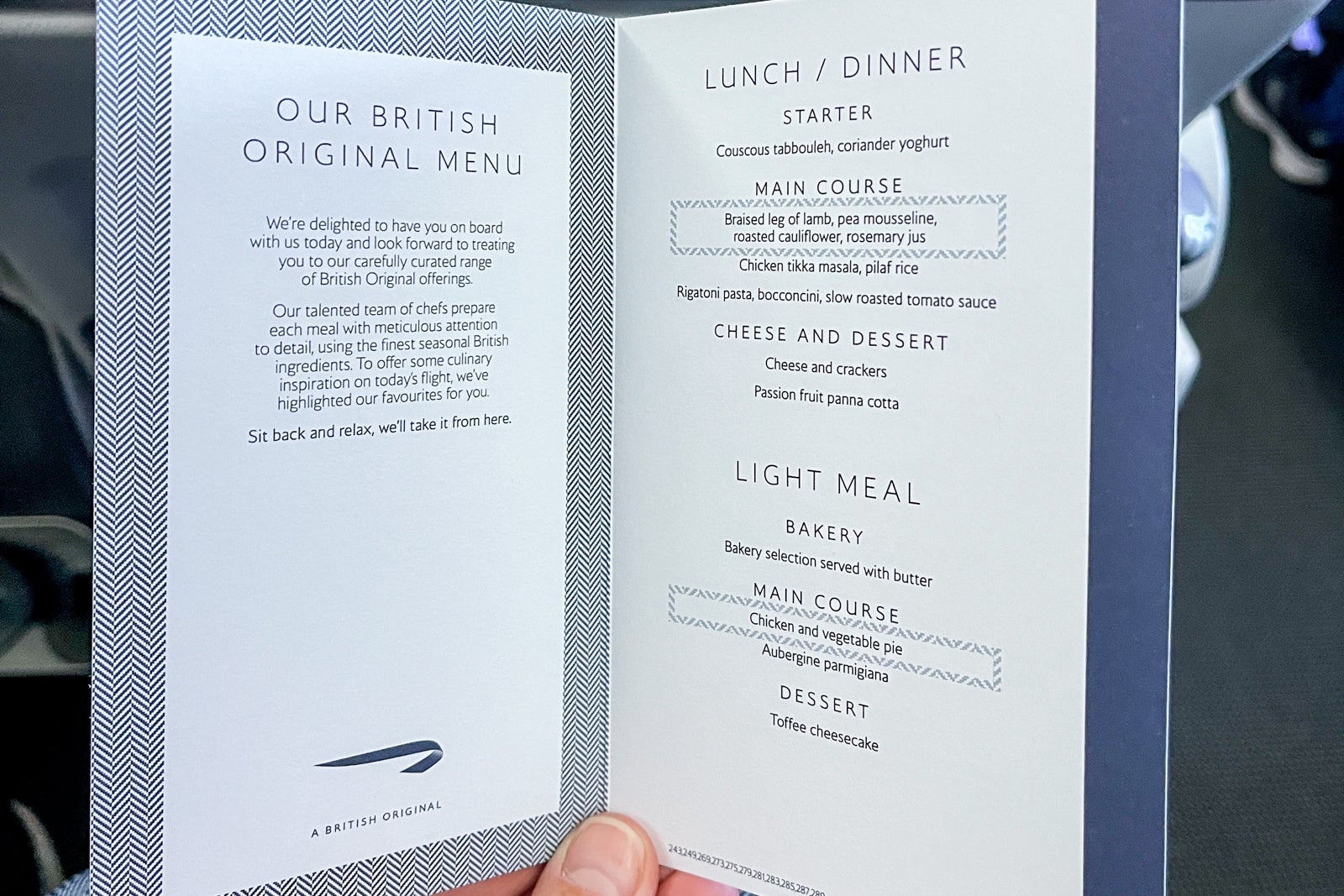 Dinner service started just after 7 p.m. (we'd been in the air about 90 minutes) and was a choice of:
Rigatoni pasta in a slow-roasted tomato sauce.

Chicken tikka masala with rice pilaf.

Braised leg of lamb with pea mousseline, roasted cauliflower and rosemary jus.
Lamb is one of my favorite dishes, so I gave it a go and was pleasantly surprised at how tender and juicy it was. I'm not a fan of peas, but whip them up in a mousseline, and they're apparently delicious. The pannacotta was a good balance of passion fruit with a touch of sweetness. The couscous tabbouleh that accompanied the entree sat atop a coriander yogurt sauce that was light and tangy.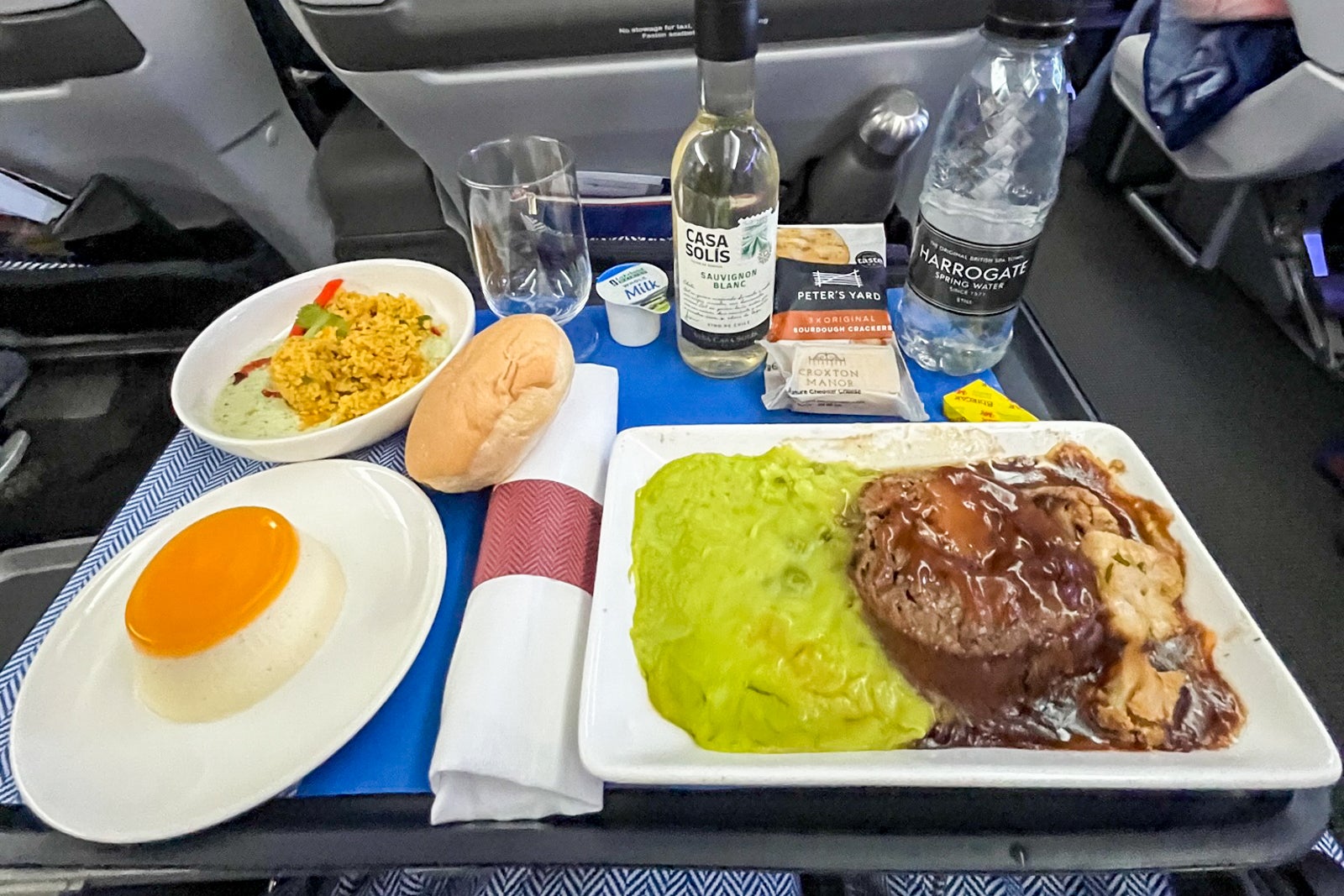 The light meal prior to landing was not breakfast this time as the London-Phoenix leg normally lands around 7 p.m. in the evening, so the offerings were:
Chicken and vegetable pie.

Aubergine (eggplant) parmigiana. 
British Airways hit a home run with two of my favorites on the same flight. I chose the eggplant, and it was delicious. I rarely eat bread on a flight unless it is fresh and warm. This roll was wrapped in plastic so I skipped it in favor of the apple and rhubarb crumble, which was a nice blend of tart and sweet to end the meal.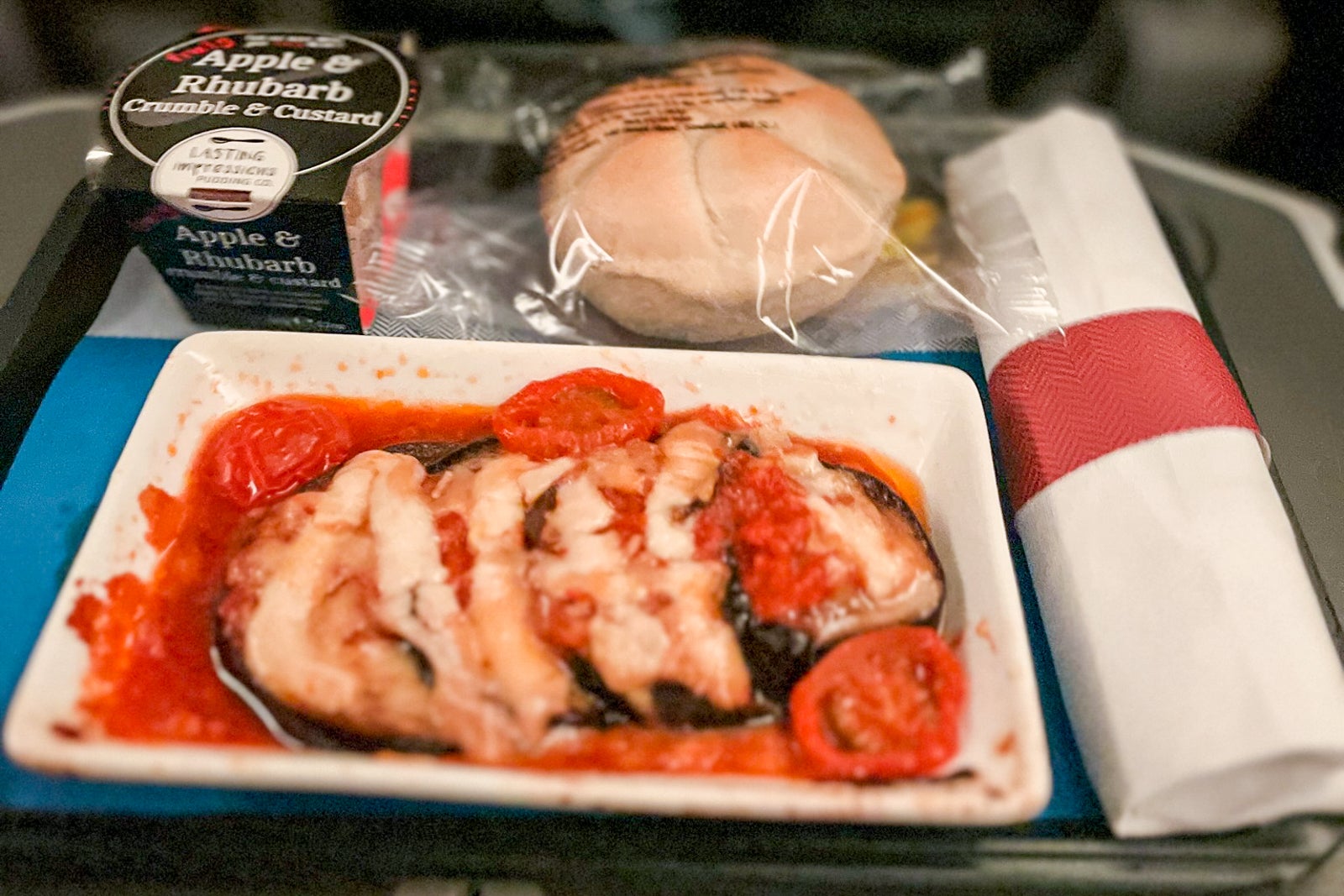 Dining in premium economy definitely felt like an upgraded experience to the economy cabin. The main entrees, side dishes and most desserts were served on real ceramic plates. The napkins were cloth, not paper, and the silverware was metal, not plastic. Actual glasses came on the tray for your water or other beverage, and cocktails were served in glasses, not single-use plastic cups.
On previous flights in British Airways economy, I remember being handed a dinner tray, and everything was wrapped in foil or plastic. The presentation is definitely elevated in premium economy.
Was British Airways' premium economy worth it? 
Having flown both economy and premium economy on this route, I can say that the premium economy experience is definitely an upgrade and more restful than flying in economy. I am a frugal traveler, though, and I have a hard time shelling out hundreds or even a thousand dollars more than necessary, so I only tend to book premium economy when I know I need to sleep on an overnight flight, and I'm more than happy to fly economy on the return if it's a daytime flight. That helps keep the price of airfare lower.
Booking mixed fares on British Airways is a good way to save at least a little money if you only need to fly something nicer than coach on one of the segments. If you prefer to book using Avios instead of cash, you can also mix fares. Taxes are expensive, though, and can cost over $600 round-trip on this route.
If you are looking for genuinely friendly service and upgraded amenities (like the soft blanket!), then I would definitely recommend flying British Airways premium economy — especially if you want to arrive rested and well-fed.
Related reading: