It's celebration time for Carnival Cruise Line fans. Literally.
The maiden voyage of the line's much-awaited Carnival Celebration will take place Sunday as the vessel departs Southampton, England, on a two-week transatlantic cruise to Miami.
Recently completed at a shipyard in Finland, the 15-deck-high ship is a sister vessel to Carnival's giant, 1-year-old Mardi Gras. Mardi Gras made waves in 2021 for its huge size and what may be the most unusual attraction on a cruise ship: a decktop roller coaster.
For more cruise news, reviews and tips, sign up for TPG's cruise newsletter.
The two ships both measure 181,808 tons, putting them in a tie for the position of biggest ship ever to sail for Carnival.
Both Carnival Celebration and Mardi Gras are a whopping 35% bigger than the next-biggest Carnival ship currently afloat, the 3-year-old Carnival Panorama; they are also bigger than all but 11 other cruise vessels in the world.
Like Mardi Gras, Carnival Celebration has a roller coaster on its top deck. Dubbed Bolt: Ultimate Sea Coaster, it's similar to the roller coaster on Mardi Gras, with an 800-foot-long track. Its vehicles will reach speeds of 40 miles per hour — give or take.
Both of the ships are designed to hold up to 6,630 passengers. That's just a tad below the 7,084 passengers that can fit aboard Royal Caribbean's Wonder of the Seas — the world's largest cruise ship.
Related: The ultimate guide to Carnival Cruise Line
Also like Mardi Gras, Carnival Celebration will have a giant water park on its top deck and a far broader array of suites than earlier Carnival ships. However, the vessel won't be a carbon copy of its sister.
It'll offer several new features, including a revamped main interior area called Celebration Central. Known as Grand Central on Mardi Gras, the ocean-facing atrium area on Carnival Celebration will span three decks and provide access to multiple food and entertainment venues.
It'll offer daytime ocean views and nighttime shows on its stage, which has been enhanced as compared to the one on Mardi Gras and has more color-changing lights than the original — 1,400, to be exact. Designed to look like confetti, they'll be one of the first things passengers see when they board the ship.
The development of ships on the scale of Carnival Celebration and Mardi Gras has been a big deal for Carnival. Until recently, the line had resisted the trend among major brands to build ever-bigger vessels that offer a supersized megaresort-at-sea experience.
Carnival's last new vessel, Carnival Panorama, didn't even crack the top 40 list of biggest ships when it debuted in 2019.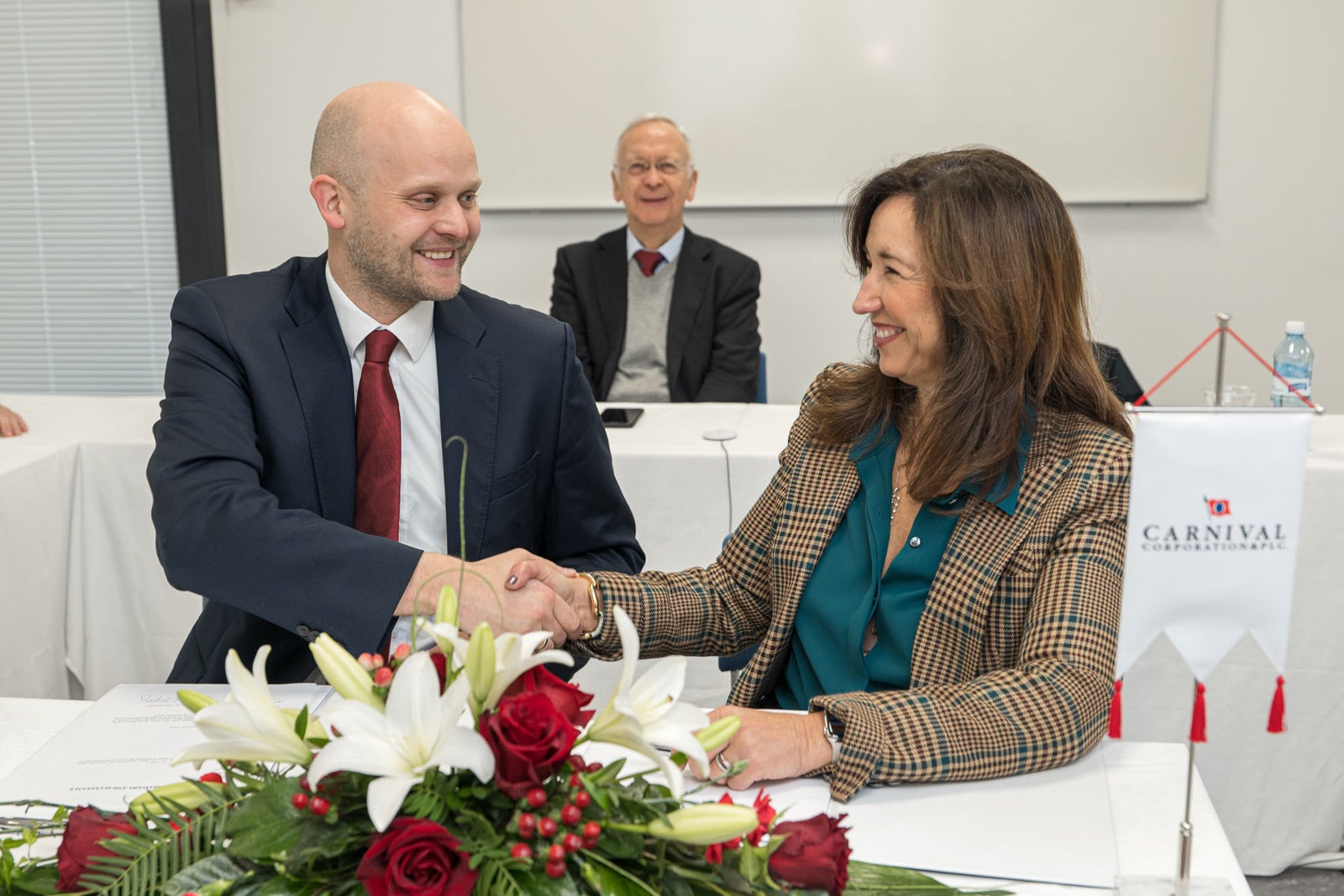 The vessel is scheduled to sail six- to eight-day voyages to the Bahamas and the Caribbean out of Miami. Fares start at $449 per person, not including taxes and fees.
Carnival Celebration is debuting just four weeks after Carnival retired its oldest and smallest ship, Carnival Ecstasy.
Related: Another Carnival ship heads for the scrappers 
Carnival is also adding a second ship to its fleet this month with the arrival of Carnival Luminosa, a 13-year-old vessel that until recently was in the fleet of Carnival's sister brand Costa Cruises. The ship formerly was known as Costa Luminosa.
With the arrival of Carnival Celebration and Carnival Luminosa as well as the departure of Carnival Ecstasy, the line's fleet is increasing by one ship to 24 ships in all.
Carnival also will absorb two more Costa ships into its fleet in 2023 and 2024 as parent company Carnival Corp. pulls back on cruises in China, where Costa had been a major player.
A third ship in the same series as Carnival Celebration, to be called Carnival Jubilee, is also on order from the Meyer Turku shipyard in Turku, Finland. The shipyard built Carnival Celebration and Mardi Gras as well.
TPG will be reporting live from Carnival Celebration's first sailing out of Miami, starting Nov. 21.
Planning a cruise? Start with these stories: