Editor's note: Readers and members of our Facebook Lounge frequently write to us for help when things go wrong with their travels. That's why The Points Guy has asked Michelle Couch-Friedman to act as our ombudsman and help members of the TPG community out when possible. 
If you've had a situation where something has gone wrong with your travels or one of your credit cards and you are not getting a response from the company responsible, Michelle can help you contact the company and potentially reach a satisfactory resolution. She brings decades of experience advocating for consumers to her work with TPG and has already helped readers get thousands of dollars' worth of restitution. 
Need her help? Write to tips@thepointsguy.com with your situation and, in the cases where she might be of help, we will do our best to funnel your query to her. 
---
Imagine flying into Johannesburg, South Africa, after a two-week safari in Botswana. You've had an exciting but dusty adventure, and you're looking forward to all the familiar comforts of a Marriott hotel. A hot shower, a tasty dinner, a TV with multiple news and entertainment options, and a soft bed are in your near future.
Or are they?
When you land, suddenly, you're jolted into a different reality. The transit hotel that Marriott confirmed for you is completely closed. In fact, airport employees tell you that it's been shuttered for over two years. 
That's the awful situation that confronted Mike S. last month as his family returned from their dream safari. Even worse? When he called Marriott to ask for emergency assistance, he was met with a recording alerting him that the hotel was closed that gave no further information. 
Now Mike would like to know why Marriott sent his family to a permanently closed hotel and abandoned them there. 
TPG wanted to know, too, so we pursued his case. Here's what we found out. 
Planning an exciting family adventure
Over a year ago, as travel restrictions began to ease, Mike and his family made a plan to take an African safari this summer.
Mike left all the complicated parts of planning this trip to Natural Habitat Adventures. NHA, in partnership with the World Wildlife Fund, is known for its expertise in planning unique African safaris that are conservation-focused. The company's mission statement, "Conservation through Exploration," appealed to this nature-loving family.
Soon, the family was confirmed on a Botswana safari scheduled for June of this year.  
But there was one small detail left Mike assumed he could easily take care of himself. 
The family would have a 27-hour layover in Johannesburg on their return trip from Botswana. They didn't plan to spend additional time in South Africa, so Mike turned to Marriott to check available hotels that would be conveniently located near Johannesburg's O.R. Tambo International Airport (JNB). 
"I logged into the Marriott website and found the Protea Hotel Transit – right in the Johannesburg airport. It was perfect because we wouldn't have to clear customs or leave the transit area. I booked two nights so we could stay until our evening flight on the second day."
As a Marriott Bonvoy Gold Elite, Mike was pleased he could earn points during his stay. He quickly booked two rooms for his family and, within minutes, received a confirmation from Marriott. 
'

Your African Adventure Awaits'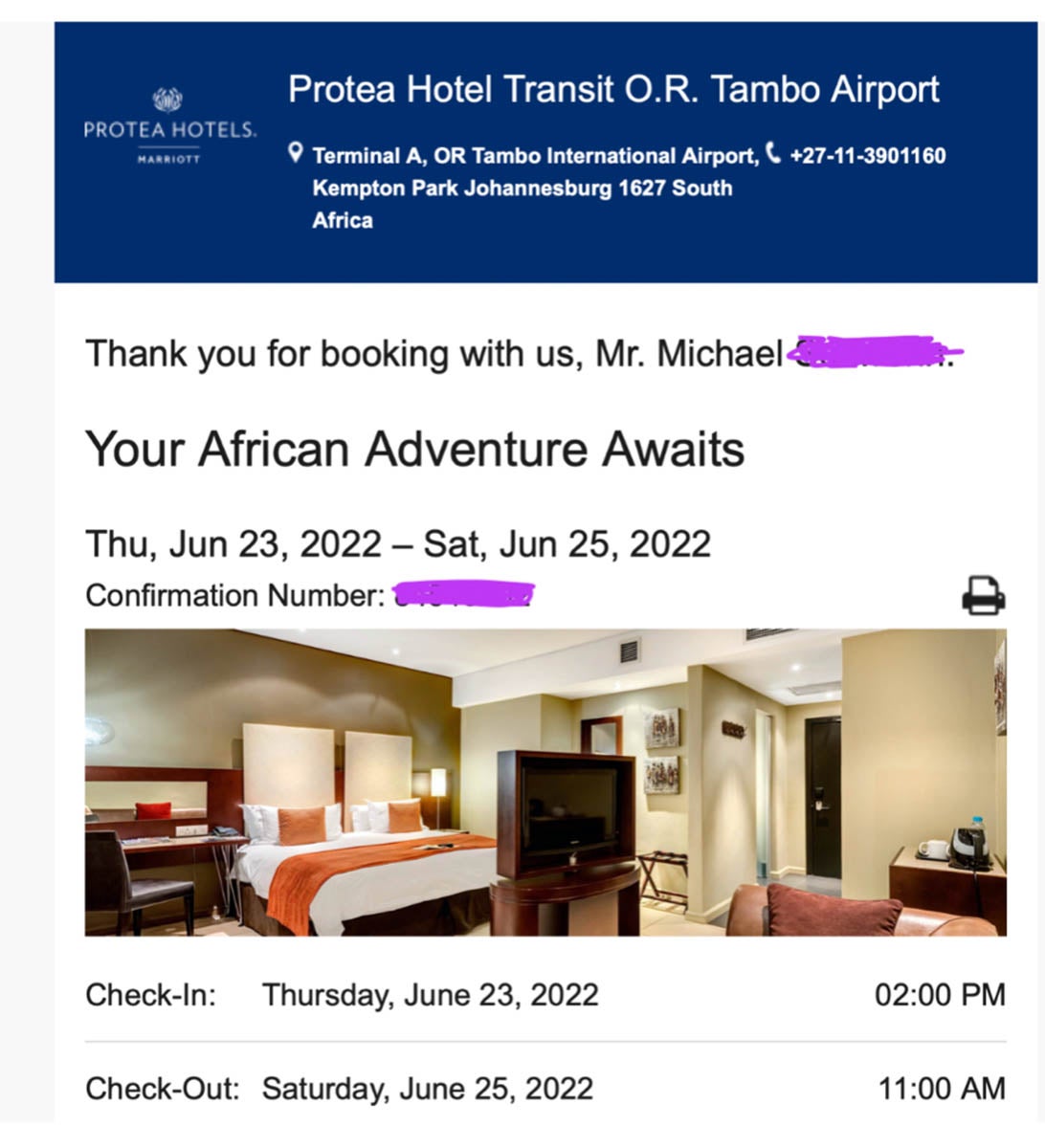 Mike double-checked all the details on the Marriott reservation, which announced, "Your African Adventure Awaits." 
Unfortunately, the type of African adventure waiting for them at this Marriott hotel wasn't the good kind — but they wouldn't find out until nearly a year later. 
An unpleasant surprise
Fast forward to the summer of 2022. The family was eagerly looking forward to their African safari. 
"Before we left, I reconfirmed all the details of the trip – including the Marriott hotel at the Johannesburg airport," Mike explained to me. "In fact, I received a reminder about our stay at the Protea Transit Hotel while we were on safari. There was no indication that anything was amiss with that property."
Believing all was in order, the family took off for Africa in the first week of June. Mike says he and his family had a wonderful time on their safari in Botswana.
"The safari was amazing!" Mike recalled. "We were sorry for the adventure to end."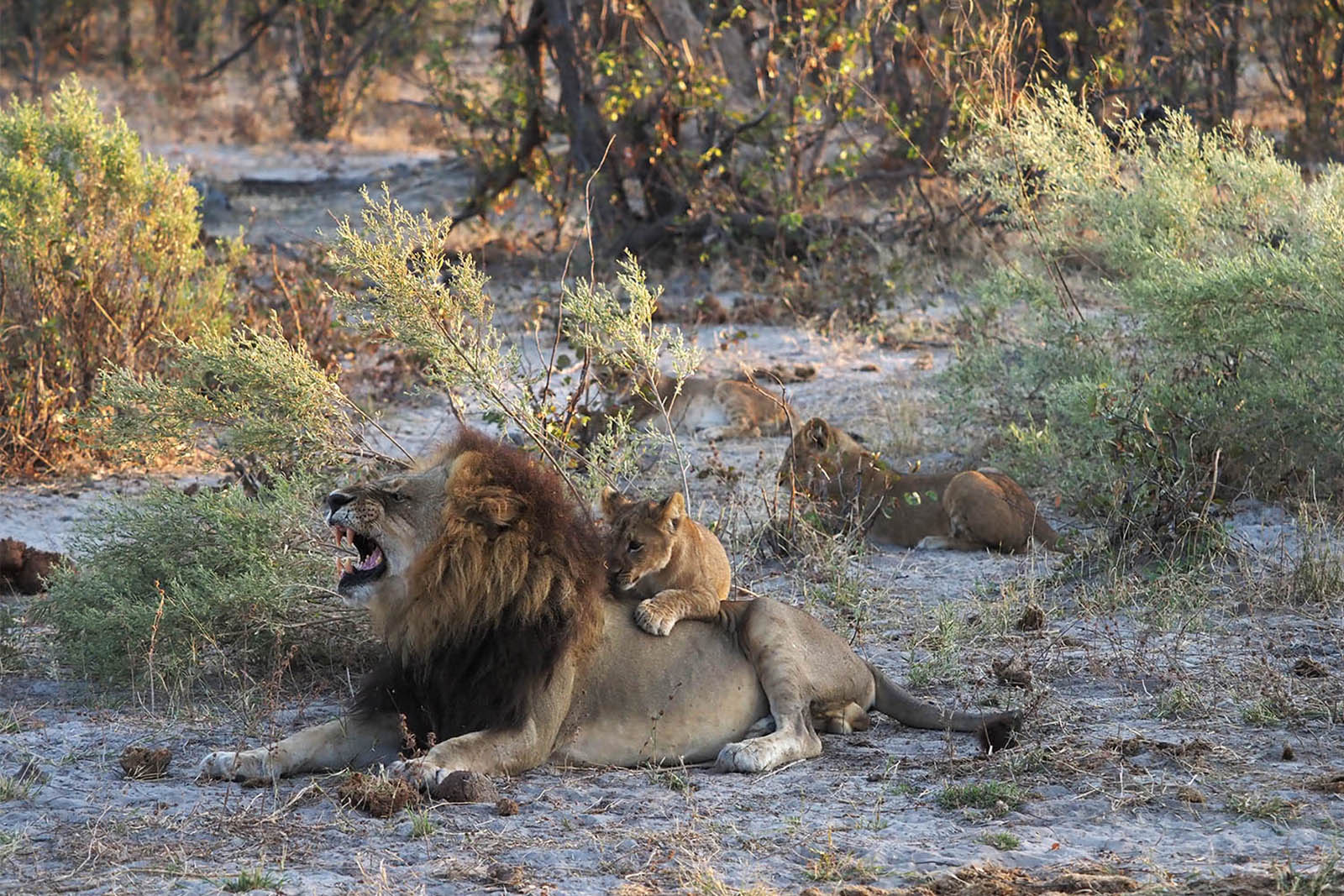 The family then started their long journey back to California. They flew from Maun, Botswana, to Johannesburg — and that's where this adventure hit a snag.
"We were drained, and it was a relief to know that we didn't have to go anywhere when we landed," Mike reported. "But when we told the woman at passport control that we were staying in the airport's transit area at the Protea, she gave us an incredulous look and said that the hotel had been closed since 2020."
Stunned, Mike asked the officer what to do. The agent explained that the family would need to clear customs and find an alternative place to stay in Johannesburg. She sent the family through customs and wished them well. 
At the airport with no place to go
As the family gathered their luggage, Mike called the number on his Marriott confirmation hoping that this was all a mistake. It wasn't. 
Here's what Mike says happened next:
"I called the Marriott number, and there was a recording that said the hotel was closed. We ended up asking for advice at the lost luggage desk. They told us about the Intercontinental just outside the terminal exit and across the street.
"Even in the late afternoon, suddenly finding yourself outside the airport in a foreign country with no reservations or plans is upsetting."
Walking into the Intercontinental, the displaced and weary travelers hoped the hotel had availability. It did – although the cost of one night at the Intercontinental was double what he had expected to pay at the Protea. Still, Mike happily paid it, and the crisis was over. 
The group flew home the next day, and Mike set off on a new mission. He wanted to find out why Marriott had booked, confirmed, and reconfirmed his family at a hotel that had been closed for over two years — meaning it had been closed well before he had even made his booking. 
He also wanted Marriott to reimburse him for the expensive, last-minute rooms he was forced to book at the Intercontinental. 
But instead of an explanation or apology, he received a surprising email from Marriott. 
'Tell Us About Your Stay'
A few days after Mike sent his complaint to Marriott, he found a message from the company waiting for him in his email inbox. He assumed it would be a mea culpa from Bonvoy for his awful experience. But it wasn't an apology. 
Incredibly, it was just an automatic message soliciting a review of the family's stay at the Protea Hotel Transit. The survey made it clear that Marriott wasn't even aware the property was closed for business. Oddly, it was signed by the manager of the closed hotel.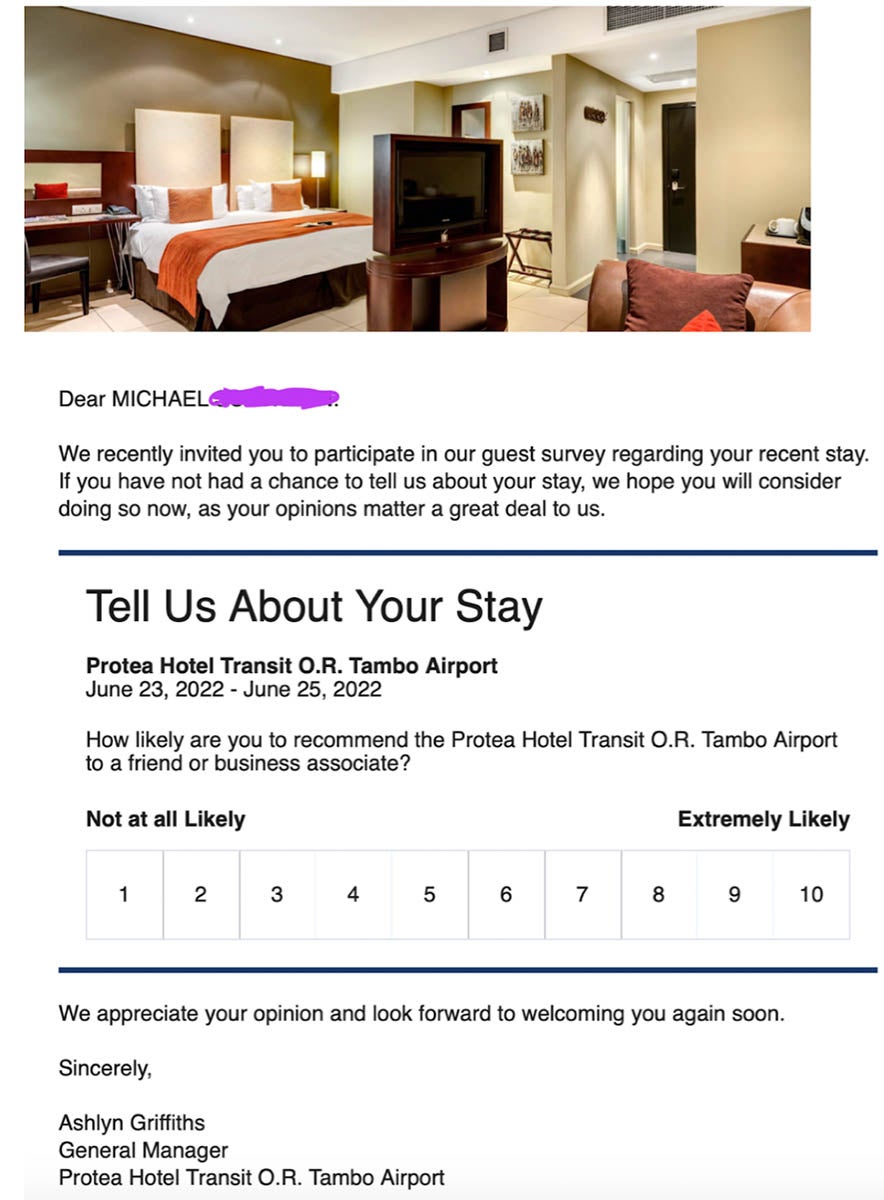 Not surprisingly, Mike would not recommend this hotel to a friend or business associate. 
When a follow-up request for a review arrived a few days later with no acknowledgment that anyone at Marriott intended to respond to his complaint, Mike reached out to TPG for help. 
Asking Marriott for an explanation
When I received Mike's plea for help, I shared his amazement at just how many mistakes Marriott made here. 
"Marriott gave me such bad customer service — confirming, reconfirming and then ignoring my emails," Mike complained. "I just thought it might be worth sharing this with TPG."
It had cost the family nearly $400 extra to go to the Intercontinental. Mike was hoping that Marriott would reimburse him for that unexpected expense. 
I reached out to our executive contact at Marriott and explained the family's unpleasant experience. 
80,000 Marriott points — and an apology
The next day, Mike emailed with the good news. Marriott had called him and delivered the apology he had been hoping for and more — 80,000 Bonvoy points. Here's what we heard from Mike in an email:
"Hi, Michelle!
Marriott apologized [over the phone], which was nice, and [the corporate representative] explained a few things:
Marriott doesn't know what happened, but they are looking into it and will ensure that there are no other reservations in their system to the closed Protea Transit hotel.

My case was closed by a Marriott customer service agent with no response to me. And my complaint would not have been addressed if not for your outreach. They are also looking into why the agent did that.

Marriott credited my account with 80,000 points to make up for this situation.
Thanks again! I have used my 80,000 points for two nights at an Autograph Collection hotel that would have otherwise gone for $500+ per night. 🙂. Mike S."
The Protea Transit Hotel at the Johannesburg airport now displays a message online that it is closed. And the Autograph Collection hotel that Mike just booked? No worries. We've confirmed it is open for business.
TPG hopes you enjoy your stay, Mike!
Ensure this doesn't happen to you
Mike had no way of knowing that Marriott was repeatedly giving him inaccurate information about his confirmed reservation. His attention was focused on the more complicated parts of his family's dream vacation to Africa. Ironically, this exotic adventure hit no snags until the very part he assumed was a no-brainer.
Although Mike made a few errors in his travel planning, there are some lessons in his experience. Here's how to ensure you don't end up in a far-off land booked at a permanently closed hotel. 
Look at reviews:

Depending on the location, hotel quality can vary greatly, even with a trusted brand like Marriott. If you are self-booking your accommodations, don't overlook published reviews. Not only will you get an idea of what to expect when you arrive, but if there is an abrupt end to the reviews, you'll want to figure out why. In the case of this hotel, there were a series of 1 and 2-star reviews — then nothing — since the fall of 2019. We now know why.

Always confirm directly with the hotel:

If you book a property through the brand's centralized reservation system (or through a third-party booking agent), always follow up with the hotel directly. Many resorts will preemptively send you a separate confirmation after the front desk receives your reservation. But if you don't receive that type of confirmation, make sure to call or email the hotel and request it. Carefully review your reservation to be sure that the details are correct.

Reconfirm your reservation:

Before starting your journey, it's always a good idea to reconfirm directly with the property. This is true now more than ever. Unfortunately, many airlines, cruise lines and hotels did not survive the pandemic. Speaking to someone at the hotel shortly before you arrive will allow you to double-check its viability and also confirm any special requests you might have.  

Use a professional travel advisor:

Using a travel advisor can help guarantee that you won't find yourself halfway around the world with no place to stay. These professionals pride themselves on ensuring they keep on top of the constantly changing world of travel. And if something goes wrong with your reservation during your journey, a professional travel advisor will make sure to fix the problem. You can

find an ASTA-certified agent here

— one that specializes in your destination and mode of travel. 
Bottom line
It isn't often that you'll read about travelers being sent to permanently closed hotels, but this is not an isolated case. There have been others, so it's worth taking steps to protect your upcoming travels against similar hiccups.
If you or someone you know had a similar experience and the property or brand ignored your plea for assistance, send your story to Tips@ThePointsGuy.com. I'll be happy to investigate and help you, too.