Back in June 2019, Virgin Atlantic placed an order for 14 brand-spanking-new aircraft. Now, more than three years later, Virgin is finally ready to introduce the world to its Airbus A330-900neo. Next week, it plans to hold a media event combining the launch of this brand-new aircraft with a new route to Tampa International Airport (TPA).
However, Virgin actually put this aircraft into service with a flight to Boston Logan International Airport (BOS) a full six days ahead of its more public launch.
We wanted to be on board Virgin's very first commercial A330-900neo flight, so we could get a first look inside the aircraft and shoot a classic TPG U.K. three-cabin review video. (Subscribe to our YouTube channel to get your front-row seat to that video release next week!)
Thankfully, reward seats were available via the Virgin Flying Club in all cabins and TPG booked seats in each cabin at the following rates:
Upper Class: 57,500 Virgin Points plus 624 British pounds ($722.50) in taxes and fees.
Premium: 27,500 Virgin Points plus 374 British pounds ($433.04) in taxes and fees.
Economy: 20,000 Virgin Points plus 218 British pounds ($252) in taxes and fees.
Related: A review of Virgin Atlantic's A350 leisure configuration in Upper Class from Manchester to Orlando
Due to the timing of the flights, we found ourselves flying during a Flying Club peak period. Had we flown the following week during an off-peak time, the points rates would have been 47,500, 17,500 and 10,000, respectively, in each of the three cabins. Taxes and fees, however, would cost the same.
The aircraft
Virgin is introducing this new aircraft type as part of its drive toward a younger and more efficient fleet.
Virgin claims the A330-900neo is 11% more fuel- and carbon-efficient, and it's also far quieter than the A330-300s it is replacing. If Virgin continues with its rollout plans as announced, its entire fleet will average just 7 years old.
Virgin flies its relatively new Airbus A350-1000 aircraft with revamped products in all cabins. This aircraft also launches with a whole new range of seats in Upper Class, Premium and economy.
The new Upper Class suite
We were allowed to board a few minutes before other passengers to capture some photographs. As I stepped inside the aircraft, I was immediately hit by that "new plane smell" — it really is a thing!
To the left in the Upper Class cabin, the flight crew was gathered in the Retreat Suite (more on that later) getting a briefing on the new product. There was a palpable sense of excitement. Other Virgin staff members — including those who work in the airport, on the ground and in Virgin's head office — were also there to sneak a peak at their newest baby and ensure smooth running on its maiden passenger voyage.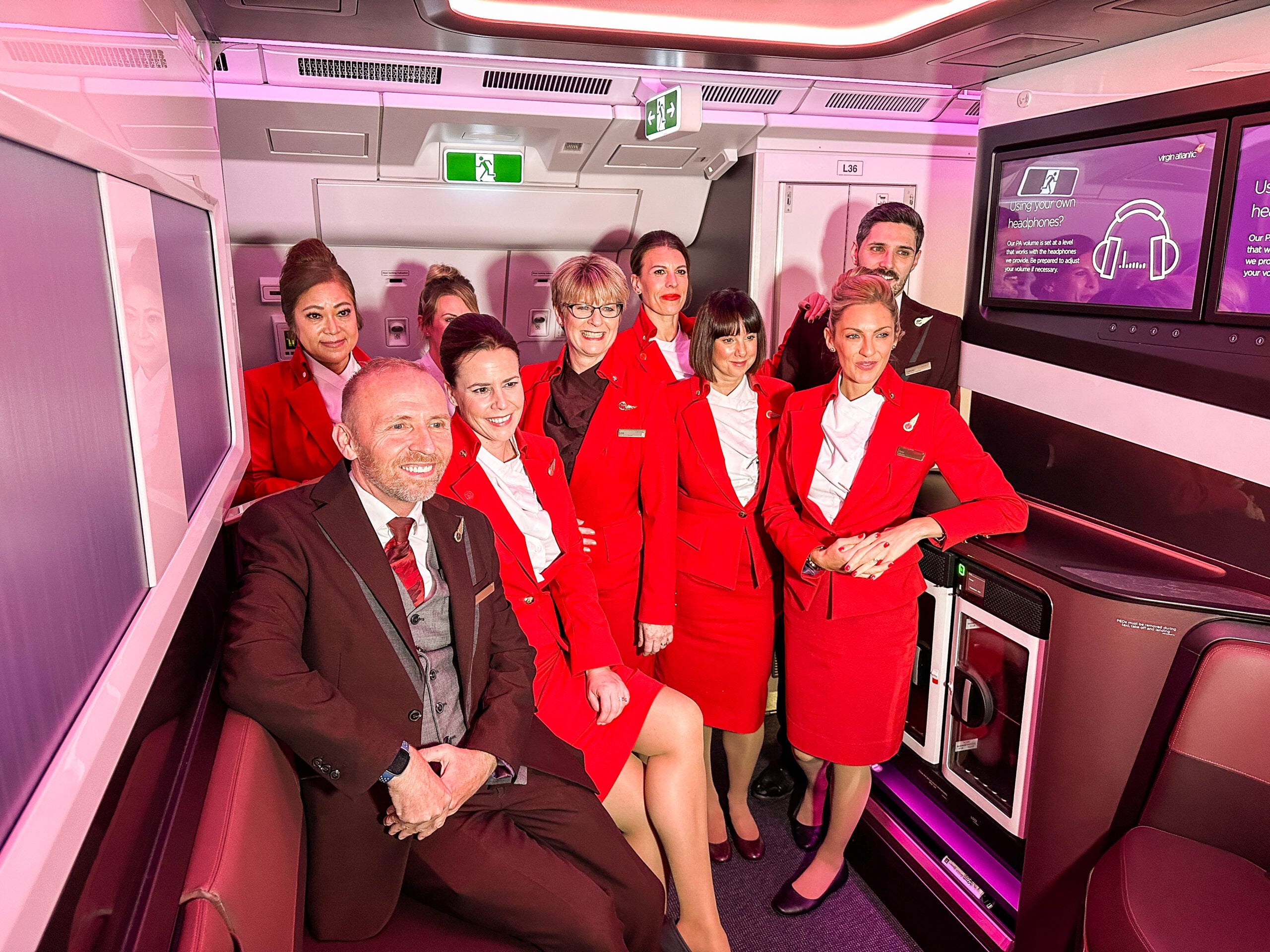 It's been only three years since we last saw a new iteration of Virgin's Upper Class: It took flight pre-pandemic in 2019 at the same time as the British Airways Club Suite — a decidedly "2019 style" AvGeek battle of the skies. Fast forward to 2022 and Virgin is already back with something bigger, better and — dare we say it — bolder. I was already a fan of the Upper Class suite on the A350, but the revamped A330-900neo seat goes further to solve some of its predecessor's downfalls, such as its lack of storage.
The Upper Class cabin comprises eight rows arranged in a 1-2-1 configuration with 30 business-class suites and two Retreat Suites aboard.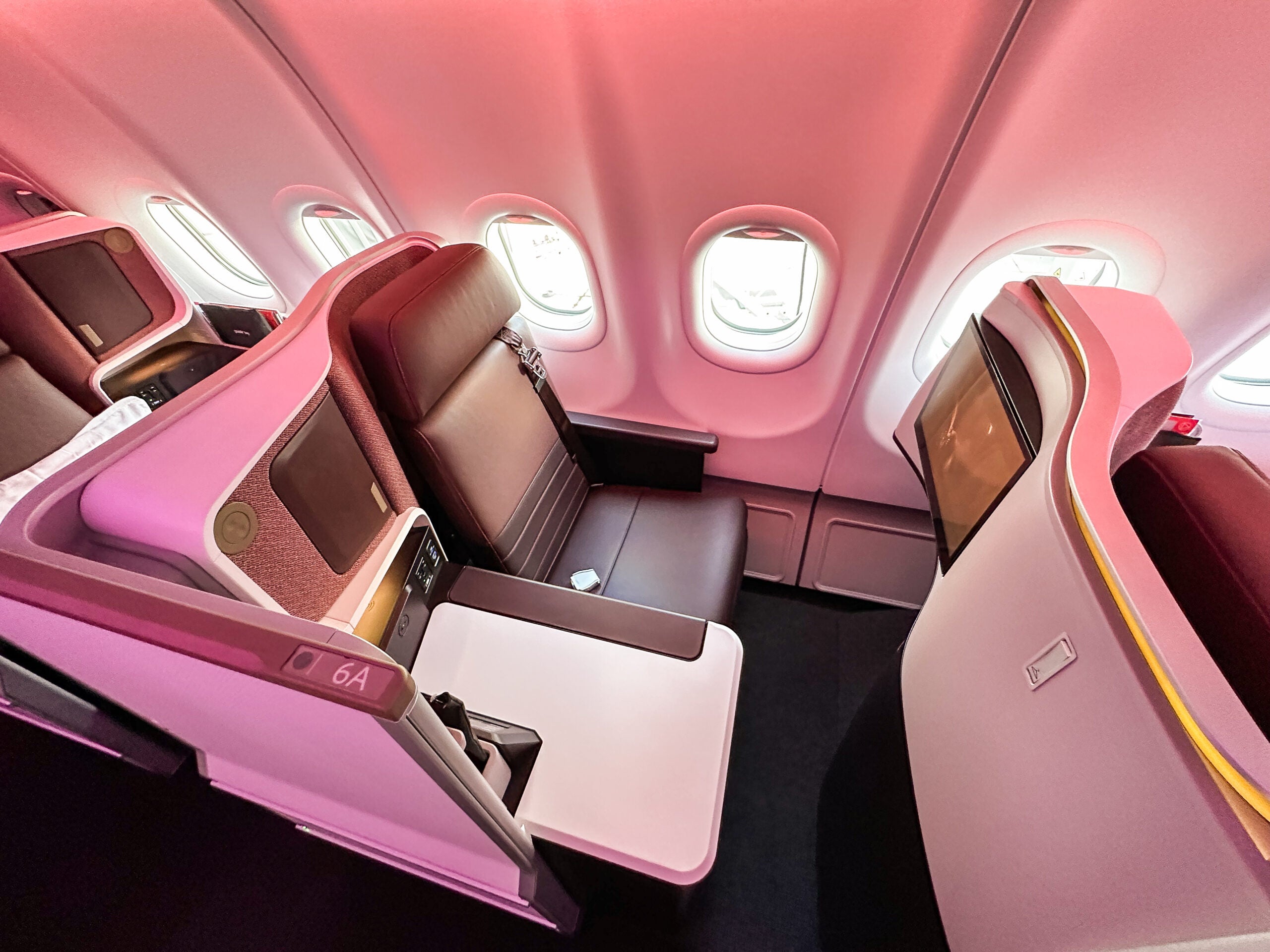 Window seats in even-numbered rows are closer to the window and provide slightly more privacy — which is why they would be my first choice as a solo traveler. The center-pair seats are closer together in even-numbered rows and slightly farther apart in odd-numbered rows, where they're separated by a larger central console. All center seats have a full privacy divider between them.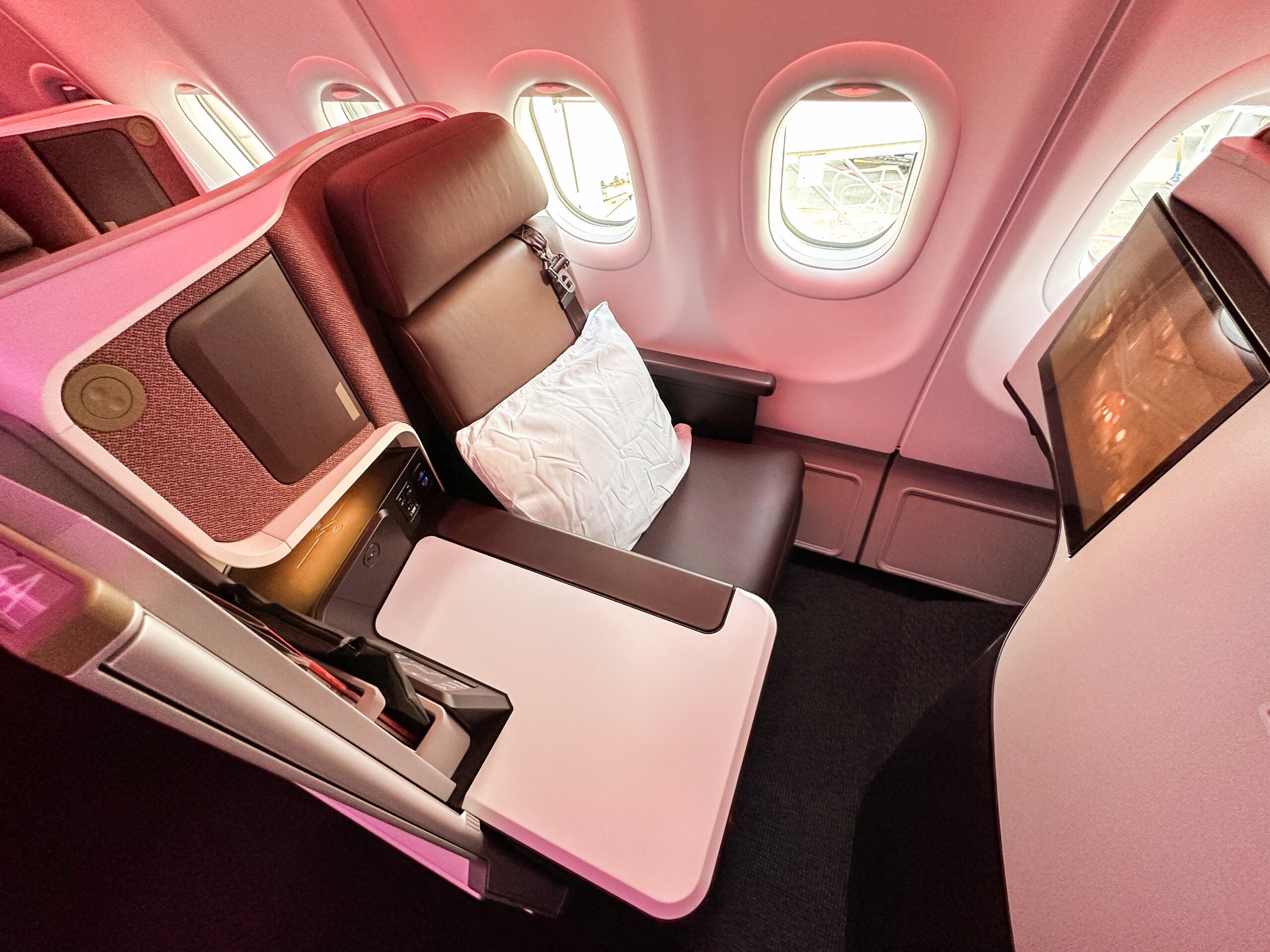 The seat is incredibly smart and sleek, with leather upholstery in the now-classic Virgin maroon as well as subtle red stitching. Sitting in the seat feels very comfortable, both in the upright, reclined and lie-flat positions.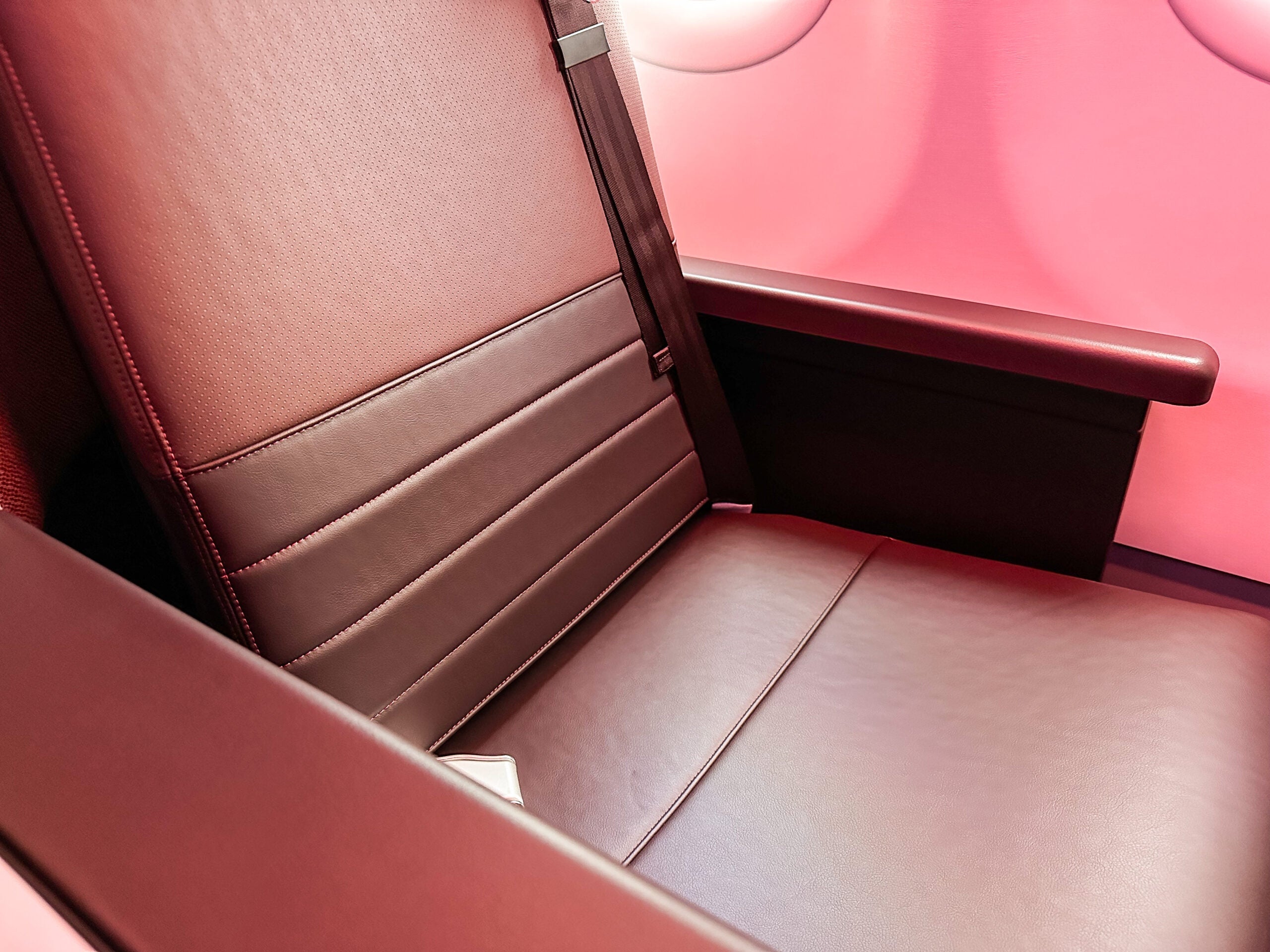 Two separate panels on the side of the suite house the seat controls, which allow you to recline all the way into a fully flat bed. It's a great improvement from Virgin's product on the A330-300 and B787 which requires the seat to be fully flipped over to become flat.
It's worth noting that it was a little tight around the feet when trying to sleep. The thick mattress and comfy duvet and pillow helped with comfort, but if you wriggle in your sleep like me, you might struggle. I did notice the window seats in row 1 had larger footwells.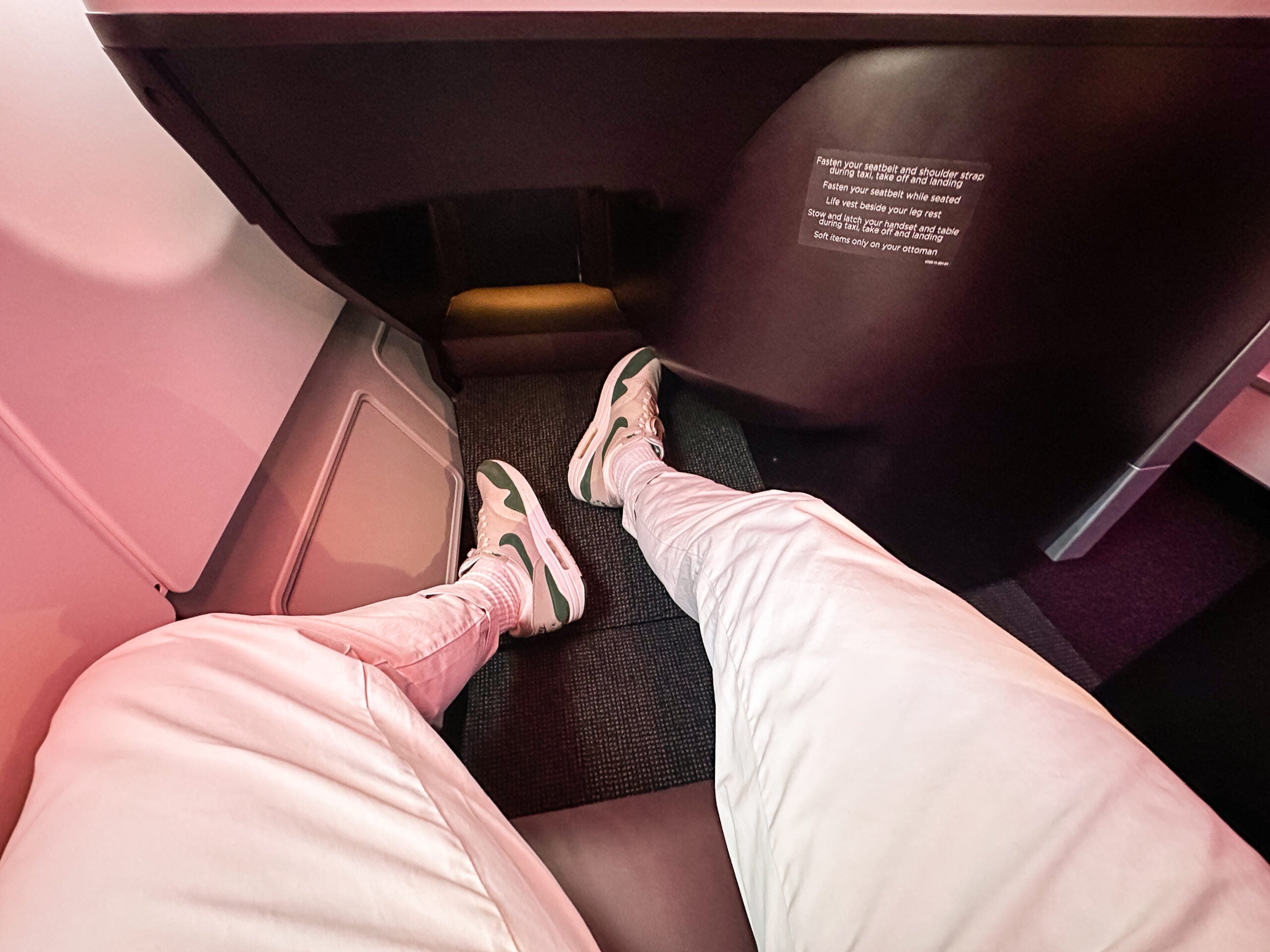 A tray table slides out from under the console and flips out to full size. It has a slightly winged shape, and when fully extended, it was more than large enough for my 15-inch Macbook. It was also sturdy enough to work and eat comfortably on.
Unlike the Upper Class Suite on the A350-1000, the door on this suite closes almost completely, adding an extra element of privacy. If you've been lucky enough to experience Delta One Suites, you will likely recognize this product and its sliding door.
There is a 17.3-inch touchscreen inflight entertainment screen, a reading light, USB-A and -C ports, universal charging ports and a wireless phone charging option. You'll also find a small storage box in the seat which contains headphones and canned water.
The Retreat Suite
The star of the show is the Retreat Suite, which comprises the center two seats in the front row of the Upper-Class cabin.
Supposedly, the option to upgrade to a Retreat Suite is available 14 days before departure for a cash fee, but I did not receive any email or communication about this. To my understanding, if no one pays, the carrier will offer these seats to Flying Club elites. However, my Virgin Flying Club top-level Gold elite status did little to help. I imagine the process of upgrading to the Retreat Suite will become clearer as the new aircraft are delivered and the service becomes available on more routes.
While some other hot-fingered passengers won the prize seats, Virgin did allow us to board a little early so that we could briefly sit in the seats before they were handed over to their rightful owners.
In terms of space and comfort, the seat really is a huge step up, especially when compared to Virgin's oldest so-called "coffin" seats in Upper Class on the B787 and A330-300.
The Retreat Suite is bigger than other suites on this aircraft — with the largest seats ever offered by Virgin Atlantic. The seats are, it should be said, rather fabulous. The added pitch gives a real sense of space around you. While the other suites are still very comfortable, you are slightly more enclosed, almost cocooned, in the Retreat Suite. The Retreat Suite just feels BIG.
There is a buddy seat opposite, which comes with a cushion not seen in the other seats; the set-up allows you to join other passengers for a meal or drinks. With the privacy screen down, four people can comfortably come together and sit facing each other to enjoy some social time in the sky.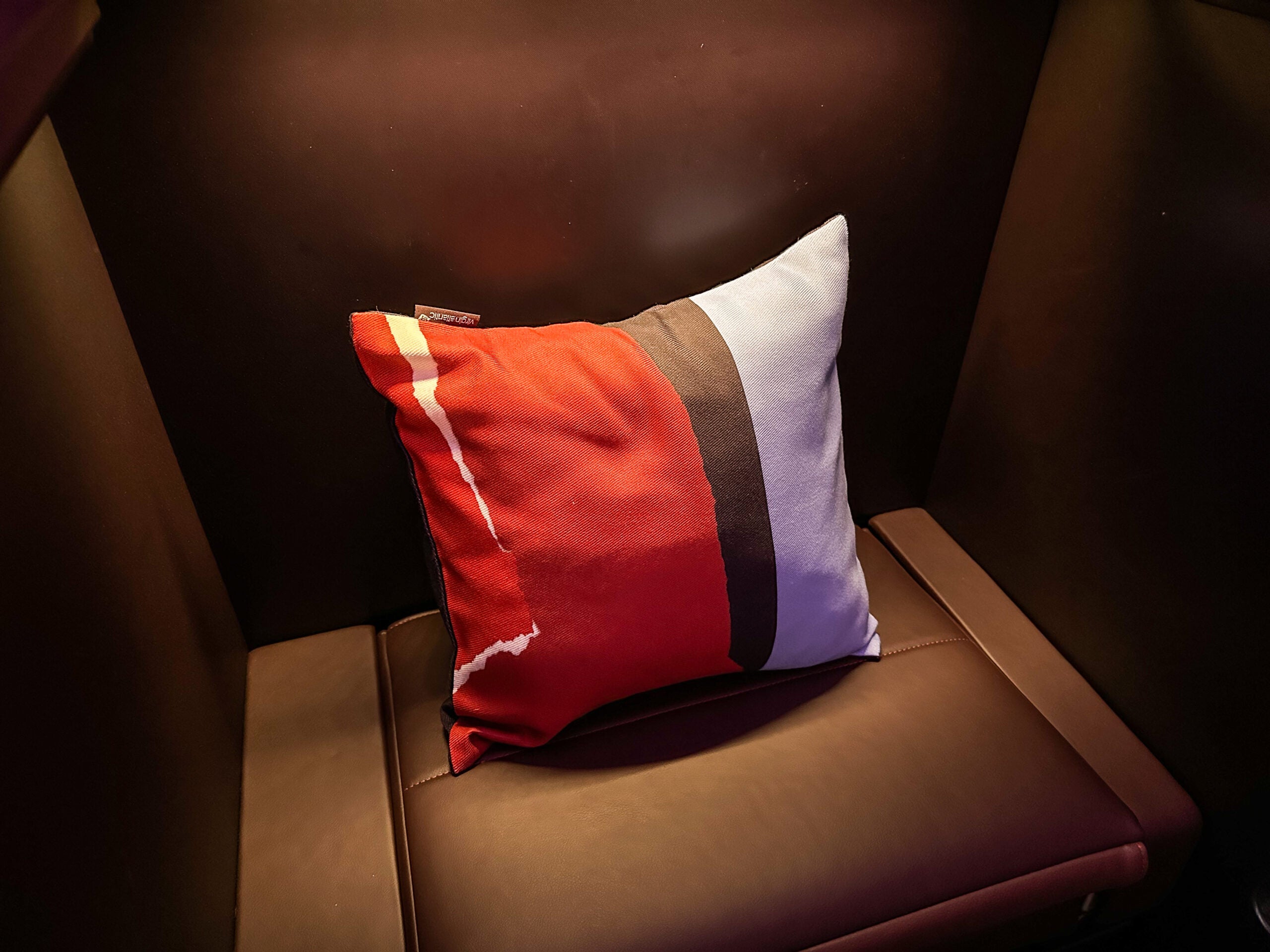 The Retreat Suites feature a 6-foot and 7-inch fully flat bed — beating British Airways' first-class bed by an inch.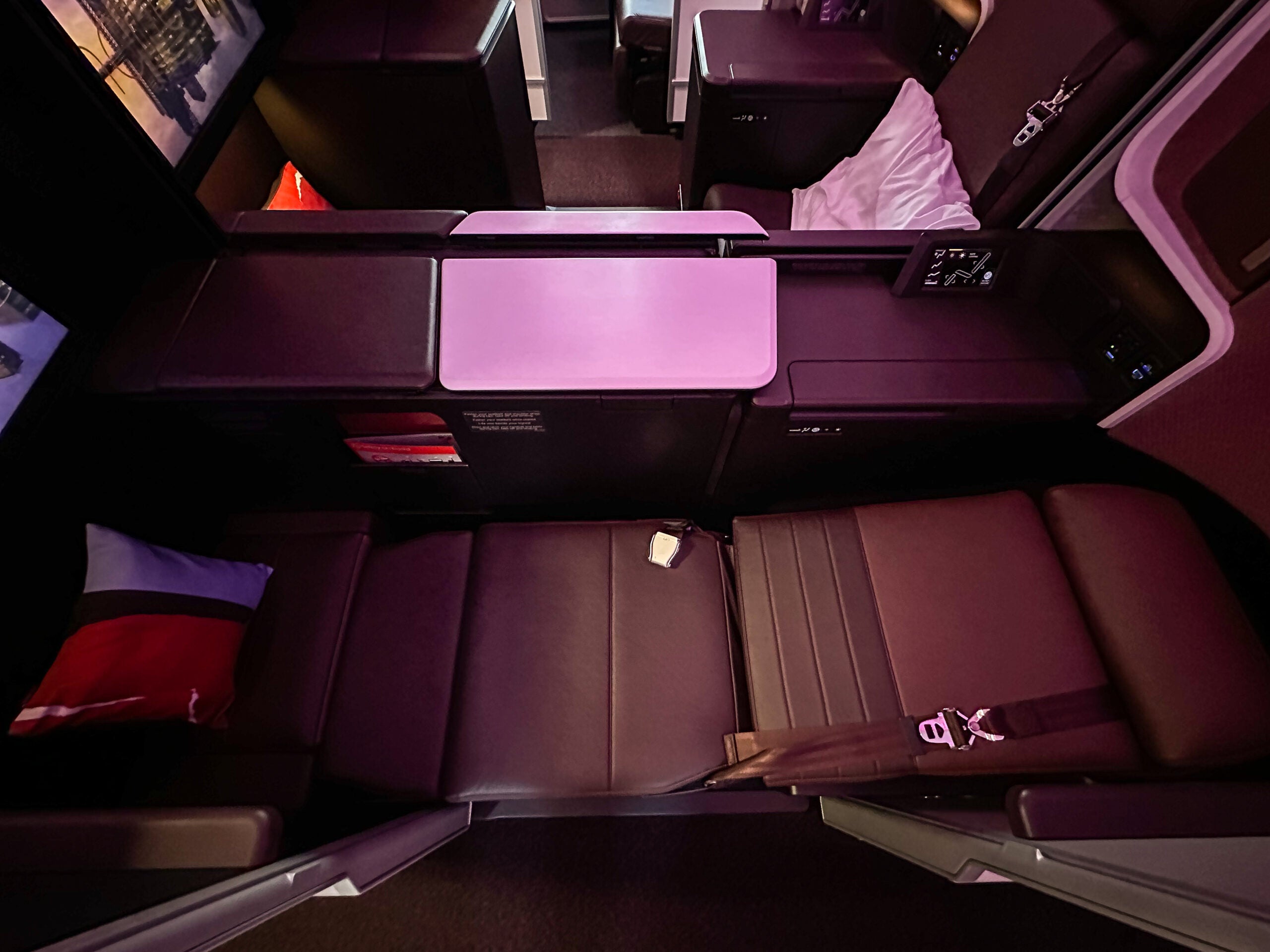 The inflight entertainment screens are also a considerable step up compared to other seats. With 27-inch screens and crystal-clear images, you'll enjoy your movies and TV above the clouds more than ever before.
The large tray tables are very sturdy and slide smoothly back and forth.
Along with the same storage area and mirror featured on the regular suites, there is also a deep storage box found within each of the Retreat Suites seats — handy for small bags or other personal items.
The Retreat Suite option is a great addition but I am skeptical about how good it will be in practice. Firstly, you will need to be lucky enough to find available seats and then pay extra to sit in them. Only other Upper-Class passengers are able to join you in your buddy seats. It also goes without saying that you'll also need to forgo a window seat.
That being said, if the stars align, it's a fun concept that's very representative of the Virgin brand and could be well worth the upgrade for a couple of hundred dollars or less.
Related: Virgin Atlantic reveals glorious new Upper Class 'Retreat Suites' for its Airbus A330neo fleet
Social spaces
You won't find a bar on board like on the 787. The A330-900neo, like its A350 cousin, instead features a newer iteration of the Virgin Loft.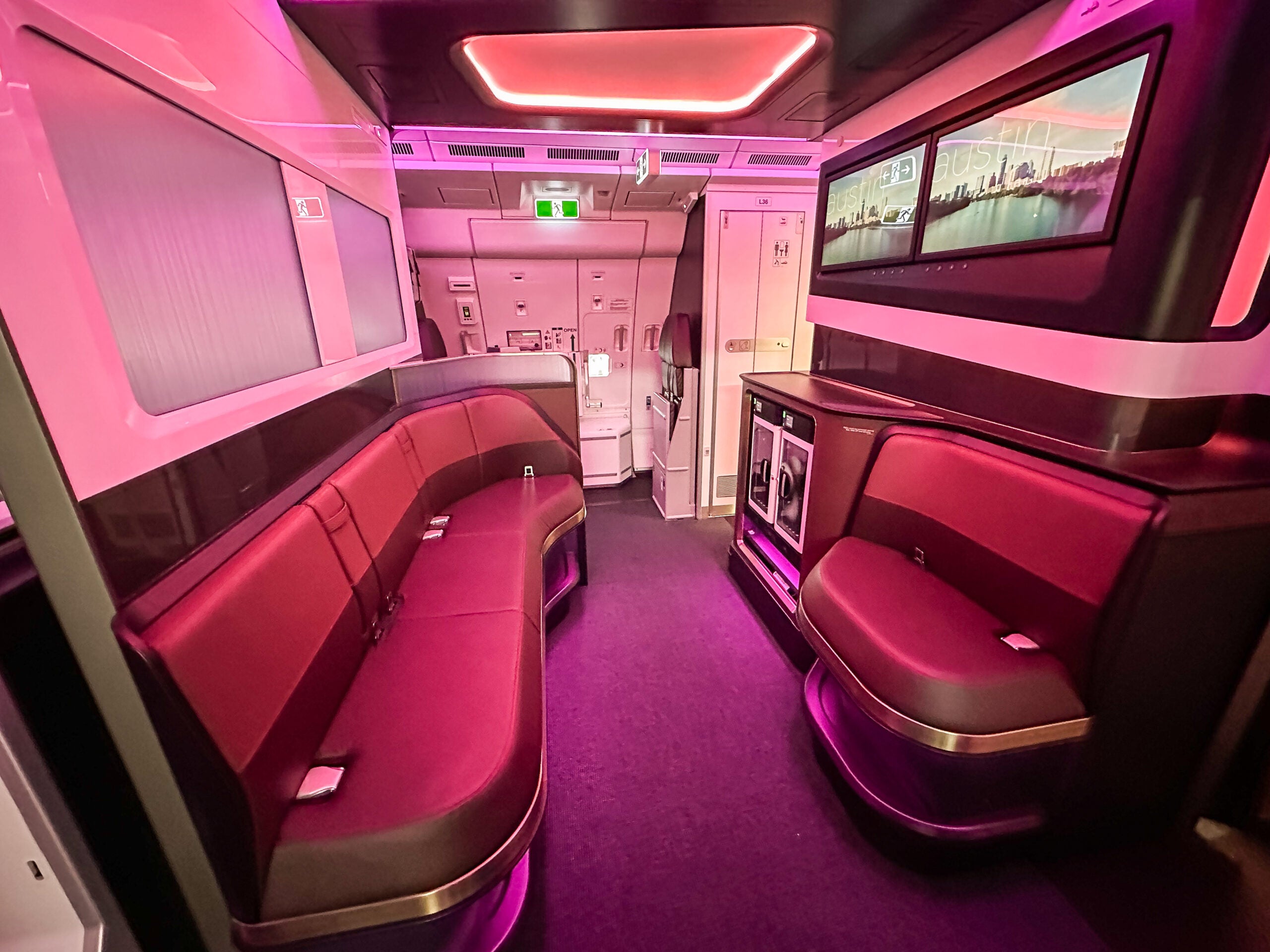 There is space for eight passengers to hang out, and the seats are a little higher; Virgin claims that bringing passengers closer to the eye height of crew and passengers in the vicinity improves interactions. I didn't mind the height, but my legs didn't quite touch the floor when sitting deep into the seats, which could be uncomfortable for some.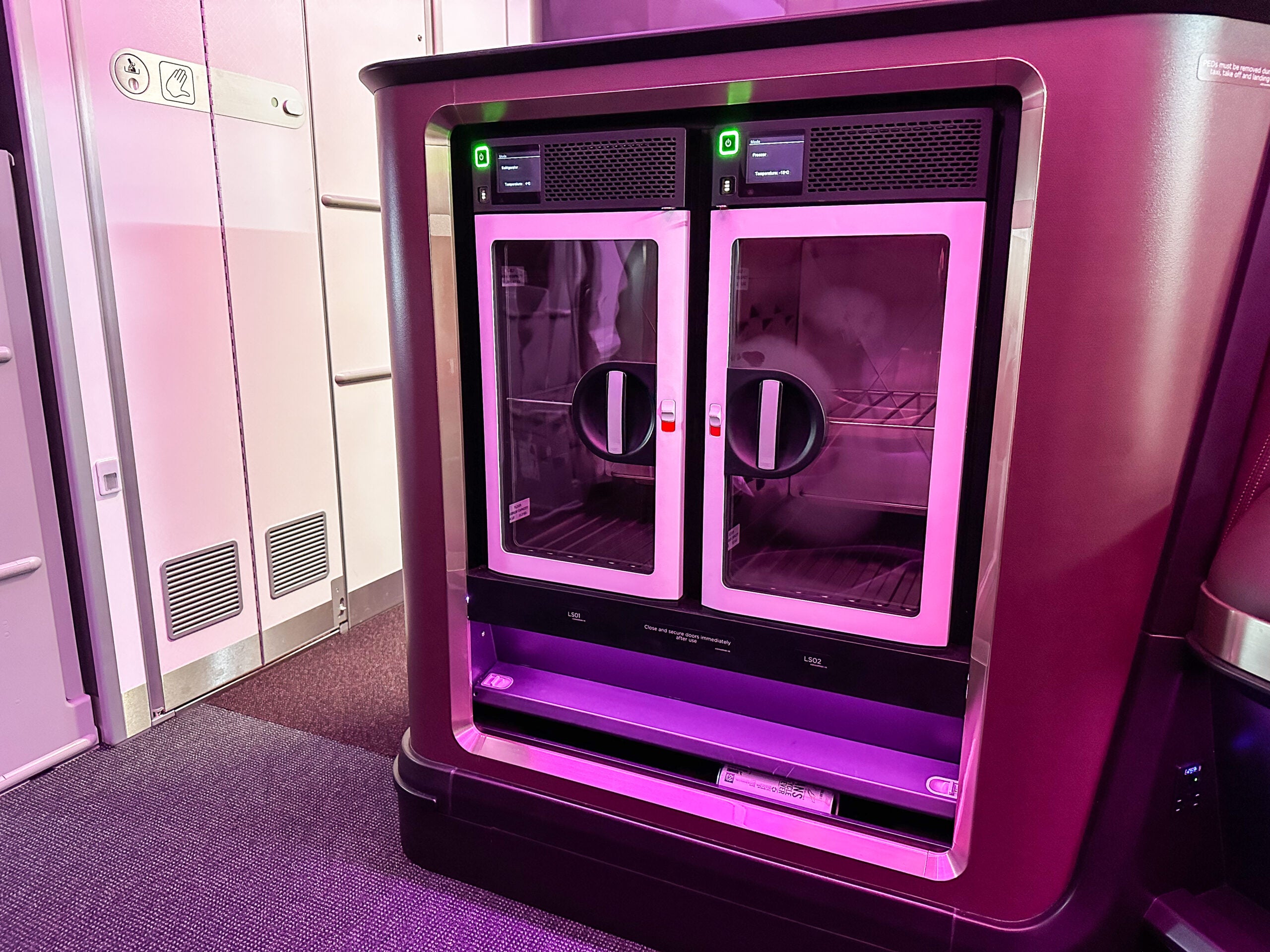 You can connect your personal headphones to the large entertainment screens via Bluetooth, and you can also find wireless charging ports there. The Loft space is completed by a self-service fridge which, on this flight, was stocked with a selection of ice creams and alcohol.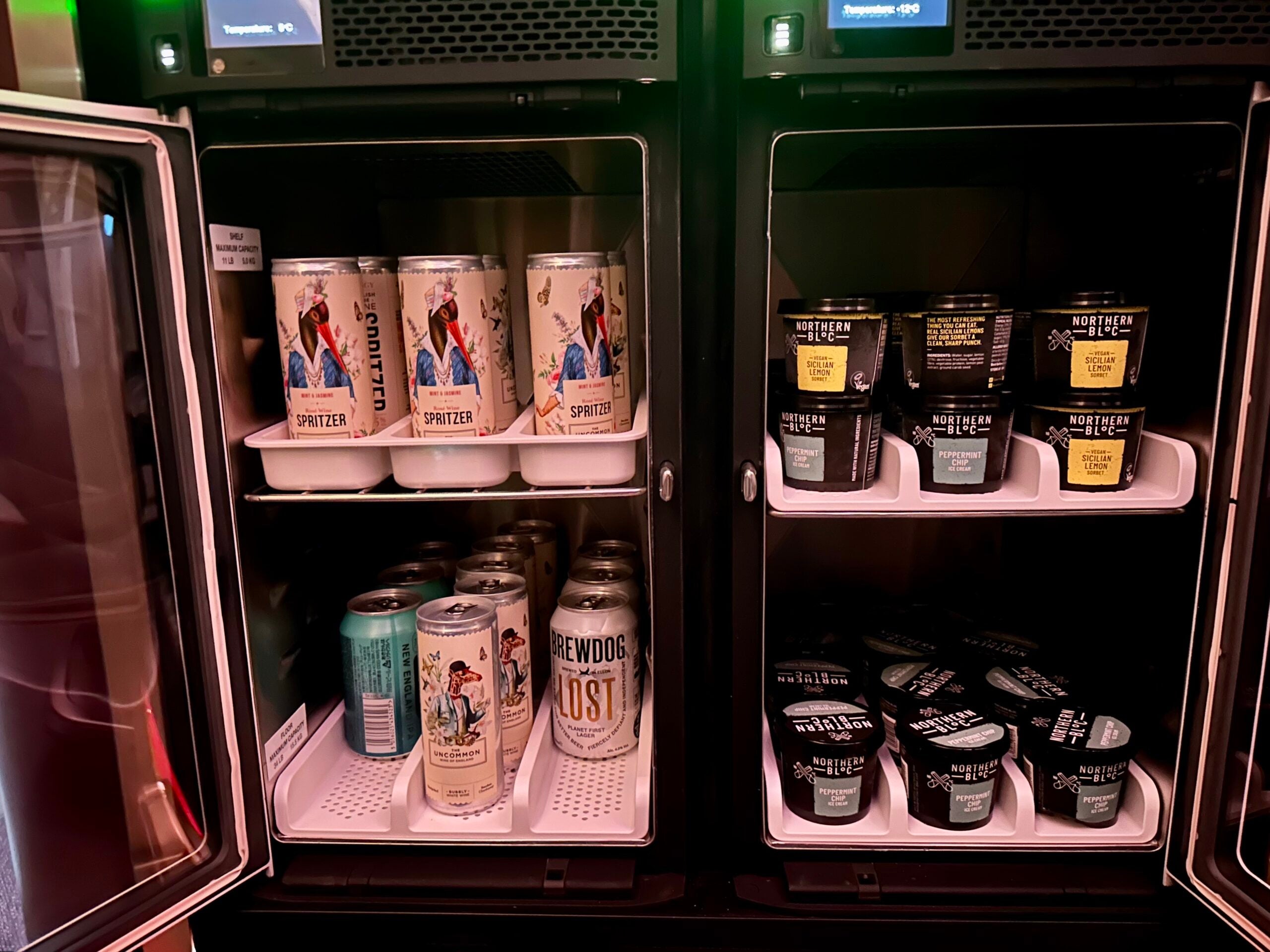 I spent a while enjoying this space during the flight. It was a great place to stretch (I might have tried a bit of yoga) and hang out with other passengers — many of whom were just as excited as me to be on this maiden flight and get a photo with the wonderful crew.
Related: The ultimate guide to flying Virgin Atlantic
Premium and economy
The Premium cabin holds 46 seats across 7 rows in a 2-3-2 layout. Premium seats have a 38-inch pitch and a 13.3-inch IFE screen. These seats also have a techy edge: You can place your phone on the lightning bolt for wireless charging.
Back in economy, there are 156 Economy Classic seats with a 31-inch pitch and 28 Economy Delight seats boasting extra legroom with 34-inch pitch. These seats are in a 2-4-2 configuration (aside from the final few rows where it switches to 2-3-2 as the fuselage narrows).
The 13.3-inch IFE screens also appear in economy and are Virgin's biggest-ever screens in its basic cabin.
Bottom line
The A330-900neo is a huge step up across the board, from the sustainability gains in efficiency to the upgraded comfort in all three cabins to the show-stopping Retreat Suites. I loved my time on board, and I felt like Virgin had solved many of the gripes about its older seats.
It was also wonderful to soak up the atmosphere of a new launch with so many other AvGeeks and bloggers flying at the same time, sharing a passion for aviation and wanting to be part of Virgin Atlantic history. After a tough couple of pandemic years, this was a real "we're back" moment for the airline.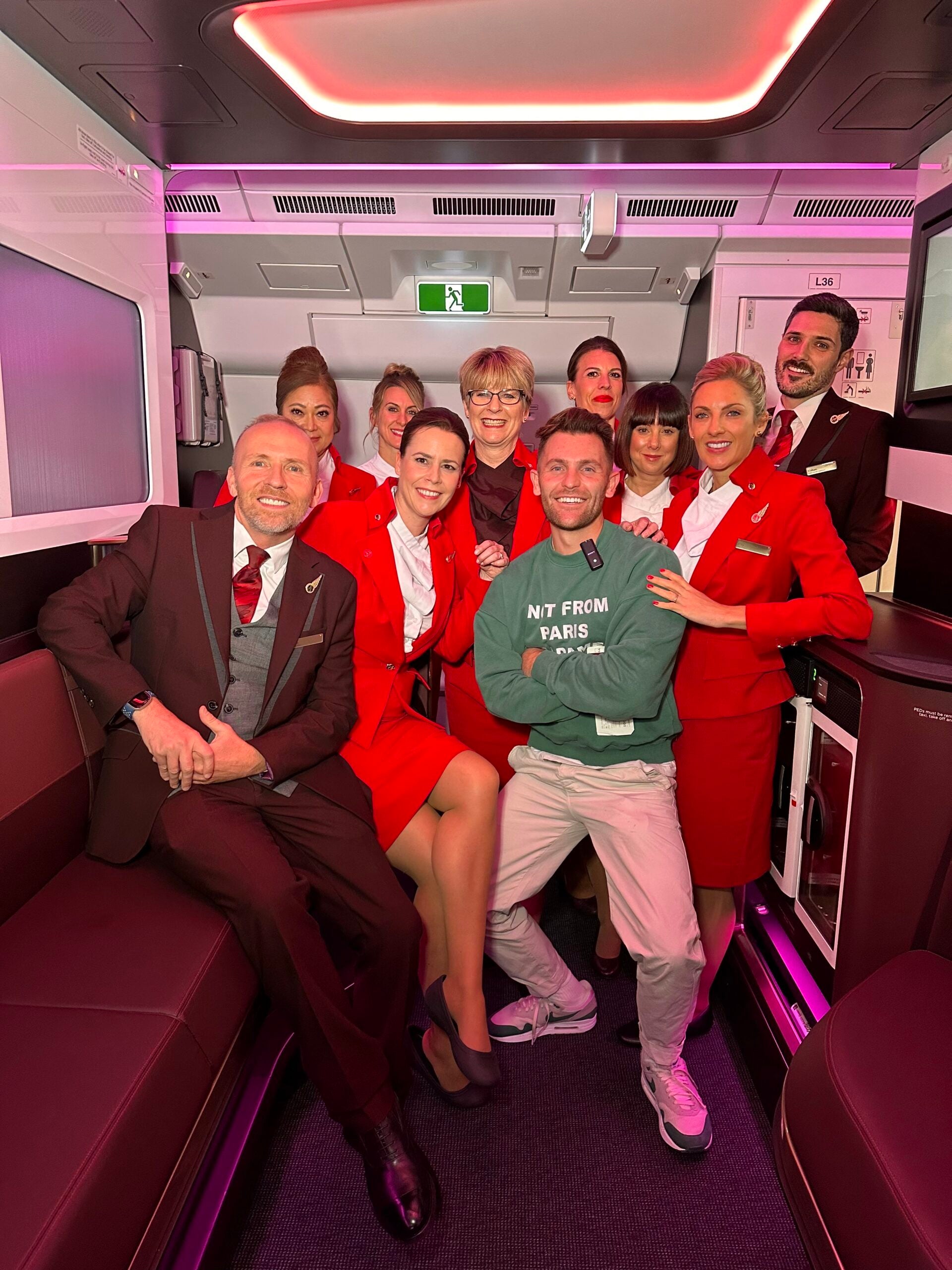 Virgin will fly the A330-900neo to cities such as Miami, New York, Tampa and Atlanta in the coming months. Flying Club guarantees at least two Upper Class award seats available per flight, so you have a great chance of flying this stunning new product at a great rate. This is particularly true if you're able to take advantage of Virgin Atlantic's latest redemption deal — there is currently a 50% discount for all award seats to and from the U.S. and the Caribbean until March 28, 2023. If you get the opportunity to fly the A330-900neo, I recommend you jump at the chance.