Royal Caribbean has done it again. The cruise line has announced it's building the largest cruise ship ever — even bigger than its recently unveiled Wonder of the Seas, the current record-holder for world's largest cruise ship. The new Icon of the Seas will carry 7,600 passengers at maximum occupancy (or nearly 10,000 people when you account for the crew) when it first sets sail with guests Jan. 28, 2024.
When completed, the ship will be 20 decks high and 1,198 feet long and measure 250,800 gross tons. To compare, Wonder of the Seas is 1,188 feet long and measures 235,600 tons. It carries 7,084 passengers at maximum occupancy (all berths filled).
However, Icon of the Seas will only have 2,805 cabins compared to Wonder's 2,867 — despite carrying more people when all berths are filled. That's because Royal Caribbean is targeting this ship to families and planning for the ship to sail with more cabins carrying more than two passengers.
For more cruise news, reviews and tips, sign up for TPG's cruise newsletter.
Like Wonder, Icon of the Seas will have eight neighborhoods (areas of the ship themed around a type of activity). Five are new to Icon, and three are returning from previous Oasis-class ships (such as the Suite Neighborhood, Royal Promenade and Central Park). As befitting the world's new largest cruise ship, Icon of the Seas will have plenty of mind-blowing and biggest-ever attractions, including: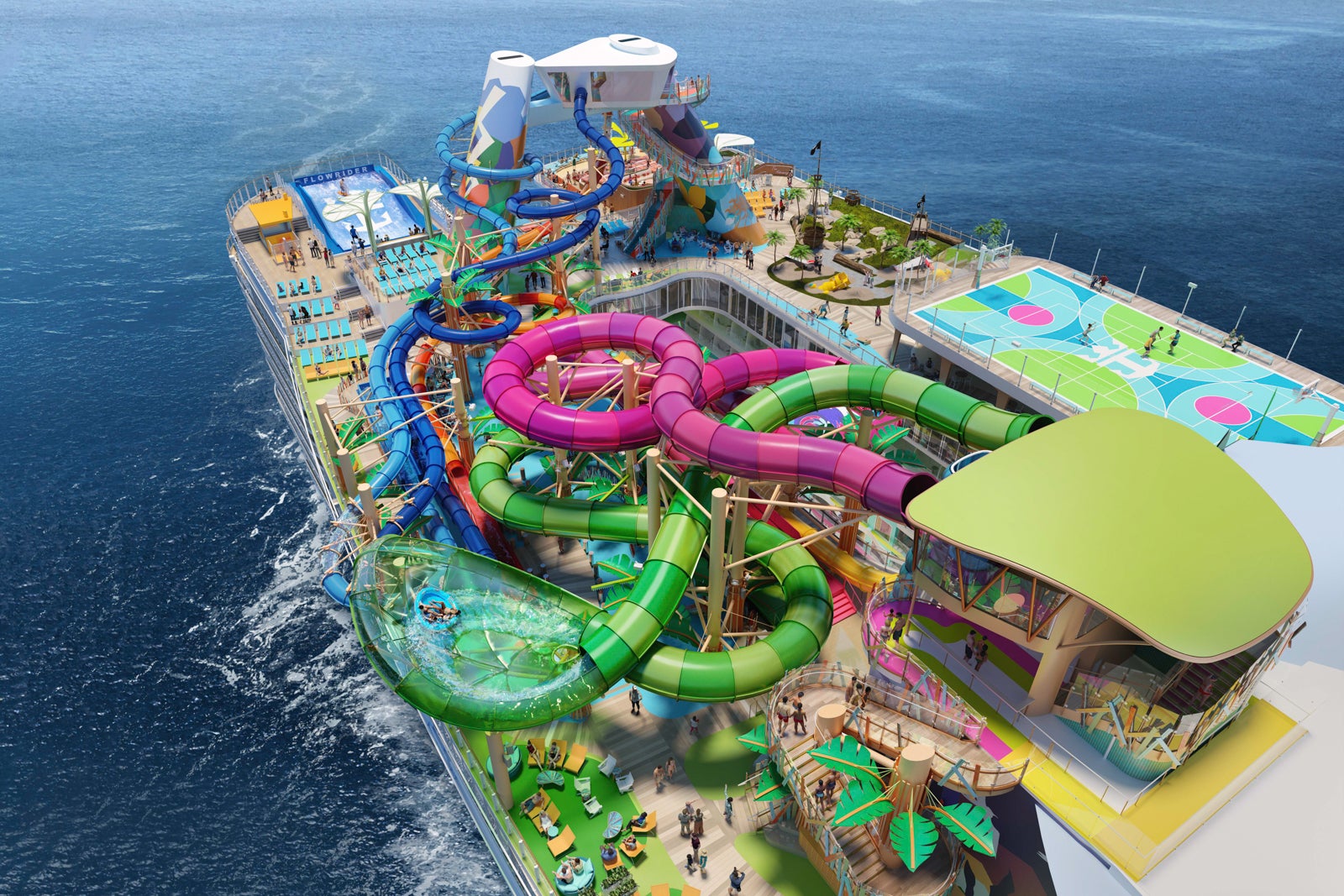 Category 6, the largest water park at sea: Located in the new Thrill Island top-deck neighborhood, this active area features a whopping six water slides, including an open free-fall slide, the tallest drop slide at sea, family raft slides that accommodate four riders at once and two mat-racing slides. This area of the ship also includes a ropes course-style attraction around a giant version of the ship's crown-and-anchor logo.
Related: The 6 best cruise ship waterslides and watery fun zones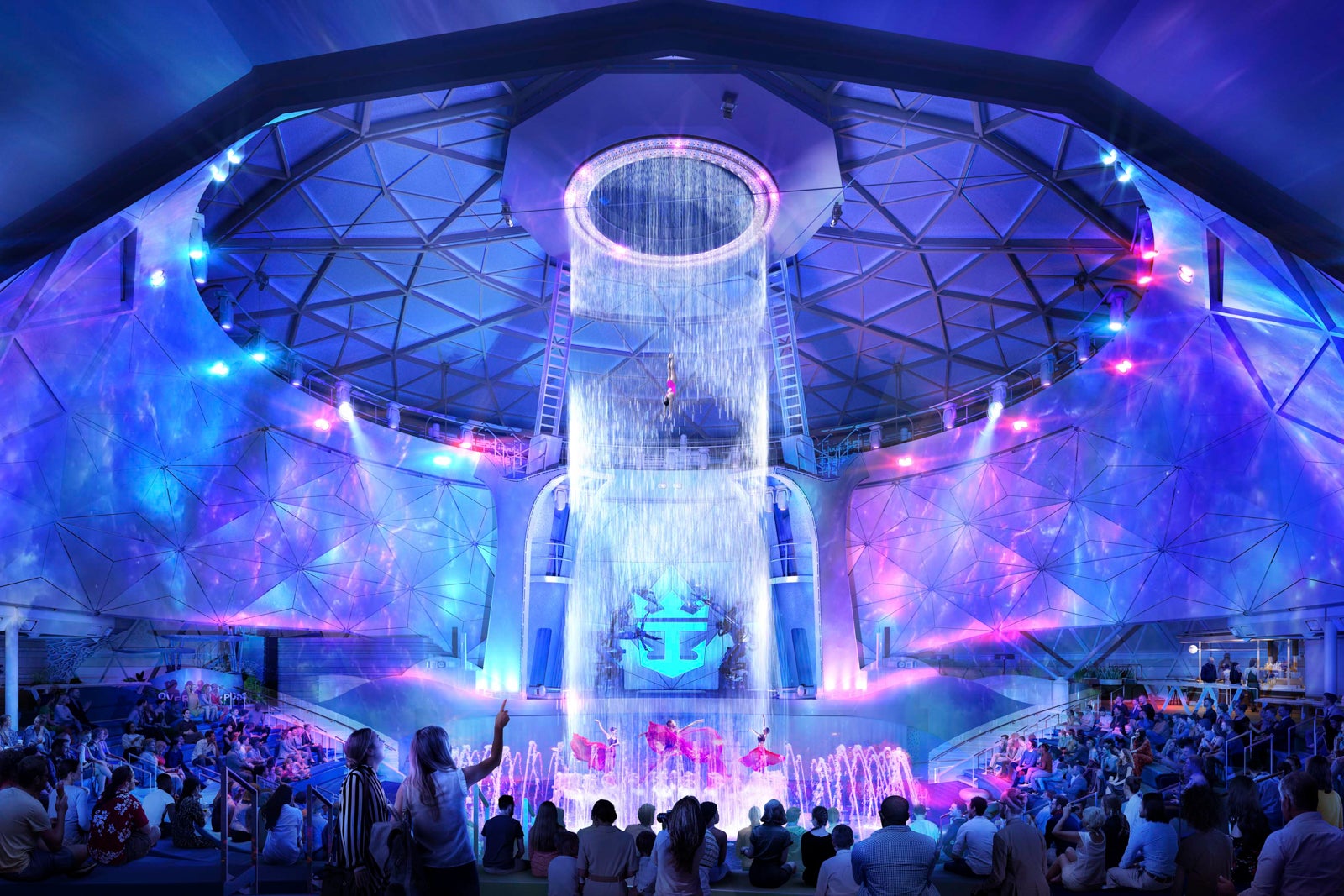 AquaDome, an indoor AquaTheater: Royal Caribbean has taken the back-of-the-ship AquaTheater found on its Oasis-class ships (home to acrobatic and diving shows) and brought it forward, up to the top of the ship and indoors into a multipurpose space with huge floor-to-ceiling windows, offering 220-degree views. Also in this space will be restaurants and bars. Royal Caribbean fans might notice some similarities with the Two70 entertainment space from the line's Quantum-class ships.
Three-story Ultimate Family Townhouse: The evolution of Royal Caribbean's enormous two-deck-high Ultimate Family Suite found on Oasis-class ships will be Icon's three-story Ultimate Family Townhouse. The giant suite will not only feature adult and kid bedrooms, family-focused living areas and loads of sea views, but it will also have a fenced-in outdoor backyard play area with direct access to Surfside, the new neighborhood dedicated to young families.
Surfside will feature splash areas for babies and kids, as well as relaxing pools and lounge spaces for parents, family-friendly eateries and shops, a new pool-themed version of Royal Caribbean's carousel and a bar with "mommy and me" matching mocktails for kids and cocktails for grownups. Additional new family cabins and suites will surround the Surfside neighborhood and the area will have easy access to the Adventure Ocean kids club and other ship areas popular with families. (It will also have an entrance slide.)
Related: Royal Caribbean's new cruise ship aims to be the ideal vacation for young families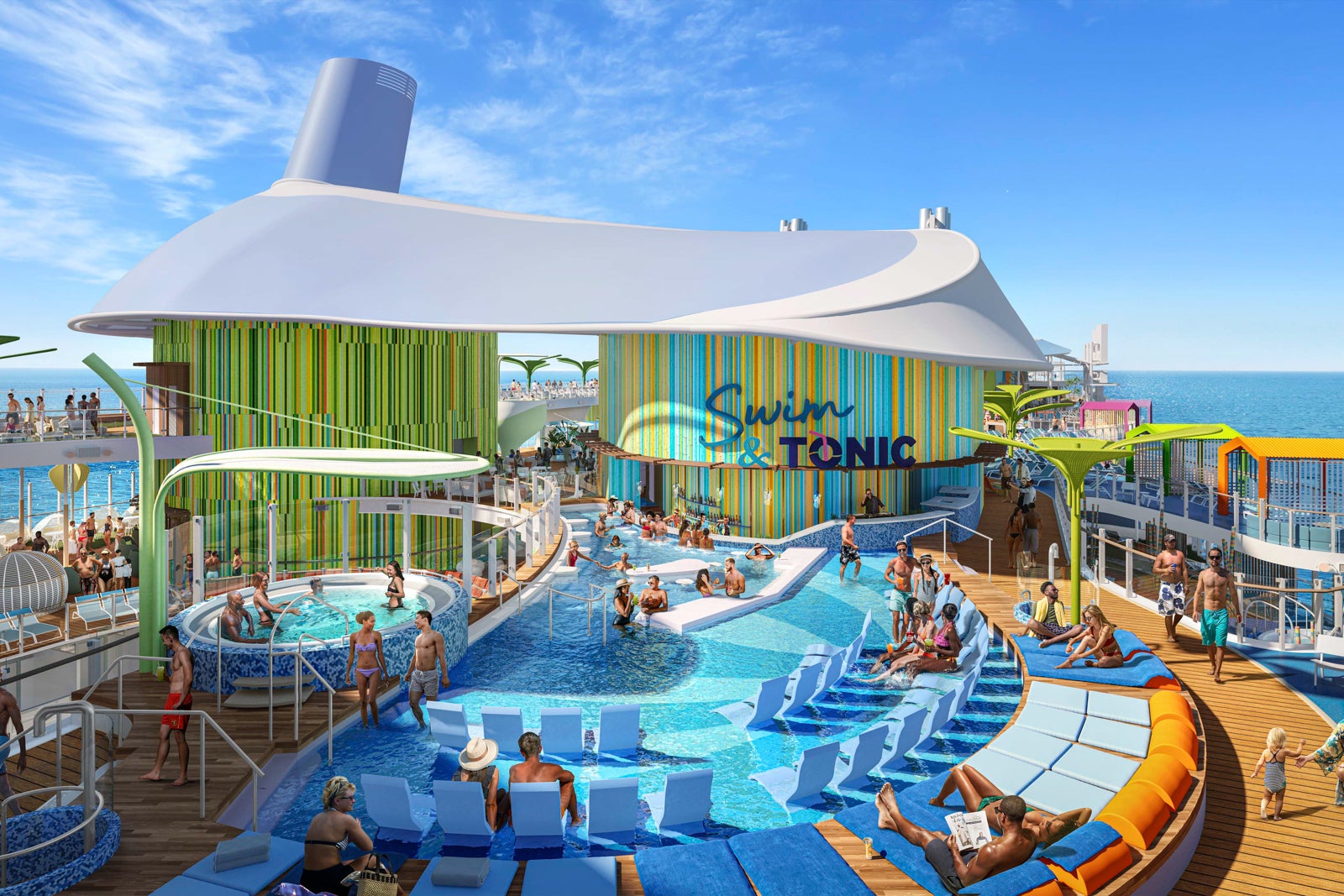 First suspended infinity pool and swim-up bar at sea: Above Surfside is an infinity pool, suspended over the back of the ship. It's surrounded by the Hideaway, a beach club-inspired neighborhood full of terraced sun decks and convenient bars.
Four of the ship's seven pools will be found in the three-deck Chill Island pool area, with plenty of ocean views from the watery play spaces. Among the pools is Royal Caribbean's first swim-up bar; another is what Royal is claiming to be the largest pool at sea. There will also be an adults-only pool area and another infinity-edge pool. Cabanas to rent will be available in this neighborhood.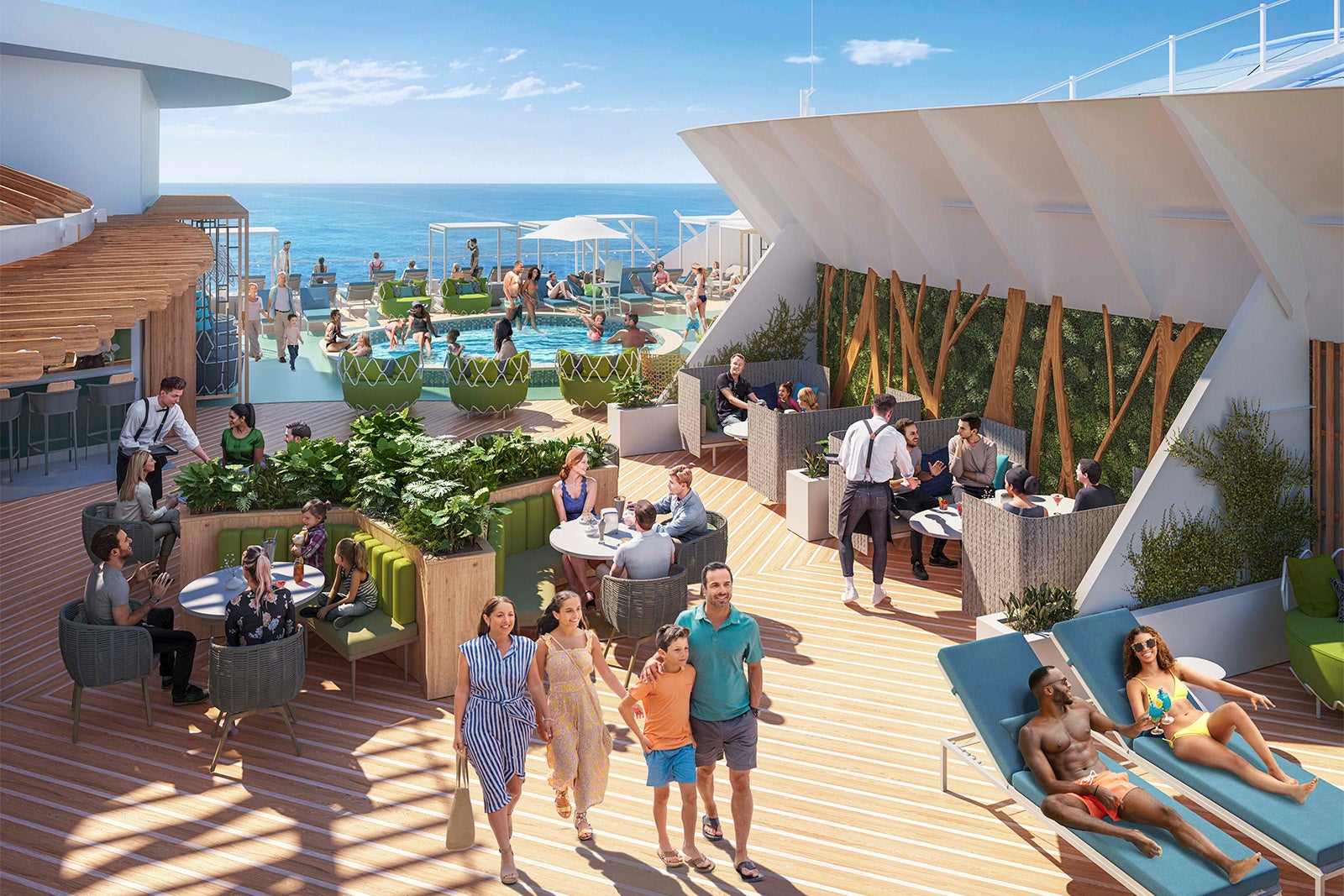 True ship-within-a-ship enclave with largest-ever Suite Neighborhood: On Wonder of the Seas, Royal Caribbean came the closest to creating an exclusive, self-contained suite enclave, akin to Norwegian Cruise Line's The Haven or MSC Cruises' Yacht Club. That concept comes into its own on Icon of the Seas with the line's largest-ever Suite Neighborhood that's three decks high and features a two-story Coastal Kitchen restaurant (exclusive to suite guests and Royal Caribbean's most loyal guests) and The Grove, a new multilevel sun deck with a pool, hot tub and Mediterranean restaurant.
Related: Genies, freebies and VIP status: The perks of Royal Caribbean's Royal Suite class explained
First LNG-powered ship for Royal Caribbean: Icon of the Seas will be the fleet's most sustainable ship. It's the first Royal Caribbean ship to be powered by liquefied natural gas and equipped with fuel cell technology. It's also able to hook up to shoreside power when available in port, has a state-of-the-art waste management system and can convert engine heat to power.
Fan favorites returning to Icon of the Seas include the shopping/dining/drinking complex of the Royal Promenade; the greenery- and restaurant-filled Central Park; miniature golf, an ice skating rink, rock climbing and the FlowRider surf simulator; and popular restaurants, such as Giovanni's Italian Kitchen & Wine Bar (now on the Royal Promenade) and Izumi for Asian cuisine (now in Central Park with an expanded hibachi space).
Icon of the Seas will have 28 cabin and suite types to suit every type of traveler, including the aforementioned family cabins, inside cabins with extra-large walk-in closets and panoramic ocean-view rooms in the AquaDome.
The ship will sail weeklong Eastern and Western Caribbean itineraries, and each will visit Royal Caribbean's private island, Perfect Day at CocoCay, with its multiple beaches and Thrill Waterpark, home to 13 waterslides. Bookings open Monday for Royal Caribbean's past guests and Tuesday to the public.
Icon of the Seas is just the first of three sister ships Royal Caribbean has on order for delivery by 2026 that will represent an all-new class of vessels at the line — to be called the Icon class. The line also has one more Oasis-class ship on order for delivery in 2024.
Planning a cruise? Start with these stories: