Located on the southern tip of Mexico's Baja peninsula, Los Cabos is the perfect spot to spend a fun few days in the sun surrounded by beautiful rock formations, rugged deserts, stunning ocean views and — during part of the year — humpback whales.
While Cabo is filled with luxury hotels like the Waldorf Astoria Los Cabos Pedregal and a very chic Nobu resort, one of the easiest ways to experience the area is actually at one of the best all-inclusive resorts in Los Cabos.
When it comes to Los Cabos all-inclusives, the property options are not one-size-fits-all. In fact, there are all-inclusive resorts in Los Cabos that are perfect for families and some that are geared toward adults. Not to mention, when it comes to price, you'll find a full spectrum of properties to choose from.
Here, we cover everything you need to know about booking an all-inclusive in Los Cabos, deciding the best time to visit and understanding the difference between Los Cabos, Cancun and other major destinations for this type of resort experience. If you need help figuring out how to get there, we even have a handy guide for getting to Los Cabos on points and miles.
What is the best month to go to Los Cabos?
Finding the right time to visit Los Cabos — which is a quick flight away from major airports in California, Arizona and Texas — can be tricky. Some of the best weather can be found in the cooler months when the desert heat isn't quite so intense, but December through March is also Los Cabos' peak season.
For a good mix of weather and elbow room, consider visiting from May to June. You can also find some good rates during these months as the winter crowds have receded.
Should you wish to visit Los Cabos in summer, know that you can still have a great time, though the heat can be extreme, especially in July and August.
Cancun vs. Cabo
If you're trying to decide whether to spend your vacation near the jungles of Cancun or the rocky vistas of Los Cabos, there are a few things to consider when understanding the difference between these two beautiful destinations.
The most important difference is that in Los Cabos, the majority of beaches are not safe for swimming due to undertows, rip currents and rough surf, so if you're hoping to splash around in the ocean, you might want to stick to Cancun. There are a handful of safer beaches in the area, but they're few and far between. That doesn't mean you can't still enjoy some stunning resort pools in Los Cabos, but at most resorts, that's the only water you'll find yourself in.
Related: The best all-inclusive resorts in Mexico
Another major difference is in the types of activities you might enjoy away from the resort. In Cabo San Lucas, travelers can head out on a boat to see the stunning El Arco rock formation at the tip of the Baja peninsula, go whale watching (from December through April), enjoy taking an all-terrain vehicle out in the desert or go deep-sea fishing for marlin.
In Cancun, travelers can (and should) take full advantage of the lush tropical forests in the area, visit ancient Mayan ruins like Yamil Lu'um or El Rey, go scuba diving or enjoy some of the water sports on the ocean that aren't typically available in Los Cabos.
Lastly, while both areas offer something for every type of traveler, Cabo is well known for its myriad luxury resorts while Cancun has many more resorts spanning the cost spectrum.
[circuit type=roundup circuit_id="8961″]
Found in San Jose del Cabo, just about 25 miles away from Los Cabos International Airport (SJD), Hyatt Ziva Los Cabos is a family-friendly, all-inclusive resort that can be booked with World of Hyatt points.
Offering something for everyone, guests can spend days whiling away in the sun by an infinity pool with a swim-up bar, in the larger family-oriented pool or even in the adults-only pool tucked away from the center of the property. Other resort activities include hitting up the spa for a treatment, joining in on a fitness class or dropping the little ones off at the KidZ Club for a day of fun and educational activities.
Dining at this all-inclusive includes many mouthwatering options. You can dine at a beachfront restaurant with exceptional ceviche, visit a Japanese restaurant with tatami-style seating and sit for a more formal dinner at a Latin steakhouse, among other options. There are also a fun sports bar and a piano bar with music in the evenings.
Rooms come in all shapes and sizes, from standard rooms with space to spread out to swim-up suites with a pool right outside the door to club-level rooms with access to a lounge offering snacks and premium drinks.
Rates at Hyatt Ziva Los Cabos start at $380 or 25,000 World of Hyatt points per night, based on double occupancy.
Related: What it's like staying at Hyatt Ziva Los Cabos, an All-Inclusive Resort
[circuit type=roundup circuit_id="8832″]
Grand Velas Los Cabos is an architecturally stunning property with one of the best food and beverage programs in the country. Perfect for couples, groups and families with kids of all ages, it's a good home base for a memorable vacation.
At this all-suite resort, guests can expect a luxurious space to make a temporary home — and plenty of room to spread out as suites start at a whopping 1,100 square feet. Though you'll be happy with any room as they all offer some sort of outdoor space, it's worth splurging for a Grand Class Suite, which has a private plunge pool.
Food is serious business at Grand Velas, so make a reservation at Cocina de Autor for an over-the-top multicourse tasting menu that is shockingly covered by the all-inclusive pricing. Other highlights include an incredible buffet where you can have meat or seafood grilled to perfection; flaming coffee and smoke-infused cocktails at the steakhouse, Velas 10; and French- and Italian-inspired restaurants in very chic settings.
Activities range from swimming at one of the three pools that overlook the ocean (the closest to the water is an adults-only infinity pool) to taking a mixology or cooking class to joining a pop-up event like painting hats. Kids and teens can have time for themselves to make new friends at dedicated clubs while parents hit the SE Spa for a blue agave-infused treatment and to experience the hotel's signature Water Journey, a multisensory experience that includes an ice room and a sauna, before a treatment.
Rates at Grand Velas Los Cabos start at $1,295 per night, based on double occupancy.
Related: You've never had an all-inclusive experience like Grand Velas Los Cabos
[circuit type=roundup circuit_id="8805″]
While most all-inclusive resorts are large and spread out, Breathless Cabo San Lucas Resort & Spa is an adults-only resort in a large building towering over the marina by the area's famous arches. Although many all-inclusive resorts offer an atmosphere that's all about relaxing, this property is equally dedicated to maximizing fun with DJs and pool parties.
Rooms at the resort are chic and modern, and all include some sort of outdoor space, with a few even offering private hot tubs. Floor-to-ceiling windows let in plenty of light, and nightly turndown service helps transition the room for bedtime — that is, if you ever make it to bed. Don't forget about Xhale Club-level rooms for perks like lounge access and access to an exclusive restaurant.
For fun, guests can head to the pool for an upbeat DJ set or to a themed party, held nightly, that might include body paint or live music and dancing. Once it's time to turn down the volume, head to the spa for a detoxing treatment. Better yet, this resort is near one of the few swimmable beaches in the region, so you can even take advantage of water sports that other resorts don't offer.
Dining options at this chic property include a casual beachside restaurant, a tapas joint, a Mediterranean establishment and an upscale seafood restaurant. There are several bars, too, such as Foam, the aptly named pool bar, and a lobby bar.
Rates at Breathless Cabo San Lucas Resort & Spa start at $260 per person, per night or 25,000 World of Hyatt points per night, based on double occupancy.
Related: 7 things to know before booking a stay at Breathless Cabo San Lucas Resort & Spa
[circuit type=roundup circuit_id="8897″]
Another property in the adults-only category, Marquis Los Cabos is an upscale and intimate Leading Hotels of the World resort that is perfect for adults looking for a solid place to relax near the Sea of Cortez.
Here, guests will find suites that start at 650 square feet and offer elegant touches of Mexican inspiration, such as leather headboards and hacienda-style bedframes, Nespresso coffee machines and L'Occitane bath products in marble-clad bathrooms. For more space and fun, book a casita with a private plunge pool.
Throughout the resort, there are plenty of activities to keep you entertained, including mixology and cooking classes, nonmotorized water sports, archery, volleyball and the option to book paid excursions like whale watching or deep-sea fishing. Of course, no vacation is complete with a trip to the spa.
Bars and restaurants are overseen by chef Claudio Hotter, with options ranging from Japanese to Mexican, plus a signature seafood restaurant that comes with an additional price tag.
Rates at Marquis Los Cabos start at $1,100 per night, based on double occupancy.
[circuit type=roundup circuit_id="20420170481″]
A family-friendly resort with an emphasis on golf, the Los Cabos outpost of Dreams truly is a place where everyone is welcome.
Home to more than 260 accommodations ranging from 650-square-foot rooms with king or double beds to family suites that are over 1,000 square feet, guests can expect light and airy interiors with subtle touches of color and private balconies or terraces for fresh air. Club-level rooms include access to a club lounge and a pillow menu for the perfect night's sleep.
Dining options are composed of stand-alone French, Mediterranean and seafood restaurants, an international buffet, a beachside snack bar and an upscale steakhouse. Bar offerings include a pool bar, a swim-up bar, a lobby bar and a music-themed lounge.
For fun, golfers can enjoy eight nearby golf courses (with special discounted rates for guests at three of them), join a game of beach volleyball, take in the resort's live entertainment, head to the spa for a treatment or visit the concierge to plan a paid excursion off the property, like whale watching in winter.
Should you have little ones in tow, be sure to take advantage of the dedicated club available for children under 12. The resort is also dog-friendly, so if you bring a furry friend, expect extras like loaner food and water bowls, a doggy bed and toys.
Rates at Dreams Los Cabos Suites Golf Resort & Spa start at $200 per person, per night or 21,000 World of Hyatt points per night, based on double occupancy.
Related: 21 best all-inclusive resorts for families
[circuit type=roundup circuit_id="20420170492″]
At Pardisus Los Cabos, a resort from Melia, the sandy beach fades into a stunning pool complex where skinny palm trees and white umbrellas covering lounge chairs set the scene for your next vacation. Starting in January 2024, the setting will be entirely adults only.
At the resort, accommodations range in size and design, from standard entry-level suites with modern decor to suites with swim-up pools and in-room bathtubs. Standard amenities include balconies or terraces, modern tech features like Chromecast and in-room minibars with local and organic treats. For an upgraded experience, book a club-level room, called The Reserve, to enjoy access to dedicated areas for club members, concierge services and more.
Guests at the resort will not get bored thanks to activities like art classes, sushi-making lessons with a chef, tequila and mezcal tastings, sound healing and yoga. At the YHI Spa, plan on getting a facial or pedicure before spending the rest of the day by the pool.
Food is front and center at the resort, and you'd be remiss to skip a meal at Sal Steak Cave, which is a cozy, cave-themed restaurant with an emphasis on cocktails. Other dining options include an international buffet, an Asian fusion experience and eateries that specialize in Mexican and Italian fare. Don't miss the limited-edition Italian menus curated by celebrity chef Antonia Lofaso.
As for drinks, you'll find plenty of watering holes on-site, including a swim-up pool bar and a beachside cocktail hut.
Rates at Paradisus Los Cabos start at $350 per night, based on double occupancy.
Related: 19 relaxing adults-only, all-inclusive resorts for a kid-free vacation
[circuit type=roundup circuit_id="20420170498″]
Set in a private gated community next to the totally chic Nobu Hotel Los Cabos, Hard Rock Los Cabos is an all-inclusive resort fit for a celebrity (or, at least, the celebrity-obsessed).
Rooms at this Mexican Hard Rock outpost are fresh and modern, with wood-slatted walls, furnished outdoor spaces, 300-thread-count Egyptian cotton sheets and hydro spa tubs on the balconies. Suites are also available, including ones with incredible views; book one in a one- or two-bedroom configuration for a swim-up pool.
Dining at this Hard Rock is more than just a burger near a statue of Arnold Schwarzenegger as "The Terminator." Instead, you'll find a brick oven pizzeria, a steakhouse, traditional Mexican favorites, an international buffet, a meat-focused Brazilian restaurant and Italian and Asian fare. There are also various venues for grabbing drinks, including four swim-up bars across the resort.
For fun, try your luck at a game of bowling, head to the Music Lab and pick up an instrument for a jam session, zip down a waterslide at one of the resort's five pools, arrange a tee time at a nearby golf course with the help of the concierge or join a fitness class. If you're in the mood to party, check out the Red Pool, which has a DJ booth in the middle.
Rates at Hard Rock Los Cabos start at $480 per night, based on double occupancy.
[circuit type=roundup circuit_id="20420170502″]
For many people, a vacation is all about two things: golf and the spa. So, if you're considering a trip to Baja, there's nowhere better to stay than the adults-only Pueblo Bonito Pacifica Golf & Spa Resort, self-coined as the most romantic all-inclusive resort in the world.
On the property, guests will find 201 cozy and comfortable guest rooms and suites that offer balconies or terraces, 24-hour room service and elegant decor with fun splashes of color. Suites all come with sweeping ocean views and butler service.
If you find yourself hungry during your stay, don't worry about having to travel too far for food, as there are eateries that range from an upscale steakhouse to a signature Mexican restaurant to a food hall-inspired international buffet. Bars are abundant, too, with options like pool and beachside venues and a cocktail bar with stunning views of Cabo's majestic cliffside terrain.
For activities, you can and absolutely should book a tee time at the Jack Nicklaus-designed Quivira Golf Club, reserved for hotel guests and development owners. Also save time for a cooking or mixology class, a dance lesson and a spa treatment, such as the Diamond Rose Body experience, which includes a massage and a diamond dust-infused facial.
Rates at Pueblo Bonito Pacifica Golf & Spa Resort start at $338 per night, based on double occupancy.
Related: The most romantic all-inclusive honeymoon resorts around the world
[circuit type=roundup circuit_id="9195″]
Set in the private community of Puerto Los Cabos, Secrets Puerto Los Cabos Golf & Spa Resort is a favorite among World of Hyatt enthusiasts. An adults-only resort, it's the perfect place for a couple or a couple of friends to spend a few days in Cabo.
Rooms here are designed in a rustic Mexican theme, with plenty of comforting brown and cream accents, hot tubs and furnished balconies or terraces. Swim-out rooms put a pool right at your doorstep, while club-level rooms offer perks like access to a lounge, upgraded minibars and upgraded bath products.
Guests at this Secrets location can dine around the world without leaving the property by stopping into the resort's numerous restaurants, including venues that showcase flavors from Mexico and France, plus a seafood-focused eatery and an international buffet. Drinks are shaken and stirred at a number of bars, including a chic birdcage-like lobby bar, a swim-up pool bar and a dance and sports bar.
For fun, hit up one of the resort's themed nights (like one dedicated to casino-style entertainment), join a wine or tequila tasting, go for a paid round of golf at the Puerto Los Cabos Golf Course or simply make your way to the spa for a relaxing treatment. Other activities include seasonal whale watching for an extra fee, archery and art walks in nearby San Jose del Cabo.
Rates at Secrets Puerto Los Cabos Golf & Spa Resort start at $214.50 per person, per night or 25,000 World of Hyatt points per night, based on double occupancy.
Related: The 16 best Hyatt all-inclusive resorts in the world
[circuit type=roundup circuit_id="20420170503″]
An intimate boutique resort with just 57 rooms and suites, this Zoëtry property was recently renovated to incorporate a Spanish colonial design for a traditional hacienda feeling that offers modern comforts.
Even though the room count is small, the rooms themselves are big on design and amenities. You'll find 65-inch TVs, Nespresso coffee machines, aromatherapy pillows, scented linens, bathtubs big enough for two and balconies or terraces. Plus, some suites come with private hot tubs or infinity pools.
Throughout the resort, guests will have their pick of four pools to unwind by, including an infinity pool and pools with swim-up bars. At Spa Serenity, hot stone massages are on offer, as are citrus scrubs and express facials for people who want to get in and get out quickly. A gym and tennis courts are available as well to help you maintain your fitness regimen while on vacation.
Activity options include Spanish lessons and cooking classes, both of which serve as a great way to spend quality time with your significant other. You can also partake in dance parties and painting classes.
As for food, start a lovely evening with cocktails at the moody Maguey Bar in the lobby, followed by a romantic Mexican meal at El Arroyo. Don't forget to also try the beachfront seafood restaurant for fresh fish served alongside phenomenal views.
Rates at Zoëtry Casa del Mar Los Cabos start around $211 per person, per night or 35,000 World of Hyatt points per night, based on double occupancy.
[circuit type=roundup circuit_id="20420170505″]
Picture yourself at a stunning resort, lounging in a chic white hammock on a balcony without a care in the world. Have that image in mind? Now get to booking a trip to Garza Blanca Resort & Spa Los Cabos to make it a reality.
At the resort, guests will find modern accommodations with ocean views from private balconies or terraces. Need more space to spread out? Consider booking a one- or two-bedroom suite or, if you have the whole crew in tow, a residence with up to four bedrooms. No matter what size space you end up reserving, expect a fully stocked wet bar, a 49-inch TV, an automated bidet toilet and a freestanding bathtub, among other amenities.
During your visit, you'll stay full thanks to hearty meals from the steakhouse, innovative Mexican fare, Japanese favorites, raw seafood and freshly baked pizza. When you want to wet your whistle and get your swim on, head to the rooftop pool and bar. Or, if you just want to swim, enjoy one of the seven other heated outdoor pools.
Families should be sure to take full advantage of the kids club and kid-friendly activities like bracelet making. Meanwhile, fitness buffs will appreciate the variety of activities and facilities for getting their heart rates up, such as water aerobics classes, a tennis court and a fully equipped gym with everything from ellipticals to a rowing machine and a kinesis machine. To soothe your aching muscles after a workout or chasing your kids around, make a reservation for a treatment at the on-site spa.
Rates at Garza Blanca Resort & Spa Los Cabos start at $373 per person, per night.
Best credit cards for booking hotels in Los Cabos
There are over a dozen excellent travel rewards credit cards out there for hotel stays. The right one(s) for you will depend on if you're loyal to a particular program or chain, whether you want premium perks, and if you value benefits like annual free nights, automatic elite status and lucrative earning rates.
Here are three great credit cards to use for booking stays across a variety of hotel chains and independent properties while still enjoying money-saving features and high-end benefits.
The Platinum Card® from American Express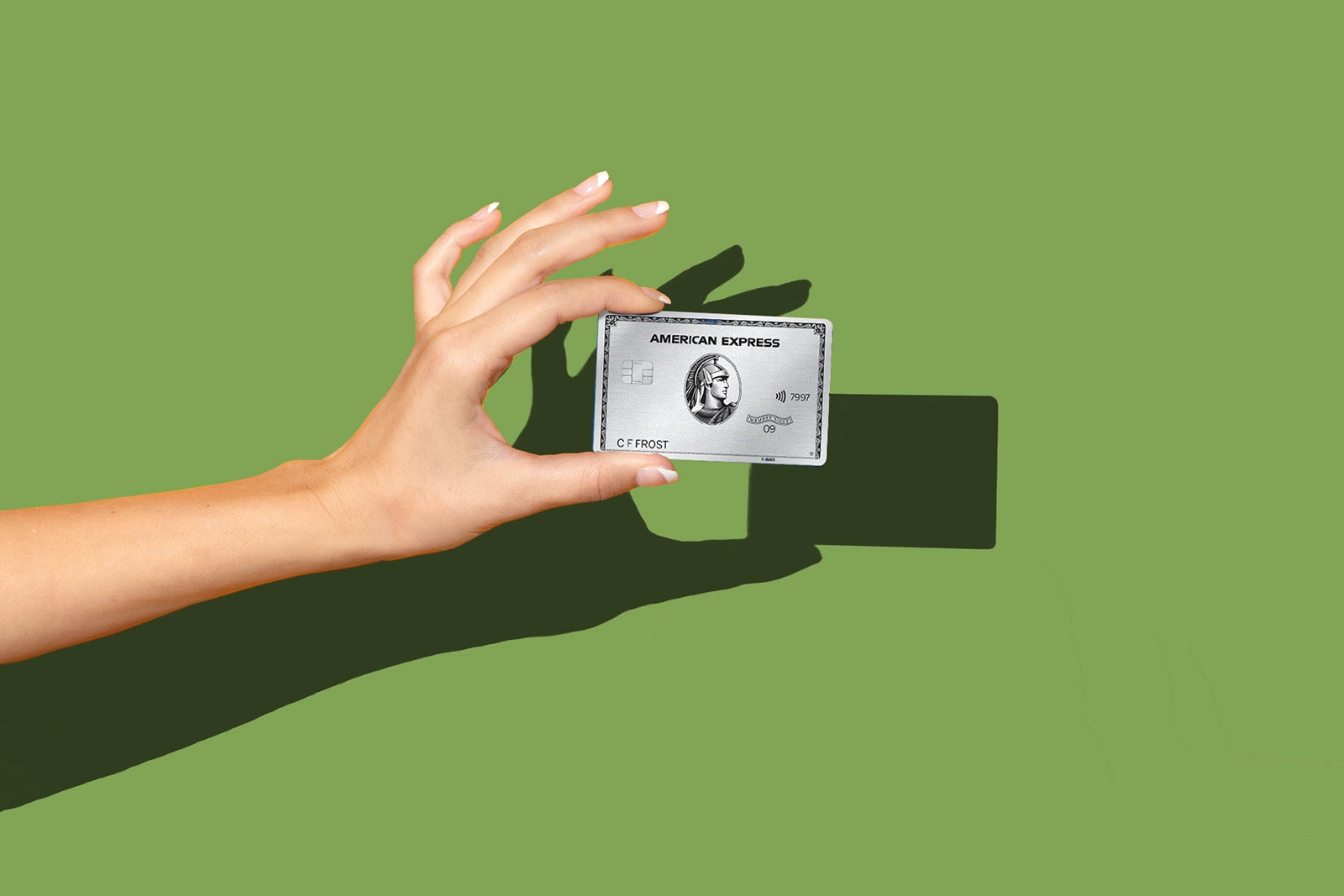 Earning rates: This card earns 5 points per dollar spent on airfare purchased directly with the airlines or through the Amex Travel portal (on up to $500,000 of airfare purchases per calendar year). Plus, you'll earn 5 points per dollar spent on prepaid hotels booked with Amex Travel. All other purchases earn 1 point per dollar. Remember, Amex points transfer to Hilton Honors at a 1:2 ratio, to Marriott Bonvoy at a 1:1 ratio and to Choice Privileges at a 1:1 ratio, and there are sometimes transfer bonuses.
Benefits: This card is absolutely packed with perks, but among the travel-related ones you'll want to maximize, including some hotel-specific benefits, are:
Up to a

$200 annual hotel credit

, in the form of a statement credit, on prepaid Amex Fine Hotels + Resorts or The Hotel Collection bookings with

Amex Travel

when you pay with your Amex Platinum (Hotel Collection stays require a two-night minimum)*

Access to

Amex Fine Hotels + Resorts

and

The Hotel Collection

Complimentary Gold status with

Hilton Honors

and

Marriott Bonvoy

*

Up to

$200 in statement credits

annually for incidental fees charged by one airline you select*

Up to

$200 annually in Uber Cash

, valid on Uber rides and Uber Eats orders in the U.S. (split into monthly $15 credits, plus a $20 bonus in December)*

Up to $189 in statement credits to cover your

Clear Plus annual membership

*

A

$100 statement credit

for Global Entry every four years or an up-to-$85 fee credit for TSA PreCheck every 4 1/2 years (depending on which application fee is charged to your card first)

Access to the

American Express Global Lounge Collection

, including

Centurion lounges

,

Priority Pass

lounges, Airspace lounges, Escape lounges, Plaza Premium lounges and

Delta Sky Clubs

(when traveling on same-day Delta flights, limited to six annual visits from Feb. 1, 2025)*
*Enrollment is required for select benefits.
Annual fee: $695 (see rates and fees)
Read our review of the Amex Platinum card.
Capital One Venture X Rewards Credit Card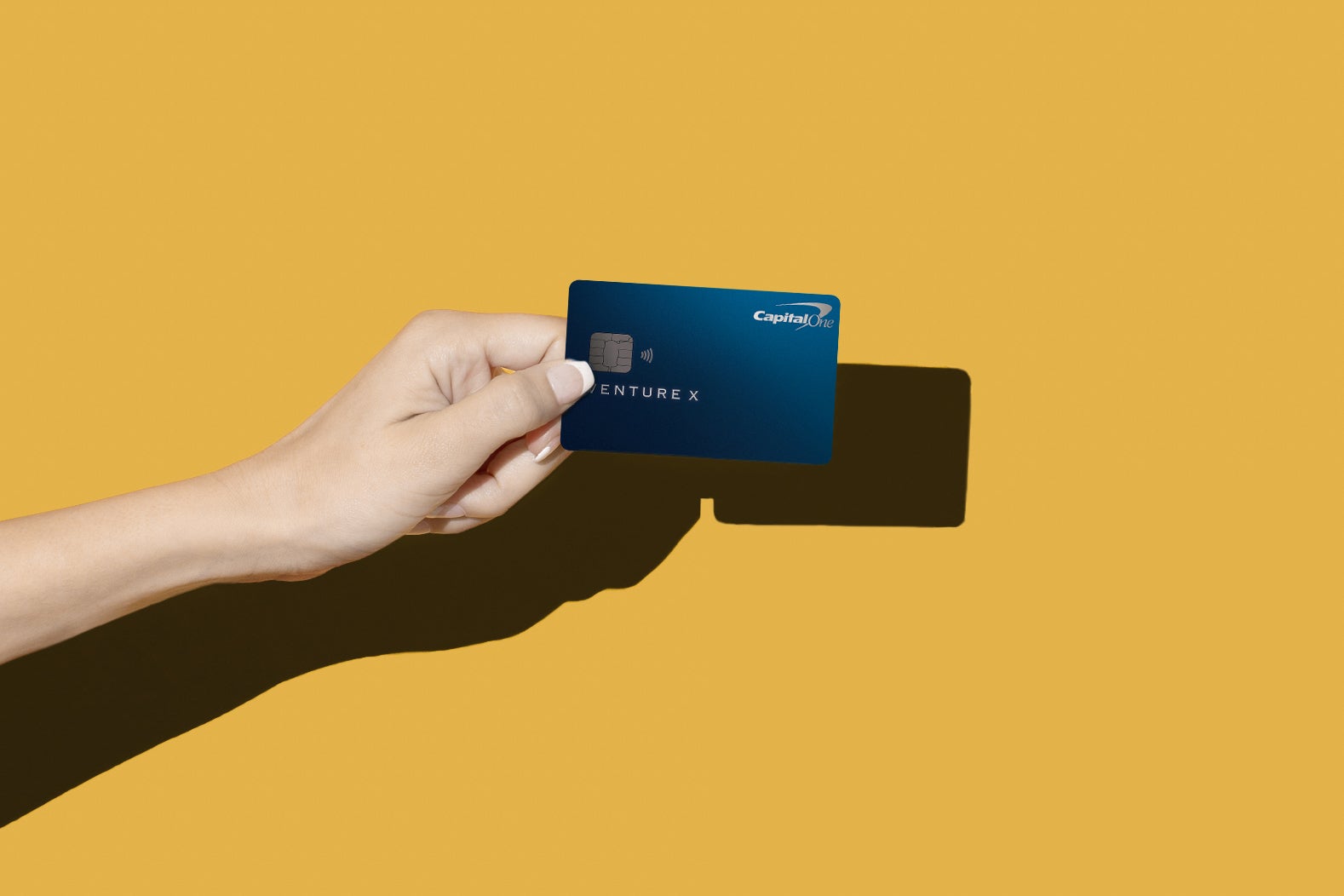 Earning rates: Earn an unlimited 10 miles per dollar spent on hotels and rental cars booked through Capital One Travel, 5 miles per dollar spent on flights booked through Capital One Travel and an unlimited 2 miles per dollar spent on all other purchases.
Benefits: Cardholders get $300 in credits annually for bookings made through Capital One Travel, plus 10,000 bonus miles every account anniversary, starting on your first anniversary (worth $100 toward travel). Through the Capital One Premier Collection, cardmembers can enjoy free breakfast, on-property credits and room upgrades (if available) on stays at participating properties booked through Capital One Travel. They also receive up to $100 in statement credits for either TSA PreCheck or Global Entry.
Annual fee: $395 (see rates and fees)
Read our review of the Capital One Venture X.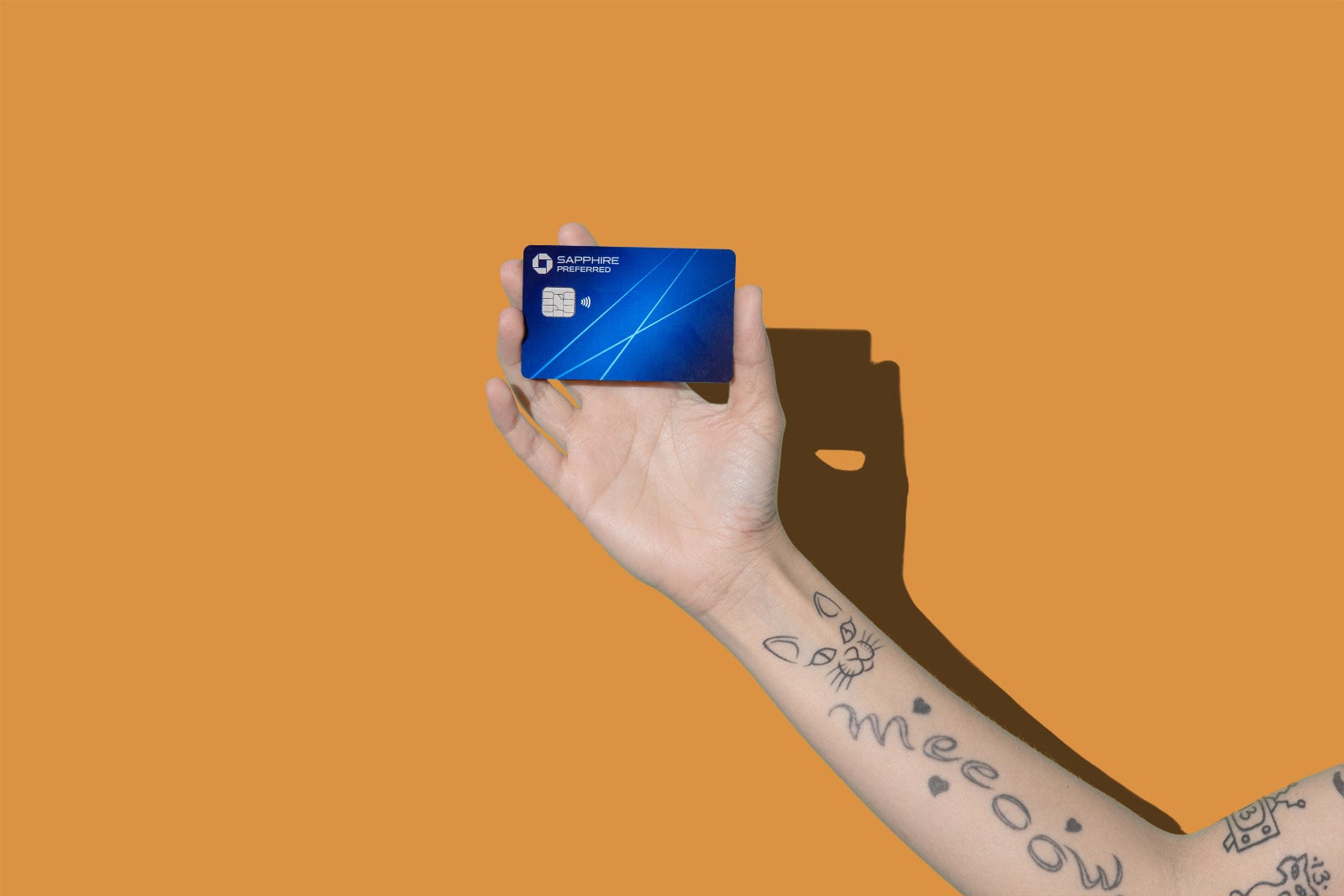 Earning rates: This card accrues 5 points per dollar spent on travel booked through the Chase travel portal, on Lyft purchases (through March 2025) and on Peloton equipment and accessory purchases of $150 or more (through March 2025, with a limit of 25,000 bonus points). It also racks up 3 points per dollar on dining, select streaming services and online grocery store purchases (excluding Target, Walmart and wholesale clubs); 2 points per dollar on all travel not booked through the Chase travel portal; and 1 point per dollar on everything else.
Benefits: Cardholders receive a $50 statement credit on hotel stays purchased through the Chase Ultimate Rewards travel portal upon opening the card and each following cardmember anniversary. They also receive a 10% bonus based on their total spending during the account anniversary year at a rate of 1 point for each $10 spent. This card also has some of the best travel protections in the industry, including trip cancellation insurance, trip delay insurance and primary rental car coverage, among other policies.
Annual fee: $95
Read our review of the Chase Sapphire Preferred.
Related reading:
For rates and fees of the Amex Platinum, click here.