In the winter, many people travel to warm places to escape the cold while others hop on a plane to hit the slopes of a new mountain on a ski trip. How about checking off a bucket list item like catching a glimpse of the northern lights? Winter is the perfect time for this adventure because the nights are longer and the skies are darker.
Norway is a great place to see the aurora borealis and there are currently some great deals to Oslo, which has seen some very low fares this past year as cheap flights between the U.S. and Oslo have become available due to the entry of some low-cost carriers in the market.
Prices to Oslo are as low as $322 out of New York City aboard a low-cost carrier like Norse Atlantic, with a stop at London Gatwick Airport (LGW) en route. There are also options on a number of airlines like British Airways, KLM, Air France and TAP among others.
Seeing the spectacular light show in the sky is just one reason to visit Norway and it will take some extra planning to get there from Oslo, which is in the southern part of the country. If you're planning to venture north of the Arctic Circle, you'll need additional transportation.
In addition to rail options, your journey north could be as simple as an additional, short flight to a northern village like Tromso; we found flights aboard a low-cost carrier for as low as about $100 round-trip in early 2023.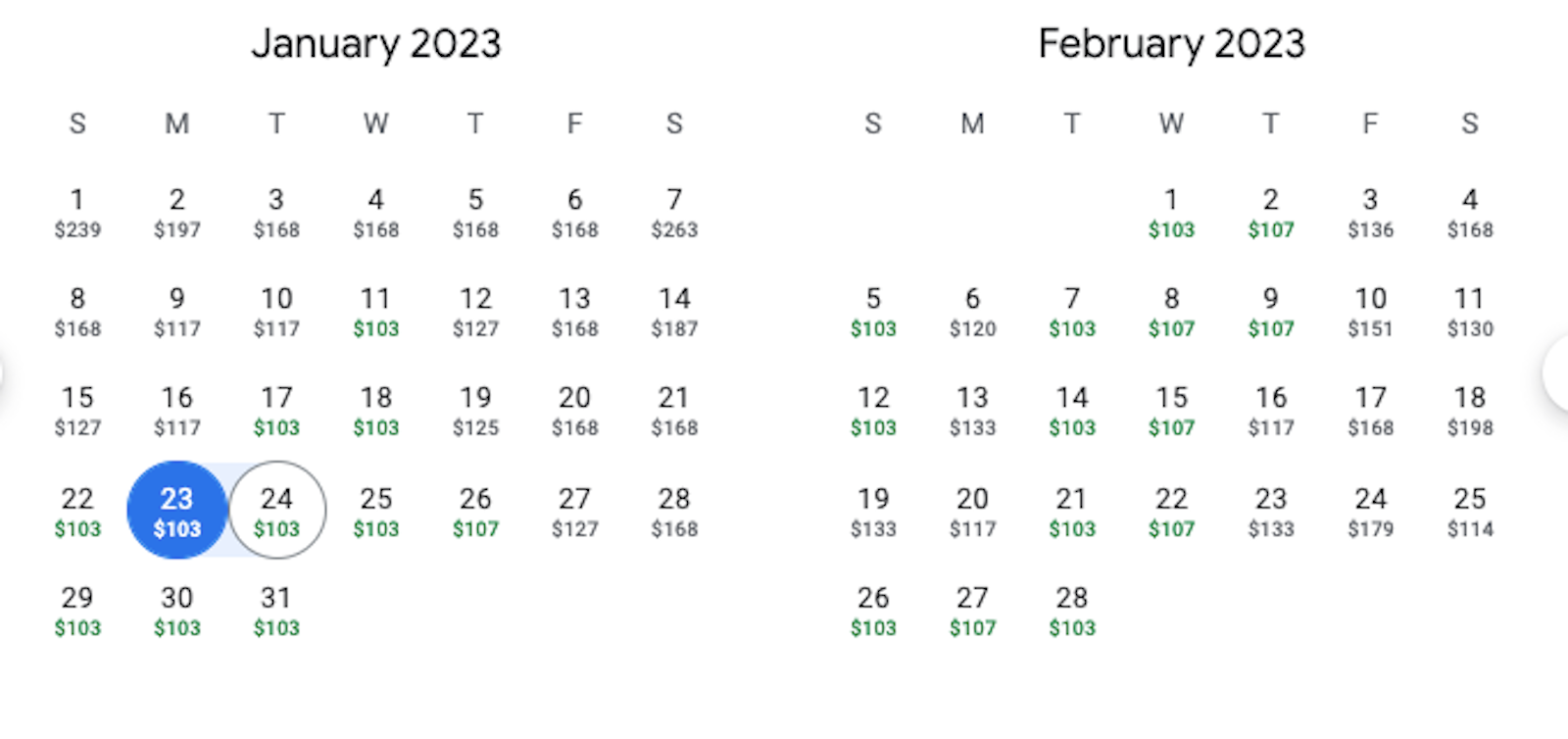 However, even if you're just looking for an excuse to see what Norway is like in the winter and plan to stay closer to Oslo, this deal between November and March is a great way to do it.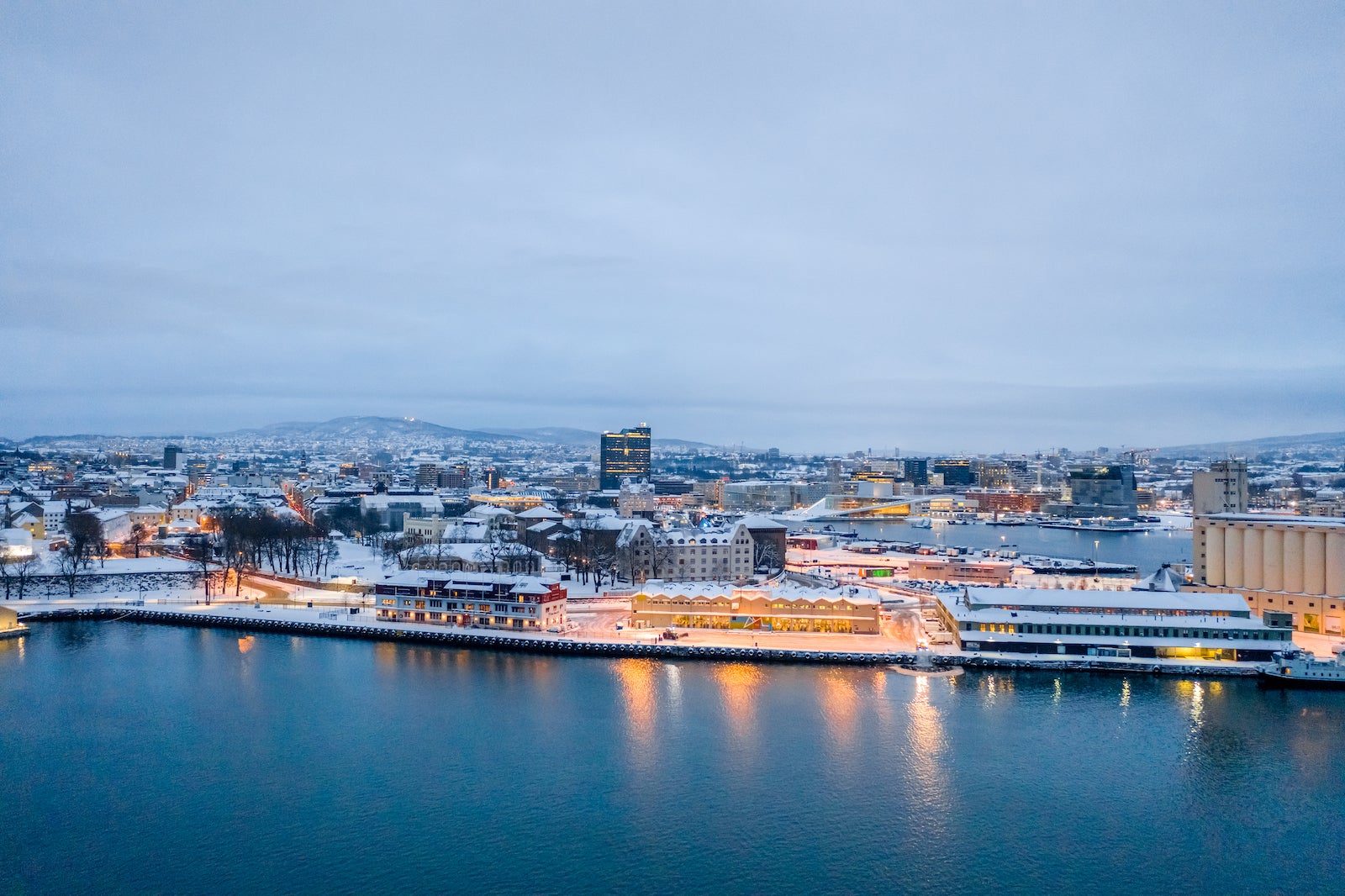 Deal Basics
Airlines: Air France, British Airways, Finnair, Icelandair, KLM, Norse, SAS, TAP
Routes: Atlanta, Boston, Chicago, Los Angeles, Miami New York and Washington to Oslo
Travel dates: November 2022 through March 2023
How to book: We suggest finding your itinerary on Google Flights, then booking directly through the airline
Thanks to Scott's Cheap Flights for flagging the impressive deals to Oslo. The site offers a premium membership that flags economy deals for $49 annually, or $199 for alerts on business-class and premium economy deals.
Sample Flights
We found round-trip flights to Oslo from some Northeast cities ranging well under $400, with trips between $400 and $500 from the Southeast, Midwest and even West Coast.
You can certainly find a great base fare flying with a low-cost carrier, though it's always a good idea to check the fees before you fly, and consider what elite status or credit card-related benefits you might enjoy flying with an airline that's a partner with your U.S. carrier of choice, which could reduce some of your ancillary costs of flying and perhaps allow you to retain a few travel perks during your trip.
Here are just a few of the routes and prices we found:
New York to Oslo for $322 on Norse Atlantic
New York to Oslo for $394 on Delta, Air France and KLM
Boston to Oslo for $378 on TAP
Washington to Oslo for $370 on Icelandair
Chicago to Oslo for $450 on TAP
Los Angeles to Oslo for $433 on Finnair
Let's start with an itinerary that New York flyers who travel with SkyTeam partners might want to consider. You can get a round-trip right in the middle of winter aboard a combination of Air France, KLM and Delta for $394.
Departing from John F. Kennedy International Airport (JFK) in mid-January aboard and Air France Boeing 777, you'll arrive the next day in Paris and continue on to Oslo after a 90-minute stop. On the return trip, your first leg is aboard KLM, and you'll be headed back to New York aboard a Delta Airbus A330 after a 90-minute layover in Amsterdam.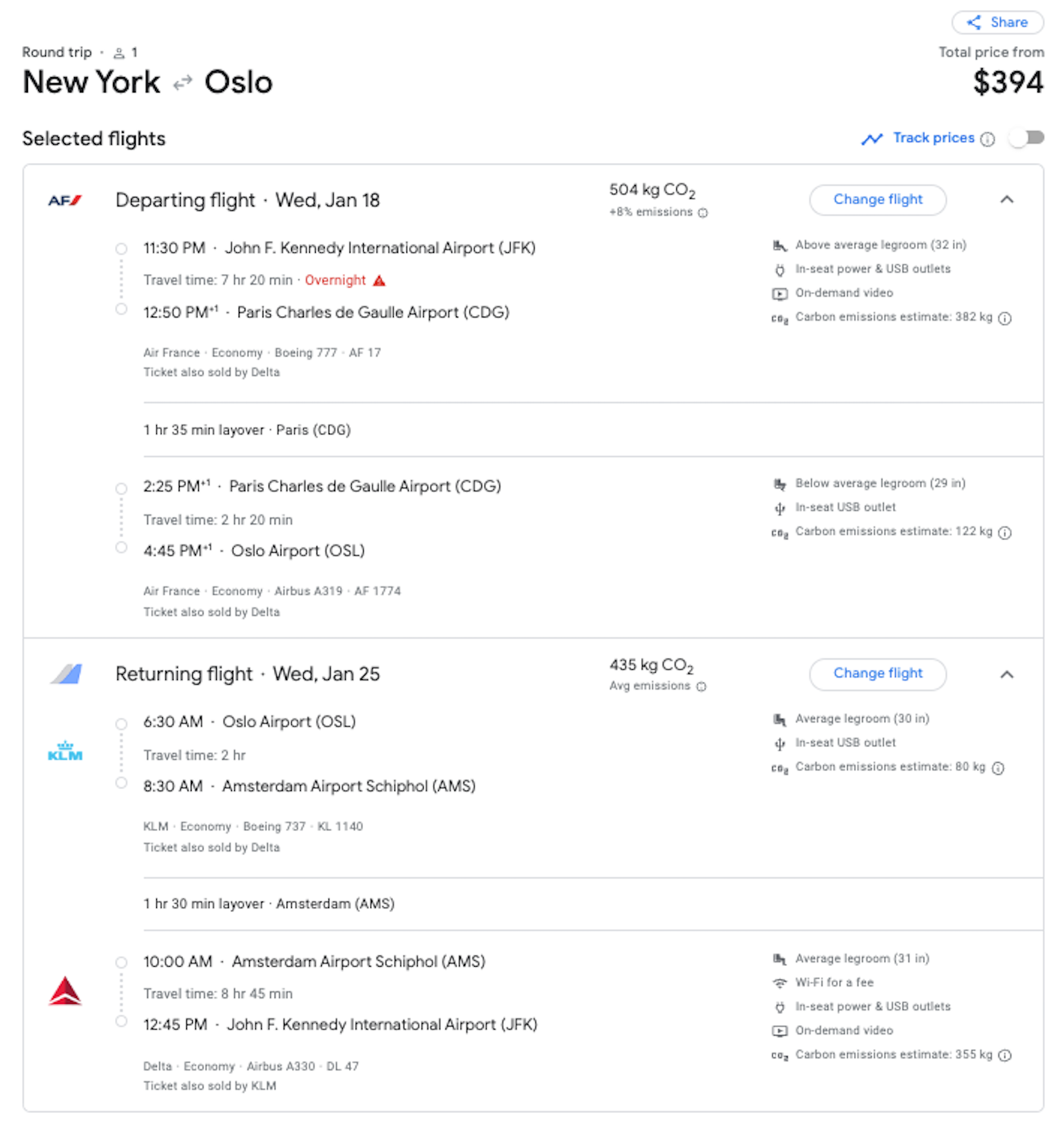 Here's another cheap option departing from the East Coast: A round trip out of the Washington, D.C. area aboard Icelandair. Departing from Dulles International Airport (IAD) aboard a Boeing 737MAX, you'll make a brief, 75-minute stop at Keflavik International Airport (KEF) in Iceland, before continuing on to Oslo for the final 2-hour, 45-minute flight with a similar routing on the return trip.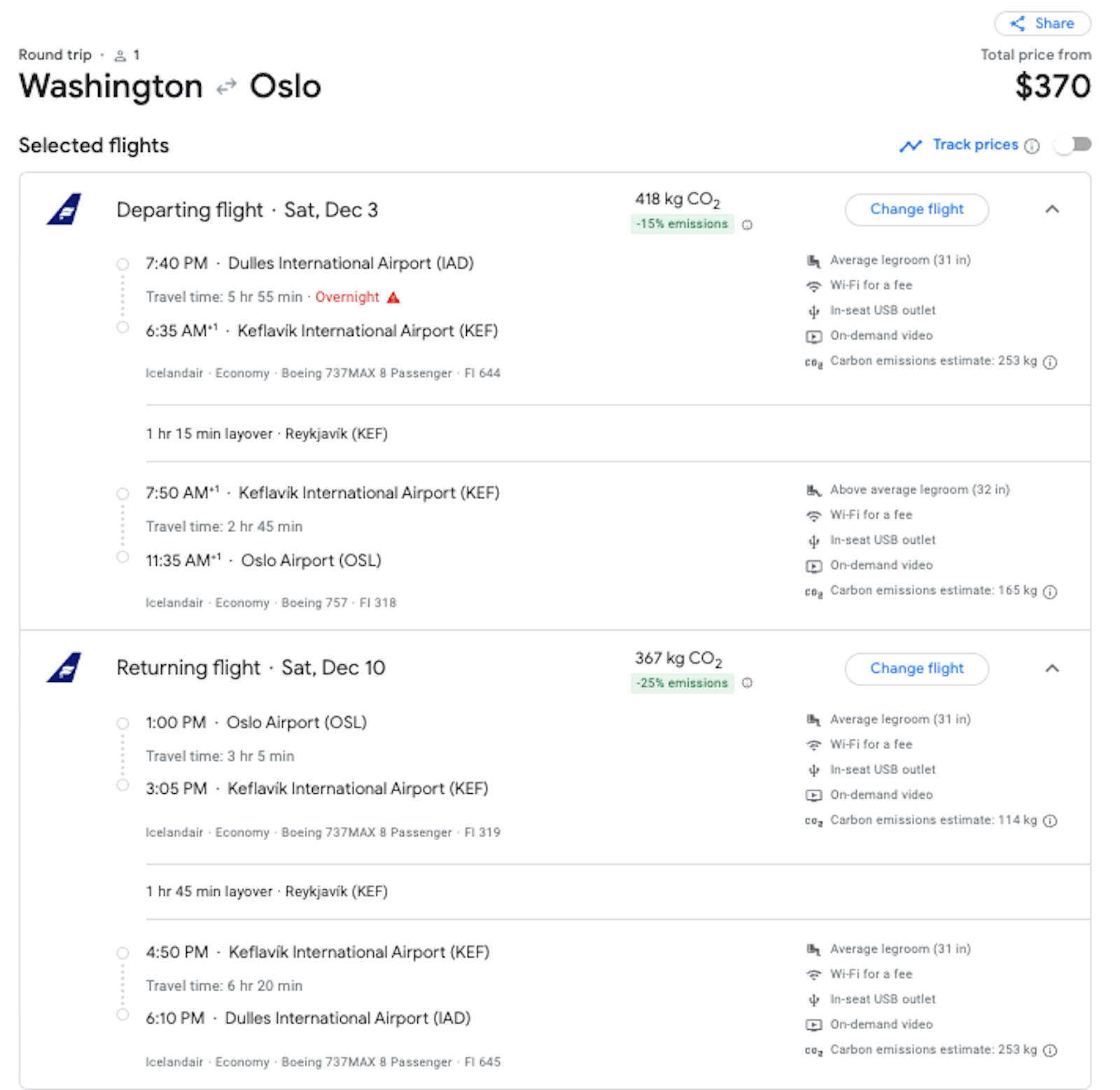 You'll pay a bit more leaving from the West Coast, but not much more. We found itineraries for as low as $433 out of Los Angeles International Airport (LAX) aboard Oneworld carrier Finnair. Departing around dinnertime from LAX, it's a 10.5-hour flight to Helsinki Airport (HEL) on an Airbus A350. After a really brief, 45-minute stop, you'll be on for the final short hop portion of the trip to Oslo. Your stop in Helsinki is a bit longer (4 hours and 50 minutes) on the return trip, though you may be able to find shorter layovers.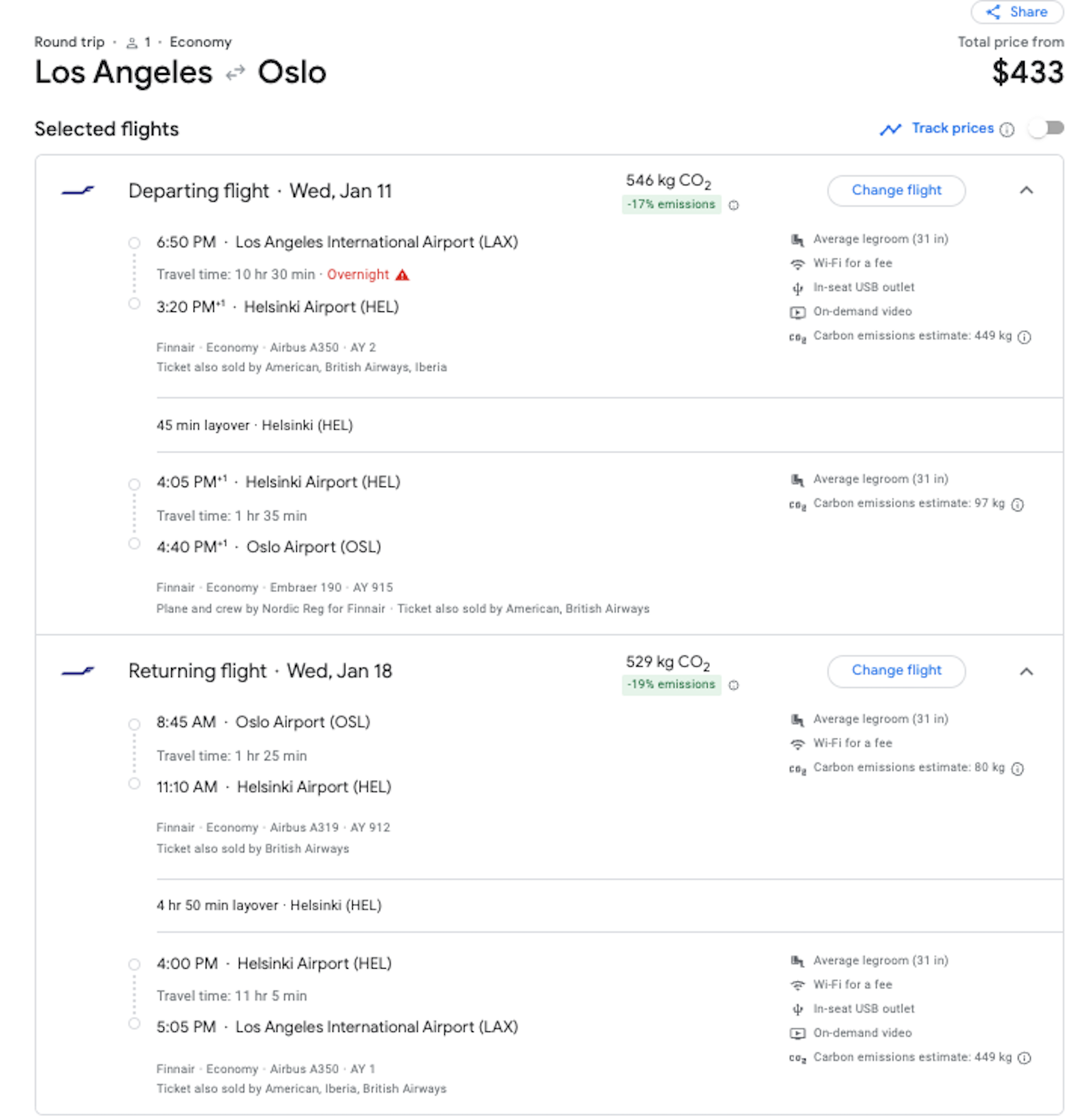 Maximize your purchase
Don't forget to use a card that earns bonus points on airfare purchases, such as The Platinum Card® from American Express, which earns 5 points per dollar on airfare booked directly with the airline or through American Express Travel (on up to $500,000 on these purchases per calendar year). The Citi Premier® Card and Chase Sapphire Reserve earn 3 points per dollar on airfare, and the American Express® Gold Card also earns 3 points per dollar on airfare when booked directly with the airline or through Amex Travel. Meanwhile, the Chase Sapphire Preferred Card earns 2 points per dollar on travel. Learn more here about maximizing your air travel purchases.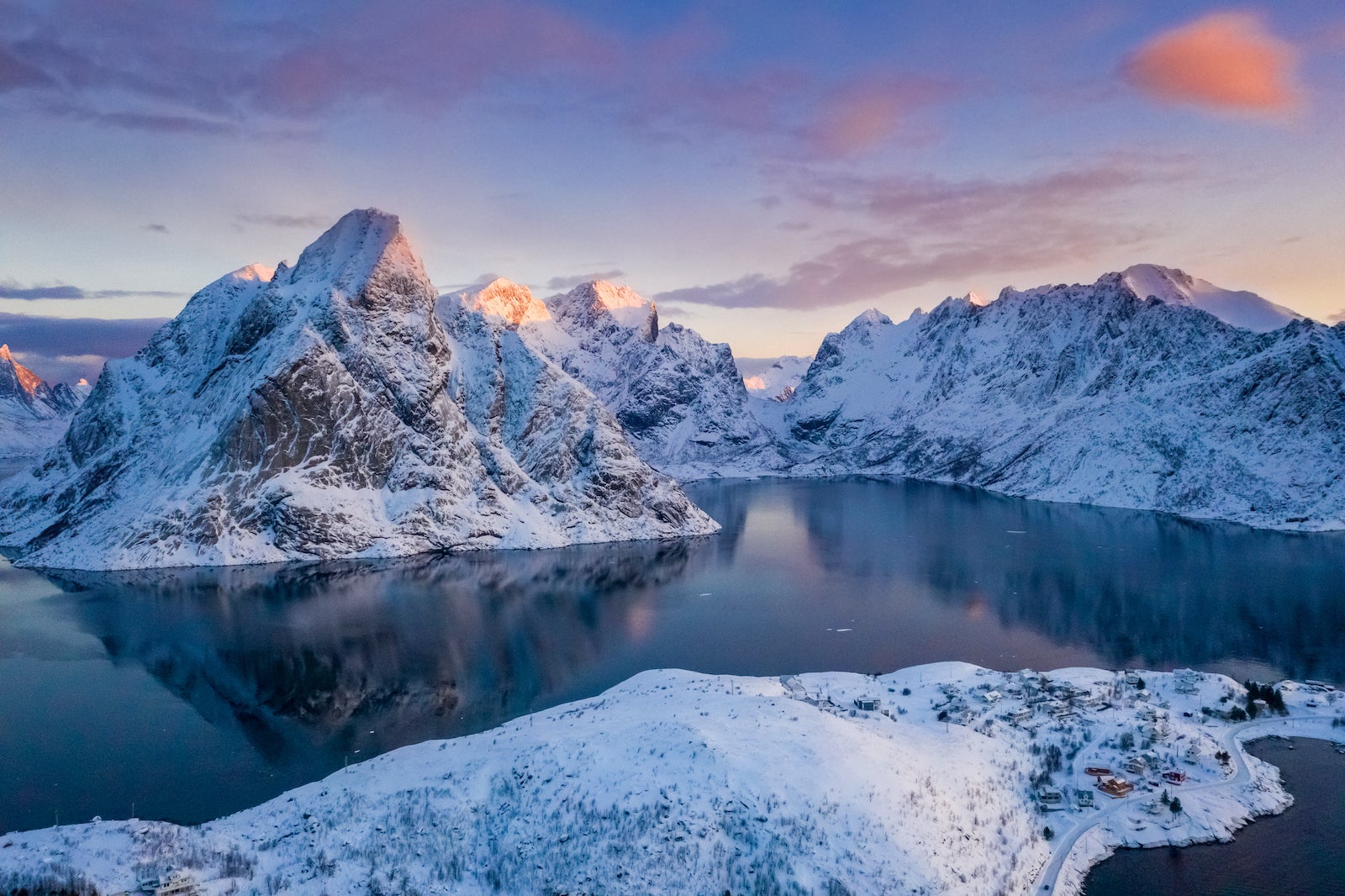 Bottom line
Whether you plan to spend most of your mid-winter getaway to Norway in Oslo or venture far beyond the city in search of the northern lights, here's your chance to experience the middle of winter in a beautiful country in Northern Europe.
Read more: