Flying with kids can be, for lack of a better word, turbulent.
They may get bored, scared, overexcited, overtired, hungry or, most likely, all of the above. All of these inflight bumps can be smoothed out with a bit of clever planning and a backpack full of activities and snacks, but you may be left in a lurch if mealtime approaches and the airline is serving something your picky eater turns their nose up at.
Related: 14 mistakes parents make when traveling with kids
Luckily, airlines are well aware that kids can be finicky when it comes to food and many provide kid-friendly inflight snacks and child meals. In the 1990s, United Airlines even served McDonald's "Friendly Skies Meals," which were similar to Happy Meals and came with items like cheeseburgers, cookies and a toy, according to the Los Angeles Times.
In equally "happy" news, United Airlines announced Wednesday that it is bringing back inflight kids meals – a service that was removed due to the COVID-19 pandemic. Beginning Wednesday, the meals will be available on flights longer than 2,000 miles where complimentary meal service is offered. For breakfast, kids can lick their lips for dishes like French toast with sausage, fruit and a croissant. Lunch and dinner will see kid-friendly favorites like chicken tenders, grilled cheese sandwiches, fruit, dinner rolls and desserts.
United's children's meals are currently only available by request, but beginning in 2023 they will be available for preorder in eligible cabins on select flights. You can add the request for "Children's Special Meals" to an existing reservation or a new booking in the United app.
Every airline is different when it comes to its kid-friendly food offerings. Here's what kids can expect on board the other major carriers.
Air France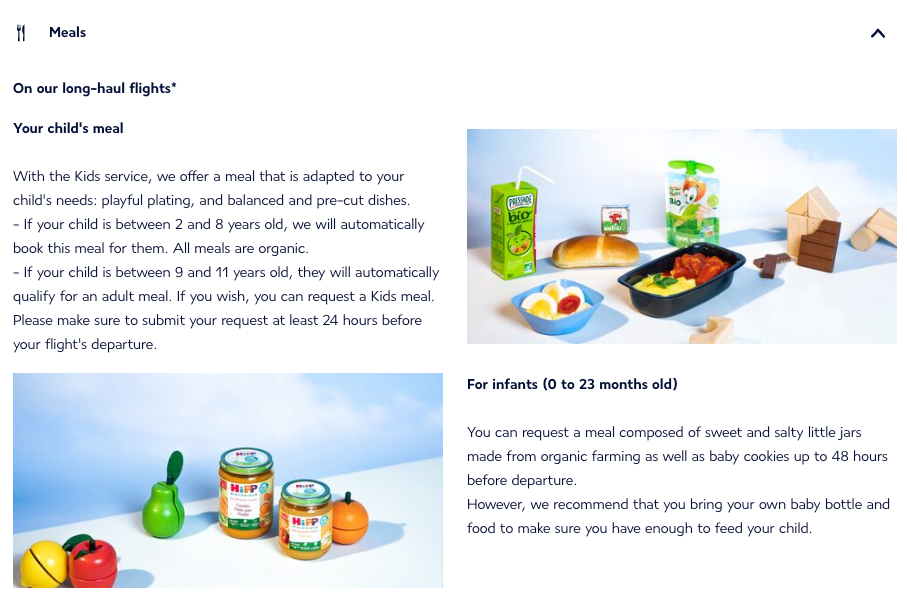 Air France offers specially made meals for children and infants on most intercontinental, long-haul flights. Kids between the ages of 2 and 8 will automatically receive the child's meal, which comes with salad, a main course like chicken and pasta with cheese, a pastry, apple juice, cheese and crackers, fruit compote and a dessert for lunch or dinner. For breakfast, children will receive two mini pastries, a yogurt drink or fruit juice, a compote, milk and cereal.
Children between the ages of 9 and 11 can still have this meal, but you will need to request it at least 24 hours before your flight's departure.
Related: Flying with Air France? All you need to know about the menu
Parents of infants between 0 and 23 months old can request baby cookies or jarred baby food up to 48 hours before your flight's departure, but the airline recommends you bring your own baby food and/or bottles to ensure you have enough for the duration of the flight.
Alaska Airlines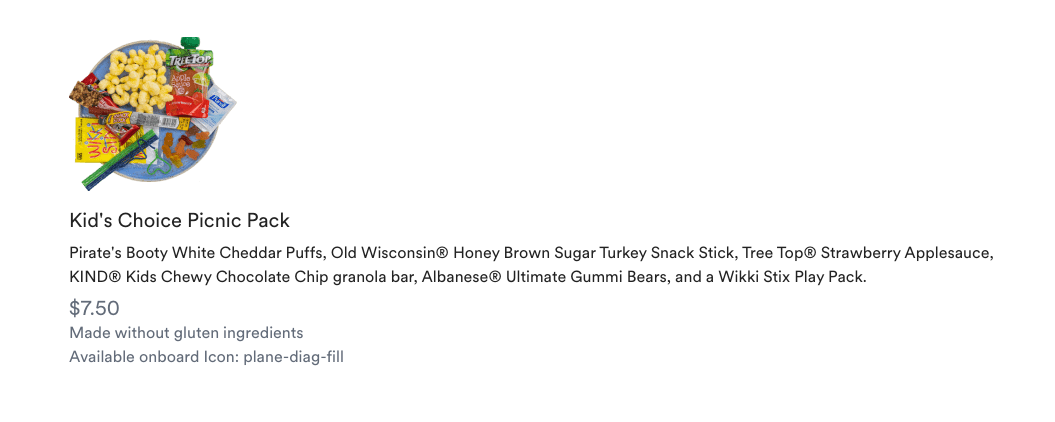 In Alaska Airlines' main and premium-class cabins, complimentary meals are not provided, but there are various meals and snacks available for purchase on most flights over 783 miles. One of these, the Kid's Choice Picnic Pack ($7.50), comes with snack items like white cheddar puffs, turkey jerky,  applesauce, a granola bar, gummy bears and a small toy to keep them busy after they finish their meal. These, along with other inflight meals, can be preordered online between two weeks and 20 hours prior to your flight.
First-class fares come with complimentary meals. While there is not a meal specifically designated for children, there are multiple options to choose from when you preorder, so you should be able to find something to appease your child. If nothing else, Alaska's signature fruit and cheese platter should be enough to hold them over.
Allegiant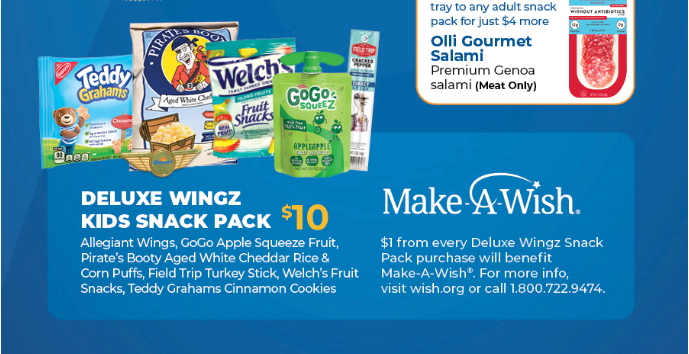 Like similar ultra-low-cost airlines, Allegiant provides something of a "bare bones" inflight experience. If you want to choose your own seat, bring a carry-on bag on board or have flight attendants serve you a drink and a snack, you'll have to pay up.
The airline does have snacks and drink packs available for purchase on select flights, including the cleverly named Deluxe Wingz Kids Snack Pack ($10) that comes with white cheddar puffs, turkey jerky, apple sauce, fruit snacks and cookies.
American Airlines
American Airlines offers a range of special meals, including a wellness menu, on select flights. Child meals are available for all fare classes on most international flights and come with "foods that appeal to kids age 2 to 5," according to the airline's website, though anyone can order this meal type. Baby meals are also available and come with jarred baby food. Both meal types should be preordered online or by phone at least 24 hours prior to departure.
British Airways
British Airways conveniently offers meals for children and babies on long-haul flights and follows a "Feed Kids First" policy that ensures your kids' food comes out in a timely manner so you can eat in some level of peace. Meals should be ordered at least 24 hours before your flight. Child meals can include things like pasta, chicken, sandwiches, veggie sticks, fruit and snacks like chips, raisins or a small chocolate bar.
Jarred baby food is also available on long-haul flights, but the airline recommends you still bring your own.
Hawaiian Airlines
Hawaiian Airlines provides complimentary child meals on most international flights in both business class and the main cabin. Meals must be requested by calling the reservations department at least 48 hours prior to departure.
KLM
Like its Flying Blue partner airline, Air France, KLM doesn't skimp when it comes to tasty meals for kids. On all intercontinental flights, kids ages 2 and up can get a fun, travel-themed meal box with child-approved foods like pasta or a hamburger and fries. Meals should be prearranged online at least 24 hours prior to departure.
Lufthansa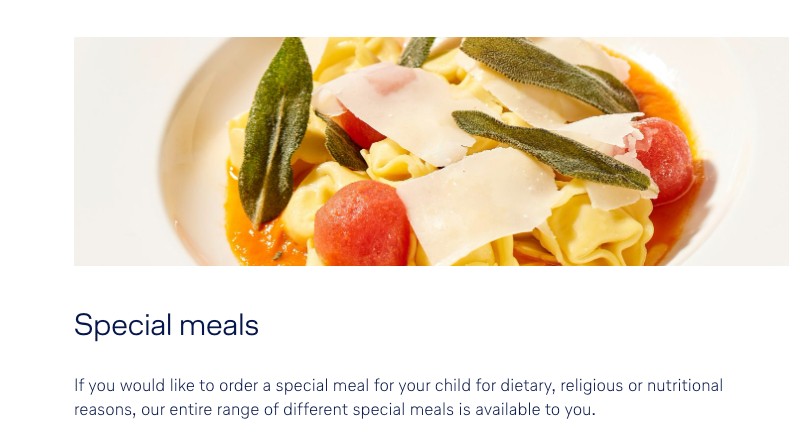 TPG has previously sung the praises of Lufthansa's children's menus and for good reason. The airline partnered with top chef Alexander Herrmann to develop aesthetically pleasing meals that look good, taste delicious and provide the balanced nutrition kids need. The complimentary meals are available on select flights and are intended for children ages 2 and older and must be ordered at least 24 hours prior to departure.
Baby-appropriate foods like jarred food, mini Vienna sausages and soups are also available and do not need to be reserved in advance.
Spirit Airlines
When you consider the fact that Spirit Airlines considers almost everything other than your ticket to be an add-on, it should come as no surprise that onboard food and drinks are not complimentary. But it does have a Kids Snack Box on the inflight menu for a reasonable $5.50 that comes with cookies, crackers, fruit snacks, candy and a hand sanitizing wipe to take care of post-snack sticky hands.
Bottom line
If you are on a flight that doesn't serve child meals, you'll want to come prepared with plenty of snacks and drinks for your child. That being said, just because an airline doesn't offer child-specific meals doesn't mean you are totally out of luck. Most airlines offer a varied menu and your child's favorite foods (or at least a few they'll tolerate) may very well be on offer. At the very least, we think they'd be a fan of these TPG-tested, TPG-approved best hamburgers in the sky.