Editors' note: JetBlue provided TPG with a free one-way business-class ticket for the inaugural Paris route. All opinions expressed here are the author's alone and were not subject to review by JetBlue.
---
On Friday morning, JetBlue Airways earned itself a new nickname: JetBleu.
That's because the New York-based carrier landed in Paris for the very first time, officially making France its first destination in continental Europe. (Bleu means blue in French.)
JetBlue Flight 1407 took off from Runway 22R at the John F. Kennedy International Airport (JFK) at 5:36 p.m. local time and landed at Paris-Charles de Gaulle Airport (CDG) at 6:09 a.m. on Friday morning, completing the 3,635-mile mission in just six hours and 33 minutes.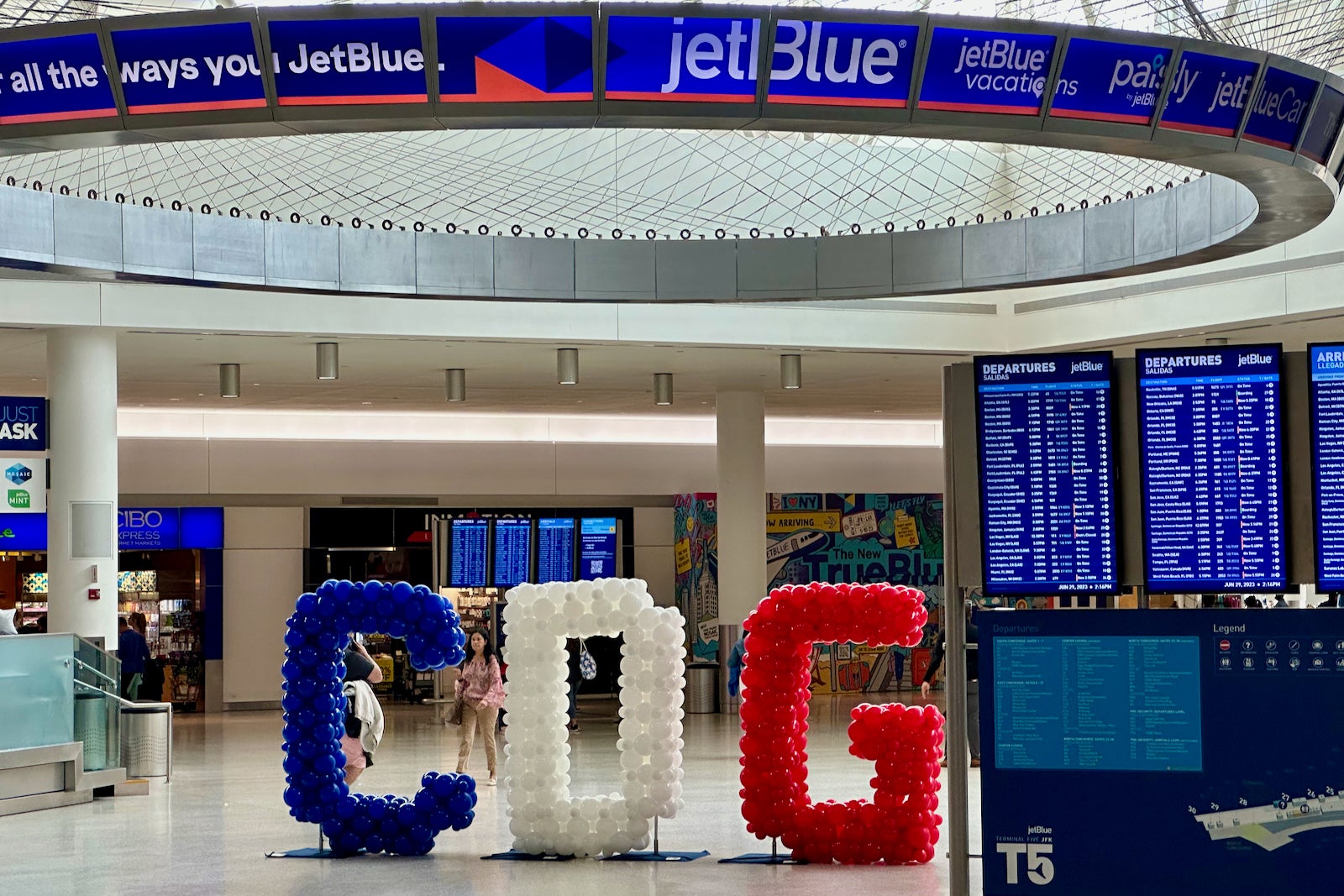 This historic inaugural has been in the works for months, and it ushers in the next phase of JetBlue's transatlantic ambitions.
Fast forward nearly two years since the airline's London inaugural, and the carrier's up to five daily flights from Boston and New York to two London airports, CEO Robin Hayes proudly said on Thursday to a cheering crowd of employees, media and invited guests, which even included the airline's founder and serial airline entrepreneur David Neeleman. (Some Spirit Airlines employees also joined in on the fun.)
"Paris is the largest European destination not served by JetBlue," said Hayes, as he stood in front of Gate 15 in JetBlue's Terminal 5 home before the inaugural flight to Paris took off. He added that the City of Light is also the top-requested market from JetBlue flyers.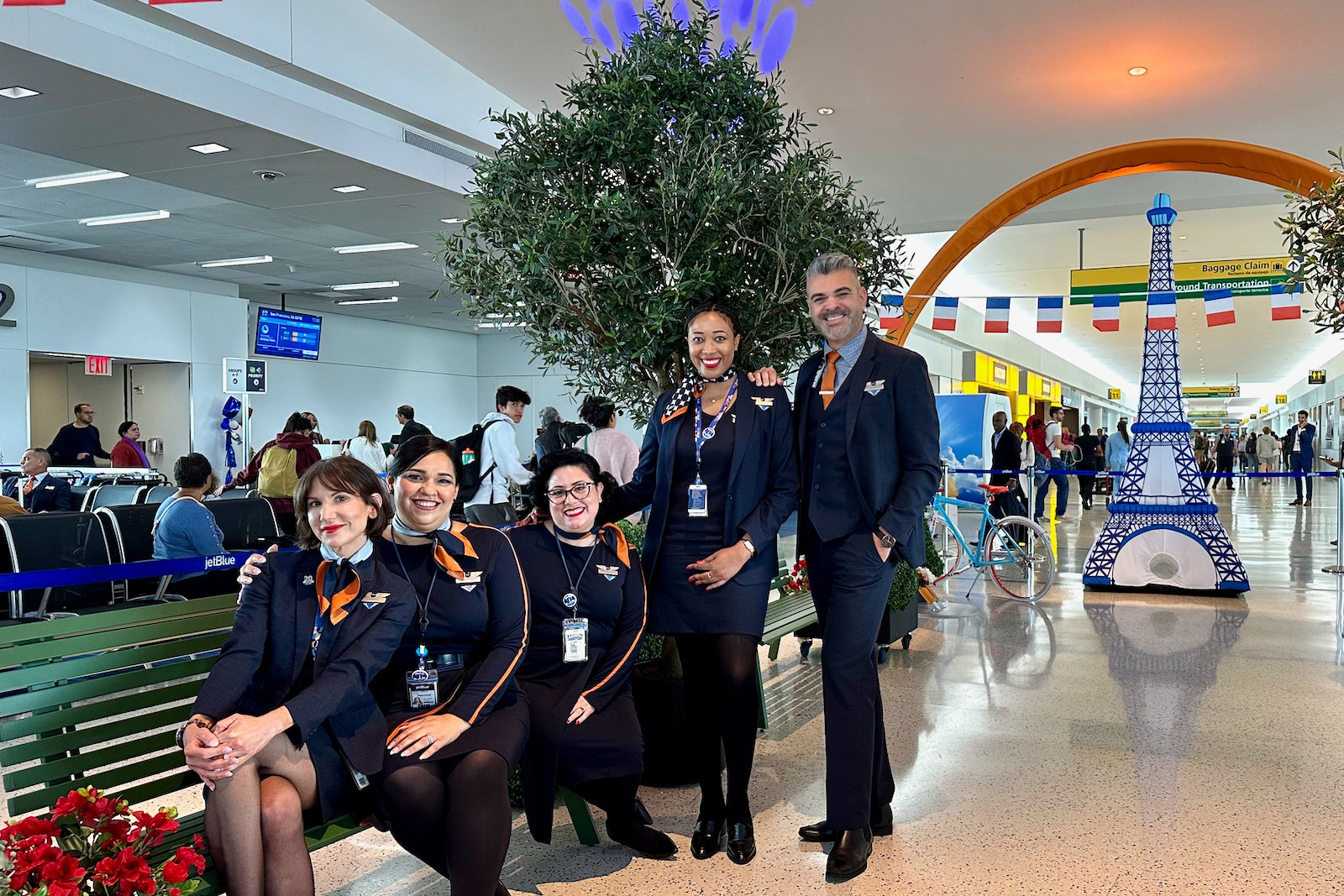 For two years, JetBlue has been on a mission to upend the status quo in the transatlantic market, which legacy carriers have historically dominated with strong joint-venture partnerships.
JetBlue, with its fledging fleet of 138-seat single-aisle Airbus A321LR, or long-range, aircraft may not necessarily pose much of a threat to the Air France's of the world just yet, but that could change.
After all, it just raised the bar for the passenger experience on the New York-to-Paris route, and it's entering the market with attractive round-trip fares that start at just $499 in economy and $2,499 in business class.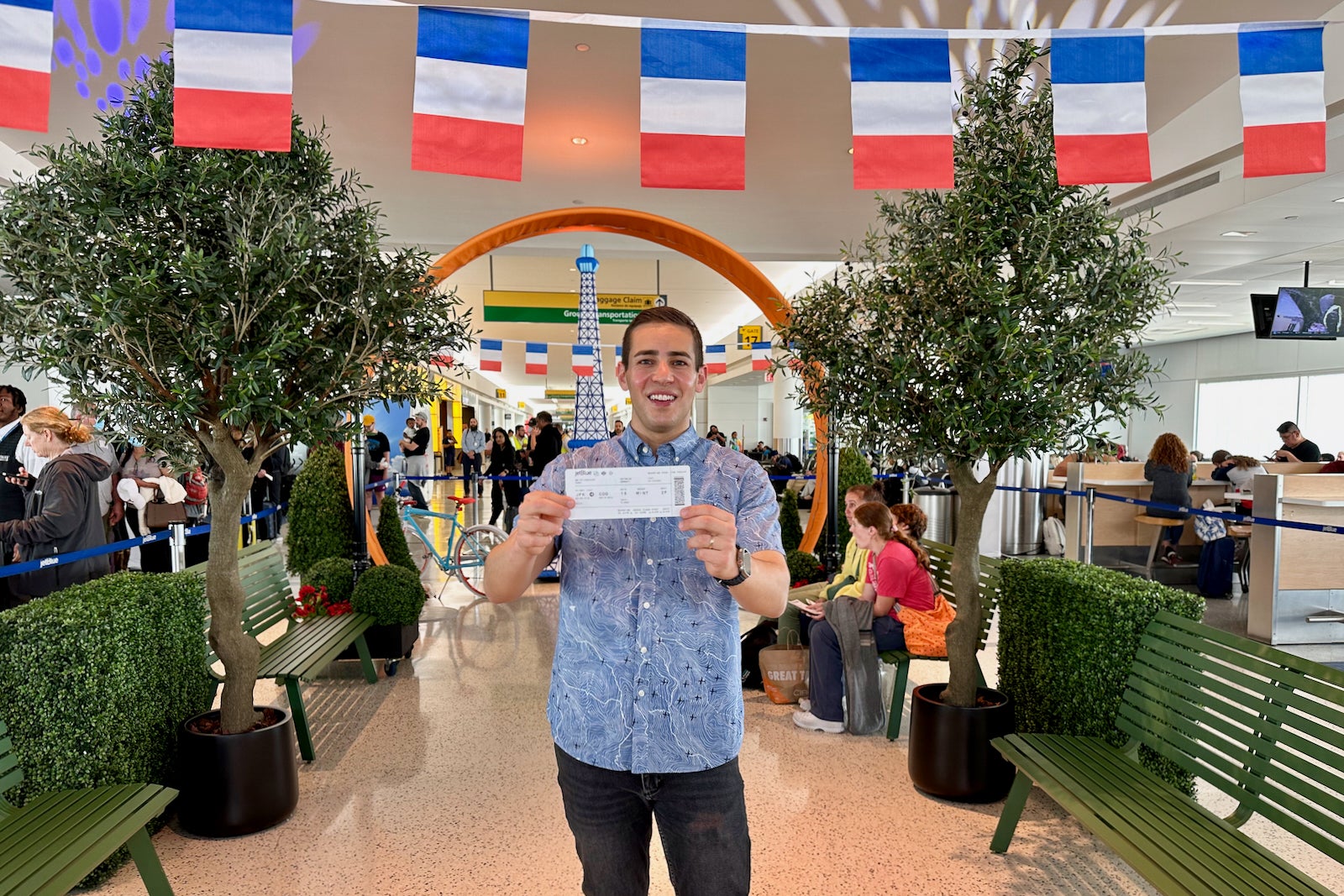 So, what's it like flying JetBlue to Paris? Judging by the inaugural, there's a lot to love, especially in the pointy end of the plane.
Pre-departure party
I'm no stranger to inaugural flights.
At a minimum, airlines usually celebrate the occasion with some remarks before departure and a formal ribbon-cutting ceremony. Some also serve a few locally-inspired treats at the gate… and then there's JetBlue.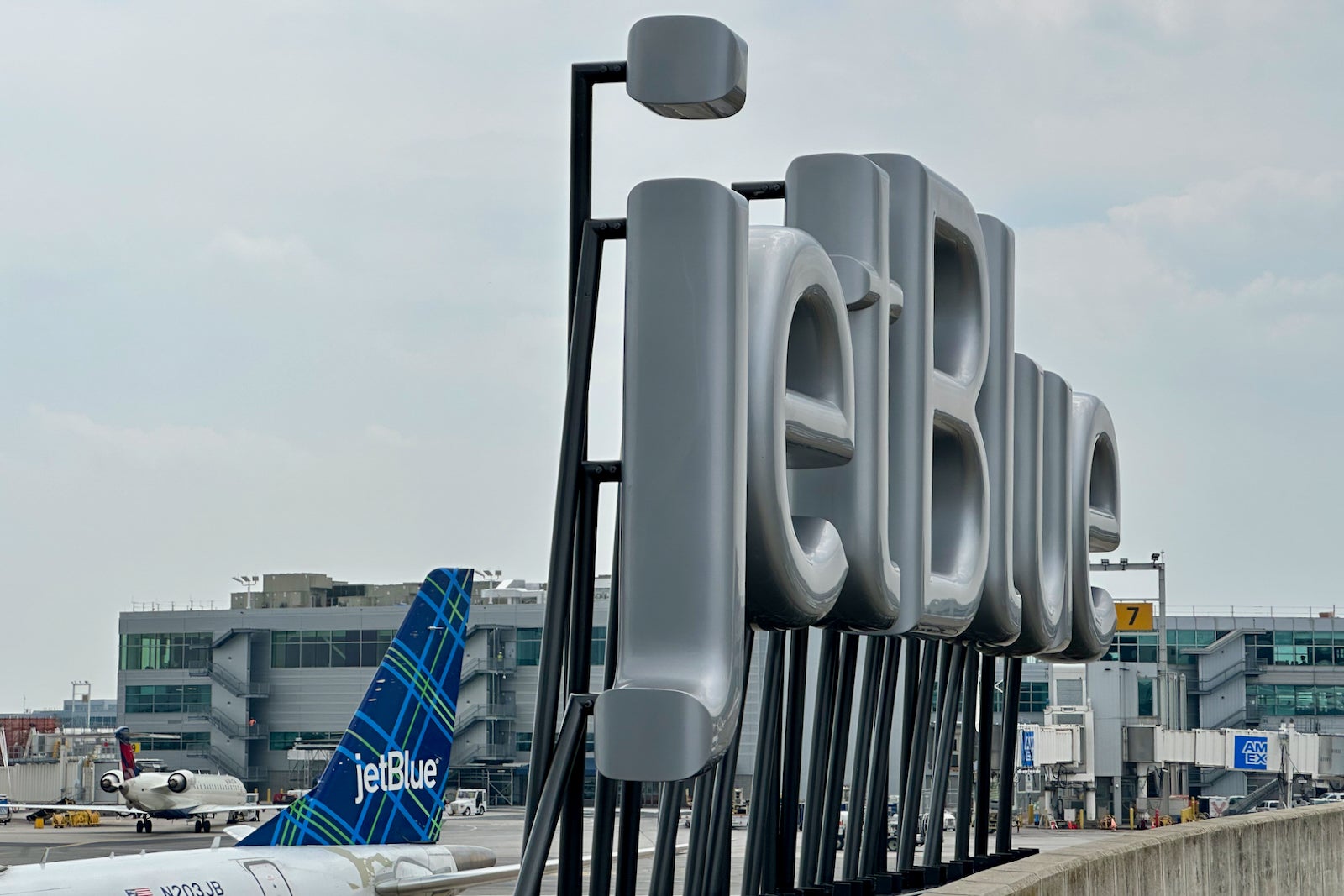 My time with the airline began on Thursday afternoon, just hours before the official start of the Fourth of July holiday weekend.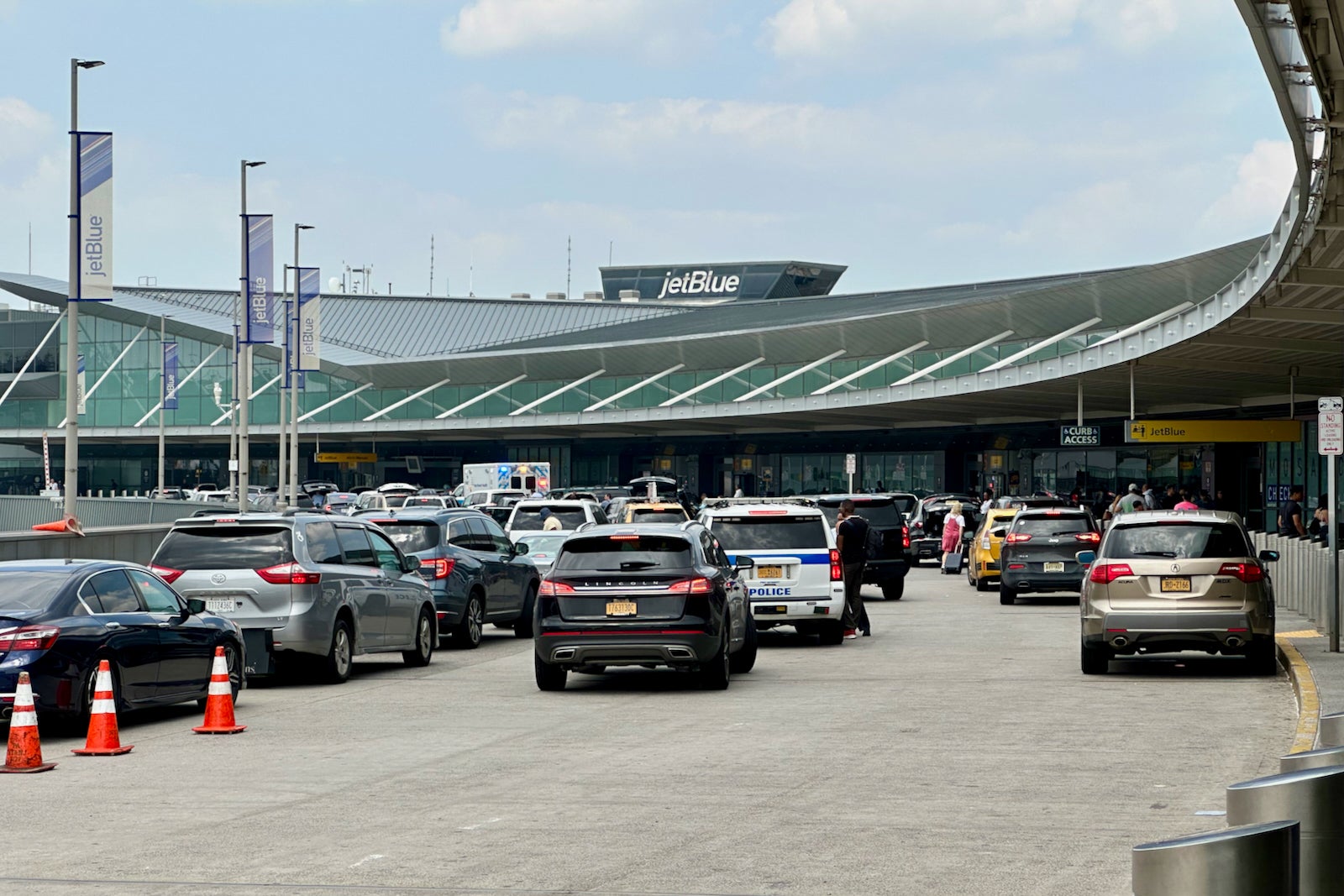 That meant a very crowded airport, especially after a few days of irregular operations that canceled and delayed tens of thousands of flights.
Yet the crowds (and disgruntled passengers) didn't get in the way of the party. From the moment I entered the dedicated Mint and Mosaic check-in area at Terminal 5, I knew that this flight would be unlike most others.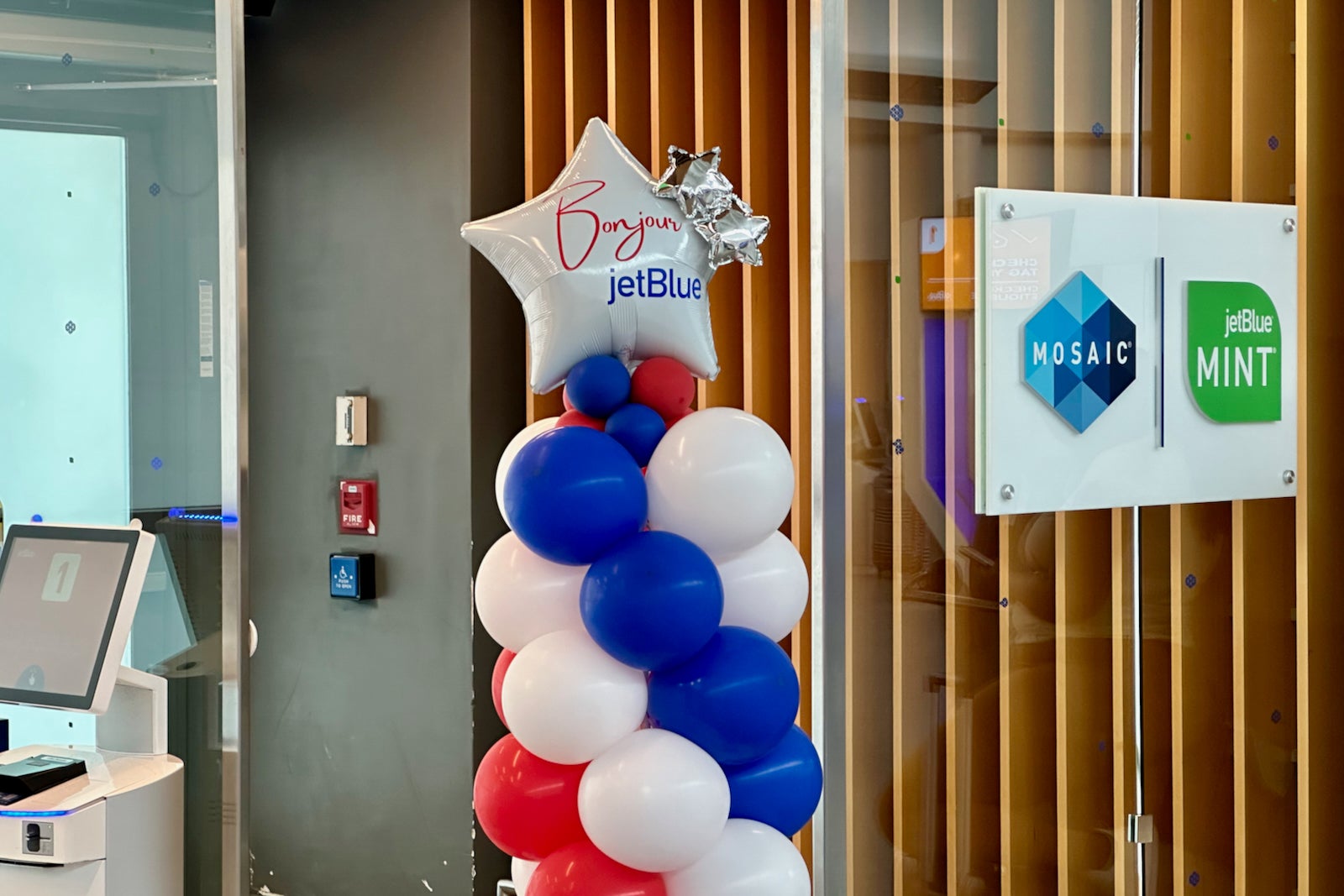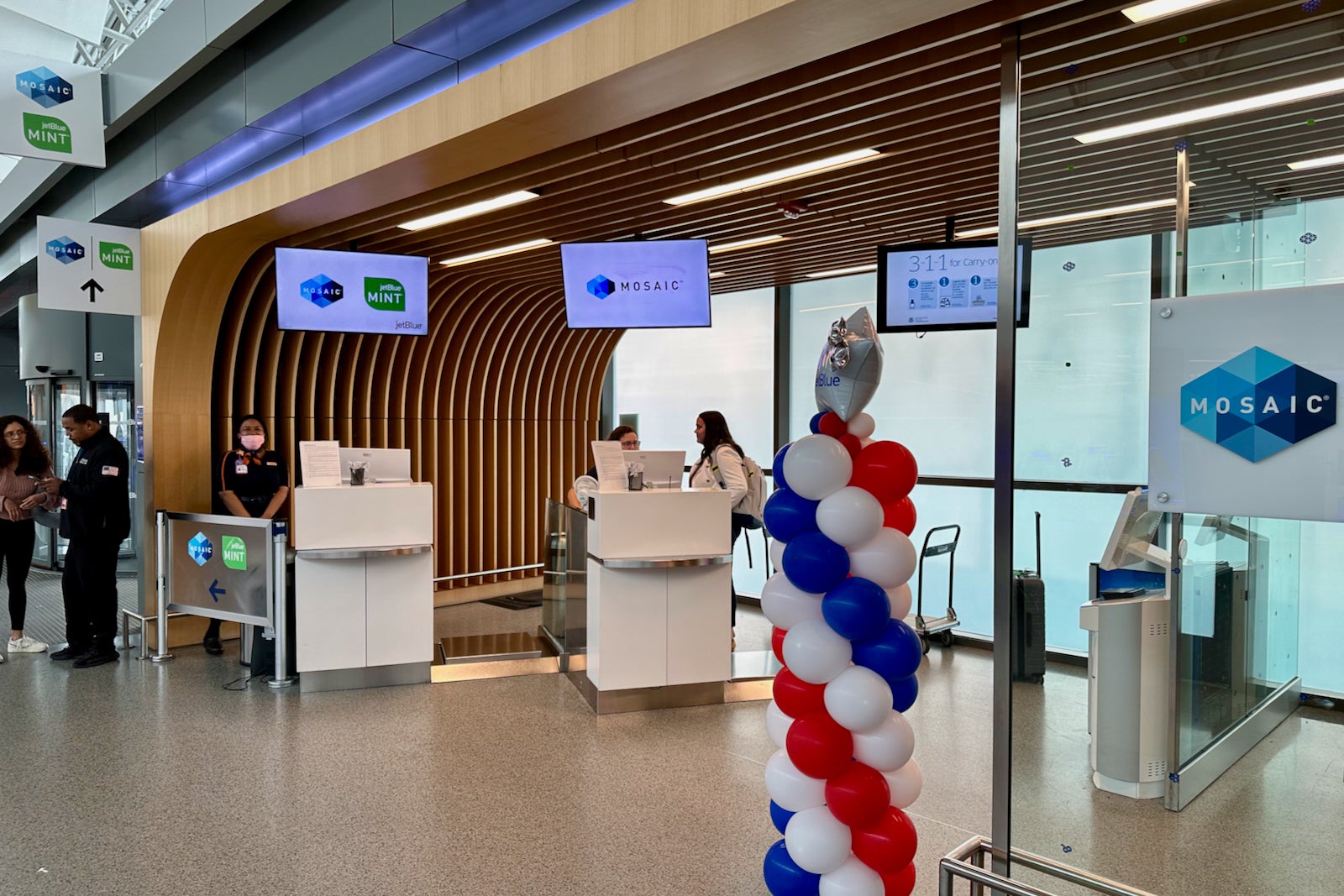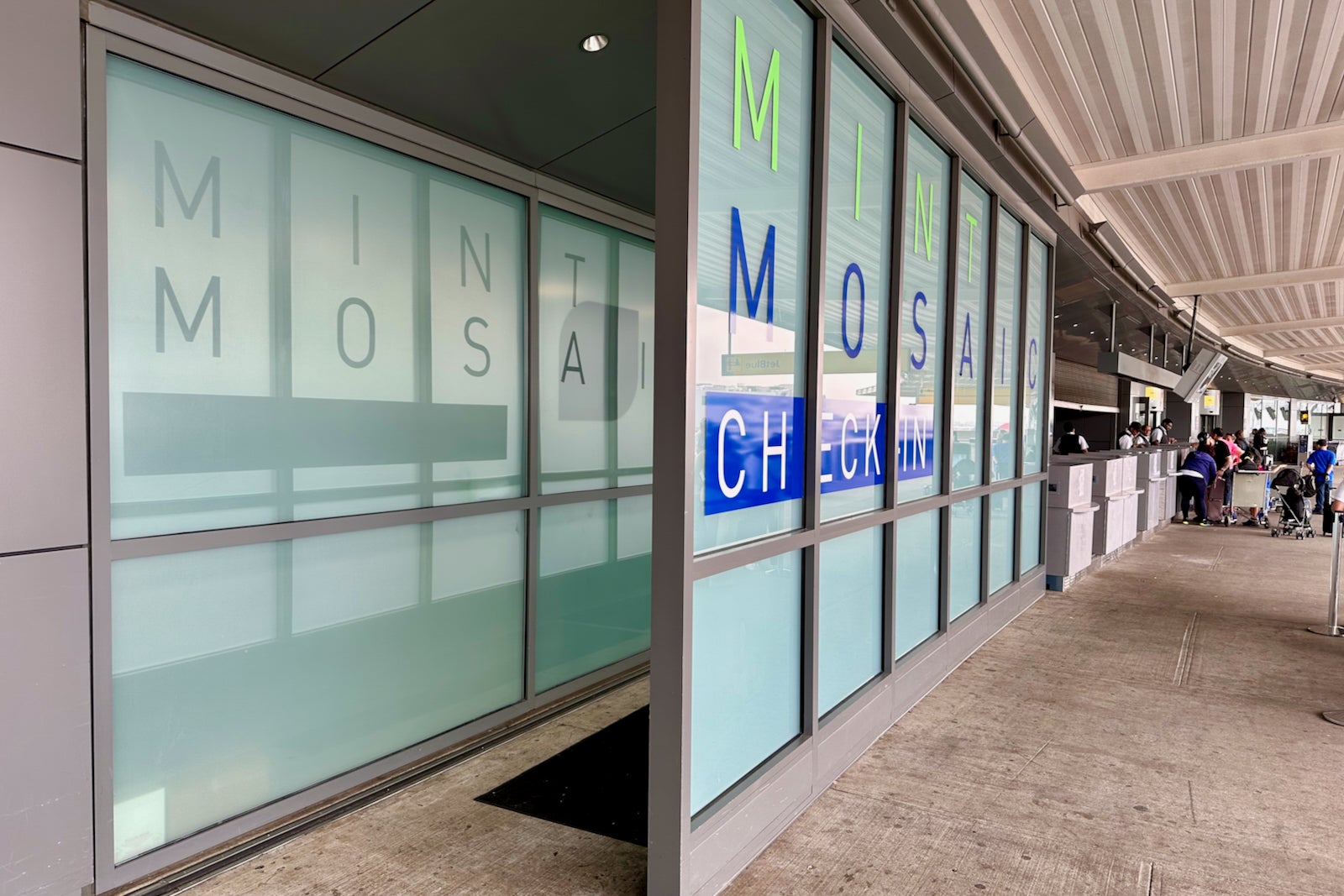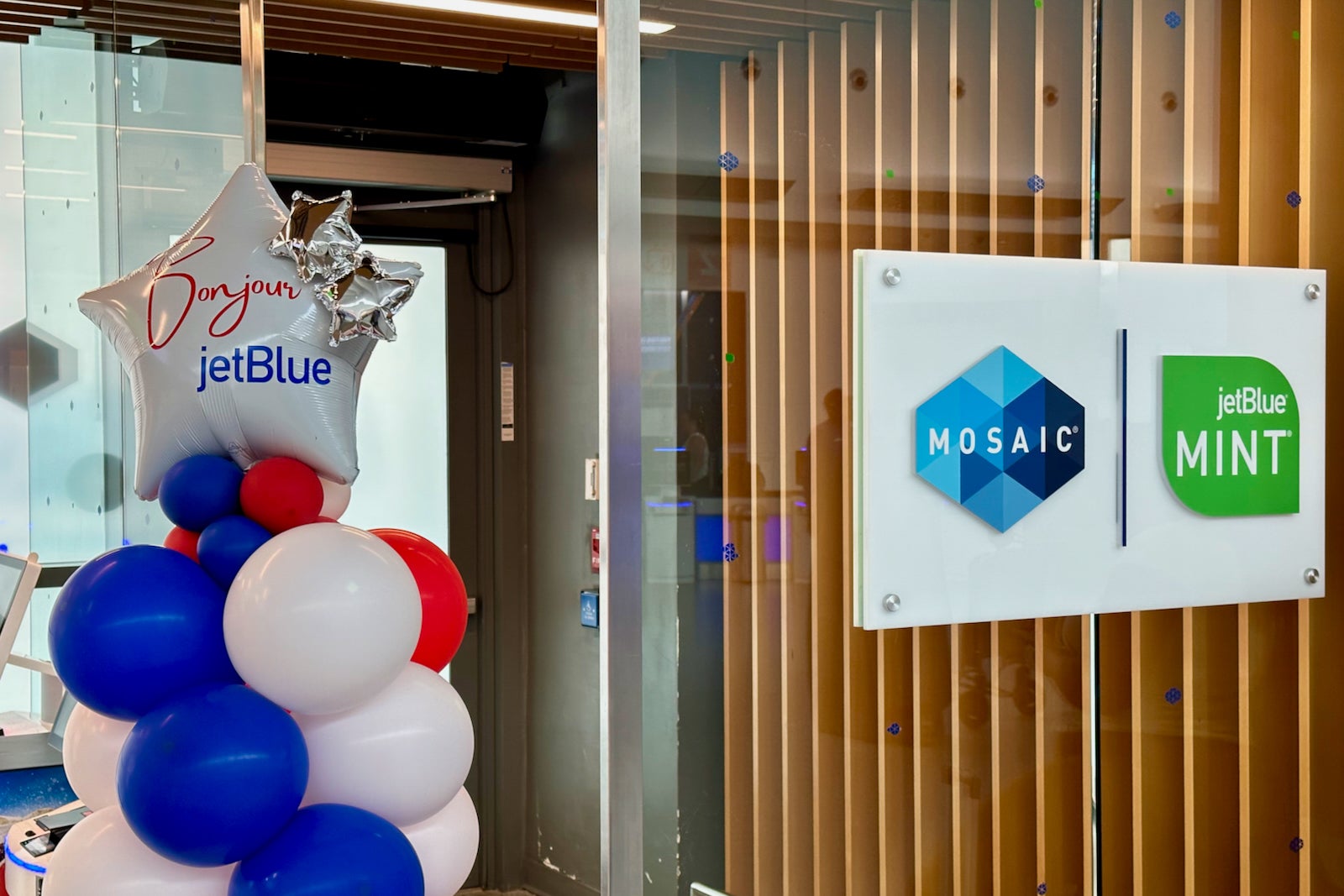 A red, white and blue balloon arrangement adorned with "Bonjour JetBlue" greeted me, as my passport was scanned and my boarding pass was printed seconds later by a cheery agent.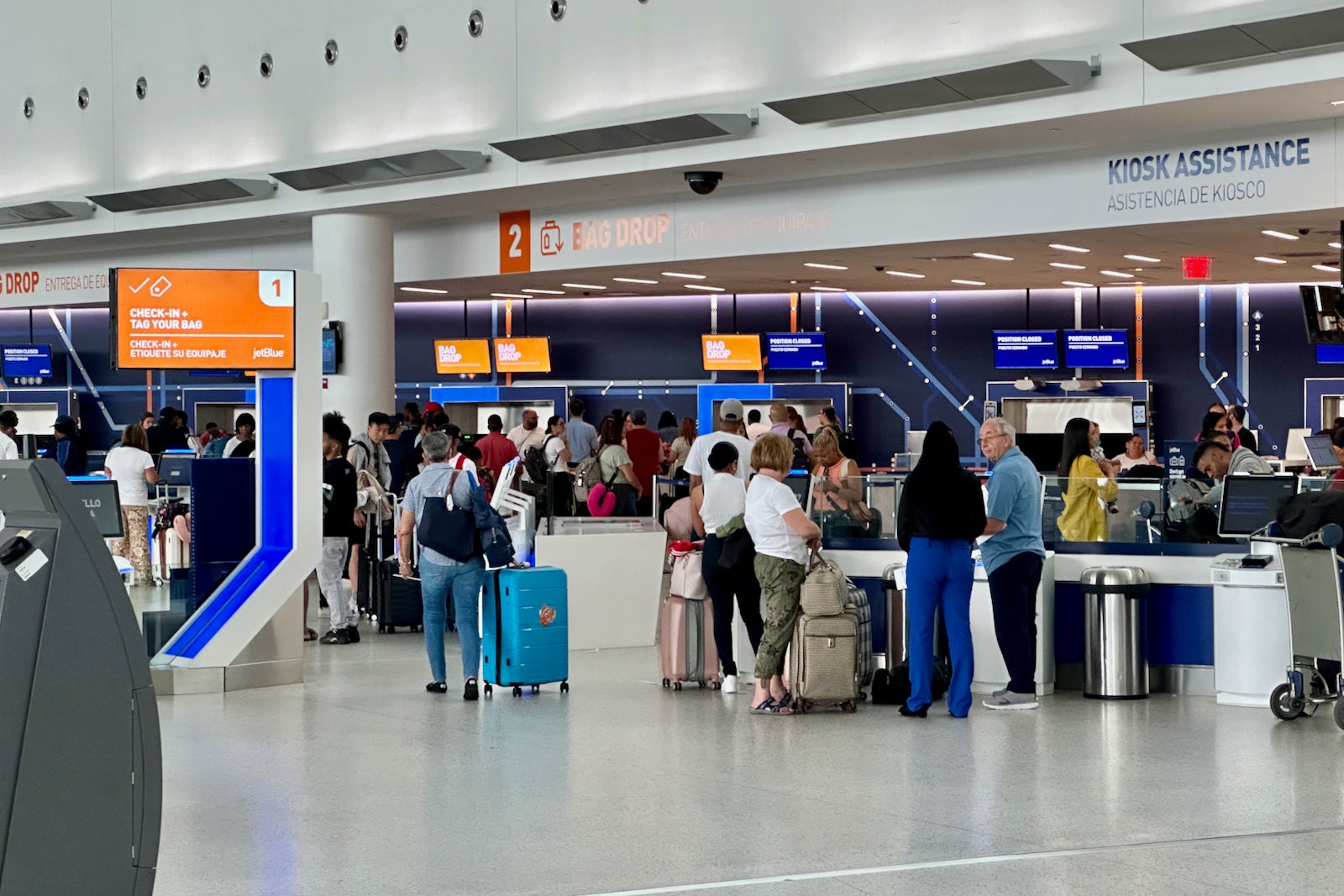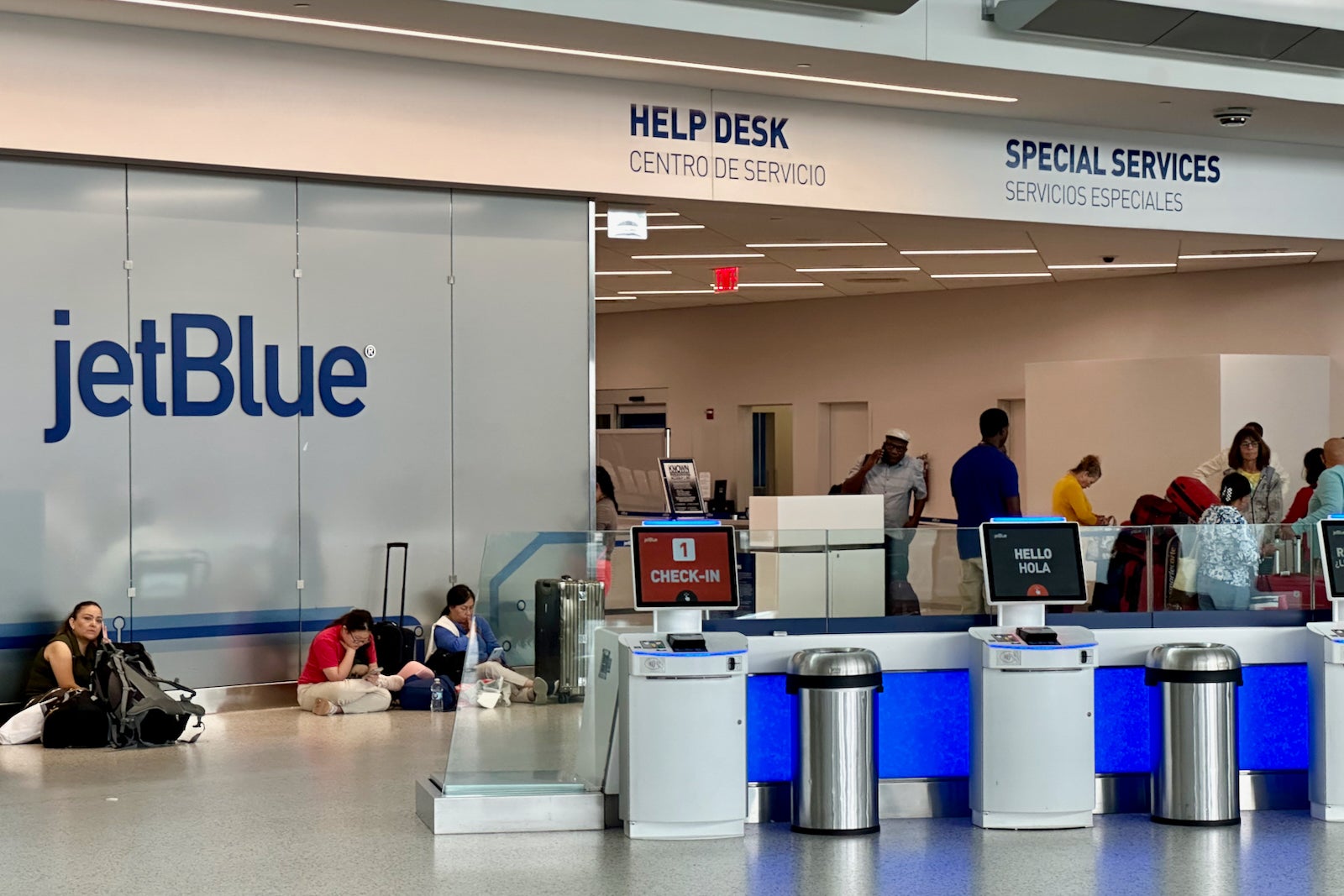 I cleared TSA PreCheck security in under 10 minutes, and I then made my way to the departure gate, not without stopping to snap some photos in front of the nearly 6-foot-tall "CDG" balloon arrangement in the terminal's central rotunda.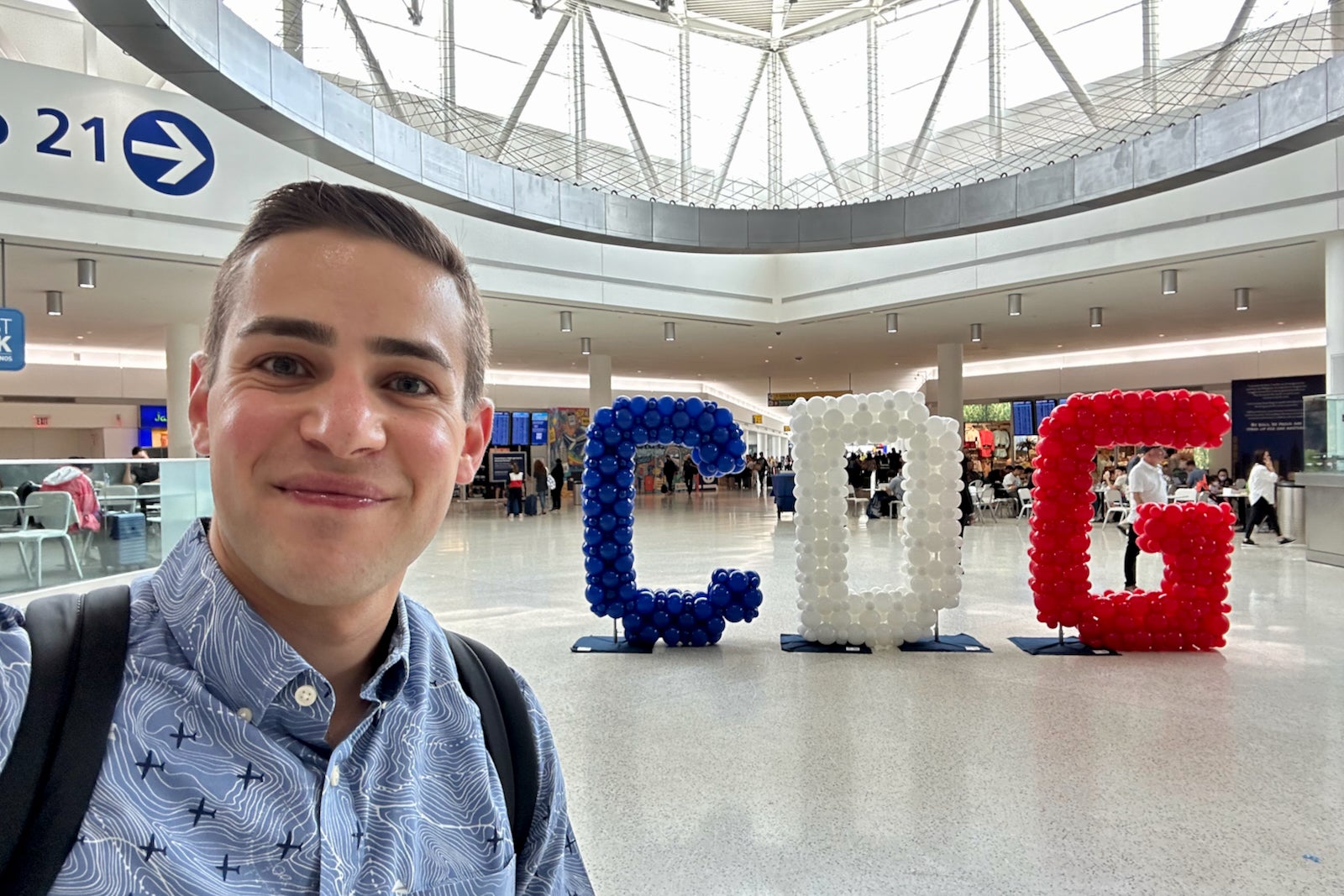 I noticed other travelers also taking pictures here, but funny enough, none of them that I spoke to were headed to Paris.
As I got closer to the gate, there was no mistaking which one was for the Paris flight. After all, a portion of the gate area had been converted into a rectangular garden, complete with an inflatable, 15-foot-tall Eiffel Tower at the end.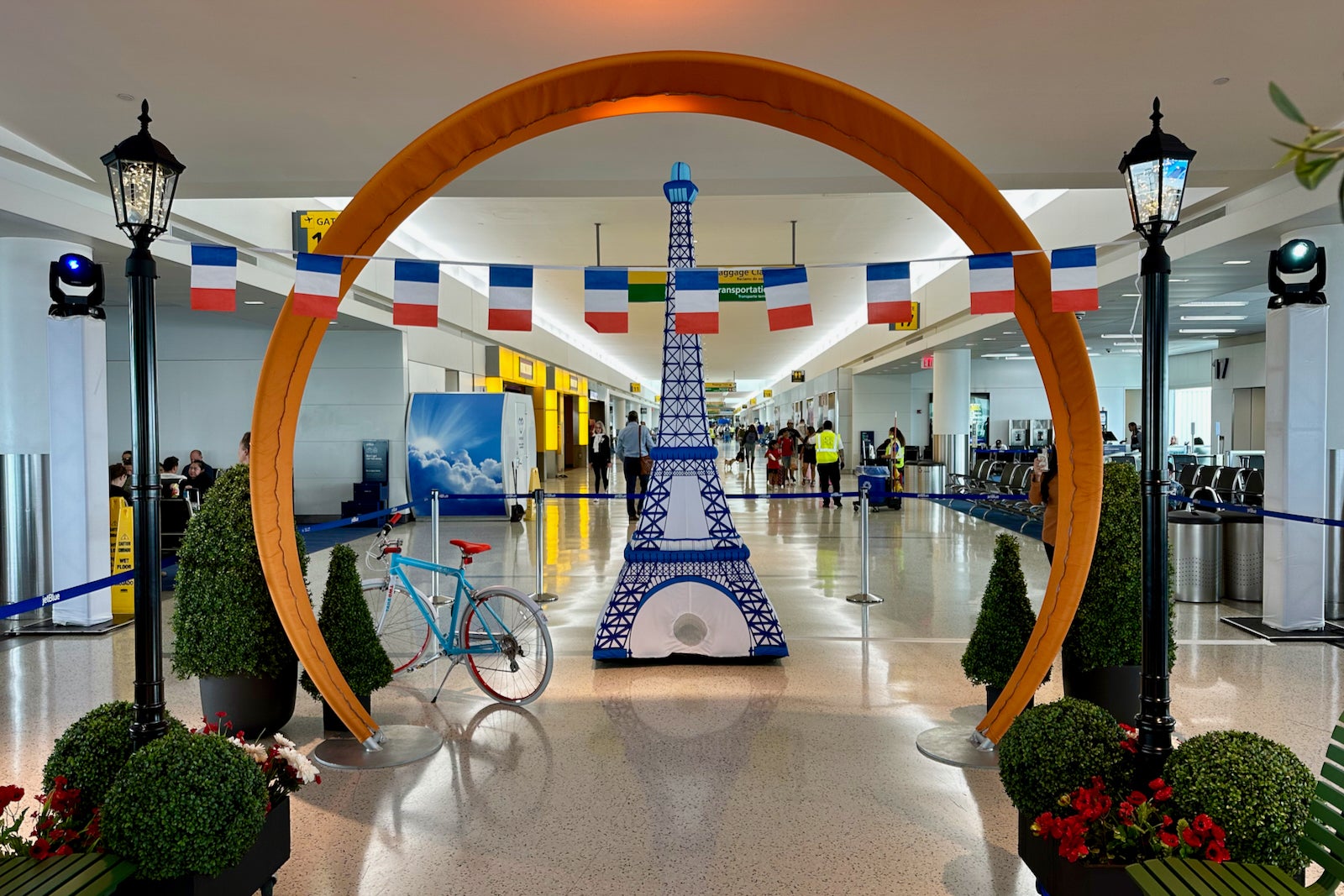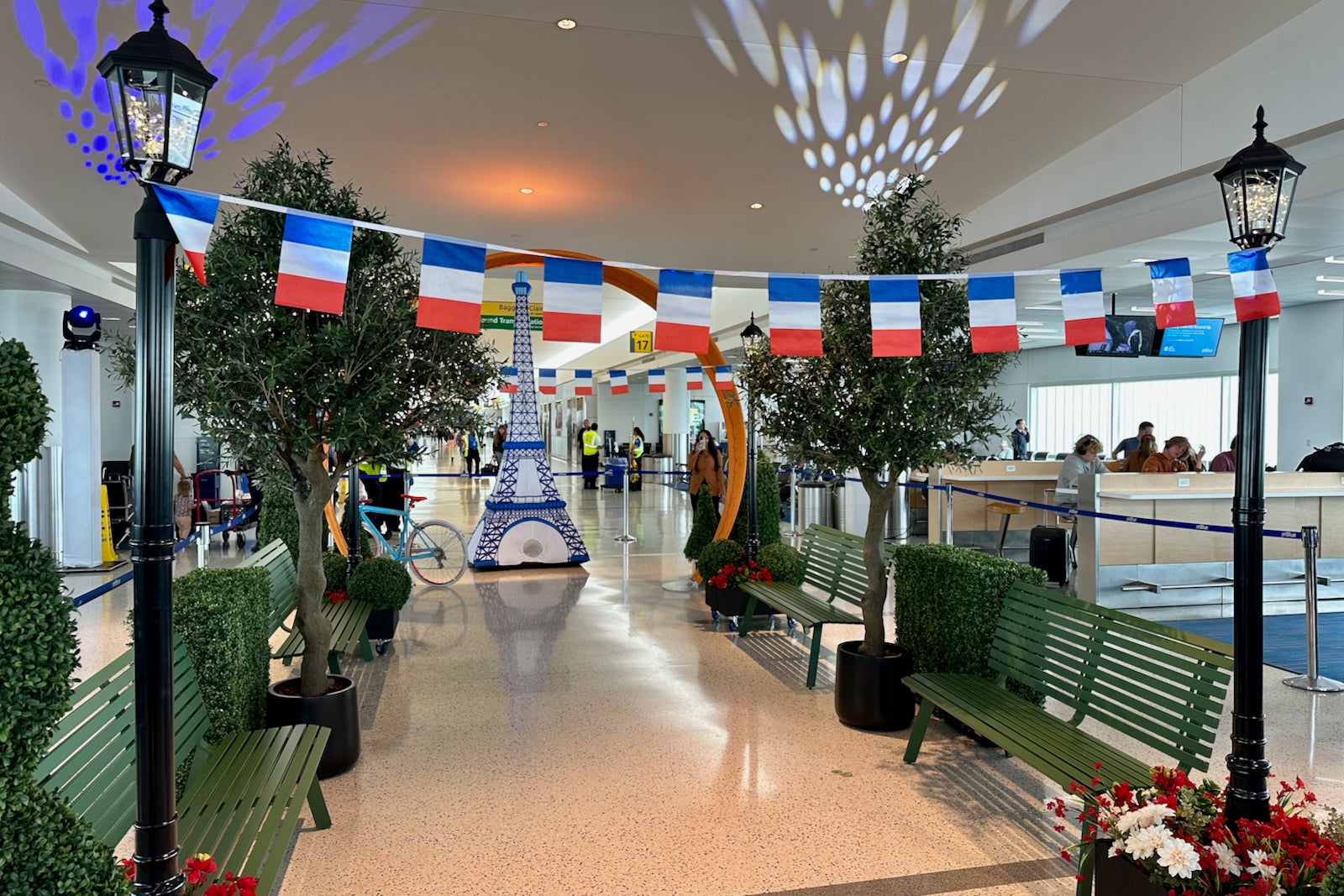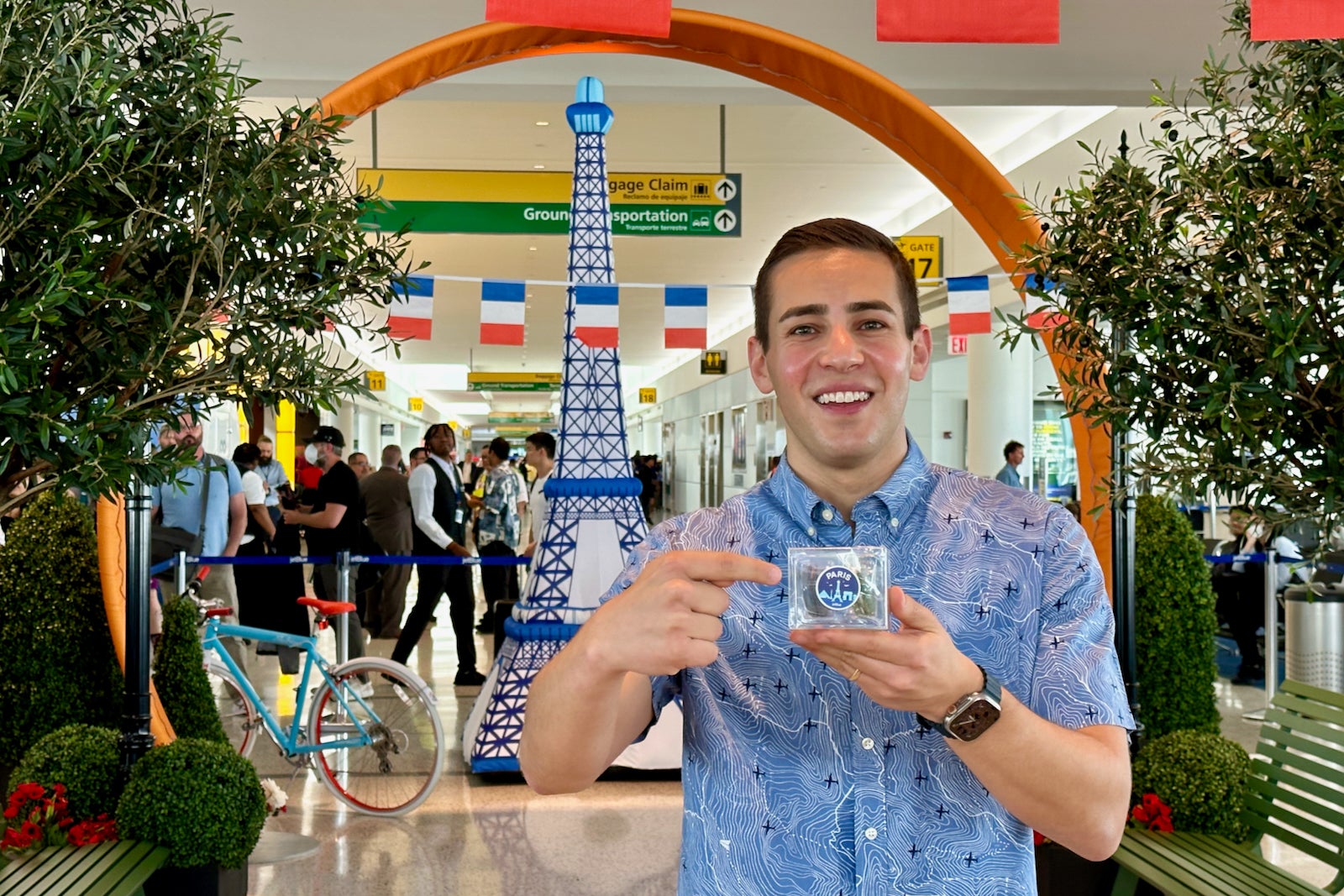 But that wasn't all.
When I started taking pictures of this area, I noticed an aroma of fresh beignets permeating the gate area, so I started to investigate.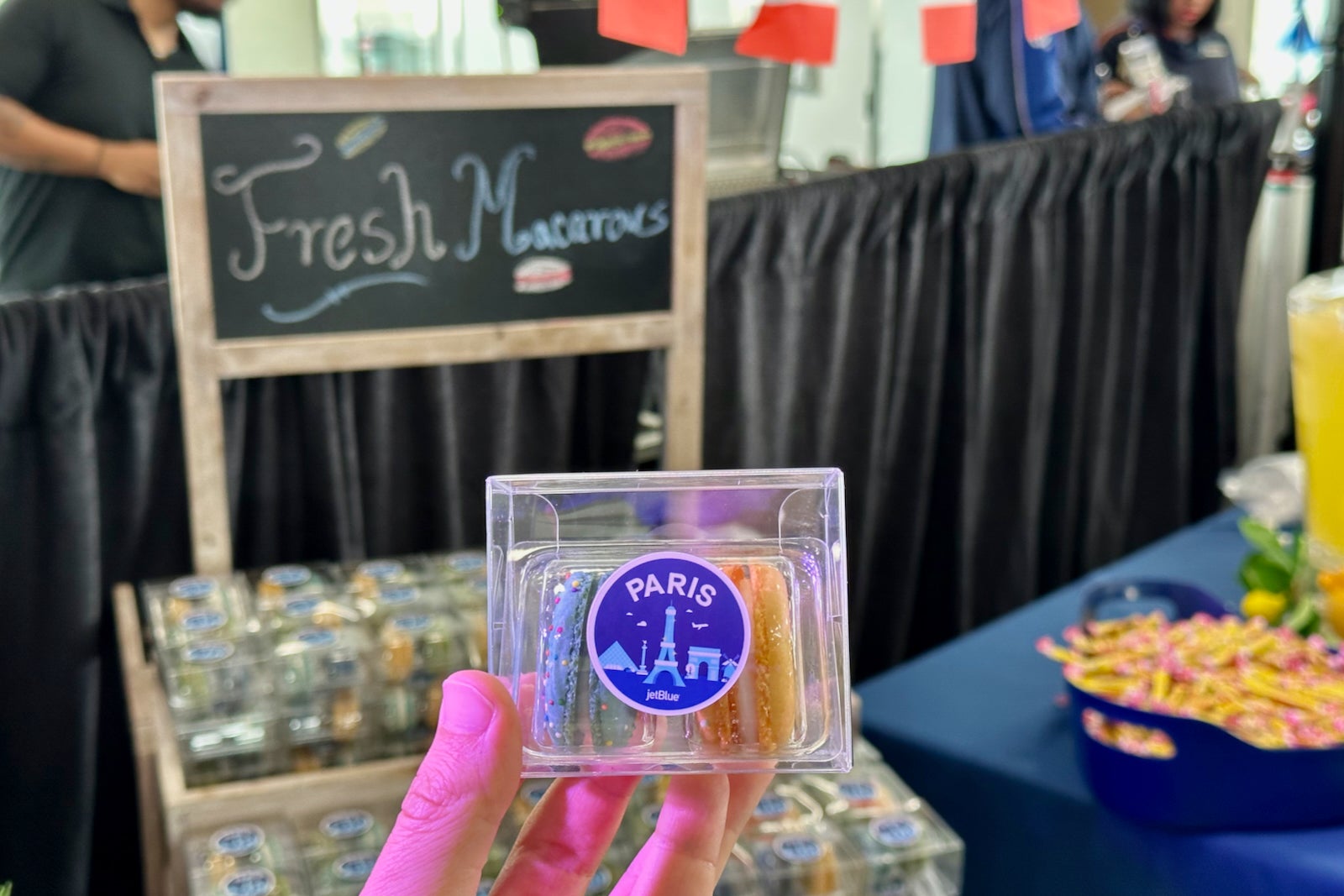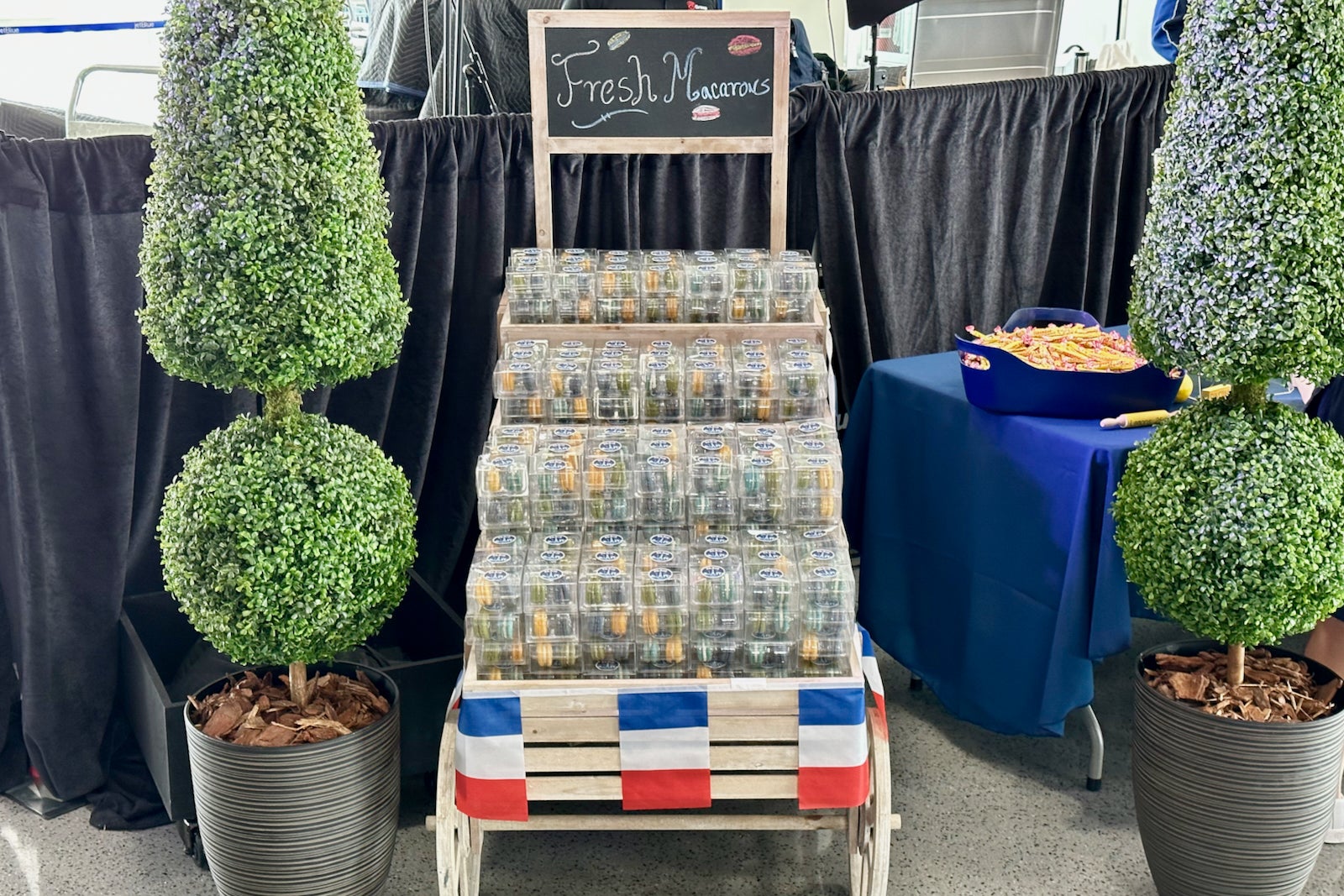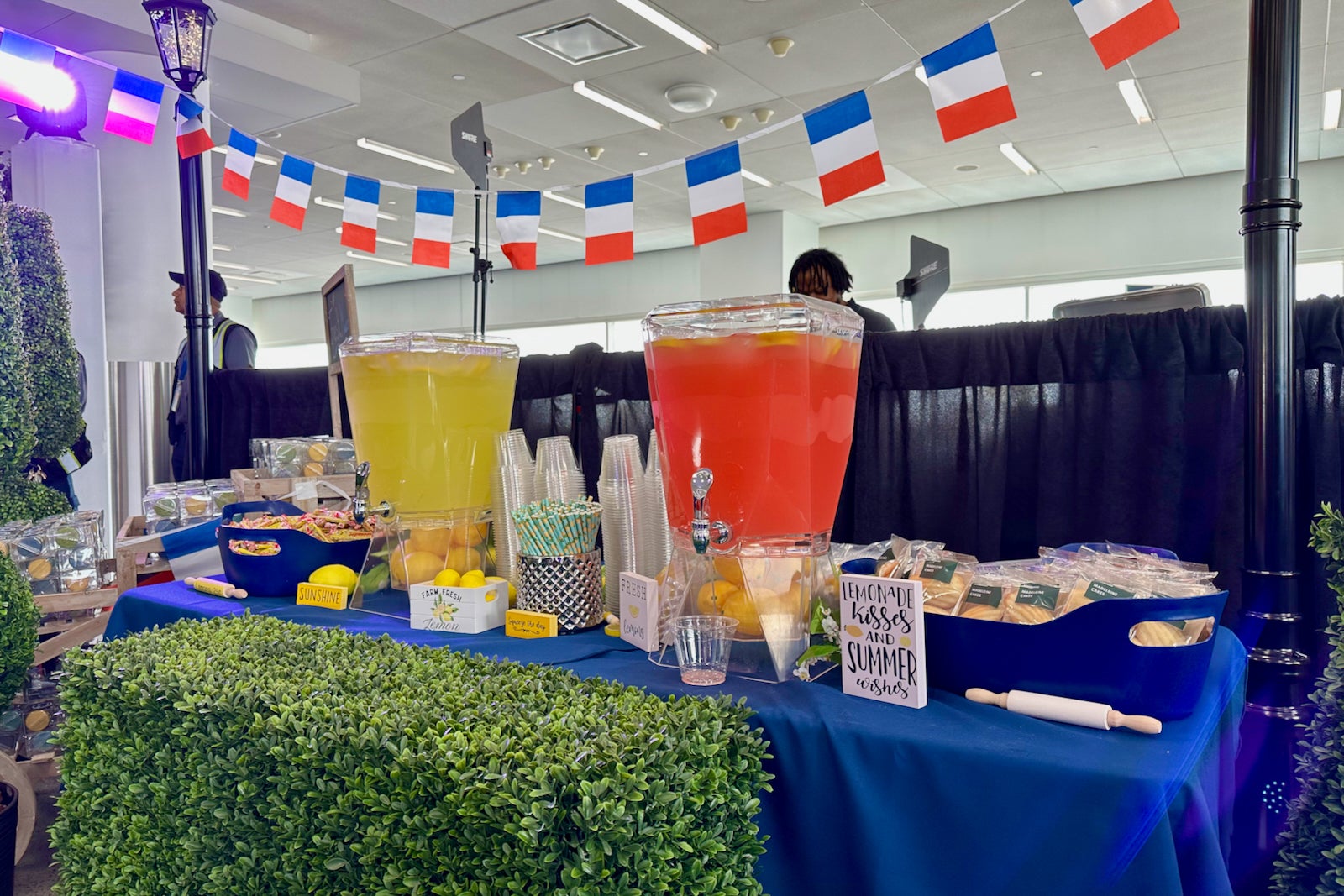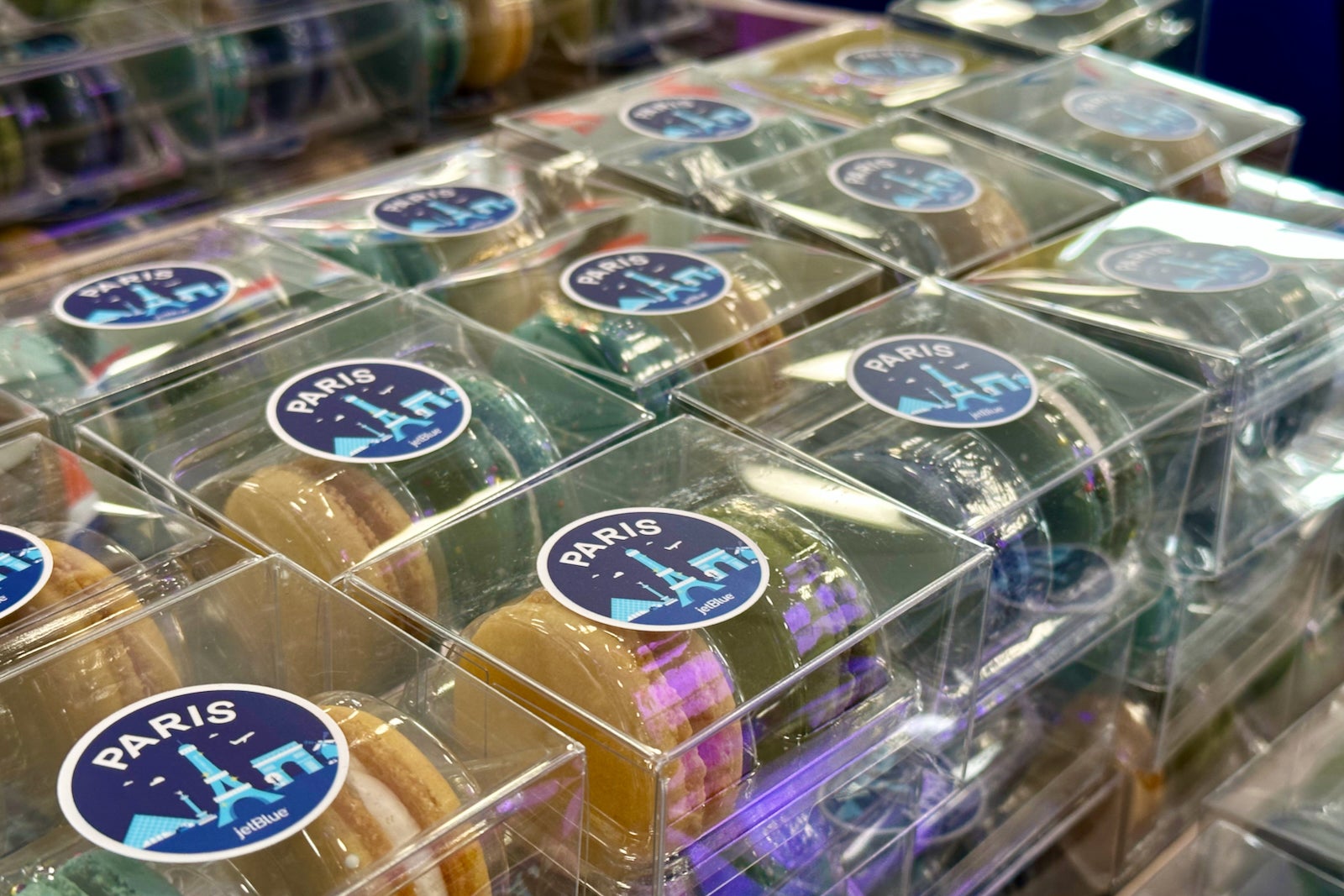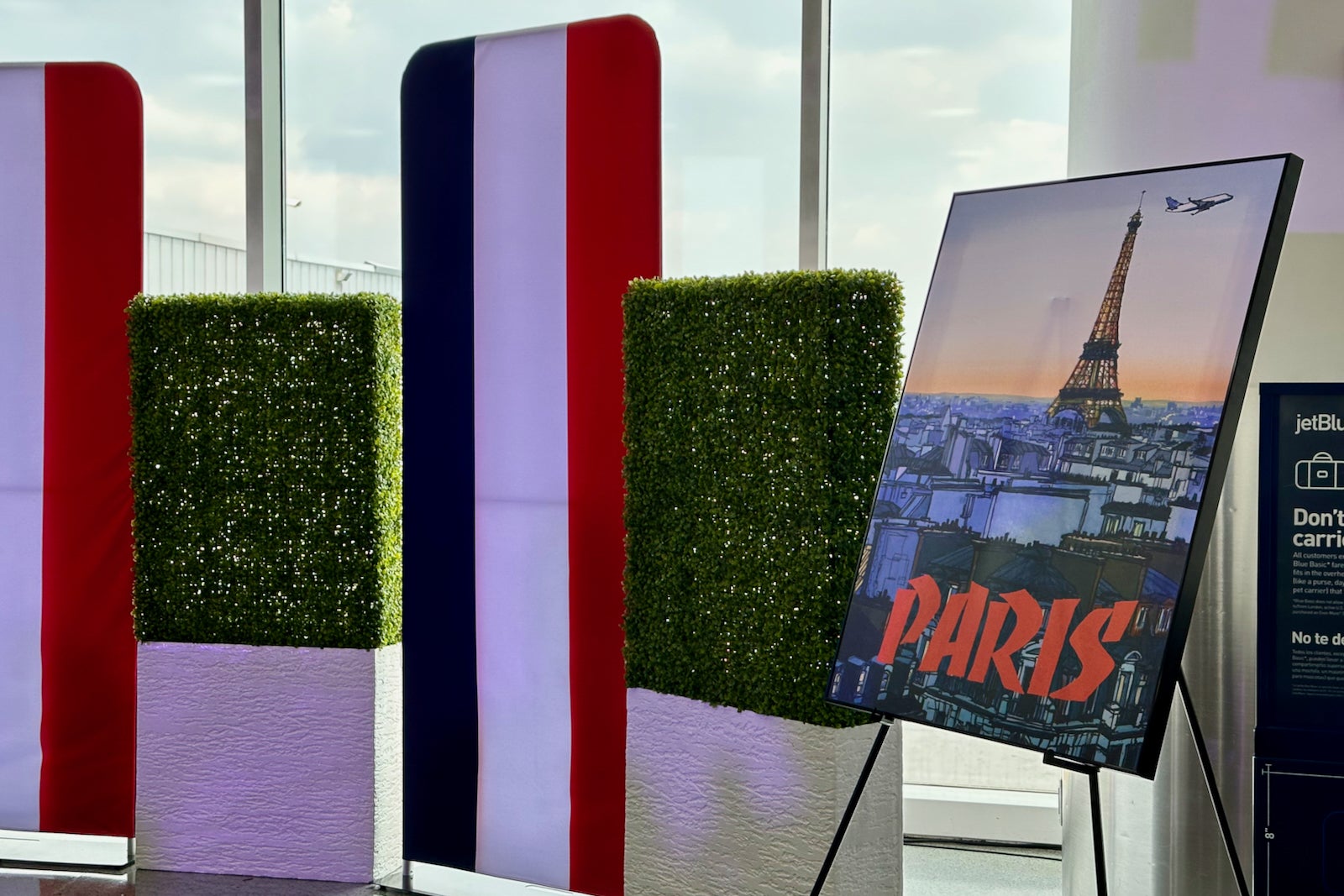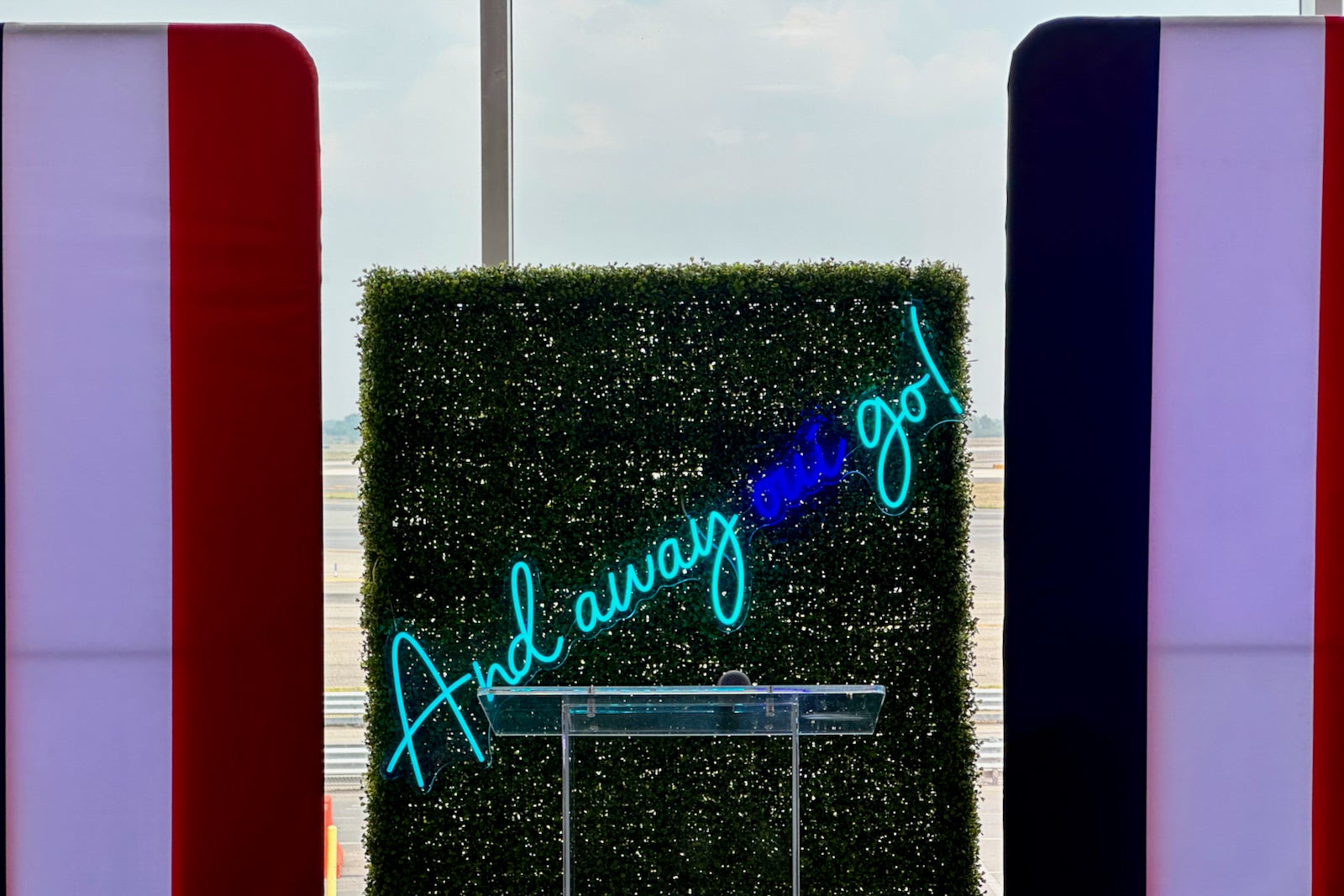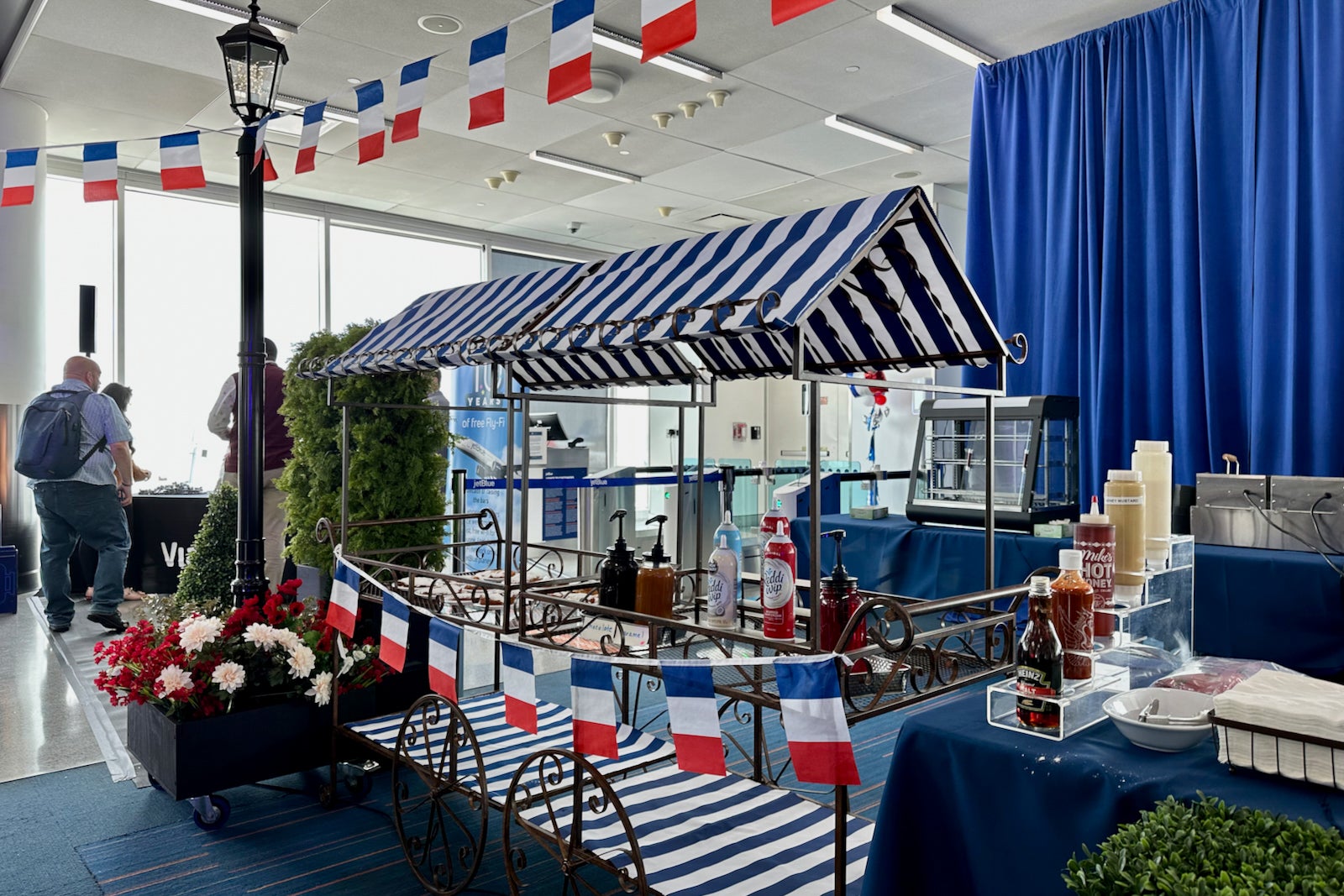 What I found was another, larger party with even more goodies — a wagon stocked with fresh macaroons, a lemonade station, a stand with fresh beignets (the only one with a long line) and even a swag table sponsored by ViaSat, providing flyers with some tech essentials, such as a phone stand and a universal charging cable.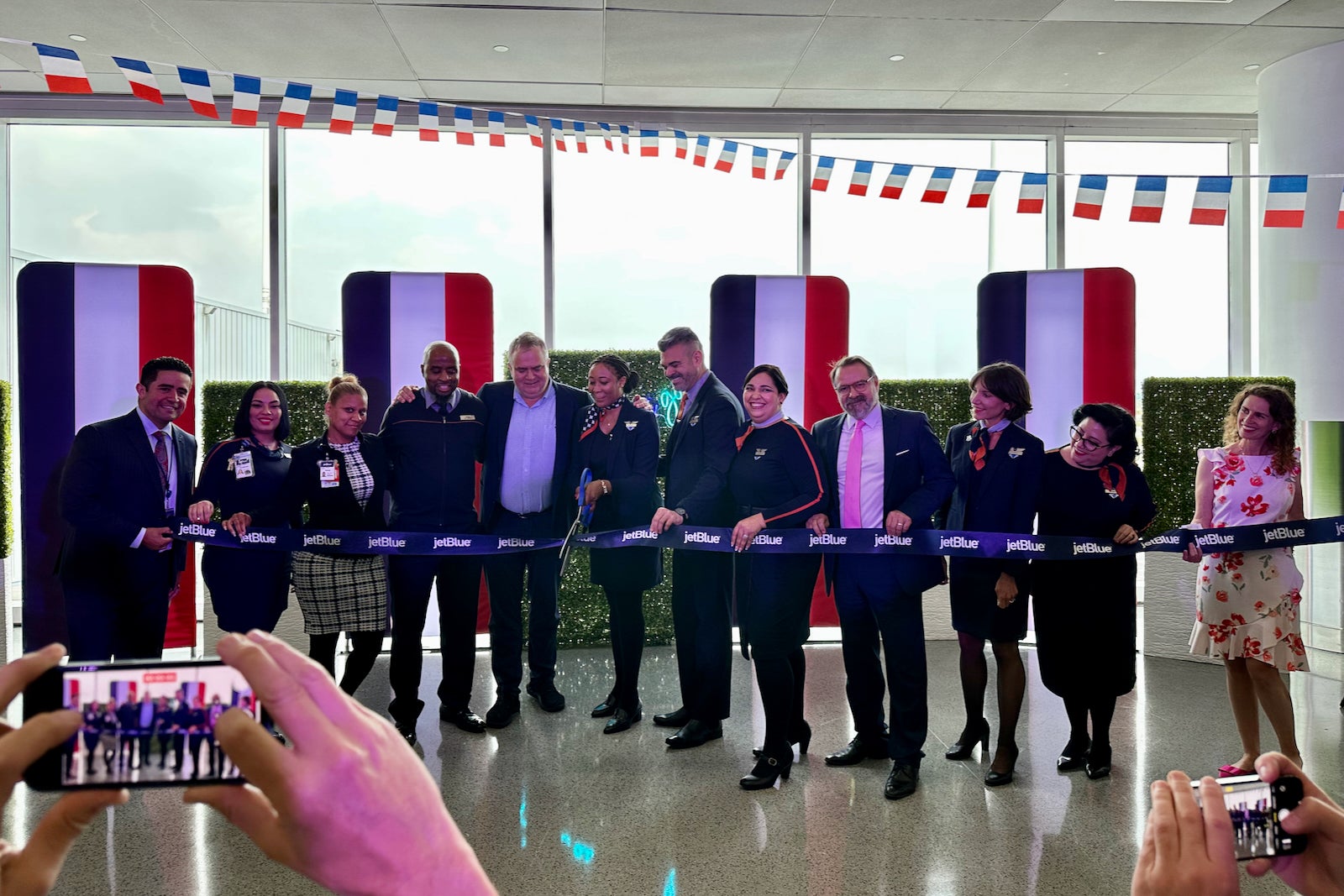 CEO Robin Hayes, along with a French dignitary and a representative from the Visit France tourism board delivered remarks, and once the ribbon was cut, eager flyers lined up to board.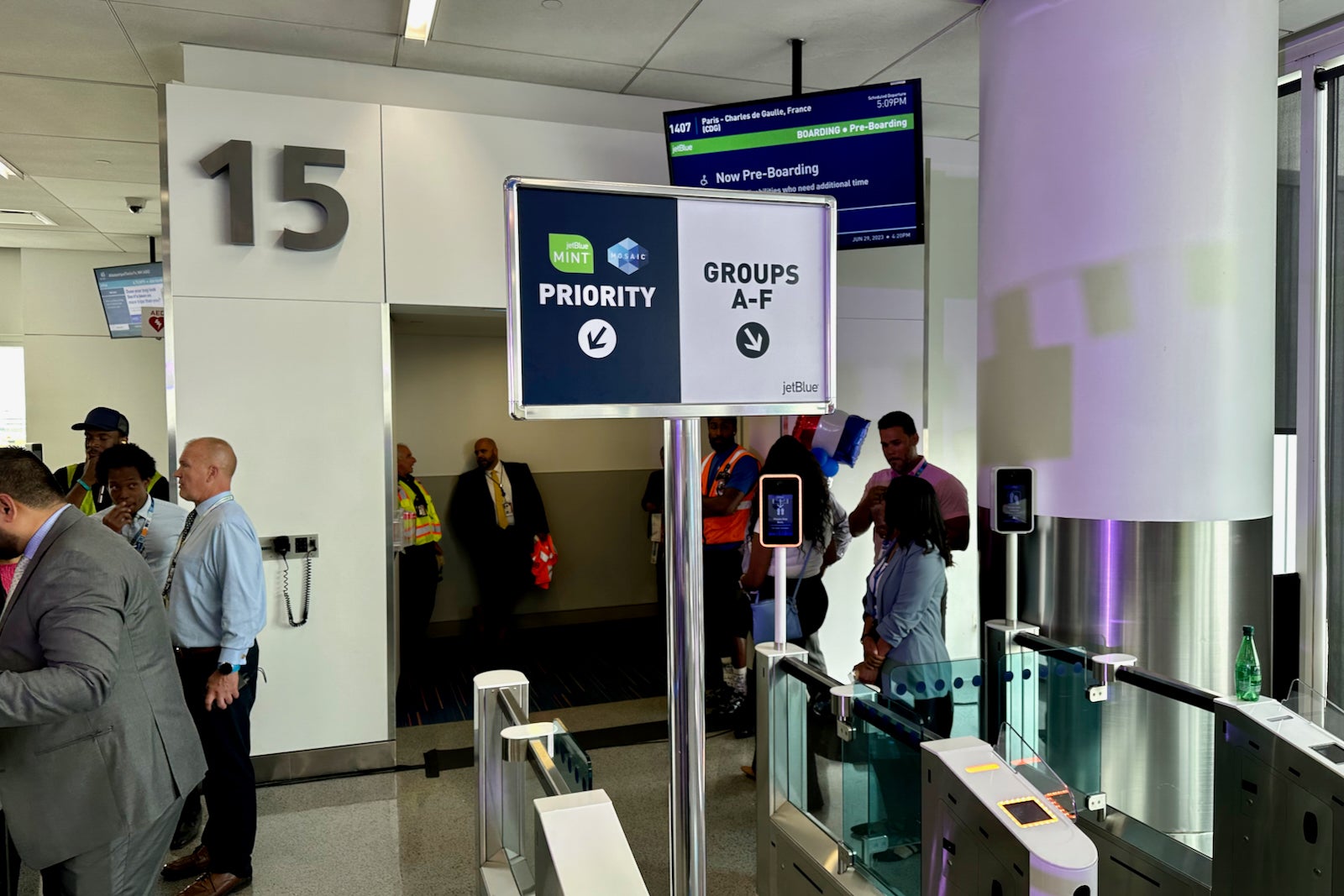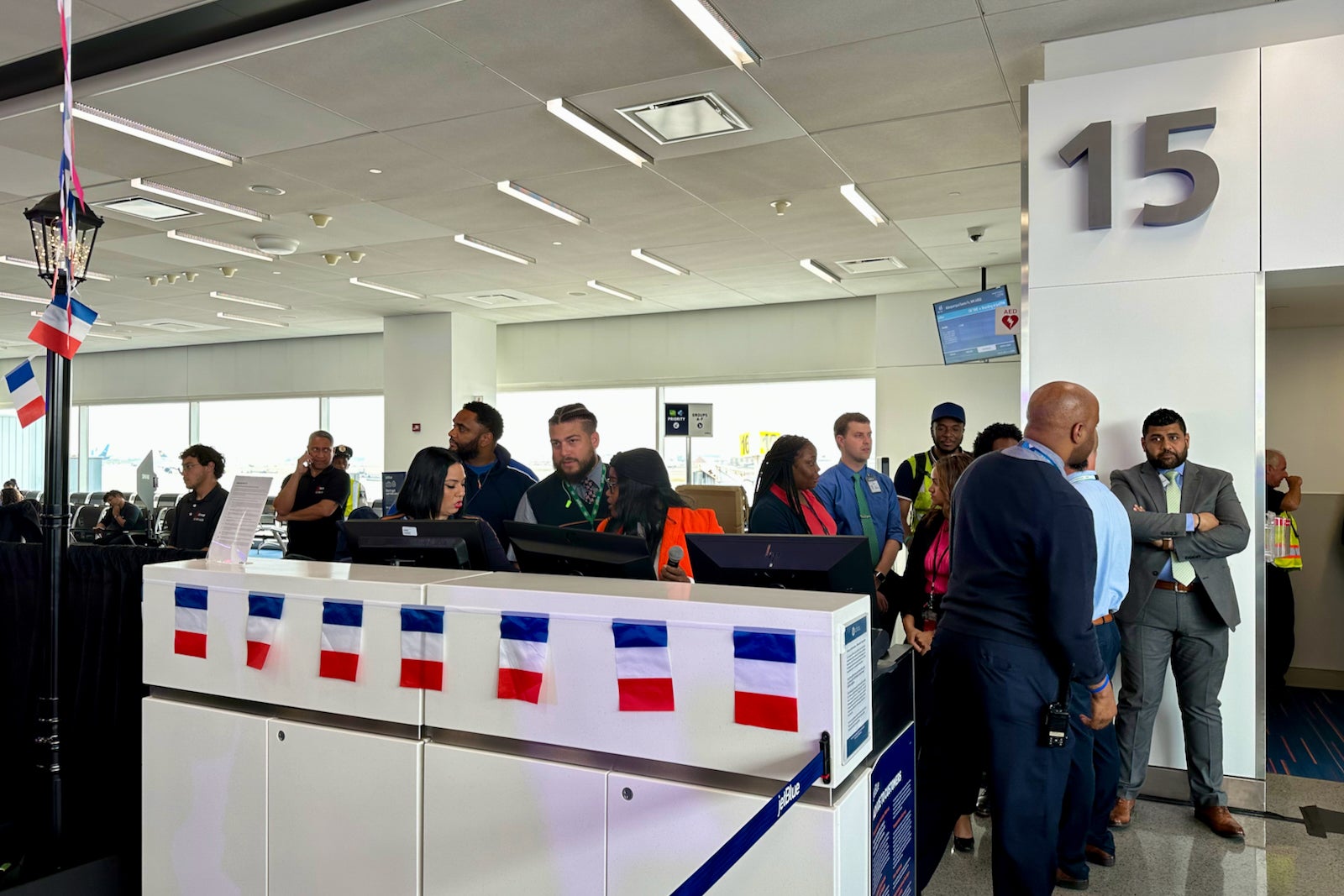 As the clock struck 4:24 p.m., boarding was called, and I was among the first to step onboard a factory-fresh Airbus A321LR that had only completed two revenue flights before the inaugural.
Swanky cabins
The new plane smell and three friendly flight attendants greeted me as I stepped onboard the A321LR, registered N4074J and christened "By AppointMint Only."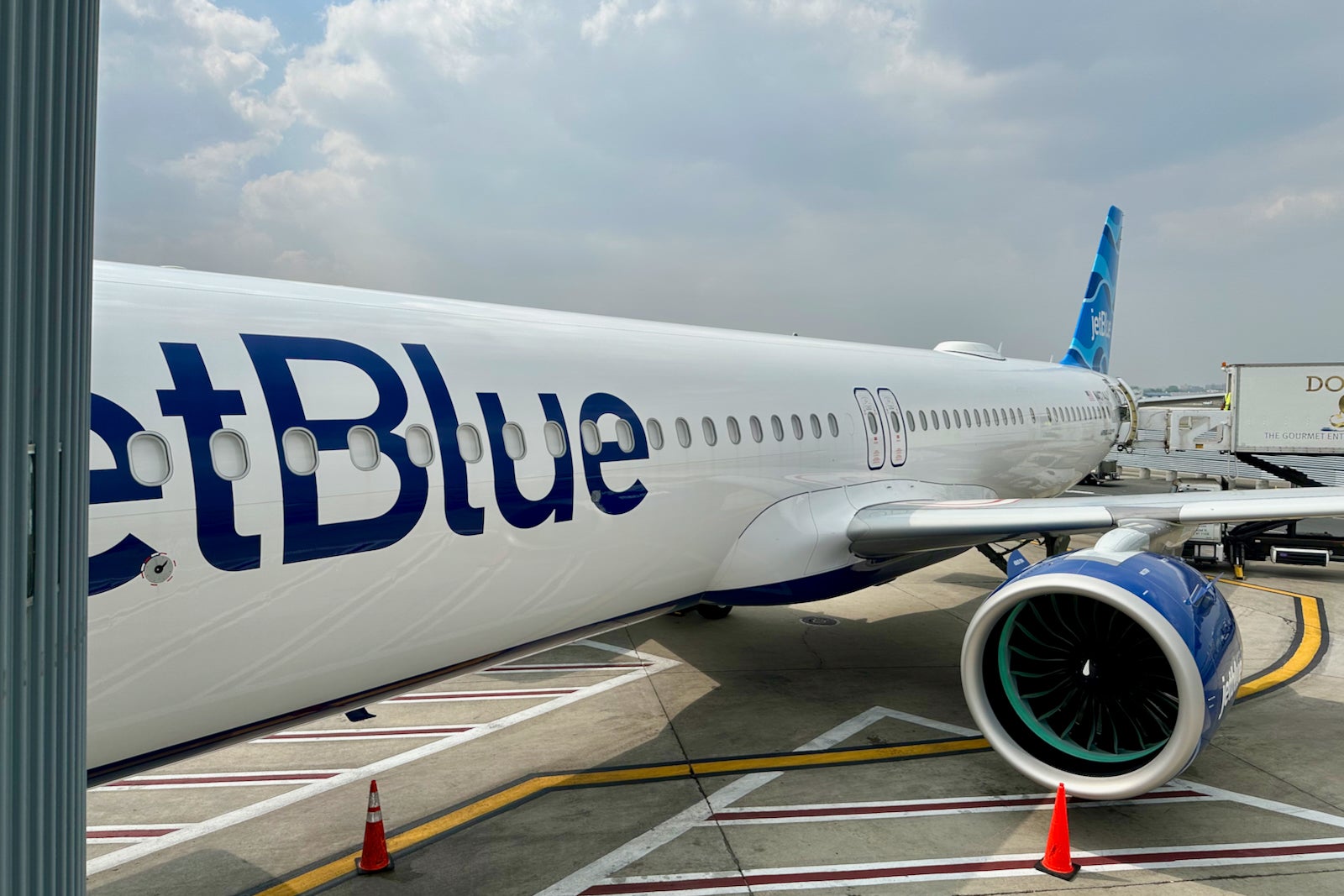 There's no turning left or right on these single-aisle planes — unless your uniform has three of four stripes, you'll be turning right to find your seat in one of the two cabins on the A321LR.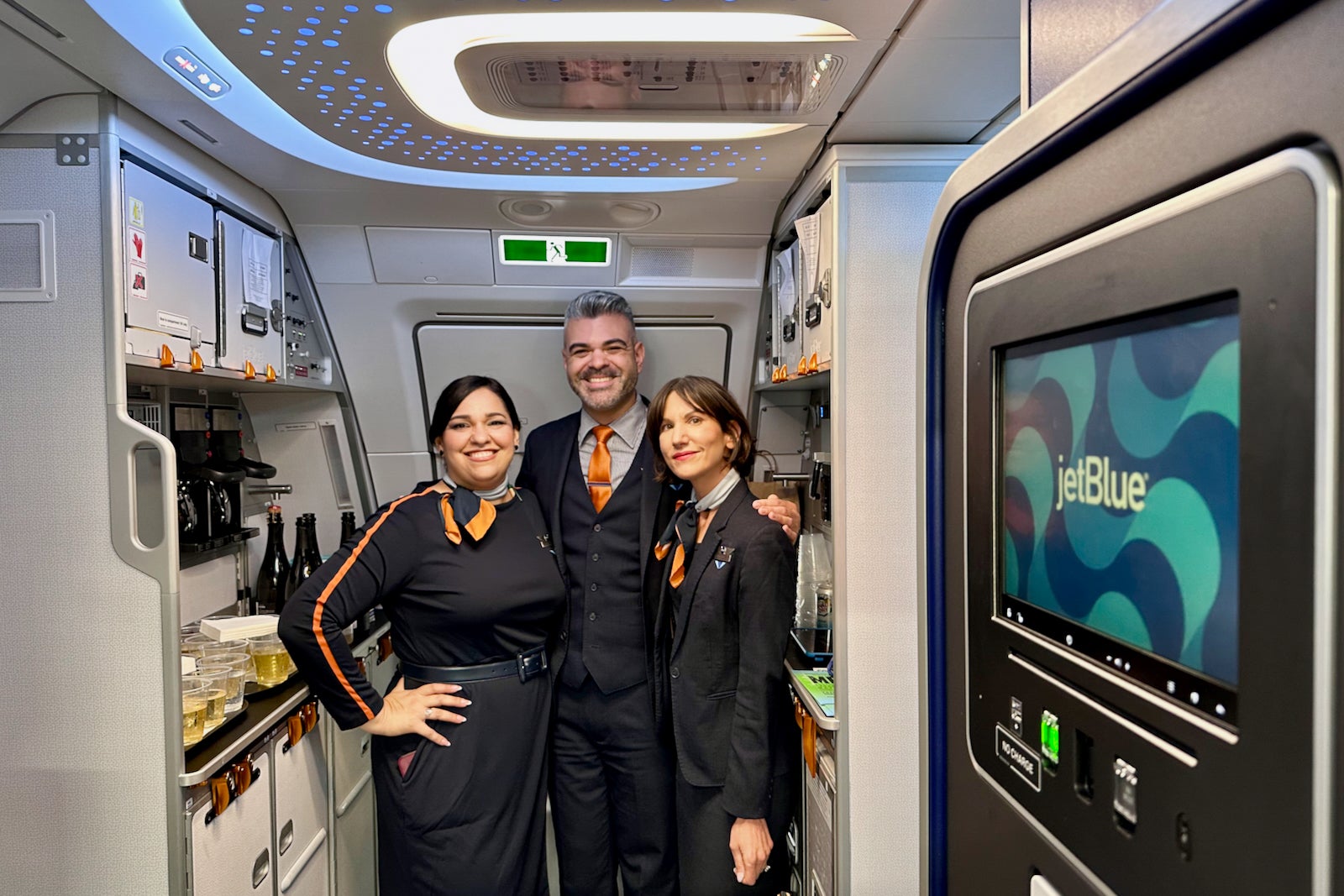 The plane features a 24-seat Mint business-class cabin arranged in a 1-1 configuration that spans rows one through 12. (Seat 12A is reserved for a pilot crew rest on transatlantic flights.)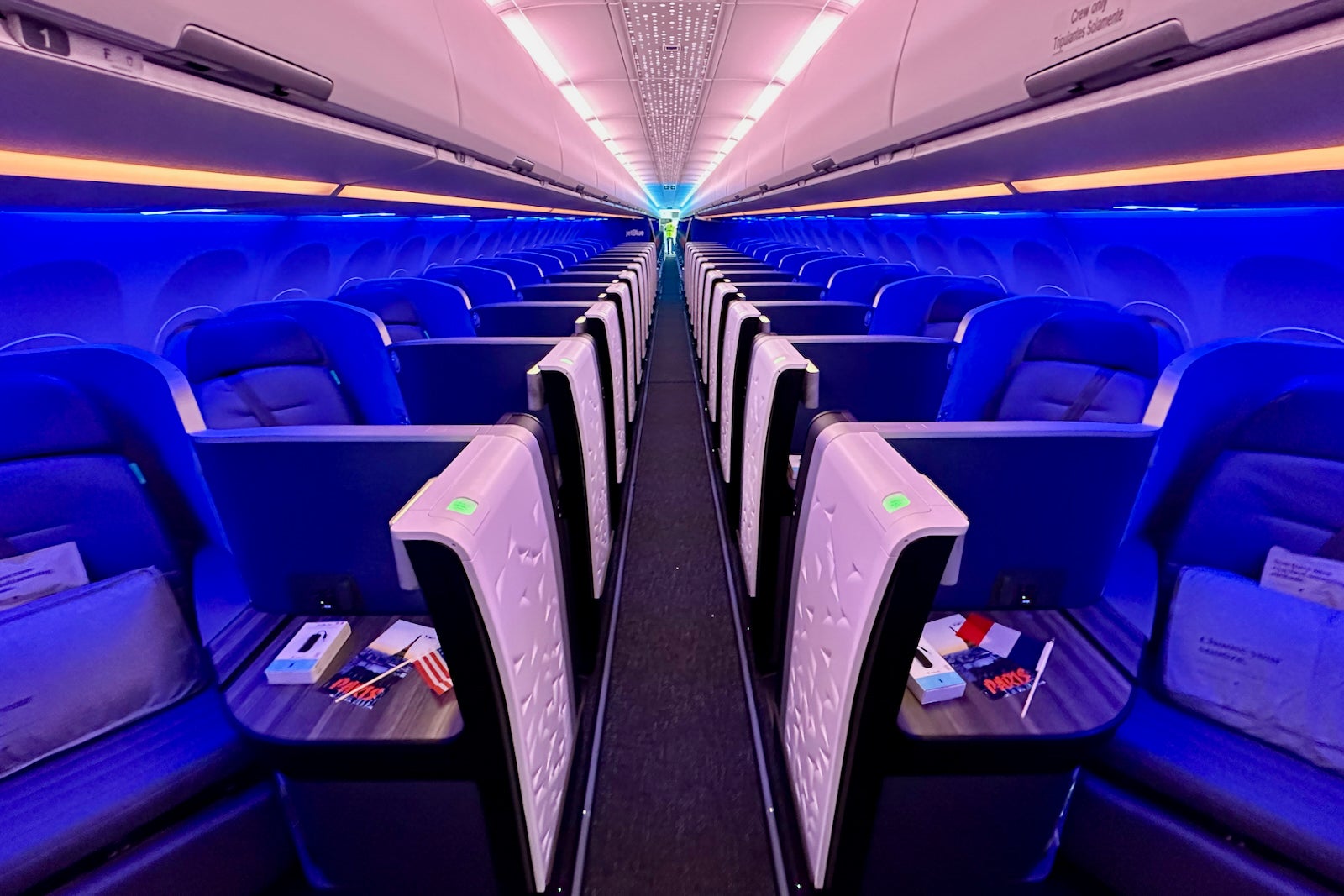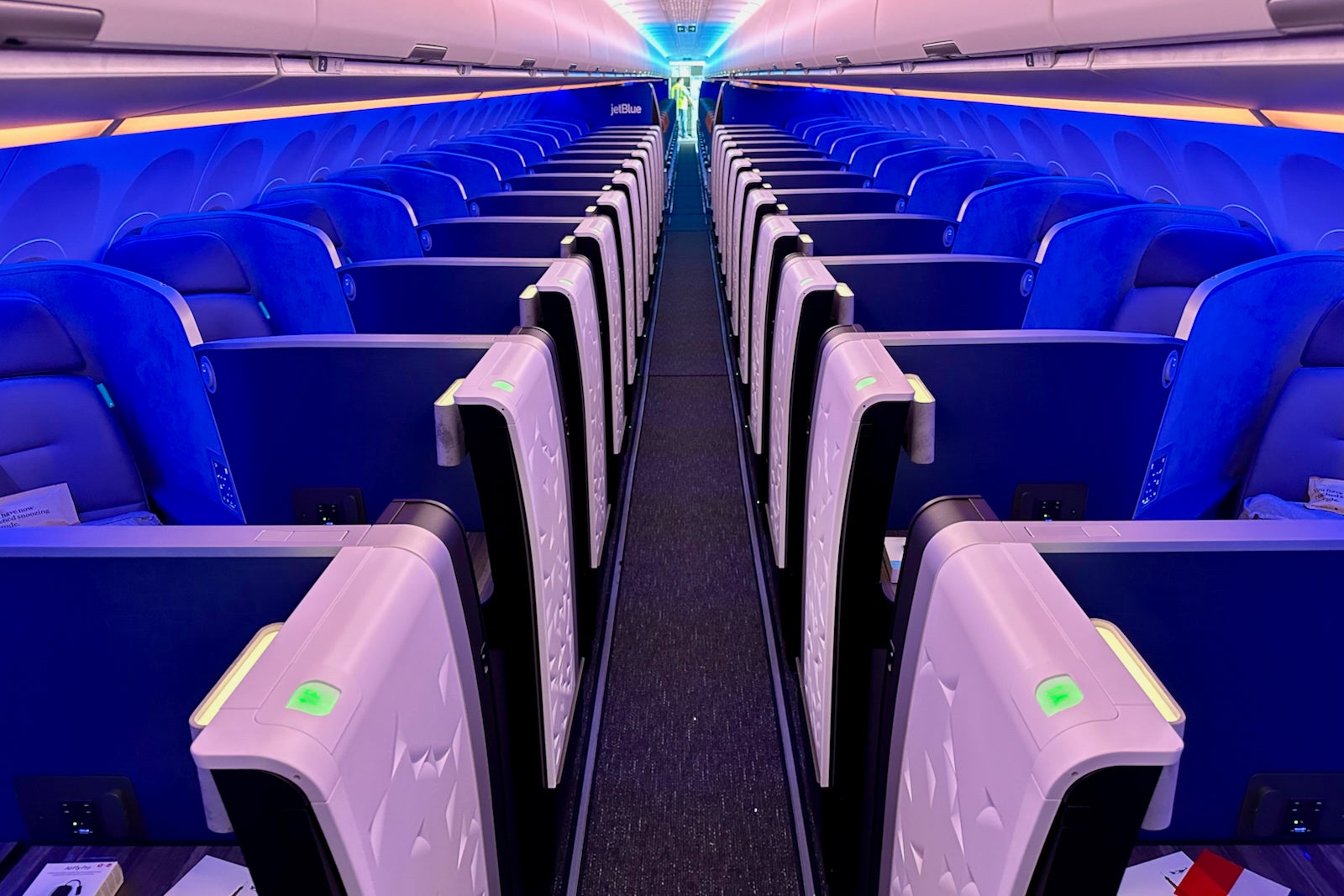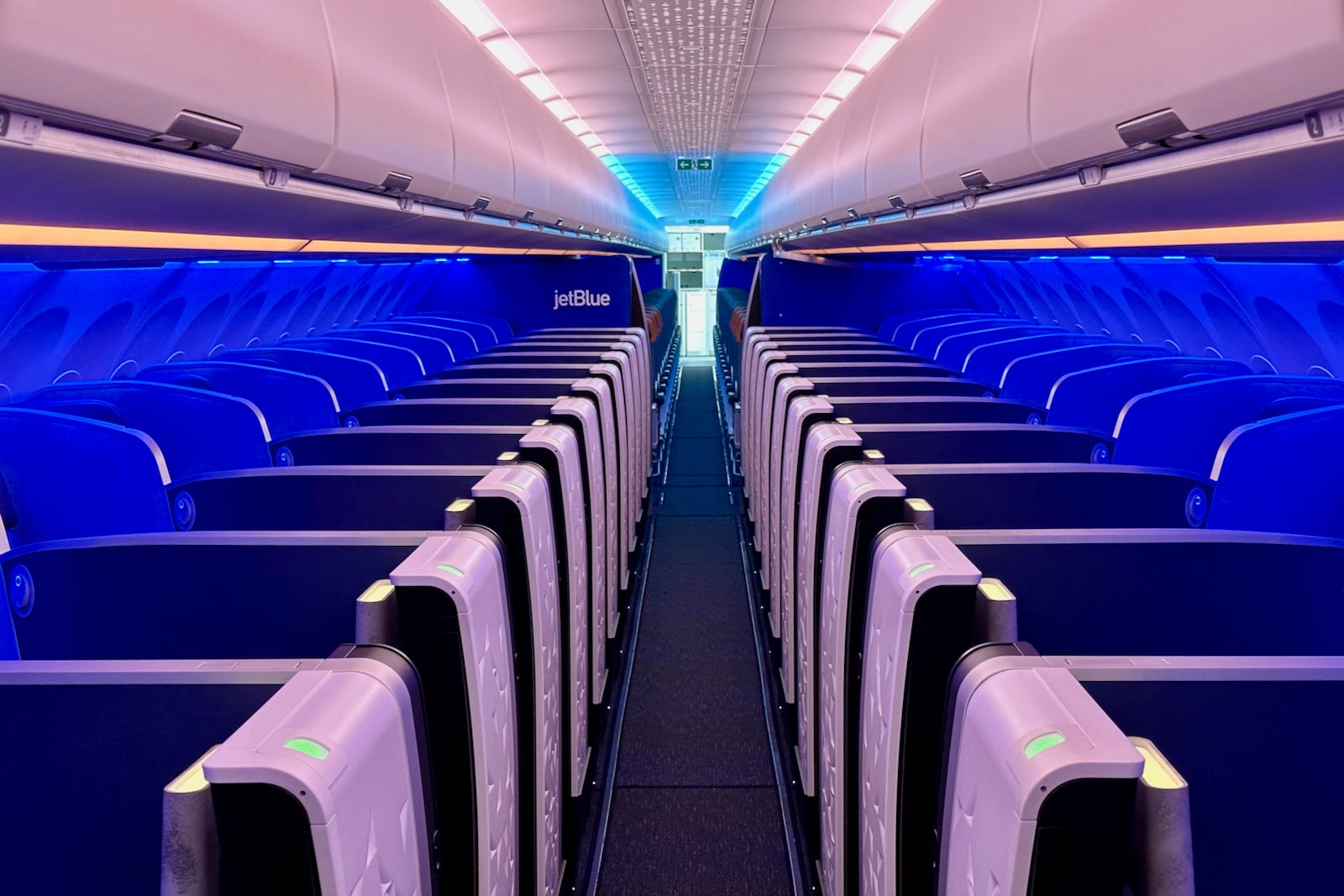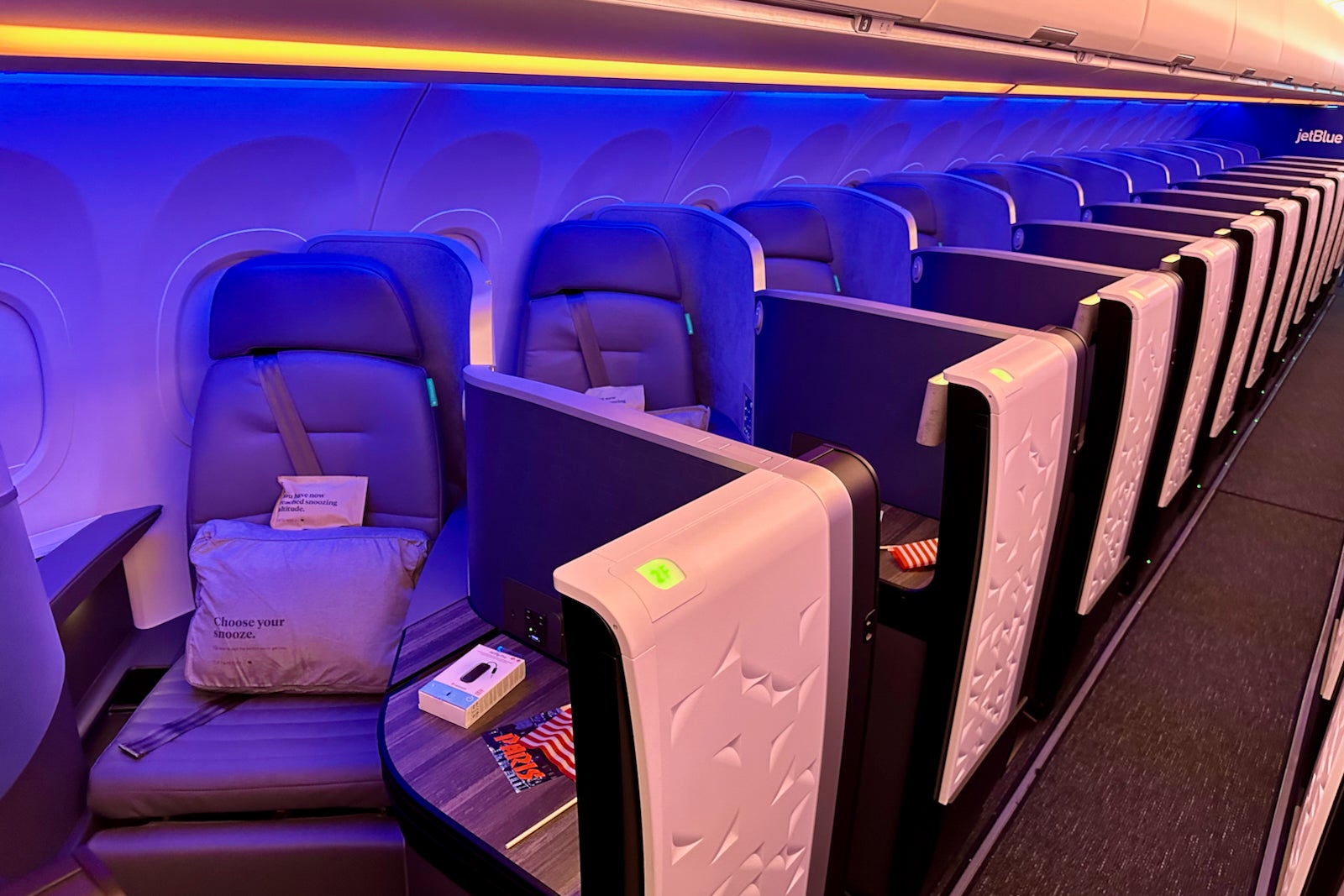 There are two types of seats within the Mint cabin — 22 suites and two extra-spacious front-row Studios. I've enjoyed flights in both of these products before, and the Paris inaugural was no exception.
Suite 2F was my home for the nearly seven-hour journey, and it excelled in many ways. For one, I love the sliding door that provides plenty of privacy from the aisle.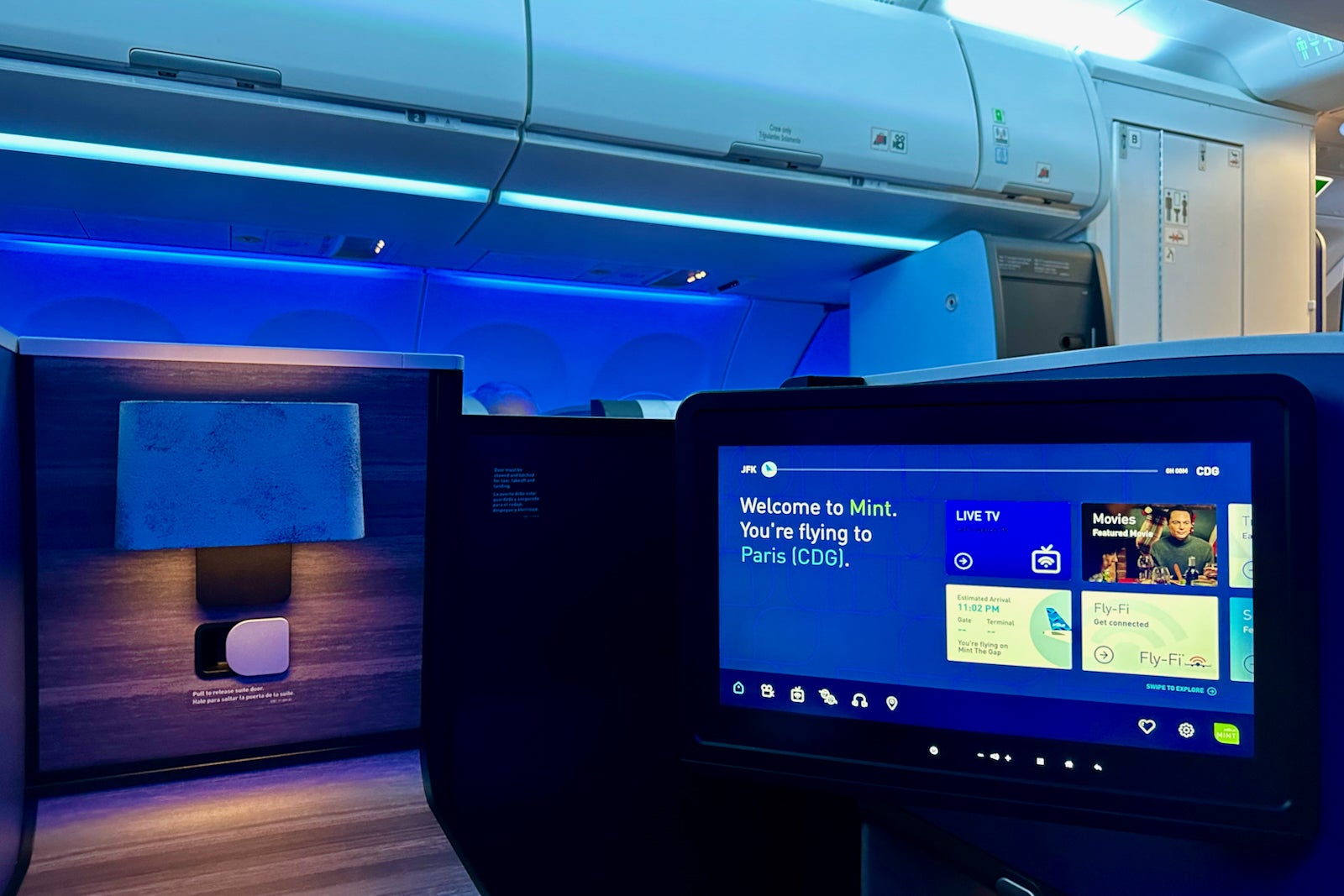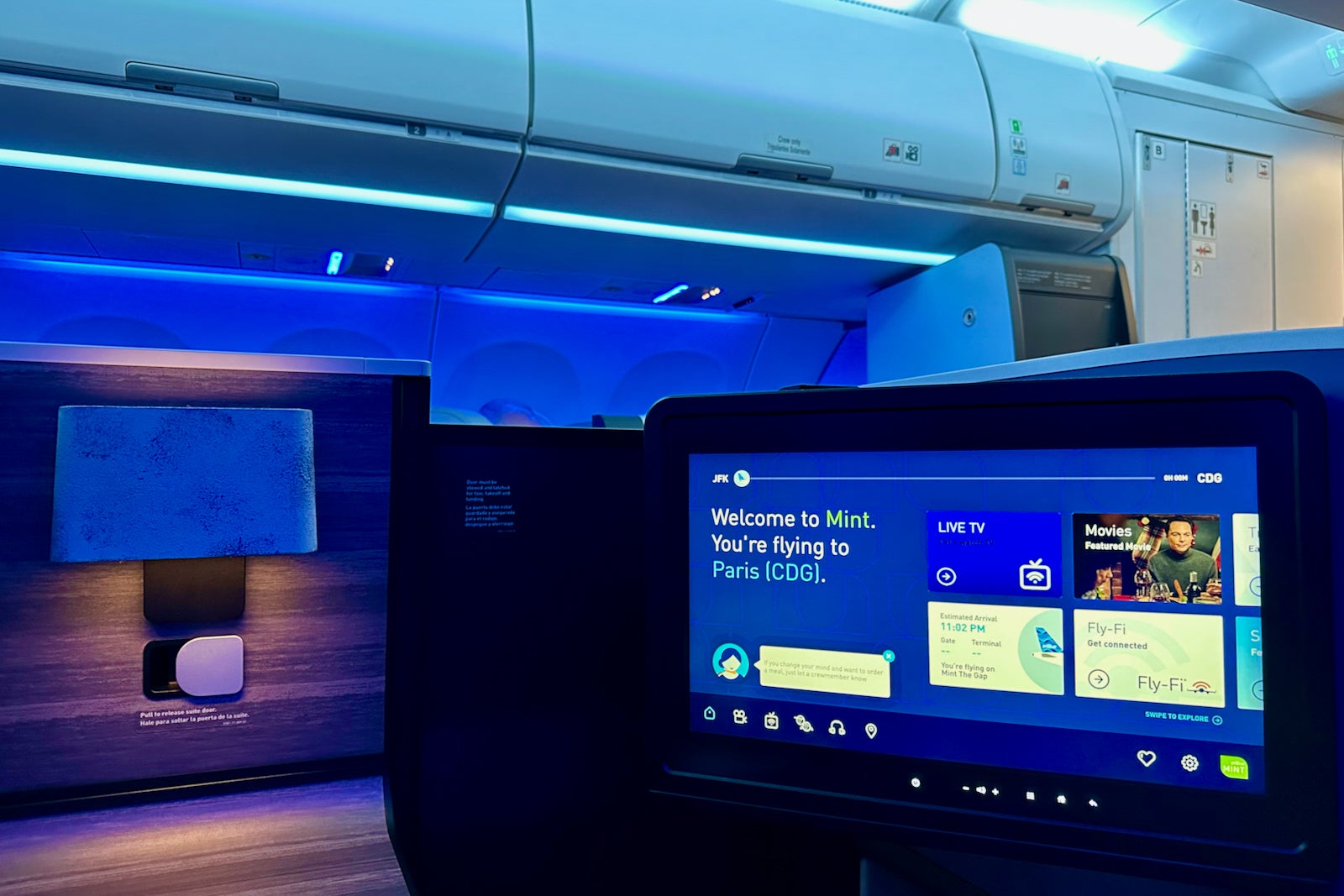 Flyers sometimes complain about the lack of privacy in aisle-facing pods, but I find that the doors and the tall privacy dividers between suites help demarcate your own space.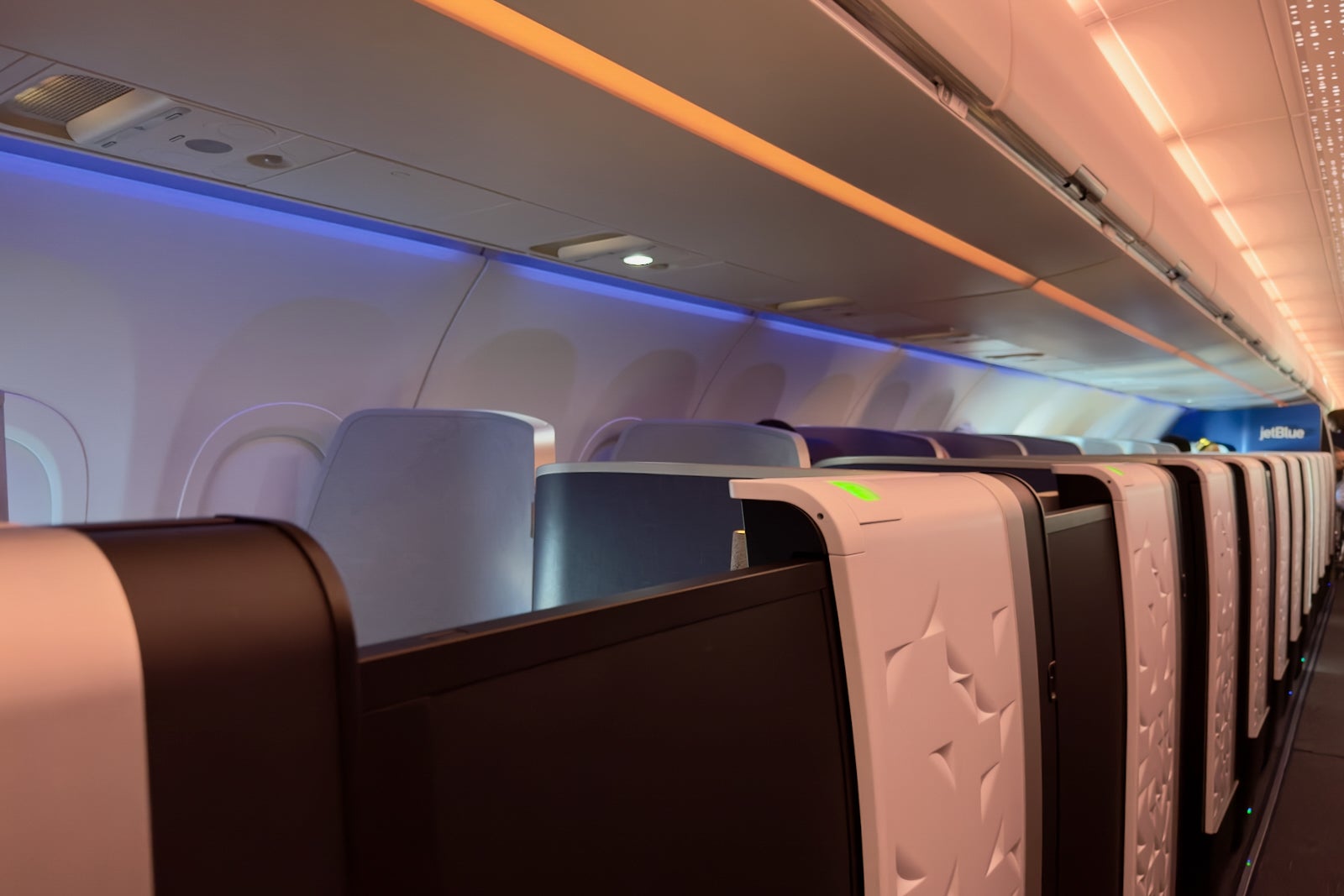 The suite also converts into a very spacious and comfortable bed that measures 76 inches long, and the footwell was large enough for me to catch two hours of uninterrupted shuteye.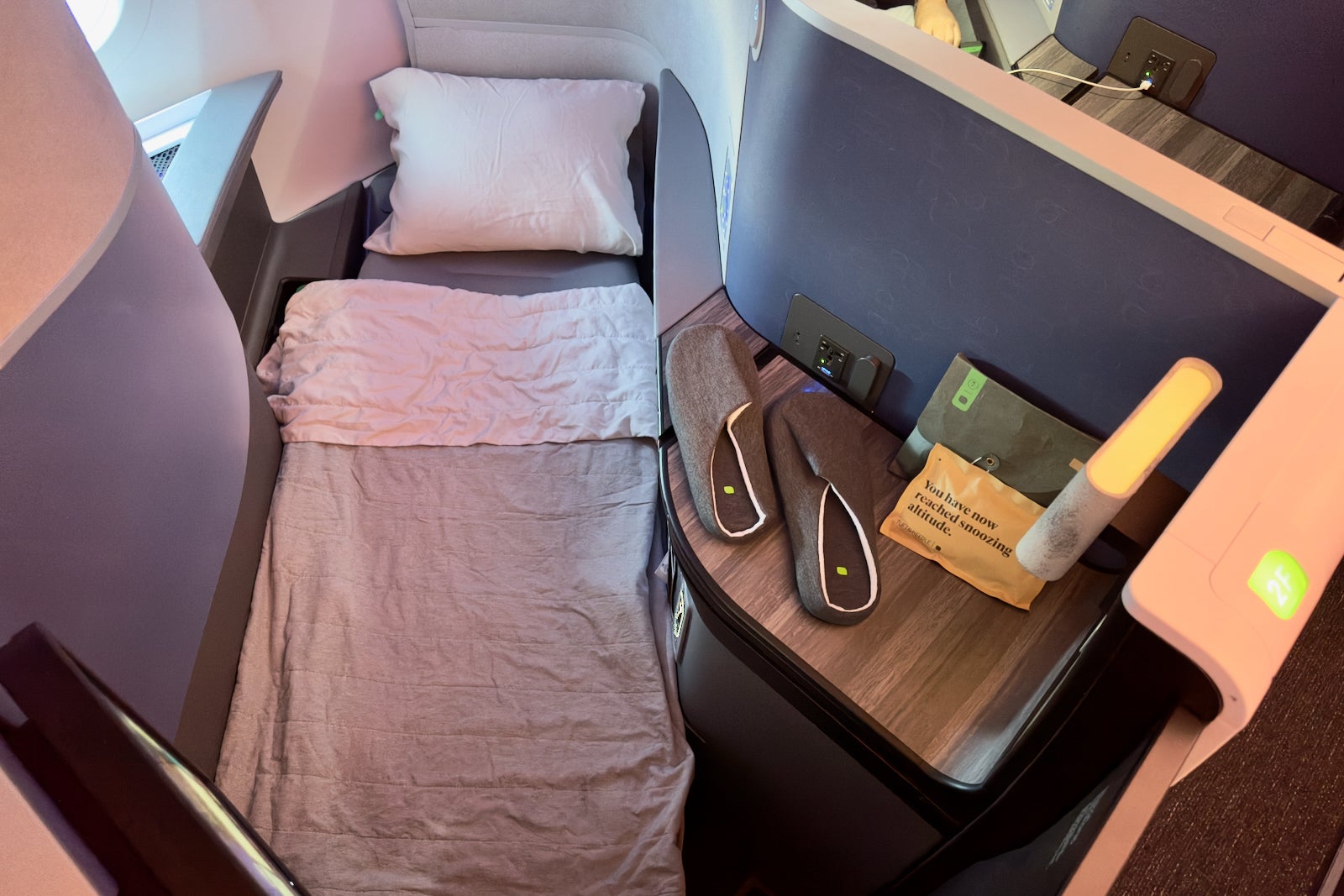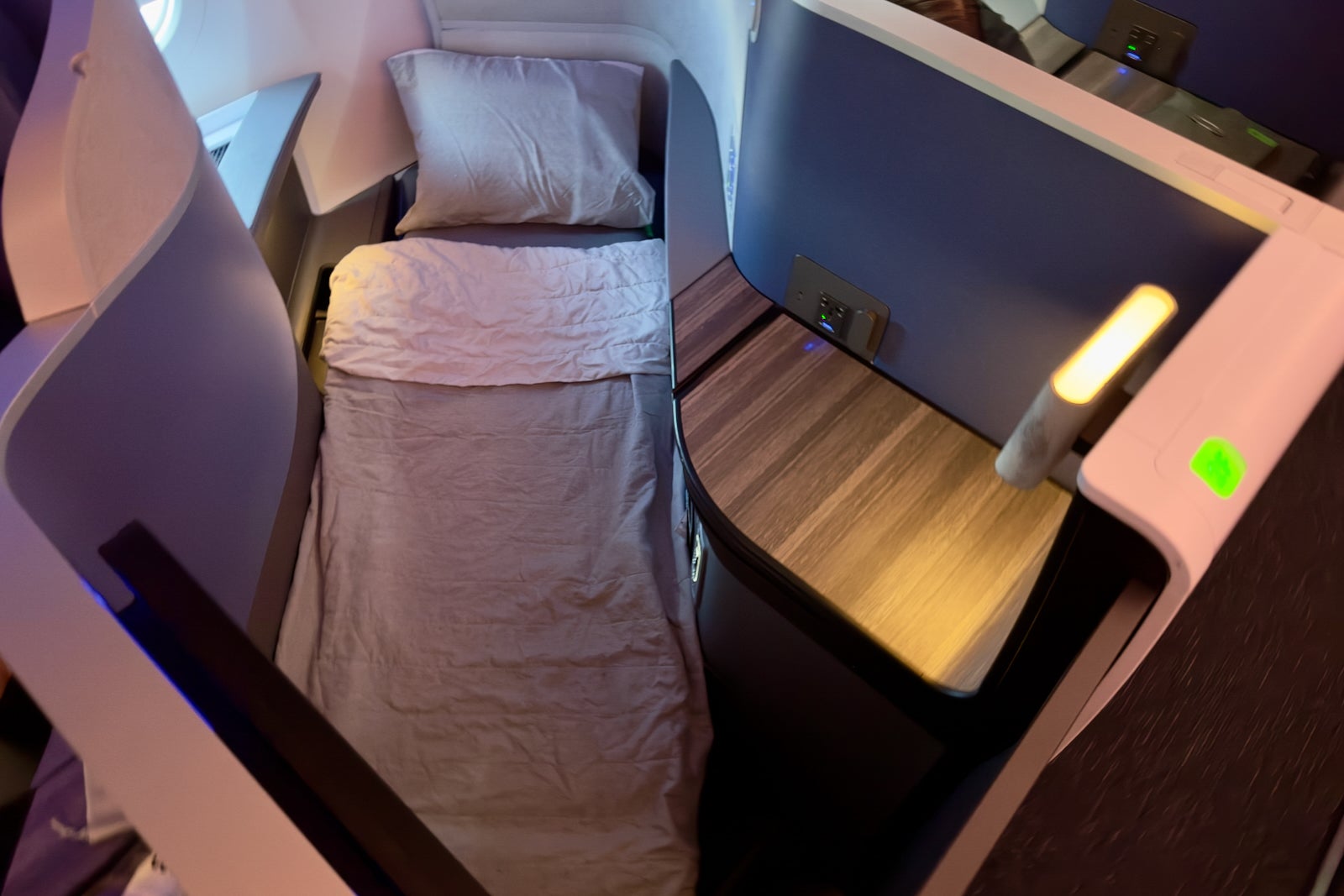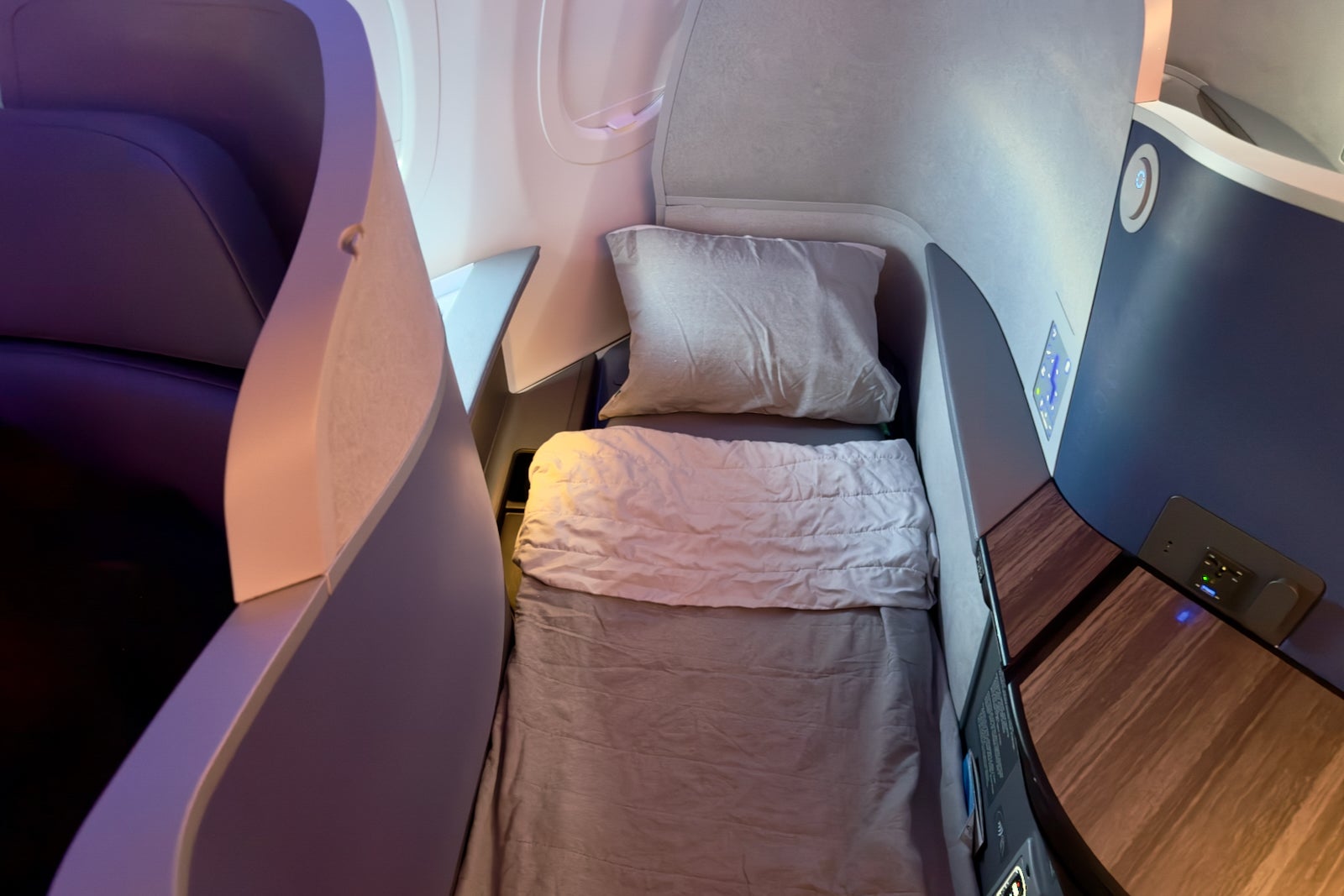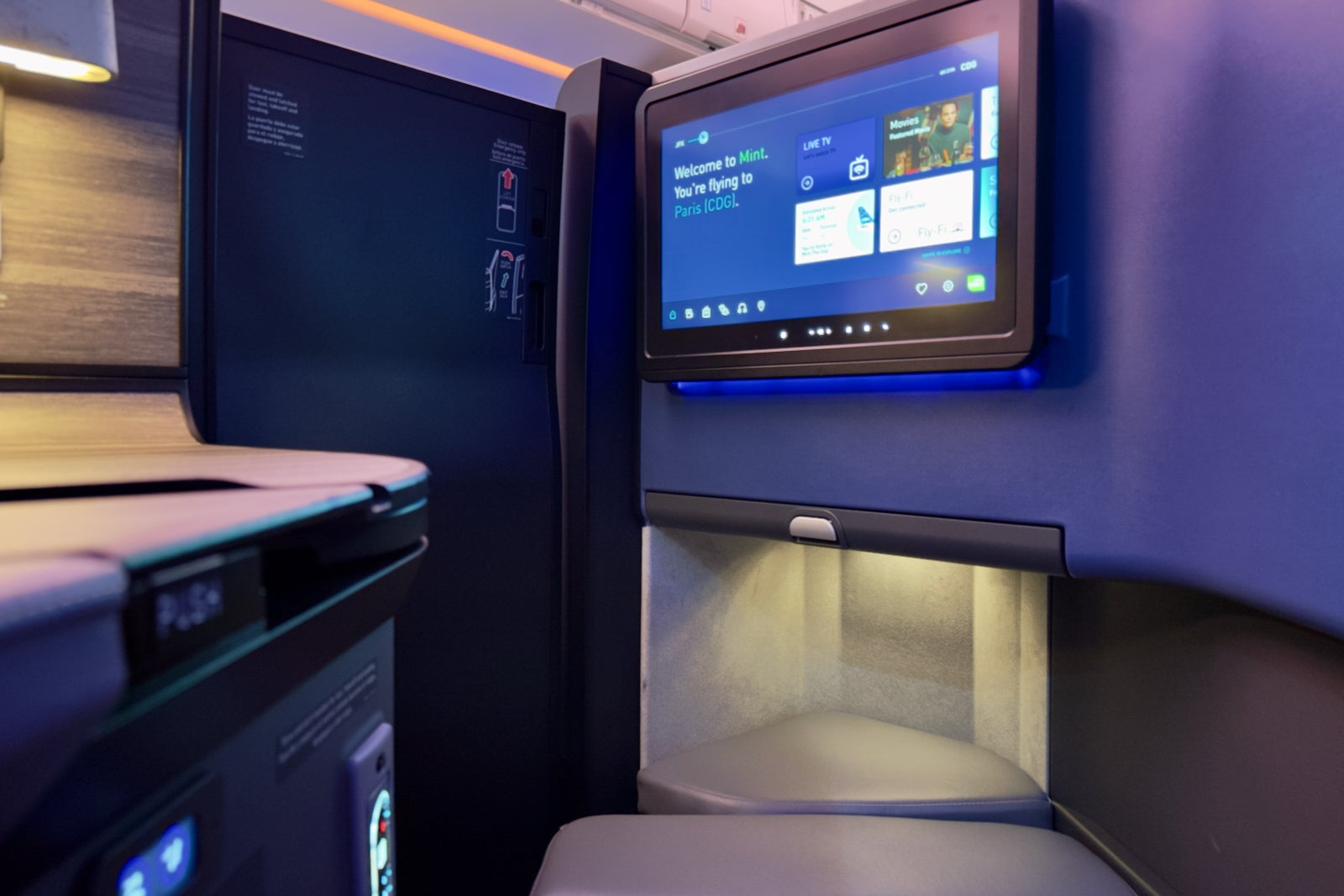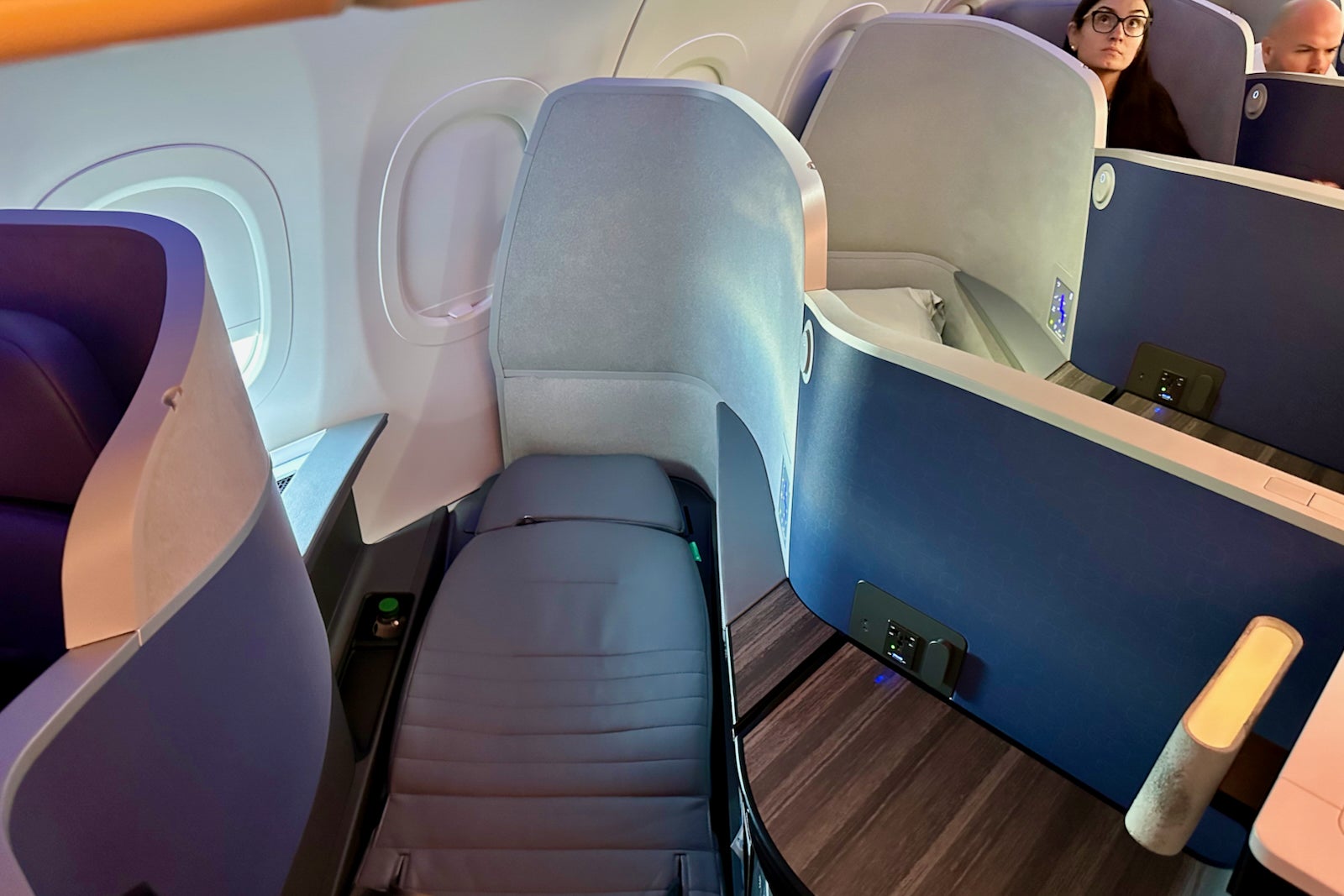 Though there's limited enclosed storage — just a shelf underneath the TV (that can fit a laptop) and a small cubby next to your arm — the large side table was the perfect place to put all the goodies I accumulated during the flight (more on that below).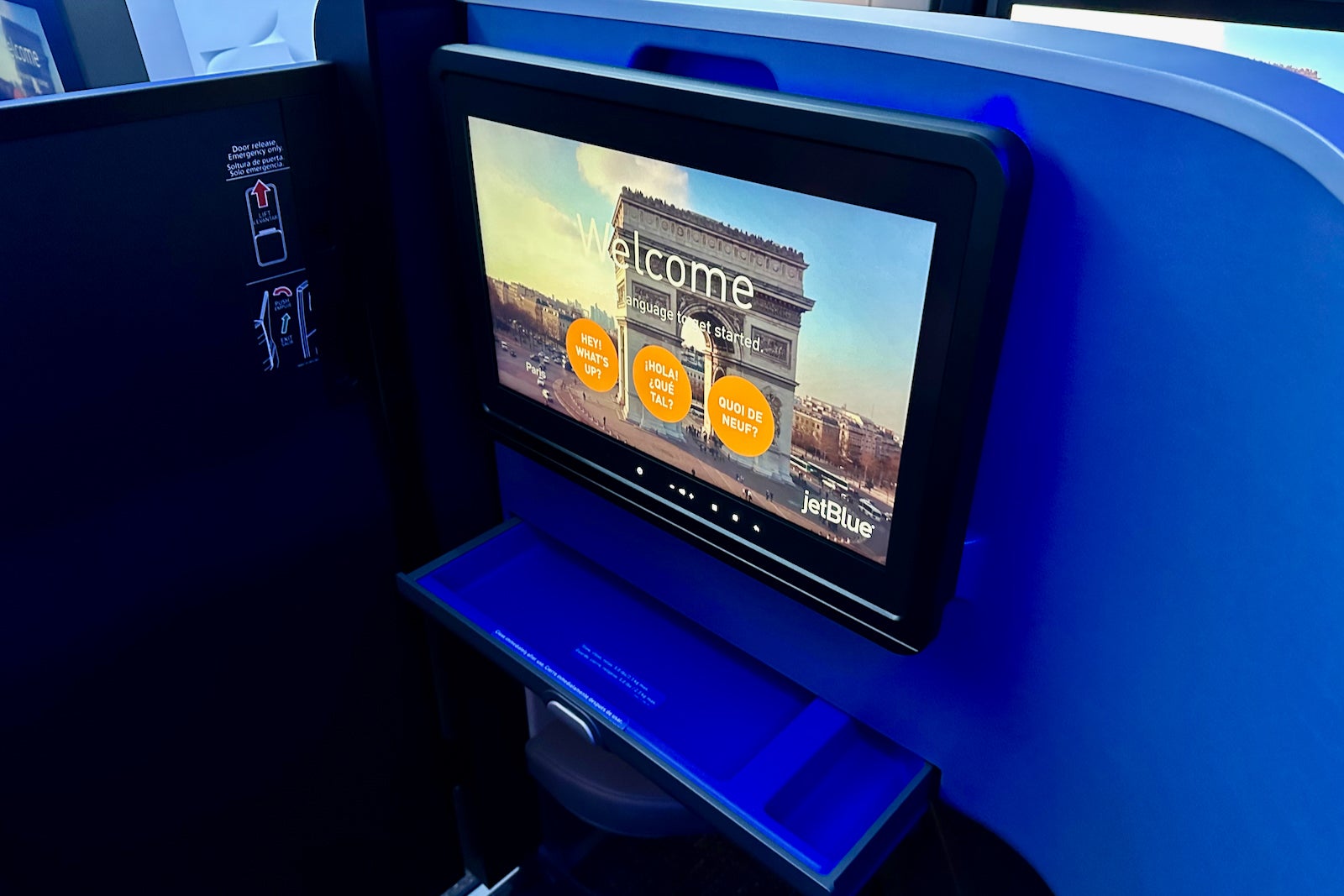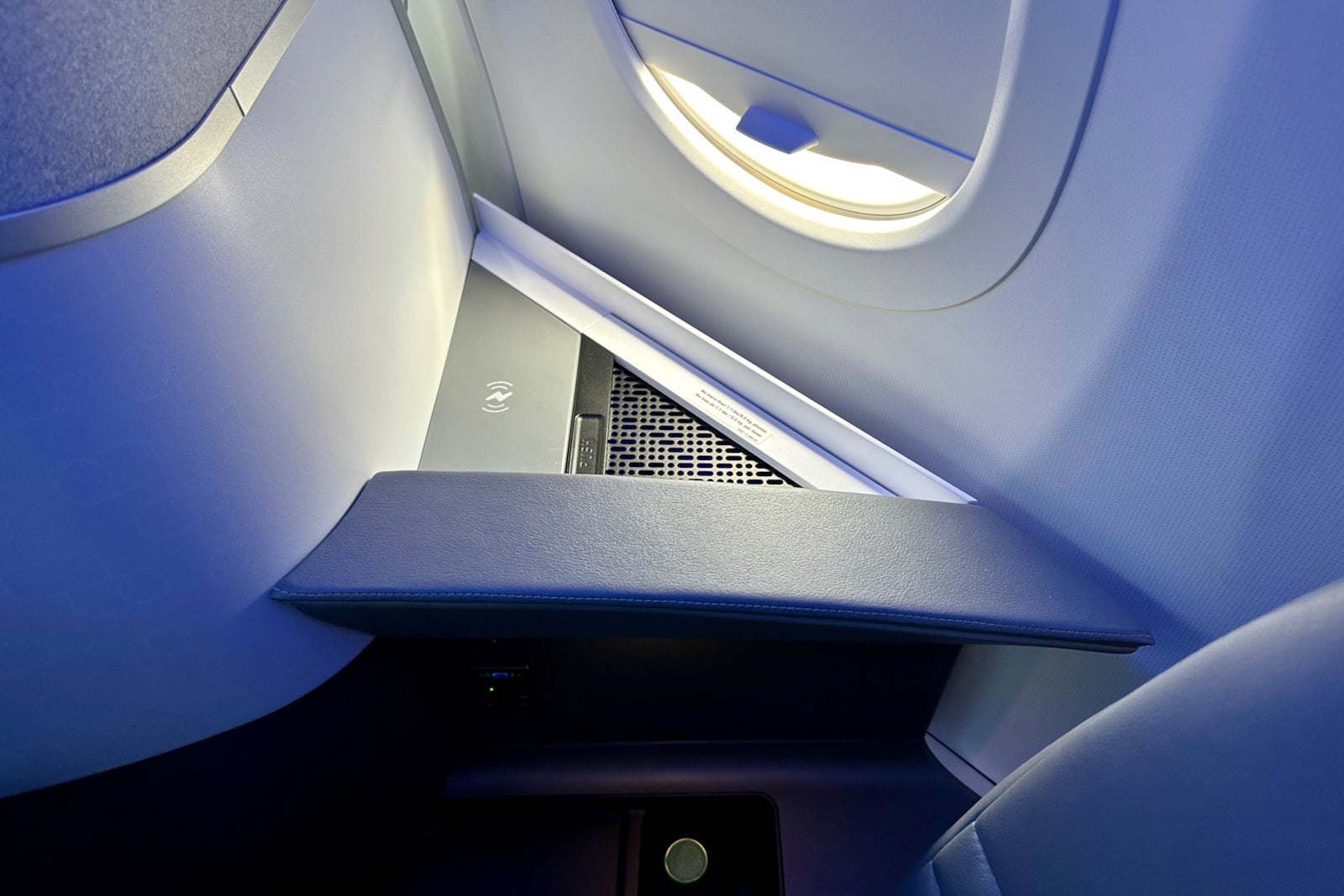 I won't get into all the details about the seat — there are a few comprehensive reviews on TPG, both of the Mint Suite and the Mint Studio — but I'm a fan.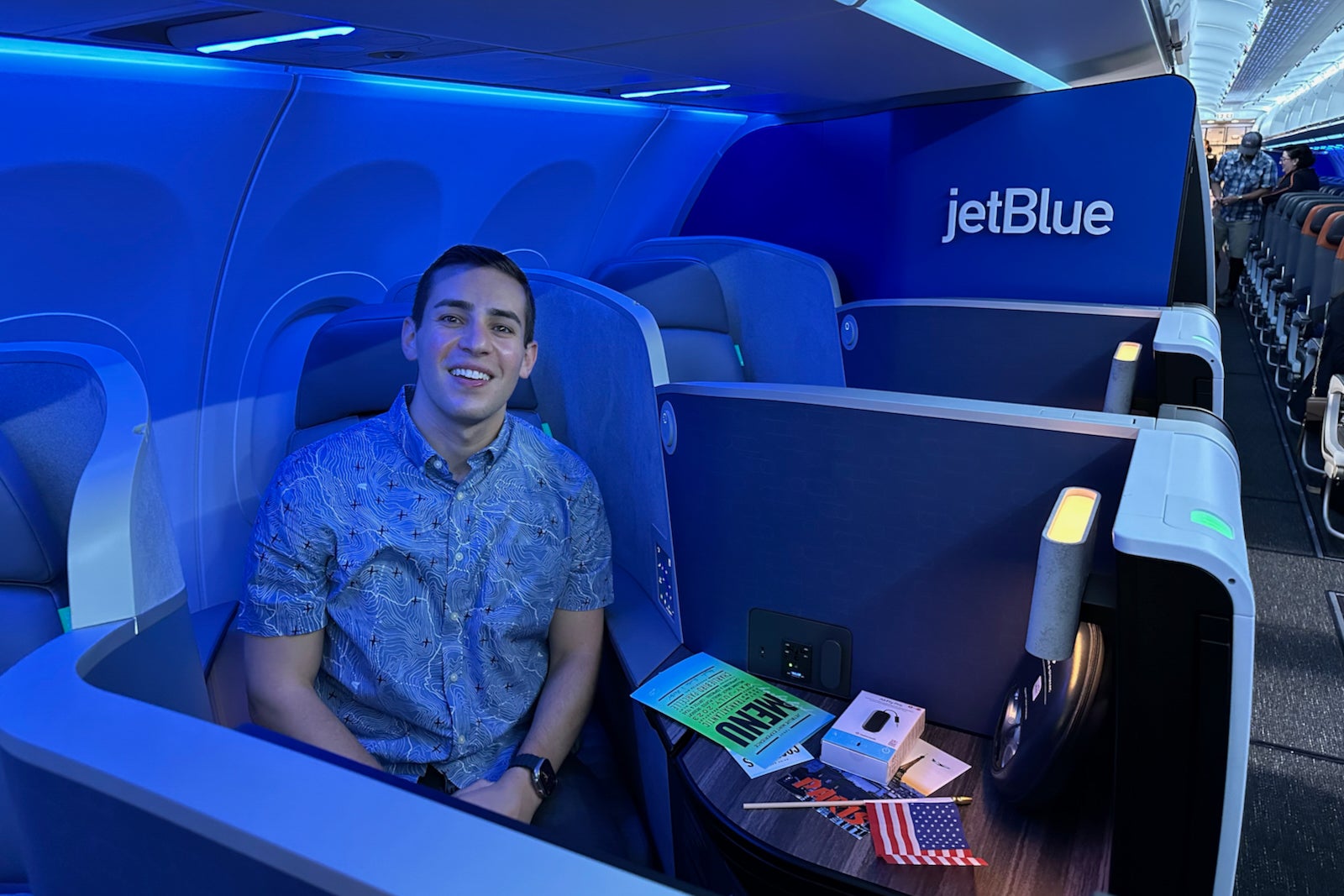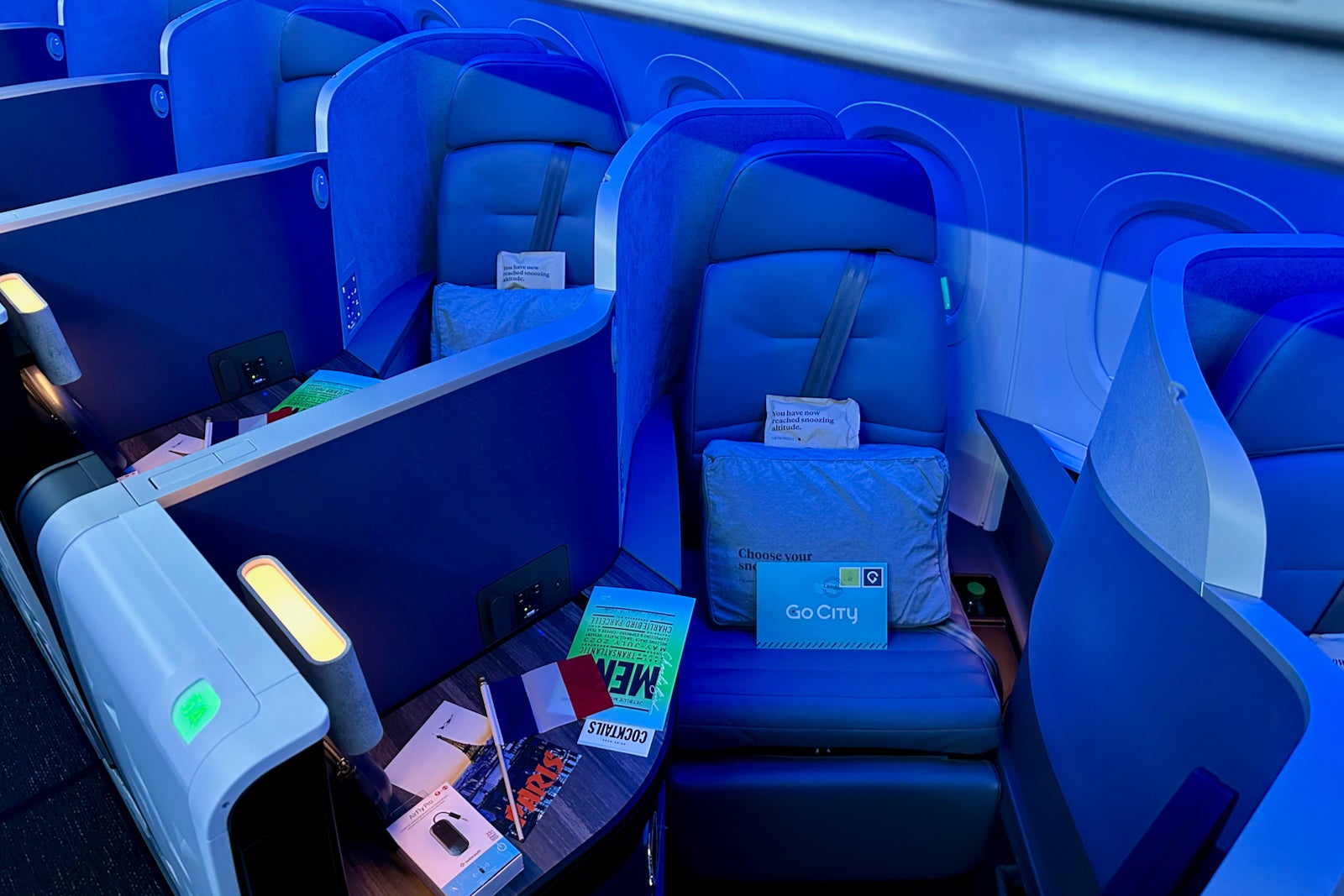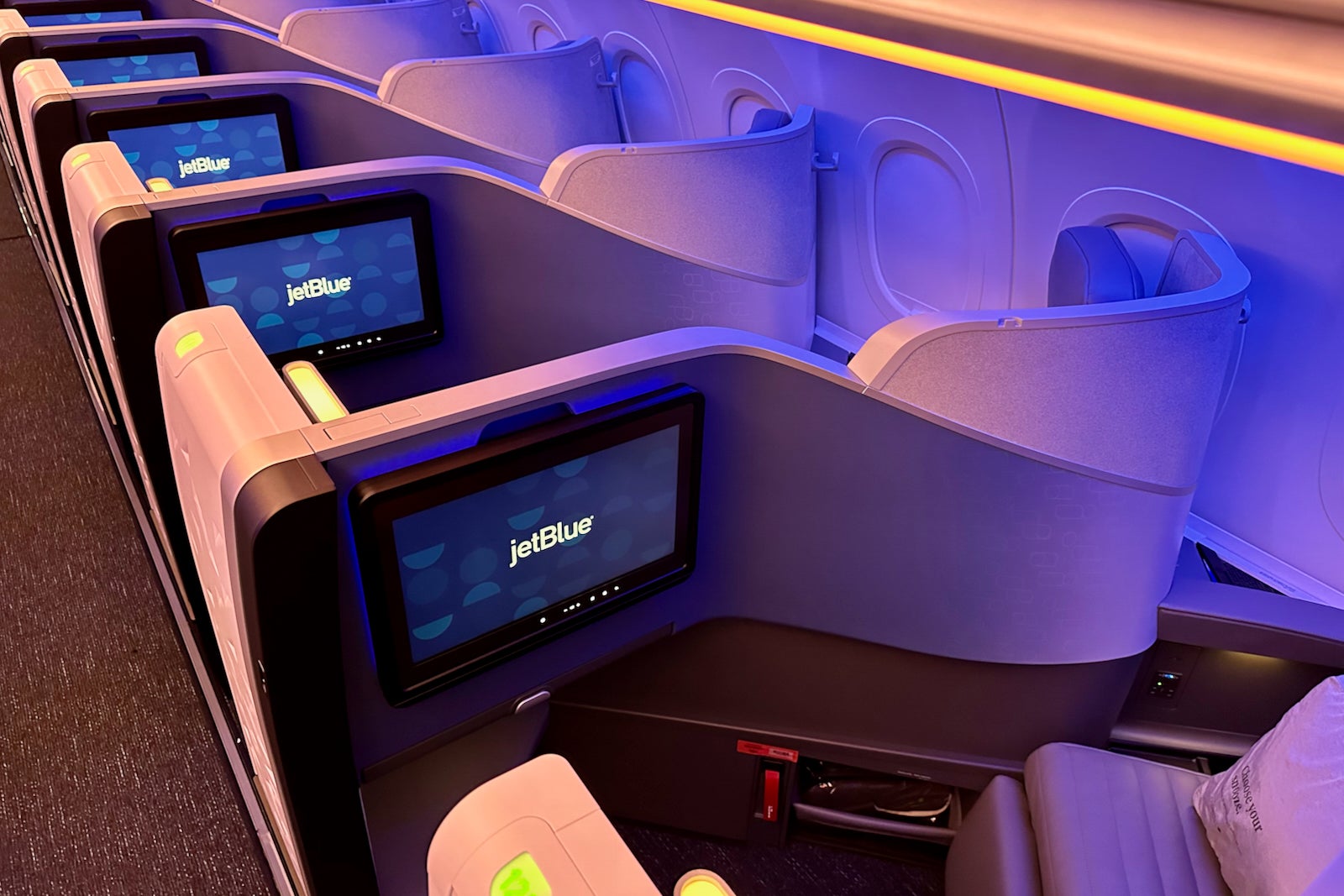 I can see how a larger passenger might find the configuration to be tight and narrow, but my 5-foot, 11-inch frame has no trouble relaxing, sleeping and enjoying time in the JetBlue Mint Suite.
While most transatlantic flights are operated by wide-body jets with 250 or more seats, JetBlue's A321s feel downright cozy by comparison, with just 138 seats.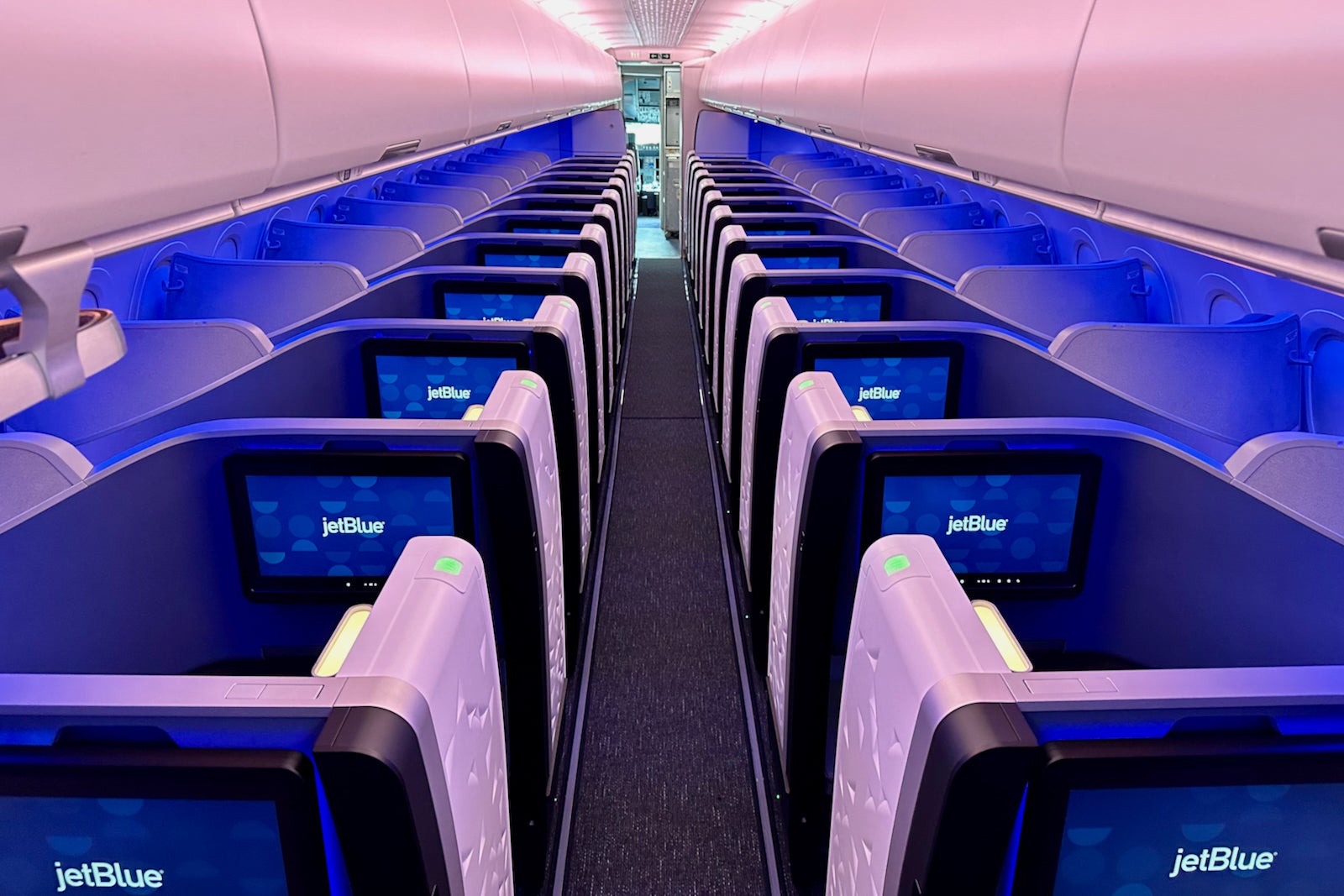 In business class, it's almost like you're flying on the upper deck of a Boeing 747.
One thing that certainly differentiates this plane from a 747 is all the modern features you'd expect for a plane built just months ago.
Each Mint Suite features two universal AC outlets, one USB-A port and one USB-C port, along with a (finicky) Qi wireless charging pad.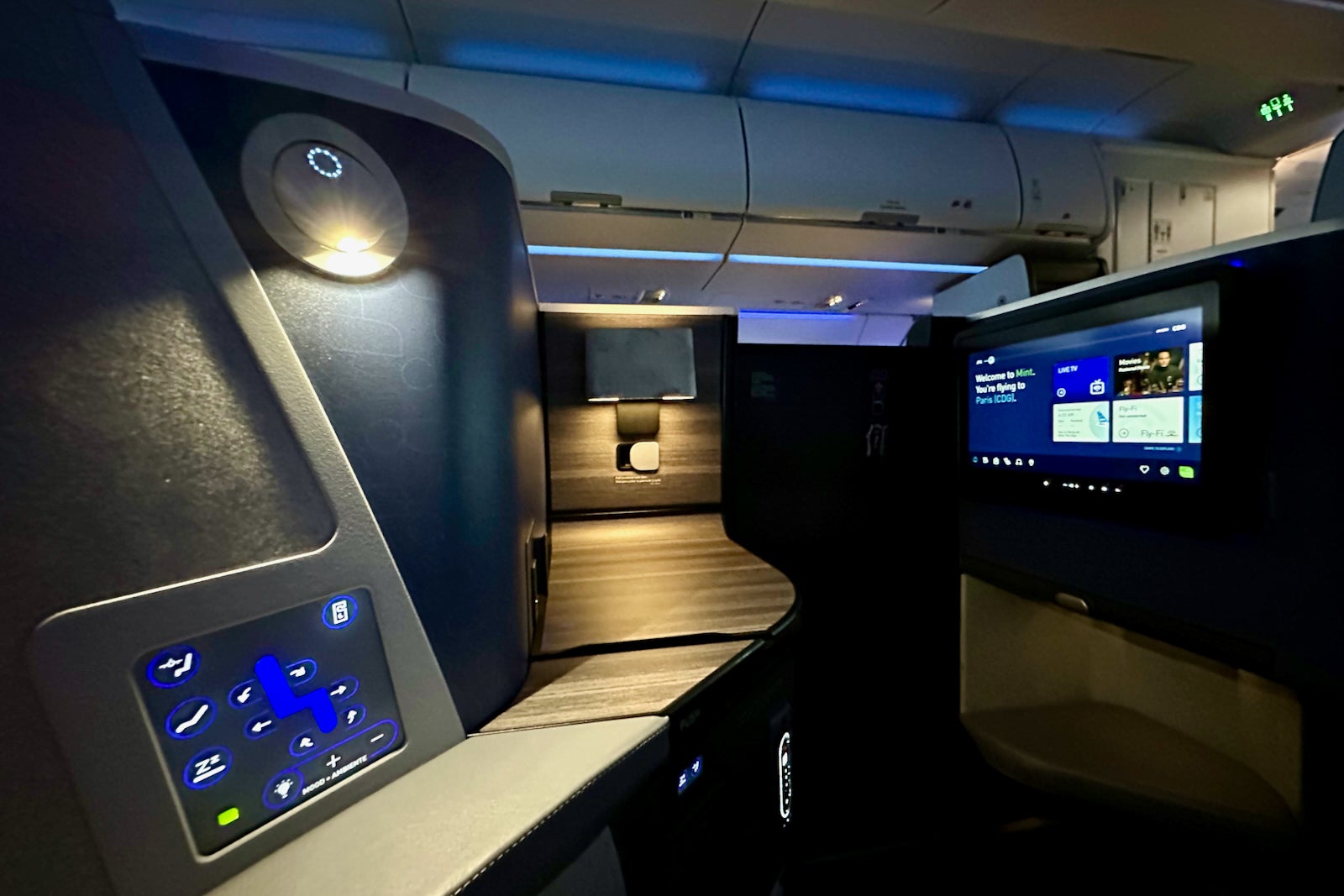 The seat controls are intuitive, and you can even adjust the color and intensity of the mood lighting in your suite.
Other nose-to-tail improvements include massive overhead bins, stylish mood lighting on the ceiling, touchless lavatories, modernized passenger service units and larger windows.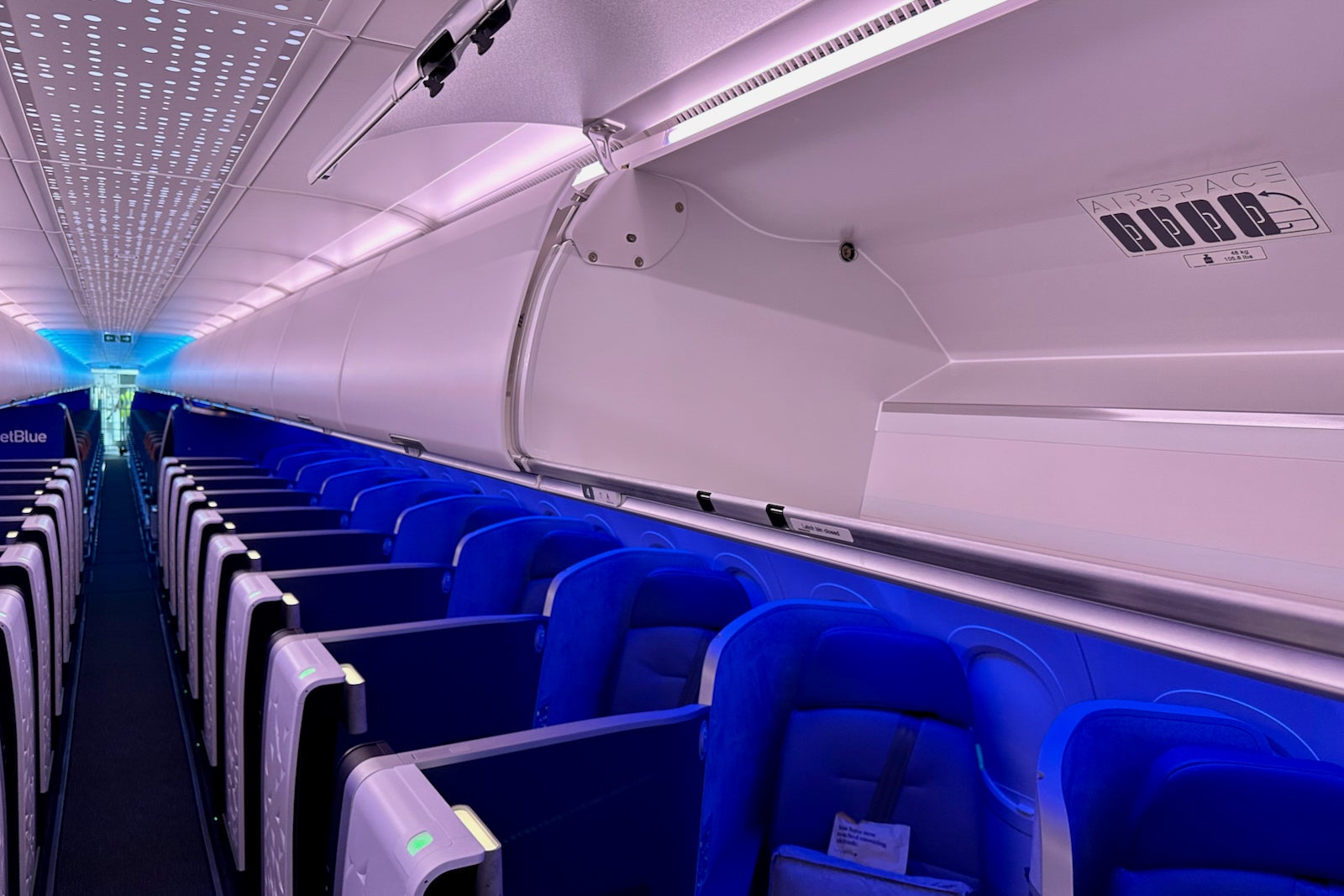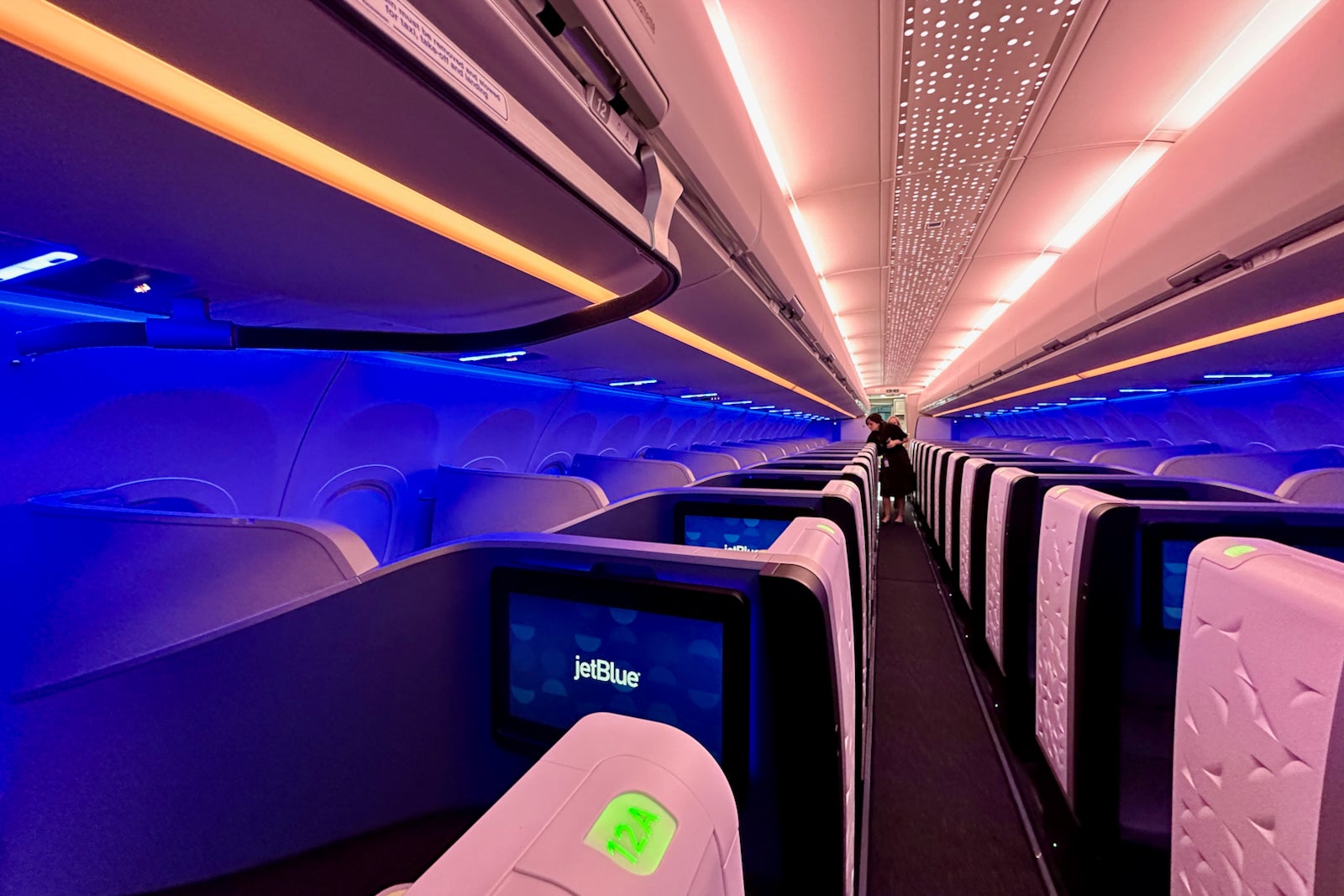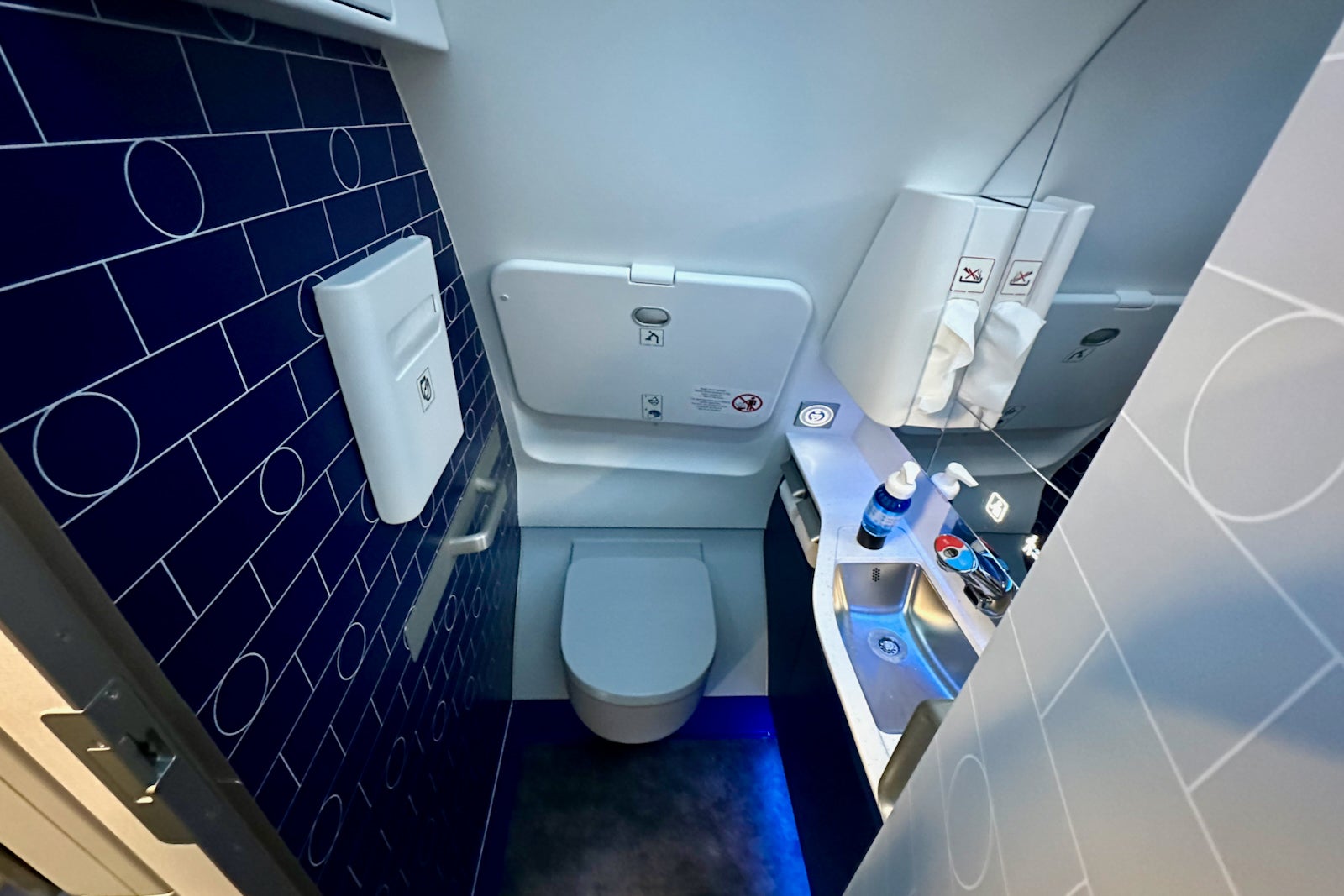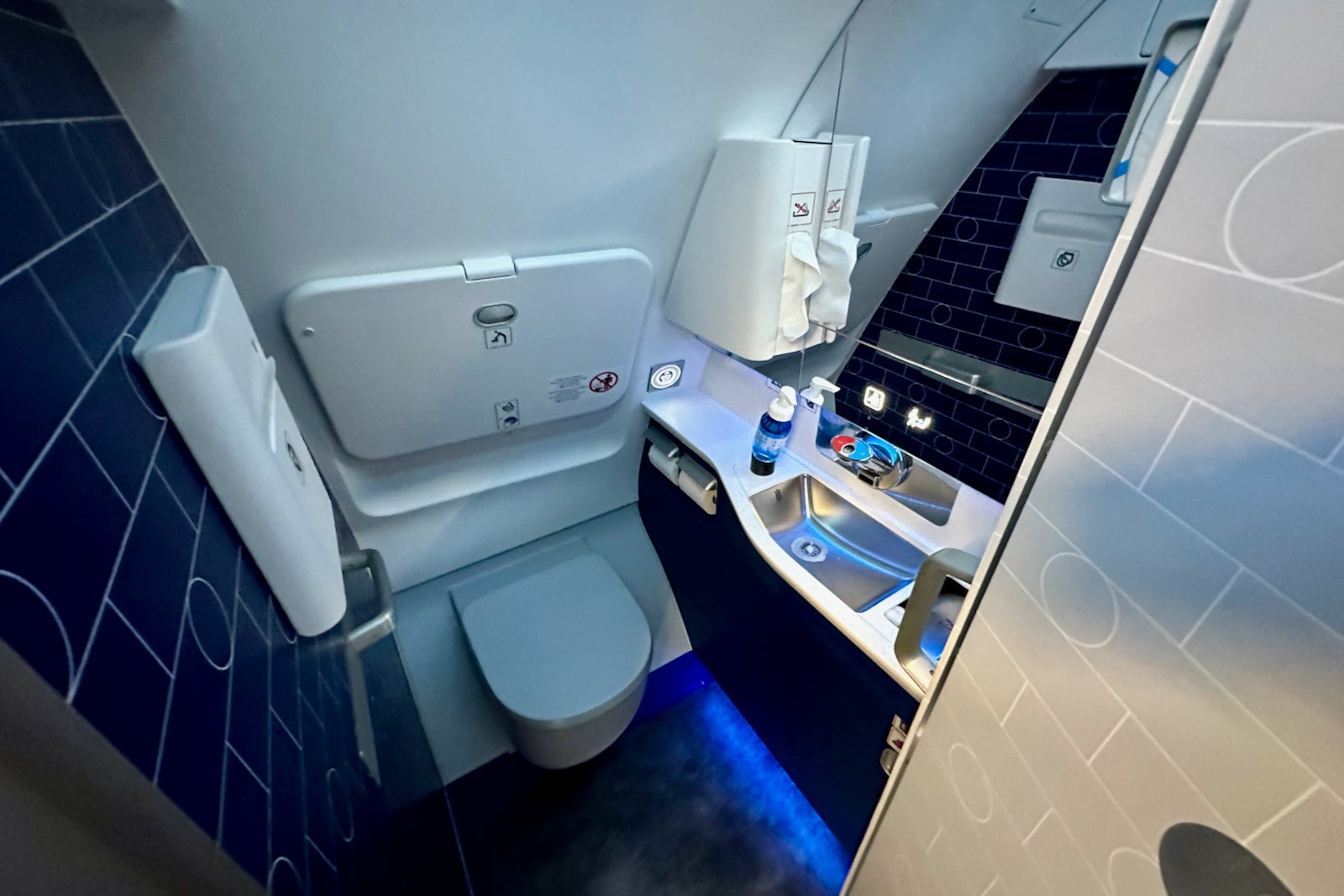 Given the plane's newness, I didn't experience any of the wear-and-tear issues I saw a few weeks ago on the first JetBlue plane they rolled out with the new Mint product two years ago.  Hopefully, that's something the airline is actively working to fix.
Before I sat down in Mint, I quickly looked at the 114 economy seats, 24 of which are outfitted in an extra-legroom Even More Space configuration.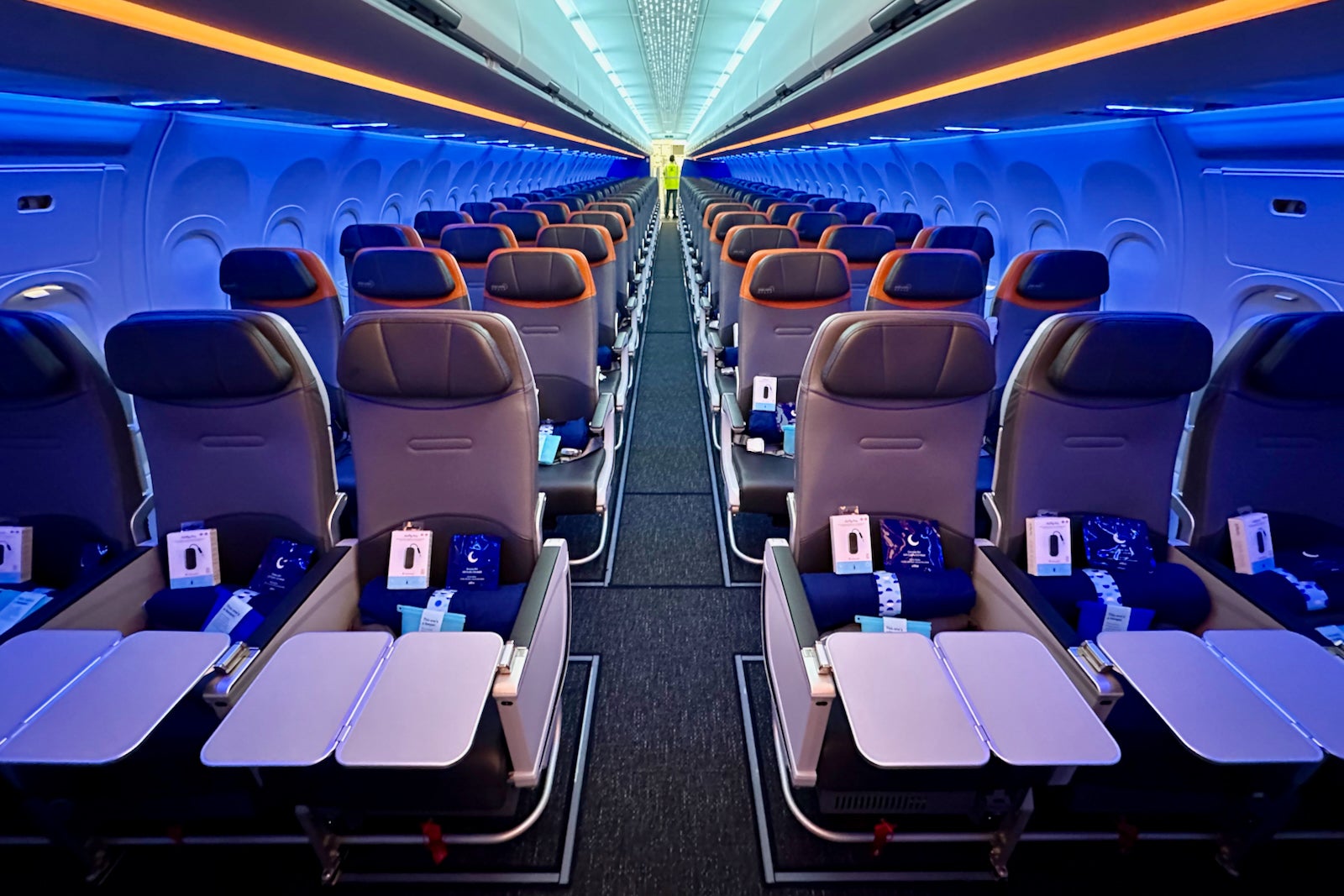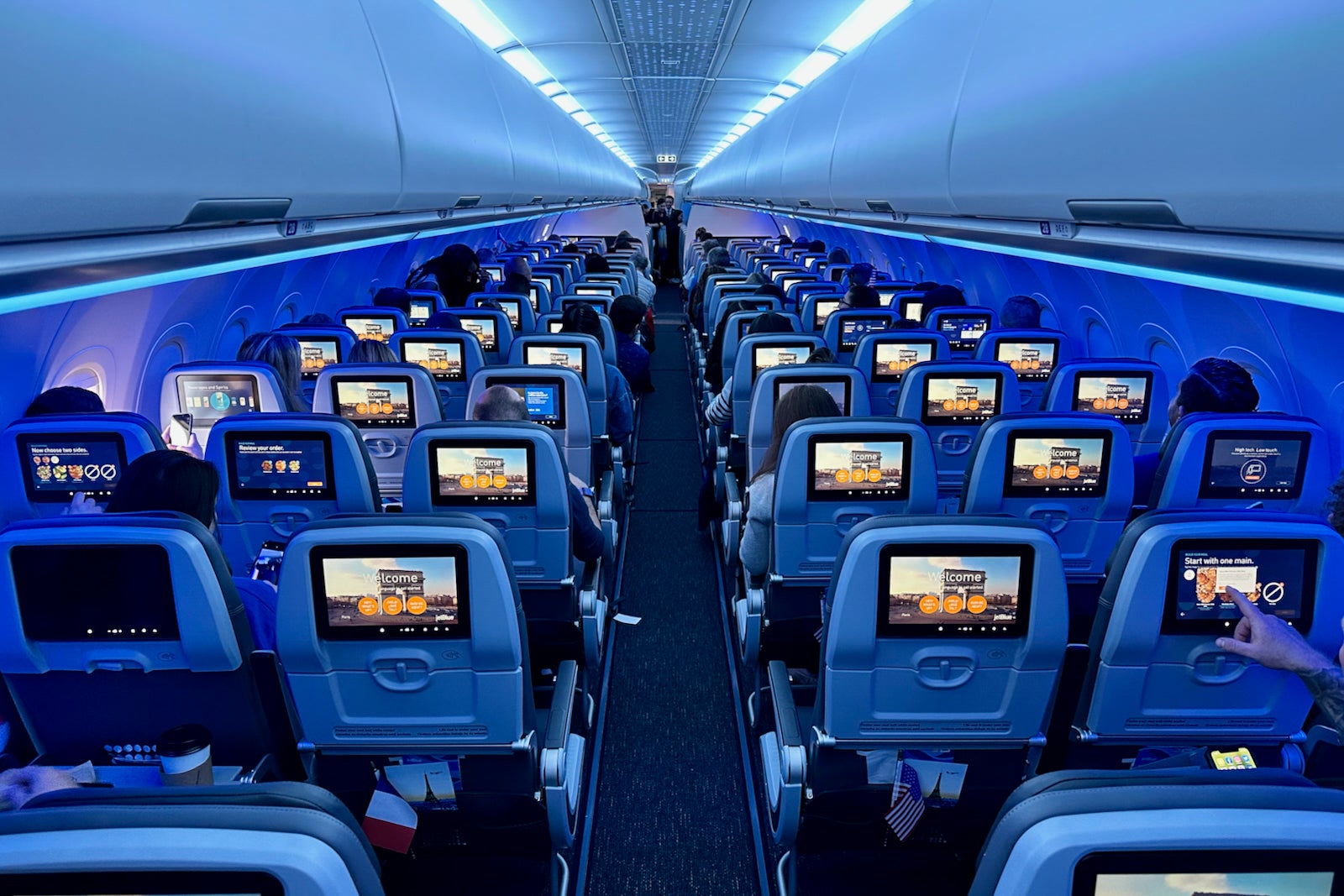 With power outlets, seat-back screens, free Wi-Fi and a tasty meal service, JetBlue's transatlantic economy product seems to be a cut above the rest.
Top-notch amenities
Though the formal party ended once boarding started, the festivities were far from over.
Waiting at each suite during boarding was a stack of amenities, some of which were standard issue, and others that were limited to the inaugural.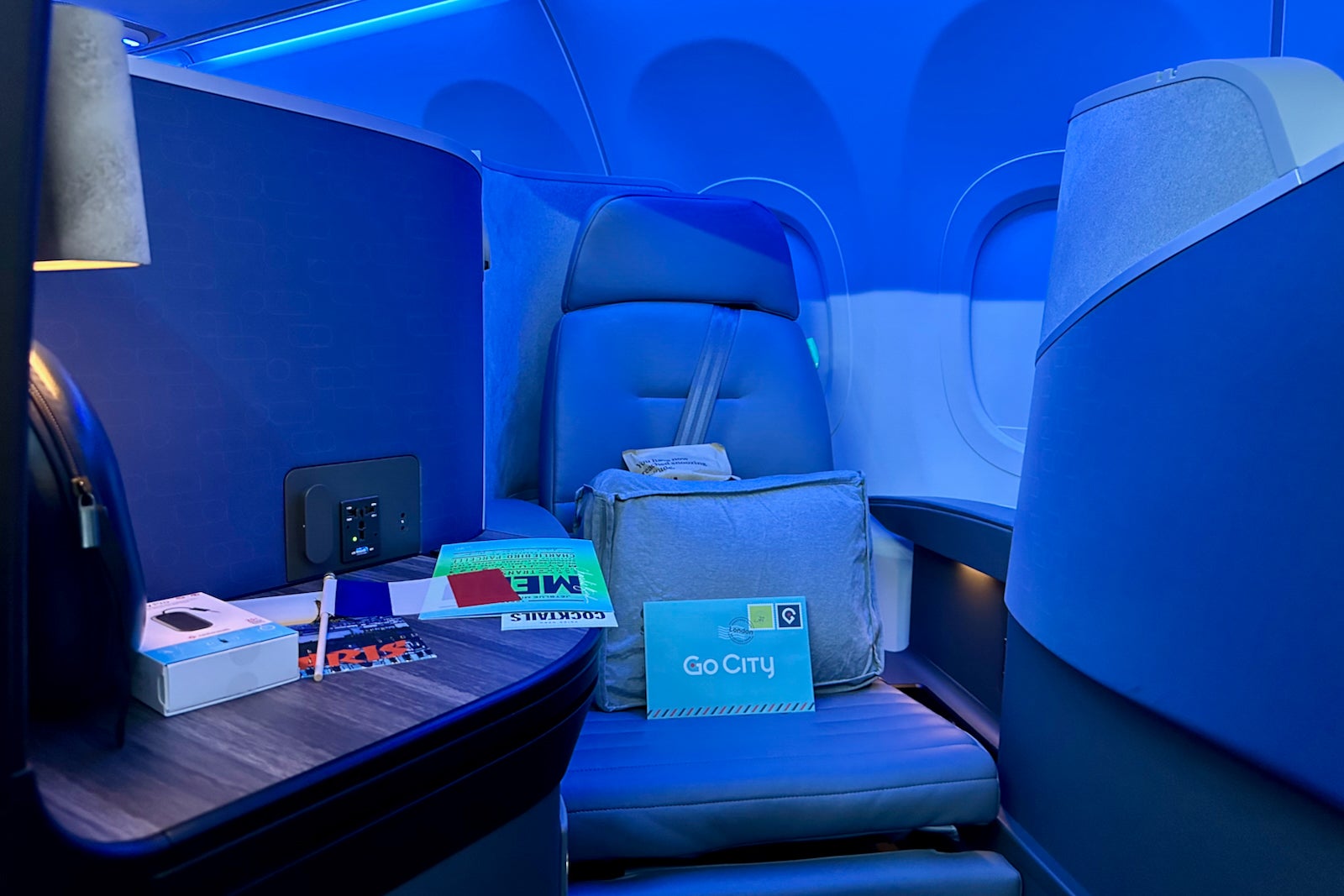 The latter included an AirFly Pro dongle adapter that connects Bluetooth headphones to seat-back TVs, a Paris-themed postcard and some marketing materials from Go City.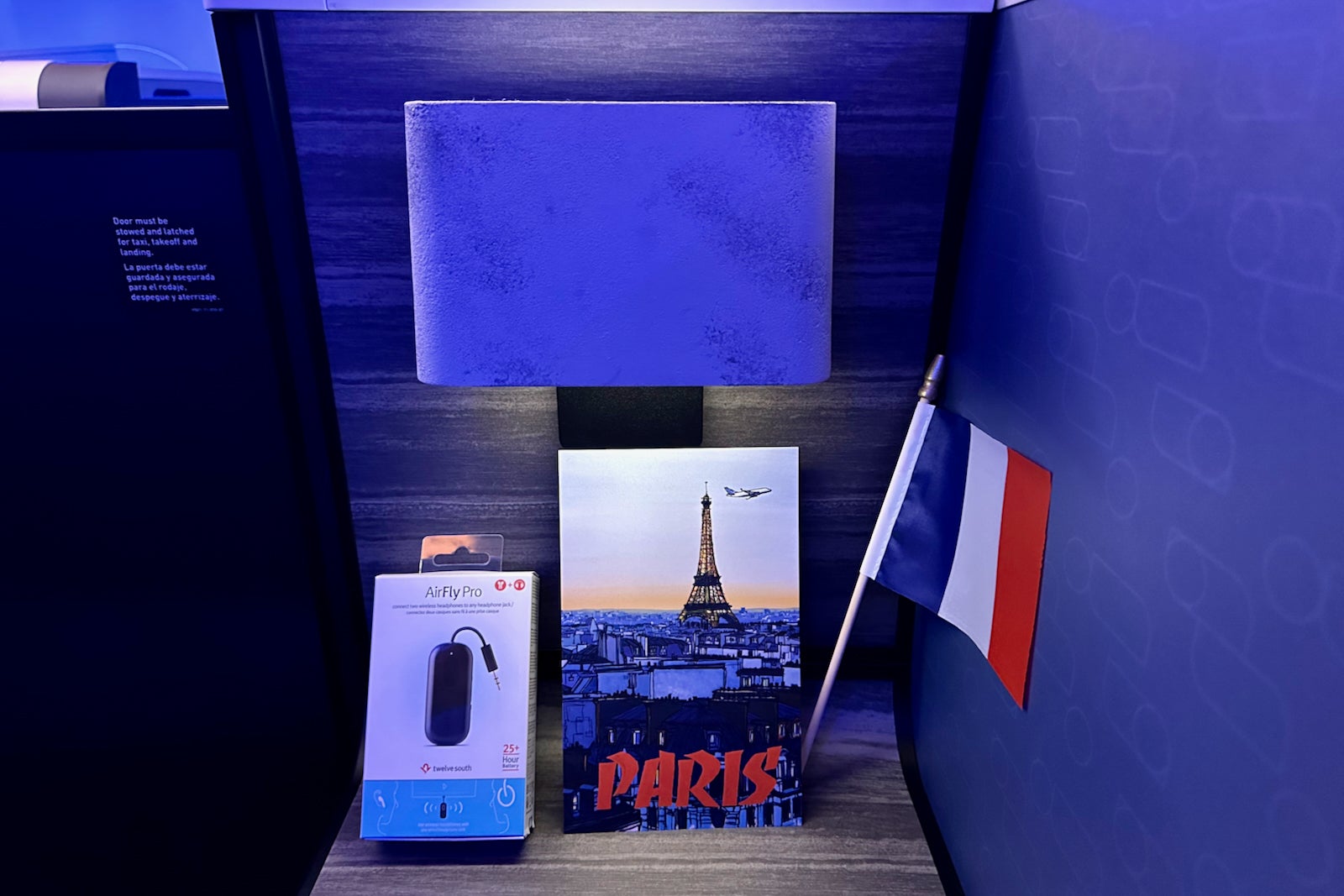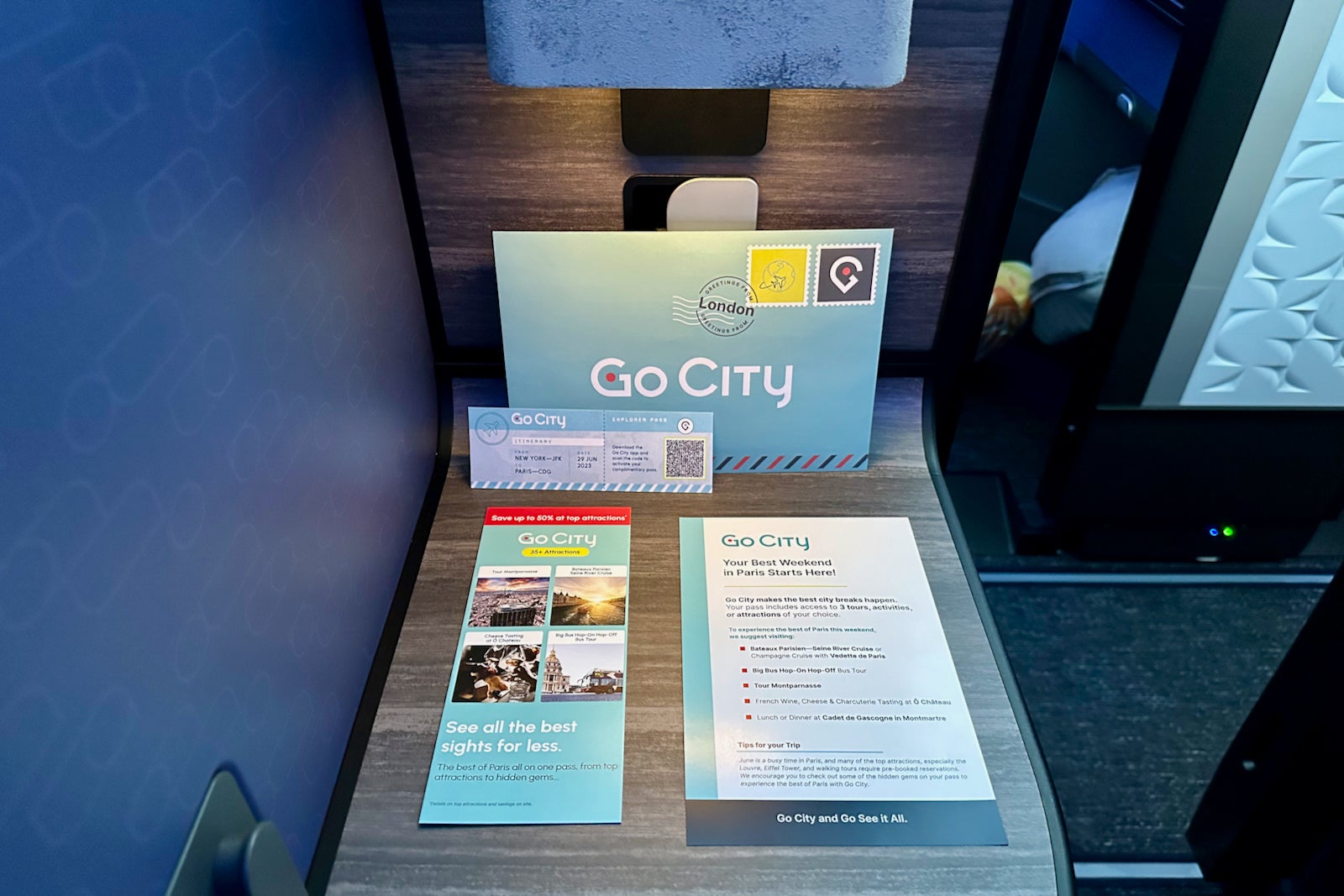 Additionally, an American or French flag was waiting at each seat — the port side of the plane received the French flag, and the starboard side got the American flag. This made for a cute photo when every flyer waved their flag before departure.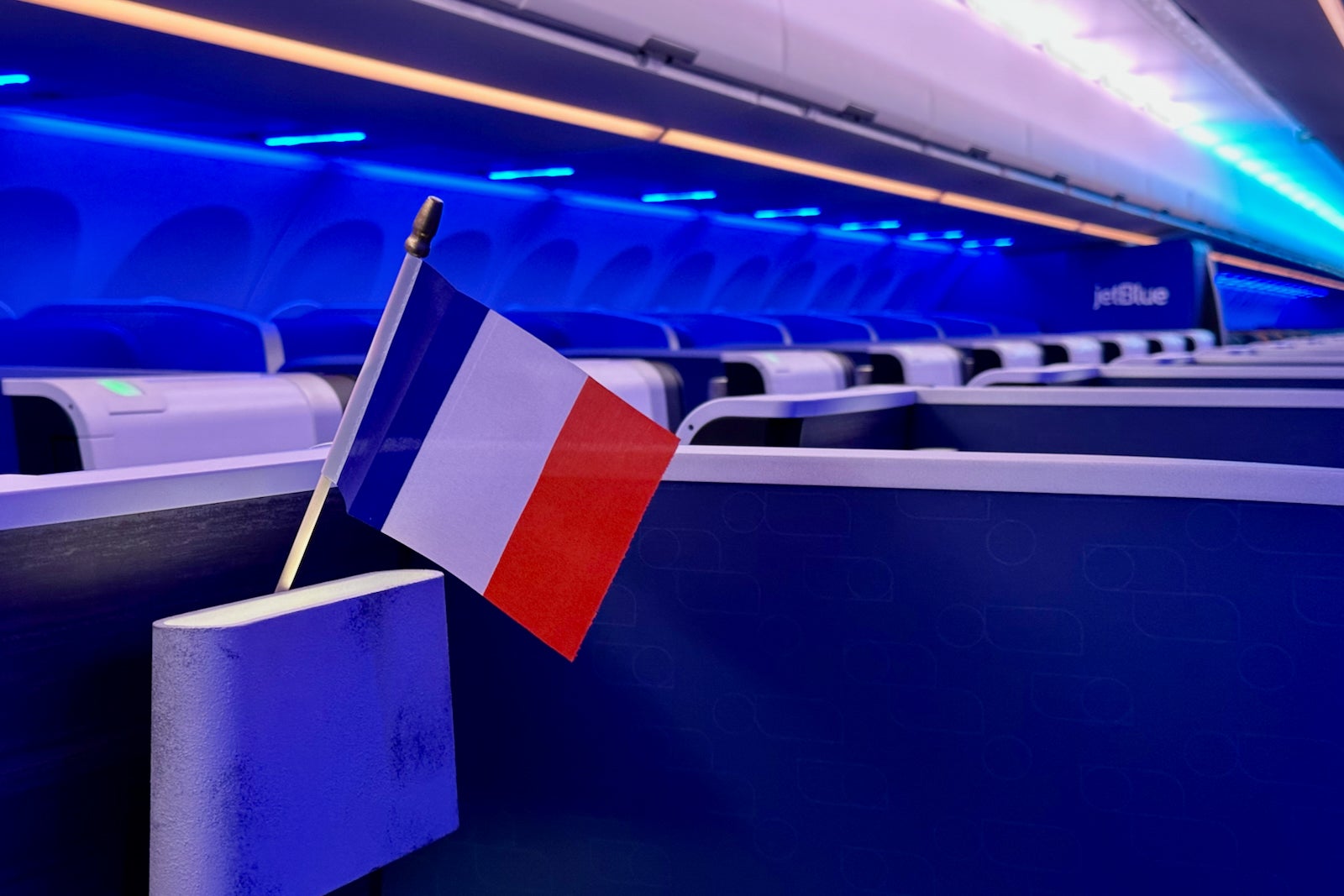 The standard-issue amenities included a Tuft and Needle-branded duvet and pillow, along with a snooze kit, a pair of plush slippers and a pair of Master and Dynamic noise-canceling headphones Pajamas are reserved for those seated in the Mint Studio).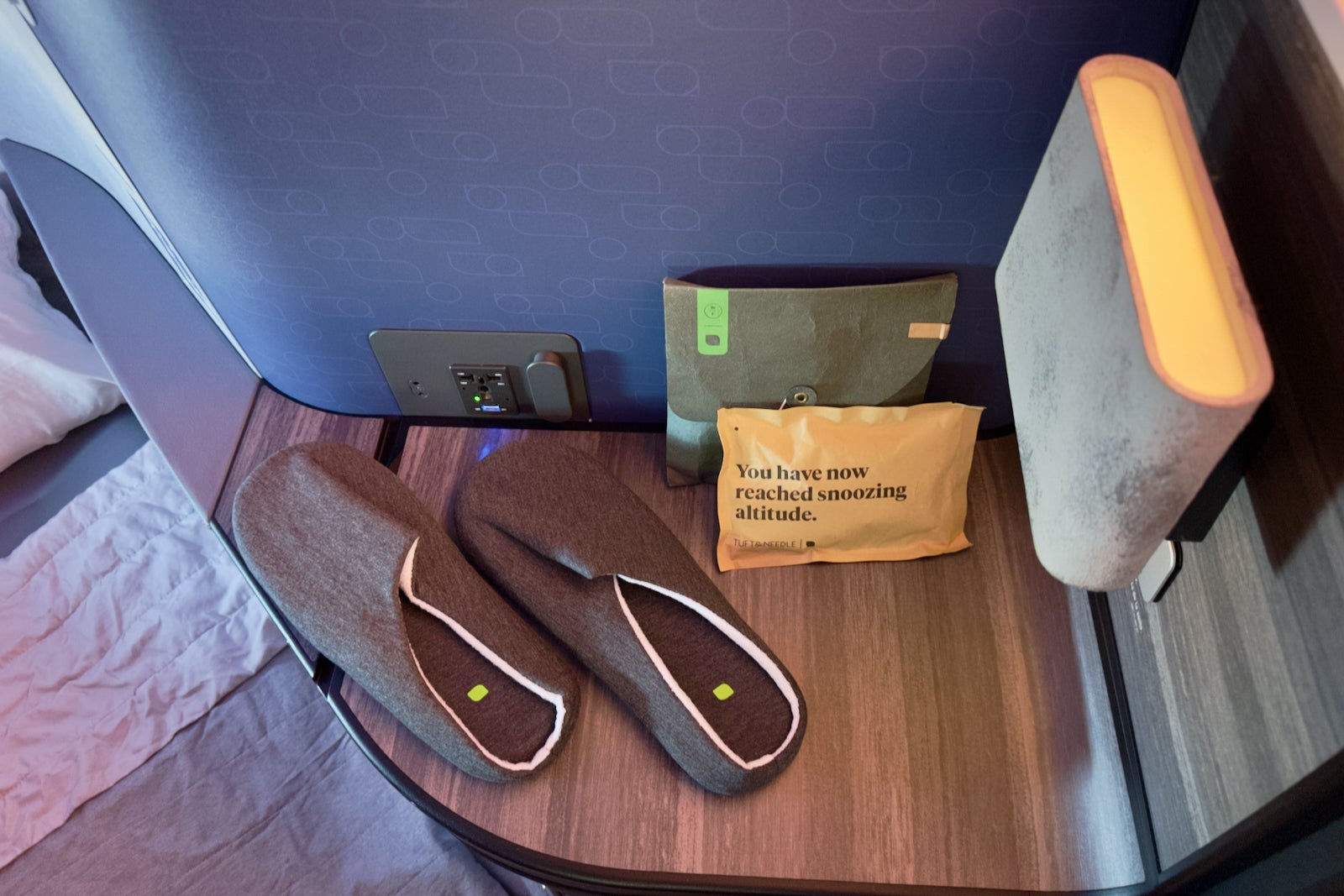 Though the seats are supposedly topped with a special Tuft and Needle cushion, it'd be great if JetBlue also offered a mattress pad to further differentiate its product and offer flyers a softer sleeping surface, if desired.
As we crossed through 10,000 feet, I realized that there was a missing element of the business-class experience: an amenity kit. Turns out, JetBlue recently transitioned to offering amenity kits by request only, seemingly as part of a cost-cutting move.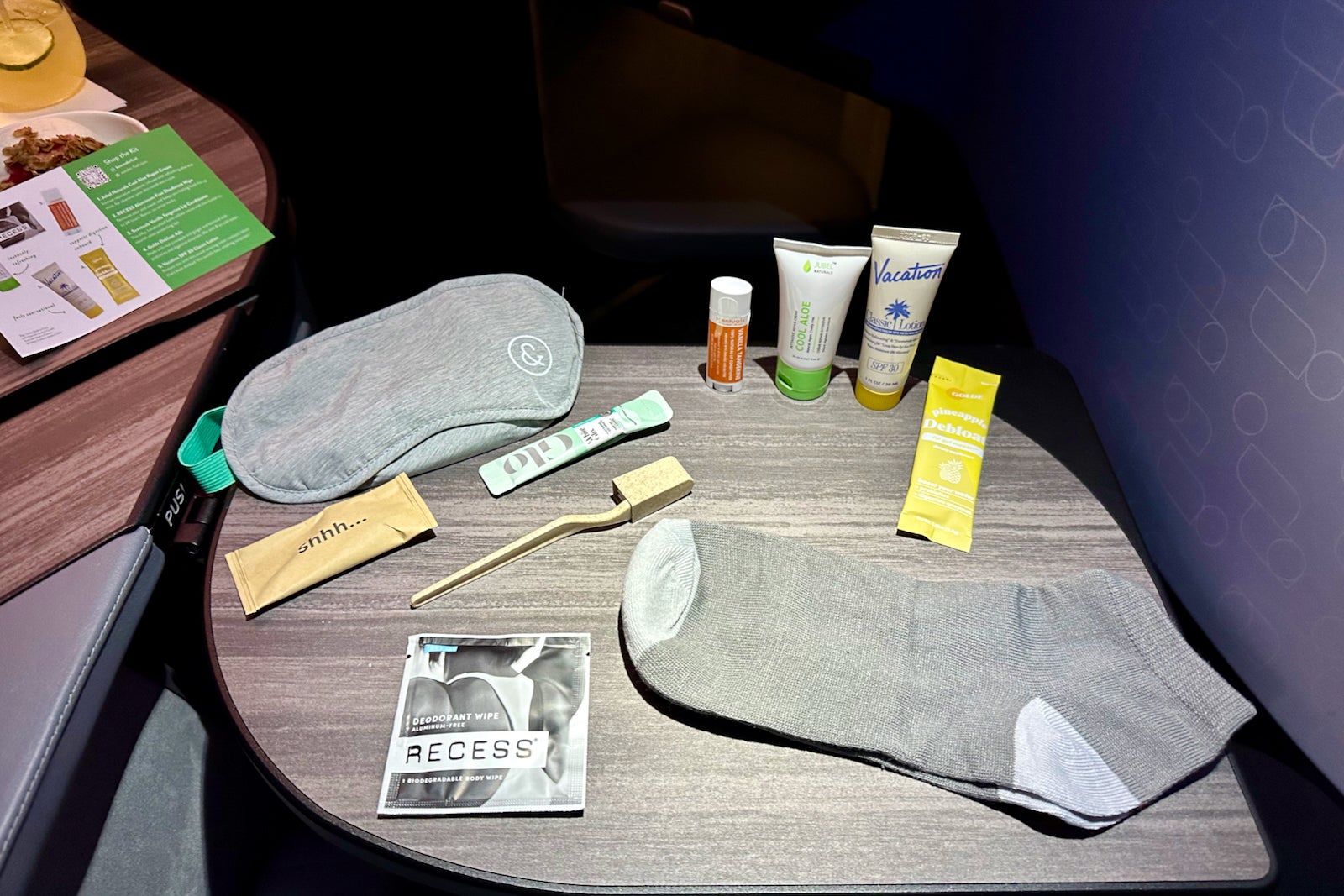 My request for one was honored within seconds, and I'm glad I asked because I'm a big fan of JetBlue's trendy Wanderfuel kits stocked with convenient travel-sized essentials.
In economy, travelers received all of the special inaugural-specific goodies, along with a soft blanket and small amenity kit.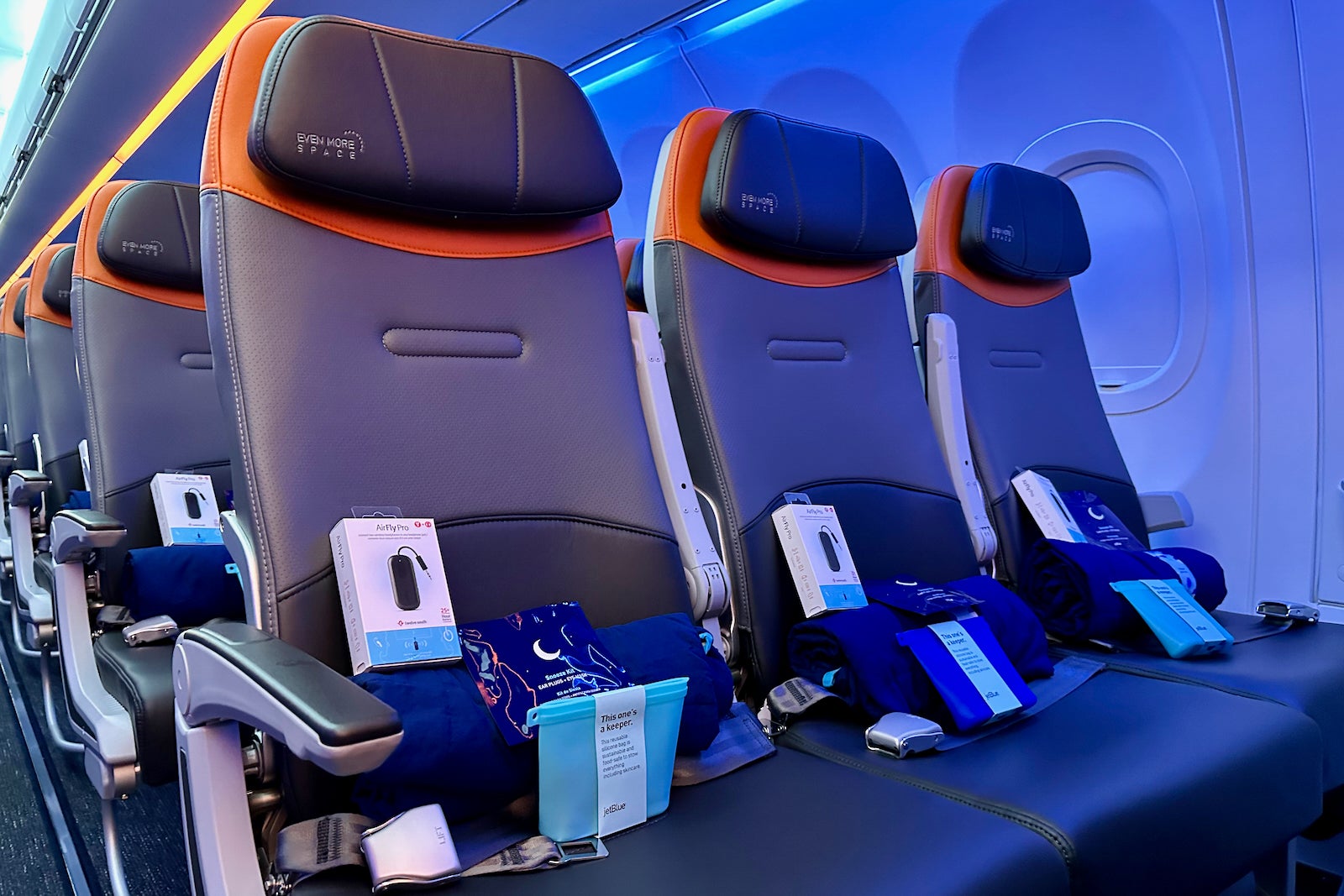 Every seat on JetBlue's A321LR has access to a seat-back screen with hundreds of hours of movies, TV shows, games and even five channels of live TV (far fewer than domestic flights that are connected to DirecTV satellites.)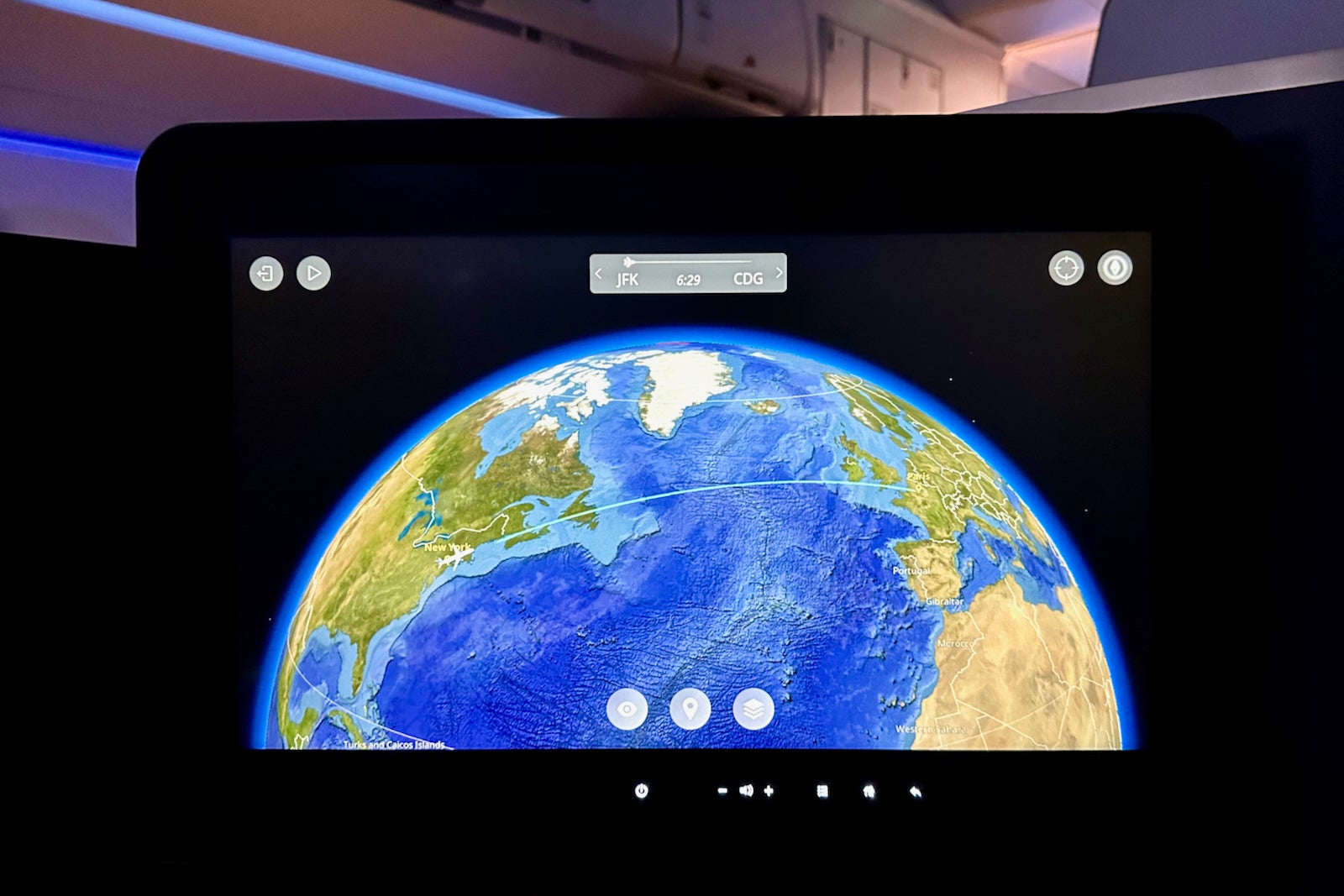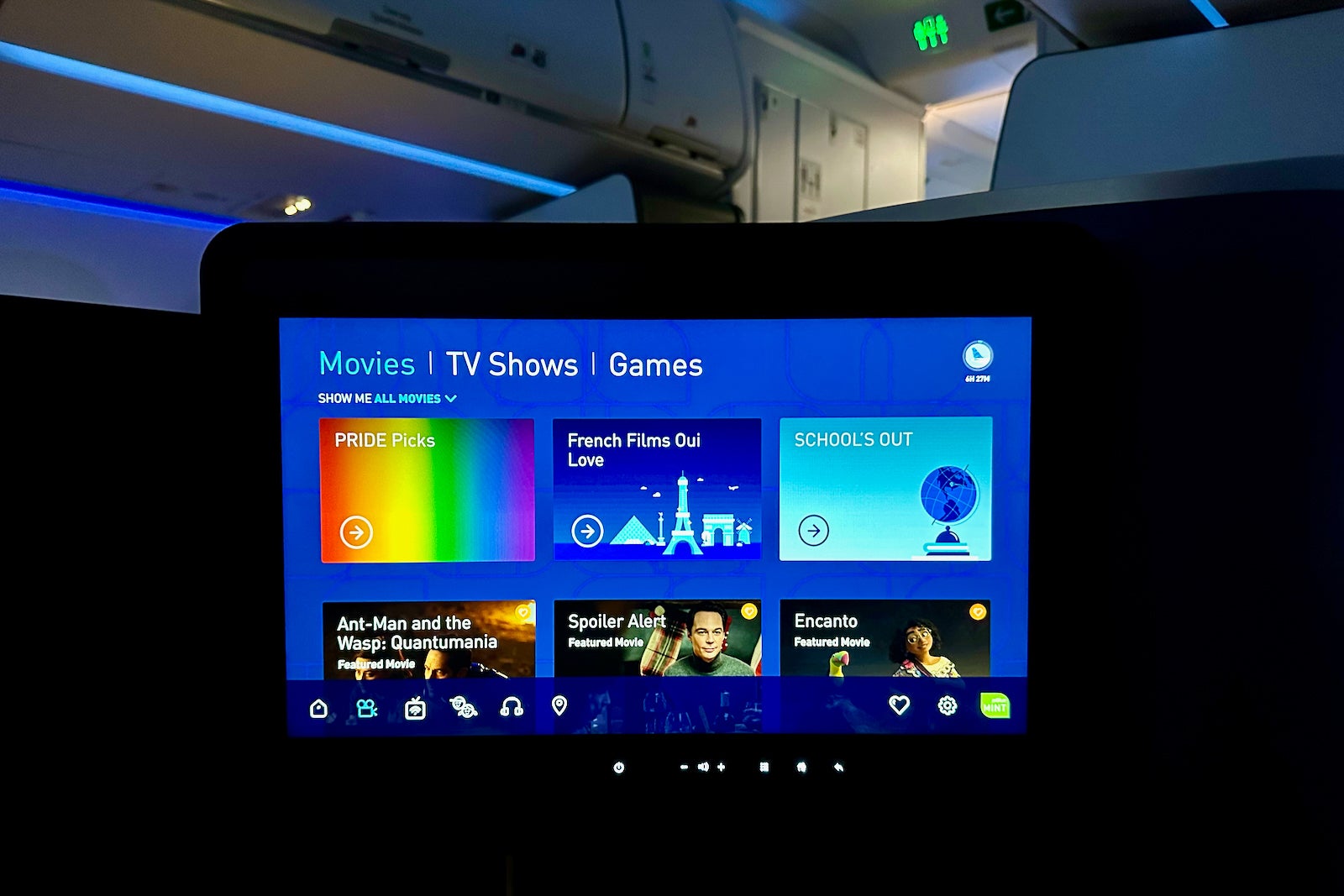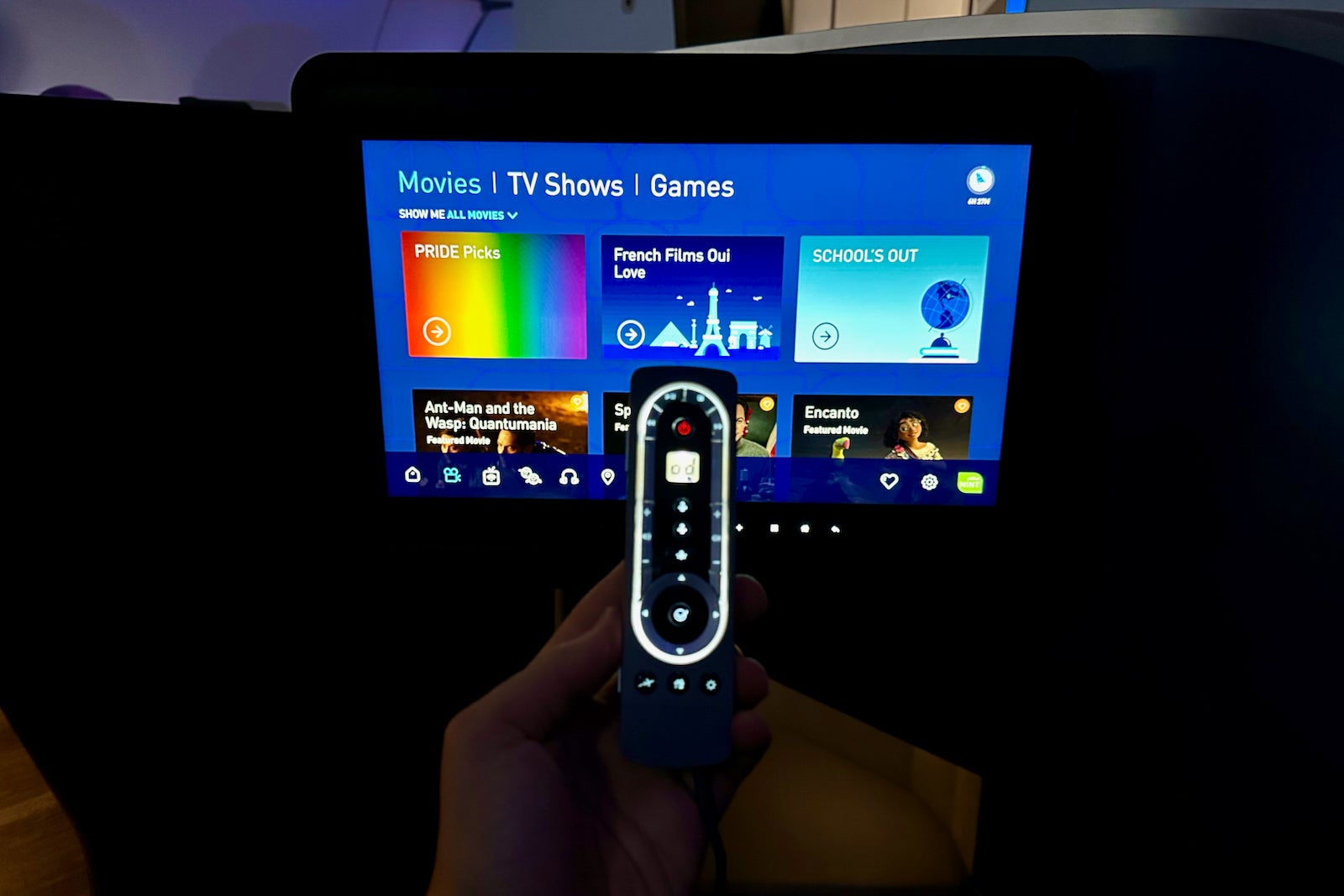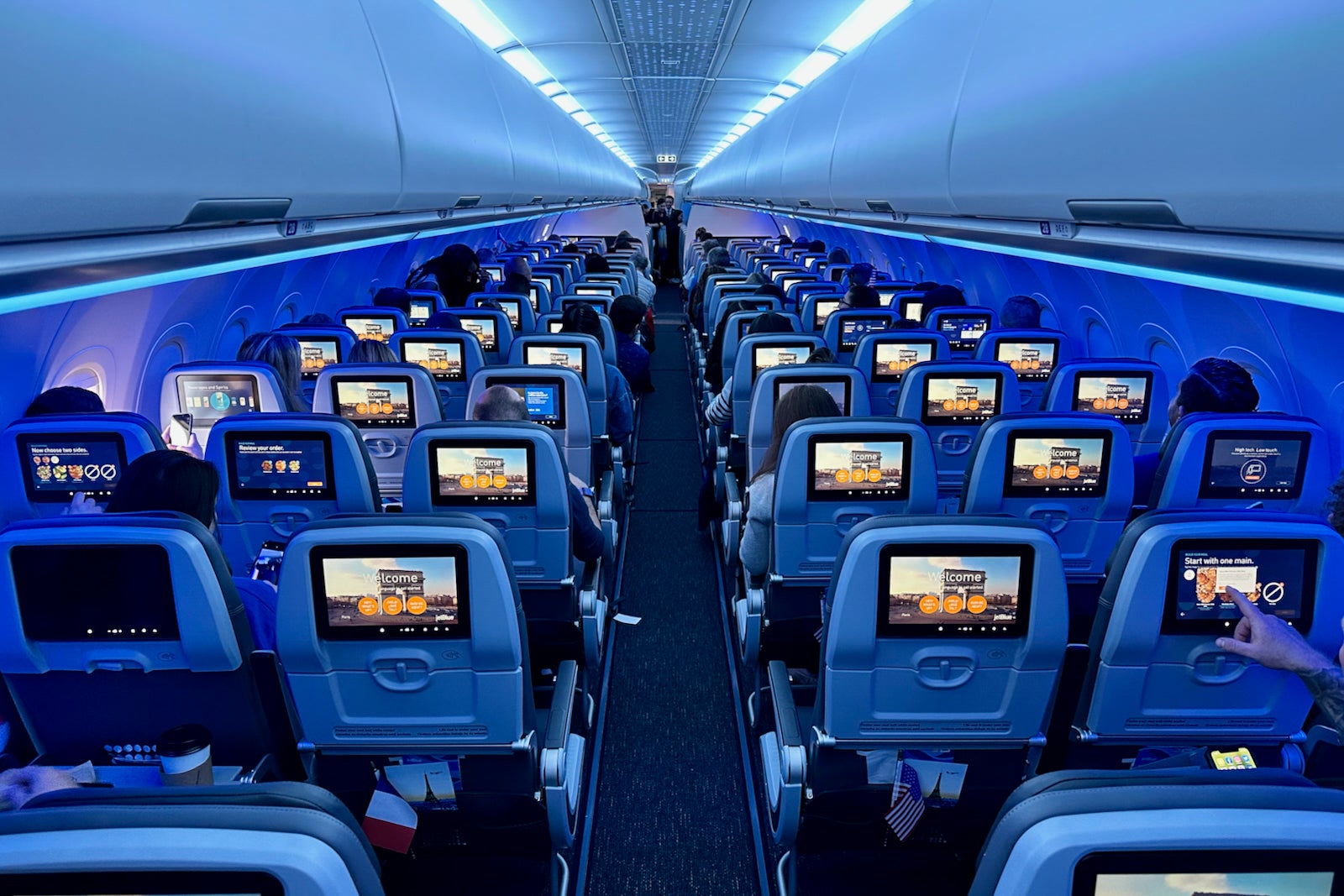 Plus, the airline offers free high-speed Wi-Fi, powered by industry-leading provider ViaSat, on every jet. That said, the internet service wasn't fast enough to load a speed test on the inaugural, possibly because so many travelers were trying to access the service all at once.
Before inaugural flights, I always leave some room in my bag for all the goodies I'll accumulate during the trip (much to my wife's chagrin), and JetBlue's Paris inaugural was no exception.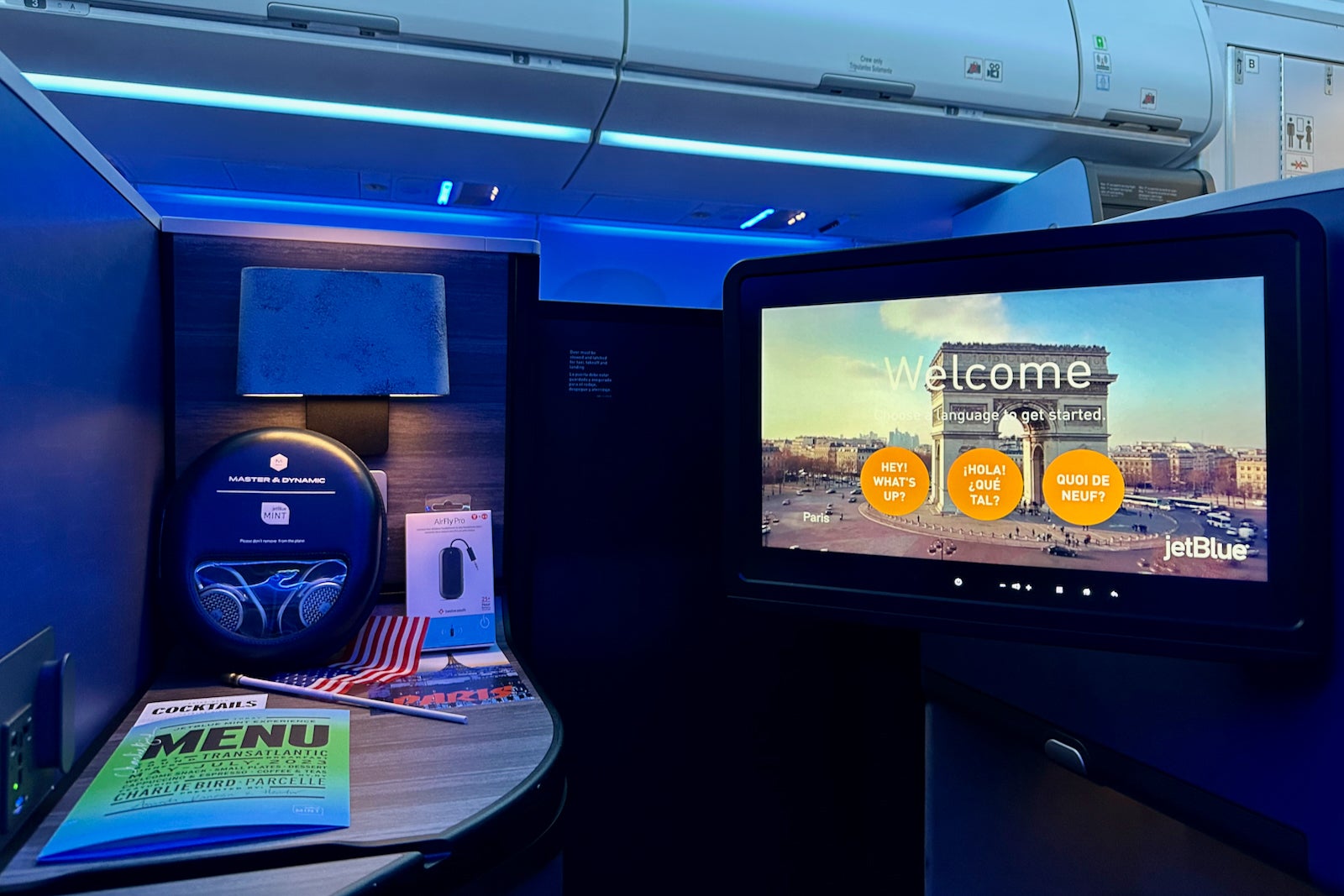 But with a slew of tasteful amenities even on "regular" JetBlue transatlantic journeys, there's no doubt the airline's offering, both in Mint and in economy, is among the best in the market.
5-star dining and service
JetBlue first introduced Mint in the premium transcontinental market, and it's since set a high bar with its best-in-class domestic business-class experience, as ranked by TPG editors and reporters.
The airline's now doing the same across the pond — with a few added touches.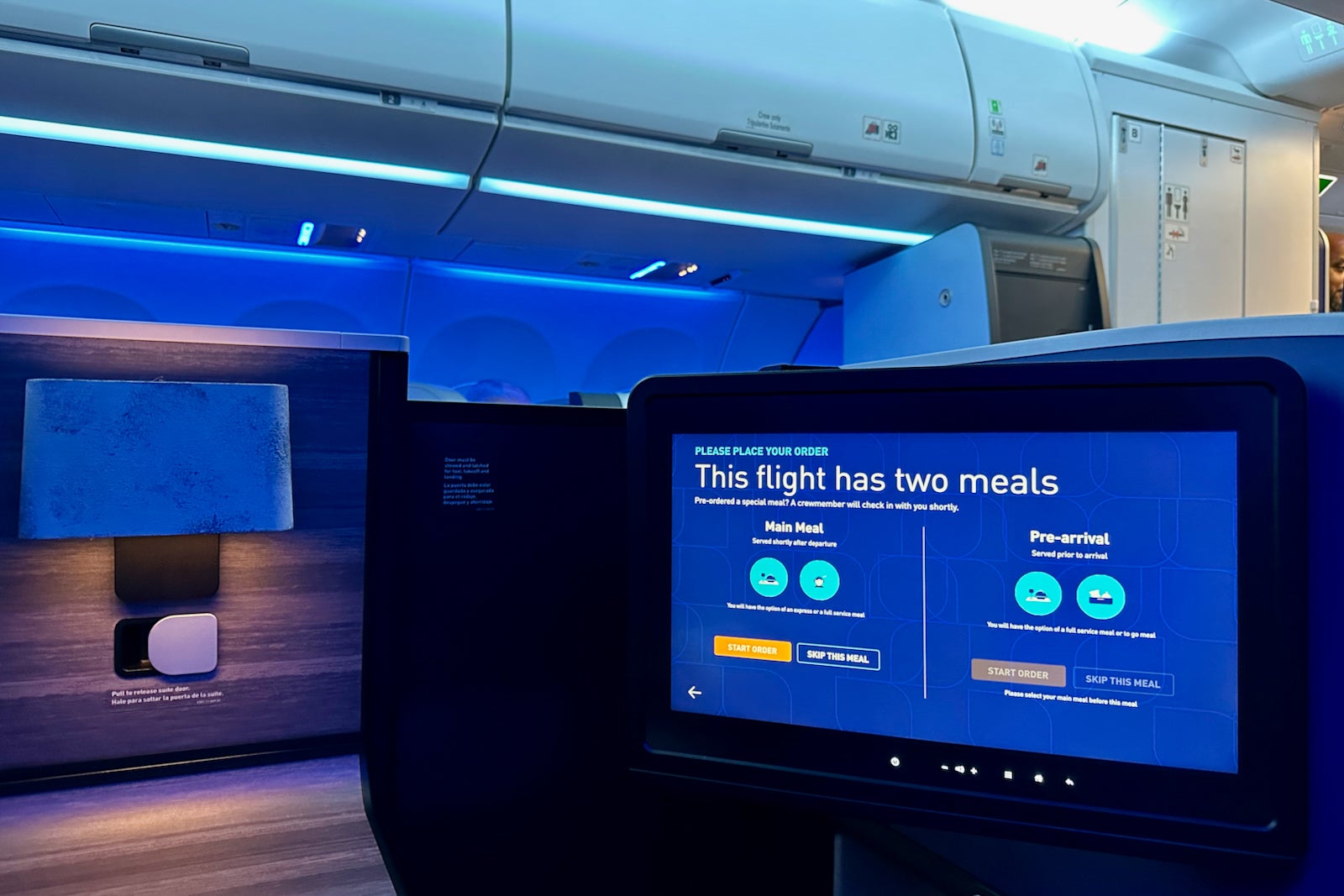 Though the "bones" of the dining and service experience are reminiscent of what you'd see on a Mint flight from New York to Los Angeles, a handful of improvements further elevate the product.
This includes a new meal ordering system that debuted a few months. Instead of flight attendants coming down the aisle to take orders, the airline has enabled wireless ordering via seat-back screens.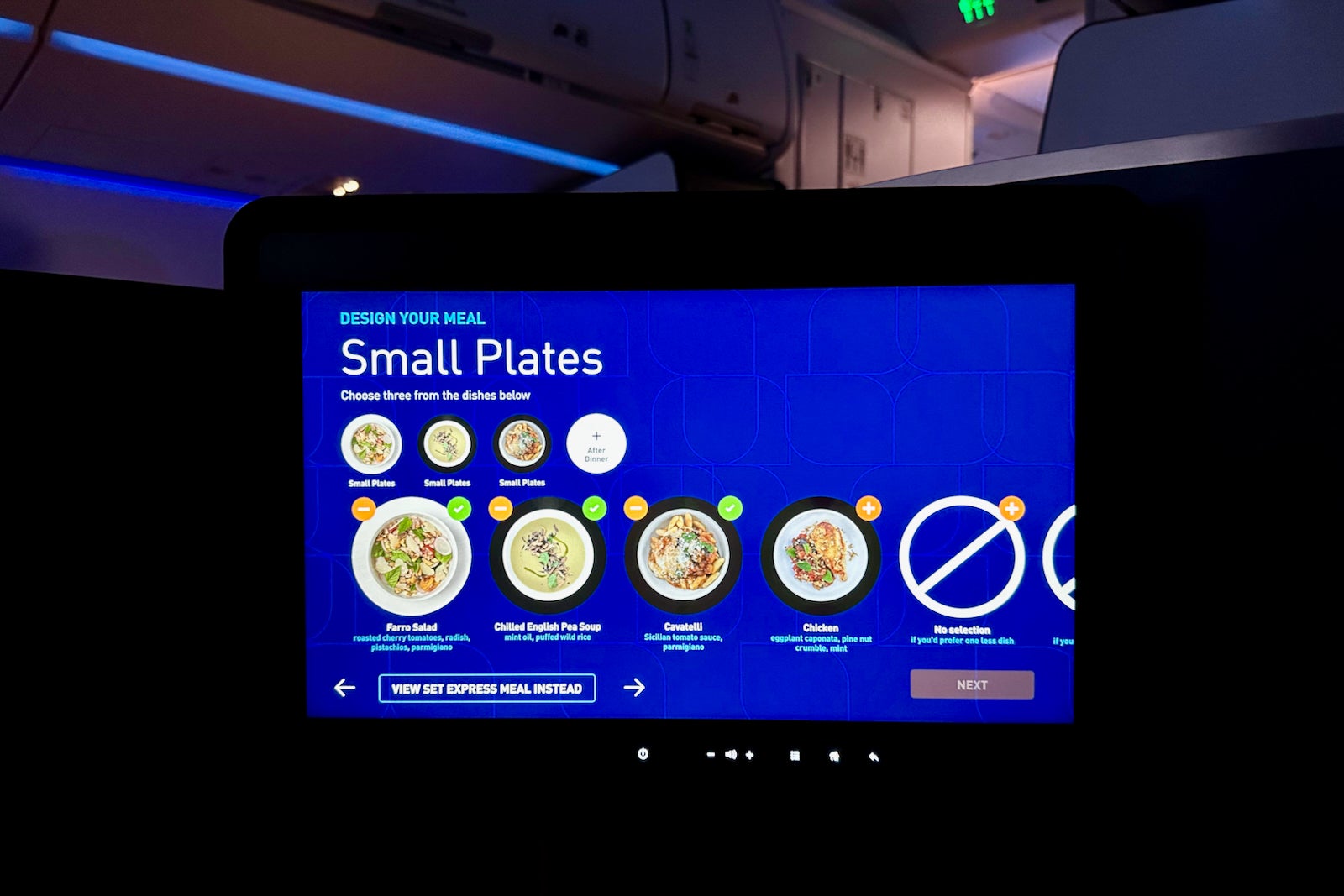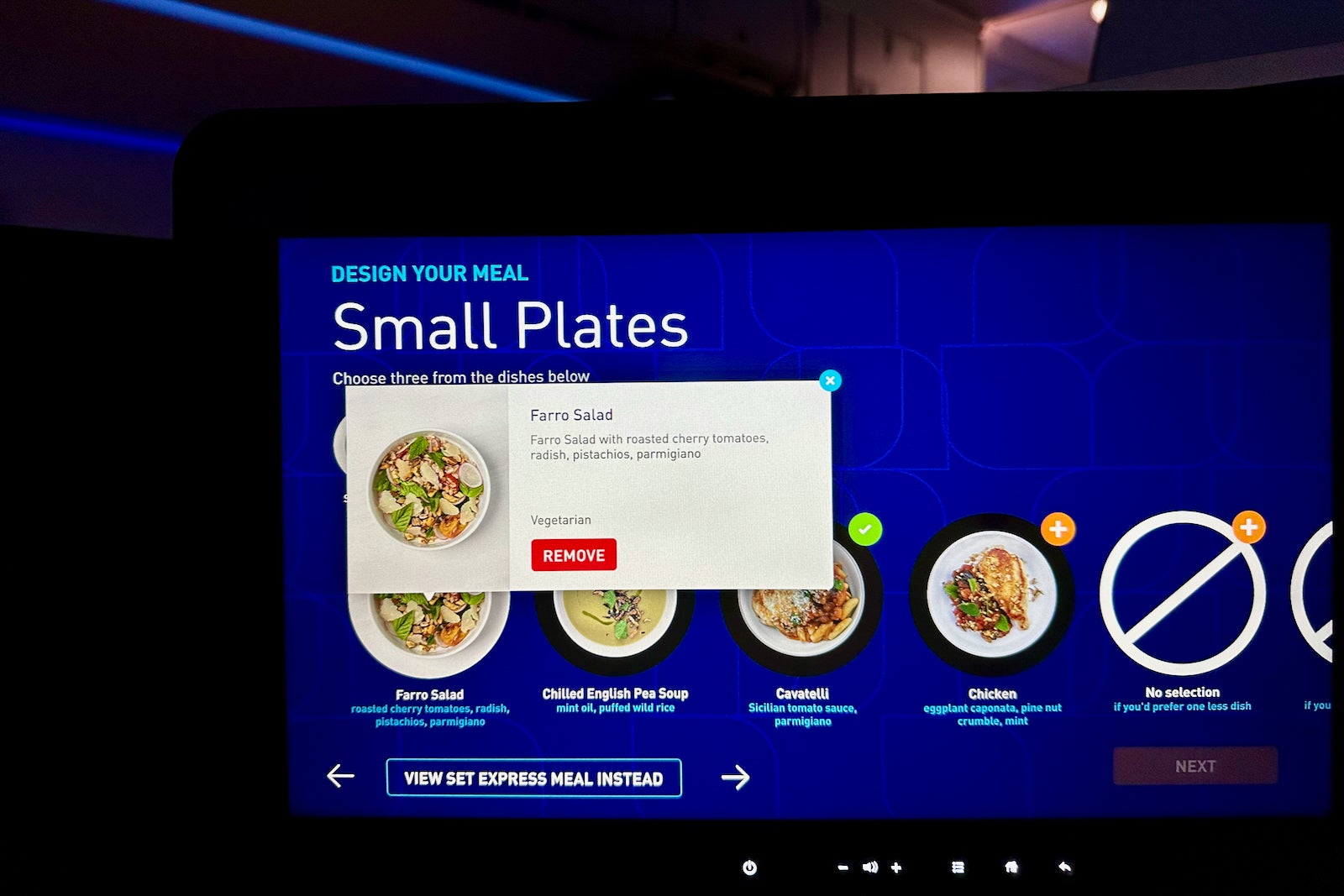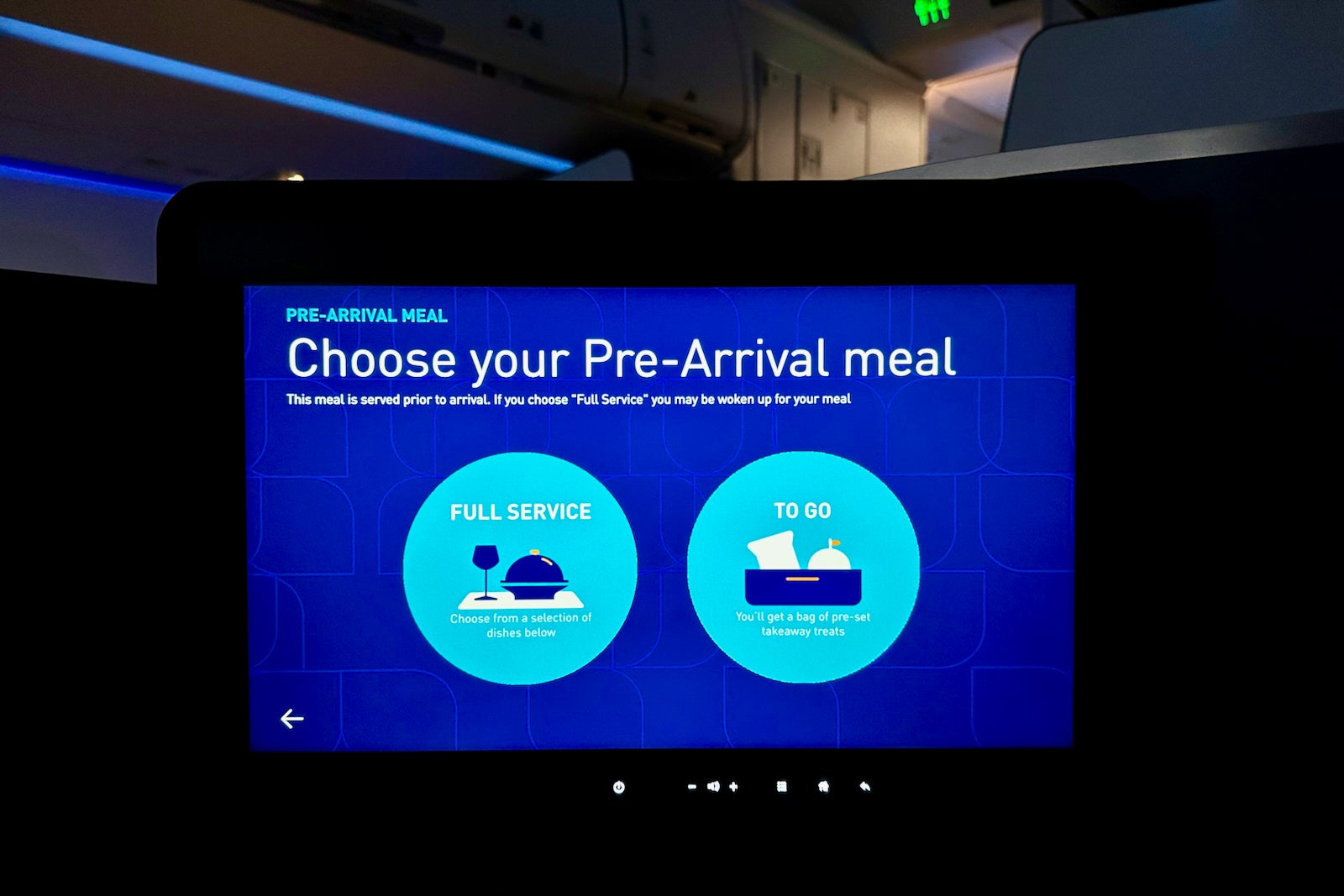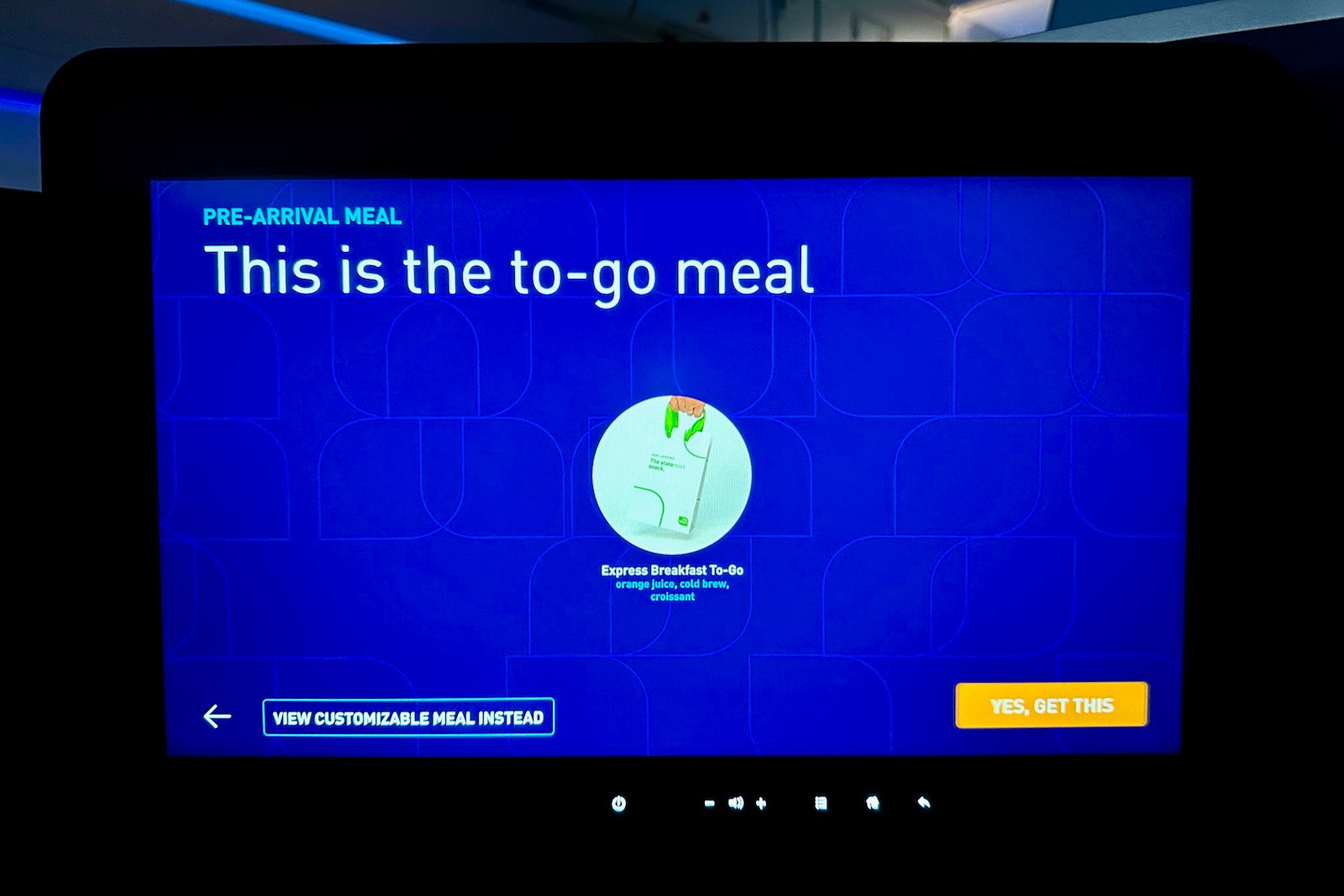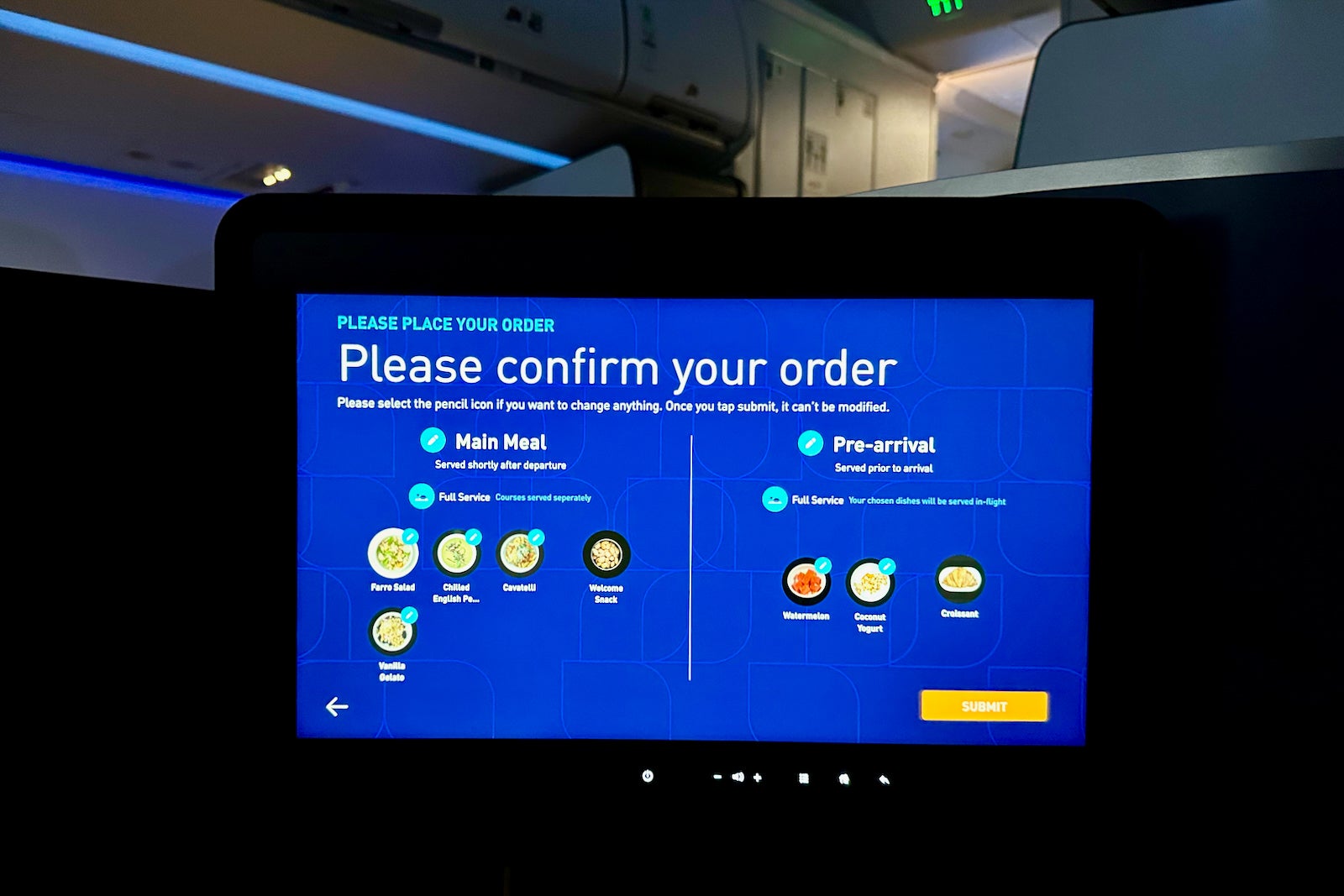 This saves precious time during short transatlantic red-eyes, and I'd love to see other airlines introduce this technology.
JetBlue first debuted wireless ordering in economy, but it just enabled it in Mint. Flyers on the inaugural seemed to have no problem using the system, and I loved the detailed photos and descriptions, including allergen information, that the system displayed.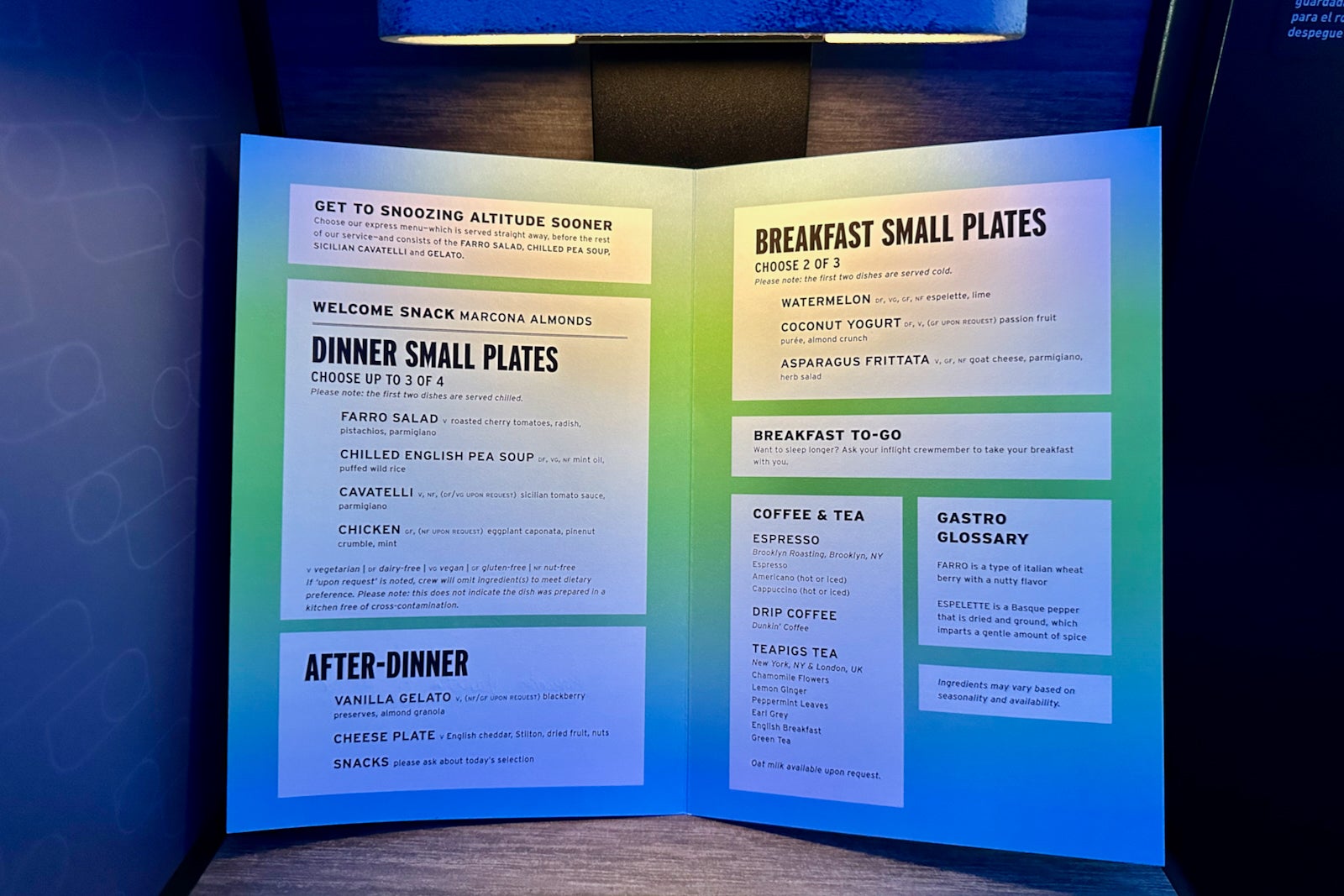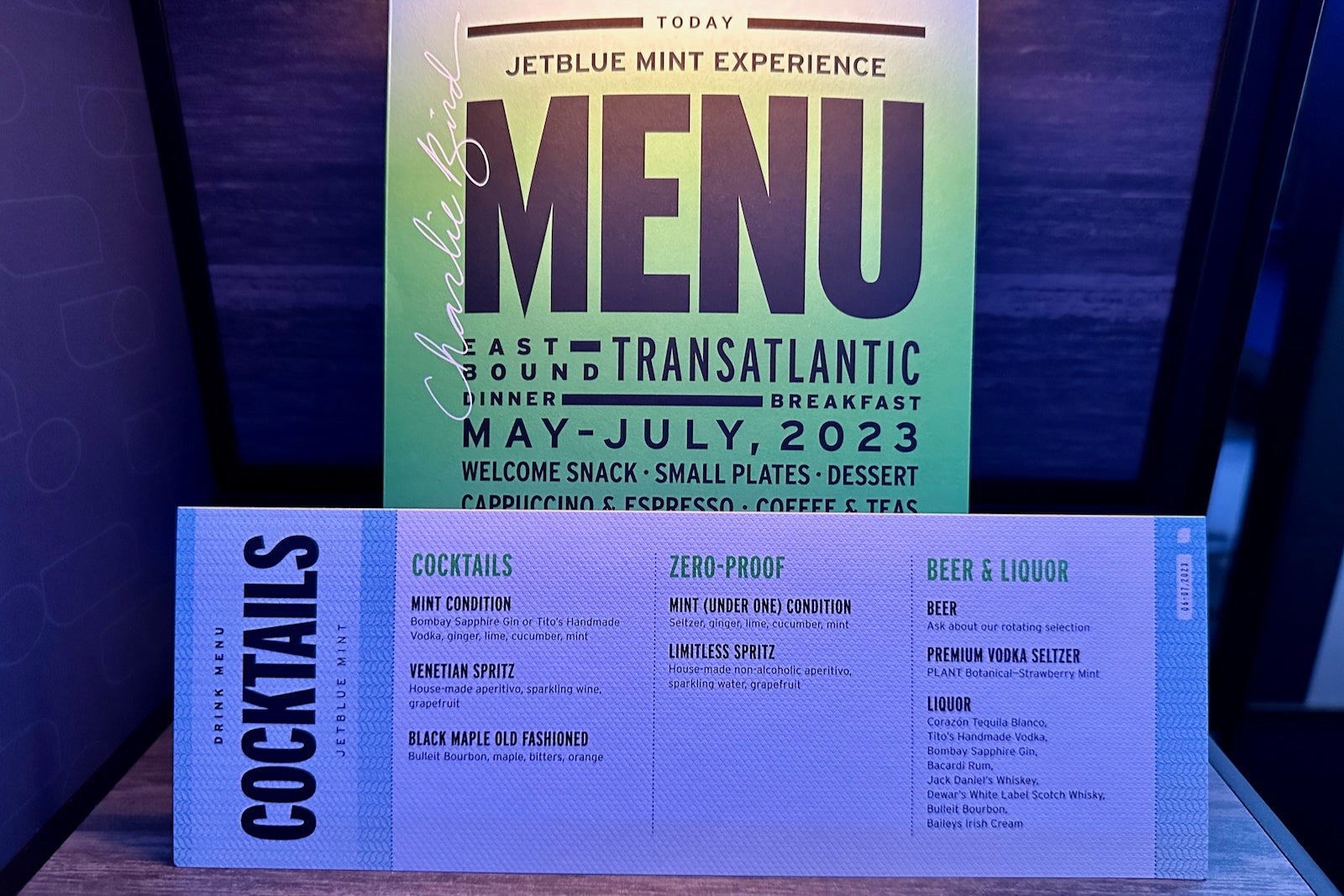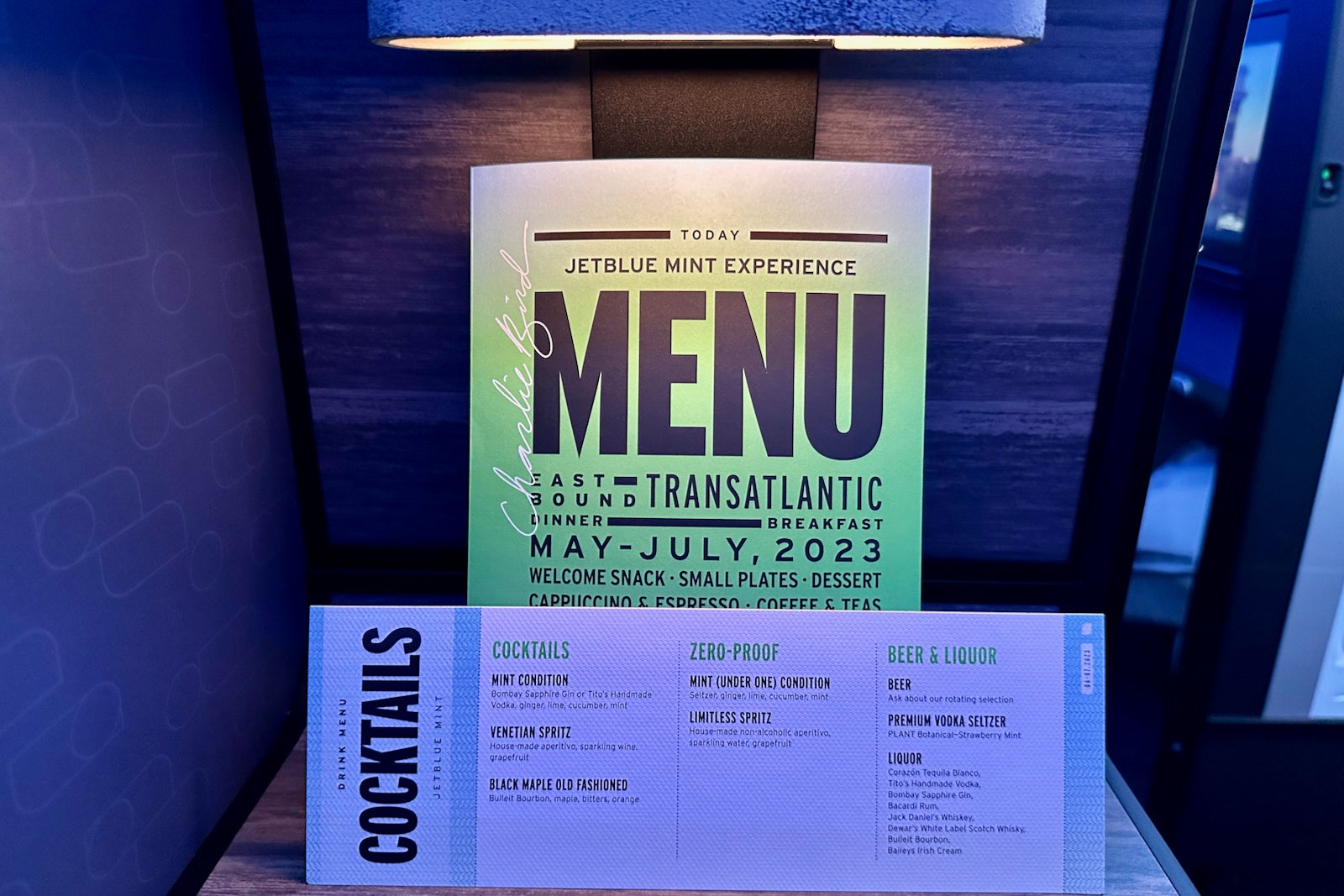 Note that the airline still prints colorful food and drink menus if you'd prefer to feel like you're dining in a restaurant.
Speaking of restaurants, Mint continues to offer top-notch food and drinks that might make you feel like you're in a trendy spot in New York City.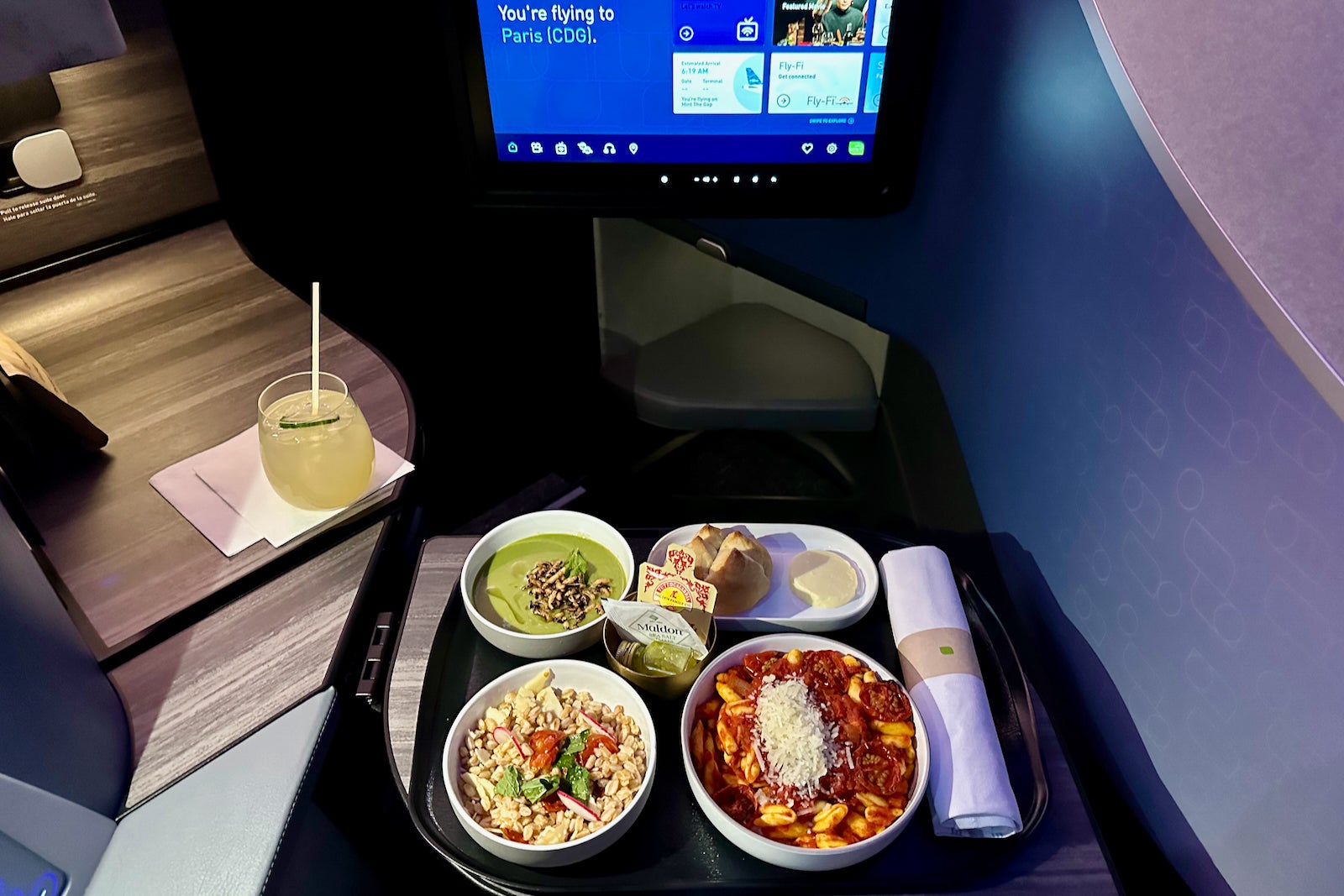 Delicious Hospitality Group's Charlie Bird curates the food menu, and flyers can pick three of four tapas-style dishes for their main course.
I went with the farro salad, chilled sweet pea soup and cavatelli, all of which were tasty, fresh and beautifully presented.
Service began with a drink of choice — I went with the signature Mint Condition with vodka, which was served alongside some salted almonds.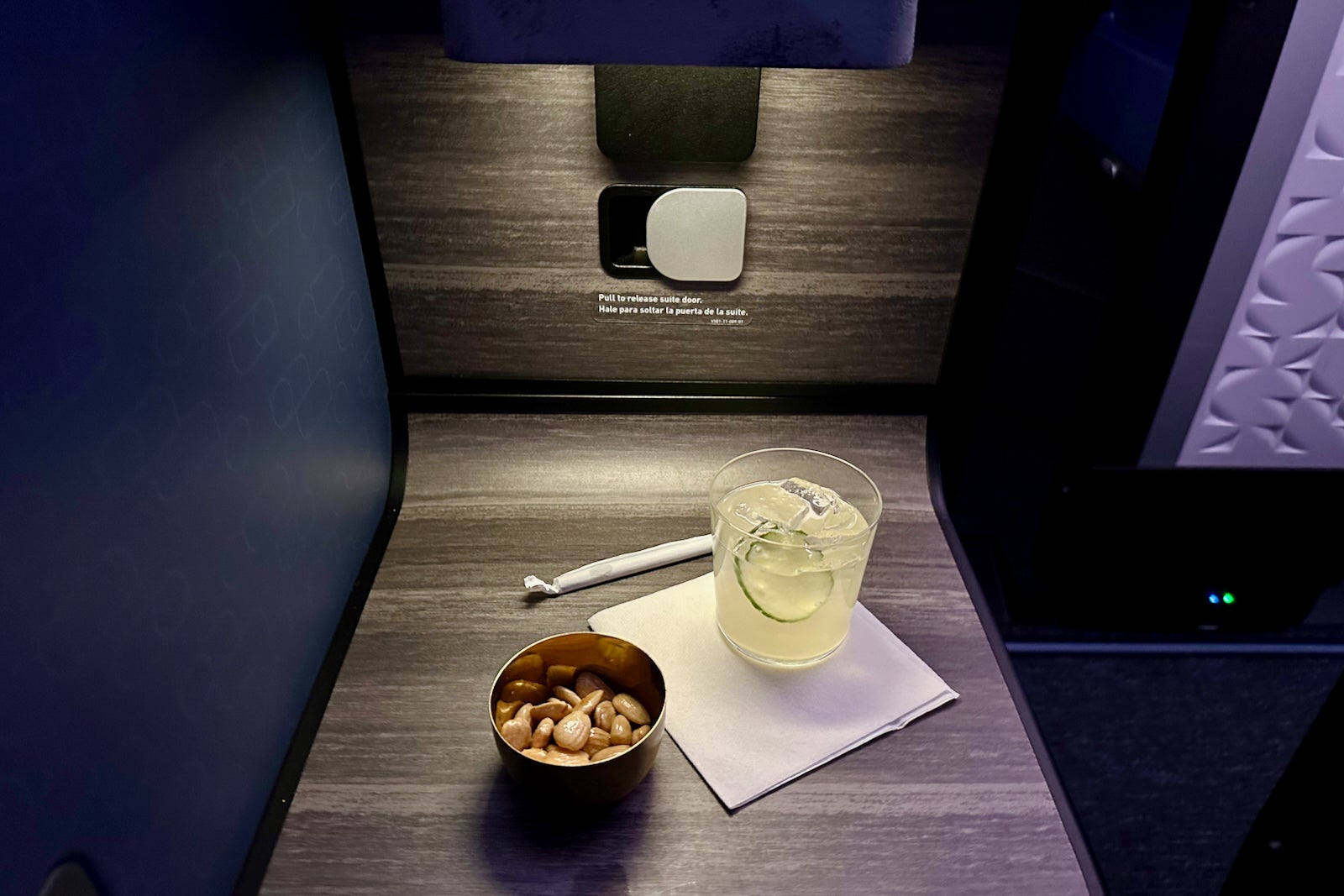 Finally, the meal finished with a choice of a cheese plate or vanilla gelato, and as an ice cream lover, I went with the latter.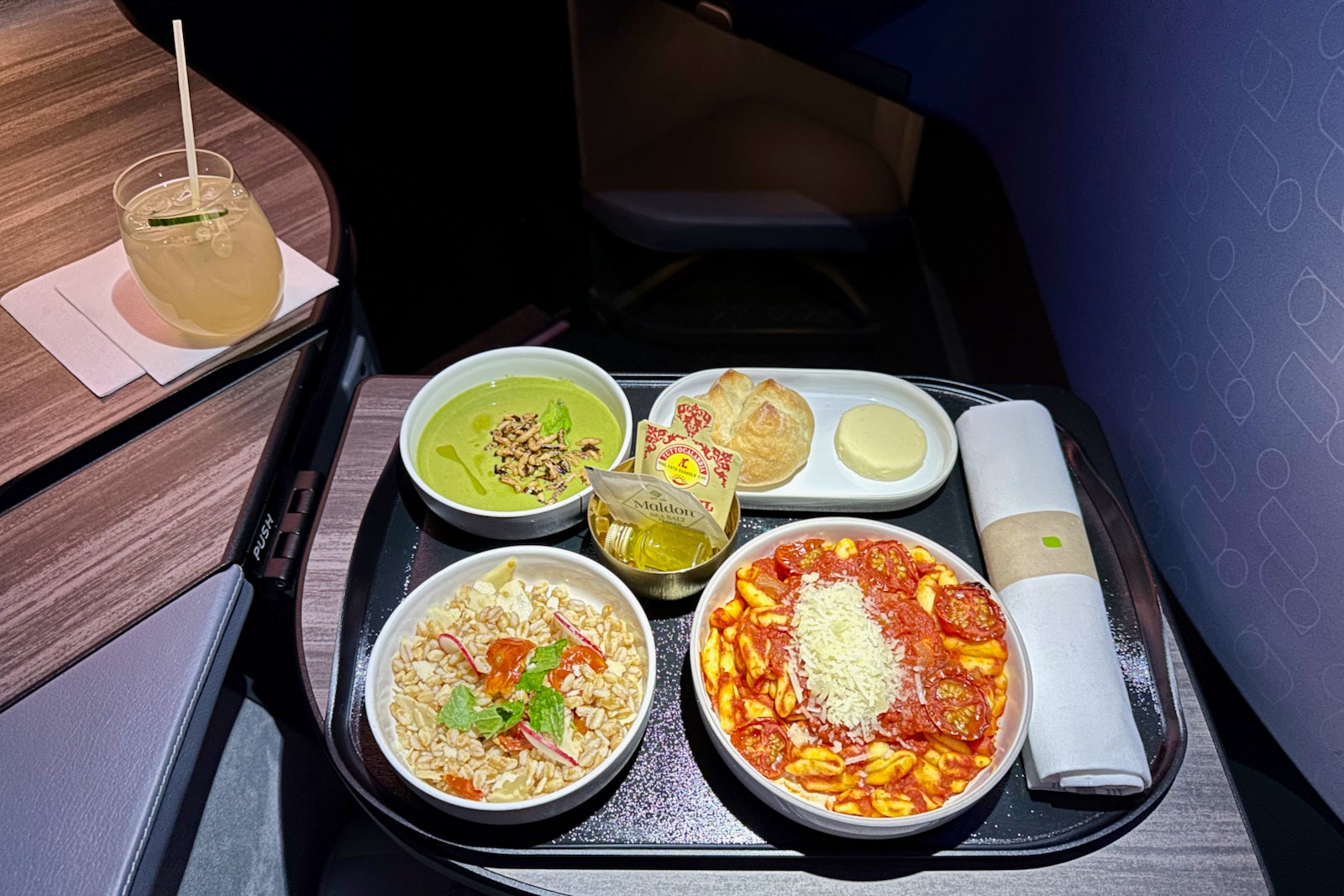 While the gelato was good, it wasn't nearly as delectable as the Chomp Cookie Monster sandwiches that are given out in economy.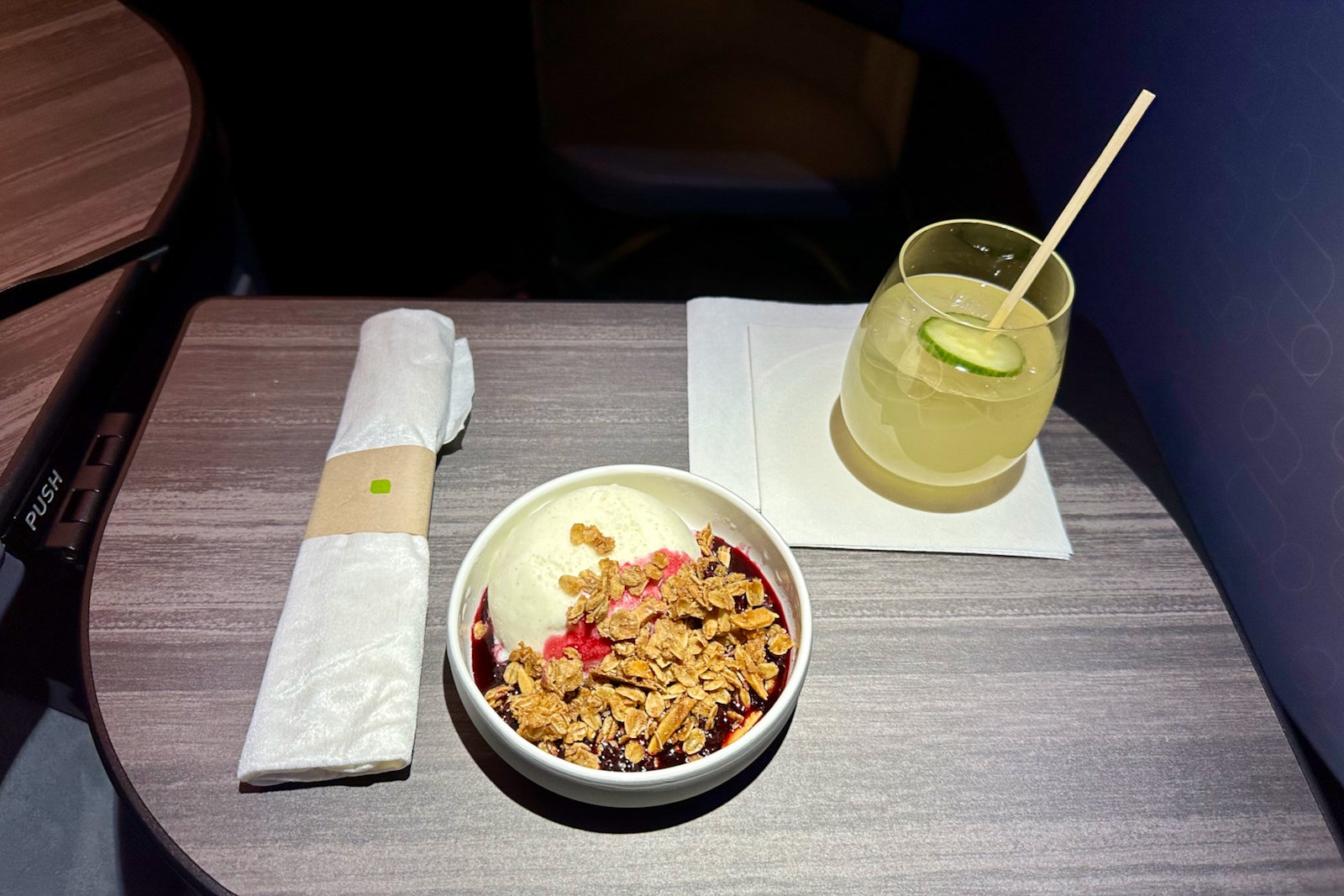 I first tried this treat on a JetBlue flight to London two years ago, and I've been dreaming about them ever since. (I'm only slightly kidding.) So, that was the first thing I asked about when the flight attendant brought my dessert, and I'm happy to report that these sandwiches are just as good as I remembered them.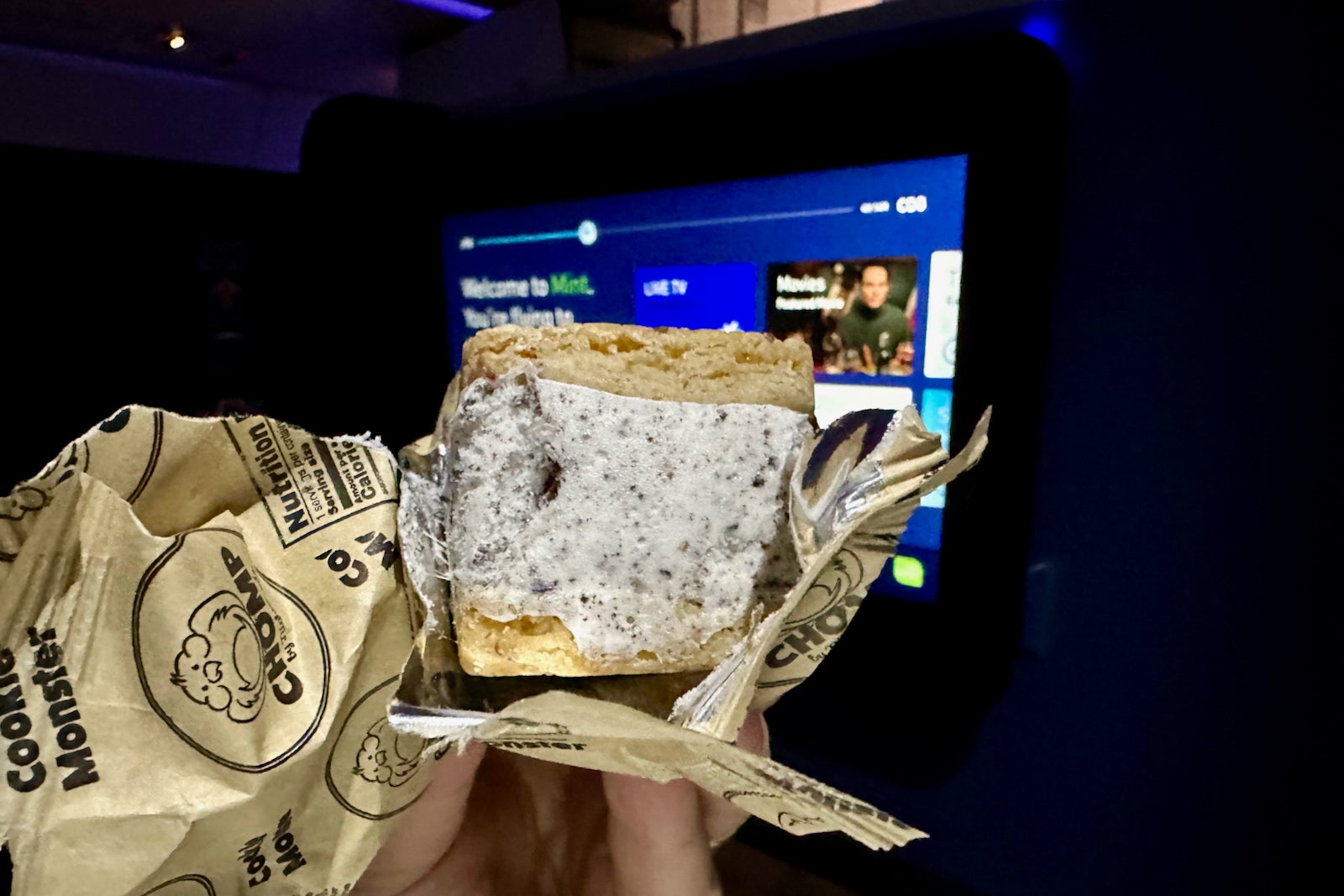 In addition to the seat-back ordering, some other differences in the service experience relative to transcon flights include a more extensive cocktail, wine and beer list (which includes Blue Moon, Bud Light and Stella Artois), a cloth napkin (compared to a paper one on domestic flights) and a pre-arrival meal service.
I don't usually wake up for breakfast on transatlantic flights, but I made an exception for the inaugural. Breakfast included a choice of two small plates, and I went with the two chilled options: watermelon and coconut yogurt. (The flight attendant ended up offering the warm option, too.)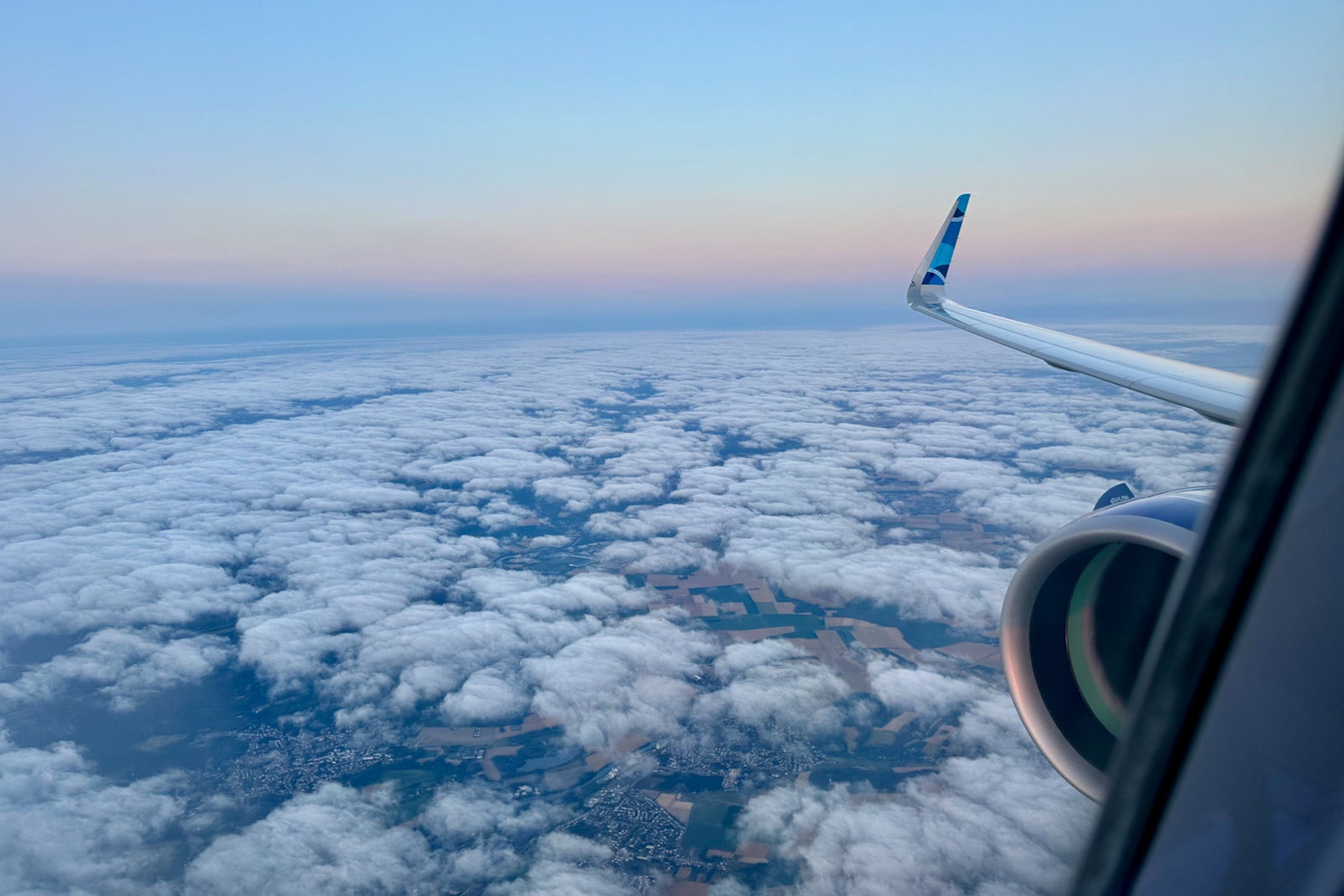 I typically find that breakfast is the saddest airplane meal of the day, but JetBlue's was at least tasty, refreshing and colorful. The same can't be said about some other airlines.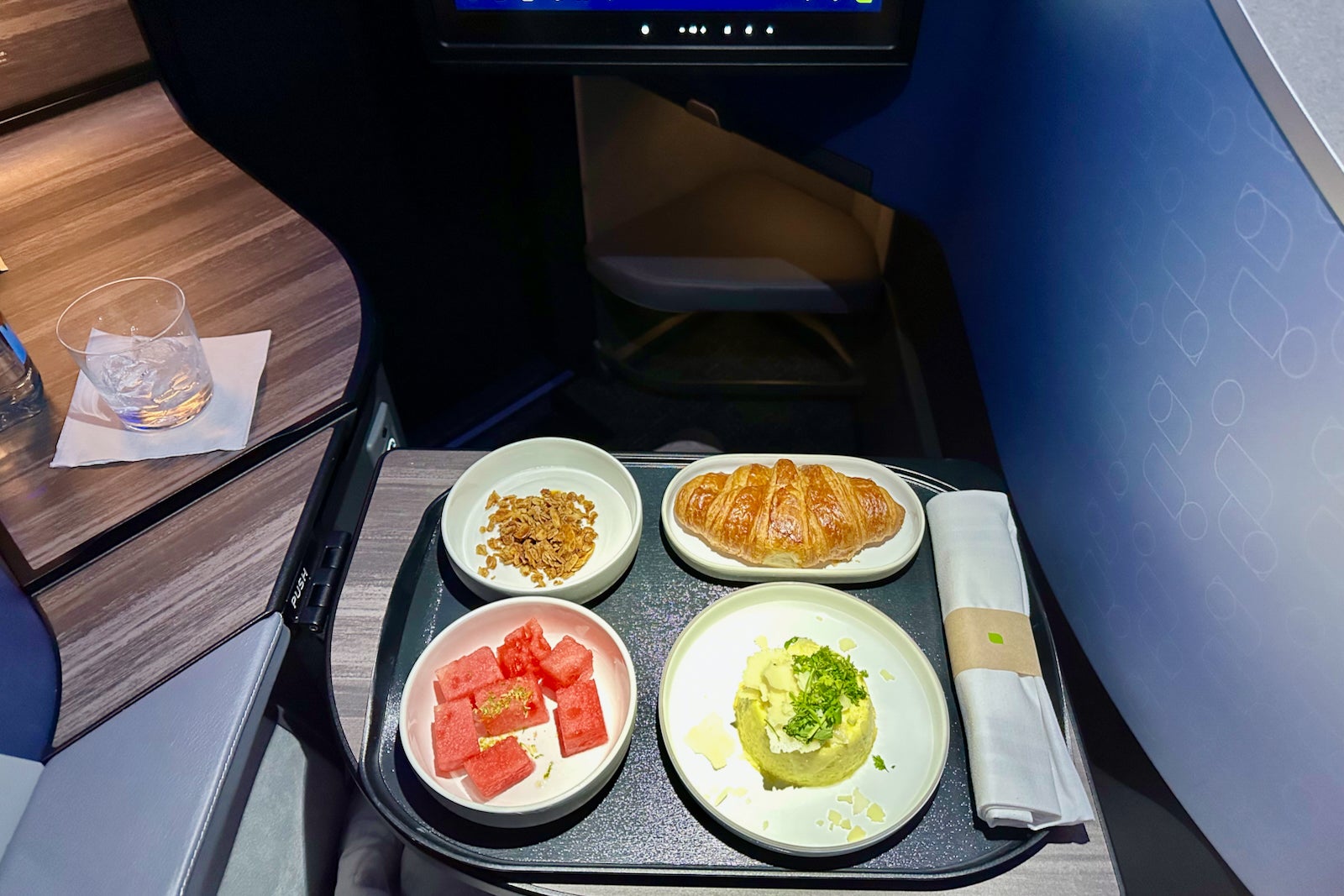 However, the next time I fly JetBlue to Europe, I will definitely go with the takeaway breakfast bag, delivered to your seat during descent and including bottled orange juice, cold brew and a croissant. This way, I'll maximize my sleep.
Throughout the meal (and flight in general), the three specially trained Mint flight attendants —  Amanda, Hector and Vanessa — couldn't have been friendlier or more polished.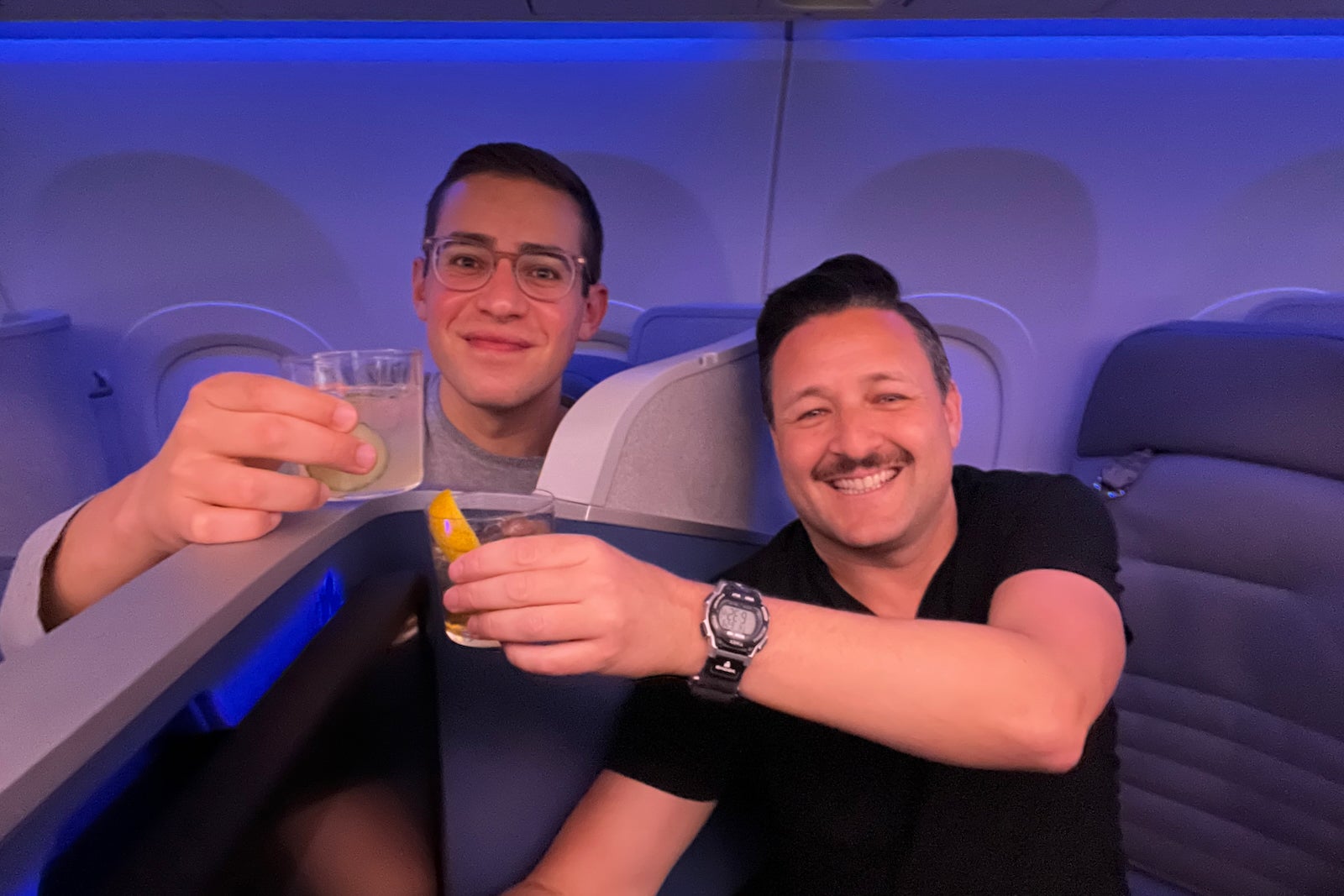 That's to be expected on an inaugural, especially since the crew is usually hand-picked to work these flights (and the CEO was sitting a few rows back).
That said, JetBlue generally does a great job of delivering elevated onboard service, both in Mint and in economy.
The airline has a special training program for transatlantic service that must be completed before a flight attendant can operate one of the airline's long-haul flights.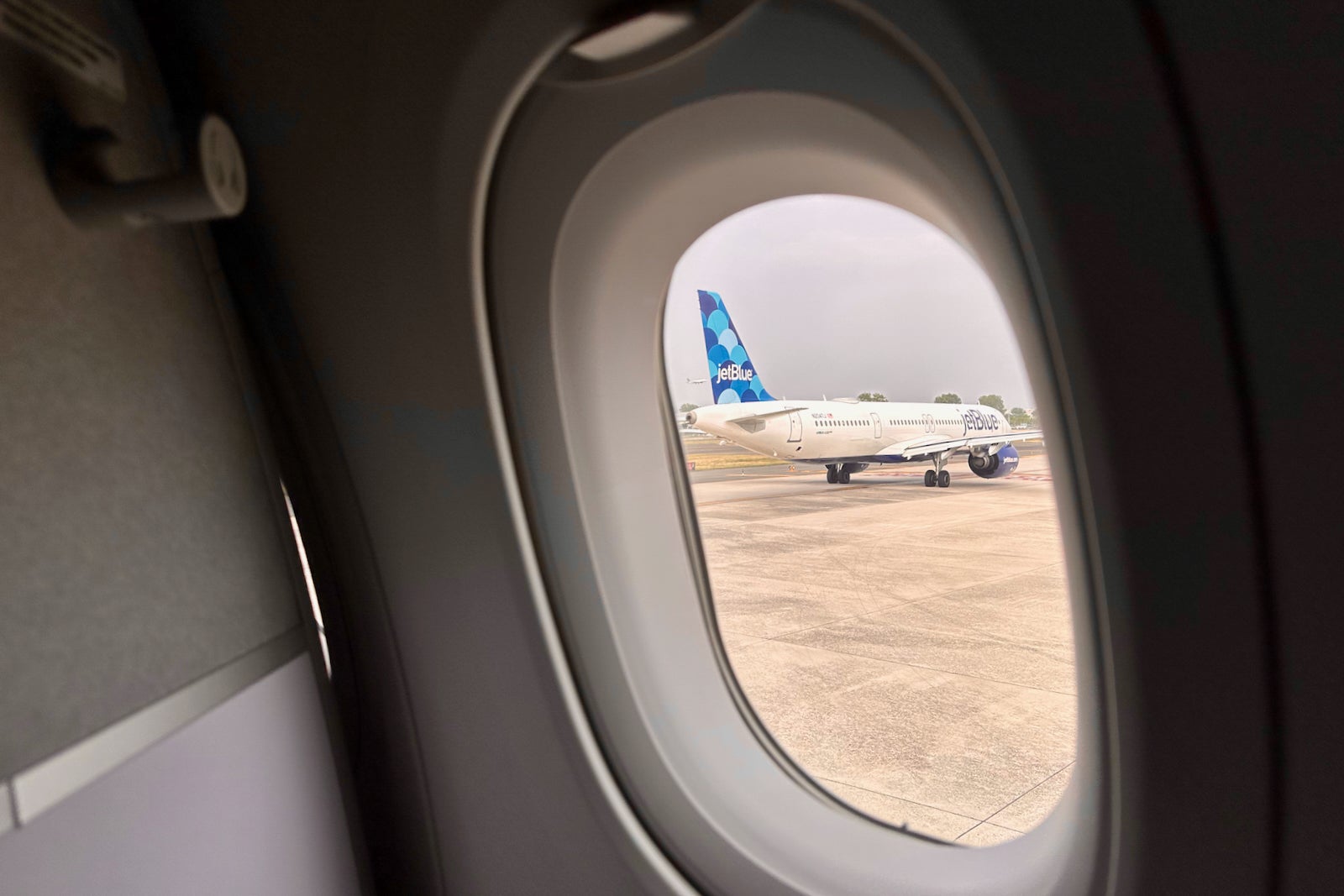 In my experience on previous JetBlue flights, this makes the service feel more personalized, thoughtful and professional.
Interestingly, one French-speaking flight attendant was onboard, though most of the public address announcements were all pre-recorded in French.
Bonjour, Paris
Though Paris is now JetBlue's farthest destination, the flight still felt way too short. By the time I finished writing my story and editing my photos, we had just two hours left until Paris.
I took a nap and woke up just before landing, in time for a quick breakfast and another round of festivities for our arrival.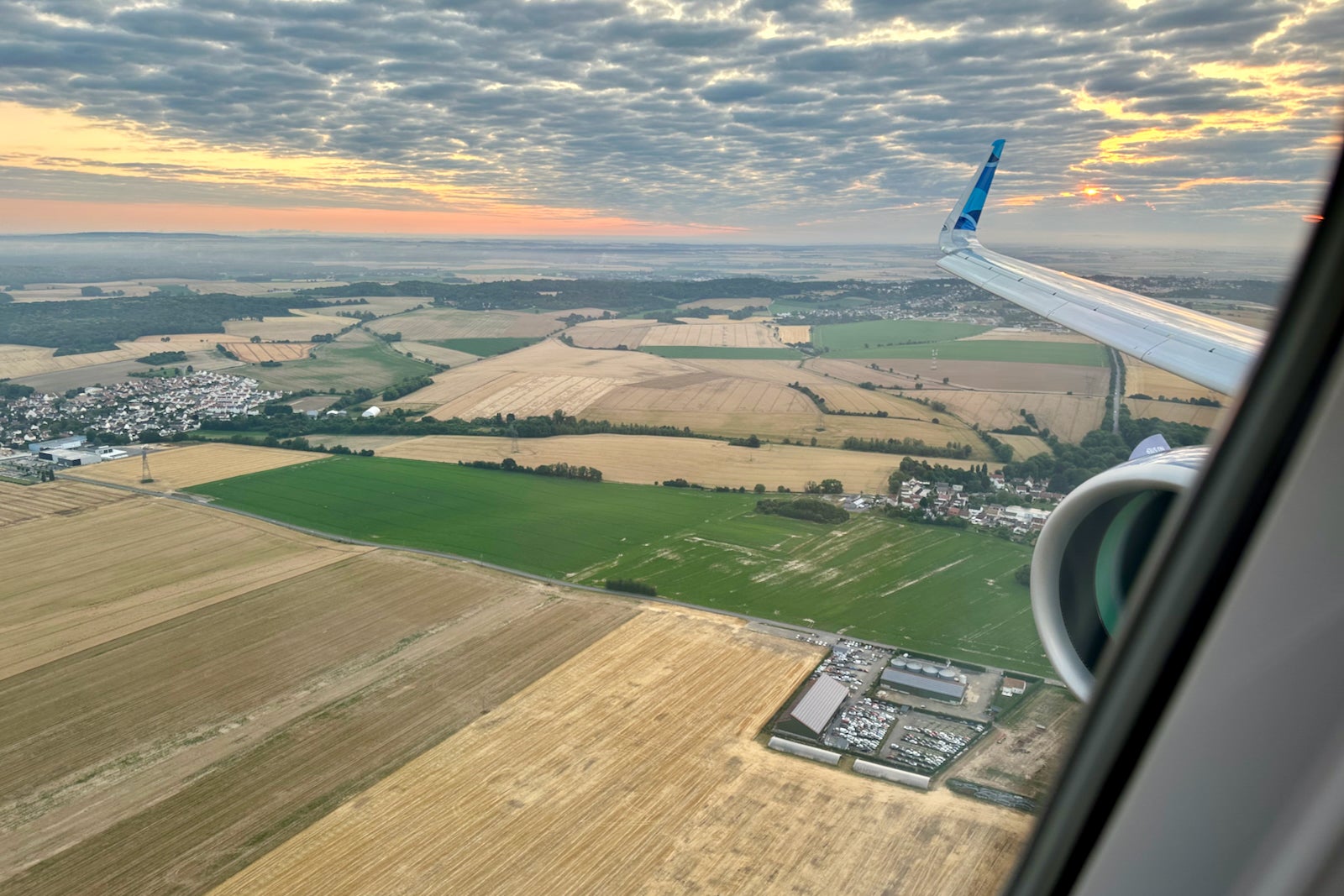 We landed on Runway 27R at 6:09 a.m. to a round of applause and then proceeded to taxi to Gate B24, which by the time we got there, felt like we should've been in Brussels.
There were a bunch of ground employees waiting to usher in the plane, but I didn't notice any fire trucks in sight. That meant no traditional water cannon salute to greet our arrival, but that didn't seem to put a damper on the celebrations.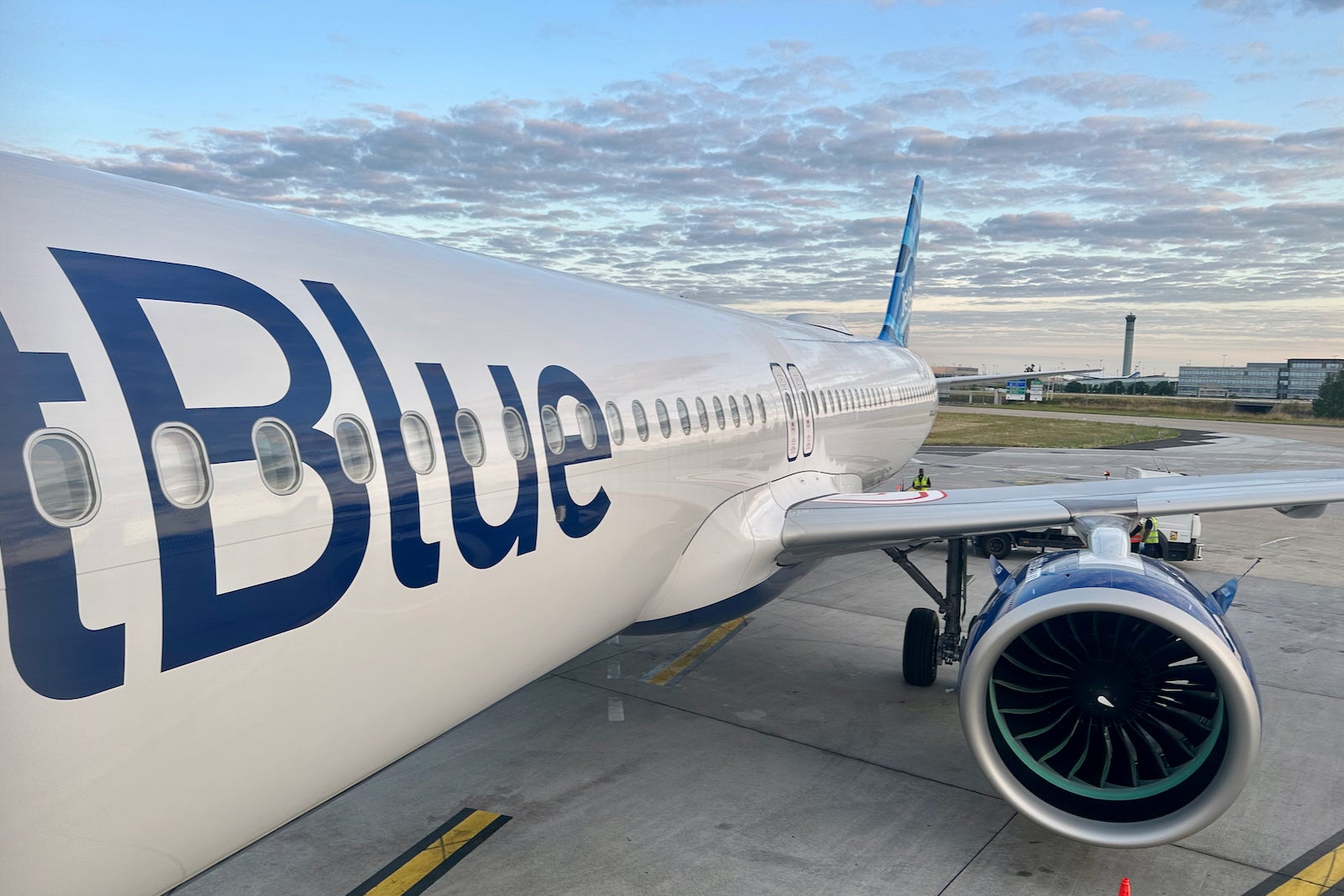 The moment the boarding door opened, I heard lots of "bonjours" and "welcomes" from JetBlue's Paris-based employees.
Most passengers deplaned and went through customs as normal. I joined some JetBlue executives, dignitaries and members of the media for an arrival event.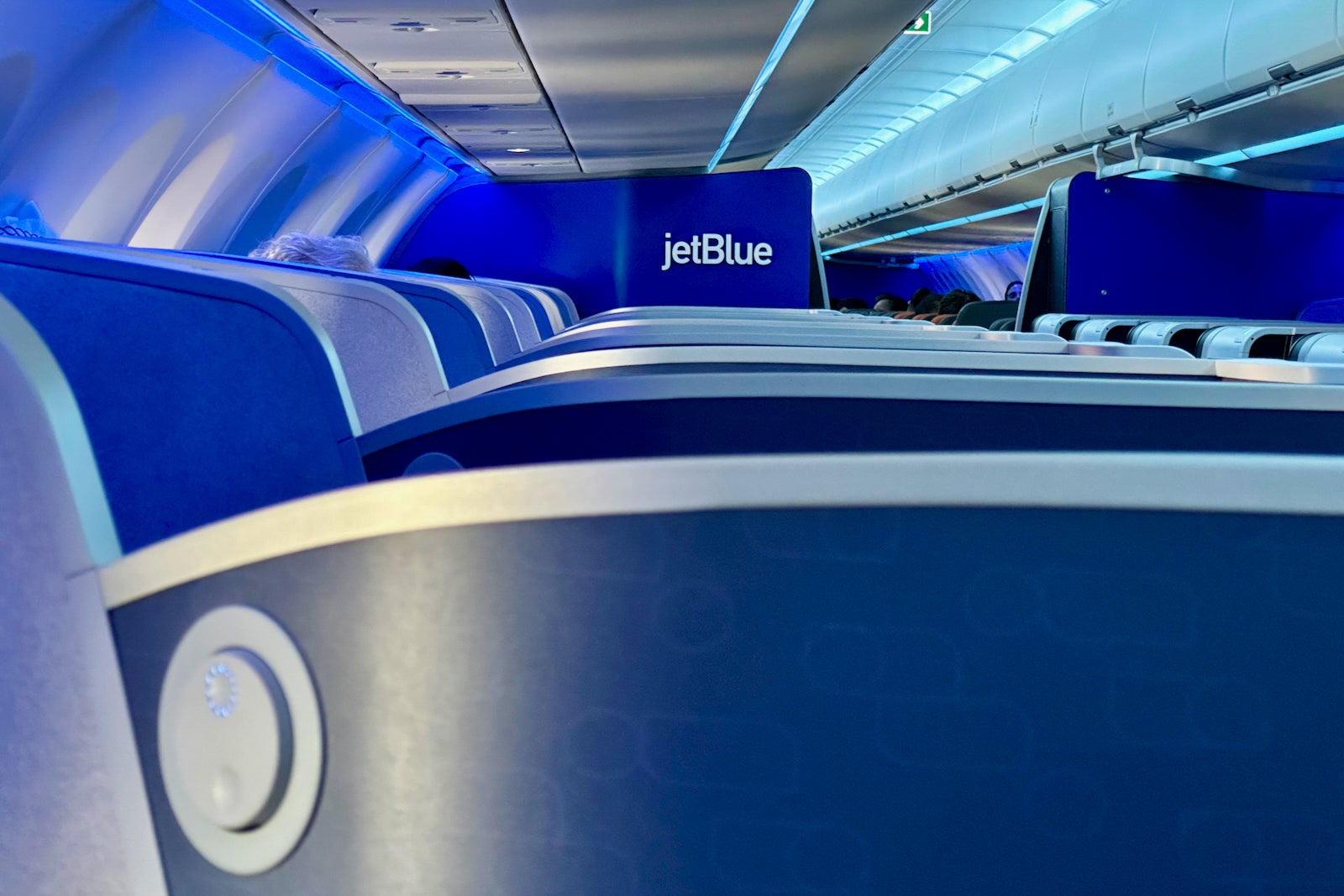 From the corner of my eye, I could see the JetBlue tail all the way out in the distance as the sun rose in Paris. It's the start of a new day in Europe, and it marks the beginning of the next chapter in JetBlue's transatlantic playbook.
Related reading: